✕
Location: Pasadena, California
Project size: 4,200 square feet
Program: LR2 House is composed of several distinct living volumes and includes guest suites, a home office, gym, and theatre screening room, as well as outdoor spaces, all with abundant views of the surrounding hills and valley.
Solution: The architects designed the house as a several stacked volumes cascading down the hillside. Following the natural grade, the stairs from the car park lead up a bend around and up the entrance on the second-level. Here, the visitor entering the front door, finds that stairs descend to a private screening room or ascend to living spaces on the third level. Terraces open off the interior quarters, providing ample outdoor space for living, dining, bedrooms, and an office.
Construction and materials: The structure is primarily a steel frame supplemented by conventional wood framing, with the exterior clad precast concrete panels. Maple, plywood, and teak millwork highlight the interior spaces, which are illuminated by large expanses of tempered glass.
Additional Information:
Gross square footage: 4,200 square feet
Total project cost: withheld
Owner: withheld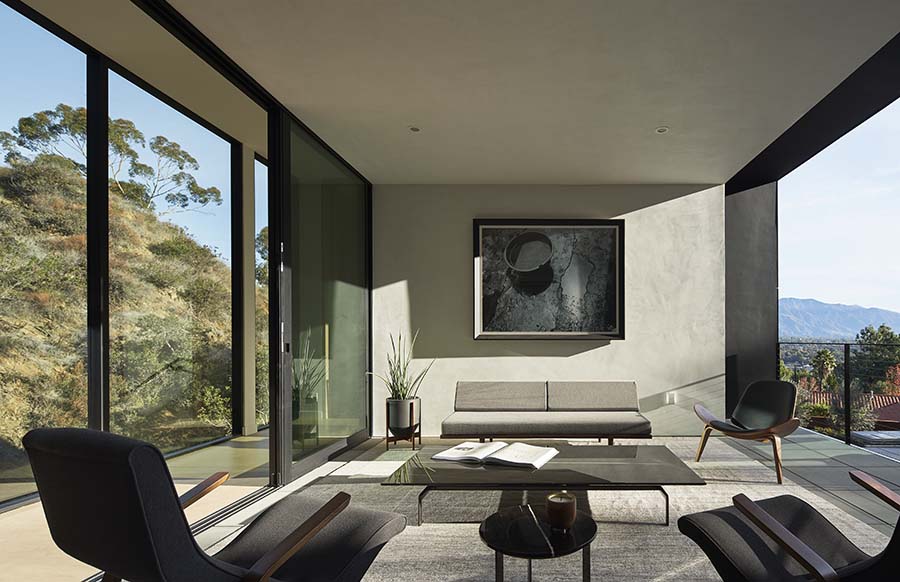 Photo &copy Kevin Scott, click to enlarge.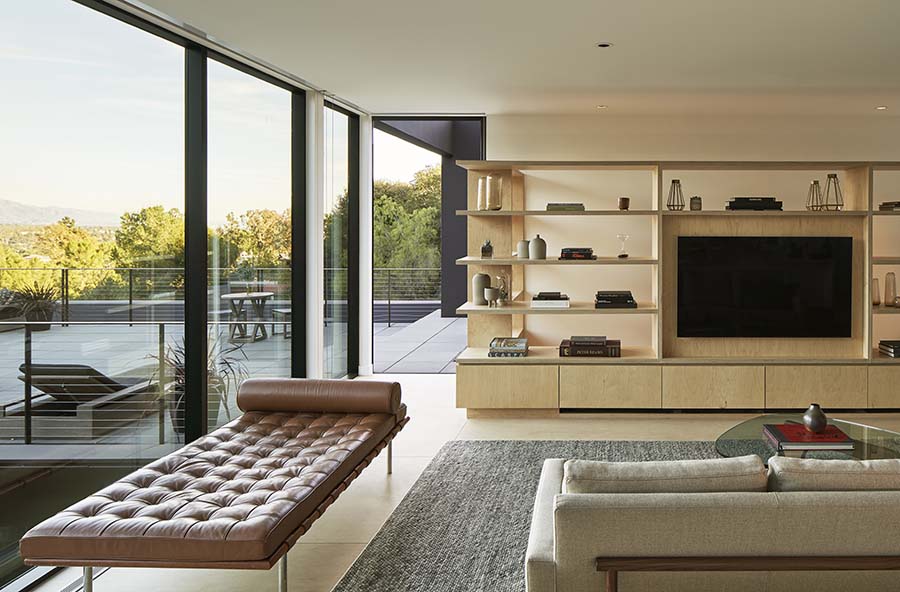 Photo &copy Kevin Scott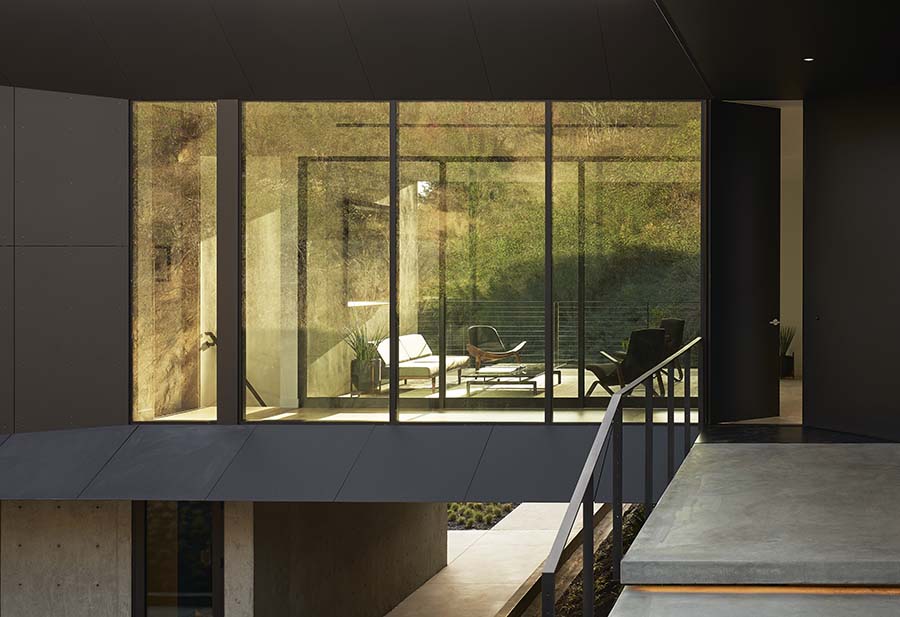 Photo &copy Kevin Scott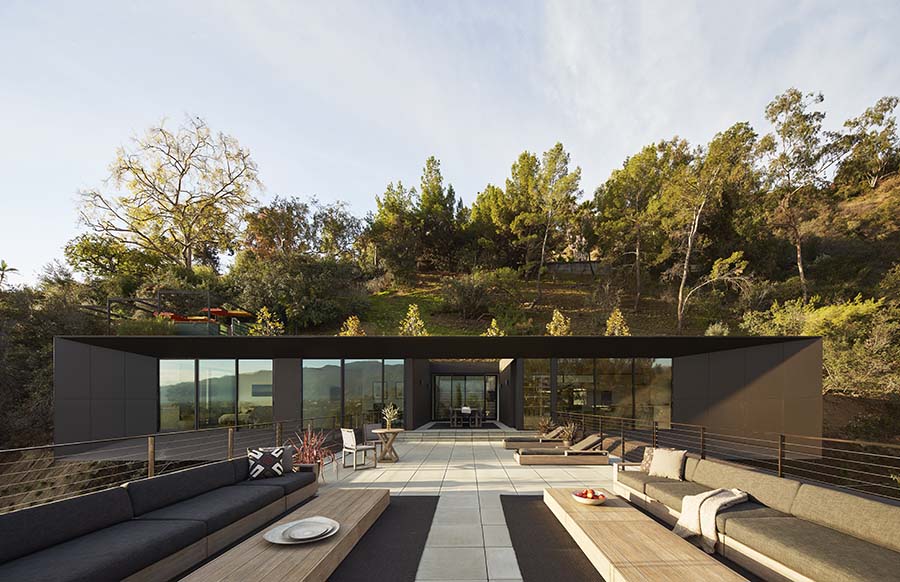 Photo &copy Kevin Scott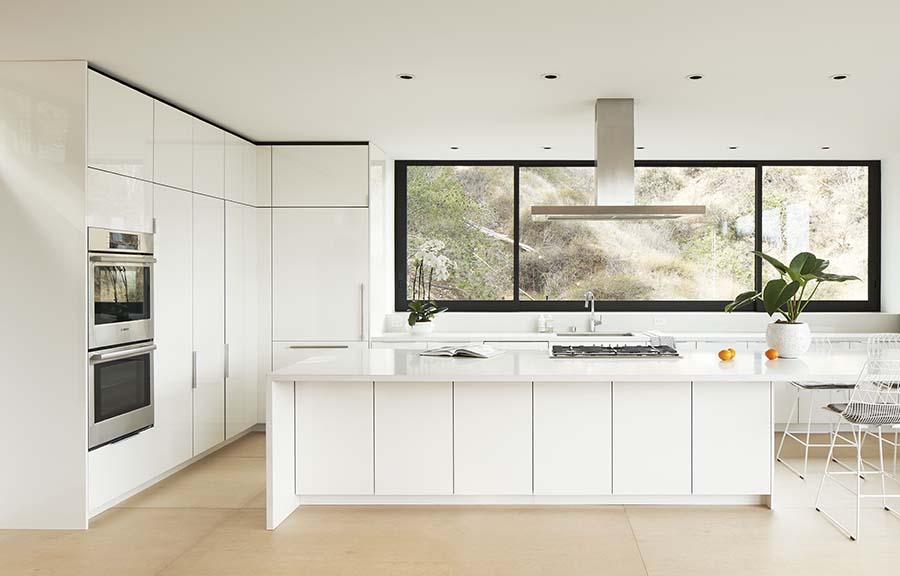 Photo &copy Kevin Scott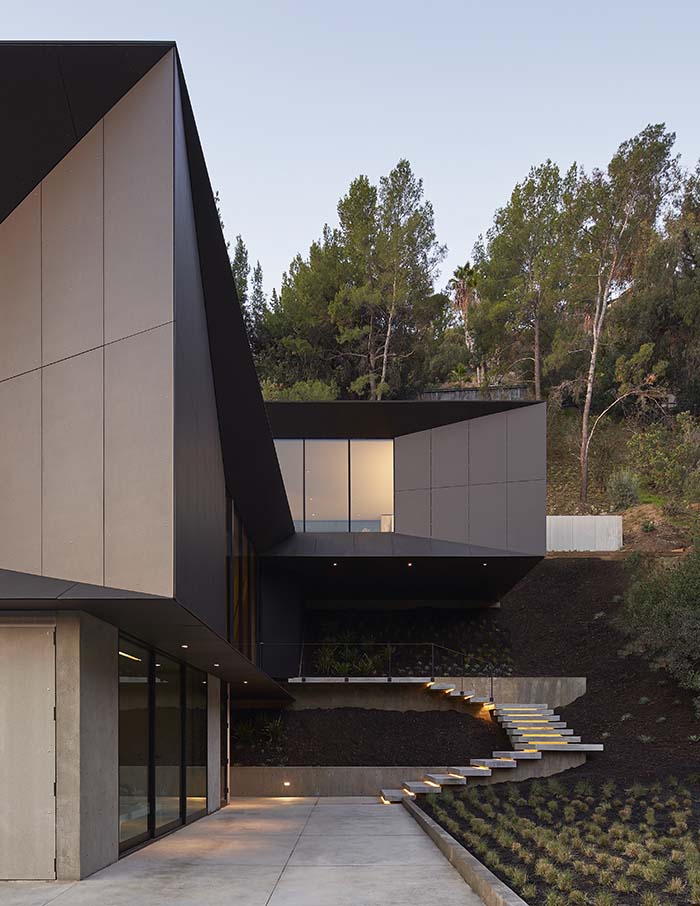 Photo &copy Kevin Scott
Click plans to enlarge. Courtesy Montalba Architects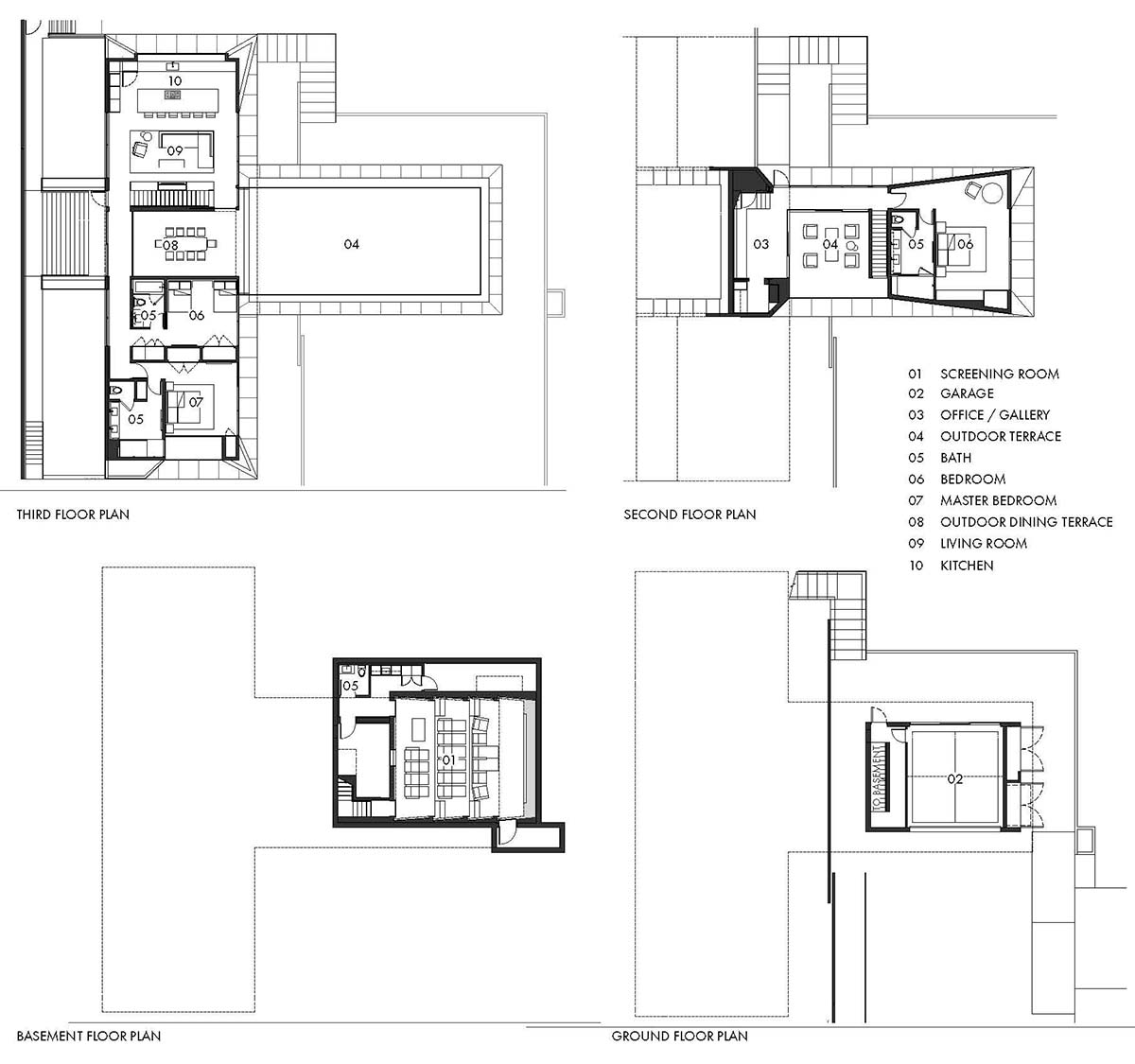 Click section to enlarge. Courtesy Montalba Architects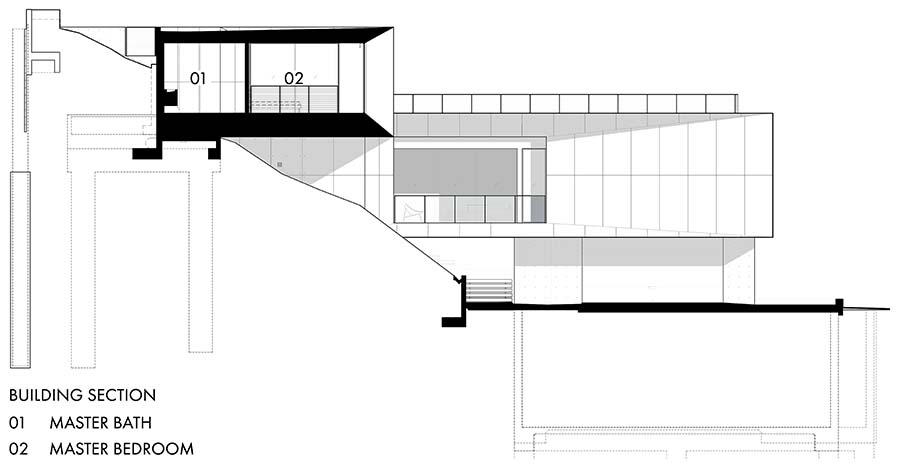 Click concept diagram to enlarge. Courtesy Montalba Architects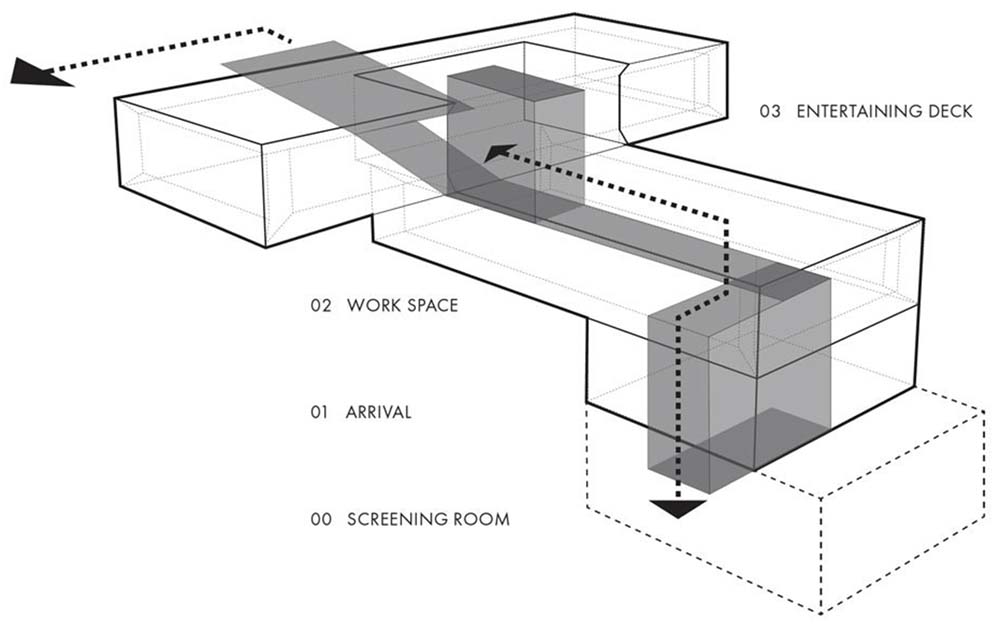 Credits
Architect:
Montalba Architects
2525 Michigan Avenue, Bldg T4
Santa Monica CA 90404 USA
T (310) 828-1100
montalbaarchitects.com
Personnel in architect's firm who should receive special credit:
David Montalba, FAIA, SIA, Founding Principal; Greg Stutheit, Senior Project Architect; Alex Kith, Project Manager; Michael Knopoff, Josh Russell, Eddie Winn, Vicente Shum, Fallon James, Kristen Nakamura, design team
Engineers:
Structural Engineer: John Labib and Associates
Civil Engineer: Obando and Associates, Inc.
Surveyor & Soils Engineer: Irvine Geotechnical, Inc.
MEP Engineer: PBS Engineers
Consultants:
Landscape Designer: EPT Design
Waterproofing Consultant: Roofing and Waterproofing Forensics, Inc.
Lighting Designer: Sean O'Connor Lighting
Title-24 Consultant: PBS Engineers
A/V Consultant: Marconi Radio
Theater Consultant: Digital Bel-Air
Theater Acoustic Consultant: Paradise Theater
General contractor:
Sarlan Builders
Photographer:
Kevin Scott
Specifications
Exterior Cladding:
Other cladding unique to this project: Swisspearl Fiber-Reinforced Cement Panels
Minerit HD Smooth Fiber Cement Panels
Windows:
Metal frame: Fleetwood
Interior Finishes:
Paints and stains: Benjamin Moore
Solid surfacing: Caesarstone
Floor and wall tile: Stone Source
Special interior finishes unique to this project: States Industries Maple Appleply
Furnishings:
Other furniture: Mechoshade
Lighting:
Dimming system or other lighting controls: Control4; Crestron
Plumbing:
Toilet: Duravit
Showerhead: Hansgrohe
Undermounts: Moen and Kohler