✕
One mammoth outpost of IBM's once-mighty empire of A-List Architecture, Marcel Breuer and Robert F. Gatje's 1970 office, research, and manufacturing campus in Boca Raton, Florida, has recently returned to near-full use after several dusty decades. 
Acquired by locally headquartered commercial real estate and management firm CP Group in 2018, the complex—at 1.7 million square feet it's the largest office building in Florida—has been rebranded as the Boca Raton Innovation Campus (BRiC) and refitted for multi-tenant use as a 21st-century tech hub, with additional infill and housing intended for the periphery of the site. The aim, as CP Group managing director Angelo Bianco explained to RECORD, is to create an "integrated village."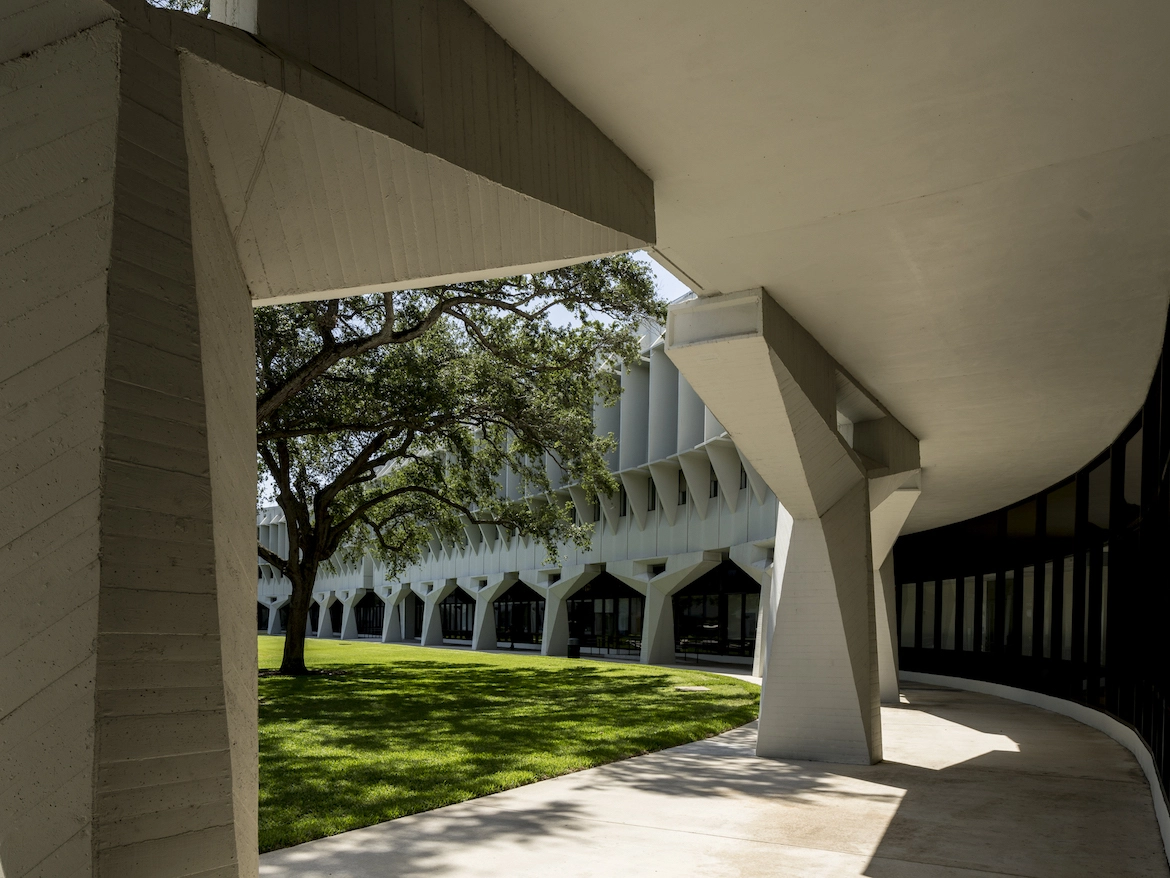 Photo cou CP Group
Breuer's commission at the Boca Raton campus, which isn't landmarked or protected in any form, followed his work for IBM at La Gaude in France, which Gatje also worked on, and the project is something of an echo of that in its form and facades, with a main series of office and laboratory buildings in rough, curving Y-shapes nearly hexagonally encircling a small lake, and numerous conventionally rectilinear manufacturing and warehouse buildings off to the west side. Some of these structures were the work of Breuer's firm; it's difficult to determine the authorship of the full number.
As Angela West Pedrão, a PhD candidate at Brazil's Universidade Católica do Salvador, detailed in a 2017 piece for Docomomo: "The ensemble of the Boca Raton buildings snake over the site as a vertebra, elevated by expressive solid concrete columns, which bifurcate to support the volume above, forming a single continuous structure. This monolithic sequence rests lightly and fluidly over the landscape."
The structures sport trademark Breuer tailoring of precast concrete panels—here 33 feet tall and eight feet wide—but in a shape rendered both deeper and lither in this tropical climate, incorporating projecting ribs roughly in the shape of a diesis that span two stories to provide sunshades. The panels serve both ornamental and functional purposes. They are load-bearing, lending support to floor and roof joists, the form of which is reflected in the sunshade projections.
The complex birthed all sorts of innovation in its heyday: the development of the IBM personal computer and the CTRL-ALT-DLT keyboard combination, with additional work spanning everything from ATM to maritime navigation technologies. Employment there peaked at around 10,000 in the mid-1980s. This gradually declined, with IBM selling the campus in 1996. It continued in partial, if marginal, use for the next two decades.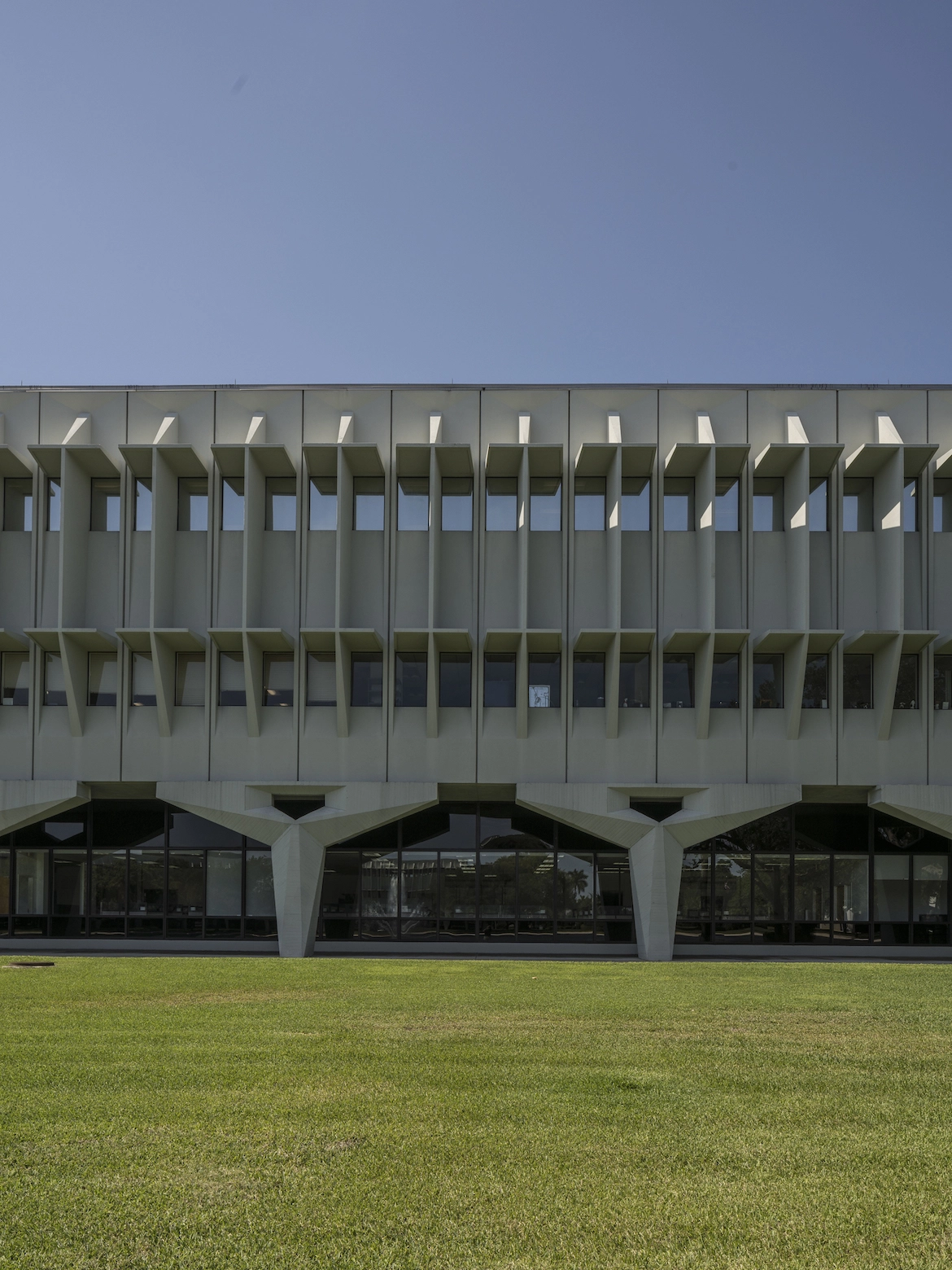 Photo courtesy CP Group
There have been a variety of changes in the interim, including numerous interior modifications. The exterior concrete was painted in 2012 by a previous owner over unsuccessful preservationist objections as reported in a 
South Florida Sun-Sentinel
 article. The paint was at least thin enough that the concrete grain remains clearly visible, judging by recent photography of the building.
CP Group purchased the campus in 2018, with occupancy at about 60 percent. Bianco praised the durability of the main structure: "They designed the sunshades out of poured concrete to reduce the heat load in the building and by accident they produced a hurricane-resistant building." 
Many mechanical systems had to go but some were in surprisingly good shape. Bianco added: "They built and designed such an amazing system that persevered through all these decades of deferred maintenance and neglect."
CP Group contracted the Miami office of CallisonRTKL for the renovation work. Dan Freed, principal at the firm, attested that most of their efforts have focused on overhauling the former manufacturing facilities; work at the office buildings that comprise the lakeside quadrangle has been largely limited to interior renovations and new entries—not on exteriors. "The condition of the structure was extremely good," he explained. "Although there is some concrete spalling, the concrete panels have stood the test of time considering they are over 50 years old."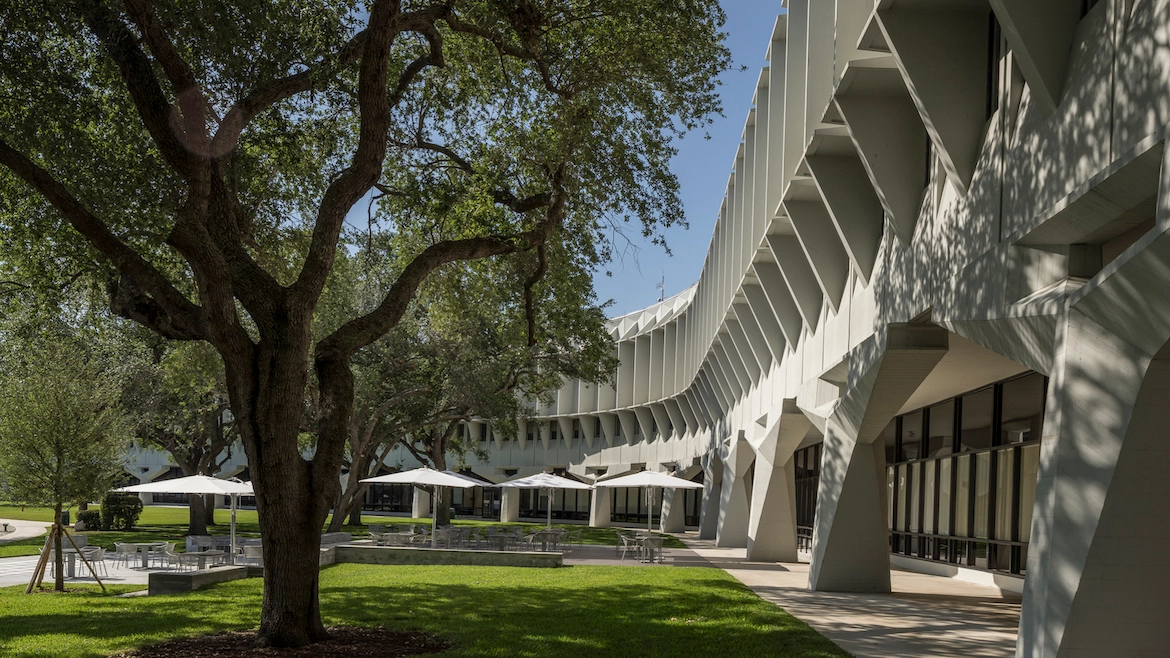 Photo courtesy CP Group
"We have been influenced by Breuer's focus on geometry," Freed said with regard to the firm's minimal interventions at the original structures. "Some of our references result in literal geometric solutions and other times we create simple forms that don't compete with Breuer's work."  As part of the interior refresh, a former electrical room has been converted to a coffee shop dubbed Marcel Brewer's; the renovation did remove some elements that cluttered the facility during IBM years such as raised floors for mechanicals.
Photo courtesy CP Group
Elsewhere in the manufacturing and warehouse buildings where the firm has placed most of its attention, changes have been more extensive to large utilitarian spaces, with skylights and new entrances. An old cafeteria has become a food hall and event space. Retail tenants are being inserted elsewhere. As part of the revamp, art and landscaping features have also been added, including, as Bianco noted, "a patio that's a scale representation of the very first keyboard produced here."
Interior design choices undertaken as part of the campus refresh are rather far afield of Breuer's original aesthetic; it seems that this began to change during IBM's occupancy and accelerated away from this vision ever since. Pedrão wrote in an email: "The [interior] design's prismatic volumes and multiplicity of colors and surfaces relate poorly to the refinement of the building's light skeletal modules." 
Still, the preservation of a large-scale Breuer structure remains cause for celebration, given the last casual destruction of a building designed by the Hungary-born Modernist—the Geller house on Long Island—was just a year ago.