✕
Tucked away in a rough-and-tumble landscape in western Montana is a retreat for a retired clinical psychologist and art collector who wanted to be closer to her family, which had recently settled there. That proximity comes with a catch, though—it's far away from just about everything else. After reaching Avon, population 114, cellular service cuts out, so printed directions are a must for the remaining 30-minute drive to Helmville. But the Four Roof House—T.W. Ryan Architecture's second Record House—is well worth the trek. Here, the architect delivers tough cowboy modernism with an artful edge.
Photo © Joe Fletcher, click to enlarge.
"The most daunting aspect of working with a vast landscape like this one is siting," says principal Thomas Ryan, as he recalled saddling up on an ATV to survey the 40-acre property in search of the perfect spot. "But, in a way, that question had already been answered for us. The previous landowner knew a good spot when he saw one." Reusing an existing foundation of a house that was started but never got fully off the ground, the architect settled for a small plateau at the top of a steep hill, all but invisible from the main road about a mile away.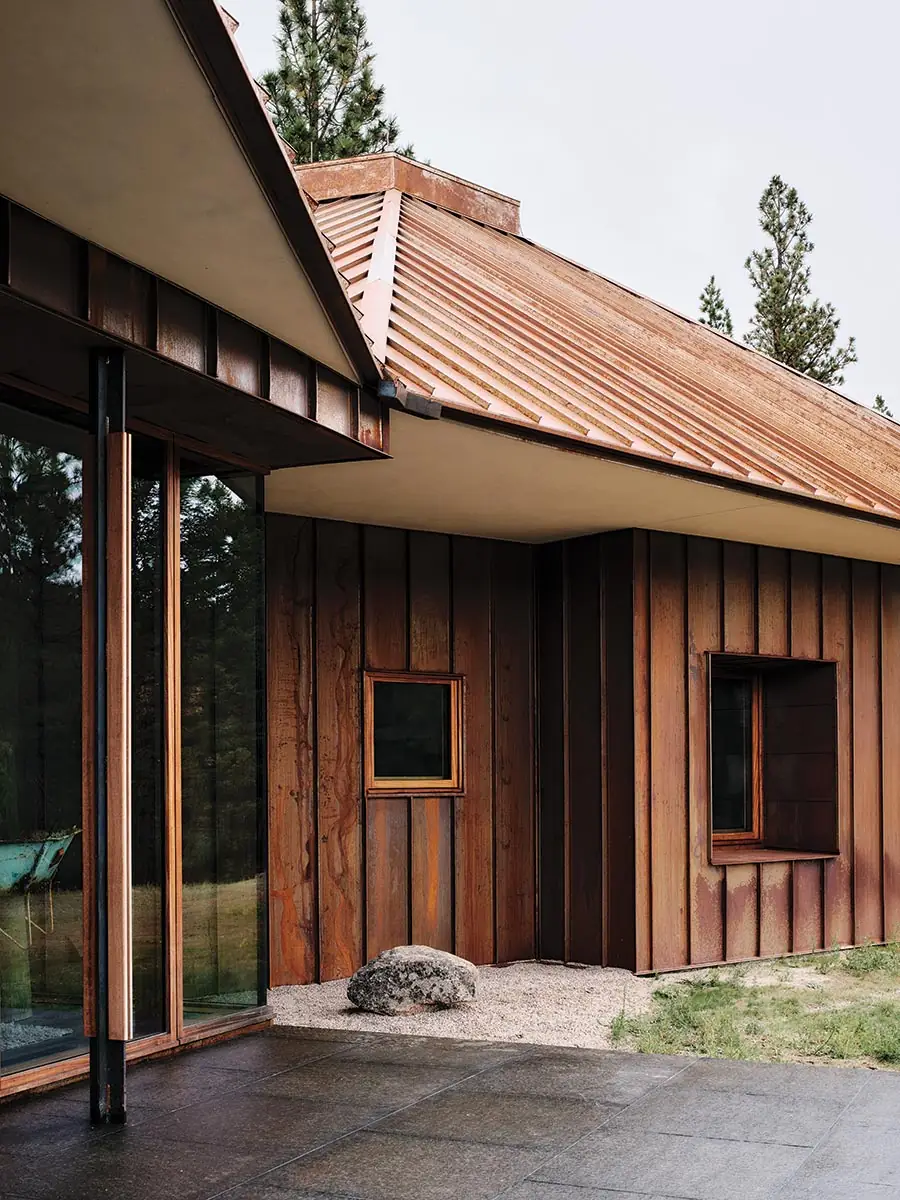 The weathering steel house is sited at the top of a hill, surrounded by pines (above and top of page). Photo © Joe Fletcher
Climatic conditions make this an environment to be reckoned with. Strong summer hailstorms, the persistent threat of forest fires, and annual temperature swings of up to 120 degrees Fahrenheit demand sturdy building materials. As the architect notes, "Trying to design something impervious to change in this part of the country is a lost cause," so he embraced unpredictability instead. The exterior—wall and roof—is entirely sheathed in 14-gauge weathering steel, patinated in situ—a distinction worth noting. Left to the elements, the individual 16-inch-wide panels take on tones and hues according to their place in the ensemble, with blotches and streaks painted by the sun, wind, and rain. Nature's abstract expressionism is balanced by man-made order: a succession of regularly repeating, vertically oriented 1¾-inch standing-seam ribs, all braked and crimped by hand.
Although copper, not iron or steel, is deeply intertwined in the area's mining history, the facade still feels of the place—the same burnt undertone colors the bark of spindly ponderosa pines that dot the land. Used farm machinery and rusted sheds can be spotted on nearby ranches. Red and ochre lichens pattern nearby rock formations. The house's materiality, combined with its peaked silhouette, conveys a certain kind of restrained monumentality.
As monolithic as the house seems, the entry facade is especially intriguing and compositionally dynamic. A detached utility shed, clad as though it were part of the house, is tightly nestled underneath an eave to form an exterior anteroom leading to the main door. In the entry hall, attention turns to the cloudlike sculpture of black netted spheres by Japanese designer Nendo that hangs from the ceiling straight ahead. As guests walk forward, an oblique interior wall with softly rounded corners leads to the main living space, on axis with the dining table, where the house's perched placement becomes breathtakingly evident.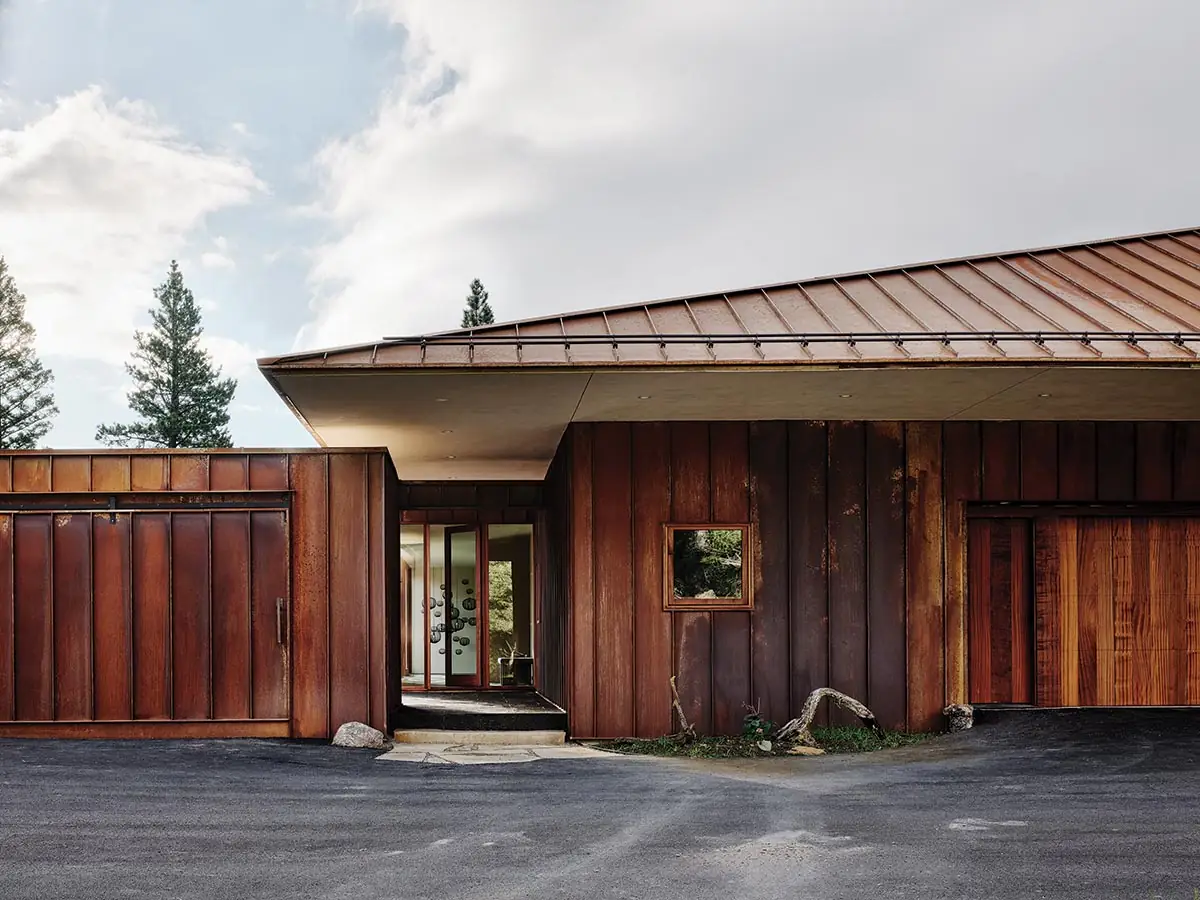 1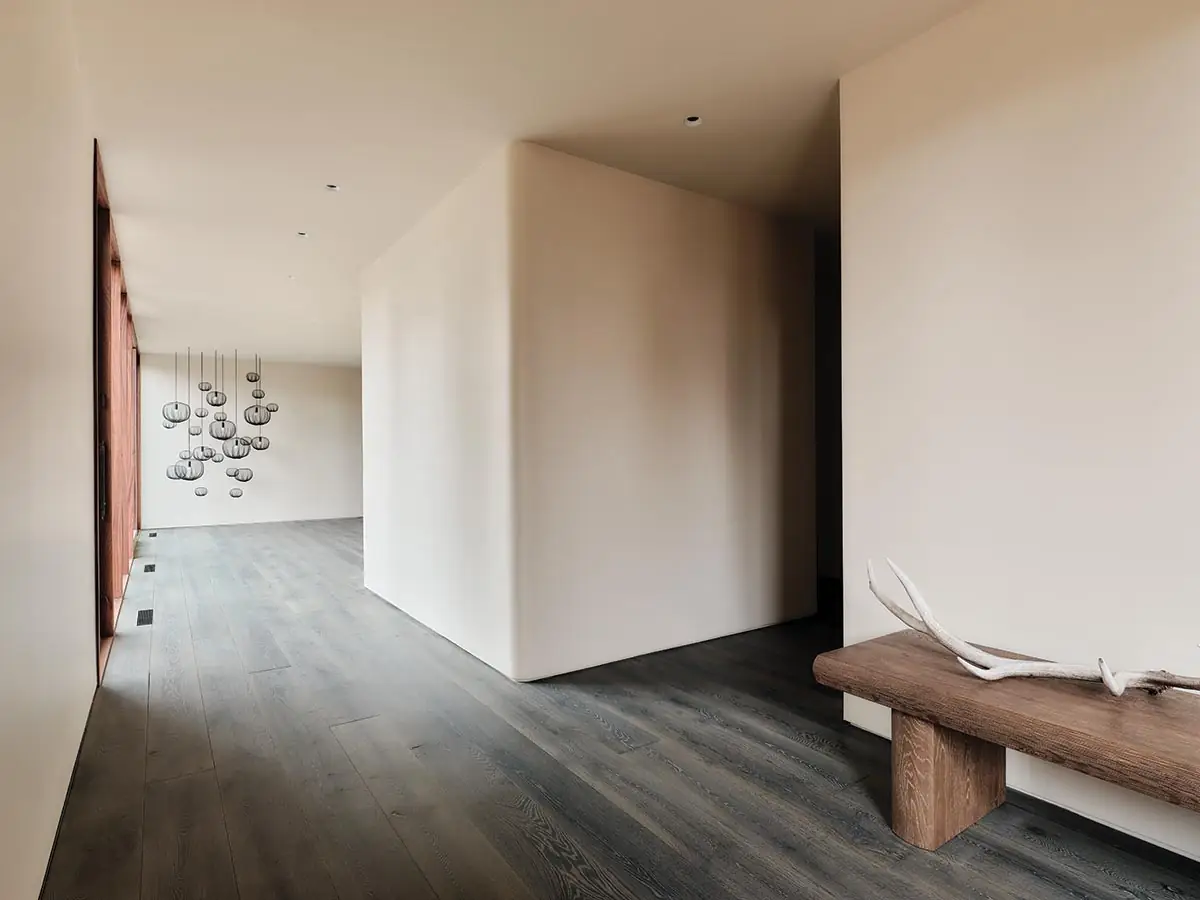 2
A detached utility shed is disguised as part of the approach facade (1). The entry hall (2) leads to the main living space (3). Photos © Joe Fletcher
3
The panoramic vista of a mountainous landscape, framed by delicate cruciform columns, bears an unexpected resemblance to Mies van der Rohe's 1937–39 scheme for an unbuilt house in Wyoming for MoMA board member Helen Resor. But, here, those columns are given a soft edge with mahogany slats affixed to two opposing flanges (a nod to another design giant, Alvar Aalto). Ryan is an enthusiastic and emphatic study of architectural history, and his built work, replete with references, shows it well. "We all have certain people who are always in our head," he says.
To the west of the main living area is a guest suite, providing accommodations for grandchildren and the "grand-dogs." To the east is the primary suite, made slightly more private by a kink in the plan and vertical slats of mahogany, which obscure views down the hall without blocking daylight. In contrast to the expansive landscapes visible from the main living area, many smaller rooms feature square windows that precisely capture outdoor scenes.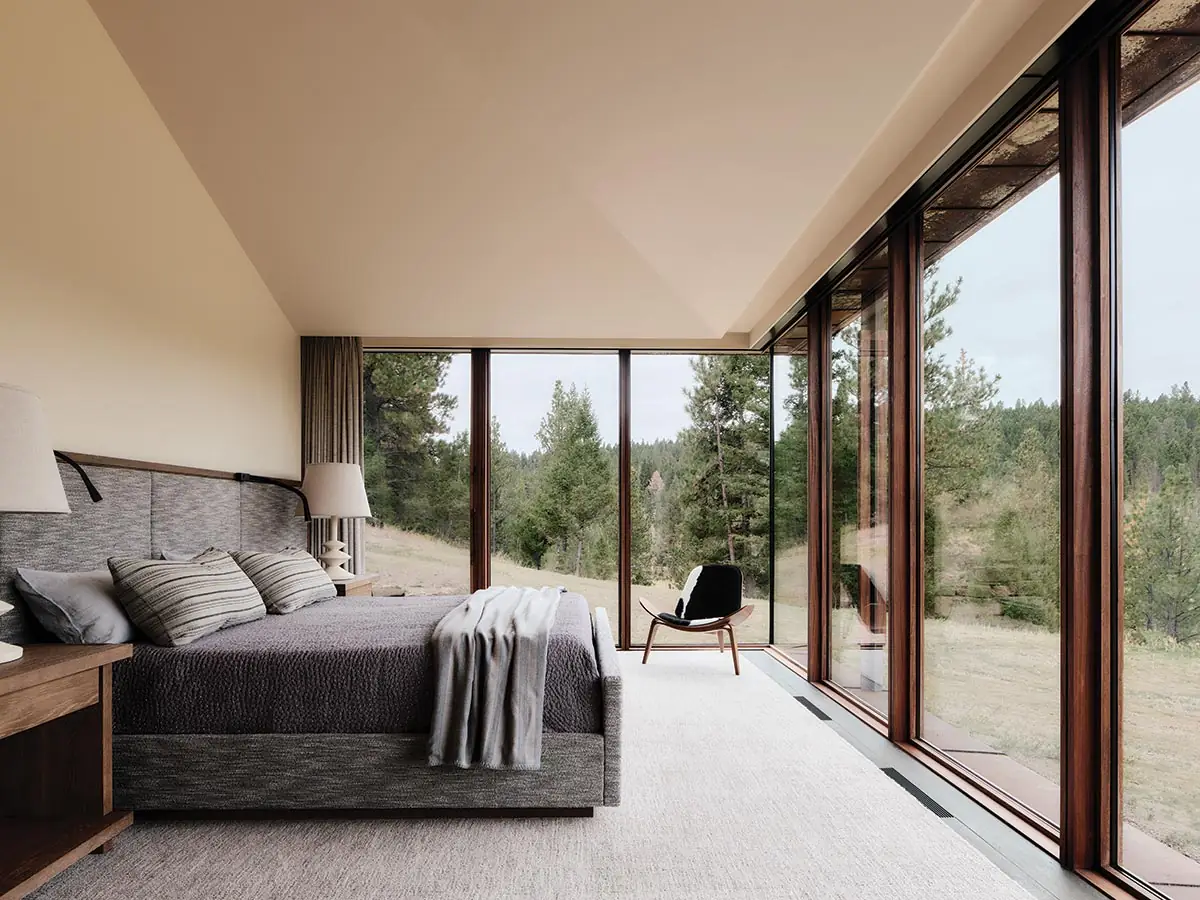 4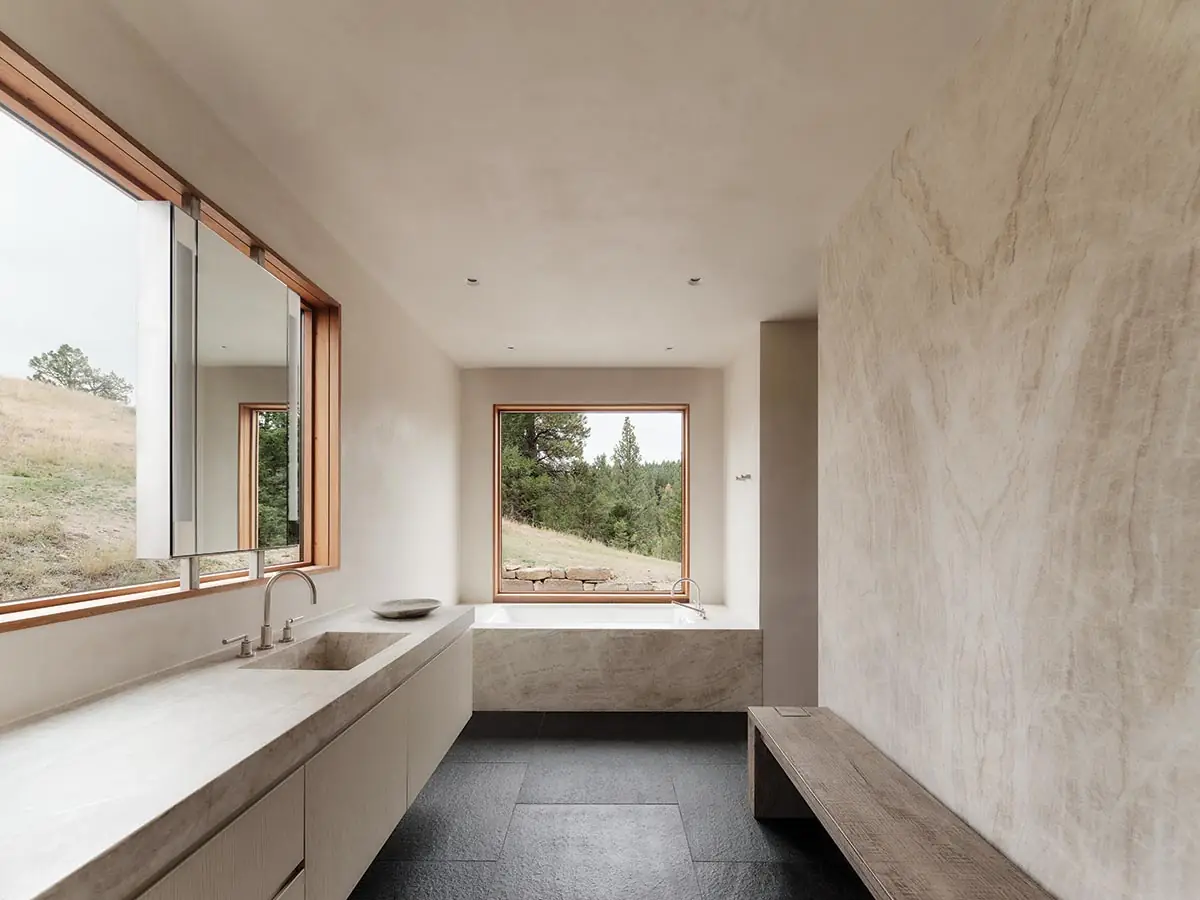 5
A kink in the floor plan and mahogany slats keep the primary suite (4 & 5) out of view from the living room (6). Photos © Joe Fletcher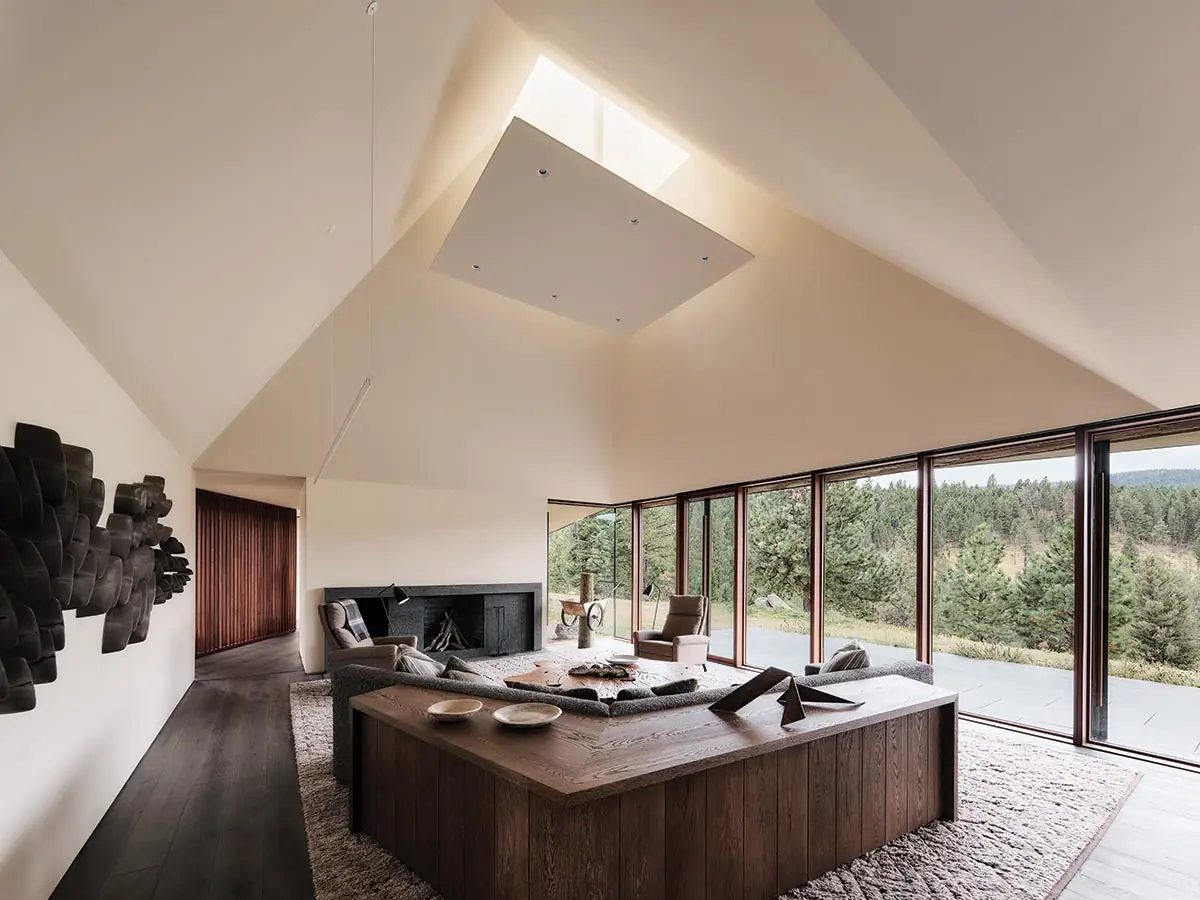 6
Overhead, subtle but deceptive tectonic moves are at work—the ceiling vaults do not always share the same pitches as the larger, canted roofs above them. Guests are probably too entranced by the views and interior spaces to notice, but the strategy makes a rather singular and muscular exterior feel more intimate and complex inside, and heightens the transitions from flat ceilings to vaulted ones. At the center of the living room and kitchen, skylights that include "reflectors" introduce a diffuse glow and prevent damage to the client's collection of art from ultraviolet radiation.
The interiors, orchestrated by Douglas Durkin Design (whose eponymous principal, a close confidante of the client, suggested Ryan as the architect for the job), are finished in a warm ecru, with smoky plain-sawn oak floors. Basalt, used for exterior patios, is also brought indoors in mantelpieces and guest-bathroom backsplashes, where it is bush-hammered for added texture, as well as for bathroom floors. Like the exteriors, the palette is earthen and honest.
Four Roof House is a feat of construction, not only because of its remote location, but because there were so few local contractors willing to tackle a project of this complexity. Much of the house was framed, in wood, by a father-and-son team, while another man, over the course of a winter, almost single-handedly undertook the house's steelwork (his nephew joined in the spring to finish the job). Components that were produced off-site faced a perilous journey to the house. Roof trusses—all 176 of them—were shipped via a tractor trailer, which needed to navigate a narrow and winding driveway with a 250-foot elevation change. As stressful as that sounds, the process brought the architect a great deal of joy. "The fact that they could physically do all this labor amazed me. They were all very proud of what they were making—and they were immune to all kinds of weather."
If only the elements were the lone safety concern. "During construction, I would camp at the site. I was warned that I'd need a gun," the architect remembers. Cougars, grizzly bears, and gray wolves all roam freely here, and, while fatal attacks are rare, they happen. The enclosed dog run adjacent to the primary suite ensures that Henry, the client's chipper Australian labradoodle, doesn't make any unwanted friends.
Many might immediately dismiss a rust-covered house. "What a crazy idea! But if you own that," says Ryan as he gestures toward the client's Robert Rauschenberg, a found-object sculpture that includes a rusty wheelbarrow, "you understand that it can be something much more sophisticated." And, while not everyone might agree, his client certainly does.
Click drawing to enlarge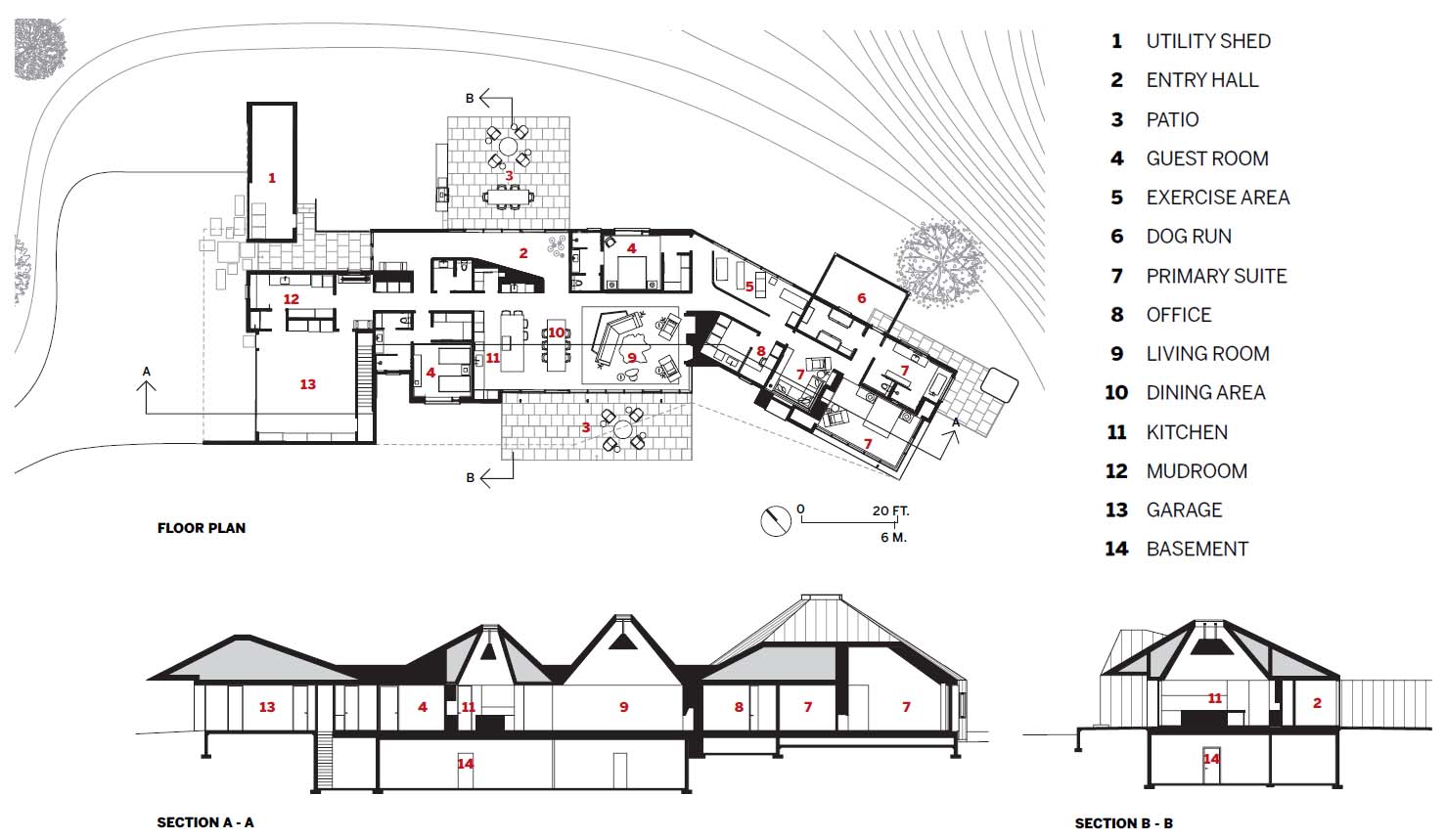 Credits
Architect:
T.W. Ryan Architecture — Thomas Ryan, principal; Luigi Grosso, project manager
Interior Design:
Douglas Durkin Design
Engineers:
Salvetech (structural); Energy 1 (m/e/p)
Consultant:
Ambiance (lighting)
General Contractor:
Lohss Construction
Size:
5,000 square feet
Completion:
November 2022
Sources
Trusses:
Simkins Hallin
Metal Panels:
Bridger Steel
Hardware:
Sun Valley Bronze
Windows & Doors:
Duratherm
Paints & Stains:
Benjamin Moore
Lighting:
B-K Lighting; Q Tran; WAC Lighting; Tech Lighting; Vode; Reggiani
Plumbing:
Dornbracht; Speakman; Duravit