✕
Just weeks after appearing on the latest Risk List of endangered British buildings published by modern architectural preservation nonprofit 20th Century Society (C20), the Richard Rogers Partnership–designed London headquarters of television broadcaster Channel 4 has been Grade II–listed by governmental agency Historic England. The oft-photographed Big 4 sculpture located outside the building's concave glazed entry wall is reportedly not part of the listing.
Comprising 92 percent of listed sites across England, Grade II signifies "special interest" or the second-highest level of architectural and/or historic importance that can be bestowed to a structure and affords them with an elevated level of legal protection against demolition, alteration, neglect, and other threats. Completed in 1994, the Channel 4 building, located at 124–126 Horseferry Road in the City of Westminster, reportedly ranks among the youngest listed buildings in Britain and joins similarly youthful heritage sites like Will Alsop's La Frégate Café (1997) on the Channel Island of Jersey, which was listed late last year.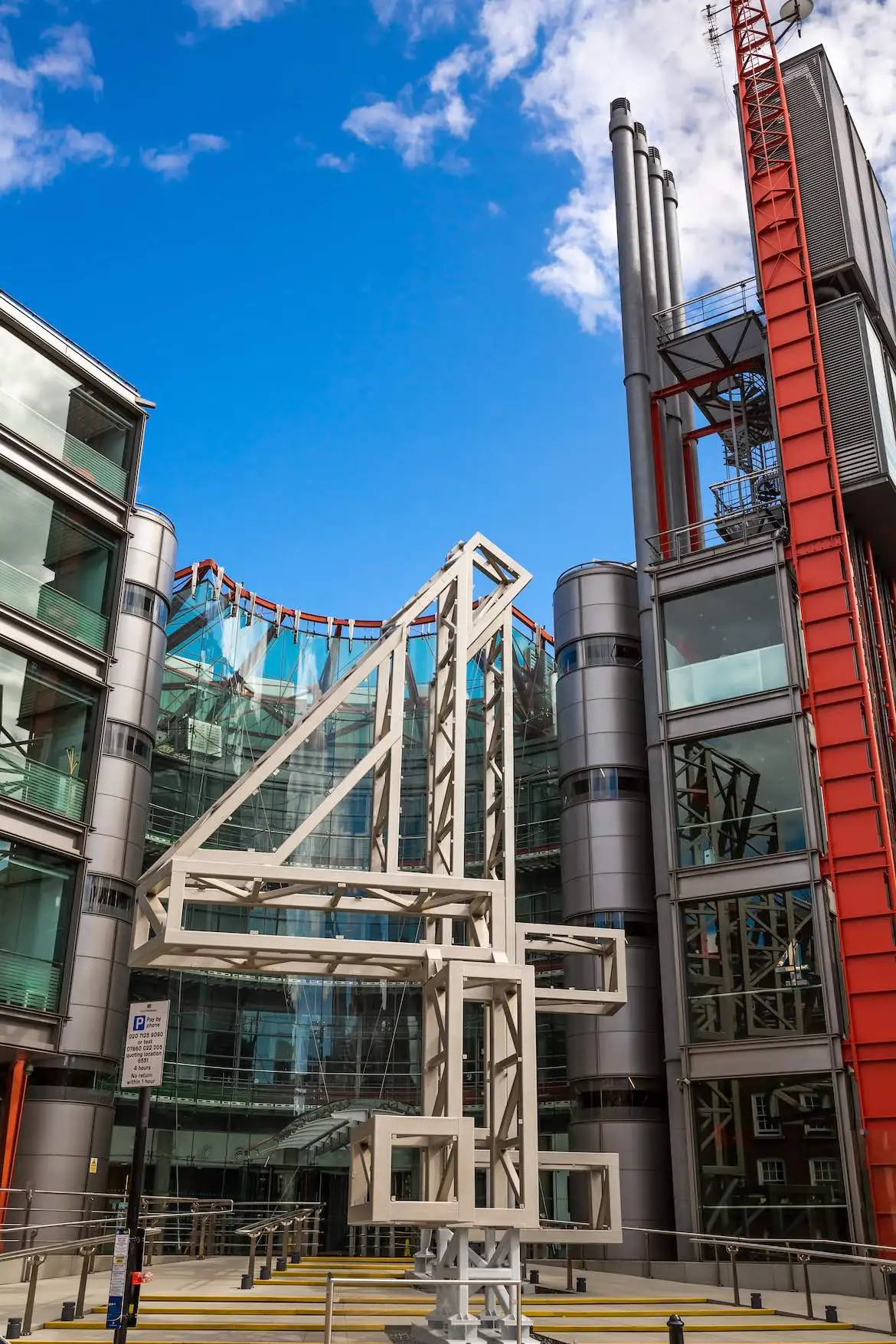 The Big 4 outside of Channel 4 national headquarters. Photo by ruzanna, Shutterstock
Rogers' building, with its characteristic external elevators and accents of colorful structural steel, was joined by a diverse group of ten endangered landmarks on C20's 2023 At Risk list, including a collection of eight, 1960s-era power station cooling towers in rural northeast England and the Museum of London at Bastian House (1977) on London's Barbican Estate. Both of those sites are facing total demolition.
While Channel 4 headquarters isn't at immediate risk of being razed, the 160,000-square-foot office building deemed by C20 as "undoubtedly one of Richard Rogers' most significant public commissions in the UK" has been categorized as being vulnerable to "redevelopment or alternation." Last year, a preservationist siren was sounded when the state-owned but privately funded Channel 4 announced its intentions to consolidate operations by selling its purpose-built headquarters and decamping to the city of Leeds, where the broadcaster maintains a new secondary headquarters. The move to Leeds was pitched as an alternative to a now-nixed privatization scheme. With its future still murky, the RIBA National Award–winning building now maintains a certain level of protection against any radical potential changes down the line as a freshly inscribed entrant on the National Heritage list of England.
In an announcement, Historic England described Channel 4's national headquarters, which was the iconoclastic British-Italian architect's first major completed work in central London following the Lloyd's building, as an "elegant example of high-tech architecture that demonstrates many of the movement's key principles, including the separation of services from the spaces served, the use of prefabricated elements and a technological aesthetic." Completed in 1986, the Lloyd's building—"one of the key buildings of the modern epoch" per Historic England—was Grade I-listed in 2011, making it the youngest building ever at the time to obtain the highest level of national heritage importance.  
Rogers, recipient of the 2007 Pritzker Architecture Prize, died in 2021.
"Television has had an enormous impact on our national life since the 1930s, but the Channel 4 headquarters is one of only a few buildings purposely designed for the industry's needs," said Historic England chief executive Duncan Wilson in a statement. "It is architecturally fascinating, as well as having great historic interest for its connection to Channel 4, which has been a major contributor to our cultural landscape since being set up as a publicly owned channel in 1982."
 C20 director Catherine Croft added that the organization, which "strongly supported" the building's listing, was "delighted to see it being given the protection it deserves."