✕
A white steel screen does not belong in a classic Edwardian house. Or does it? In a 1915 manse in Toronto, recently remodeled and expanded by the architecture firm Superkül, two such elements reach up from a newly installed white-oak floor to touch a restored plaster ceiling. Like much else in the 13,000-square-foot interior, this move embodies a mix of modernist experimentation within a grand old-school residence.
The remodel is a collaboration between Superkül and interiors studio Pencil Design. The familiar division between "modern" and "traditional" does not apply here, explains Superkül partner Meg Graham. "This house is both," she says, "in different measures at different times."
A century ago, the Toronto publishing magnate Sir William Gage commissioned the house from the American architect Charles S. Cobb. (Cobb would soon move to California, where he designed a prominent apartment building that still stands on Sunset Boulevard in West Hollywood.) The Neoclassical architecture, which includes a semicircular portico, bears a strong resemblance to the White House.
The current owners—a young family with a serious contemporary-art collection—asked for a judicious update. The exterior, which was largely intact, was carefully restored. The architects cut away some later additions to the house and designed a new volume for the kitchen, clad in brick and cement board. Its pale yellow hues fit with the house's original buff brick and Indiana limestone facade. The new architecture "does not mimic the old," Graham said. "It picks up the datum lines of the house, but we didn't put a cornice on it."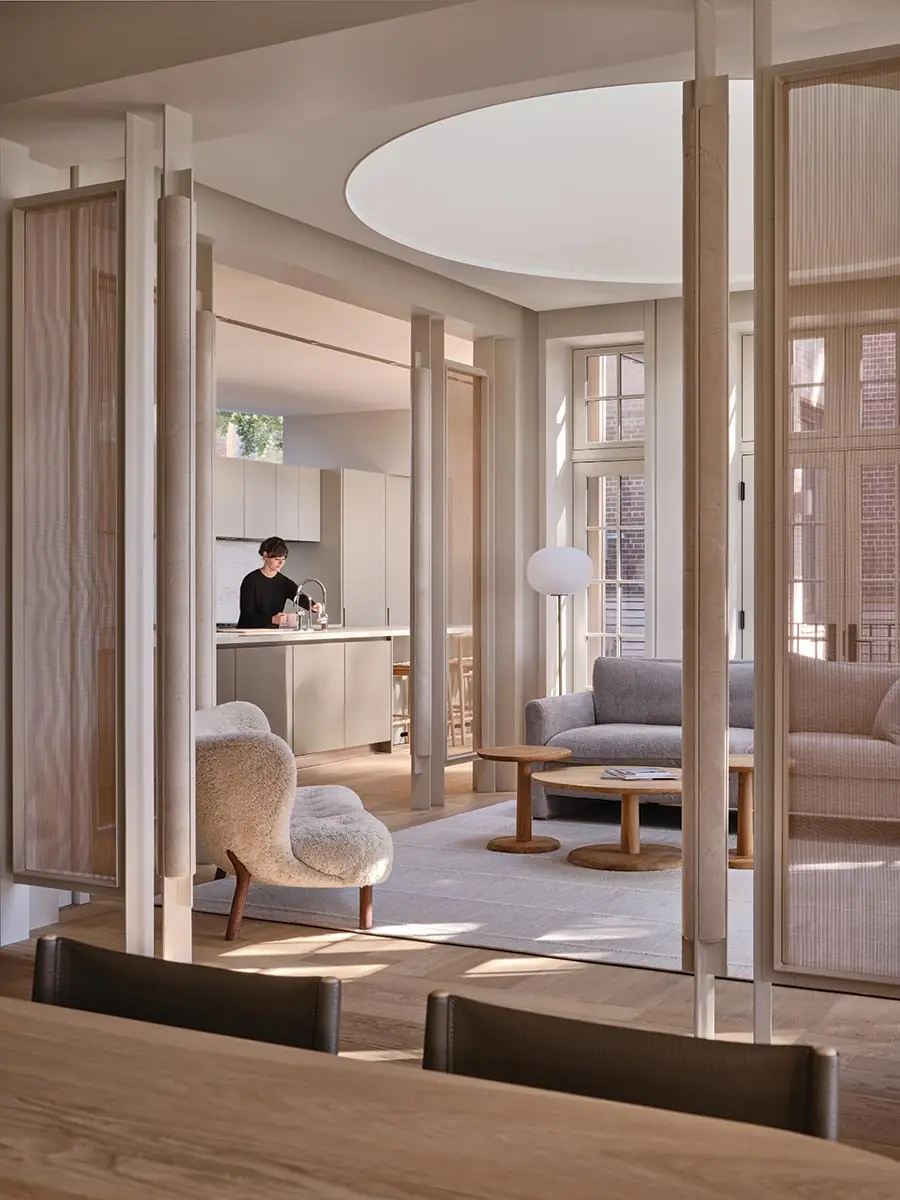 1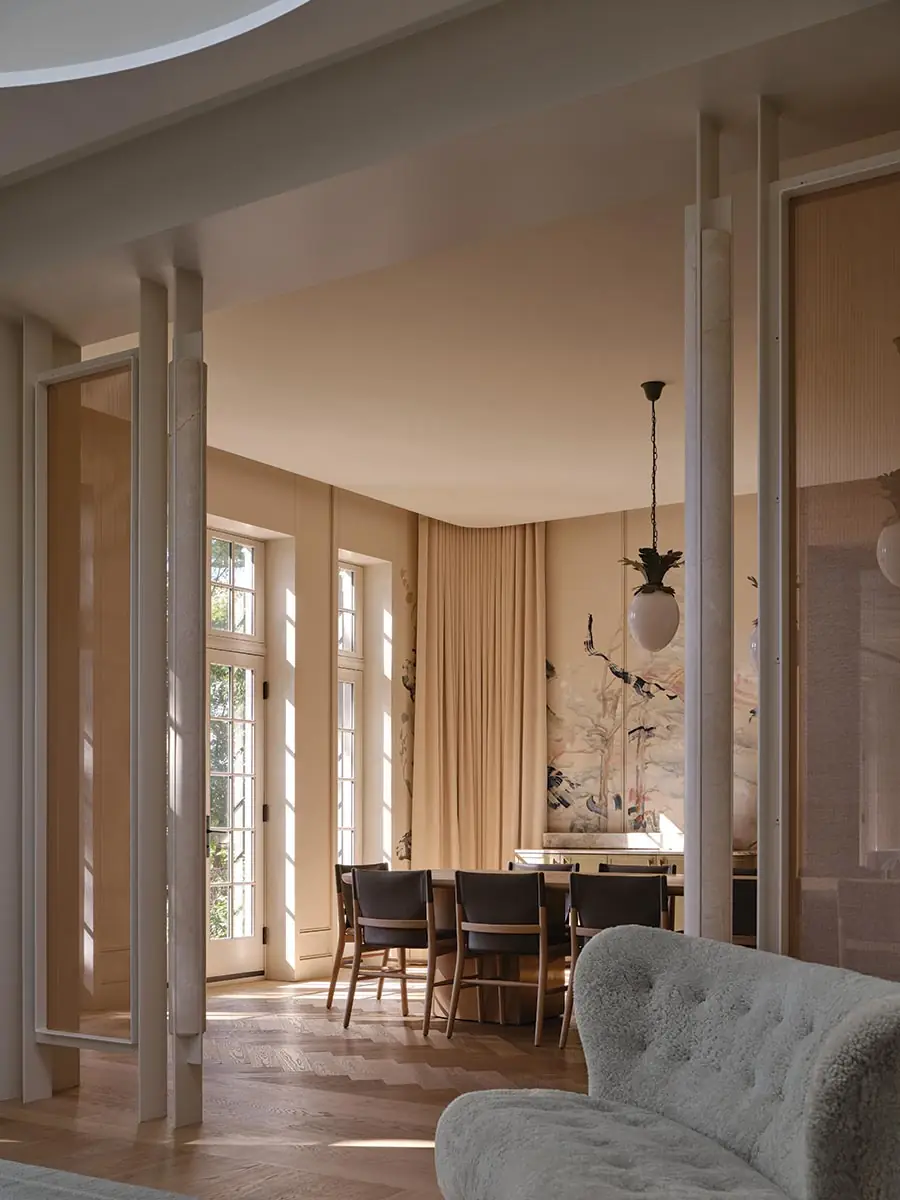 2
The addition, containing a kitchen and mudroom, links to the existing house at the sunroom (1), which leads to the dining room (2). Photos © Doublespace, click to enlarge.
Inside the existing structure, Superkül placed two sculptural steel stairs of its own design, each with continuous guardrails and one extending from the basement to the primary suite on a newly remodeled third floor. Each unfurls in a not-quite-regular spiral, modeled with Grasshopper by architect Kenneth Wong, a member of the Superkül design team, and fabricated by EeStairs.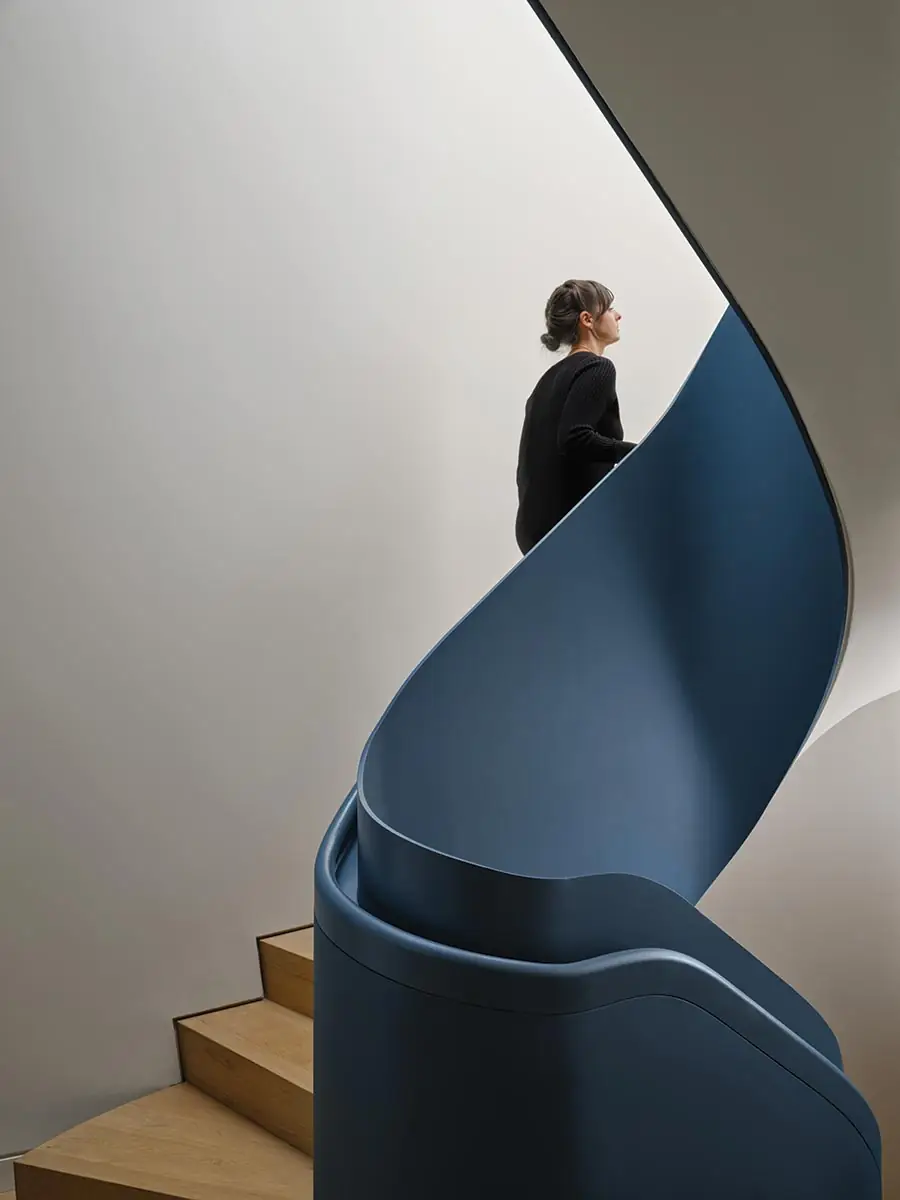 A steel stair in the adjacent service area spirals through all levels. Photo © Doublespace
Other architectural elements carry a similar sensibility: those white steel screens, the matte white panels on the curved walls of the foyers, and new round structural columns, which combine steel and quarter-rounds of Crema Marfil marble. Throughout the house, finishes include gentler touches created by Pencil and the architects. "The goal was to bring a soft, monochromatic palette," explains Pencil interior designer Johanna Peters. "We talked a lot about texture and warmth."
This collaboration plays out in the public rooms on the main floor, which unfold through expansive doorways. The new wing's contemporary kitchen (light sage green cabinets, pale marble counters) connects to a skylit sunroom. These transition into the Cobb building, where the design team created a grand dining room, a mural by artist Tisha Myles dancing across its walls, with animals—four of them, chosen by the family's four kids—mixing with Twombly-esque brushstrokes.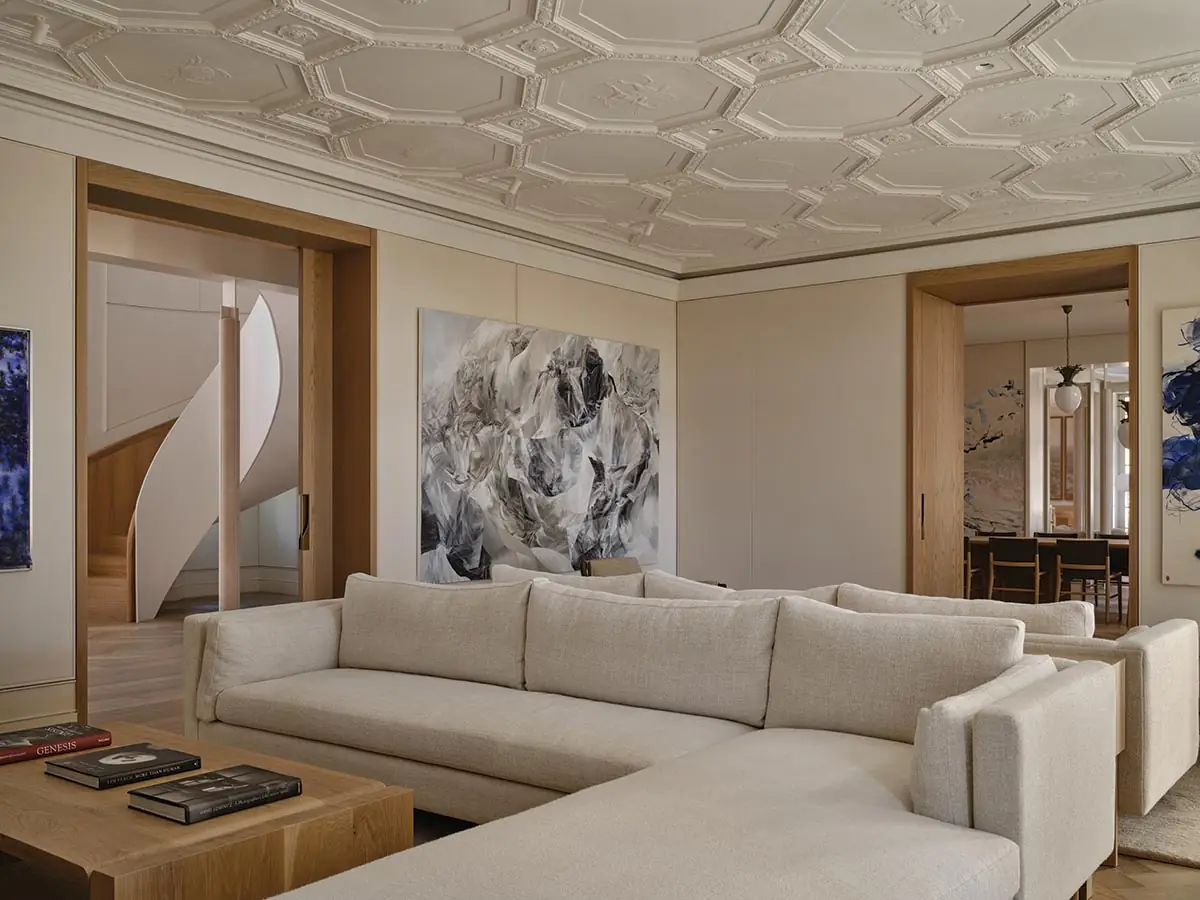 3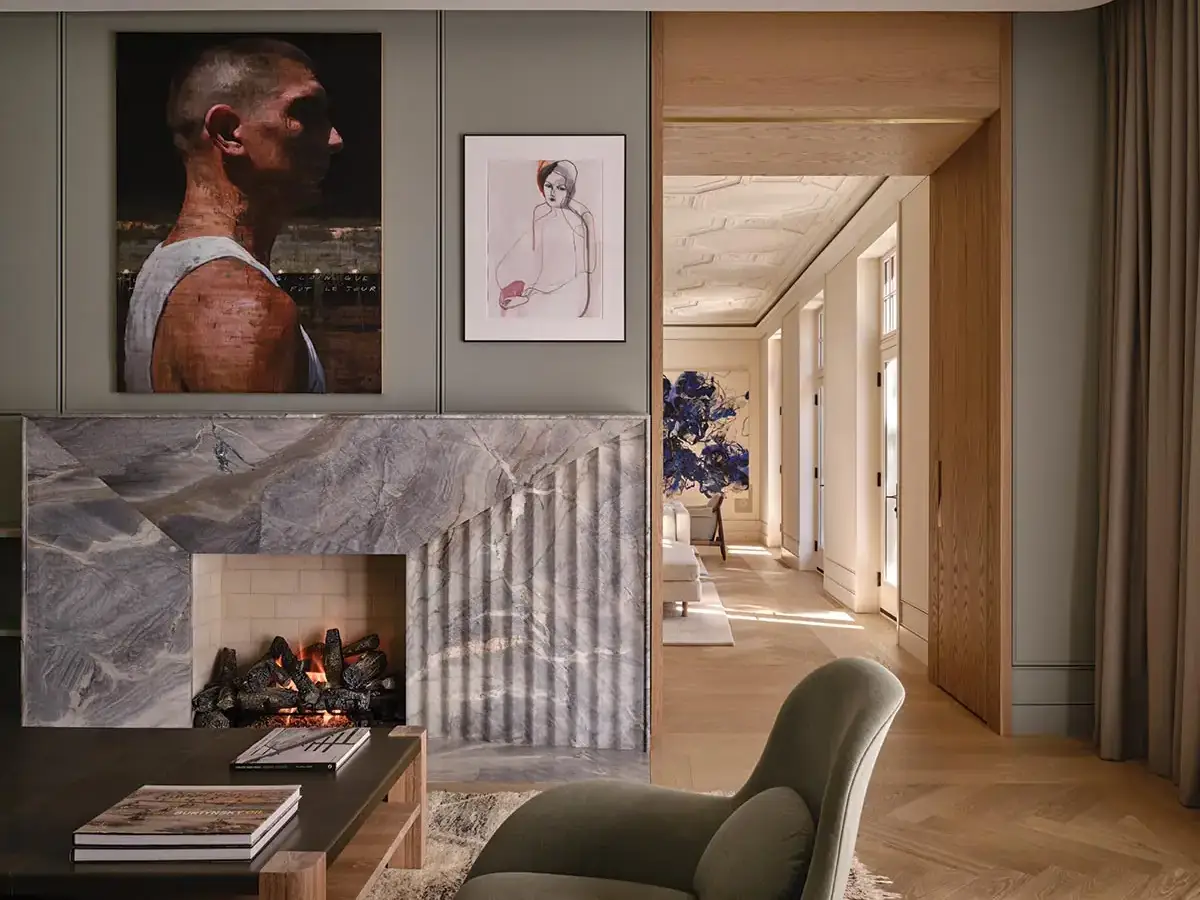 4
The living room and library are connected via a deep wood portal (3 & 4). Photos © Doublespace
The designers also restored the original plaster ceiling of the adjacent living room, which is embossed with the signs of the zodiac, gently illuminating the space with linear LEDs discreetly tucked into simple crown moldings below it. New paneling covers the main surface of the wall. Made from MDF covered with linen and then painted, these decorative elements are framed by deep doorways in white oak, an assertive move by Superkül that evokes Louis Kahn in emphasizing the heaviness of the wall. In the library, just beside it—reached by an off-center doorway that breaks with the Classical logic of the plan—the paneling takes on a green hue, and a dramatic scalloped marble fireplace brings in a Loosian flair.
This was an unusual project for Superkül, a midsize Toronto firm whose typical work ranges from custom ground-up houses to high-rise buildings. But, Graham says, working in concert with a significant historic house provided a pleasant intellectual challenge. "You want to feel that there is a synthesis," she says. "There is a happy marriage of old and new."
Credits
Architect:
Superkül, 35 Golden Ave, Suite 101, Toronto, ON, Canada, M6R 2J5, 416.596.0700, https://www.superkul.ca/
Personnel in architect's firm who should receive special credit:
Meg Graham, Partner-in-Charge, OAA, FRAIC; Connar Walik, Project Architect; Kenneth Wong, OAA, Design Team; Kevin James, OAA, MRAIC, CPHD, Design Team; Janean Brühn, ARIDO, Design Team
Interior design collaborator:
Pencil Design
Engineers:
Kieffer Structural Engineering (structural)
Hayward Consulting & Design (mechanical)
Consultants:
Landscape Architect: Janet Rosenberg & Studio
Lighting: Alula Lighting
Heritage Architect: EVOQ Architecture
Heritage Specification Consultant: GBCA Architects
Arborist: Cohen & Master Tree Services
Building Science Consultant: Synergy Partners
General Contractor:
Anjinnov Management
Photographers:
Doublespace; Clarissa Bonet
Specifications
Structural System:
Stairs: EeStairs (both curved steel stairs – white atrium stair and blue stair in photos)
Exterior Cladding:
Masonry: Brampton Brick Architectural Series, Color: Platinum Velour, Custom Limestone, Indiana Limestone, buch hammered and sandblasted to match existing (by Johnson Playfair)
Existing Brick: All original brick was cleaned and restored, and repointed with a Pozzolanic Hydraulic Lime and sand (brick sand + concrete sand) hand mixed to match existing.
Metal panels: ACM & custom metal: finished in PPG Acrynar 'Harvest Gold' mica fleck paint.
Rainscreen: Garage rainscreen cladding: Rieder oko skin, color: sahara, finish: ferro light
Exterior stucco: custom heritage blend by Lime & Thistle
Standing Seam Cladding: finished in PPG Acrynar 'Harvest Gold' mica fleck paint.
Windows:
Wood frame: LaPage Windows (by Chateau)
Metal frame: Alumil (by Chateau)
Glazing:
Skylights: Curb Mount Skylight (Artistic Skylight)
Doors:
Side entrance: Custom, fabricated by Amberwood Door (oak plank)
Main entrance: Custom, fabricated by Art Boulle (steel & glass