✕
At a 2018 conference held on the eve of that year's World Economic Forum (WEF), European culture ministers, UNESCO and Council of Europe representatives, as well as various European architecture and planning bodies signed the Davos Declaration, a document establishing guidelines for a high-quality Baukultur (literally "building culture") for future European development. Invited by Alain Berset, then-President of the Swiss Confederation, the signatories emphasized "that everyone, irrespective of background, has the right to experience, share, and belong to the cultural environment," and declared that by "enabling people to identify with their living spaces, [high-quality Baukultur] fosters an inclusive and cohesive society, counteracts discrimination and radicalization, and promotes integration and civic awareness. This is not only relevant for city centers and historic sites but for every aspect of Europe's living environment: suburban and rural areas, villages, industrial zones, and infrastructure."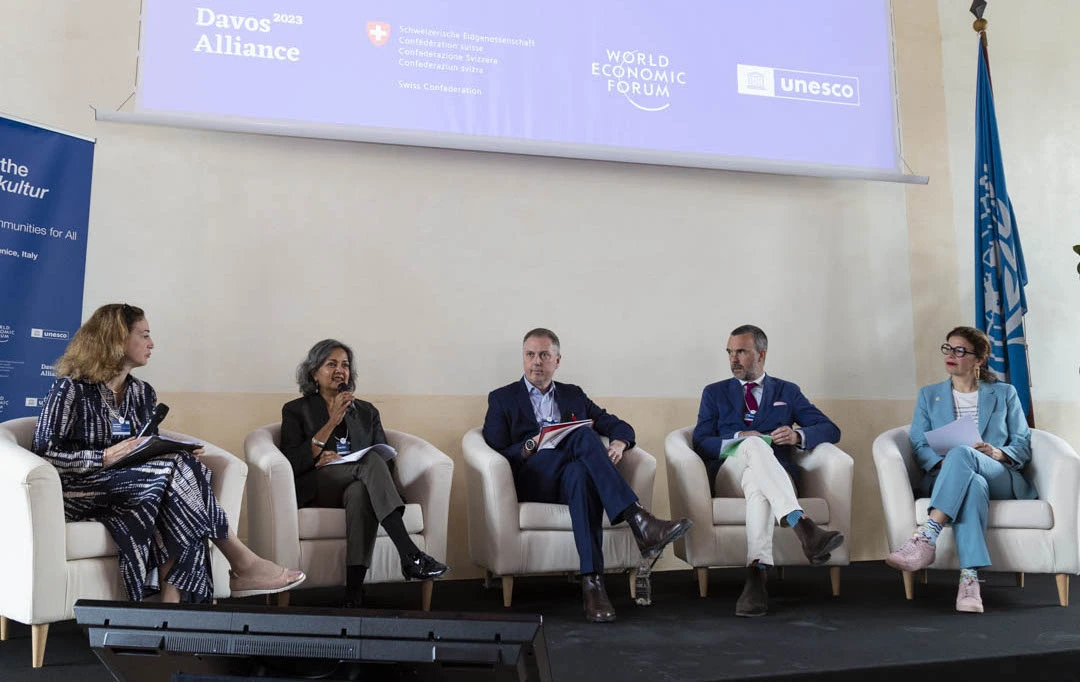 RECORD Editor in Chief Josephine Minutillo (far left) in conversation with (from left to right) Jyoti Hosagrahar, deputy director of Unesco's World Heritage Centre; James Middling, Global Sector Leader - Built Environment at Mott MacDonald; Cédric de Meeûs, head of Group Public Affairs at Holcim; and Ruth Schagemann, president of Architects' Council Europe. Photo courtesy Davos Baukultur Alliance
Eager to see the Declaration's ideas turned into actions, the Swiss Federal Office of Culture and the WEF earlier this year launched the Davos Baukultur Alliance (DBA), which, as the WEF explains, "unites public- and private-sector stakeholders around a shared set of principles to improve the quality and culture of our living environments. The Alliance is dedicated to advancing a conscious, quality-oriented approach to planning, construction, and management of buildings, infrastructure, public spaces, and landscapes." Currently counting 27 European member countries, as well as IGO partners such as UNESCO and the International Centre for the Study of the Preservation and Restoration of Cultural Property, NGO participants including the Architects' Council of Europe, the European Public Real Estate Association, and the International Council on Monuments and Sites, not to mention industry members such as Swiss construction giant Holcim, British engineering and development consultancy Mott MacDonald, and private-equity firm Investcorp, the DBA held its two-day kickoff event at this year's Venice Architecture Biennale. 
Hosted by UNESCO in the atmospheric setting of their Venice outpost, the late-15th-century Palazzo Zorzi Galeoni, the event was opened by RECORD editor-in-chief Josephine Minutillo, who began by introducing the keynote speakers. A welcome talk from Ana Luiza M. Thompson-Flores, Director of the UNESCO Liaison Office in Geneva, was followed by an introduction from Berset (who this year is again serving as President of the Swiss Confederation). Following these introductory speeches, three non-European architecture firms presented work that embodies the DBA's inclusivity and sustainability principles: Pritzker Prize-winning Alejandro Aravena of Chilean office ELEMENTAL spoke about his much-publicized half-house concept for low-income families; Christian Benimana of U.S.- and Rwanda-based MASS Design Group discussed his firm's many sustainable buildings in Africa; while Lyndon Neri and Rossana Hu of Shanghai-based Neri&Hu Design and Research Office gave an overview of some of their adaptive-reuse projects in China.
RECORD's Josephine Minutillo in conversation with DBA members at UNESCO's Venice outpost. Photo courtesy Davos Baukultur Alliance
To conclude the first day's events, Minutillo chaired an in-depth panel discussion with DBA members Ruth Schagemann, president of the Architects' Council of Europe; Jyoti Hosagrahar, deputy director of UNESCO's World Heritage Center; Cédric de Meeûs, head of Group Public Affairs at Holcim; and James Middling, Global Sector Leader—Built Environment at Mott MacDonald. Topics included how heritage and culture can enable sustainability and affordability when they are considered not only as a material asset but also as a knowledge resource; the role of local government in adapting the procurement process to enable the fundamental changes we need to make in a context where long-term goals are too often sacrificed to short-term cost reduction; the need for unprecedented cooperation between previously compartmentalized sectors to create industry ecosystems than can achieve the DBA's goals; the role that systems thinking and data can play in performance optimization, future-proofing, upgradeability, and retrofitting of buildings of all ages; and the need to consider building culture not just as an end to churn out the required number of units but as a means to forge the kind of society we aspire to in terms of jobs, economy, and culture.
"Questions of cultural heritage, sense of place, and urban development are big issues to tackle, even more so when wrapped in the broader concerns of sustainability, affordability, and technology," said Minutillo. "Having these conversations is a good place to start, especially when they are backed by such influential organizations that recognize the vital role of architects in establishing a strong building culture."