✕
RECORD's monthly list of upcoming and ongoing exhibitions, events, and competitions. 
Upcoming Exhibitions
Herzog & de Meuron 
London
July 14–October 15, 2023
Founded in Basel over 40 years ago by Jacques Herzog and Pierre de Meuron, the now global firm is renowned for projects such as the Tate Modern, Beijing's Bird's Nest National Stadium, and 1111 Lincoln Road in Miami Beach, Florida. The Royal Academy of London presents an exhibition, curated in close collaboration with the architects, that explores the firm's past, present, and future works through digital experiences, models, material samples, and prototypes. For more, see royalacademy.org.uk.
Difference Machines: Technology and Identity in Contemporary Art
Chicago
October 13–December 16, 2023
Wrightwood 659, a Tadao Ando–designed arts and design center in Chicago's Lincoln Park neighborhood, is the final destination of a traveling exhibition dedicated to the relationship between technology and those who use it, originally shown at the Buffalo AKG Art Museum last winter. Works by 16 contemporary artists explore the impact of digital technologies on identity in the Internet age, using both familiar and emerging technologies from software-based and Internet art to animated videos, BioArt experiments, online games, and 3D-printed sculptures. For more, see wrightwood659.org
Ongoing Exhibitions
Steven Holl: Half Earth
Milan
Through July 14, 2023
A new exhibition of work by architect, artist, and educator Steven Holl is on view at the Antonia Jannone Disegni di Architettura gallery. The show's title is taken from the ambitious conservation initiative of biologist E.O. Wilson, which seeks to devote half of the earth's area to nature in order to stave off the mass extinction of species, including humans. Centered in the exhibition is Holl's "Edge of a City," a series of preservation studies that offer suggestions for restoring the natural landscape on the edges of large American cities, including his "Spatial Retaining Bars" (1989) for Phoenix and "Spiroid Sectors" (1991) for Dallas. Also on display are large-format watercolor drawings inspired by John Cage's ideas on chance-controlled creation. See antoniajannone.it.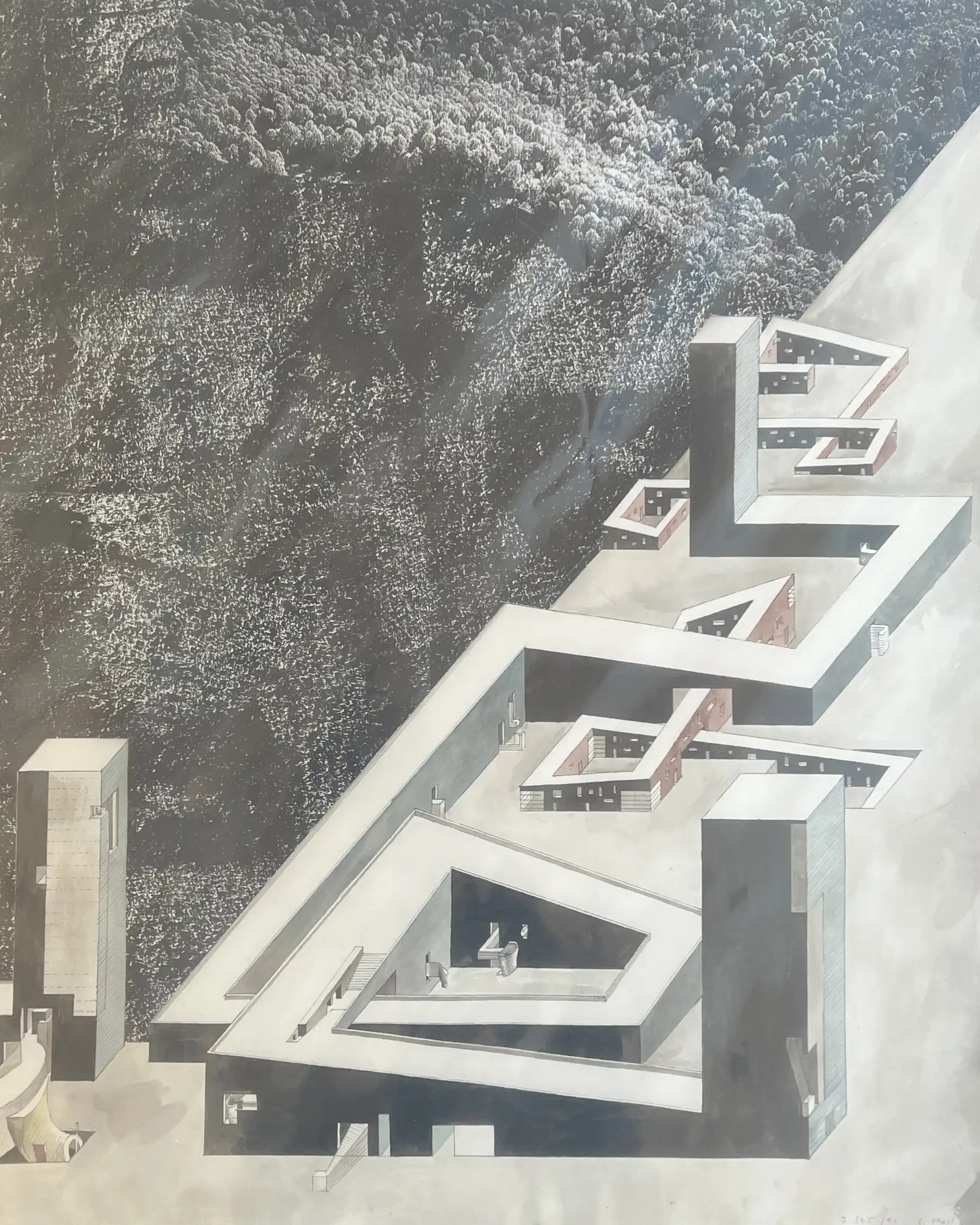 Selected drawings from Holl's "Spiroid Sectors" for Dallas. Photo © Steven Holl Architects
Iwan Baan: Prague Diary
Prague
Through August 20, 2023
On view at the Center for Architecture and Metropolitan Planning is an exhibition showcasing the work of Dutch architectural photographer and record contributor Iwan Baan. Composed of images captured on a seven-day trek through Prague, the exhibit unfolds as Baan's lens mediates the experience of a new city through four geographical themes: first contact, the center, the peripherary, and natural scenery. See praha.camp/en/.
CAMPUS AULA: Educational Architecture in Latin America
New York
Through September 2, 2023
Curated by Jeannette Plaut and Marcelo Sarovic, cofounders of the Santiago, Chile–based architectural platform CONSTRUCTO, this exhibition at the Center for Architecture explores nine new higher-education projects in Latin America. The featured projects, located in Brazil, Chile, Colombia, Mexico, Paraguay, and Peru, represent a rethinking of Modernist conceptions of "campus" and aula ("classroom"), with architects championing a more open and inclusive approach to learning. Accompanying the main exhibition, which includes photography, models, drawings, and diagrams, is an installation of 20 black-and-white photos by Brazilian photographer Leonardo Finotti of university projects, underscoring the Modernist lineage of contemporary work. See centerforarchitecture.org.
Warsaw 1945–1949: Rising from Rubble
Warsaw
Through September 3, 2023
The Museum of Warsaw presents an exhibition that reexamines the postwar rebuilding of the city through a material lens, tracing the collective process of transforming ruins into rubble, and rubble into viable building material over the first four years of reconstruction. On display are over 500 material artifacts, including fragments of sculptures and architecture, stove tiles and ceramics, demolition bricks and concrete rubble, alongside documentary footage, photography, documents, and artworks from the era. The historical exhibition is complemented by contemporary commentary on material reuse and recycling from artists including Tymek Borowski, Diana Lelonek, Antonina Gugała, and architecture studios CENTRALA and Archigrest. See muzeumwarszawy.pl/en.
Gego: Measuring Infinity
New York
Through September 10, 2023
Trained as an architect at Germany's Technische Hochschule of Stuttgart, Gertrud Goldschmidt (1912–94) fled Nazi persecution in 1939 for Venezuela, where she settled permanently and became known as Gego. Though little known outside of her adopted country, Gego became an integral part of the Modernist movement sweeping Latin America from the late 1950s through '70s with her kinetic sculptures, which she described as "drawings without paper." On view at the Guggenheim, this is the first major retrospective of Gego's work in the United States since 2005. Nearly 200 works from her 50 years of artistic production are displayed across five ramps of the museum's spiraling rotunda, including sculptures, drawings, prints, and textiles, as well as archival material and photographs of her installations and public works. See guggenheim.org.
Installation view, Gego: Measuring Infinity, Solomon R. Guggenheim Museum, New York. Photo by David Heald, © Solomon R. Guggenheim Foundation, New York
Concrete Dreams—And Other Perspectives on 1970s Architecture
Helsinki
Through October 15, 2023
The Museum of Finnish Architecture presents an exhibition exploring the architectural styles and influences that characterized a formative decade in the history of Finland's architecture. Featuring the work of several prominent architects, including Alvar Aalto, Reima Pietilä, and Timo Penttilä, the exhibit contextualizes the artistic production within the era's economics and politics, such as the beginnings of the welfare state and rapid urban growth and housing construction. See mfa.fi/en.
Wiener Werkstätte Salesroom 1904—A Virtual Experience
Brtnice, Czechia
Through October 29, 2023 
This traveling exhibition, currently hosted by the Josef Hoffmann Museum, showcases the work of the renowned Wiener Werkstätte, a Vienna-based design collective—founded in 1903 by the graphic designer and painter Koloman Moser, the architect Josef Hoff-mann, and their patron, Fritz Waerndorfer— that aimed to revolutionize the applied-arts industry. Through a virtual recreation of the Moser and Hoffman–designed salesroom in 1904, visitors can explore the Wiener Werkstätte's pioneering designs—including furniture, textiles, ceramics, and glassware—that laid the foundation for future movements such as the Bauhaus School. For more information, see mak.at/en/brtnice.
Hot Cities: Lessons from Arab Architecture
Weil Am Rhein, Germany
Through November 5, 2023
The Vitra Design Museum presents a "traveling archive" that explores the innovative and sustainable design solutions developed by architects in the Arab-speaking world in response to the region's challenging climate. Designed by the architecture studio Site Practice and curated by urban geographers Ahmed and Rashid bin Shabib, the exhibition showcases a range of urban case studies and projects that demonstrate how passive cooling techniques, water-management systems, and vernacular design can create livable spaces in hot and arid environments, inviting visitors to explore the historical and contemporary contexts of Arab architecture and learn from the lessons it offers. See design-museum.de/en.
Radical City inc.
Amsterdam
Through December 8, 2023
The first part of an evolving exhibition dedicated to new ideas for sustainable cities is at the Transnatural, a nonprofit platform that explores the merging of art and design with nature and technology. Radical City inc., which also is presenting a performance program and an installation at Dutch Design Week, brings together designers and architects challenging "conservative notions of city life and [exploring] different routes to a new, future-oriented urban landscape." This exhibition features the work of an interdisciplinary group of designers and artists addressing urban challenges, such as climate change, social inequality, and environmental degradation, and highlights the role of technology, collaboration, and community engagement in city-making. See transnatural.org/en.
Events
AIA Conference on Architecture
San Francisco
June 7–10, 2023
Thousands of architecture, engineering, and construction professionals are expected to gather for seminars and practicums and to hear from leading voices in the industry at this year's American Institute of Architects' annual conference. The keynote speakers include former New Zealand prime minister Jacinda Ardern and Walt Disney Imagineering president Barbara Bouza. See conferenceonarchitecture.com.
Record on the Road: Sustainability in Practice
Boston
June 20, 2023
Join record and MIT Architecture for a special half-day event showcasing cutting-edge research and built projects employing advanced software, mass timber, circular construction, and upcycling. Speakers include Fred Holt of 3XN, Nico Kienzi of Atelier Ten, and Chandra Robinson of LEVER Architecture. The event is free to all architects and design professionals. See architecturalrecord.com/record-on-the-road.
Building a Better Proposal: How Worldclass Architects Get Clients to Say Yes
Virtual Webinar
June 22, 2023
In this free record webinar, we review what is included in an architectural proposal, the difference between a proposal and contract, and terms and conditions to turn your proposal into a contract. We also highlight the importance of linking to your project setup and the valuable benefits of using AIA agreements. Continuing-education credits are available. See architecturalrecord.com/events.
Arquiteturas Film Festival 2023
Porto, Portugal 
June 27–July 1, 2023
The 10th edition of the annual architecture film festival is dedicated to the theme "Where Life Happens," which explores how social dynamics are both shaped by and inform the built environment. Hosted in several venues throughout the city, the festival comprises structured three sections: the official program, the guest-institution program, and the competition program, which will feature the 19 winning films submitted in the festival's competition. Film screenings will be accompanied by installations, talks, and walking tours. See arquiteturasfilmfestival.com. 
Competitions
Europan 17
Deadline: July 30, 2023
This biennial competition is open to professionals under 40, in the fields of architecture, urban design, engineering, and landscape, working in Europe or with a European degree. In recognition of the threat posed by the climate crisis, this year's edition is titled Living Cities and seeks design proposals that create "complex, global, and dynamic spatial reconfigurations in damaged inhabited milieus in order to revitalize biological and human communities." Along with a program brief, competitors will receive a list of sites in European cities, ranging in scale from micro to macro. Each site is connected to one of three themes, this year oriented around biodiversity, inclusivity, and adaptive reuse, respectively. Winning teams will receive a prize of €12,000 and be invited to present their proposals at the annual Inter-Sessions Forum next year. See europan-europe.eu/en. 
E-mail information two months in advance to schulmanp@bnpmedia.com.