✕
Joining the likes of Renzo Piano, Antonio Citterio, and Arquitectonica, Zaha Hadid Architects (ZHA) is the latest bold-face name tapped to design a luxury condo development along a compact, fast-evolving stretch of Collins Avenue just north of the Miami Beach city line within the town of Surfside. Referred to by Cultured magazine in 2018 as a "hub for Miami's new wave of starchitects," once-sleepy Surfside is more associated, however, with tragic structural failure than it is with famed international designers.
On June 24, 2021, a 40-year-old condo tower at 8777 Collins Avenue partially collapsed, killing 98 people in what was one of the deadliest non-deliberate building collapses in U.S. history. The ZHA-designed project—an "ultra-luxury boutique oceanfront condominium" —would be realized at the same site where Champlain Towers South fell two years ago this Saturday. (Federal investigators with the National Institute of Standards and Technology recently announced a preliminary finding that the 12-story tower, designed by William Friedman, did not meet building code when completed in 1981; an exact cause of the collapse has not yet been determined.)
As recently announced by Dubai-based developer Damac International, two different ZHA-produced designs for the project have been submitted to Surfside planning authorities for approval. Both near-identical design variations envision a pair of sculptural 12-story volumes joined by an atrium at its base and linked at roof-level by a 100-foot, glass-bottomed swimming pool. As described by the developer in a June 13 announcement, the balcony-wrapped, characteristically curvy building will feature a precision-engineered facade whose color and texture evokes the town's sand dune-studded coastal landscape. Both designs also feature "soft, cloud-like elements, that stretch, pull, and contract emulating the ebb and flow of the ocean to animate the facade."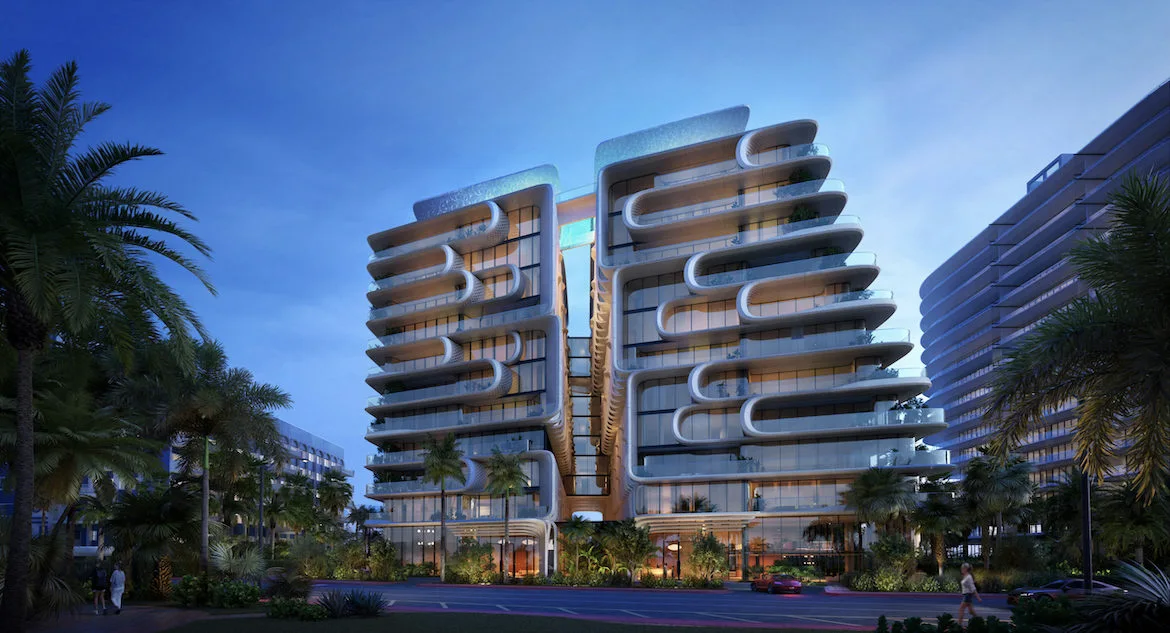 The second design scheme submitted to Surfside for planning approval with a set-back south elevation. Image courtesy Damac International
As proposed, the ZHA-designed luxury development will have 57 units ranging from 4,000 to 15,000 square feet—that's less than half of the units at Champlain Towers South—with Damac's submission being based on "alternative interpretations of the town planning ordinances." As detailed by the developer, one of the submitted designs steps back on the south elevation while the other has consistent elevations on all sides. "The intention is to provide the Town with designs that we believe accord to the ordinances and meet the highest design standards possible under each interpretation," Damac explained.
Damac closed on the nearly 2-acre property for $120 million last July following a decision by a Miami-Dade County judge that cleared the way for the redevelopment of the site. A memorial park remembering those who lost their lives in the collapse is planned for 88th Street, which would be partially closed to vehicular traffic.
"We are honored to have been chosen for this very special project. While no work of architecture can ever remove the pain of the past, nor should it, a truly ambitious work of architecture can respect such a significant site," said ZHA director Chris Lepine in a statement. "It's a great responsibility to be providing this vision for Surfside."
The Surfside project is ZHA's second Miami-area commission. The London-based firm's One Thousand Museum, a 62-story residential tower in downtown Miami, opened in 2019, three years after Zaha Hadid suffered a fatal heart attack at the age of 65. She was in Miami at the time of her sudden death. That project, already in the early stages of construction when Hadid died, was the Pritzker Prize–winning architect's first residential tower in the Western Hemisphere. Per ABC News, Damac aims to begin construction on the ZHA-designed Surfside development in 2024, the same year that investigators are expected to conclude their investigation into the collapse of Champlain Towers South.