✕
The Moon Gate, an ancient Chinese architectural element that's essentially a nearly circular arched portal through a garden wall, has potent spiritual pull: originating at the homes of wealthy landowners, these circular stone or brick openings fuse together the celestial with the earthly and represent prosperity, good fortune, renewal—a threshold as a blessing, if you could afford it.
In 2022, a different sort of pedestrian passageway, a bridge, was completed along the east bank of the Huangpu River in Shanghai's Pudong district. While the bridge—more precisely, a 56,000-square-foot plaza with two irregularly shaped spans extending over a manmade waterway—evokes the moon gate in both name and form, its concerns are more egalitarian in nature. Designed by Boston-based architecture practice Höweler+Yoon (HYA), Moongate Bridge is a public gathering space and gateway to Shanghai Expo Park, coupling historical reference with contemporary reflection. Situated on the far northern edge of the park, at a narrow, bar-shaped artificial lake that itself is positioned over a subterranean parking garage, Moongate Bridge is directly opposite an elevated expressway that becomes the Lupu Bridge, a lengthy steel-arch landmark carrying six lanes of traffic over the Huangpu. More vitally, the sophisticated new bridge-plaza is adjacent to Shanghai Metro entrances, allowing for foot traffic to more slowly trickle in and out of the sprawling riverfront park.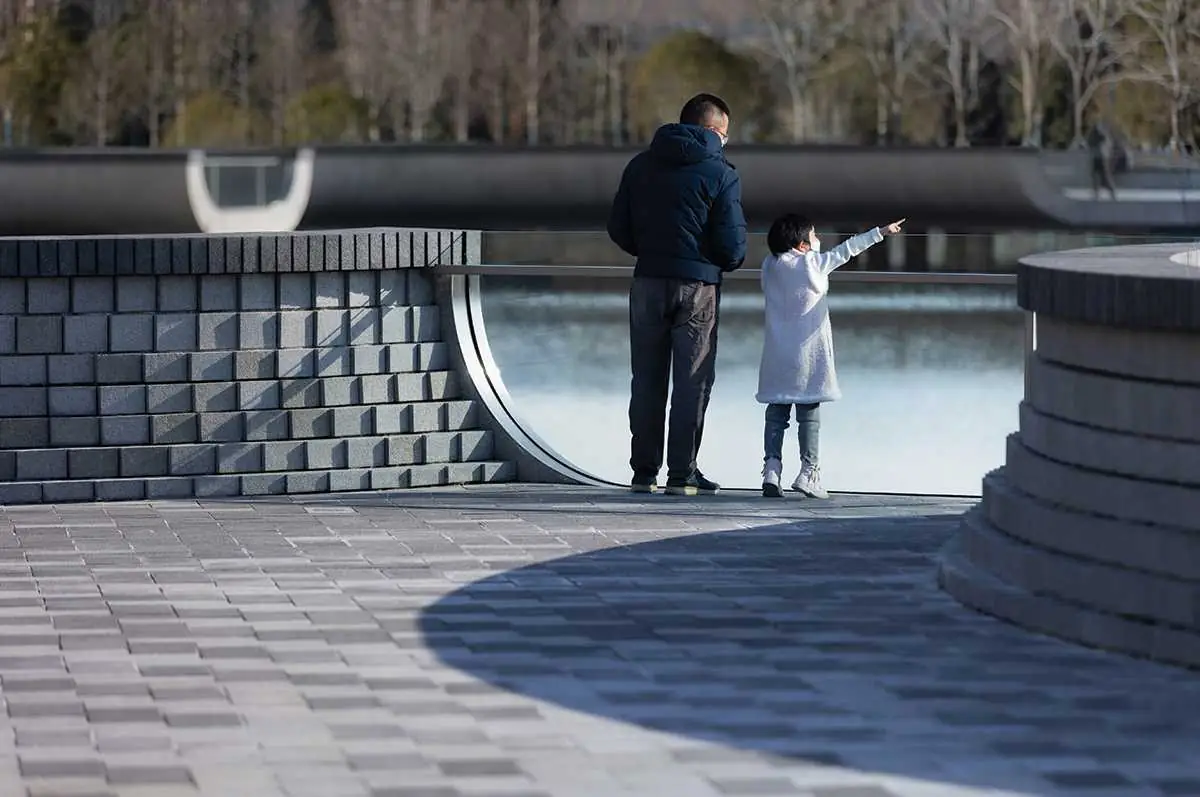 Photo © Wu Tao/Shrimp Studio, click to enlarge.
While Moongate Bridge is chiefly a structure of conveyance, it's also a space for lingering. Lookout points—or "cavities" as HYA cofounding principal Eric Höweler describes them—formed by flat openings in the opaque semicircular guardrail that are fronted by glass give small groups and solo visitors a reason to pause.
"The little overlooks are designed for contemplation, says Höweler. "Like the traditional Chinese garden, there's a pavilion with a scholar who sits and looks at that landscape and is inspired to write poetry. We had a sentimental kind of imagery in mind."
Stepping out of these cozy lookout nooks jutting over the lake, pedestrians find the spans that invoke moon gates are themselves spacious enough to accommodate considerable foot traffic. As Höweler notes, Moongate Bridge is "sized for the masses."
The Shanghai Land Company–commissioned project is HYA's second in China, following Sky Courts, an exhibition hall completed in the Sichuan capital of Chengdu in 2011. The firm, cofounded by Meejin Yoon, was selected for the pedestrian bridge at Shanghai Expo Park via an invited competition that found three contenders—HYA, Johnston Marklee, and local studio Archi-Union—working on bridge schemes for six different sites within the park.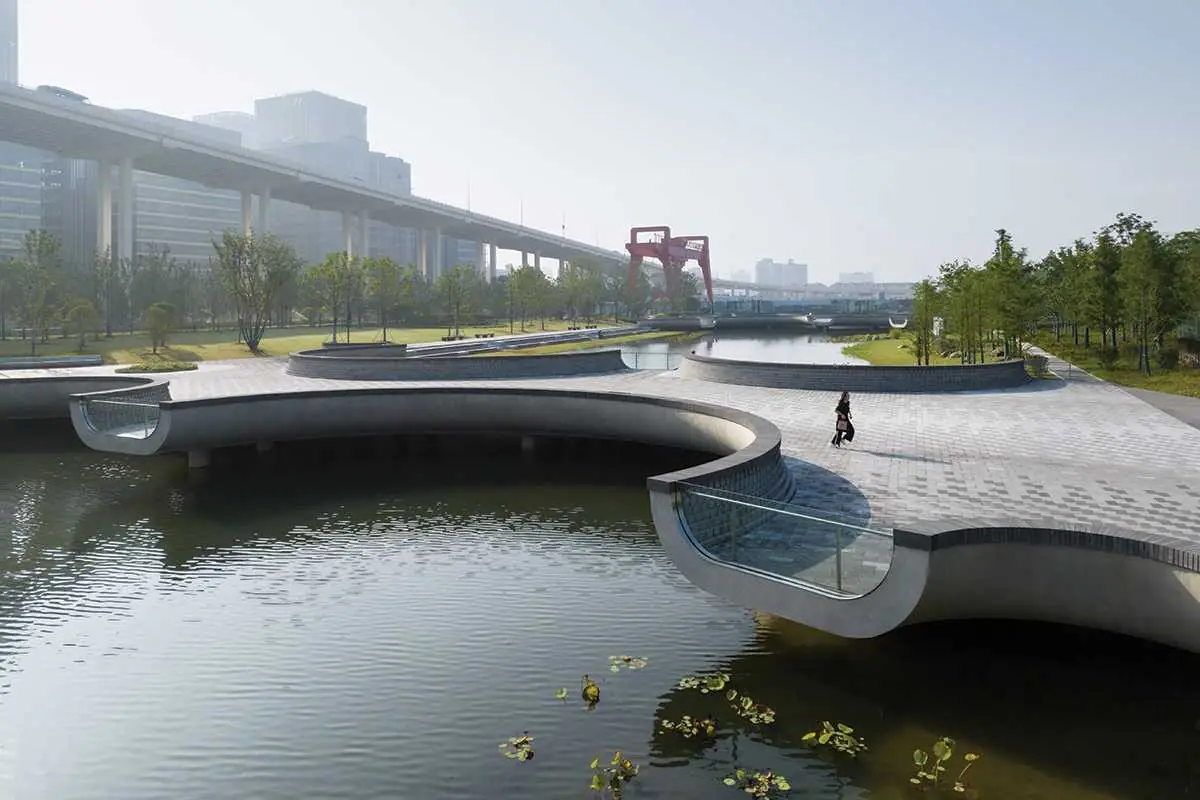 Moongate Bridge spans a narrow artificial lake at the northern entrance of Shanghai Expo Park in the city's Pudong district. Photos © Wu Tao/Shrimp Studio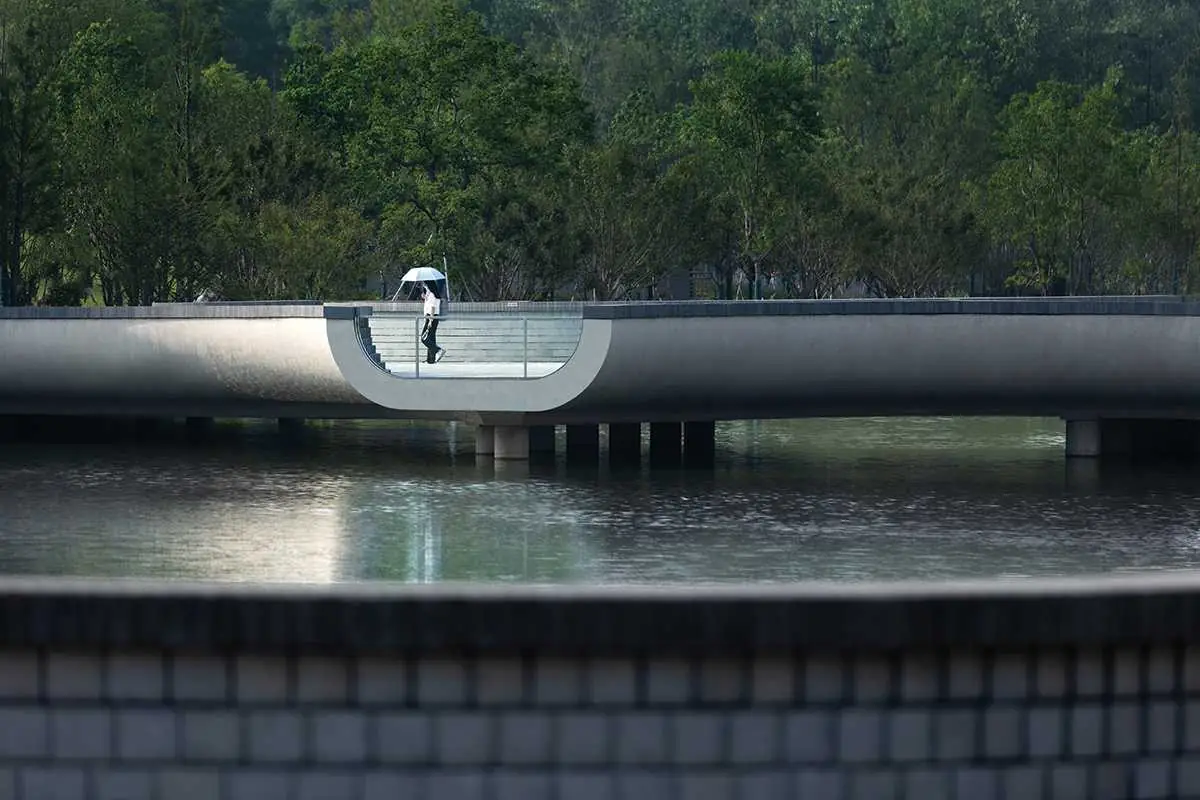 Clad in multihued gray granite pavers, the floor surface of the site-cast concrete bridge has a pixelated effect, with different shades of gray suggesting areas where users should hang back and congregate on the water's edge (dark gray) and areas where they are encouraged to keep moving (light gray). "There's a kind of speed that's mapped into the paving pattern to designate zones for movement and then zones for eddies and slowness," says Höweler.
Ultimately, Moongate Bridge seems optimized for something most closely akin to ambling. "It's not made to speed you up or convey you quickly and efficiently," adds Höweler. "There's a kind of willful inefficiency to help slow you down."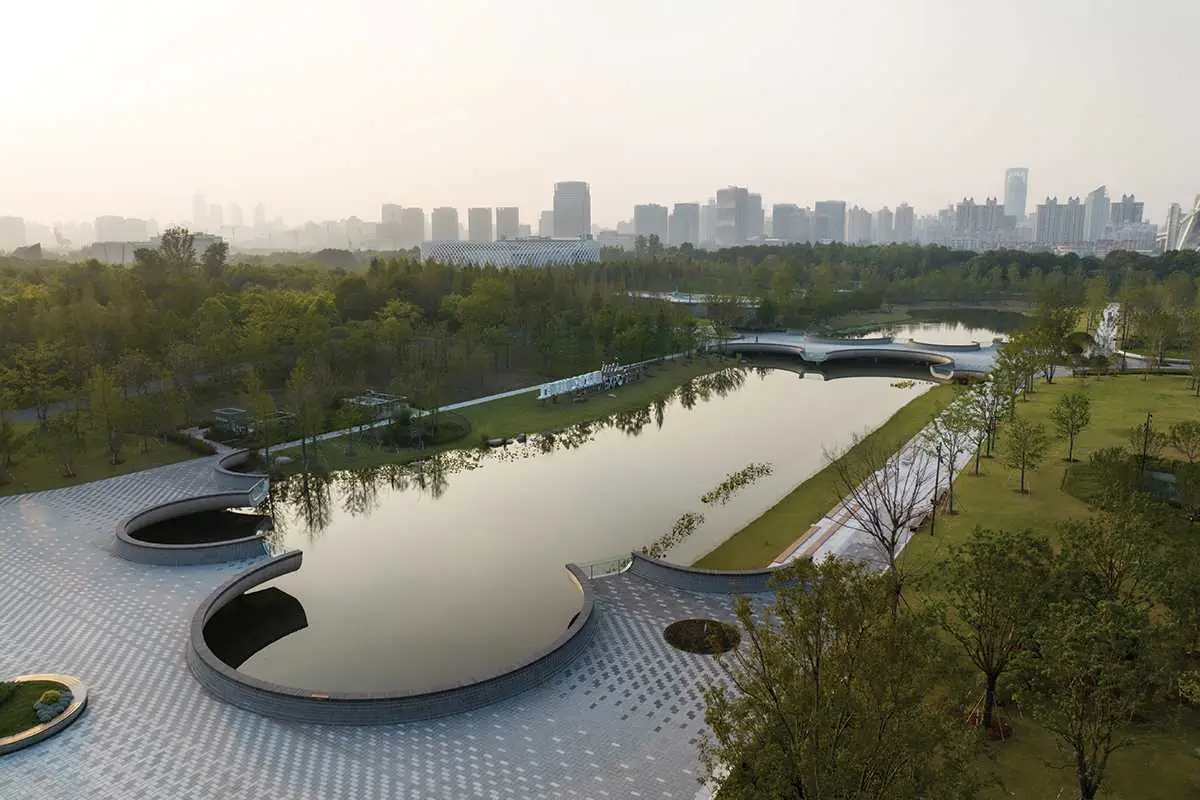 Shanghai Expo Park is located on the former grounds of the city's Expo 2010, along the Huangpu River, Photo © Wu Tao/Shrimp Studio
Much like the moon gates of traditional Chinese garden design, Shanghai Expo Park itself is symbolic of new beginnings. Existing as natural wetlands before being scarred by decades of industry, the swath of riverfront now in the shadow of the Lupu Bridge was transformed into the grounds of Shanghai Expo 2010. The five-month-long world's fair drew more than 73 million visitors to the former brownfield site. Following the conclusion of Expo 2010, much of the area was set aside as urban parkland, with public gardens and a handful of recreational and cultural diversions. (Expo leftovers, including the Mercedes-Benz Arena and a small smattering of pavilions, remain in the park or its vicinity.)
Still, the transformed site is "mostly landscape," Höweler says, adding that Moongate Bridge's embrace of traditional Chinese landscape design through its emphasis on relationships, not objects, is "trying to stitch or connect back to a history that was lost during the Cultural Revolution."
Drawing parallels with HYA's earlier, Chinese courtyard typology–reimagining Sky Courts' commission in Chengdu, he adds that both projects aim to establish "some sort of linkage" to the past. "And that's been very hard to achieve in a way that feels authentic." At Shanghai Expo Park, the firm has reached for the moon—and seized it.
Click graphic to enlarge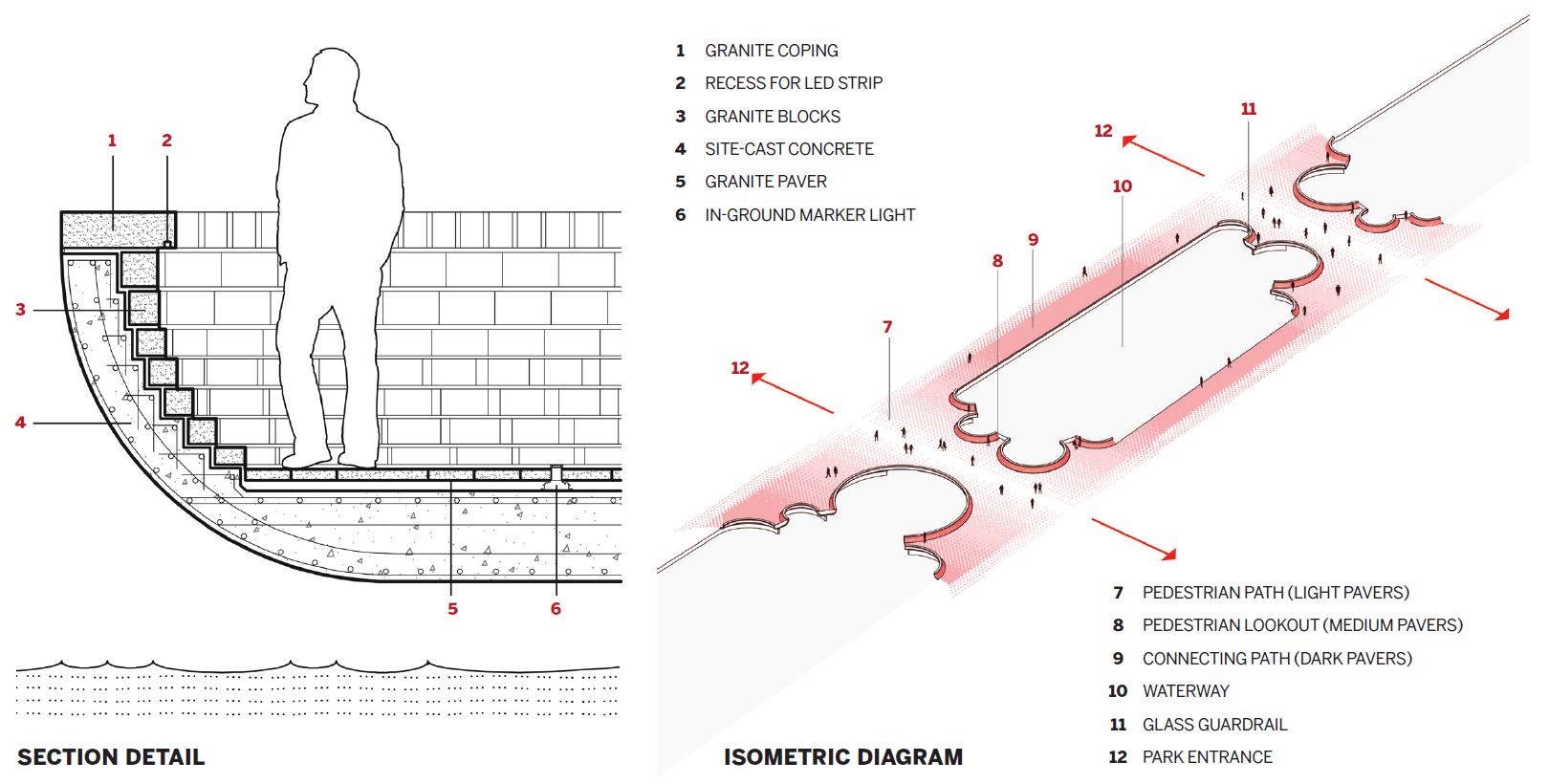 Click plan to enlarge, courtesy Höweler + Yoon