✕
London's National Portrait Gallery (NPG) is a unique cultural venue, founded in 1856 to tell the story of Britain through portraiture, and where a work's subject is often more important than the artist. It is fitting, then, that the museum's latest architectural incarnation is rooted as much in studying people as it is in architecture itself.
Visitors to the NPG in 2018 might have noticed two people lurking in the shadows of its late-19th century neoclassical galleries, apparently observing the public instead of the paintings and photography within them. After a proposal submitted by London-based Jamie Fobert Architects (JFA), joined by Purcell in the role of heritage architect, was selected from an open competition to expand and reimagine the galleries, Jamie Fobert, director at JFA, and Liz Smith, partner and chairperson at Purcell, became regular visitors and documentarians to the storied institution. "We spent a lot of time at the beginning watching people walk through the galleries," Smith said during a recent preview tour. "Visitors had real gallery fatigue—you could see them just walking past dark space after dark space." Jamie Fobert added: "It is an art gallery that's not about art—it's really about people, and time." It makes sense then that the NPG's latest transformation is appropriately dubbed the Inspiring People project.
Ondaatje Hall at the National Portrait Gallery, London. Photo © Jim Stephenson
The architecture needed deep attention, too. Once-grand galleries had been tweaked and adapted over the years since the NPG first opened more than 120 years ago at its St Martin's Place site, adjacent to the National Gallery. Previously grand moments of architectural adaptation—a 1930s addition by Sir Richard Allison and a Dixon Jones–designed wing for the millennium—have been overshadowed by many ad hoc alterations to the historic fabric that accreted daily use of the building, resulting in sequences of hard-to-navigate galleries and a far-from-welcoming ground floor.
Blavatnik Wing at the NPG. Photo © Jim Stephenson
The 1896 building, designed by Ewan Christian, wraps around the northeastern corner of the National Gallery, sitting in the shadow of its more internationally well-known older sibling. The National has a grand portico entrance overlooking Trafalgar Square, while the NPG's rather unassuming east-side entrance with steps and a rotating door was awkward to find. Fobert believes it was positioned in such a way by Christian so the NPG could associate more with the grandness of Trafalgar Square, completed three decades earlier, as well as institutions including the Houses of Parliament and Buckingham Palace.
Consequently, it turned away from the streets to the north, which were in Fobert's words, an "area of vice and crime" complete with a Dickensian poorhouse, though it did so in grand style with a richly decorated Florentine facade. Christian's NPG was designed to be experienced with daylight, though windows and skylights have been covered over the decades. Fobert also observed that spaces were being used inefficiently, rooms had been lost to storage, and former galleries became disused without adequate climate control. A whole section, including a grand rotunda intended by Christian to offer views of James Gibbs's neighboring 1726 St. Martin-in-the-Fields church, had been closed to the public and used for office space following the wartime Blitz on London in 1940–1941.
With a total cost of roughly $53 million (not including new ticket kiosks), JFA/Purcell scheme was not intended as an iconic statement, but rather sought to peel back haphazard accretions—in essence rediscovering the 1896 building while stitching in the two previously mentioned additions. "We found 950 square metres [10,225 square feet] of unused space," Fobert explained, highlighting the new Learning Centre carved from a basement area that was previously partitioned, subdivided, and used for storage. Even in the subterranean guts of the building, there was original architecture worth celebrating. Speaking of the basement's arched vaults, Smith noted that "beautiful detail, chamfers on the edges, and the curved jams," which now can all be clearly read, "were all hidden by plasterboard layers and suspended ceilings."
Upstairs, the galleries are resplendent in UV-filtered daylight and a rich new decorative scheme. And with connections between the galleries re-opened, there's a return to Christian's original floorplan, which allows for sightlines and curatorial connections crossing the chronological route through the collection. The rotunda is returned to public use as a space for temporary installations; currently it's home to a series of beautifully macabre death masks. A new staircase leads down to a ground-floor café, replete with historic mosaic flooring laid by Christian through all NPG circulation spaces, a motif Fobert has continued in newly public areas with Carlo Scarpa–inspired terrazzo.
1
2
3
4
New staircase for the Mildred and Simon Palley Learning Centre by Jamie Fobert Architects (1); the Blavatnik Wing (2); the Weston Wing (3); new entrance doors designed by Tracey Emin. Photos © Jim Stephenson (1-3); Olivier Hess (4)
This terrazzo continues through the most noticeable and impactful component of the JFA/Purcell revitalization: a grand entrance lobby and shop accessible through new 13-foot doors, carved into three windows along the northern facade. The severed mullions and sills are left as clean cuts to evidence this latest evolution of the building's story, and each door is faced with portraits of women drawn by British artist Tracy Emin then cast into low-relief bronze panels. These become decorative reveals when the doors are left open, offering a clear path into the lobby from a new bridge—crossing what was previously a defensive moat, now an open-air courtyard for the Learning Centre below—providing level access to a newly laid-out public space.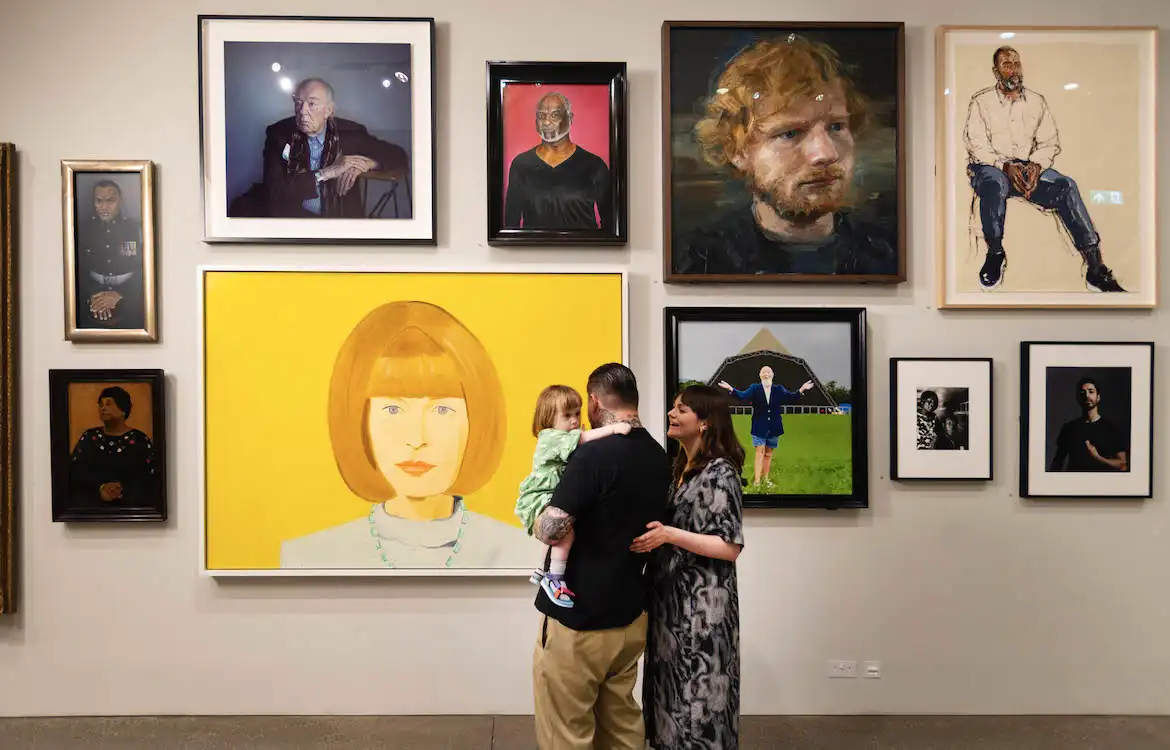 National Heritage Lottery Fund Gallery. Photo © Dave Parry
Future visitors to the reimagined National Portrait Gallery may well spot Fobert lingering by the doors and bridge at the new entrance; the architect telling RECORD that he is curious to see how the public engages and interacts with the building, just as he observed them struggling through it before. He hopes that most visitors won't even notice the intervention and will intuitively know exactly how to read and use the building—allowing the portraits, and stories they tell, to be seen in new light.