✕
Until the turn of this century, London had only a smattering of high-rise apartment buildings. In recent years, however, the pursuit of density has seen hundreds mushroom. Most appear as alien interlopers, out of scale and sympathy with the townscape. Keybridge, designed by Allies and Morrison, is an exception. Comprising 598 apartments, along with an elementary school, shops, and workspace, the development in Vauxhall, southeast of the city center, nests three brick-clad towers among a riotous jumble of mid-rise apartment blocks and diminutive rowhouses. Seen from any direction, the layered ensemble seems to extend the texture of its low-rise neighborhood even as it ascends into the sky.
When Allies and Morrison was appointed in 2012, the three-acre site was occupied by an ugly Brutalist telephone exchange. Its owner, who intended to sell the land with approved plans in place, was keen to leave a positive legacy, says partner Alfredo Caraballo. Although the brief sought high density, there was also a commitment to make a good piece of city and a pleasant place to live.
The site sits between two distinct urban conditions. To the northwest, beyond a railway viaduct, lies a 500-acre regeneration zone stretching along the River Thames. Former industrial land is now peppered with glassy residential towers that set expectations for height at Keybridge, but otherwise exemplify what not to do. "I call them perfume bottles—designed to be seen in isolation," says Caraballo. "We wanted tall buildings that could be 'background,' woven into the ordinary fabric."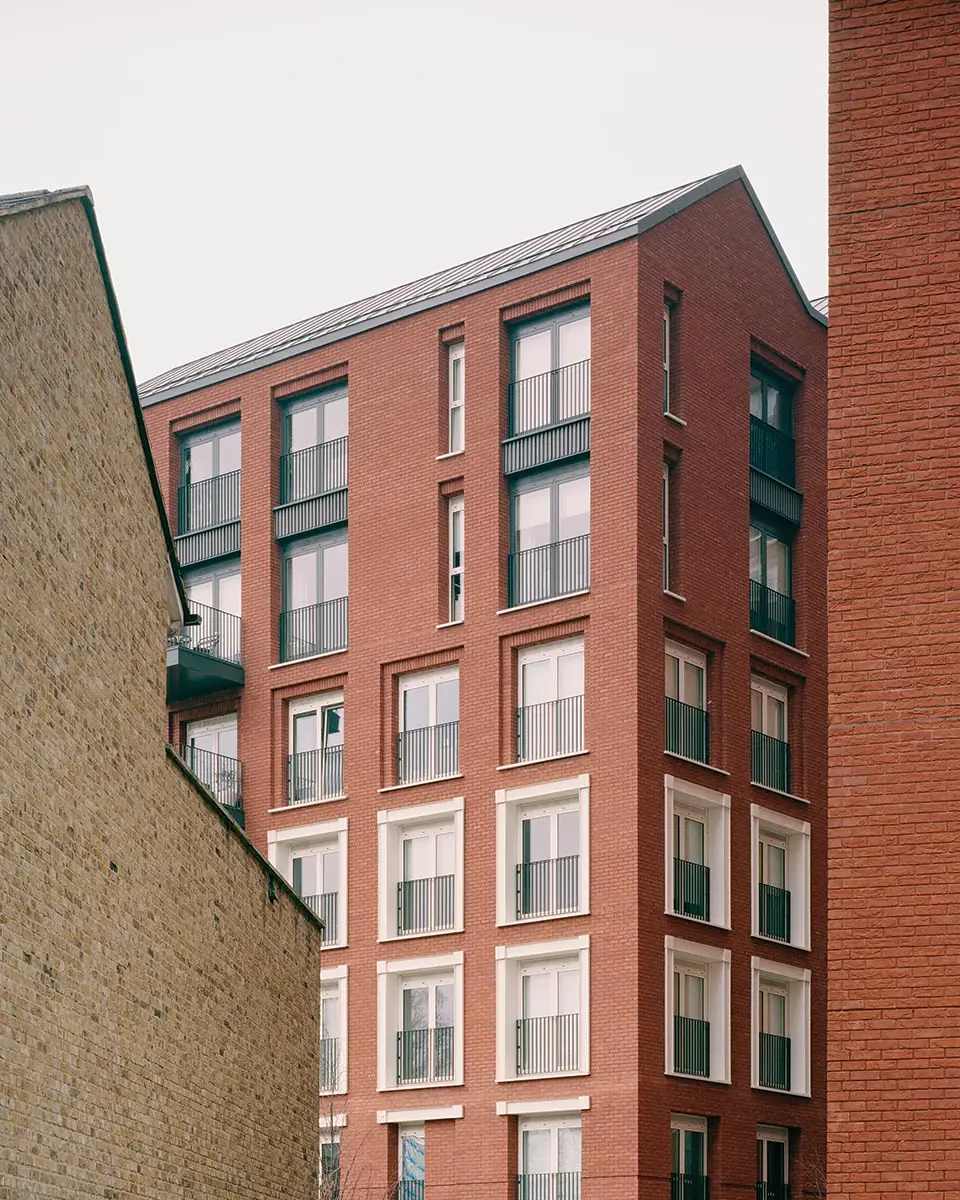 1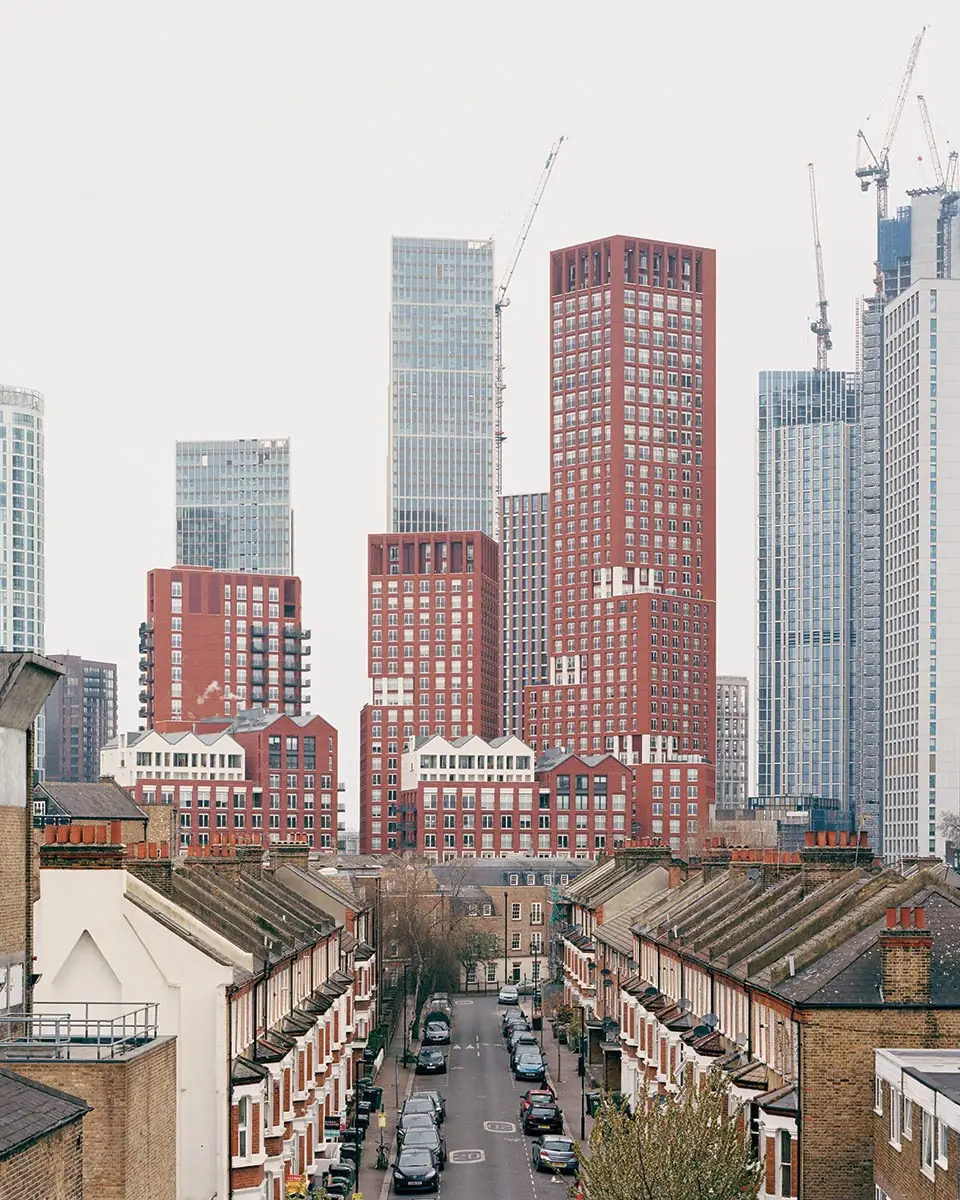 2
Keybridge (1) eases the transition between Victorian homes and the Battersea Opportunity Area to its north (2). Photos © Rory Gardiner, click to enlarge.
Cues were instead drawn from the patchwork variety of the site's immediate environs. Its principal frontage is on South Lambeth Road, where modern warehouses mingle with redbrick Victorian rowhouses and mansion blocks—a loosely defined type of grand 19th-century apartment building. All contributed to the firm's typological mix and architectural imagery.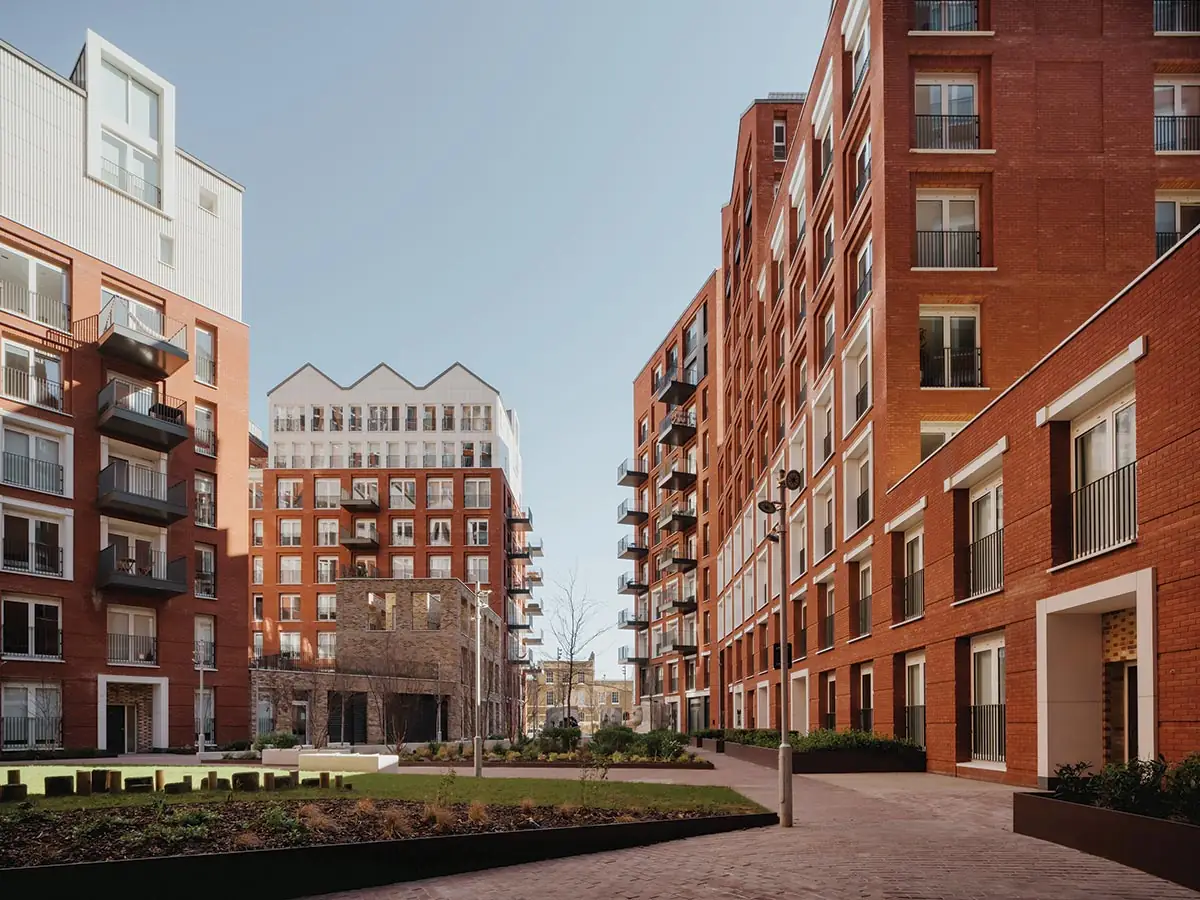 The mix is arranged across the site to carve out fluid public and private spaces. Photo © Tim Crocker
In plan, the whole 690,000-square-foot scheme comprises three buildings, but many more are suggested by their configuration as complex agglomerations of disparate parts. By the viaduct, three towers (18, 22, and 36 stories) rise from podiums, cranked in plan, that recreate the familiar scale and irregularity of surrounding streets. One sits above the school, encircled by rooftop play spaces, while the other two have a shared base containing facilities for residents, including a club lounge.
The tallest appear to twist as they rise in a series of steps, with angled sides that lend an ever-changing appearance to the cluster. It's a deft piece of scenography, evoking the haphazard informality of places that evolve over time. "Their structure is actually very rational, with orthogonal column grids and rectangular plans with chamfered ends," says Caraballo. "The aim was to make simple buildings but complex spaces in between."
Two new mansion blocks facing South Lambeth Road create a foreground to the towers and are also articulated in a way that belies an underlying order, with varied rooflines and slight folds in the facades. Their bulk is softened by a constellation of smaller structures. Most visibly, the two-story penthouses picked out in white terra-cotta resemble rows of ordinary London houses, with pitched roofs and gable ends. A small stretch of apartments, presented as rowhouses, remakes the edge of quiet Wyvil Road to the south and brings the height of the development down to that of its neighbors.
From surrounding streets, the elaborate collage does create the impression of heterogeneous buildings jostling in harmonious disorder. The whole mass is inescapably tall, but the gradations in height soften the impact, recalling the cascade of buildings in an Italian hill town.
An equally important driver of the "weird" plan was the public realm, says Caraballo: "It's a very human-centric place, designed around the experience of moving through." One-third of the site is open space, composed in a consciously picturesque manner to expand and contract, and to draw nearby heritage buildings into the architectural conversation.
A "piazza" on one corner is flanked by a 19th-century church previously obscured by the telephone exchange. From within the central garden, the buildings frame a view of Georgian townhouses across South Lambeth Road. A curved lane running between these two spaces narrows to just 29 feet, but, since buildings are not parallel, residents' privacy is preserved. Lined with trees and trickling rills, the meandering route makes an easeful end to the journey home.
Facades that appear at oblique angles on all sides are clad in reddish brick, tying the development to its context and unifying its diverse parts. Historically inflected variety in the details relieves monotony and tunes every facade to its setting. One soaring face is a simple grid, with brick piers that narrow subtly as the building rises. Another is stubbled with projecting headers. Masonry arches distinguish the school as a civic building, and rustication dignifies double-height storefronts. Deep reveals to the warehouse-style windows of the mansion blocks lend a reassuring sense of weight and solidity, as does a giant-order brick loggia veiling two-story terra-cotta-clad penthouses in the towers.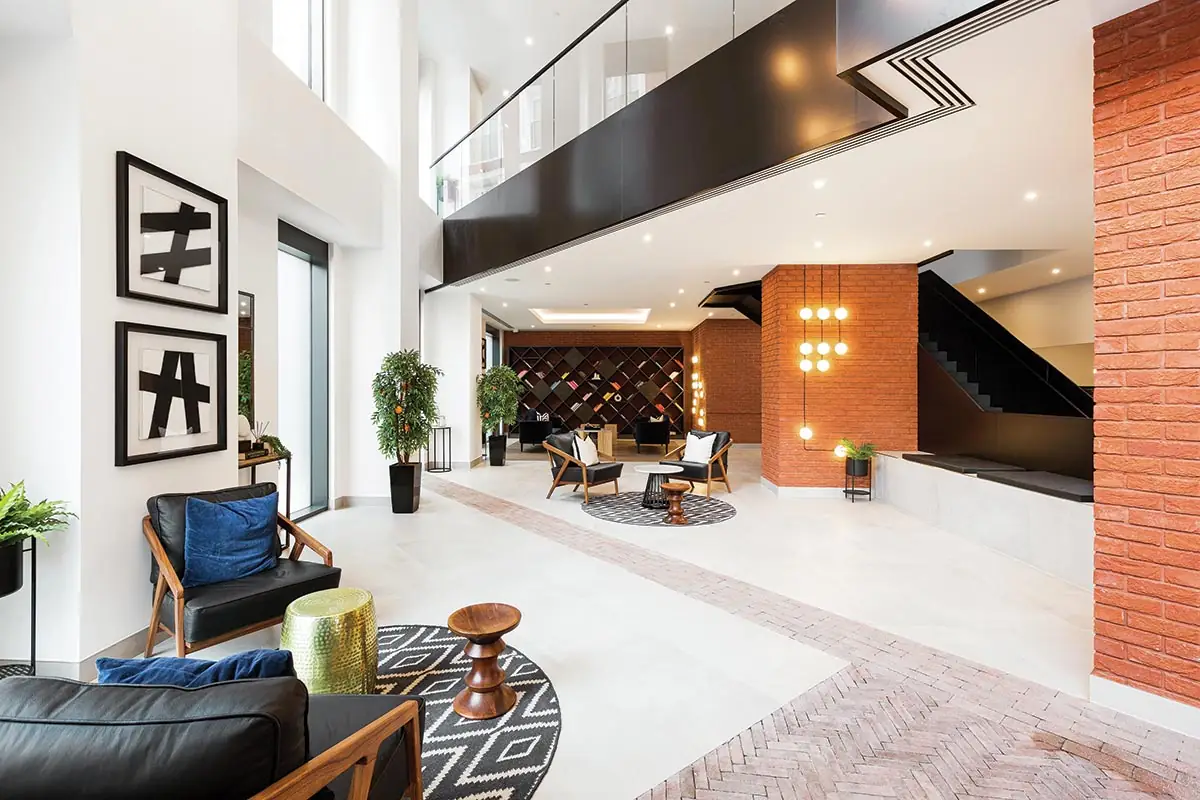 3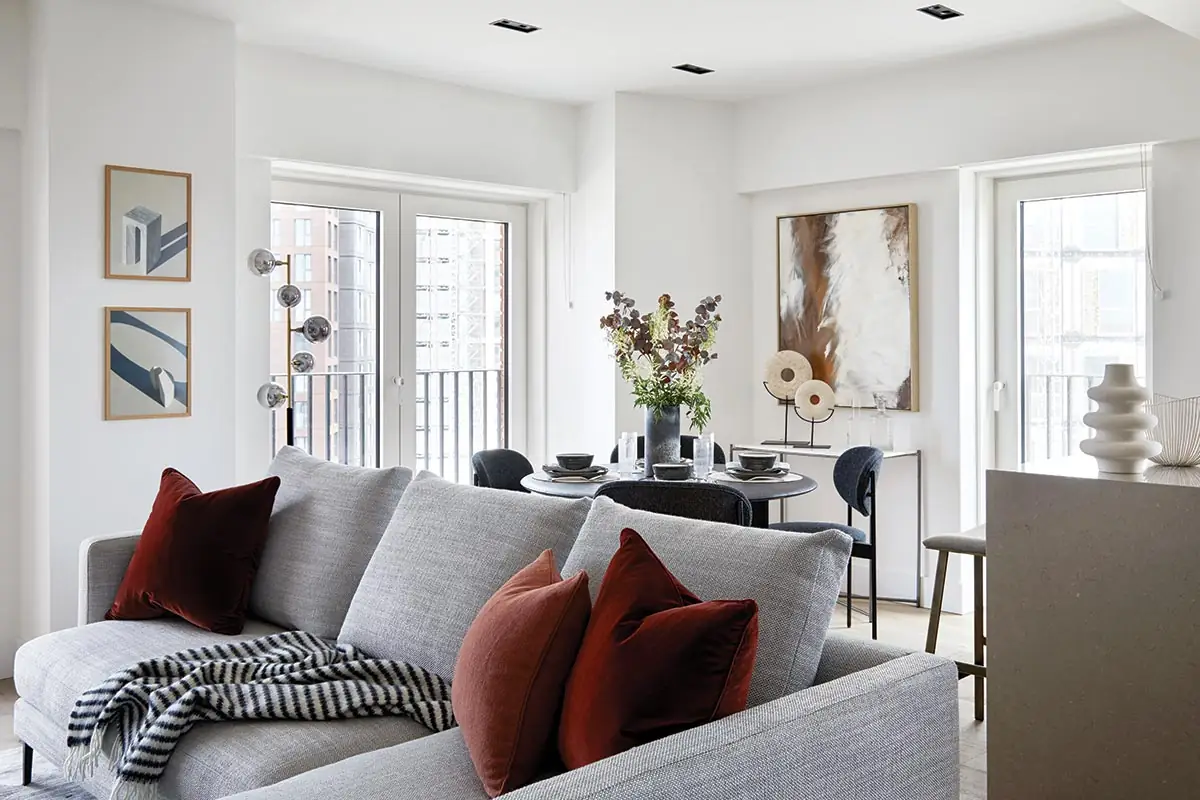 4
Residences feature gracious lobbies (3) and daylight-filled interiors (4) with a variety of balconies (5). Photos © Mount Anvil (3), Rory Gardiner (4), Anna Stathaki (5)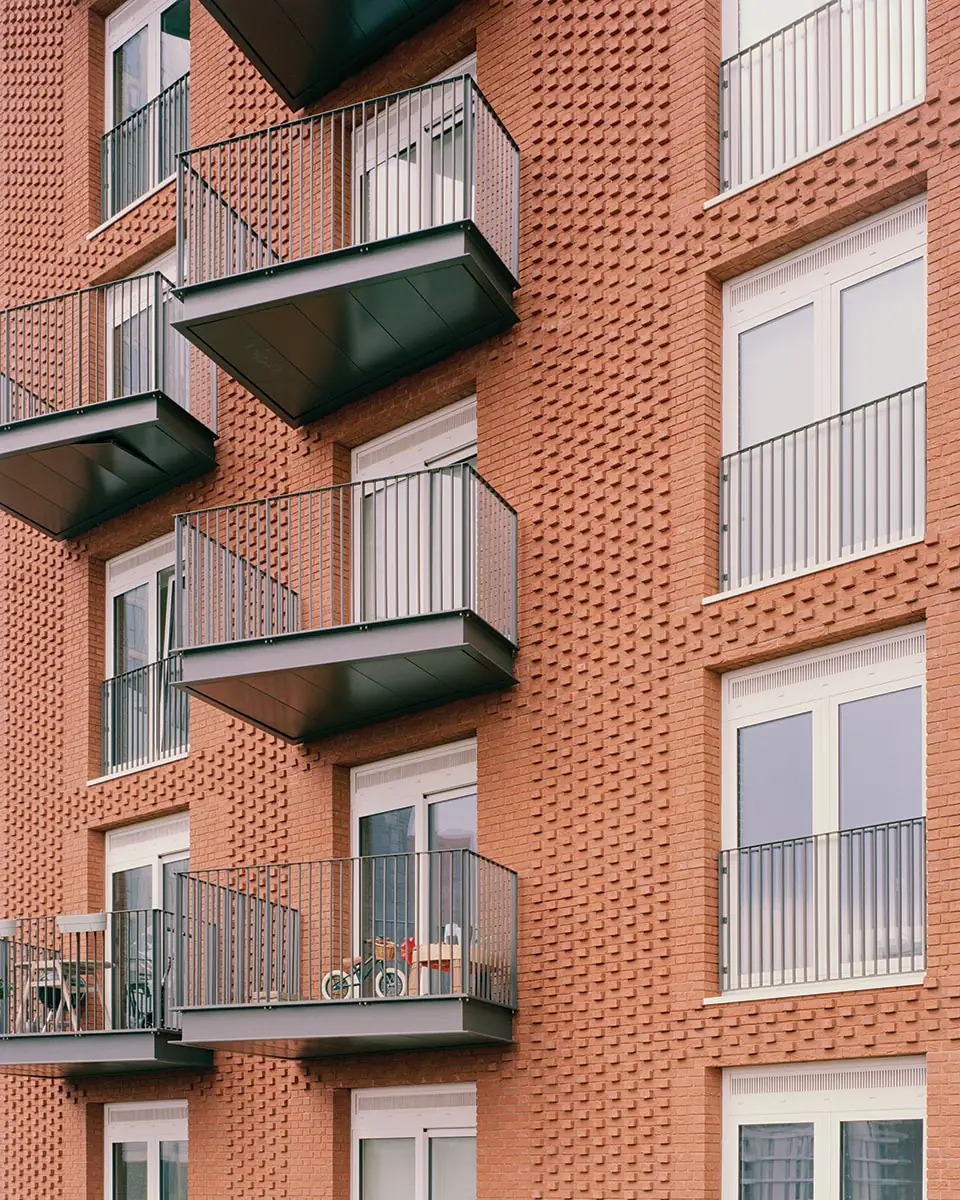 5
There's variety among the apartment types, too, from mansion-block penthouses with vaulted ceilings that are entered via roof terraces to residences that open onto private gardens at ground level. "Choice encourages diversity among residents," says Caraballo. Most floor plans are typical of new-build housing in London, with eight or so apartments on each level accessed from a central elevator core, but there's differentiation even among the more regular residences—some have enclosed winter gardens, others have projecting balconies. Ranging in size from 425-square-foot studios to 1,900-square-foot three-bedrooms, they are more generous than London's miserly minimum space standards dictate, allowing some flexibility in use.
It is at the urban scale, though, that Allies and Morrison's work is really exemplary. It recognizes the fact that housing comprises the lion's share of the city and therefore bears special responsibility for its character, and skillfully reconciles market-driven development with the public good. After the city's shaky start with tall buildings, Keybridge shows how London might aim higher.
Click plans to enlarge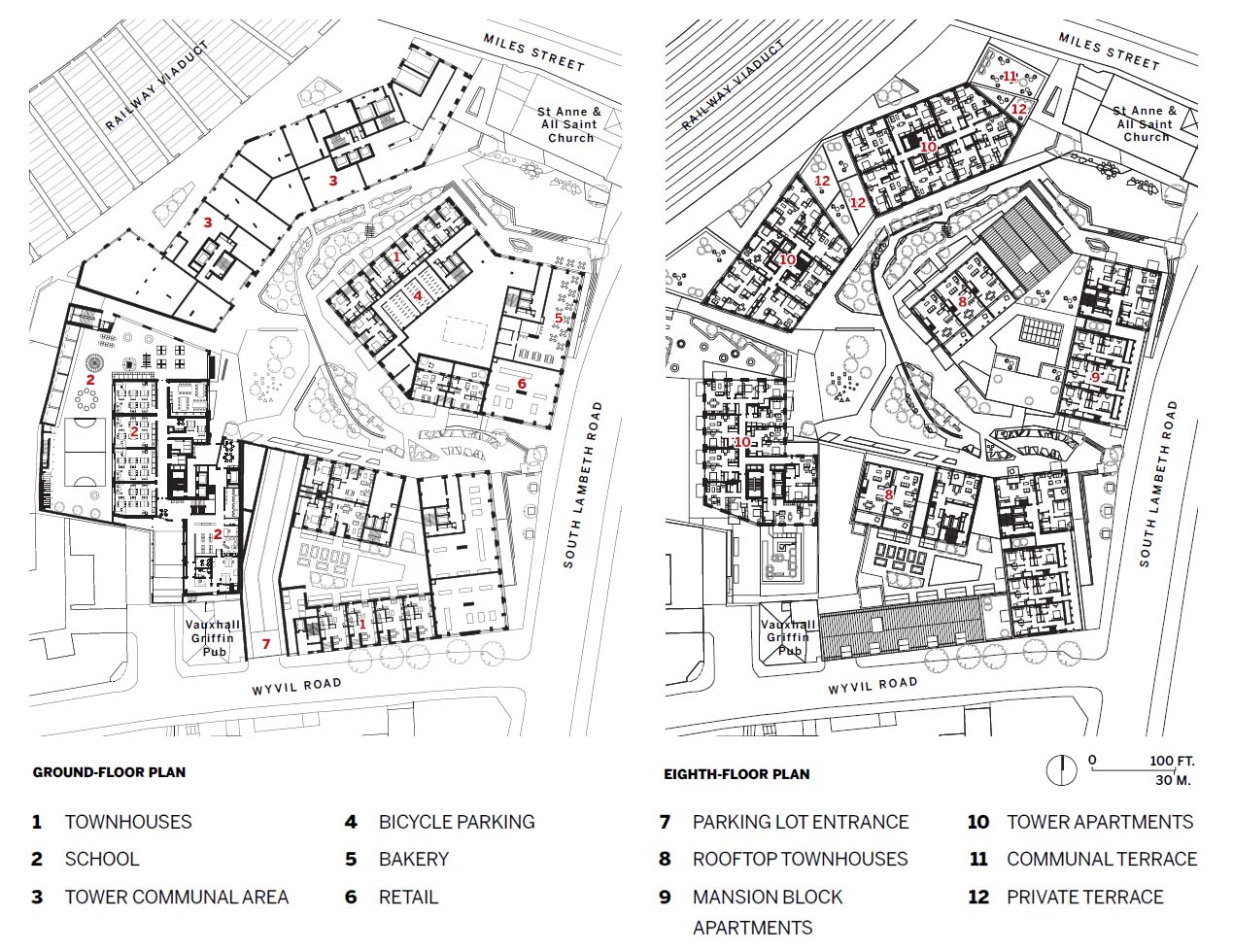 Click drawing to enlarge
Credits
Architect:
Allies and Morrison — Alfredo Caraballo, partner; Neil Shaughnessy, Laurie Hallows, directors
Architect of Record:
Stockwool
Engineers:
Waterman, WSP (structural); Waterman (m/e/p)
Consultants:
Townshend Landscape Architects, Planit-IE (landscape architecture); Sense (cost); GL Hearn (planning); JSM Engineering (balconies);
General Contractor:
Mount Anvil
Client:
BT Property/Mount Anvil
Owner:
Mount Anvil
Size:
690,000 square feet
Cost:
Withheld
Completion Date:
August 2020
Sources
Masonry:
Vandersanden
Curtain Wall:
Reynaers Aluminium
Rainscreen:
James and Taylor (terra-cotta tile)
Moisture Barrier:
Tyvek
Roof:
Prima Porcelain Pavers (tile)
Glazing:
Central Units; Sky Glass