✕
Now in its 15th season, the Architecture and Design Film Festival (ADFF) is back with a full slate of programming kicking off this week in New York as the cinematic centerpiece of the city's month-long Archtober festivities. Following its three-day run from October 12–14 at East Village by Angelika, a historic Yiddish theater-turned-downtown arthouse multiplex, ADFF will continue its 2023–2024 season in Toronto (November 1–4), Vancouver (November 9–12), and Chicago (January 31–February 4).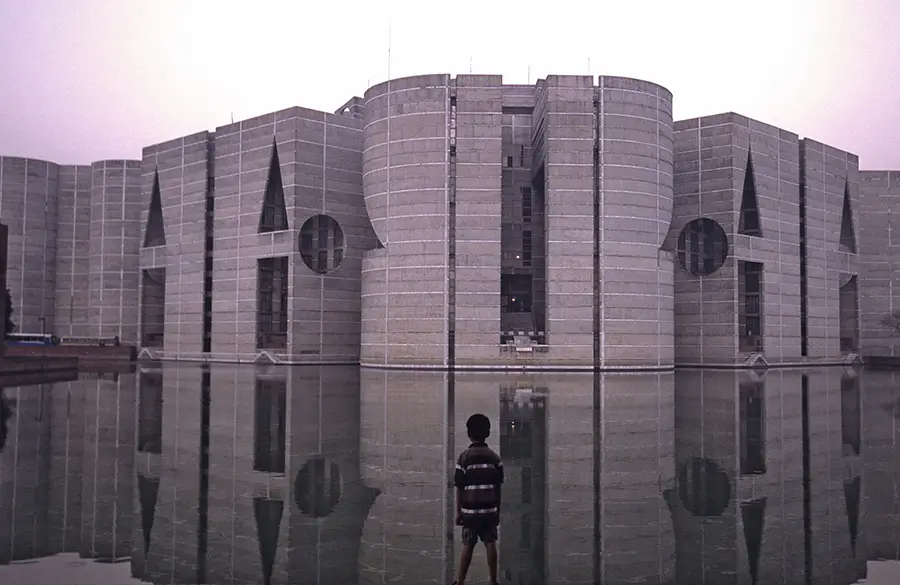 Still from Nathaniel Kahn's 2003 film My Architect. Image courtesy ADFF
In total, 19 feature documentaries will screen as part of ADFF:NYC, including 12 U.S. premieres, two world premieres, and a special 20th anniversary showing of the Academy Award–nominated My Architect. Detailing the career and complicated personal legacy of celebrated Philadelphia architect Louis Kahn, the 2003 film was written, directed, and produced by his son, Nathaniel Kahn. The screening comes at a particularly heart-rending time as it follows the October 2 death of Harriet Pattison, a landscape architect who not only served as one of the documentary's central subjects but was also the filmmaker's mother. (Pattison wrote about her professional and romantic entanglements with the elder Kahn in a 2020 memoir.)  Nathaniel Kahn is scheduled to attend an October 14 Q&A session following the screening of his film.
Other featured ADFF:NYC films include Soviet Bus Stops, a travelogue that follows Canadian photographer Christopher Herwig as he treks thousands of miles across the former USSR in search of beautiful and bizarre public transit kiosks leftover from the totalitarian regime; The Promise, German director Jan Schmidt-Garre's portrait of the recently departed Pritzker Prize–winning giant of Modernist Indian architecture, B.V. Doshi; The Power of Utopia – Living with Le Corbusier in Chandigarh from Swiss filmmakers Karin Bucher and Thomas Karrer; and Point of Origin, which documents the design and construction of one of Rem Koolhaas's smallest—but most challenging—commissions: an ultra-narrow home on an ultra-precarious site in the Austrian alps.
1
2
Stills from Modernism, Inc. (1) and The Power of Utopia (2). Images courtesy ADFF
Selected as the opening night film is Jason Cohn's Modernism, Inc., which charts the formidable legacy of New England architect and industrial designer Eliot Noyes, a Gropius protégé best known for his work with corporate behemoths—namely IBM and Mobil—and residential commissions in Connecticut.  
Another film making its stateside debut is Radical Landscapes, which like My Architect, is the work of a filmmaker who also happens to be a direct descendent of the subject-architect. In this instance, that filmmaker is Elettra Fiumi, daughter of Fabrizio Fiumi, a central member of Florentine avant-garde collective Gruppo 9999. Also on the familial front, Skin of Glass—a "cinematic meditation on displacement, inequality, and loss"—finds journalist Denise Zmekhol turning her focus to most celebrated building designed by her late father, Syria-born Brazilian architect Roger Zmekhol: a sleek (now destroyed) 1960s-era São Paulo office tower-turned-vertical favela known as Pele de Vidro.
3
4
5
6
Stills from Soviet Bus Stops (3), Point of Origin (4), Radical Landscapes (5), and Skin of Glass (6). All images courtesy ADFF; photo © Plinio Hokama (6).
Of course, an architecture-focused New York film festival wouldn't be complete without a documentary about a high-profile new building in the Big Apple itself. This comes in the form of veins, which will make its world premiere as a double feature alongside Point of Origin on October 13. Directed by Laurian Ghinițoiu and Arata Mori, the film is described as offering "a poetic look at the epic journey materials make to build our modern world." Assuming the starring role is the 30,000 tons of Portuguese marble used in the translucent stone facade of the newly opened Perelman Performing Arts Center in Lower Manhattan. The building's architect, REX founding principal Joshua Ramus, will be joined by Ghinițoiu for a post-screening conversation moderated by RECORD editor in chief Josephine Minutillo.  
Click here for a complete screening schedule and ticketing information for ADFF:NYC and to learn more about the festival's next stops during its 2022–2023 season.