✕
In her 10th book, RECORD contributing editor Naomi Pollock, FAIA, showcases 98 houses built in Japan since 1945. In addition to acquainting readers with these era-defining dwellings, she draws on her 30-year residence there to explore the social, technological, geographic, and historical factors behind them. Following is an excerpt from the author's introduction.
The Japanese House Since 1945, by Naomi Pollock. Foreword by Tadao Ando. Thames & Hudson, 400 pages, $85, click to enlarge.
"For Japanese architecture, the history of its modernization has also been a history of westernization," explains architect Fumihiko Maki. Prior to the war, Western design ideas were already circulating in Japan. Famously, Bruno Taut and Charlotte Perriand imported emerging European concepts in the 1930s and 1940s respectively. The exchange of ideas was also generated by Japanese architects going abroad, for instance Kunio Maekawa and Junzo Sakakura, who both worked for Le Corbusier in Paris, and Junzo Yoshimura, who followed his employers, Antonin and Noémi Raymond, to the United States. Upon returning to Tokyo, these designers shared their freshly acquired knowledge in both the studio and the university seminar room. Un­surprisingly, these new ideas surfaced in the design of their own houses, but also in the work of their architectural progeny. The passing of thoughts and theories from mentor to mentee is an ongoing process natural to the profession, with each generation adding modifications of its own. Le Corbusier's embrace of concrete appears in the work of Maekawa, who passed this know-how on to his students, such as Kenzo Tange, who then shared ideas with his own staff and students, including Fumihiko Maki and Kisho Kurokawa. Later, the airiness of Toyo Ito's steel-frame structures was rendered with an even lighter touch by his former employee Kazuyo Sejima, and lighter still by her disciple, Junya Ishigami.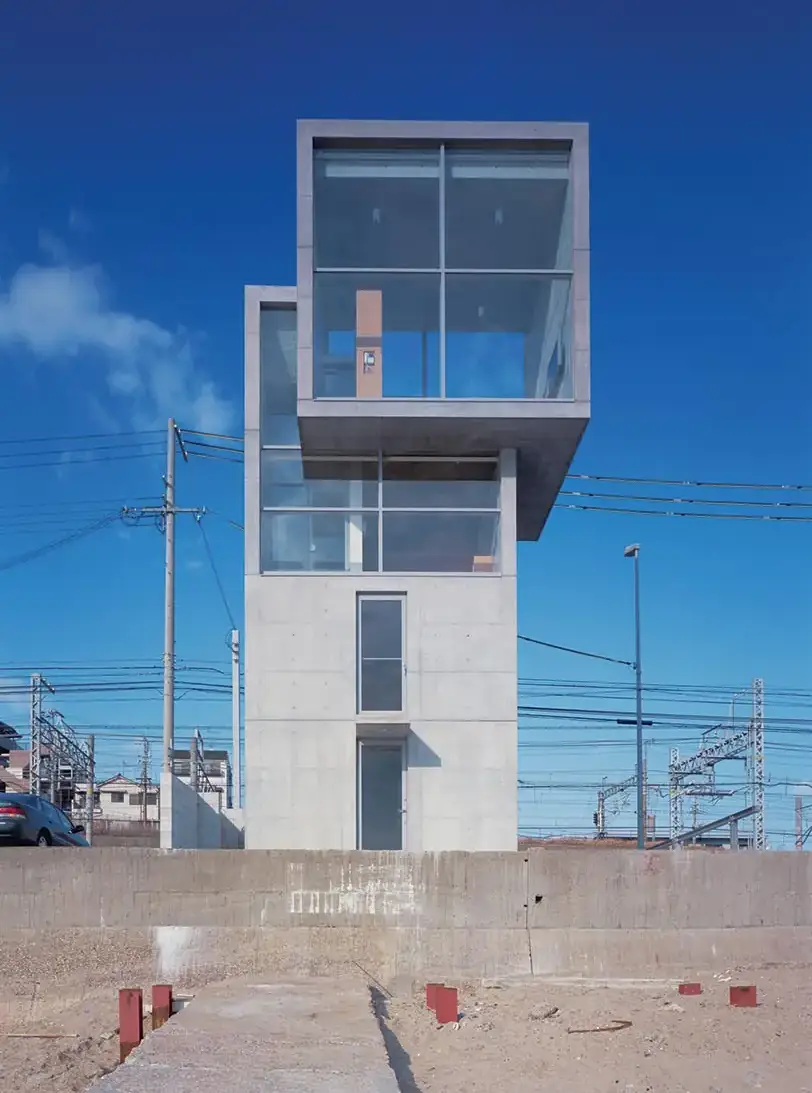 Tadao Ando's 4×4 House, built in 2003, is situated on a coastal property near Kobe in Hyogo Prefecture. Photo © Mitsuo Matsuoka
The ease with which new architectural ideas took hold in Japan was partly due to the unprecedented design freedom that resulted from widespread devastation. Streets and property lines may have survived the conflagration, but the land itself was often left devoid of buildings, especially in major cities. As Japan began rebuilding in the early 1950s, efficiency was the aim of many architects' residential work. At that time money was tight, construction materials scarce, and building size restricted for recipients of government loans. "There was very little opportunity for architects to do elaborate designing," notes critic Noboru Kawazoe. But Japan has proven again and again that size limits can be catalysts for invention. Some architects, like Kiyoshi Ikebe, were inspired by the concept of the "minimum house" discussed at the 1929 Congrès Internationaux d'Architecture Moderne in Frankfurt. And, as the economy steadily improved, larger plots became affordable, manufactured materials, like concrete and steel, enabled new forms, and design possibilities expanded rapidly. Architects were keen to test out new concepts, and houses were the perfect medium for experimentation, be it for their own use or that of a willing client. Thanks to the country's astonishing economic recovery, by the 1960s, houses were no longer just shelter. Many of those designed by architects had become highly personalized statements—a trend that continues to proliferate today.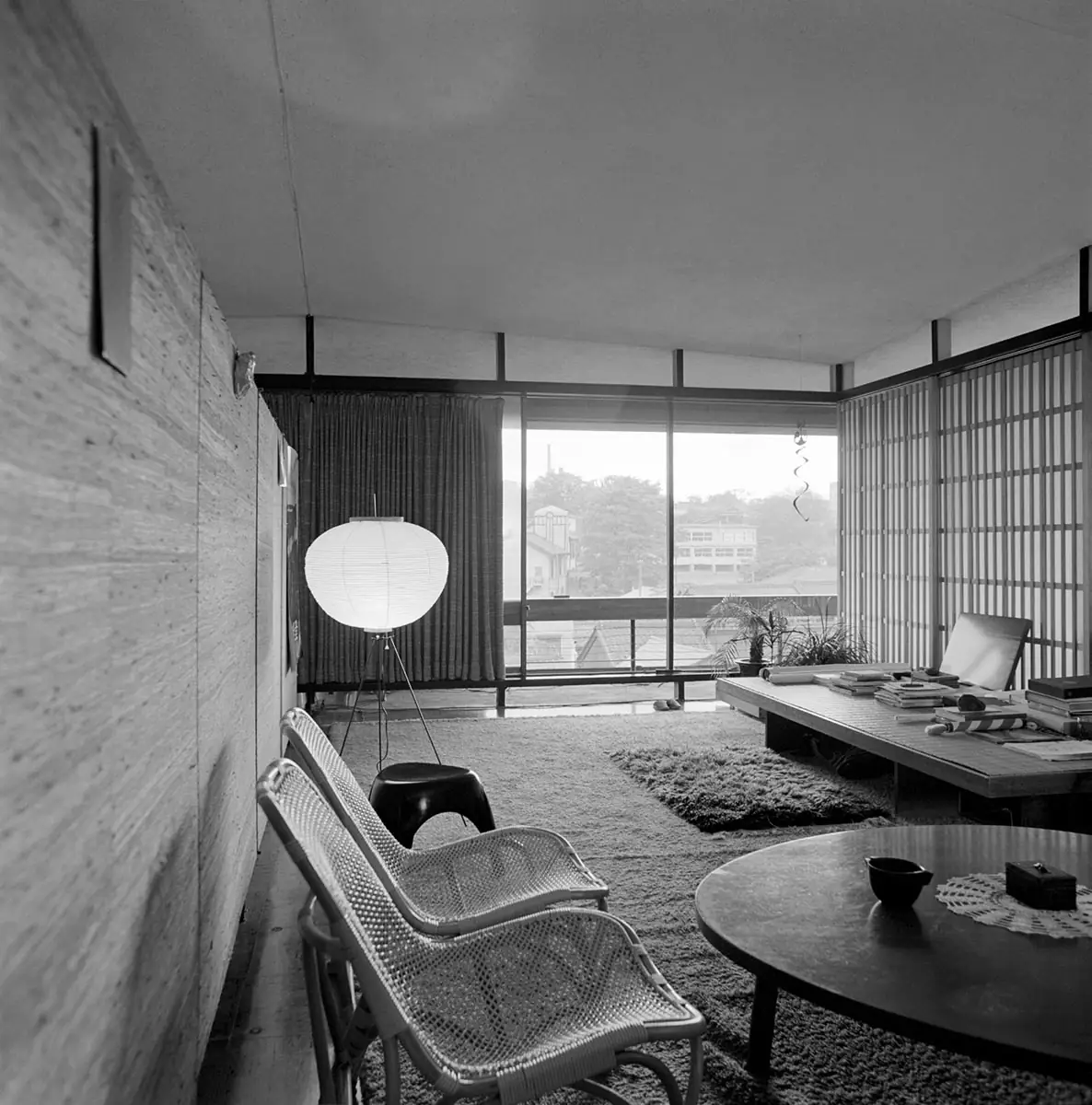 Sky House, in Tokyo (above), was designed by Kiyonori Kikutake in 1958. Photo © Osamu Murai
While building codes still regulate matters of health and safety, aesthetic preferences are unrestricted. Where visual appearance is concerned, in Japan anything goes. Aside from select historic districts, unified street walls, continuous cornice lines, and style consistency are all conspicuously absent. Even the address system—houses are numbered in the order that they are built—negates adjacency relationships. Along the same lines, contemporary party walls are very rare, as they enable the quick spread of fire, a problem that plagued wooden houses of the past. These conditions have resulted in object-like detached homes that have little relationship to each other, let alone their surroundings. Making a bolder gesture still, some even front the street with windowless facades. A means of shielding the home from unpredictable urban development nearby, this strategy took off in the 1970s. More recently, some architects have begun to intentionally interact with the surroundings. Instead of shutting out the city, the sights, sounds, and scenery outside become part of daily life inside.
The advent of computer-aided design (CAD) in the 1990s pushed the individualization of houses significantly further. "For those . . . who spent a lot of time playing computer games as children and already had access to CAD in the beginning of their architectural studies, the computer is more than an aid for drawing: it serves to perfect their technique, it is even a source of ideas," observes critic Shozo Baba. Suddenly, organic shapes and complicated curves, which in the past took days to construct by hand, could be created with a series of mouse clicks. This technical freedom also eased the difficulty of designing for the small, awkward, or downright strange sites being created just as the economic bubble burst in the early 1990s, and property became affordable again. Keen to cram as much house as possible onto these odd plots, many architects collaborated with engineers, whose structural prowess made it possible to build livable homes on even the most challenged sites.
Exemplifying their respective time periods, the featured houses pushed limits and raised bars. Each one is documented with a text that incorporates interviews with the architects or their staff, with their family members or clients, or with architectural critics—people with firsthand knowledge and memories of the work—alongside a selection of photos and drawings. Together, words and pictures capture the spirit of the architecture and help bring these homes to life.