✕
It's humid enough for the air to cling to your skin. There's a quiet roar coming from a nearby 60-foot-high waterfall, which gently mists a cluster of surreally large ferns. Tucked among the profuse greenery is a banana tree bursting with unripened fruit, a cacao plant, and jewel-toned flowers that stretch upwards towards the sun. You're standing not in some far-flung jungle but in the heart of Winnipeg, the coldest major city in Canada, inside the tropical biome of The Leaf, a new horticultural center designed by Toronto-based KPMB Architects in association with Architecture49.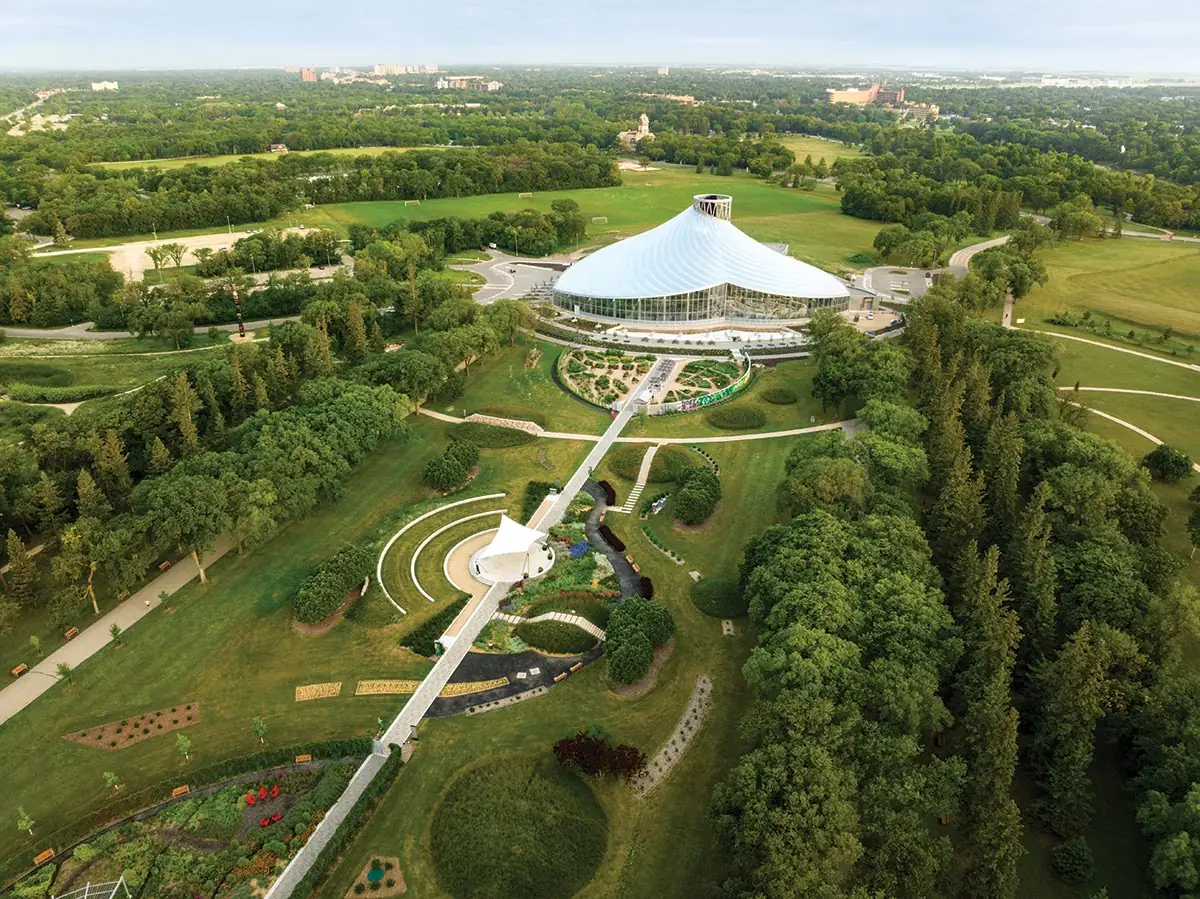 1
Surrounded by 30 acres of public gardens (1), The Leaf's tropical and Mediterranean biomes are accessible via a soaring atrium (2 and top of page). Photos © Ema Peter, click to enlarge.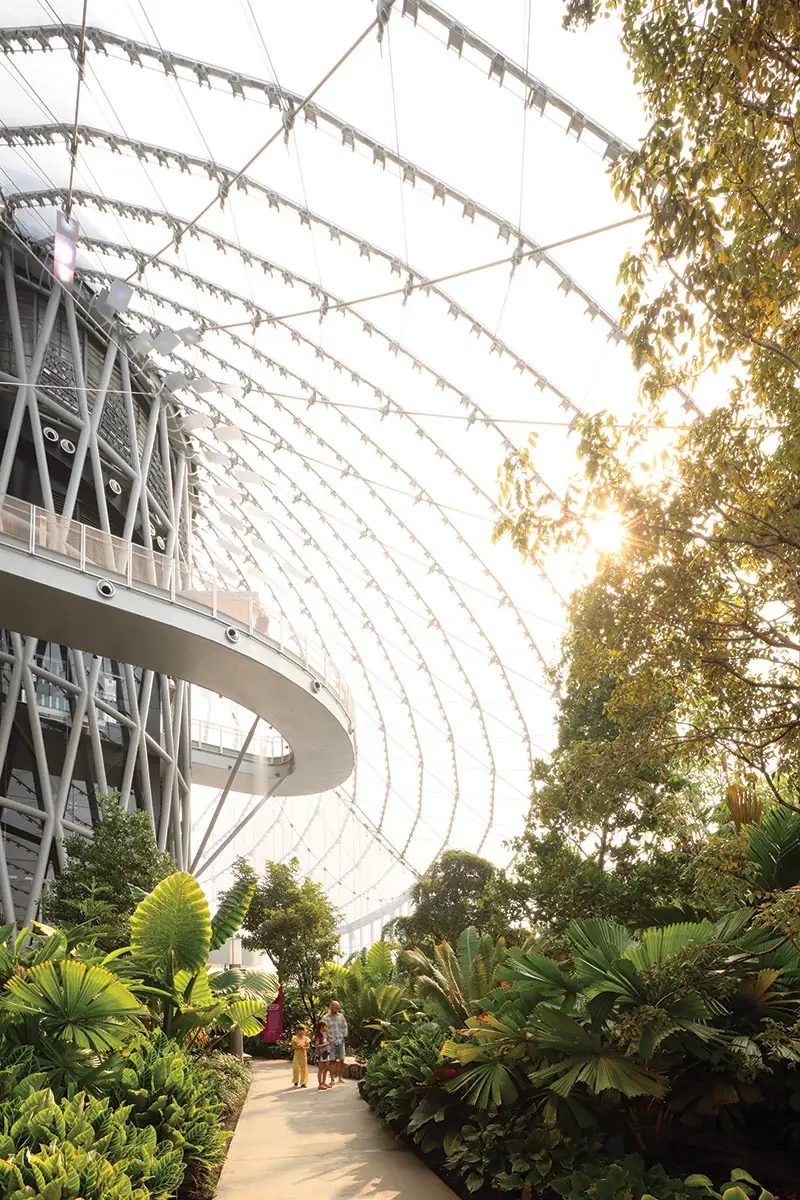 2
Completed last fall, The Leaf replaced a century-old conservatory in the city's 400-acre Assiniboine Park, which also hosts a zoo and an outdoor theater. The 21,000-square-foot Hartley and Heather Richardson Trop­ical Biome is just one of the building's attractions: an adjacent Mediterranean biome showcases plant life from drier climates; a ground-floor restaurant serves cuisine made with ingredients sourced from the park's gardens; and an attached event venue accommodates celebrations and conferences.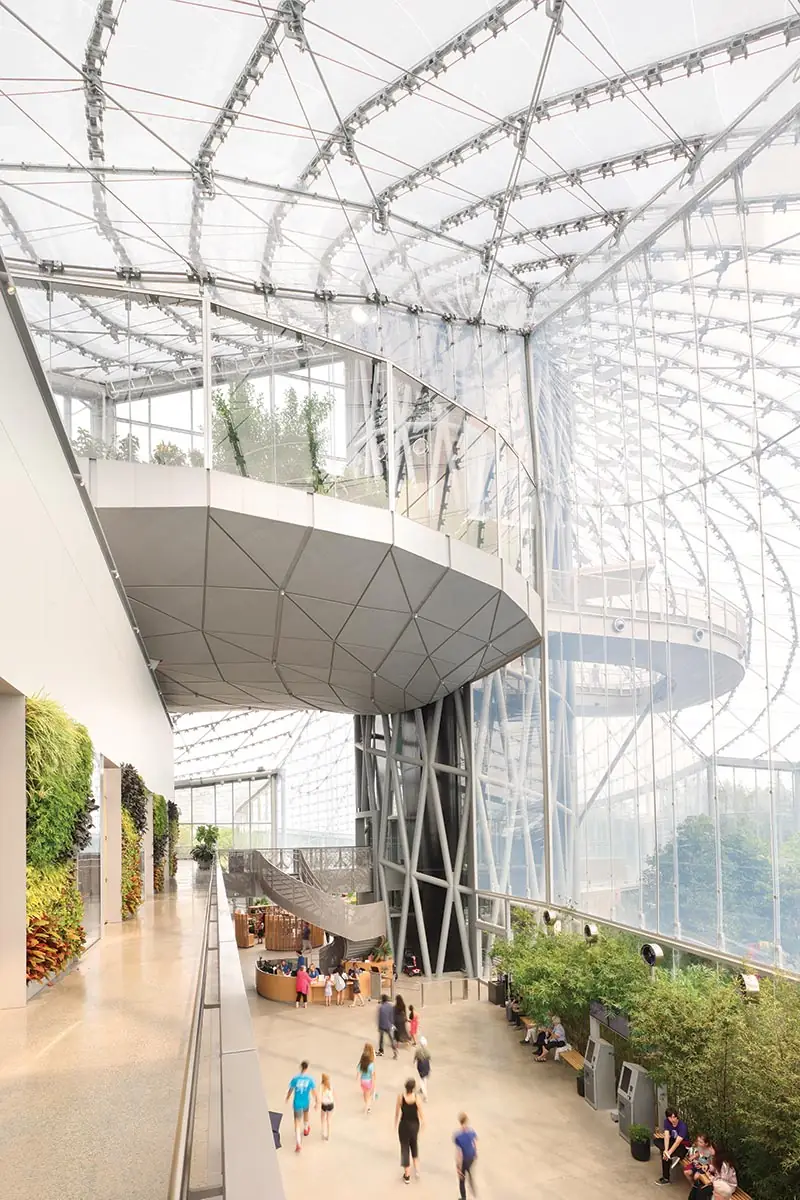 Photo © Ema Peter, click to enlarge.
"I wanted to create an experience that allows you to transcend current conditions and enter a different world," says KPMB partner Mitchell Hall. His approach to The Leaf was informed by parallel work on several health-care projects that incorporated the therapeutic value of biophilic design. "All architects want to believe their work makes a difference," he says, "but studies have found real healing properties from proximity to plant life, and The Leaf offered the best opportunity to take advantage of that."
Though low to the ground—its highest point is 100 feet tall—The Leaf's distinct translucent roof, which dramatically spirals upward, renders the building impossible to miss on Winnipeg's flat prairie landscape, even from miles away. It was made from ethylene tetrafluoroethylene (ETFE), a plastic that allows significantly more light and heat penetration than traditional glass and avoids the need for extensive structural support. "The idea of creating a transcendental environment required that its container be as unencumbered and comprehensible as possible," Hall says. "We needed a design that maximized the amount of sun that comes in but had a minimal impact on your experience, so that you can actually feel as if you're in another world. That's where ETFE came along." The material was also preferable for the extreme climate fluctuations of the city, where temperatures can soar upward of 80 degrees Fahrenheit in summer and stay well below 0 degrees in winter.
Research for the roof took Hall as far as Kazakhstan, home to the Foster + Partners–­designed Khan Shatyr Entertainment Center, which has one of the largest ETFE roofs in the world. The team toured the tent-shaped project with the roof's manufacturer and "basically went to school," Hall said.
The intricate cable-net structure supporting the roof is strung from The Leaf's central spire, which is located within the tropical biome and contains much of the roof's mechanical system. Metal tubes at the top of the spine pump air between the three ETFE layers, preventing condensation and aiding in the precise temperature control needed to accommodate the building's varied flora. To avoid unnecessary clutter on the roof's 70,000-square-foot surface, the lighting is also mounted there, and operates via projection onto reflectors embedded at various connection points between the ETFE "pockets." An elevator within the spire takes visitors up to the canopy walkway, which leads directly into a butterfly room on the third level. The waterfall, designed by Canadian artist and landscape designer Dan Euser, cascades past the walkway from above and falls into a koi pond below, offering a mist-framed aerial view of the lush tropical landscape within.
Owned and operated by the Assiniboine Park Conservancy, The Leaf is a paid attraction, but, outside, 30 acres of public gardens designed by local firm HTFC Planning and Design stretch out on the surrounding grounds. The outdoor space is divided into six uniquely themed areas, among them a kitchen garden—which grows a variety of fruits, vegetables, herbs, and other edible plants, and hosts an outdoor oven for cooking demonstrations—and a performance garden, with a stage and amphitheater-style seating. The Indigenous Peoples Garden, a tranquil gathering place where visitors can wander pond-side in tall grasses, was designed in collaboration with local Indigenous artists, designers, and community leaders.
Hall's biggest hope for the project is its educational potential. "There's a huge amount of knowledge associated with the connection between climate, people, and plants," he says. "How important and delicate that relationship is needs to be better understood and protected."
Click plan to enlarge