✕
On October 11-15, the National Organization of Minority Architects (NOMA) gathered over 1,500 members, supporters, and students in Portland, Oregon, for its annual conference. Titled "Building Bridges Towards Just and Joyful Futures," the five-day event featured talks from architect Toshiko Mori and artist Olalekan Jeyifous along with more than 50 educational sessions. This year also marked the announcement of the organization's first international chapter, to be established in the United Kingdom. The five-day event featured several tours throughout the City of Roses, with stops at notable projects including Kengo Kuma & Associates' Portland Japanese Garden, LEVER Architecture's Meyer Memorial Trust Headquarters, and ZGF's PAE Living Building.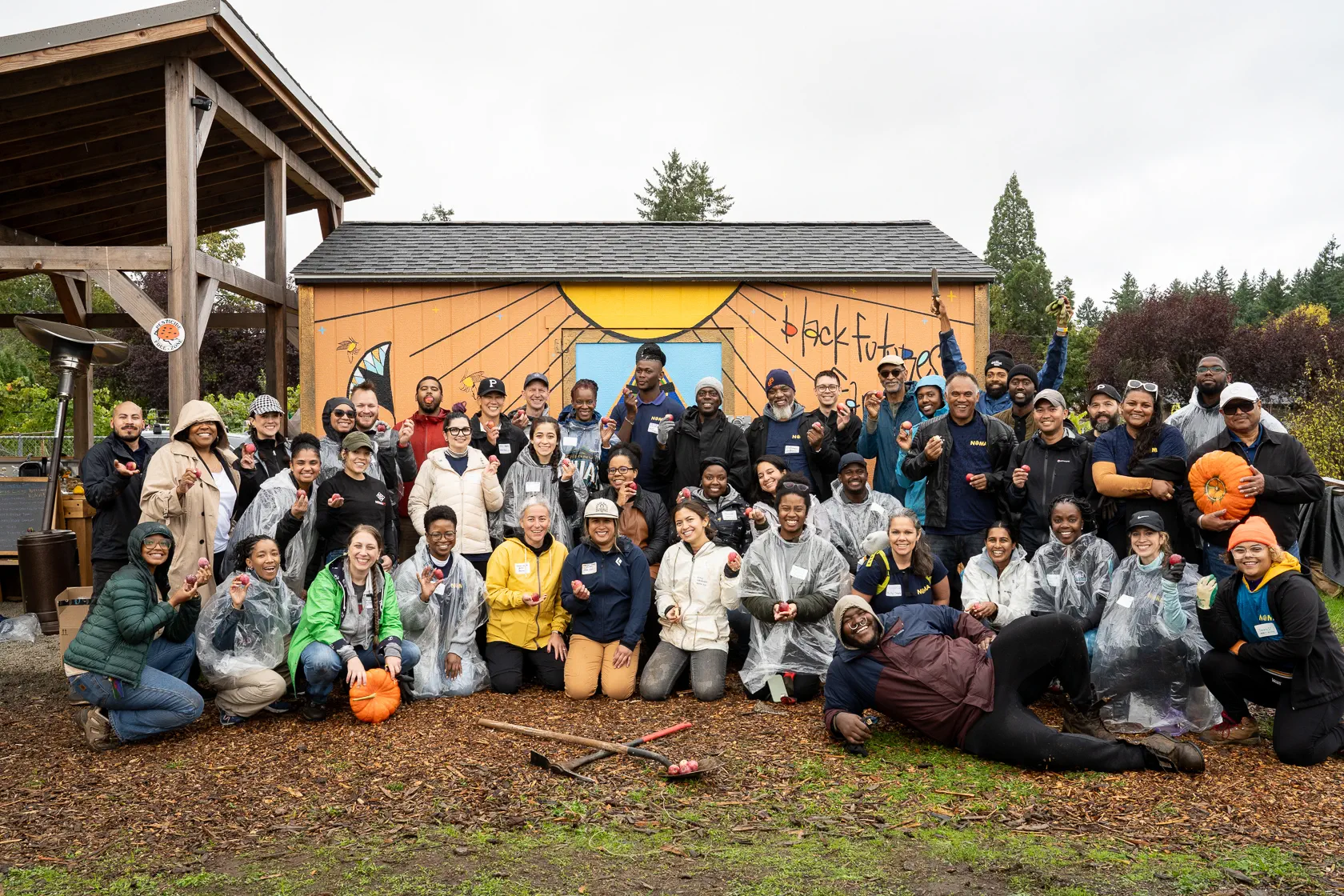 On the first day of the conference, attendees visited the Black Futures Farm in Southeast Portland. Photo © NOMA
"It was historical and important to bring a NOMA Conference to the location where civil rights activist Whitney M. Young Jr. delivered the 1968 AIA Convention keynote that challenged architects to address issues of diversity and social responsibility in the profession," said NOMA executive director Tiffany Brown in her conference address. "[Portland] inspired NOMA's founding, and this week, provided us the inspiration we need to continue our work." 
The 2023 conference marked two milestones for the organization, with a record number of 29 members obtaining licensure and 38 NOMA student chapters entering the annual Barbara G. Laurie Student Design Competition—the most participating universities in the contest's history. This year, student chapters were asked to design a concept for the Williams and Russell Project, a restorative justice development aimed at remediating the impact of a 1970s hospital expansion in the city's Albina neighborhood that displaced Black Portlanders. The competition jury, which included AIA president-elect Kimberly Dowdell, awarded first place to the student team from Cornell University.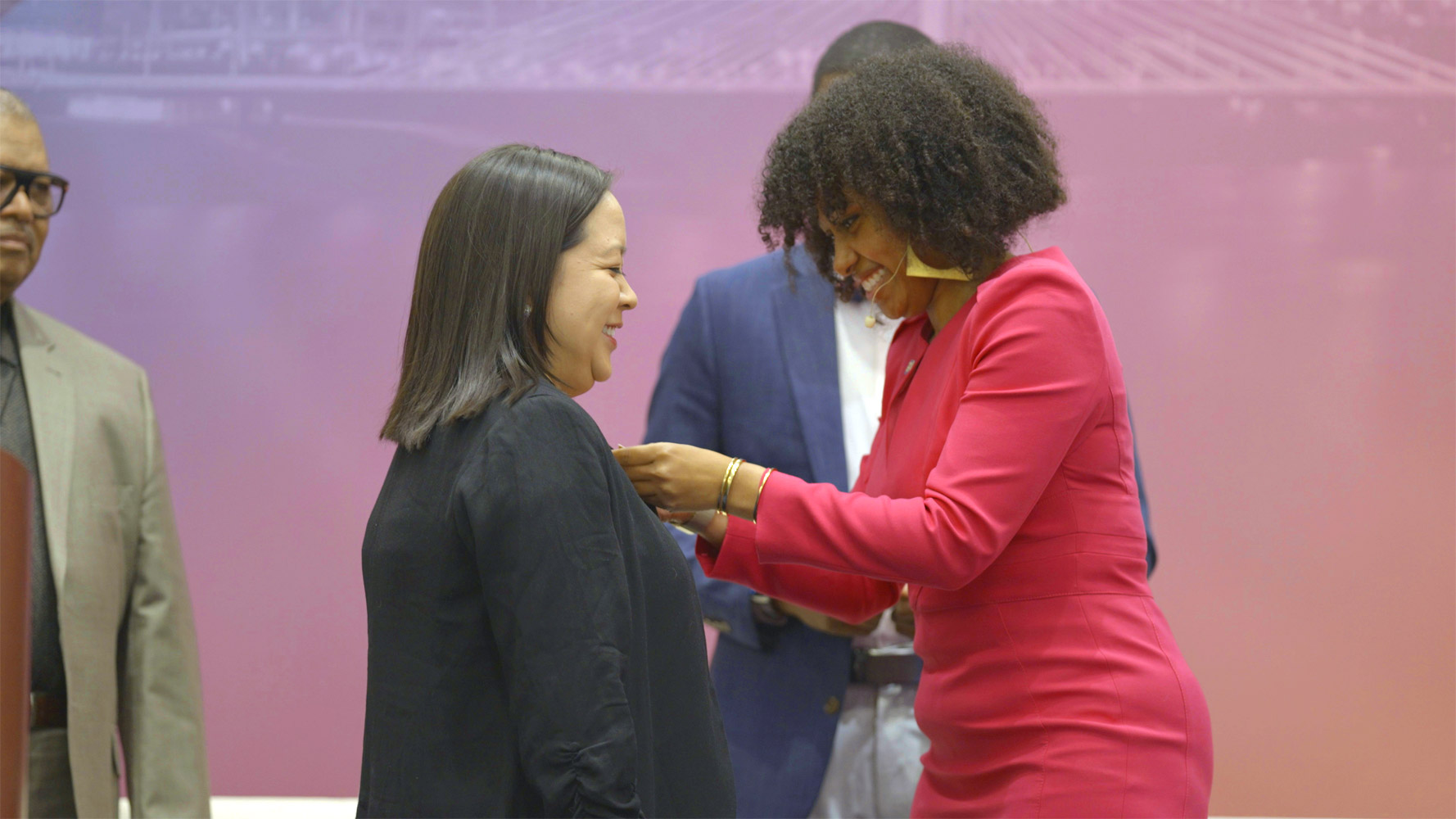 Sablan at the pinning ceremony for newly registered NOMA members. Photo © NOMA
In addition to the student design award, honors were bestowed to NOMA member firms for projects demonstrating design excellence in a range of categories. Awardees of the 2023 Phil Freelon Professional Design Awards included Nina Cooke John, also a featured speaker at the conference, for her Harriet Tubman memorial Shadow of a Face in downtown Newark, New Jersey; Damian Hines for the African American Memorial in Kendleton, Texas; and Yu-Ngok Lo for a freeway on-ramp reclamation project in Los Angeles.
"As architects, we're often seen as the creators of spaces and designers of buildings, but we are also the architects of change," said NOMA President Pascale Sablan, associate principal at Adjaye Associates, in the conference's closing address. "We are the builders of hope and the creators of opportunities. Our role extends far beyond blueprints and structures; it encompasses the responsibility to shape the environments where people live, learn, work, and dream."