The list of designers behind many of Nanimarquina's floor coverings suggests a fast, state-of-the-art company—Ronan and Erwan Bouroullec, Ilse Crawford, Tord Boontje. But the production process of its high-quality, hand-crafted rugs is neither modern nor quick.
Hand-knotting, a labor-intensive technique in which weavers tie and cut individual knots row by row for durability; and hand-tufting, or adding carpet pile using a manually operated pistol to methodically inject pieces of wool, for example, are Nanimarquina's routine fabrication methods. Electrically-powered machines do not touch these rugs. And keeping that handcrafted process transparent distinguishes the carpet maker in a market increasingly driven by high-tech innovations.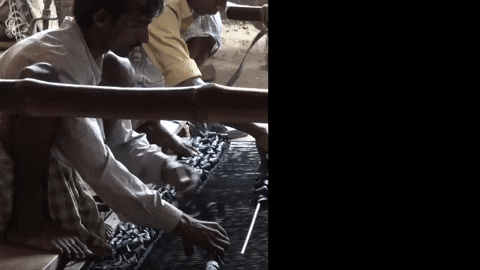 Marquina supervises weavers at the loom.
Photo © Courtesy of Nani Marquina
Founder Nani Marquina, a trained industrial designer, has used so-called artisanal manufacturing methods to produce her namesake rugs in India and Pakistan since she launched the company in 1987. The weavers use only hand looms and hand tools to transform vegetable fibers, jutte, wool, silk and hemp into the company's artsy interior rugs, which have lately made their way into commercial hospitality and corporate interiors as well as high-end residences. In recent years, the company has made inroads with architects and interior designers by offering special solutions for commercial settings through its custom design program.
That step is significant, considering the rugs can seem more like works of fiber art than a practical floor covering. The textiles have been exhibited at the Museu del Disseny de Barcelona, the Institute of Contemporary Arts in London, and the Stedelijk Museum Amsterdam.
Weavers using a loom at one of the company's artisanal manufacturing sites where rugs are made entirely by hand.
Photo © Courtesy of Nani Marquina
This artistic tradition continues in collaborations such as one with Barcelona-based artist and designer Jaime Hayón to commemorate the manufacturer's 30th anniversary two years ago: With a riotous all-over pattern Hayón X Nani features colorful sketches of creatures that appear to be half-man and half-bird, interspersed with drawings of lips, turtles, fish, and stools. "Who better than someone that defies convention and evokes smiles and vitality to celebrate our 30th?" says Marquina.
A weaver uses a tool for hand-tufting, or injecting the carpet pile, in a design by artist Jaime Hayón.
Photo © Courtesy of Nani Marquina
---
This story was featured in Material World, Architectural Record's products-focused newsletter. Subscribe today!