✕
Location: Colinas de San Javier, Mexico
Project size: 12,600 square feet
Program: The clients wanted a five-bedroom house with pool on a five-acre site, near Guadalajara.
Solution: Because of the uneven topography of the site, along with a mandate to keep the 65-foot-tall Araucaria tree in the front yard, the architects partially submerged the two-level house in the property. Also to make the structure less visible from the street, they enclosed the the arrival area with concrete walls. After entering the house, visitors find a courtyard separates the living area from the dining and kitchen spaces. These in turn open up to the terrace, the rear garden and pool. A dramatic open stair leads to the second level, where bedrooms are clustered, and a terrace provides easily accessible outdoor space.
Construction and materials: The concrete structure is supplemented by Vierendeel metal trusses on the upper level. Black aluminum, tempered glass, and tornillo wood are also used for exterior cladding.
Additional Information
Gross Site Size: Five acres
Total Project Cost: Withheld
Owner: Withheld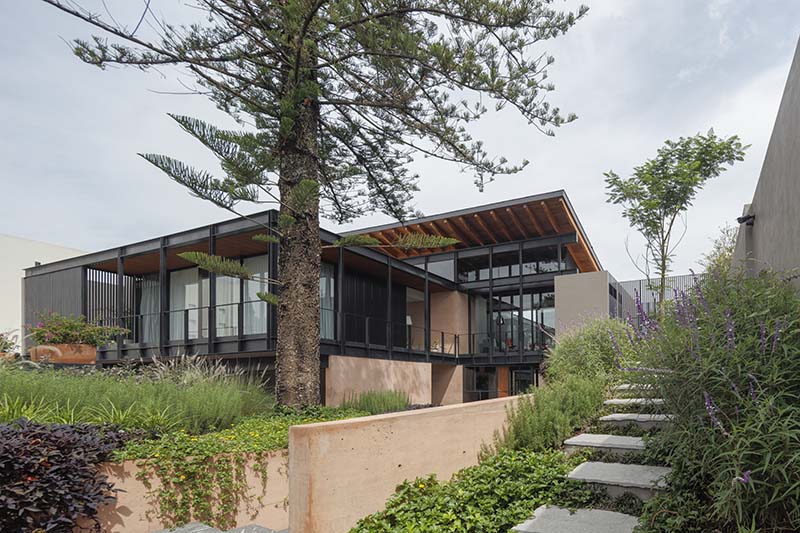 Photo © Lorena Darquea, click to enlarge.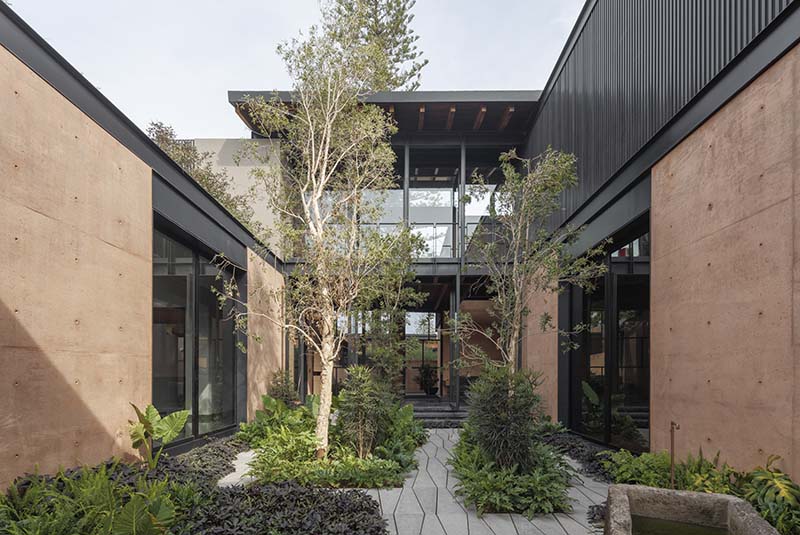 Photo © Lorena Darquea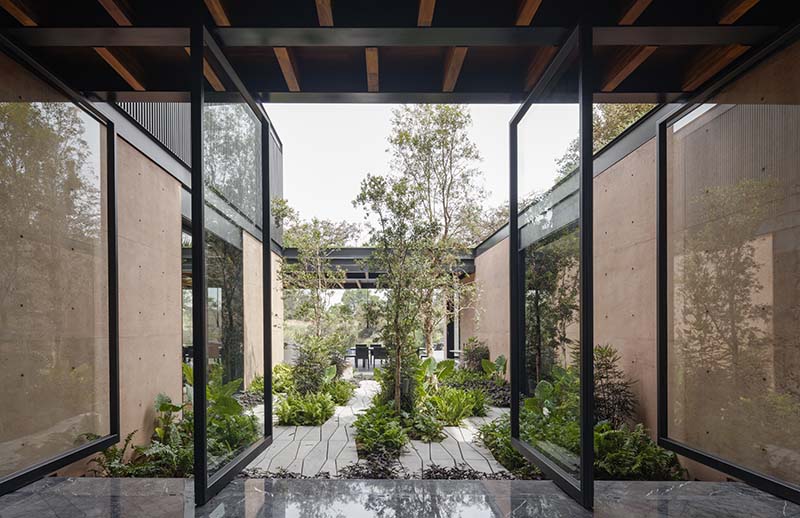 Photo © Lorena Darquea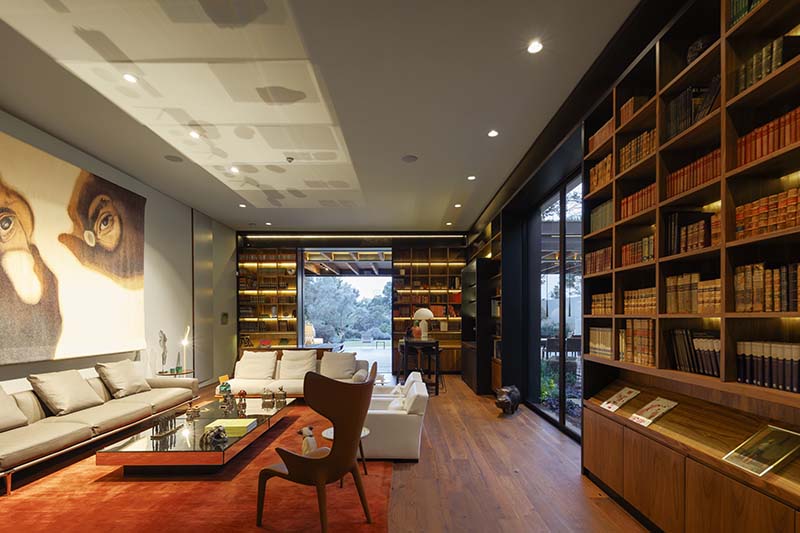 Photo © Lorena Darquea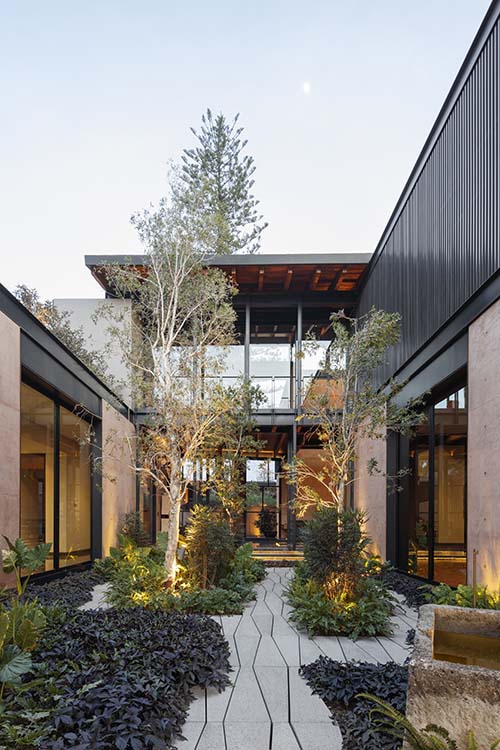 Photo © Lorena Darquea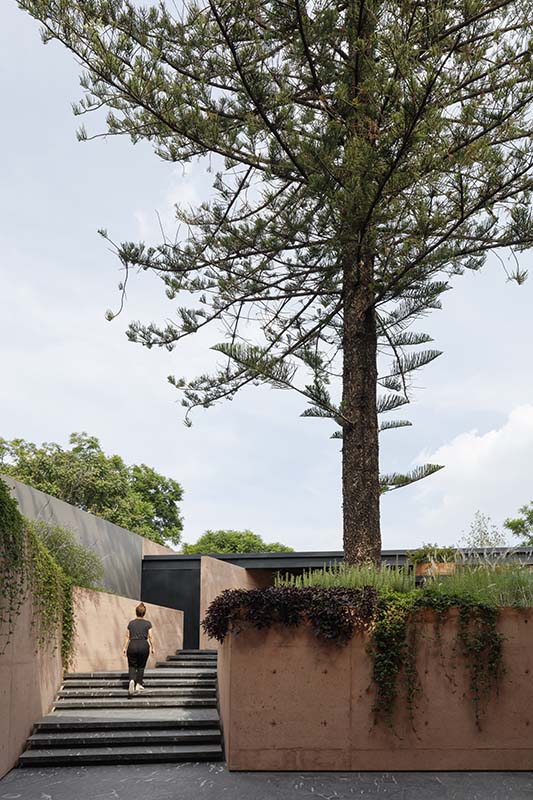 Photo © Lorena Darquea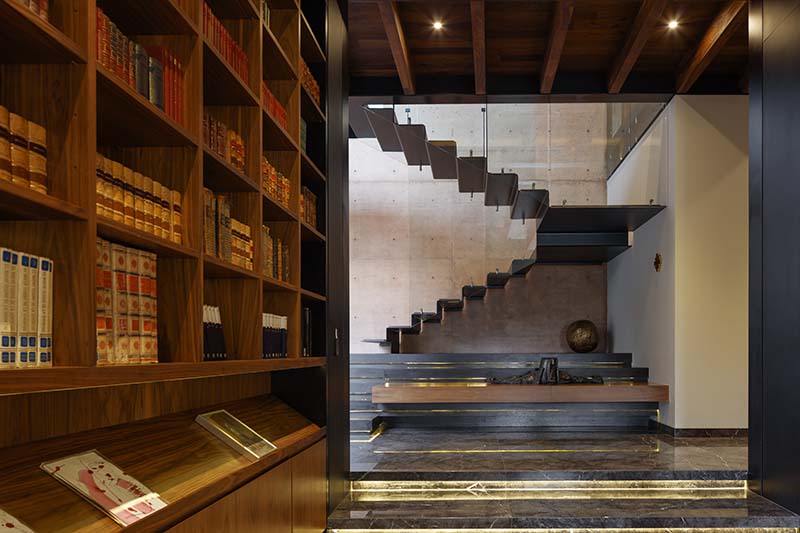 Photo © Lorena Darquea
Click plans to enlarge. Images courtesy Andrés Escobar Arquitectos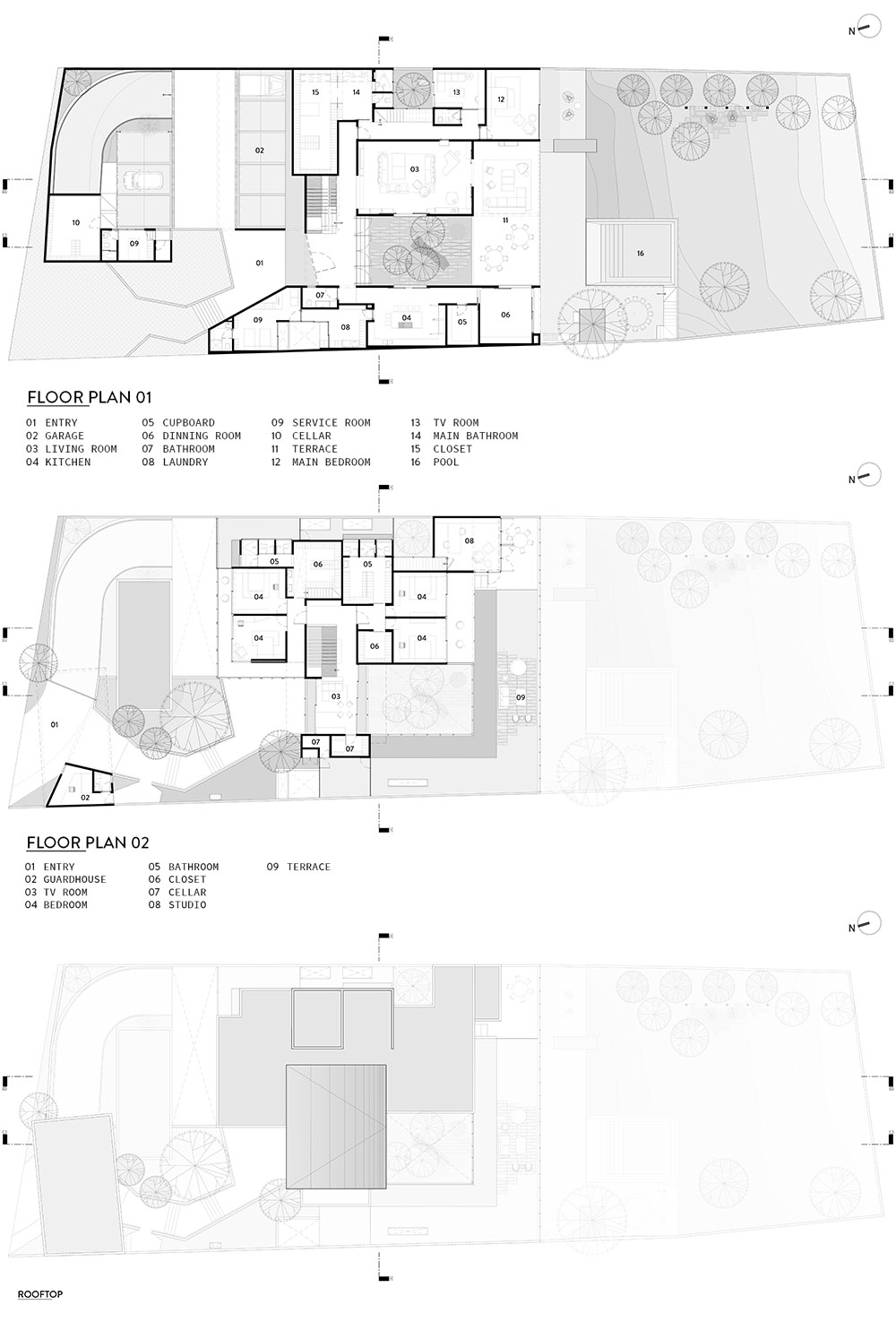 Click elevation & sections to enlarge. Images courtesy Andrés Escobar Arquitectos
Credits
Architect:
AE Arquitectos, Av. Acueducto #4851, Zapopan, Jalisco, México, (+52)3336411554, http://www.aearquitectos.mx/
Personnel in architect's firm who should receive special credit:
Andrés Escobar (CEO), Sergio Romo (Office manager), Roberto Torres Chávez (Project manager), Lydia Adriana Campos (Architect), Gabriela Arias (Architect)
Engineers:
Structure: Acero y concreto S.A. de C.V.
Hydraulic: Senen Palomar Manzano
Data and security: AVS, Grupo GINSATEC
Pool: Arquitectura del agua
Consultants:
Landscape: Perimetral (http://www.perimetral.mx/), Elemasele
Exterior Woodwork: Nexxespacios
General contractor:
CALCA Constructora
Specifications
Structural System:
Manufacturer of any structural components unique to this project: Pigmented jalcreto wall
Exterior Cladding:
Masonry: Jalcreto brick
Metal panels: Quadroline Hunter Douglas
Metal/glass curtain wall: Black aluminum and 9mm tempered glass
Wood: Tornillo (Cedrelinga catenaeformis)
Roofing:
Built-up roofing: Concrete
Tile/shingles: Pizarra
Windows:
Metal frame: Black aluminum
Glazing:
Glass: 9mm tempered glass
Doors:
Entrances: Smithy and glass
Metal doors: Smithy with 14 gauge sheet
Wood doors: Rosewood
Upswinging doors, other: White inked MDF
Hardware:
Locksets: Emtek
Interior Finishes:
Acoustical ceilings: Stave Cognac by Forte, White plaster
Cabinetwork and custom woodwork: Walnut wood
Paints and stains: Comex vinyl paint
Wall coverings: White plaster
Paneling: Zebrawood
Solid surfacing: Washed concrete
Floor and wall tile: Grigio Carnico Marble, Ebony Crystal Granite, San Andrés Quarry
Lighting:
Interior ambient lighting: Leds-C4, Costrulita, Lamp
Exterior:
Ventor
Dimming system or other lighting controls:
Lutron