✕
Maybe because it originated as a tennis ranch when it opened in 1987, or maybe because it already ranks among the best travel destinations in the United States, the owners of Enchantment Resort were not sure that their Sedona, Arizona, campus needed to cater to nature seekers too when they tapped Gluckman Tang Architects in 2018 to design a trailhead building. Though the resort's longtime trail guides were beloved by guests, "There was a perception that hikers and mountain bikers preferred camping over hotels," recalls firm partner Dana Tang. But after completing the programming and design of the new 4,000-square-foot Trail House, there was unexpected demand for adventure tourism.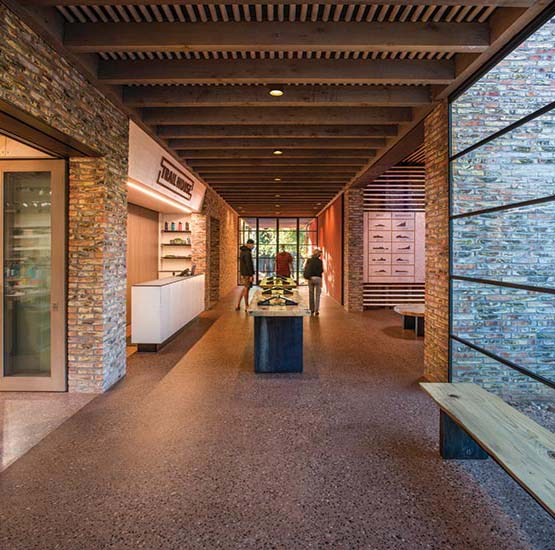 The main corridor reflects the materiality of the exterior. Photo © Matt Winquist, click to enlarge.
Gluckman Tang had added on to the Enchantment campus (PDF) once before, building a spa facility, which the firm is now modernizing. With both expansions, Tang says, "we embraced materials that were already there and then used them in a more modern way." For the Trail House, an asymmetrical pair of L-shaped volumes that slide along a wide north–south corridor, the New York–based architects avoided the red sandstone that is synonymous with Sedona, instead employing red stucco and adobe brick for the exterior of the wood-frame structure, which rises above foundation walls, footings, and on-grade slabs all formed in concrete. The vertical surfaces meet at a weathering-steel slot, which functions as a scupper during the summertime monsoon season.
The building's interior corridor merges with outdoor paths that connect to the surrounding trail system; bicyclists and hikers could ostensibly journey through Trail House without giving the enclosure much thought, and the design team leaned into that possibility.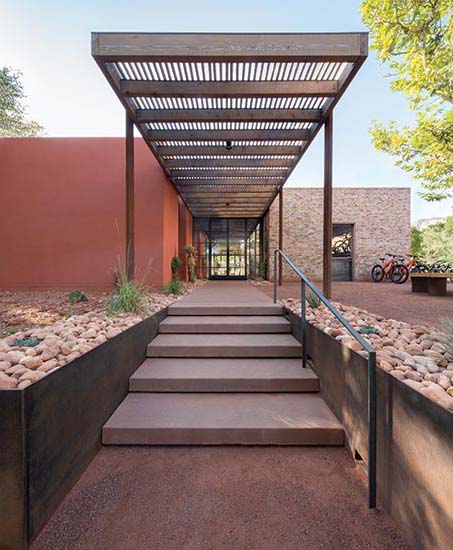 A trellis comprising weathering-steel columns, western red cedar, and latillas extends from the southern entrance of Trail House. Resort guests interact with bike-room attendants through a Dutch door.. Photo © Matt Winquist
Gluckman Tang covered the north and south entrances of Trail House with trellises in which latillas (peeled pine logs) sit within cedar frameworks on weathering-steel columns. Inside the building, the circulation spine is topped in cedar beams cradling latillas once again. Pigmented concrete floors, adobe brick, and red stucco further blur interior and exterior.
To complement Enchantment's heightened focus on activity, Gluck­man Tang designed a full-service bike shop, in Trail House's southeast quadrant, to the specifications of the resort's "bike chief," George Miraval. The architects left staple trusses exposed to underscore the room's utilitarian character and clad most of the remaining surfaces in pegboard and plywood, which are both functional and hard-wearing. (The plywood reappears in an adjacent retail shop.) For added efficiency, the southernmost perimeter wall includes a Dutch door, so that bikers can interact with Miraval and his colleagues without rolling through the building.
In the Map Room, latillas soften sunshine through a skylight. Photo © Matt Winquist
Considering how some users may never enter Trail House, Tang reflects, "You're just meeting here and traveling through, yet we wanted the building to have some significance as a place." The design team came up with the Map Room, a skylit gallery catty-corner from the bike and retail spaces, which showcases the region's natural and indigenous histories as well as cork maps that pop in and out of the wall. This sophisticated exhibition space not only celebrates the very reason for Trail House's being but also hedges Enchantment's investment in adventure. Not that guests are averse to seeing Sedona's famous red rocks up close: Tang reports that Trail House has been immensely popular since its inception, among passionate outdoorspeople and city slickers alike.
Click plan to enlarge
Click sections to enlarge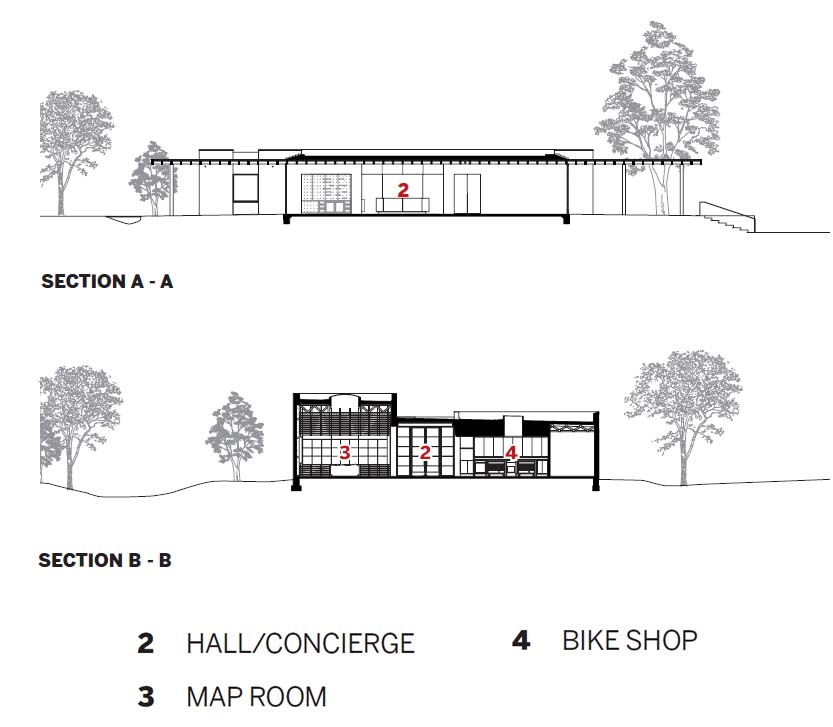 Credits
Architect:
Gluckman Tang Architects, LLP, 250 Hudson Street, 212-929-0100, www.gluckmantang.com
Personnel in architect's firm who should receive special credit:
Partner-in-charge: Dana Tang, AIA, LEED AP; Senior Architect: Gregory Yang, AIA; Project
Captain: Mark Shahlamian; Project Team Member: Grant Scott, AIA
Engineers:
Structural: Rudow + Berry Structural Engineering
Mechanical/Plumbing: Associated Mechanical Engineers
Electrical/Lighting: Woodward Engineering
Civil: Shephard-Wesnitzer
Sprinkler: EJ Engineering Group
Irrigation: Hines Inc.
Consultants:
Landscape: Colwell Shelor Landscape Architects
Specifications: Construction Specifications Inc.
Exhibition: Nicomia Custom Design and Fabrication
General Contractor:
PWI Construction
Photographer:
Matt Winquist
Specifications
Structural System:
Corten Structural Tube, Paralam studs, Pre-Fab Wood Staple Trusses
Exterior Cladding:
Masonry: Summit Brick: Multicolored adobe brick
Metal panels: Western States Metal Roofing: Corten Steel Panels and 7/8" corrugated corten
Metal/glass curtain wall: Torrance Steel
Wood: Western Red Cedar
EIFS, ACM, or other: Sto: Stotherm CI
Moisture barrier: VaproShield: WrapShield SA Self Adhered
Roofing:
Elastomeric: Carlisle: Sure-Weld TPO Roofing
Metal: Western States Metal Roofing: Flat Sheet Corten metal roofing and coping
Windows:
Metal frame: Torrance Steel Window Co; Western Windows
Glazing:
Glass: Cardinal
Skylights: Velux
Insulated-panel or plastic glazing: American Acrylic Corporation - LUMAsite
Doors:
Entrances: Torrance Steel Window Co
Wood doors: Custom
Hardware:
Locksets: Ashley Norton
Pulls: Ashley Norton
Interior Finishes:
Acoustical ceilings: Armstrong: Tectum lay-in ceiling
Suspension grid: Armstrong
Cabinetwork and custom woodwork: Millwork by Wellwood Enterprises
Paneling: Plywood paneling by Wellwood Enterprises
Solid surfacing: Richlite: Black Diamond countertop
Floor and wall tile: Aparici Ceramic
Special interior finishes unique to this project: Terrazzo-ground concrete flooring, Handpeeled Pine Latillas by Southwest Ideas, Western Red Cedar planking
Furnishings:
Custom Retail furniture: Reeves Store Equipment Company
Custom benches and tables: Nicomia Custom Design and fabrication
Chairs: Loll Designs - Lollygagger Lounge Chair
Lighting:
Interior ambient lighting: SSL: Coveline LED
Downlights: USAI: BeveLED; CSL: 4" Acrobat LED Downlight; Times Square Lighting: SoHo Mini LED Projector; Lithonia Lighting: CLX LED Linear
Retail Lighting: Bruck Lighting: Vice Track Spot LED
Exterior: Focus Industries: LED Well Lights and LED Hanging Lights; HK USA Lighting Group: Origane LED Path Light
Dimming system or other lighting controls: nLight lighting controls
Plumbing:
Faucets: Watermark
Floating Trough Sink: Trueform Concrete
Toilets: Toto