✕
In the old days, stadiums often created neighborhood dead zones, disrupting the urban fabric with their monumental scale, fortresslike exteriors, and periods of dormancy. But a trend toward mixed-use complexes, active 365 days a year, has emerged, providing opportunities for lucrative development—and for modest or struggling areas to transform themselves into destinations. Across the nation, new complexes are combining professional sports with entertainment—from theaters to amusement parks—along with working, living, lodging, shopping, and dining.
Far less common, however, is the integration of new, publicly accessible parks. But that's a key component of L.A.'s 298-acre Hollywood Park, a phased development in Inglewood, California, on former racetrack grounds. Along with the 3.1 million-square-foot, 70,000-seat SoFi Stadium—home to the city's two National Football League teams, the Rams and Chargers—the master plan, by Hart Howerton with HKS, called for 25 acres of open green space and a 6,000-seat theater. The stadium (reconfigurable to 100,000 seats) opened in September 2020, and the YouTube Theater last summer. Eventually, there will be a 300-key hotel, plus up to 5 million square feet of offices, 890,000 square feet of retail/restaurants, and 2,500 residences.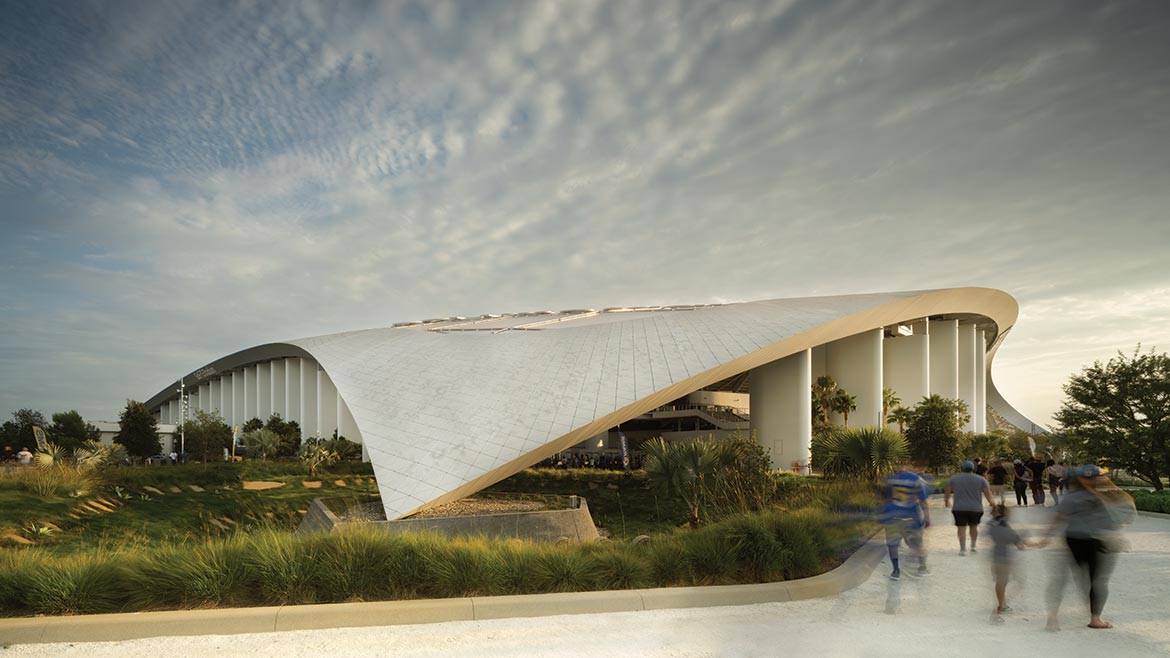 Photo © Nic Lehoux
When Rams owner Stanley Kroenke acquired the vast site and hired HKS to design the stadium and linked theater, a critical question was about how to make the building a welcoming neighborhood asset. Also challenging—with a flight path into LAX Airport directly above—were FAA height restrictions. HKS responded by embedding the field and spectator bowl 100 feet below grade. A 27.5-acre roof canopy—featuring translucent, ethylene-tetrafluoroethylene (ETFE) panels, some of them operable—spans over the stadium, theater, and 2.5-acre American Airlines Plaza between them. The building has no conventional facades or enclosing walls, though it has some vertical supports, reinterpreting the classic entry colonnades of older arenas. With its hovering, overarching canopy touching the ground in only four places, the stadium has an openness that invites views in and exploits the indoor-outdoor potential in Southern California's mild climate.
The deep excavation became an opportunity to create, along the building's inner periphery, terraced "canyons"—features echoed in the plaza. Covered, yet open to breezes—as is the entire arena—these lushly planted ravines integrate stairs, escalators, and dining/gathering patios. With the field's innovative and enormous video board visible throughout the building, these "interventions change the experience of the game—it's no longer a static observation piece," says landscape architect Mia Lehrer, president of Studio-MLA, which collaborated with HKS to make the building and landscaping "inseparably intertwined," as HKS principal Lance Evans puts it.
As part of that "dynamic and symbiotic relationship," says Lehrer, "we sculpted the land to engage the building and celebrate [the character of the landscape] through terraces, promenades, and water features." While SoFi's "canyons" highlight native vegetation, the surrounding parkland, recontoured with soil from the excavation, expands the diversity. Its trees and plants draw from the entire "Mediterranean" biome, which includes Southern California as well as southwestern Australia, South Africa, Chile, and the Mediterranean Basin—regions with very similar climates and weather patterns, due to their proximity to a west-facing ocean and distance from the equator. Along with educational and wayfinding roles, says MLA associate principal Kush Parekh, the selection "provides a rich, biodiverse habitat for local species, including monarch butterflies, songbirds, and honeybees."
A six-acre artificial lake—recalling the former racetrack's manmade pond, a much-loved community amenity—is the centerpiece of the new 12-acre Lake Park, alongside the arena. It uses only reclaimed water, including storm runoff from the vast stadium roof, filtered through natural wetlands, bioswales, and a man-made arroyo. The lakeshores are already popular with pregame partiers. The surrounding surface parking lots—traditionally tailgate terrain—will eventually be phased out, says Evans, probably replaced by underground or otherwise indoor garage space in various buildings on-site.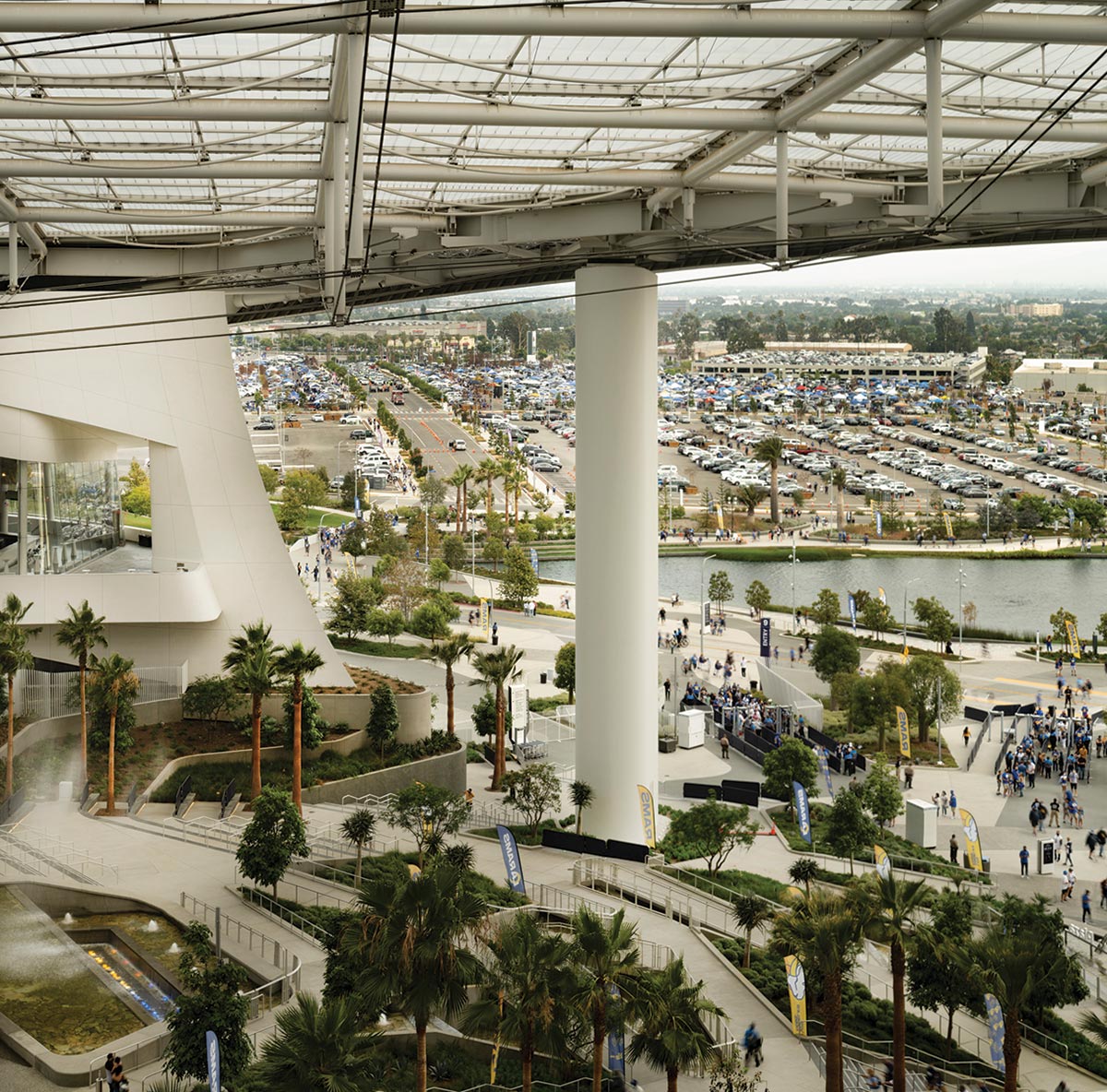 Sports enthusiasts and theatergoers approach the open structure through landscaped grounds (top), visible from the various, terraced levels inside (above). Photo © Nic Lehoux, click to enlarge.
Though pandemic restrictions initially barred spectators from the stadium, they've since flocked to its games, school graduations, and performances, including two Rolling Stones concerts in 2021. The arena will have its global, prime-time close-ups when it hosts Super Bowl LVI on February 13 and the summer Olympics opening and closing ceremonies in 2028.
Still, some skeptics have questioned how directly such developments as the reported $5.5 billion stadium will serve Inglewood's struggling community, which is 40-plus percent Black and 50-plus percent Hispanic of any race, with a pre-pandemic median household income of $54,400. So far, Hollywood Park has made outreach integral to its mission, with events and programs addressing food security, vaccination needs, education, sustainability, and financial empowerment. It has supported youth and scholarship initiatives and, in 2021, donated 97,000 pounds of food locally. Though Super Bowl tickets might be unaffordable to many residents, the event is projected to employ thousands and boost Inglewood's economy by many millions (and the Rams and Chargers give away tickets throughout the season to community organizations). Also, by contributing thousands of flowering plants to roadway medians throughout the community, and partnering with the city to restore and beautify its other parks, the developer has expanded SoFi's civic gestures and commitment to publicly accessible green space well beyond its own grounds.
Photos © Nic Lehoux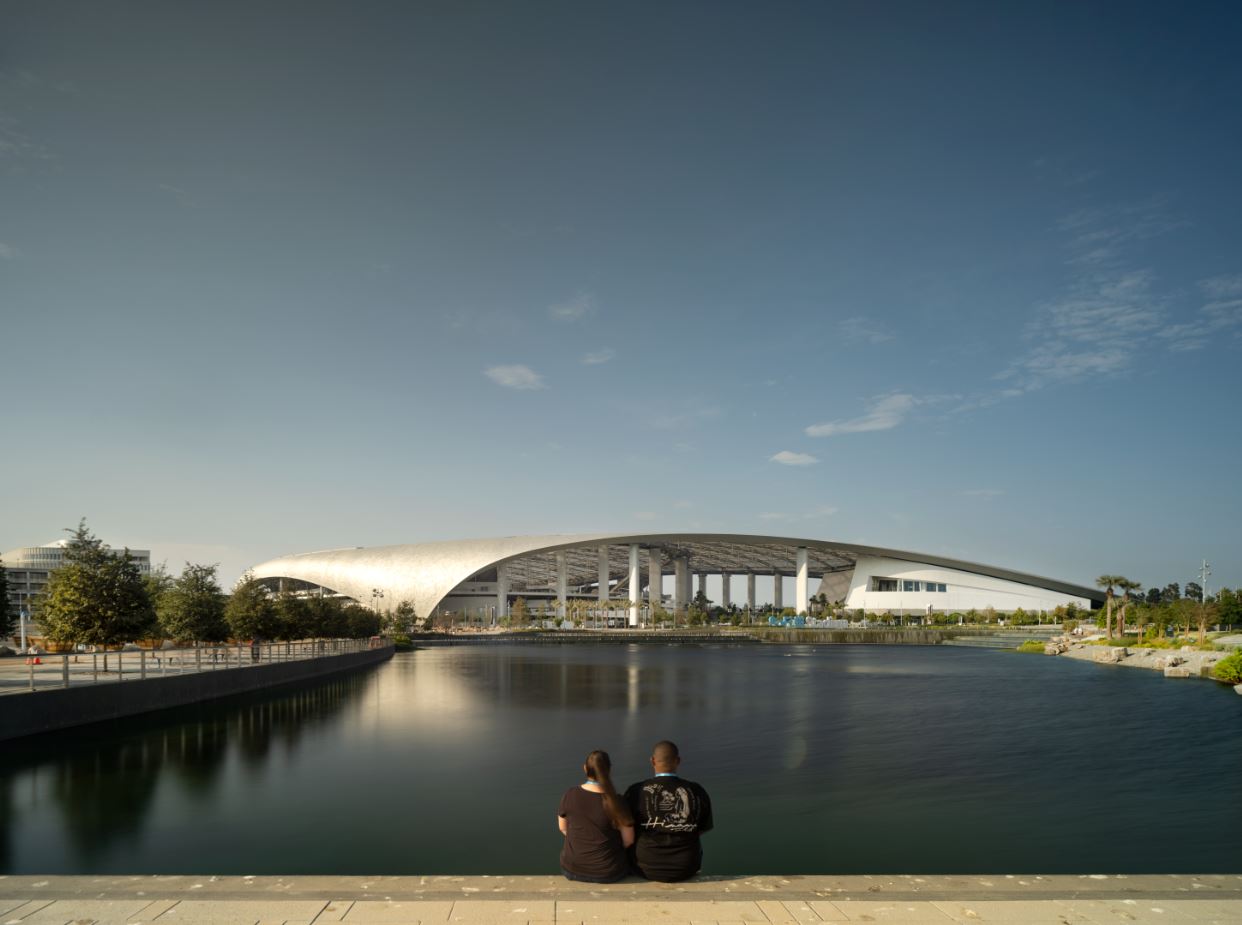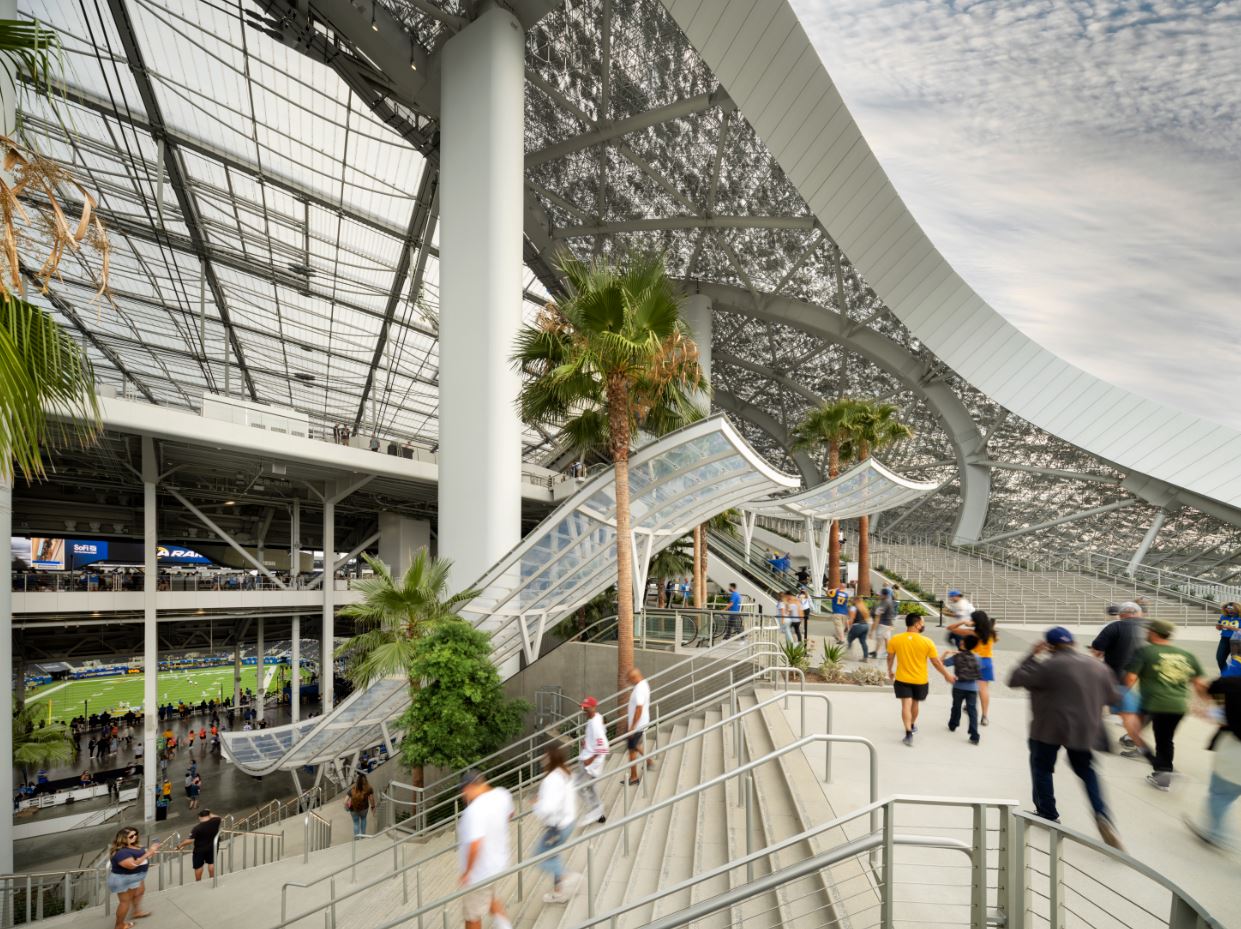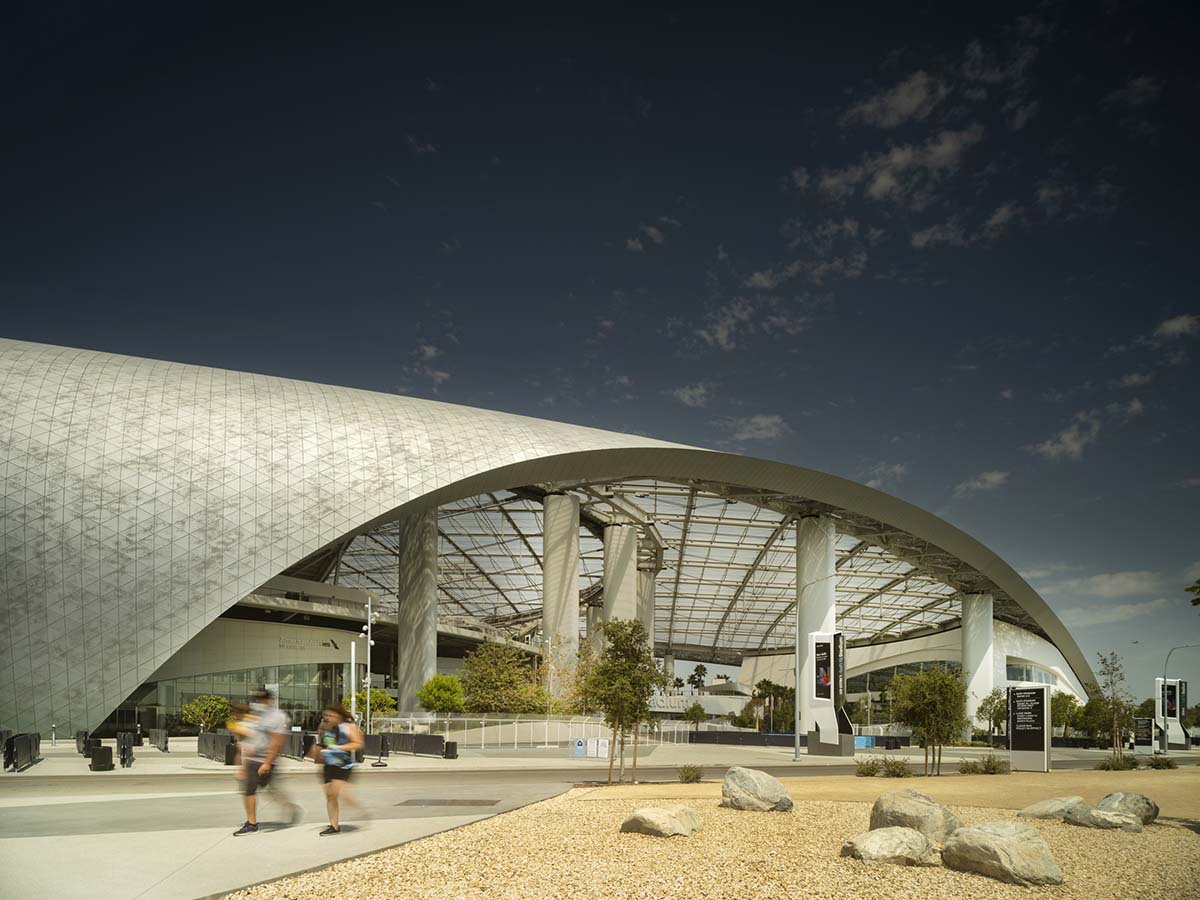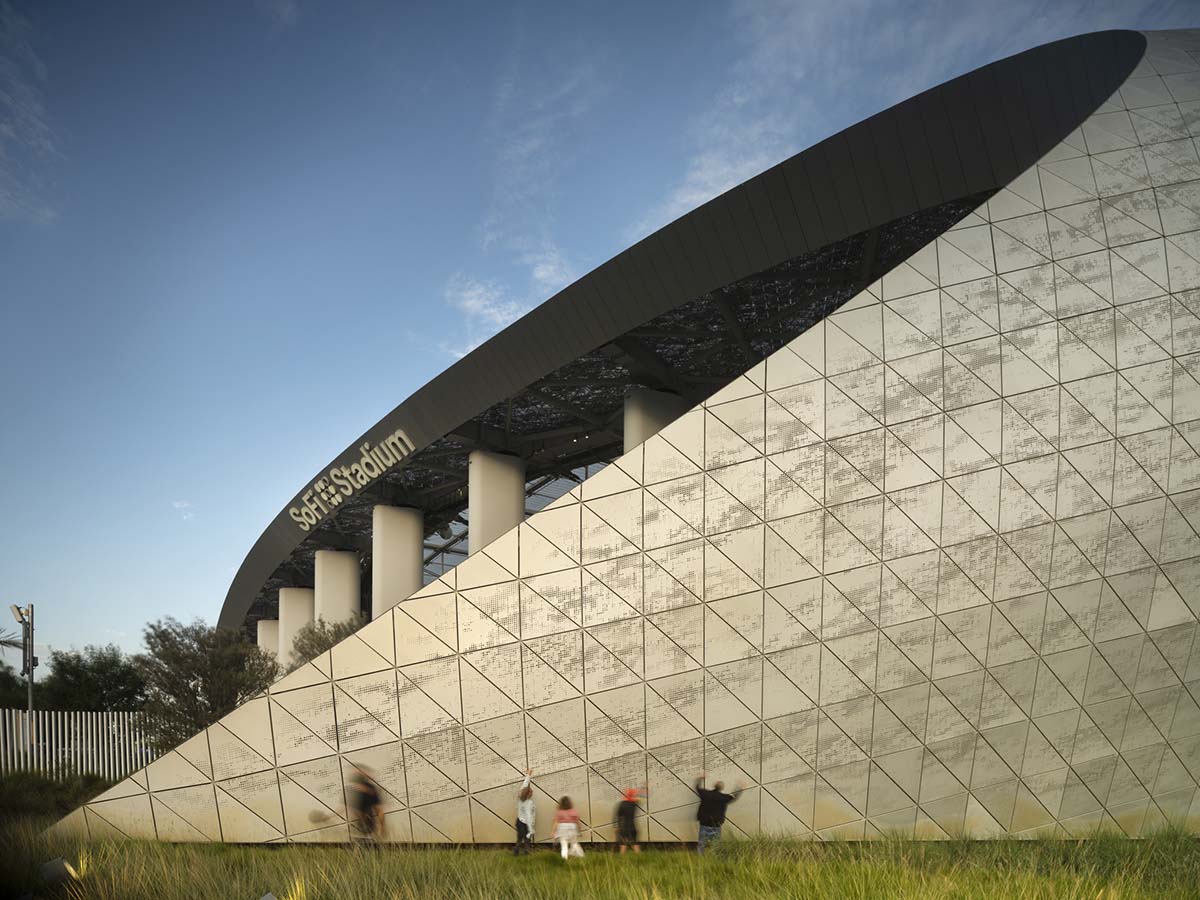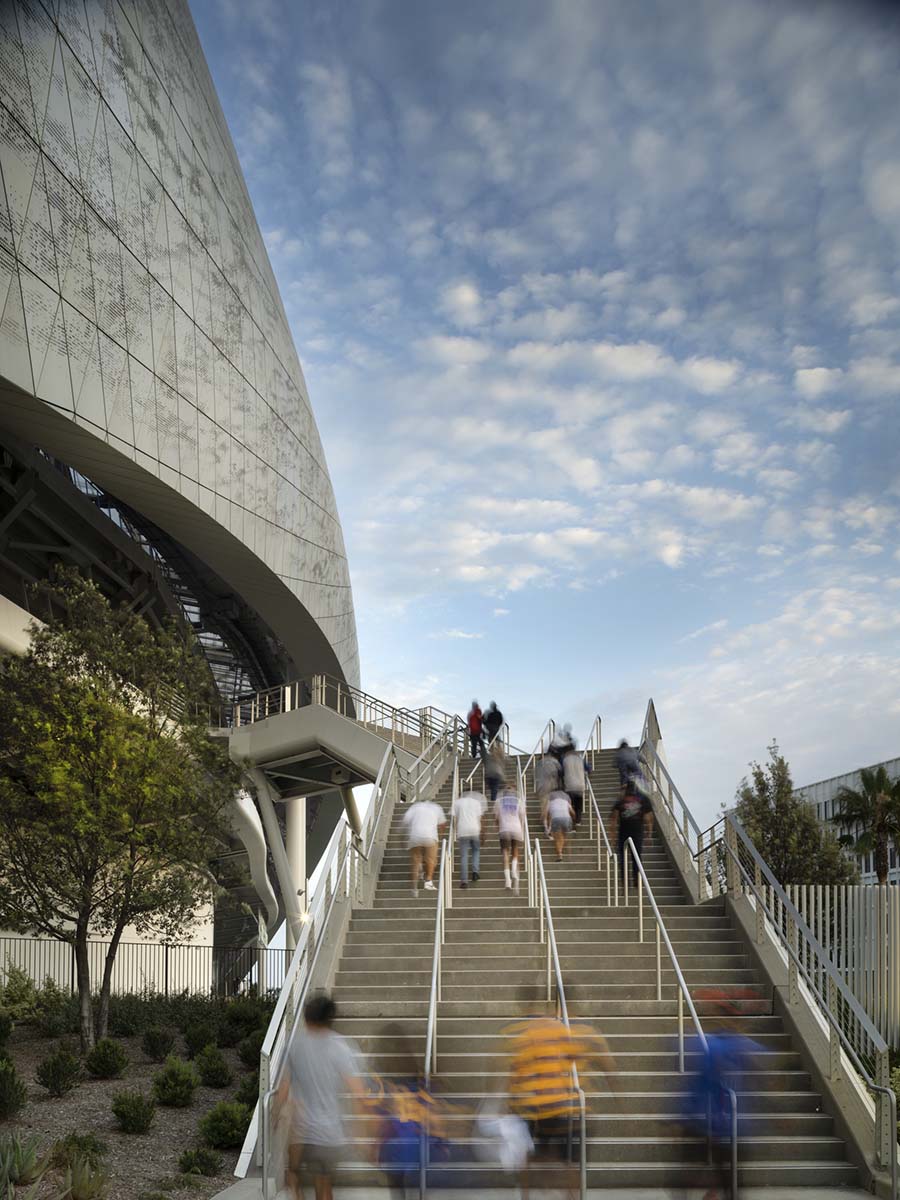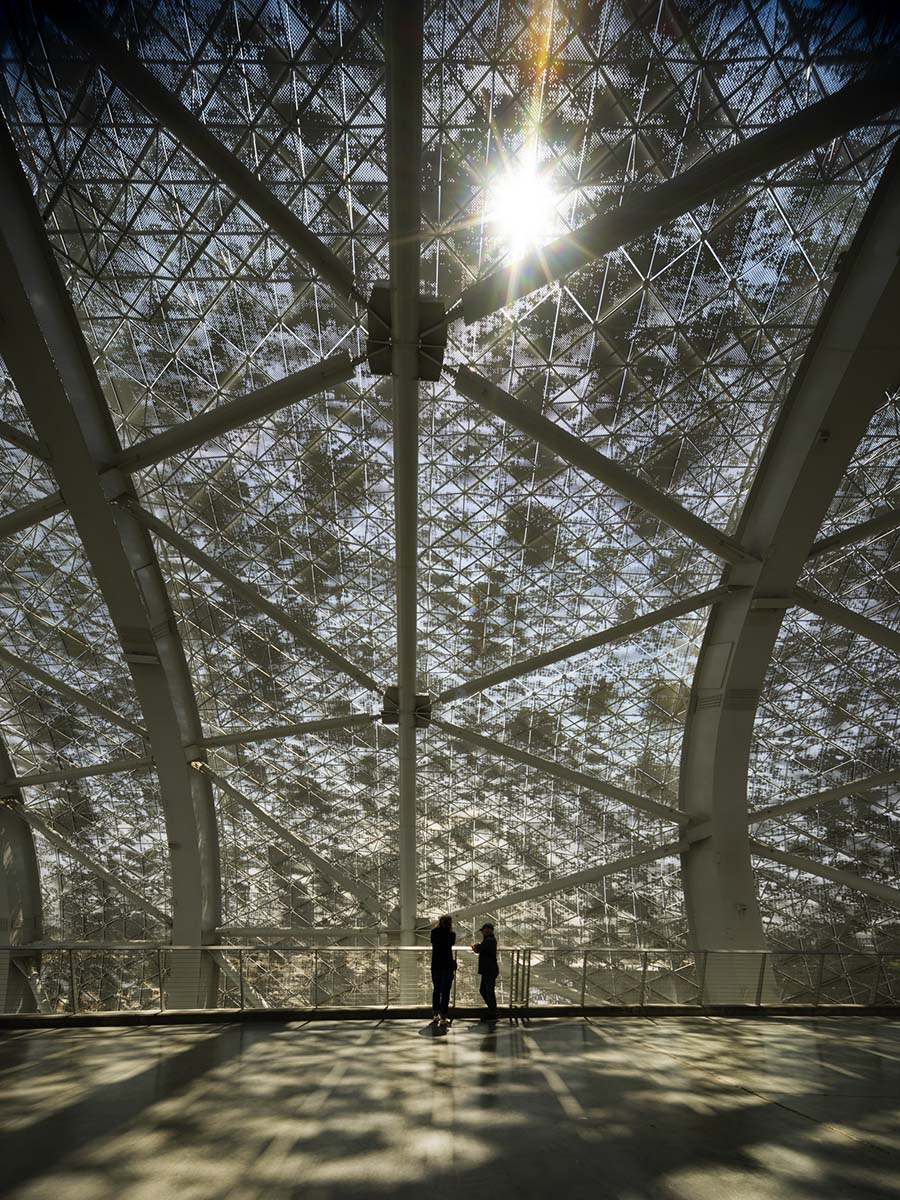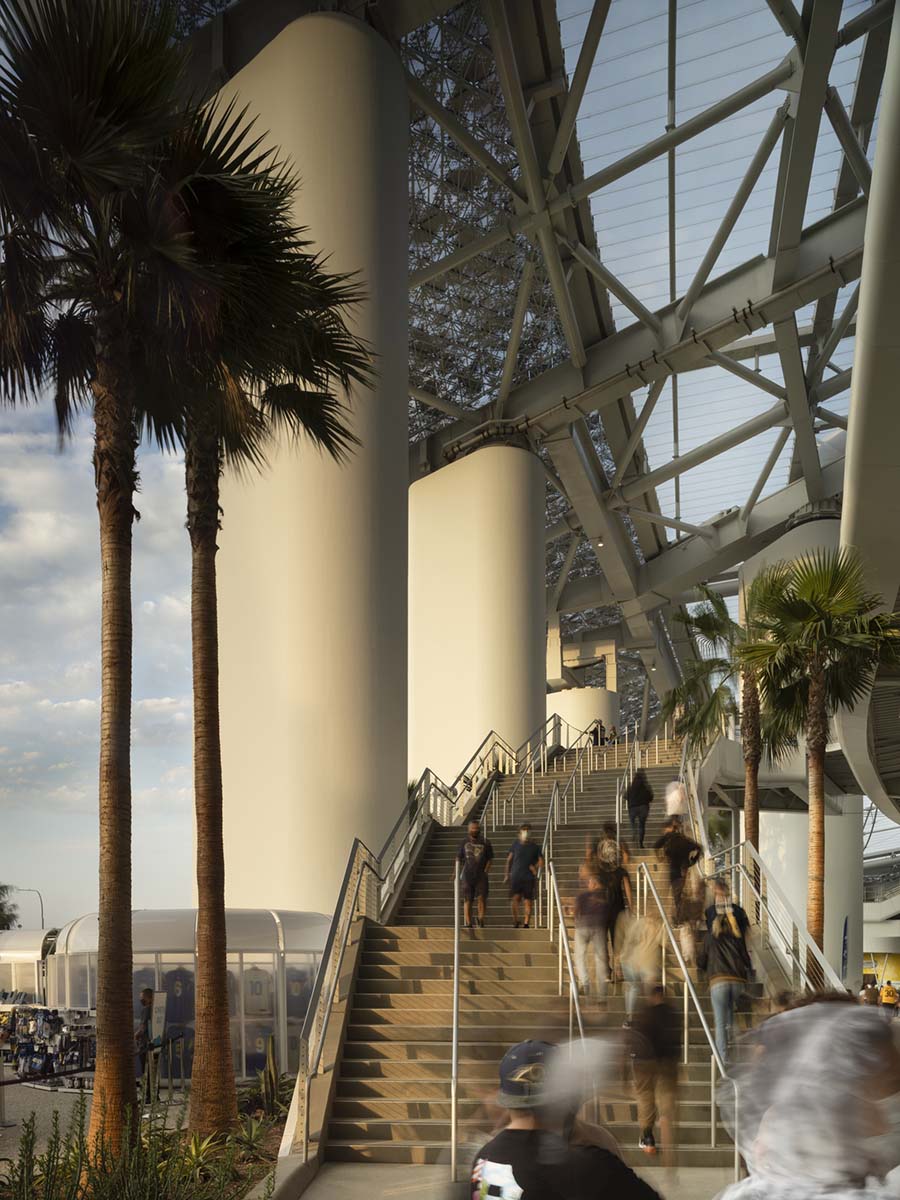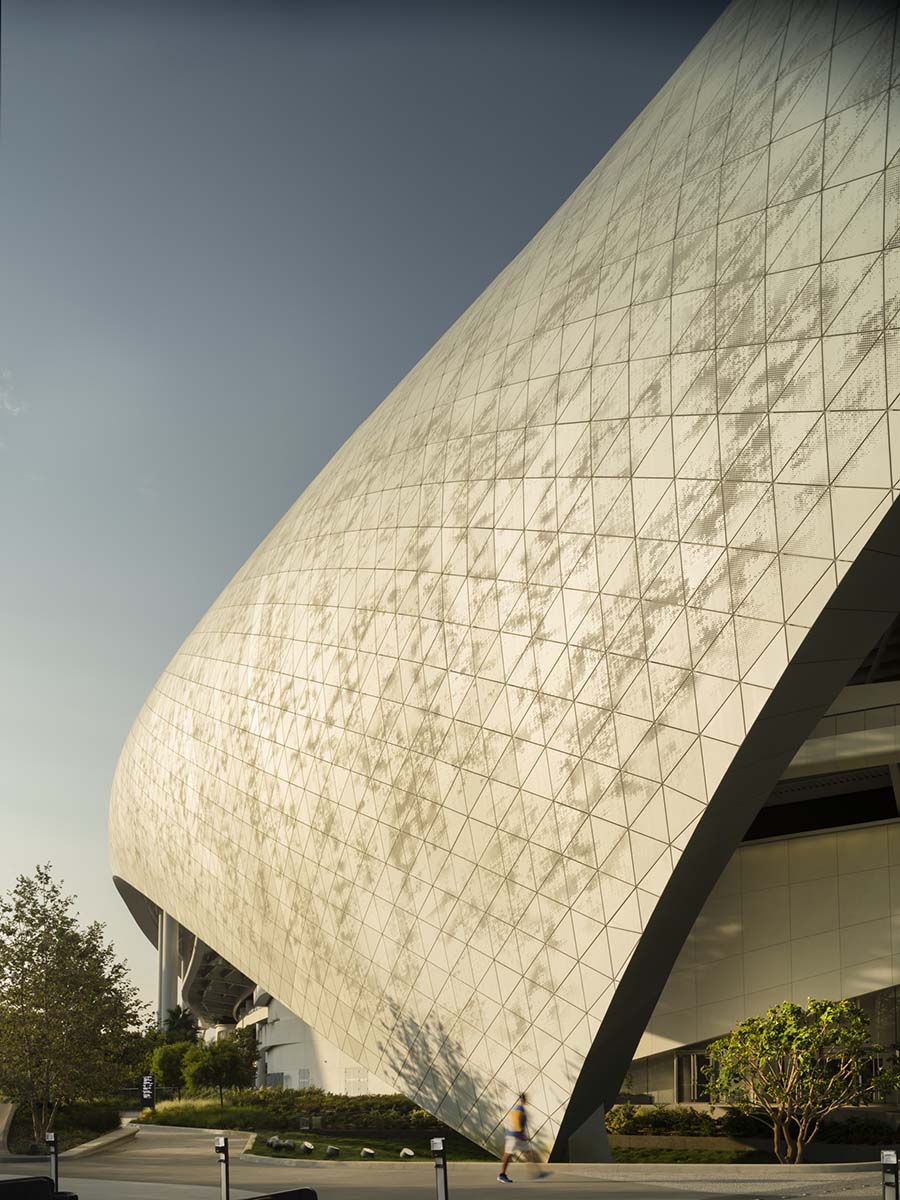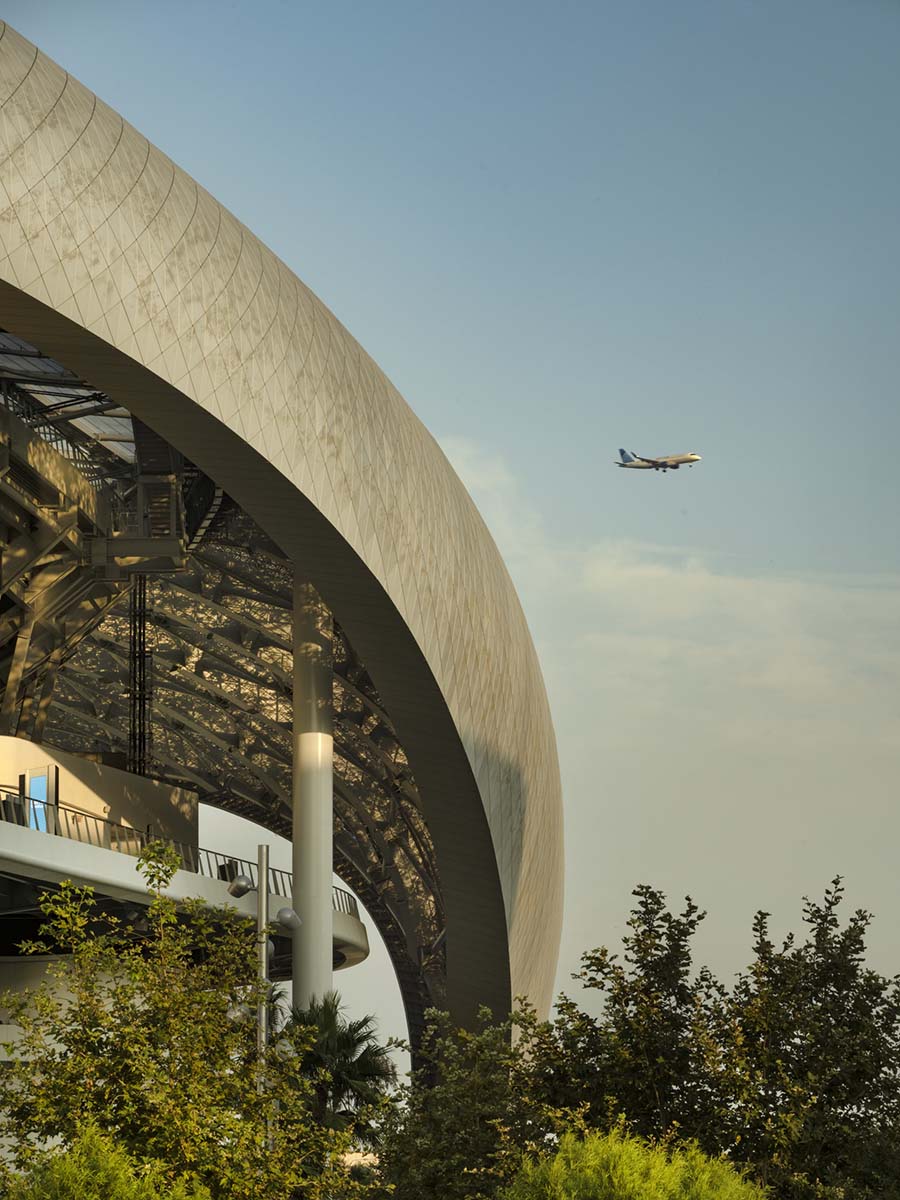 Click plan and sections to enlarge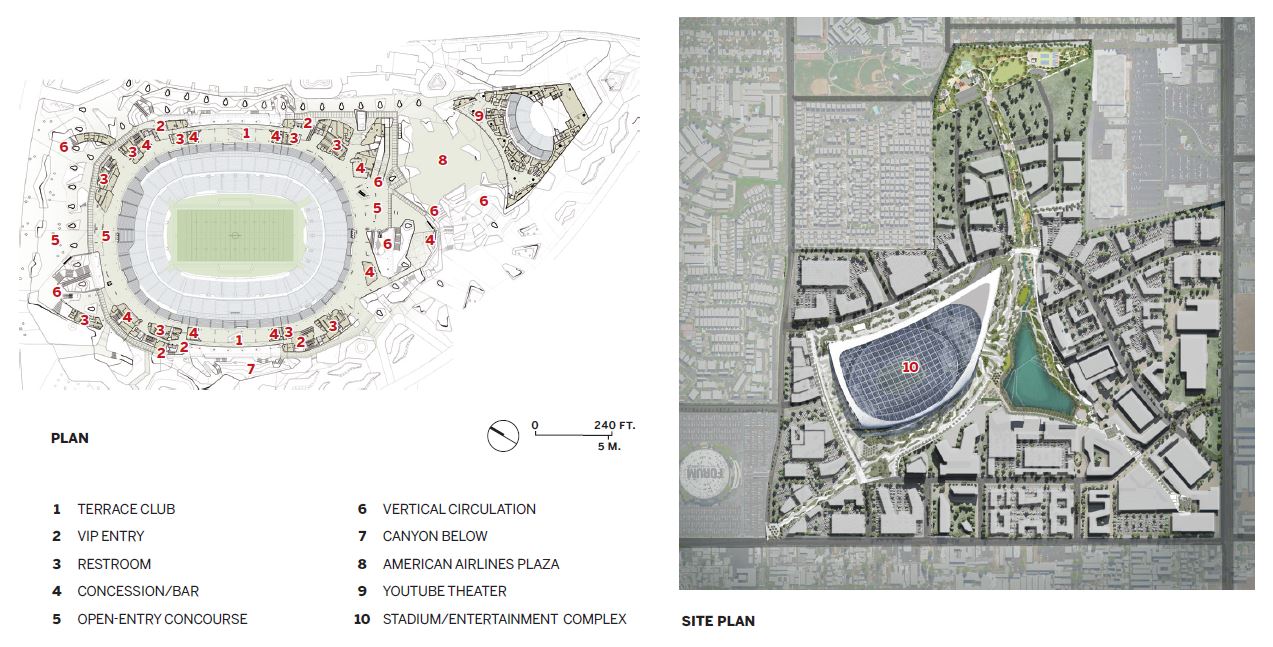 East West Section Perspective

North South Section Perspective
Credits
Architect:
HKS, www.hksinc.com
Personnel in architect's firm who should receive special credit:
Mark A. Williams, FAIA, LEED AP BD+C (Principal in Charge), Kevin Taylor, AIA, LEED AP BD+C (Principal Project Manager), Jay Caddell, AIA, LEED AP (Project Manager), Lance Evans, RA (Design Principal), Greg Walston (Lead Project Coordinator), Chad Scheckel, AIA (Senior Construction Administrator), Mike Rogers, AIA (Senior Designer), Anice Stephens, AIA (Senior Project Architect), Bryan Mounger, AIA, LEED AP (Senior Project Architect), Michelle Stevenson, RA, LEED AP BD+C (Senior Project Architect), Niel Prunier, AIA (Senior Project Architect), Morgan Newman, AIA, LEED AP BD+C, RID (Project Architect), Manzer Mirkar, AIA, LEED AP BD+C, WELL AP (Project Architect), LaKendra Clark (Job Captain), Mark Timm, IIDA, RID (Senior Interior Design Project Manager), Katy Cagle, IIDA, LEED AP (Interior Designer), Amanda Trimble, IIDA, ASID, RID (Interior Designer), James Warton (Senior Computational Designer), Sean Huynh (Construction Administrator), Steve Bayne, AIA (Senior Construction Administrator), Scott Hunter, FAIA, LEED AP (Principal Project Director), Heath May, AIA (Senior Designer); Patrick McMahon (Interior Designer); Karl Sonnier, AIA (Senior Technical Architect)
Associate architect(s):
QDG
Interior designer:
HKS, www.hksinc.com
Engineers:
Structural: Walter P. Moore
MEP: Henderson Enginneers
Geotech: Group Delta
Fire and Life Satefy: Howe Engineers
Wind Load: Rowan Williams Davis & Irwin, Inc
Consultants:
Landscape: Studio-MLA
Lighting Design: Lam Partners
General contractor:
Turner/AECOM/Hunt JV
Photographer:
Nic Lehoux, Bruce Damonte
Specifications
Structural System:
Cable Net Roof: The Herrick Corporation, Pfeifer Structures
Enter Other Structural Products Here: Earthquake Protection Systems, Taylor Devices, CoreBrace LLC, Construction Specialties Group
Exterior Cladding:
Metal Panels: A. Zahner Company, Crown Corr Inc.
Precast Concrete: Coreslab Structures, Kiewit Corporation, Structure Cast
Moisture Barrier: GE Silicones, GCP Applied Technologies, DuPont, Henry Company
Curtain Wall: Nupress Facades
Plaster: Parex USA, CESA, Southwest Progressive Enterprises
Seismic Wall and Floor Covers: Construction Specialties, Watson Bowman Acme
Roofing:
Single Ply Membrane and ETFE Panels: Sika Sarnafil, Carlisle Syntec, AGC Chemicals, Pfeifer Structures
Glazing:
Glass: Pilkington, Vitro Architectural Glass, GlasPro
Suite Glazing: Dormakaba
Doors:
Entrances: C.R. Laurence Company
Metal Doors: Door Components Inc.
Wood Doors: OshKosh Door Company, VT Industries, Eggers Industries
Hardware:
Locksets: Schlage
Closers: Horton, Rixon, LCN
Exit devices: Blumcraft, von Duprin
Pulls: Blumcraft, Ives
Interior Finishes:
Acoustical Ceilings: Armstrong
Suspension Grid: Armstrong
Cabinetwork and Custom Woodwork: Millworker: ISEC (suites) & IDX (clubs, locker rooms)
Paints and Stains: Sherwin Williams
Wall Coverings: DesignTex, Concertex, Carnegie
Paneling: Wood Veneer supplied by AVI, Stone Paneling supplied by Stone Source
Plastic Laminate: Wilsonart
Solid Surfacing: Stone Italia, Shield (team lockers)
Special Surfacing: Porcelain cabinet faces & counters: T-One
Floor and Wall Tile: Stone Italiana, T-One, Vidrepur, Provenza, Studio One, Trend Group, 41zero42, Mutina, Equipe
Resilient Flooring: Bolon
Carpet: Interface
Special Interior Finishes Unique to This Project: Custom-printed glass panels: Forms & Surfaces, Specialty Veneer Plaster: Southwest Progressive, Resinous Flooring: Techniquex, Metal Drapery: Shimmer Screen & Cascade Coil, Metal Ceilings: Hunter Douglas, Ceilings Plus & Armstrong
Furnishings:
Office Furniture: Knoll, Keilhauer, Herman Miller
Reception Furniture: Knoll, Cumberland, Keilhauer, Bernhardt Design
Fixed Seating: Camatic
Chairs: Lily Jack, Martin Brattrud, Keilhauer, AMQ, Bernhardt Design, Cumberland, Davis, Vitra, Janus Et Cie
Tables: Neil Allen, Andreu World, Knoll, Janus Et Cie, Lily Jack, Meyer Wells
Upholstery: Joseph Noble, Anzea, Enviro Leather, Luna Textiles, Tiger Leather, StudioArt, Edelman Leather, Spinneybeck Leather, Garrett Leather, Momentum Textiles, Concertex, Ultra Fabrics, Arccom, DesignTex, Janusfiber, Wolf Gordon, Brentano Fabrics, Innovations, Carnegie
Other Furniture: Blue Leaf (custom banquette seating)
Lighting:
Interior Ambient Lighting: Lumenpulse
Downlights: Gotham Lighting
Tasklighting: HK Lighting, Lumenpulse
Exterior: SACO Technologies, Inc., Musco Sports Lighting, LLC., Erco, Lumenpulse, Selux
Dimming system or other lighting controls: ETC lighting controls
Concourse Ring Pendants: Delray
Roof Media Mesh: SACO Technologies, Inc.
Conveyance:
Elevators/escalators: Otis
Plumbing:
Low Flow Water Closet: Proflo with Zurn flush valve
Low Flow Urinal: Toto with Zurn flush valve
Energy:
Energy Management or Building Automation System: Johnson Controls
Photovoltaic System: Electrical infrastructure planned for possible future PV installation
Chillers: Trane with maximum delta T to increase efficiencies of unit
Variable Refrigerant Flow System: LG
Other Unique Products that Contribute to Sustainability: Trane chillers with maximum delta T to increase efficiencies of unit, LG Variable Refrigerant Flow System