✕
LEVER Architecture, a Portland, Oregon­–founded architectural practice that's garnered national praise for its pioneering embrace of mass-timber construction, is heading to the other Portland—the similarly forest-flanked one in Maine—for a $100 million revamp of that city's most venerable public art institution.
The firm, a 2017 Design Vanguard, has been announced as winner of an international competition seeking design architects for a campus-unifying expansion of the Portland Museum of Art (PMA). Dubbed The PMA Blueprint, the first-in-four-decades expansion project will more than double the existing footprint of the museum by yielding a new 60,000-square foot wing at 142 Front Street that knits together a quartet of disparate but architecturally significant buildings centered around downtown Portland's Congress Square, including the historic McLellan-Sweat Mansion and Henry N. Cobb's emblematic red-brick Payson Building opened in 1983.
LEVER's proposed design was selected over those envisioned by three other shortlisted contenders that advanced to the final stage of the juried competition, including teams led by Adjaye Associates, MVRDV, and the trifecta of Toshiko Mori Architect, Johnston Marklee, and Preston Scott Cohen. Organized by Dovetail Design Strategists, the competition first launched in June 2022; Portlanders were invited to weigh in on the four finalist proposals during a public comment period held late last year. This feedback was taken into consideration by the 12-person competition jury.
Described in a statement as "aligning perfectly with the PMA's value, mission, and goals" by jury member and PMA Board of Trustees president Eileen Gillespie, the LEVER-led team also includes local firm Simons Architects (executive architect) and Baltimore-based Unknown Studio (landscape architect) joined by Chris Newell of the Akomawt Educational Initiative (Indigenous inclusion advisor), Openbox (equality, inclusion, and cultural advisor), Once-Future Office (signage, graphics, and wayfinding consultant), Studio Pacifica (accessibility and universal design consultant), and Atelier Ten (sustainability consultant).
Incorporating mass timber, terra-cotta, and glass, LEVER's winning conceptual design foregrounds material innovation and sustainability. (In addition to the environmental bona fides of mass timber, geothermal and off-site solar are both being considered). Rugged yet welcoming, the proposed six-story museum building also exudes a distinct Maine-ness while introducing a sense of transparency largely absent in the PMA's existing buildings. Along with additional gallery space that will enable the museum to grow and diversify its collection while accommodating an uptick in annual visitor numbers, the barrier-free new wing will include informal public gathering areas, a restaurant, and a dedicated gallery for exhibiting the work of emerging local artists with an adjacent community makerspace.
"You can come in and make art while you can see art that's in the rest of the museum," says LEVER principal Chandra Robinson of the intersection of "messy" makerspace and curated galleries. "For us, this means that if people can see other people making, they can see themselves in the space and they make more of a real connection between themselves and art."
The design also places emphasis on accessibility, a consideration that Robinson says "came up again and again" during the public feedback period. "It's really about making everyone's path through the museum the same."
In conceiving a marquee cultural project for Maine's oldest and largest public art institution, LEVER sought to design a building that responds to what Robinson calls a "very specific place." Key to this is Akomawt Educational Initiative co-founder Chris Newell, a member of the Passamaquoddy tribe, who has provided the larger team with insight into local Wabanaki culture from the beginning of the design process. This perspective influences the visual language of the building, including a curving roofline that cradles the sun as it rises and sets over the horizon in honor of Maine's Indigenous communities.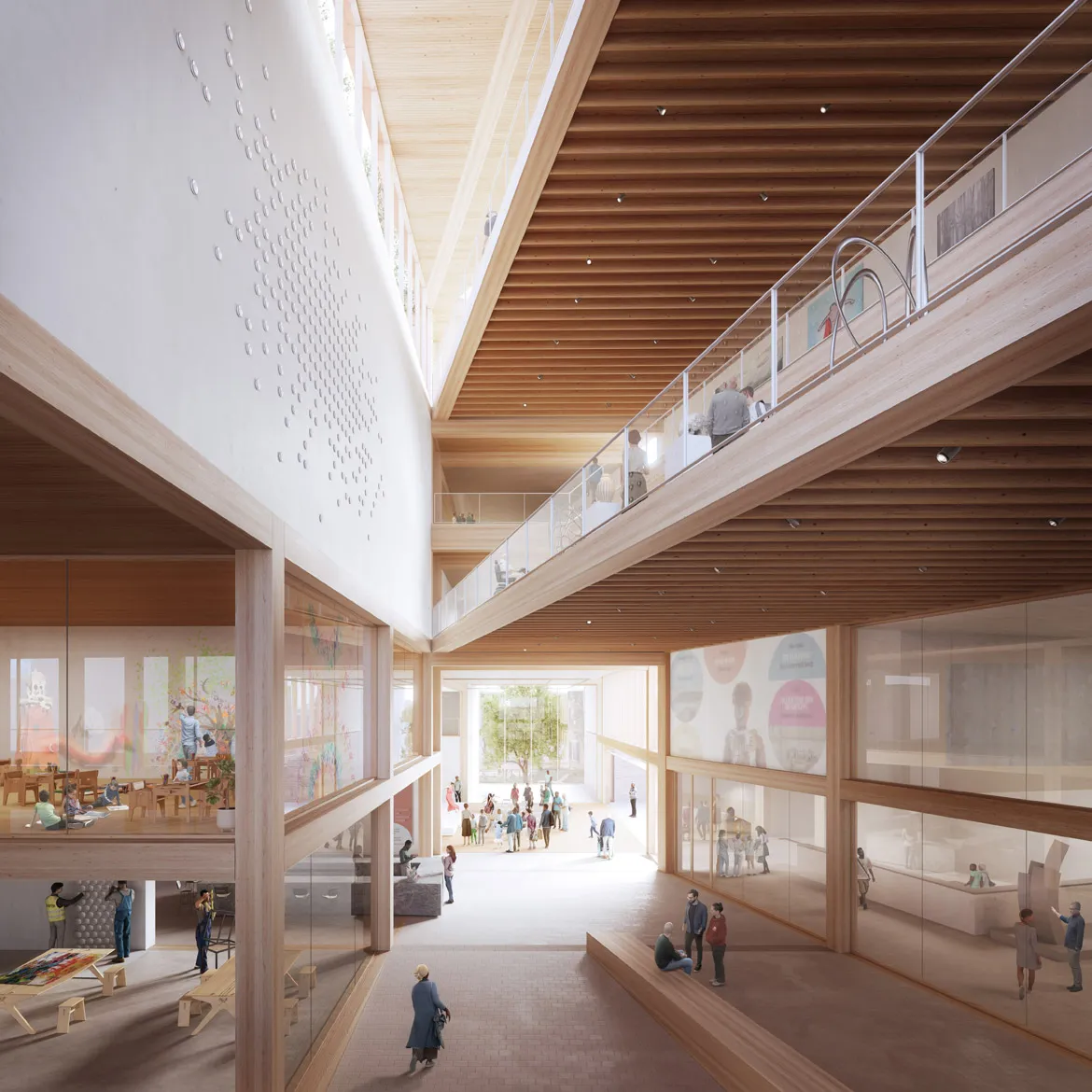 Image by Darcstudio, courtesy of Portland Museum of Art, Maine / LEVER Architecture / Dovetail Design Strategists
"Because they're the people of the Dawnland, it's their responsibility and their privilege to welcome the sun as it hits the continent first in Maine," says Robinson of the Wabanki. "That's so beautiful and poetic that we thought about ways that we can make the building respond to that aspect of this place and time and think about the equinox." (Although Robinson is a native of Portland, Oregon, she also has a special connection to the region as a former sea kayak guide in Maine's Casco Bay.)
And then there's the wood. A defining material of both place and designer, the use of mass timber pays homage to the state's lumber heritage while "reimagining its future as a hallmark of environmental stewardship," notes the museum in a statement.
"The possibility to use Maine lumber for these [mass-timber] materials is really exciting," says Robinson, noting that sourcing local timber is "something that we do in our projects, because we feel that it helps balance the rural and urban equity, so that we're actually pushing more of the jobs and manufacturing back into rural areas."
In the coming months, LEVER's design concept will be honed and perfected through additional community engagement sessions, local partnerships, and dialogues with museum leadership. The expansion project necessitates razing the old Chamber of Commerce building, a landmark downtown structure designed by John Calvin Stevens that neighbors Cobb's Payson Building; it was acquired by the PMA in 2019 after its previous tenant, the Children's Museum and Theatre of Maine, relocated to a new home.
The PMA hopes to wrap up work on the campus expansion project by 2026.