✕
Shoehorned onto a tight site just west of Flatbush Avenue in downtown Brooklyn, 1 Willoughby Square aims to update the industrial loft for an era of hybrid work and environmental responsibility. The first new office building in Brooklyn in about 20 years—and now the tallest at 540 feet—it rises 34 stories and offers an alternative to the all-glass towers that have become predominant in recent years. "We wanted to create a building that responds to its Brooklyn context and not just do another Manhattan office tower," says Gustavo Rodriguez, a partner and design director at FXCollaborative, the architects for the project. To achieve this, the design takes advantage of the odd T-shape plot by pulling its elevator-and-service core off to one side and sporting spandrel panels with corbelled courses of glazed brick that nod to the detailing of a nearby New York Telephone building designed by Ralph Walker in 1931.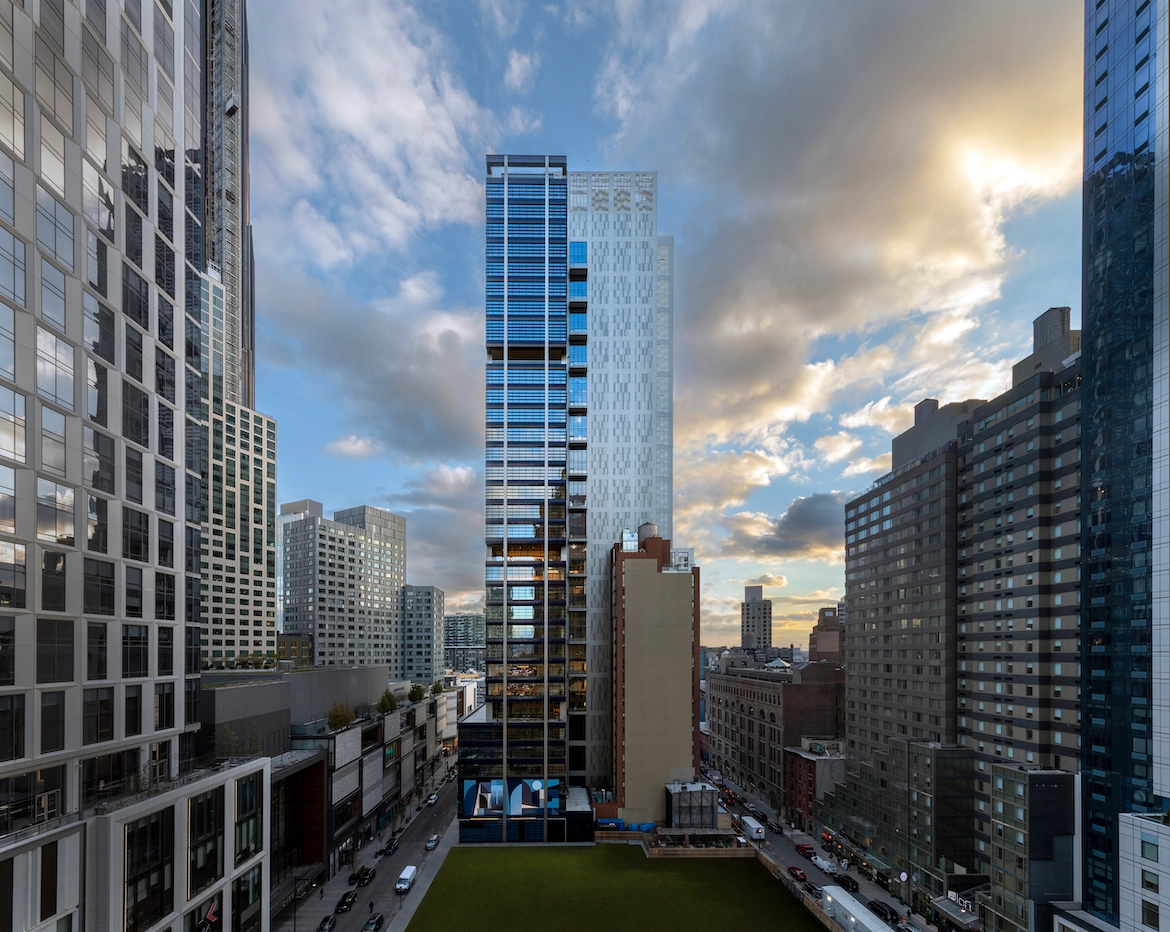 1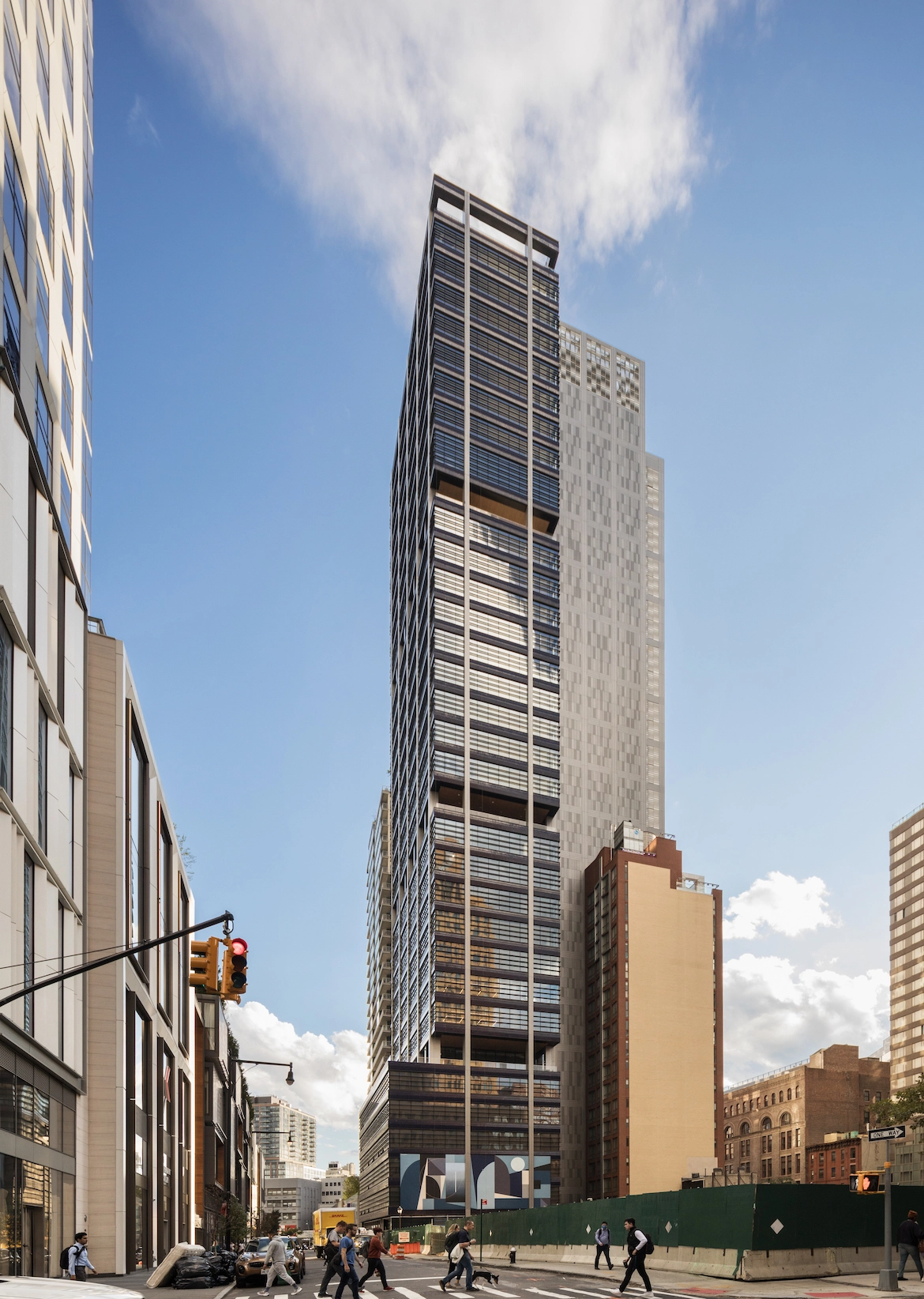 2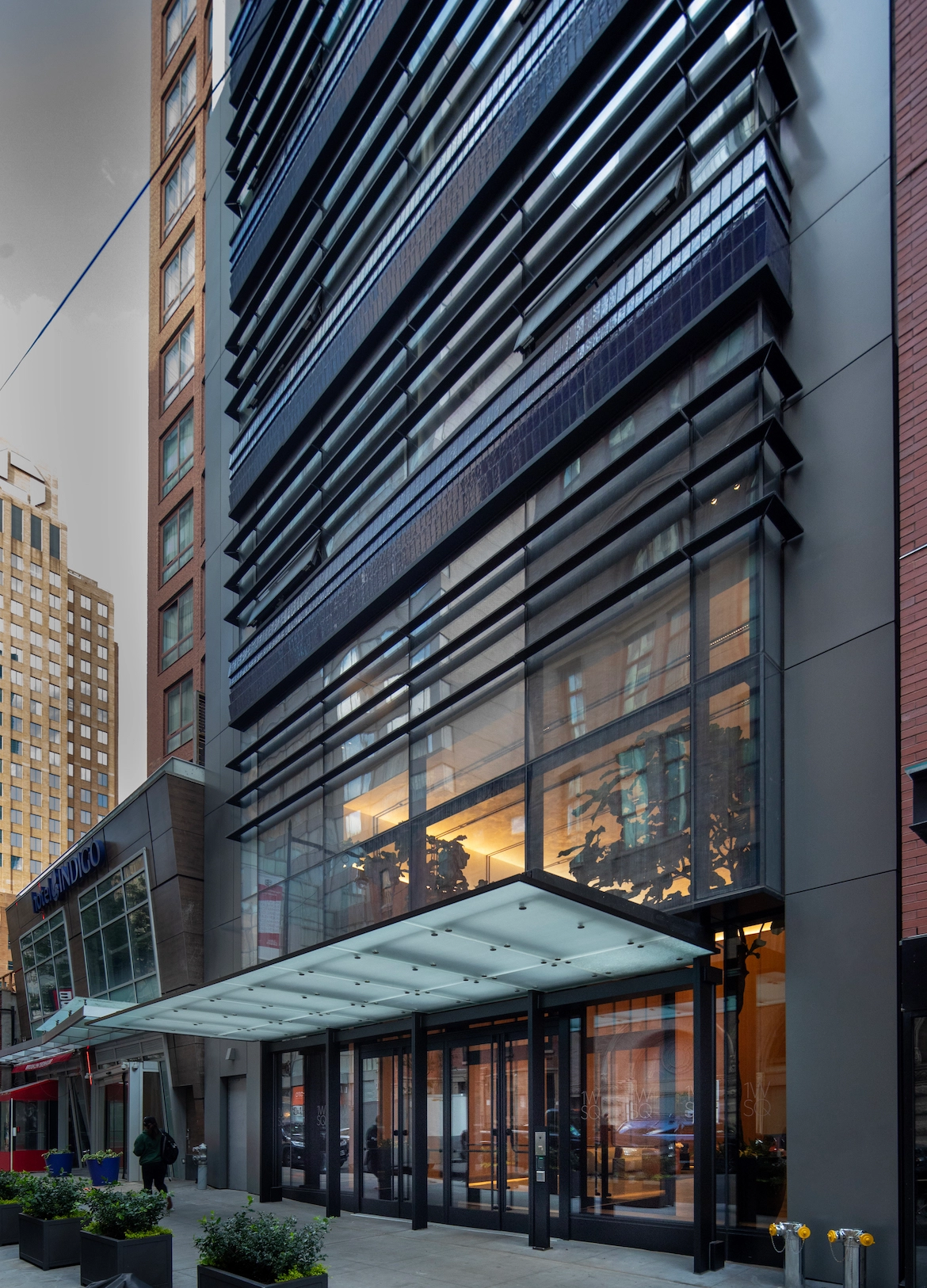 3  
Photos by David Sundberg/Esto
Locating the service core to the west side of the building also allowed the architects to create large, column-free floorplates with daylight coming from all four directions. Generous floor-to-floor heights of 14 to 18.5 feet and exposed concrete structural members give the interiors a loft-like sensibility. "Everybody wants an architect's office," says Dan Kaplan, senior partner at FXCollaborative, "so we designed the building as if we were going to work there." The clients at JEMB Realty, a family-run company based in Manhattan, embraced this strategy—and then used it to convince FXCollaborative to move its offices to the building. The firm is now an anchor tenant with 40,000 square feet of space on three floors. (Architecture Research Office will also move into the building later this year.)
Photo by David Sundberg/Esto
The architects layered the 500,000-square-foot building both horizontally and vertically. In plan, it unfolds as a set of three components—the service core on the west, office space on the east, and a glass-fronted area in between that has a small balcony on every other floor and reads on the outside as a zipper tying the two sides together. In section, the building rises in four blocks: a podium with retail on the ground floor and a new public middle school now under construction above that, and then three stacks of office floors. The bottom floor of each office stack features a 60-foot-long terrace covered by the floor above but open to air and light. The terraces overlook a new one-acre public space, Willoughby Square Park, designed by Hargreaves Jones that is currently under construction.
Photo by David Sundberg/Esto
Engaging green spaces both outdoors and on multiple floors is part of the project's environmental strategy, which also includes horizontal louvers that shade the office areas, limiting glazing to just 35 percent of the facades, specifying a high-performance curtain wall, and incorporating a high-efficiency air-filtration system. The building provides parking space for 250 bicycles, but no cars. FXCollaborative's office space, which the firm designed itself, reuses furniture, task lighting, and other products from its previous office and achieved LEED Platinum for interiors. For new items, the architects specified products with Environmental Product and Health Product Declarations. The office has an interior stair connecting its three floors, an option that other tenants can request as well.
On the tower's 15th floor, tenants can take advantage of numerous shared amenities such as a food-and-beverage space, lounge, conference room, and covered terrace. The hope is that a future restaurant on the ground floor might also service events on the amenities floor.
Photo © Chris Cooper
Photo © Chris Cooper
Typical floors offer about 14,000 square feet of column-free space, a size that works well for professional firms and medium-size companies, says Rodriguez. Big tech and financial services companies looking for sprawling floors of 50,000 to 60,000 square feet are not the target.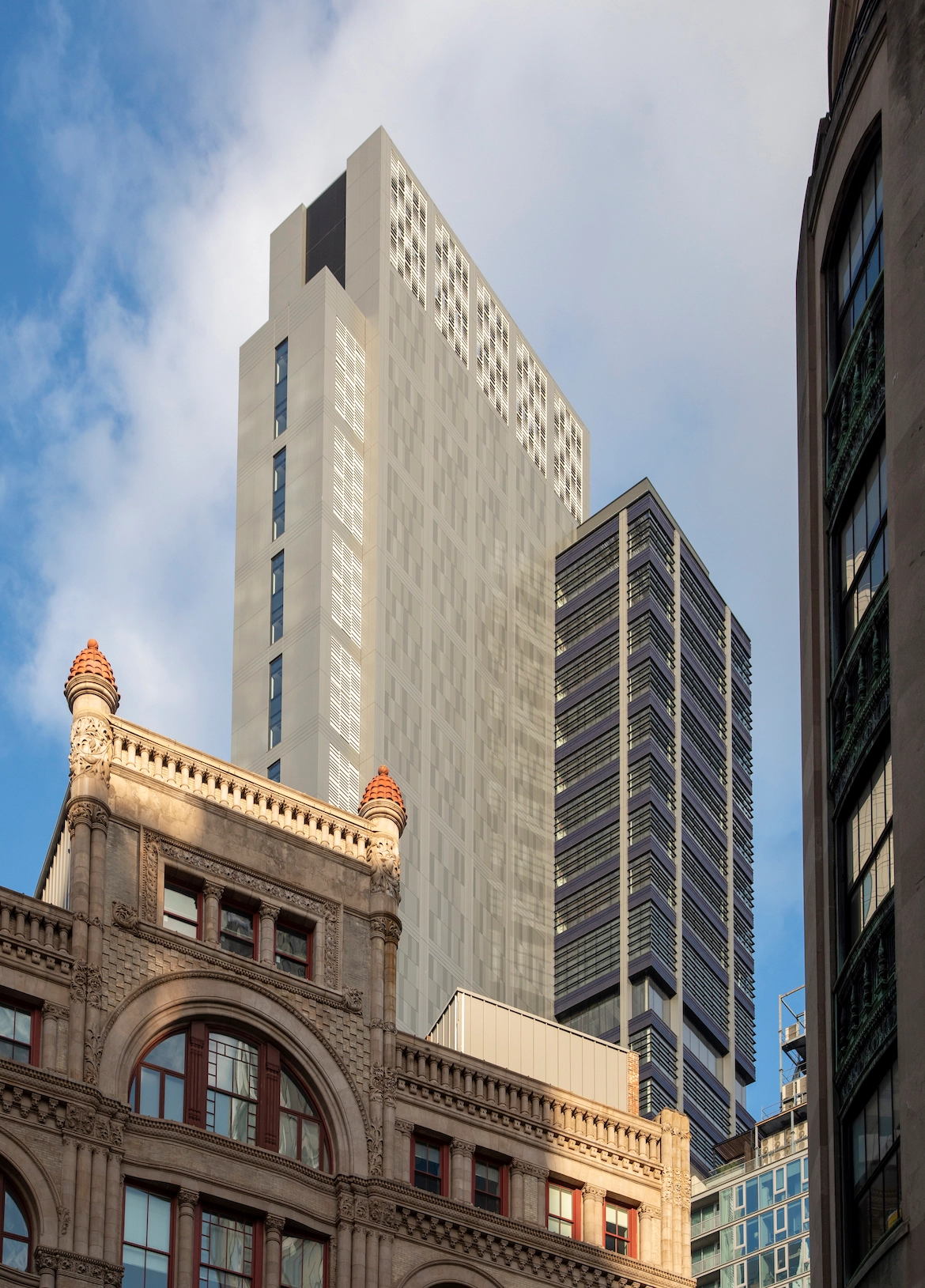 Photo by David Sundberg/Esto
Much of downtown Brooklyn was up-zoned in 2005 and is now experiencing a building boom. But most of these new projects are residential towers, such as ones by Studio Gang, Kohn Pedersen Fox, and SHoP, whose supertall Brooklyn Tower now ranks as the tallest building in the borough. JEMB originally asked FXCollaborative to design 1 Willoughby Square as an apartment tower, but decided to switch use when it saw how many other residential projects were being planned for the area, says Kaplan.
Asked about the future of office buildings in a post-Covid era of hybrid- and work-from-home arrangements, Kaplan states: "Office buildings aren't going away, but they need to adapt. We designed 1 Willoughby with flexible, loft-like space, so it can change with the times."
"Office buildings need to be frameworks for collaboration," adds Rodriguez. "They need to provide a diversity of spaces that allow different modes of operation."