✕
In Washington, D.C., where the height act of 1910 limits upward growth and residential blocks were built a century ago, development opportunities are few and far between. But local firm BLDUS has found a niche in alley dwellings, filling in one of the last untapped streams of potential real estate in the city. With a "farm-to-shelter" mentality, BLDUS designs structures that have a sustainable aesthetic and challenge mainstream stick-built construction.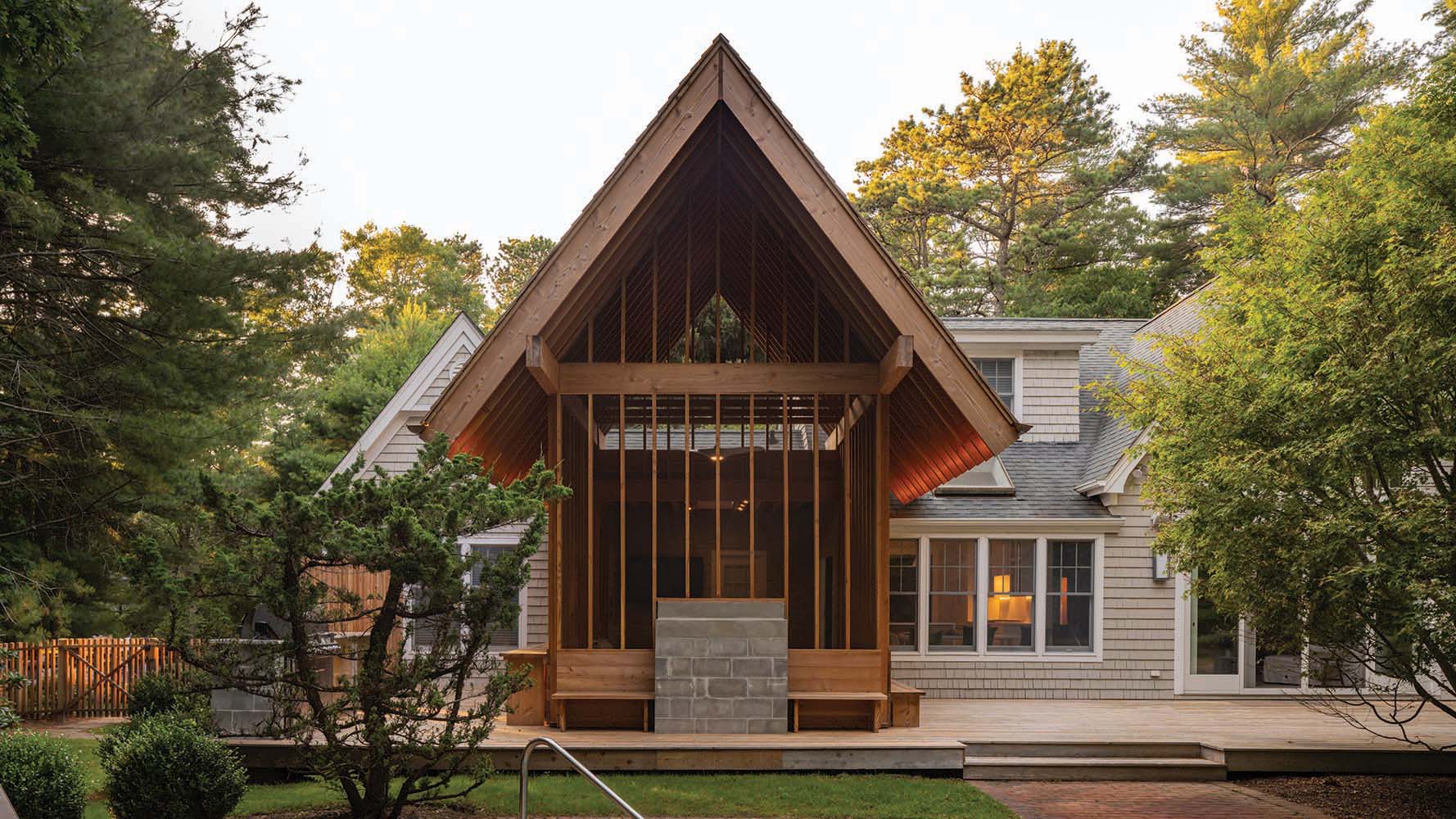 1
Swampy Hollow (1 & 2)
With walls built entirely of readily available 2-by-4 studs, this temple-fronted screened porch connects with a newly renovated kitchen and breakfast nook. Anchoring the far end of the structure is a ventless hearth. Photos © Ty Cole, click to enlarge.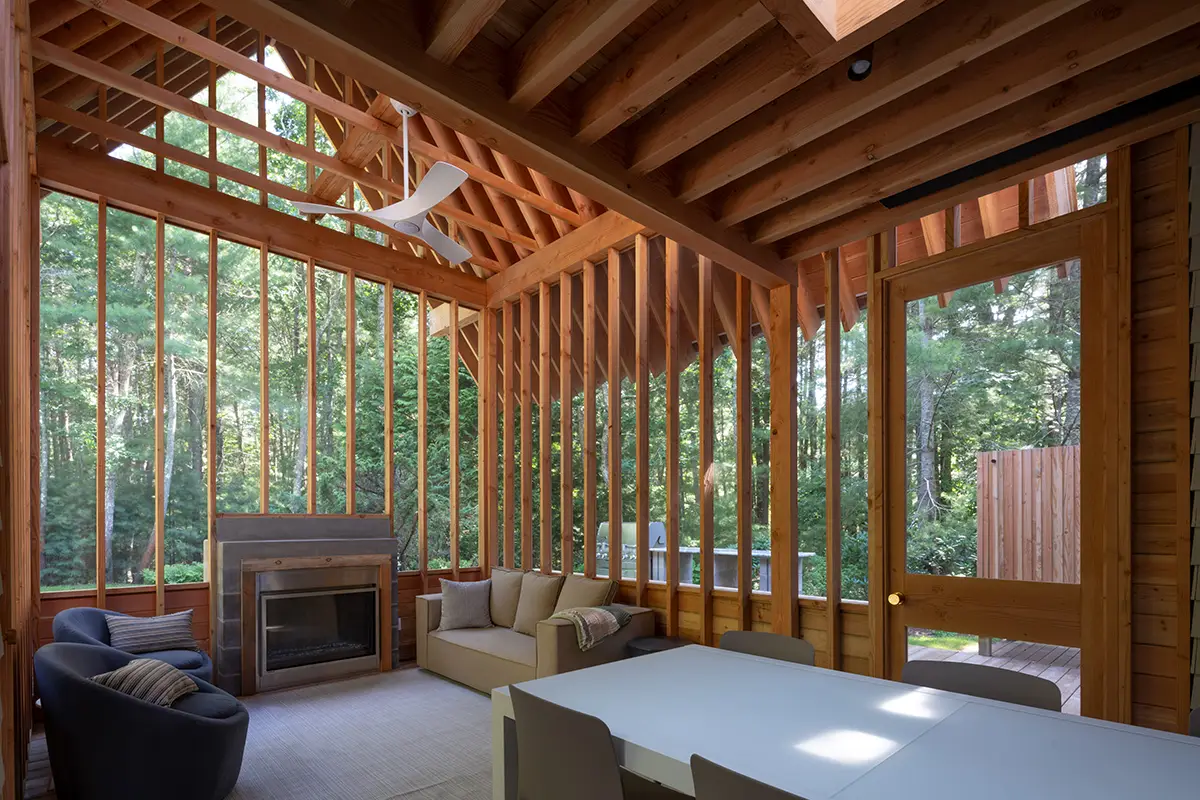 2
Founders Andrew Linn and Jack Becker, both 35, have taken a particularly hands-on approach, using their own residences and workspace as proving grounds for both novel materials and ideas. Based in D.C.'s Anacostia neighborhood, the firm's office combines a renovation of an 1892 Victorian house (where Becker lives) with an adjacent accessory structure, which serves as the duo's studio and a material showcase for prospective clients. This structure, which is limited by zoning constraints to 20 feet in height, is the Grass House, so named for its composition of walls made of a hybrid wood-bamboo prefabricated structural-panel system. "It is kind of a pun on Philip Johnson's Glass House—but bamboo is fast-growing and happens to be of a structural gauge," Becker explains, referring to it as the "mass grass" counterpoint to cross-laminated timber.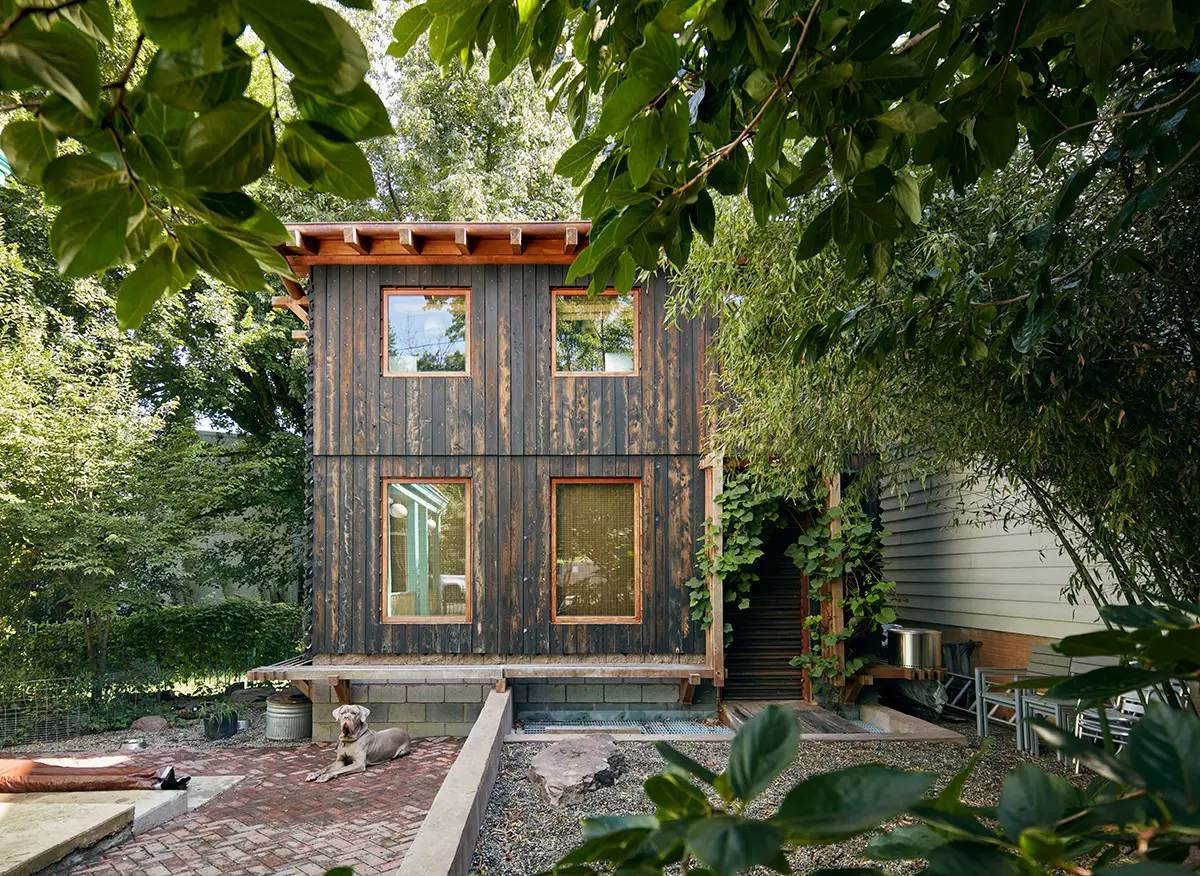 3
Grass House (3 - 6)
Local black locust, strikingly detailed at the corners (4), makes up the bulk of the exterior siding, while a woven-willow wall lines the stairs inside Grass House. Even the light fixtures offer a touch of renewable flair: made of mycelium, the pendants are grown, formed, and baked, but can ultimately be returned to nature simply by adding water (5). Photos © Ty Cole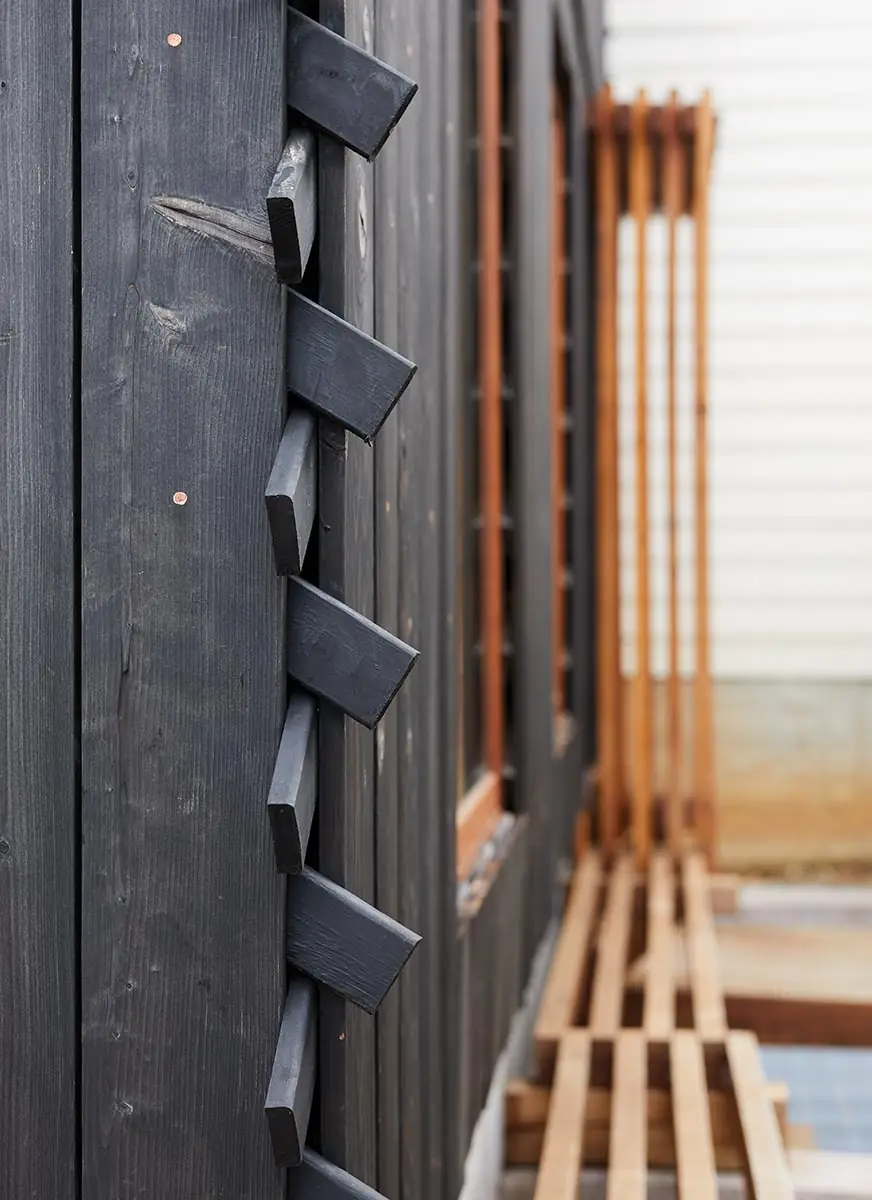 4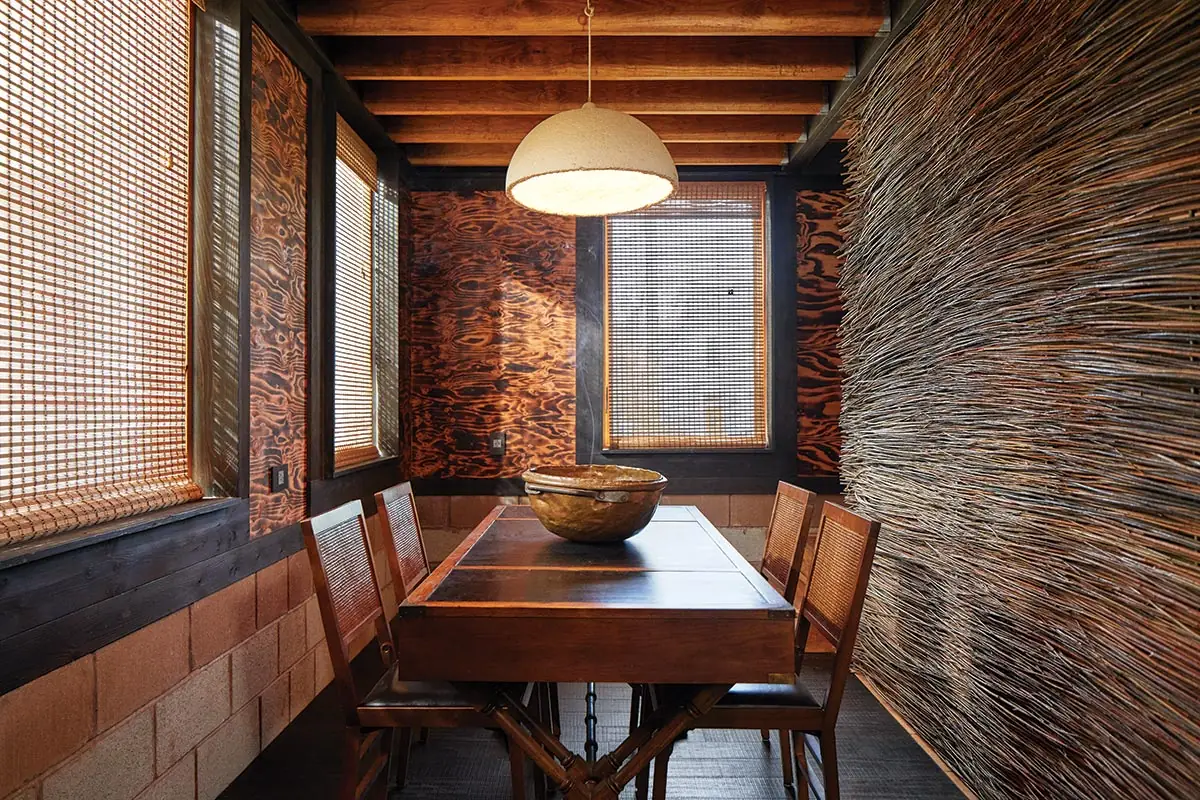 5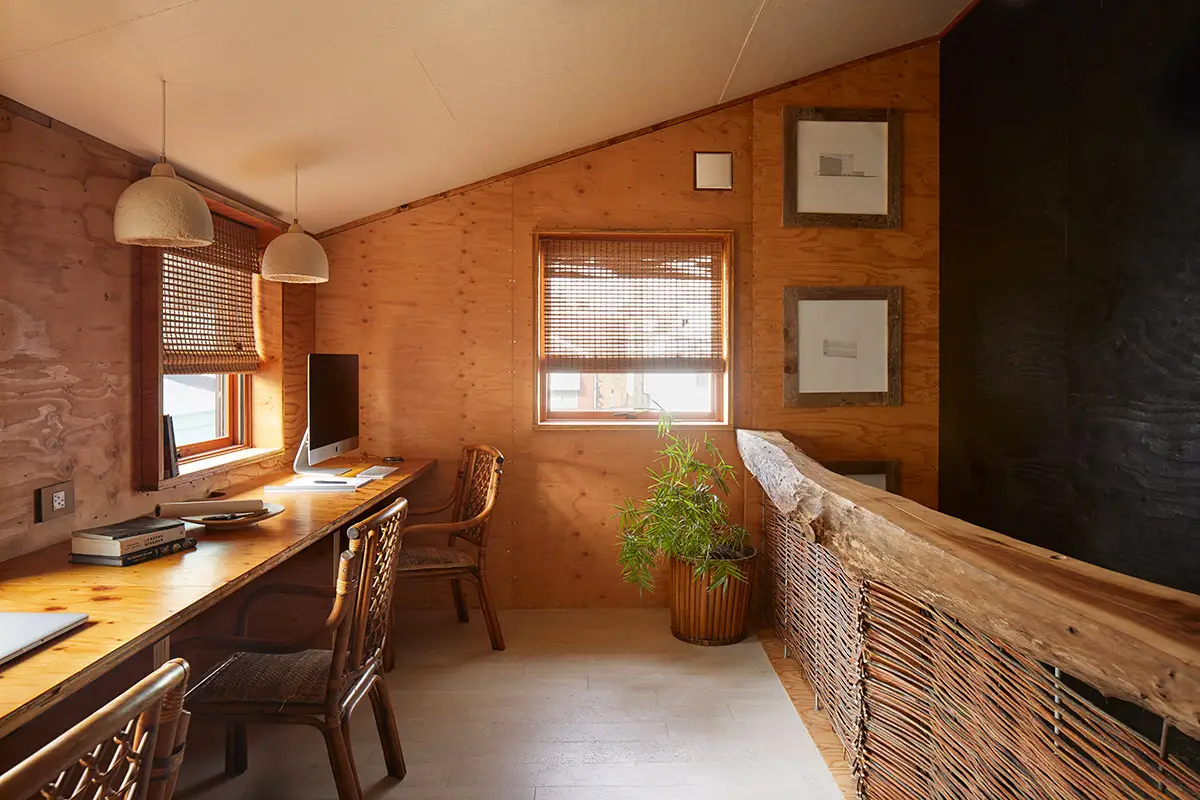 6
Across the Anacostia River, in Capitol Hill, co-principal Andrew Linn resides in another alley dwelling, Poplar Grove, so named for its tulip poplar and cork cladding. Surrounded on all sides by neighbors, Linn and his family have returned to the Roman ideal of the domus—a classic nine-square plan, 33-feet-long per side. Above a central circulation square, marked by four poplar posts at its corners, the nod to John Hejduk becomes clear with a three-by-three-grid skylight. Fragments of pink Tennessee marble salvaged from the National Air and Space Museum's exterior refurbishment add a touch of grandeur to an otherwise modest palette. "We're hoping to build some momentum with healthy housing," Linn says. "That we're demolishing what was built 30 to 50 years ago suggests new buildings should be made of compostable materials, so that when we inevitably rebuild in 100 years, we can recycle everything."
Poplar Grove (7 - 11 & top of page)
Tall sassafras boards on a black locust frame form a palisade (top of page) along the property line, serving as a privacy buffer and enclosing a small carport and 5-foot-wide side yard for a grill, waste disposal, and an outdoor shower (8). Inside, stretched white netting wraps the staircase (7, 9 & 10) and extends above the doubleheight living area (11) to create a playscape without blocking natural light. Photos © Ty Cole
7
8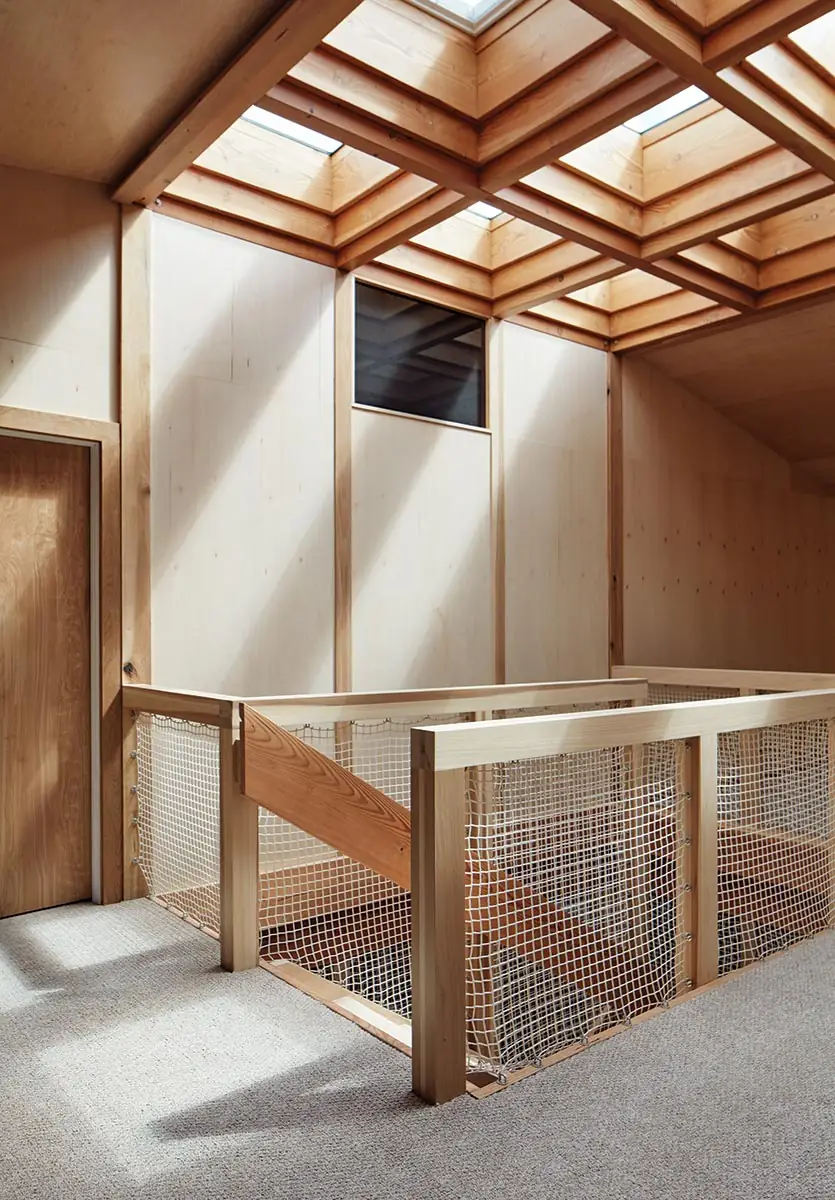 9
10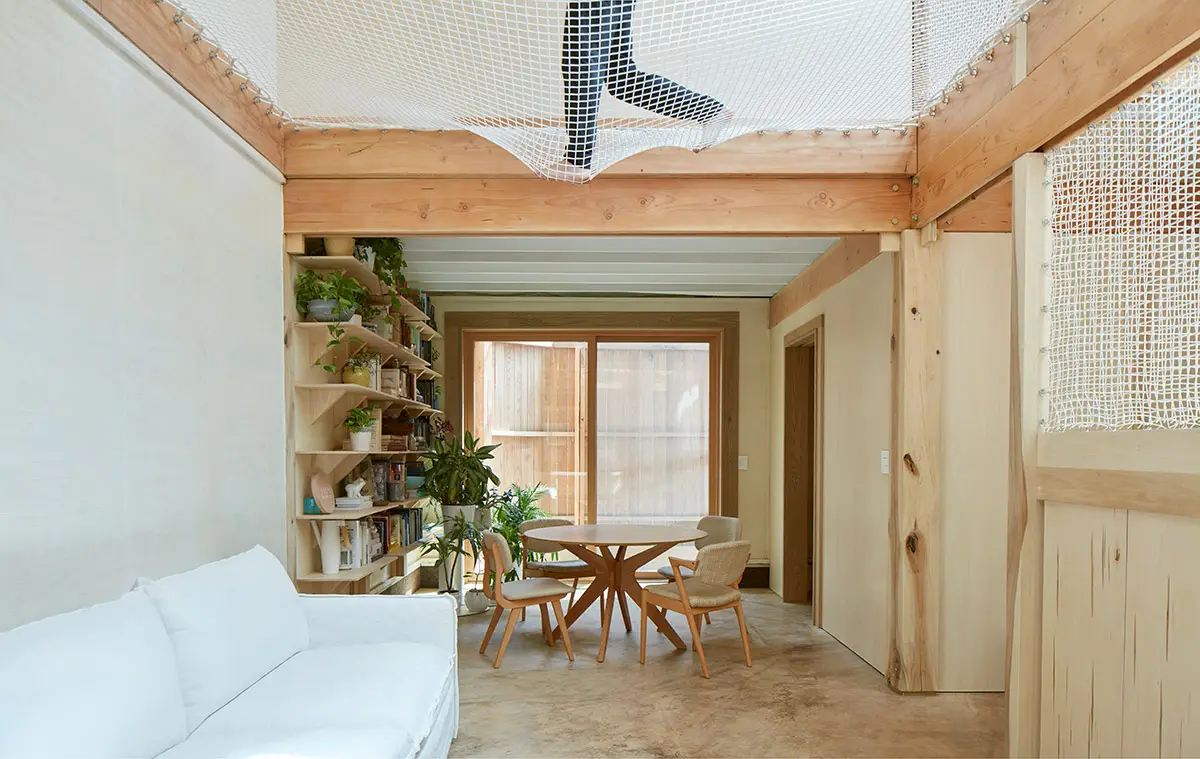 11
A few larger residences—Poplar Cloud, in D.C.'s Palisades neighborhood, and Mailou Alley, currently under construction—take the trials at the Grass House and Poplar Grove to greater scales. And a speculative village they've designed, tucked in the Shenandoah Valley, would disperse their ideals farther and to a much broader audience, although convincing some clientele of the benefits to their approach remains an uphill battle: "A majority still wants traditional siding and pitched roofs. Anything different is a longer conversation," Linn adds. "But that's one reason why we enjoy working in historic districts—there's an admission that aesthetics will have some kind of influence, but the driver can be more about performance than purity."
For the moment, BLDUS relishes the opportunities these alley infill lots provide. As Becker says, "In a city that's truly known for its architectural conservativism, the unconventional constraints and strangeness that abound in these residual lots facilitates, necessarily, an architecture that is a little more fun and engaging. Out of that comes more personality, and perhaps more humanity in architecture."
Jack Becker (left) and Andrew Linn (right). Photo © Ty Cole
FOUNDED: 2013
DESIGN STAFF: 3
PRINCIPALS: Jack Becker, Andrew Linn
EDUCATION:
Becker: Harvard University Graduate School of Design, M.AUD., 2013; Cornell University AAP, B.Arch., 2011
Linn: Yale University Graduate School of Arts and Sciences, MA in the History of Science and Medicine, 2013; Cornell University AAP, B.Arch., 2011
WORK HISTORY:
Becker: R. McGhee & Associates, 2020–21; Urban Investment Partners, 2018–20; Quinn Evans Architects, 2014–18; SGA Companies, 2013–14; Becker Architects, 2012; Newmark Knight Frank, 2011; David Garcia Studio, 2010; FXFOWLE, 2008
Linn: Arquitectonica, 2011–12; OMA, 2010; Fantastic Norway, 2009; Tigerman McCurry Architects, 2007; Corcoran Ota Group, 2005
KEY COMPLETED PROJECTS: Poplar Grove, 2022; Poplar Cloud, 2022; Grass House, 2018 (all in Washington, D.C.); Swampy Hollow, 2022, East Hampton, NY
KEY CURRENT PROJECTS: Lois Mailou Jones Alley House; Ruth Ann Overbeck Alley House; Ramble House; Temple House; Piney Branch; Fairland (all in Washington, D.C.); Highland Beach House, Annapolis, MD; The Sparrows, Front Royal, VA