✕
There are common professional trajectories that plucky young architecture studios tend to follow, depending on where they are. In the United States, they might start with single-family houses or retail interiors—but, in China nowadays, the countryside is where budding designers often show their chops before taking on wider-ranging projects.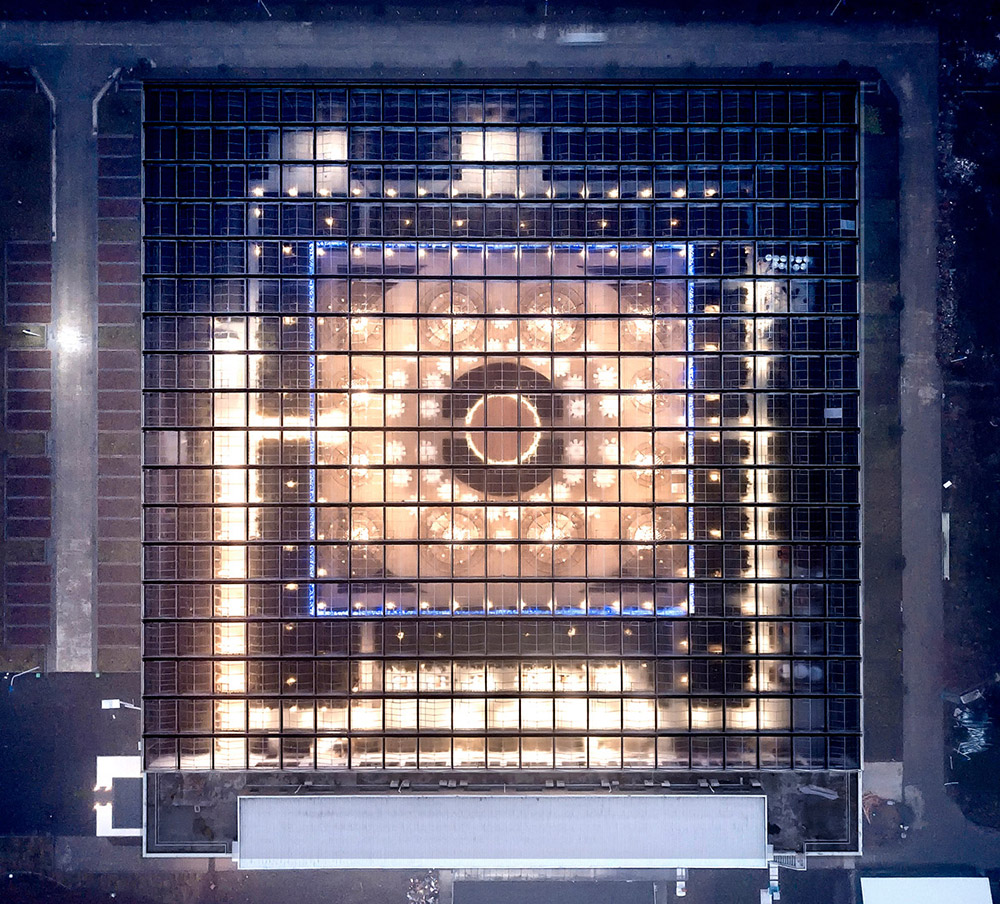 1
Sun Shed (1 and top of page)
MIX Architecture transformed a former agricultural warehouse, capped with a glass roof, into a dynamic event hall—complete with "treelike" bamboo columns, which veil the original steel structure. Inside, a visual connection to the sky and planted areas evoke a pastoral landscape. Photo © Cong Lin, click to enlarge.
Such has been the case with MIX Architecture, a Nanjing-based partnership founded in 2016 by Zhou Suning, 42, Tang Tao, 38, and Wu Ziye, 36. "There were a lot of opportunities," Zhou says of the practice's start in rural China, citing government investment aimed at revitalizing areas that have long suffered from lagging economic development and migration toward the country's wealthier cities. "It also gave us a chance to think carefully about what was precious and what has value," he adds.
2
Shanshui Firewood Garden (2 - 4)
Situated between a bamboo forest and a rural village in China's Sichuan province, this structure pinwheels around a central pond. Walls made of suspended split logs shape space and cast dynamic shadows. Photos © Arch-Exist
3
4
Beginning with small insertions in historic houses and going to the conversion of an agricultural warehouse into an event hall with dendriform bamboo pillars, MIX has quickly developed a methodology that provides complex briefs a nuanced formal expression. Given their rural context, these projects aim to improve living conditions, boost social and cultural infrastructures, and stimulate local economies while revisiting traditional building and craft practices through a contemporary lens.
With MIX, this has often produced subtle atmospherics and striking juxtapositions, whether using the pristine glass boxes and white volumes they inserted in the siheyuan that now houses the Jiangshan Fishing Village bookstore or the sleek, low-slung, faceted roof that frames views of the forests surrounding their Wuxiang Mountain Qiu Hu Station. "We try to discover the DNA of a place to make the project suitable, so it can adapt to and change the culture," adds Wu. "This is true for both smaller and larger-scale work, rural and urban."
5
Jiangshan Fishing Village (5 - 11)
This multiphase project included the adaptive reuse of historic structures as well as new ground-up facilities. Glass volumes were inserted into an older building to transform it into a bookstore and teahouse (5). A new community center features a deepeaved roof with a circular cut-out for a growing tree (6). Public restrooms also dot the village (7). Photos © Bowen Hou
6
7
8
9
10
11
Indeed, as its name implies, MIX does not want to limit itself to a single genre or style. Recently, the studio has taken the approach it has honed in the countryside to the city. For one project, the practice is transforming a 1960s factory in Nanjing into an office complex comprising interlocking stacked volumes designed around courtyards and inspired, in form and materiality, by the original redbrick building. At another, a ground-up, 750,000-square-foot tech-company headquarters, also in Nanjing, has been designed as a kind of threshold between interior and exterior landscaping, with gestures intended to accentuate mountain views.
Meanwhile, the studio is keeping one foot in its countryside proving grounds with a mountain resort—whose horizontal pavilions will trace the contours of the valley it sits in—while also developing regional strategies for the adaptive reuse of old buildings. "Working closely with local residents on small projects," says Tang, "gave us valuable insight into designing sensitively for people's needs." Adds Zhou: "And that has helped us more comprehensively engage complex projects."
Clockwise from left: Suning Zhou, Ziye Wu, and Tao Tang. Photo © MIX Architecture
FOUNDED: 2016
DESIGN STAFF: 13–15
PRINCIPALS: Suning Zhou, Tao Tang, Ziye Wu
EDUCATION:
Zhou: Chongqing University, B.Arch., 2006
Tang: Nanjing University, M.Arch., 2011; Tianjin Chengjian University, B.Arch., 2008
Wu: Nanjing University, M.Arch.,2012; Qingdao University of Technology, B.Arch., 2009
WORK HISTORY:
Zhou: AZL Architects, 2006–14
Tang: AZL Architects, 2011–14
Wu: AZL Architects, 2012–14
KEY COMPLETED PROJECTS: Jiangshan Fishing Village Renovation, Phase I & II, 2018–19; Wuxiang Mountain Qiu Hu Station, 2021; Lishui Ancestral Hall Renovation, 2021 (all three in Nanjing); Forest Tea House, 2022, Wuhan; Shanshui Firewood Garden, 2021, Yibin; Sun Shed Renovation, 2018, Yi Zheng (all in China)
KEY CURRENT PROJECTS: Combat Machinery Factory Renovation; Red House; Headquarters R&D Economic Park (all in Nanjing, China)