✕
As the first project of their newly minted firm, Brent Linden and Chris Brown transformed a 90-year-old barn into a rich blend of winery and three-dimensional puzzle.
The clients, Sequitur Wines, had repurposed a 60-acre Douglas fir tree farm into a vineyard and winery six years before. Ready for a more public face, they imagined the barn's becoming a centerpiece "fermentation hall." Linden, Brown raised the entire structure 18 inches to put in concrete foundations. They intermingled a new post-and-beam structure with the historic heavy-timber frame, and replaced dry-rotted post bottoms with custom-fit wood grafts. Removing and cataloguing the original corrugated-metal roof sheets, they put them back on, but with a new skylight stretching the length of the roof ridge. An adjacent silo features a staircase that spirals around a lift for barrels, all skylit by an open wedge cut from the domed top. Five new buildings for the tasting room, offices, and production surround the barn, each wrapped and roofed in weathering corrugated steel. Old and new commingle like different vintage vines grown from the site's iron-rich jory soil.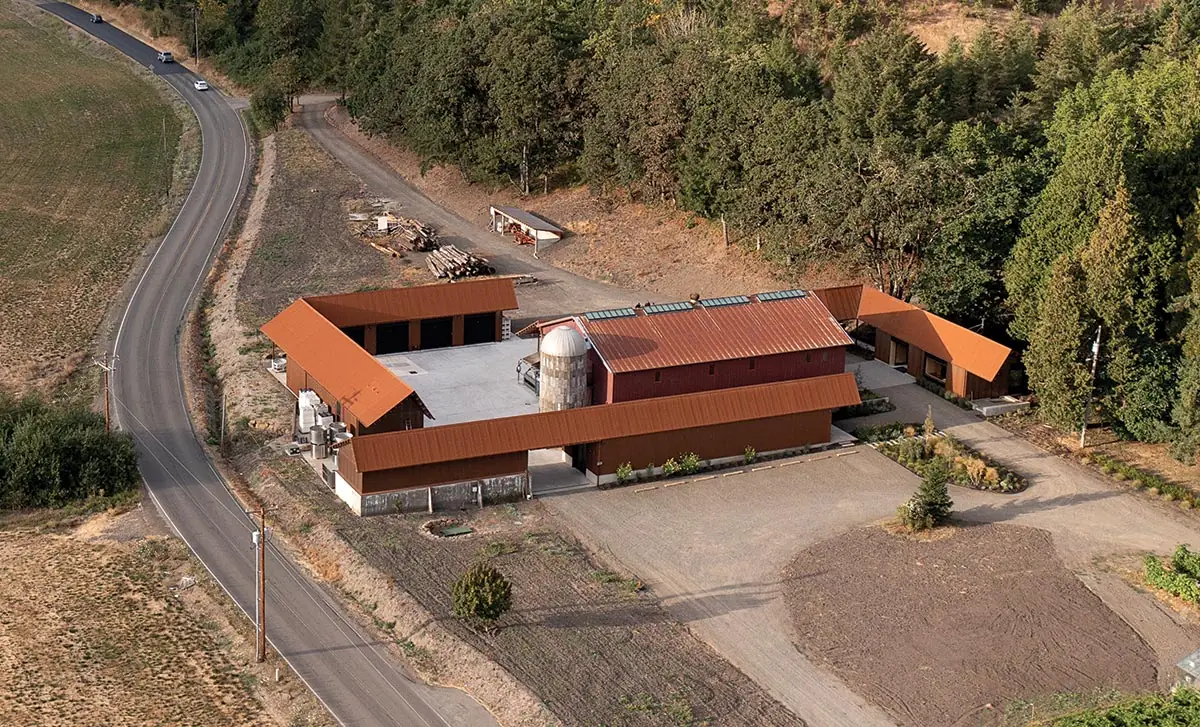 1
Sequitur Winery (1 - 5)
A restored barn and surrounding additions accommodate wine production and tasting as well as spaces to experience a working farmstead. Long, linear buildings are sheathed in weathering steel and supported by slender columns. Photos © Jeremy Bittermann, click to enlarge.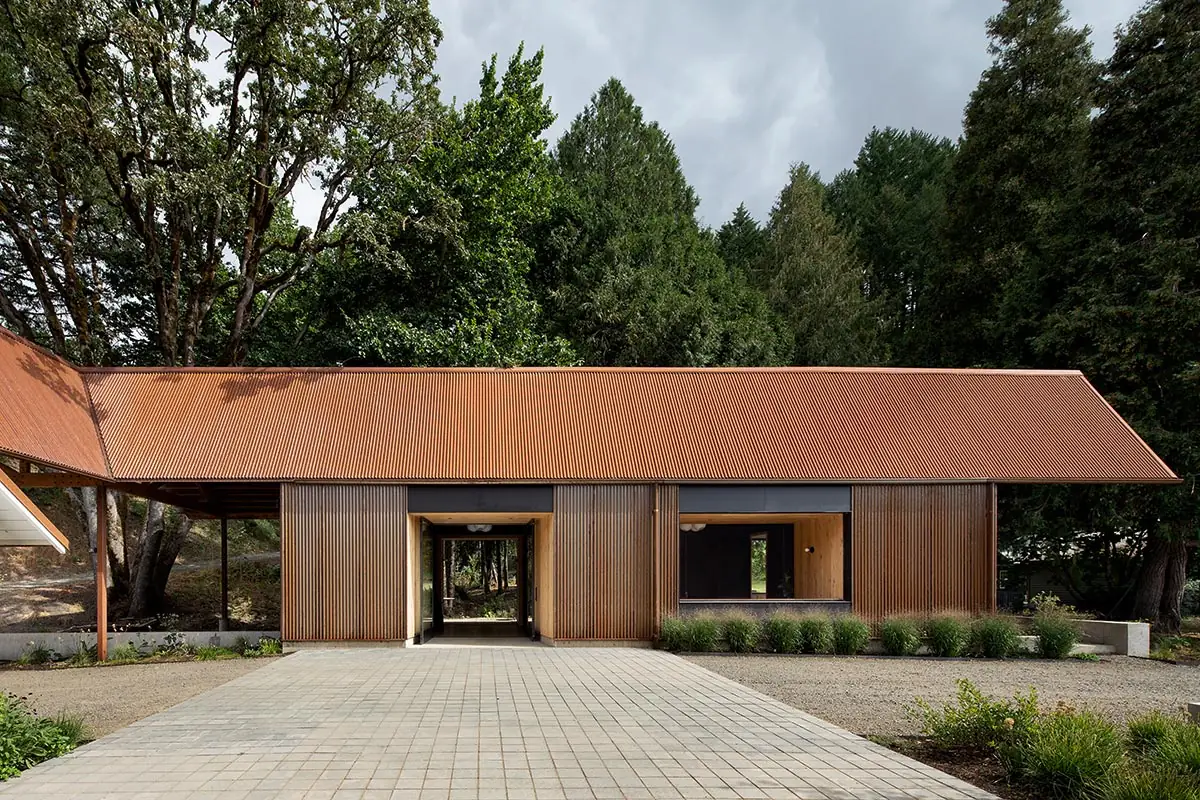 2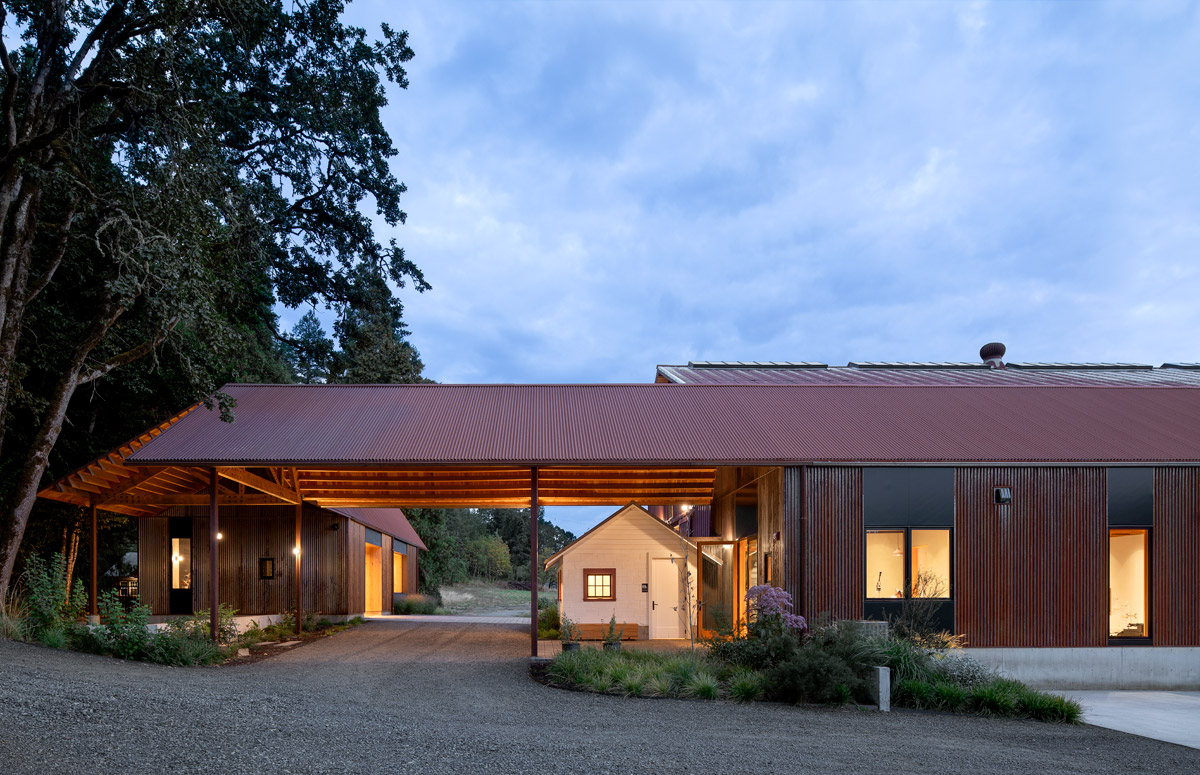 3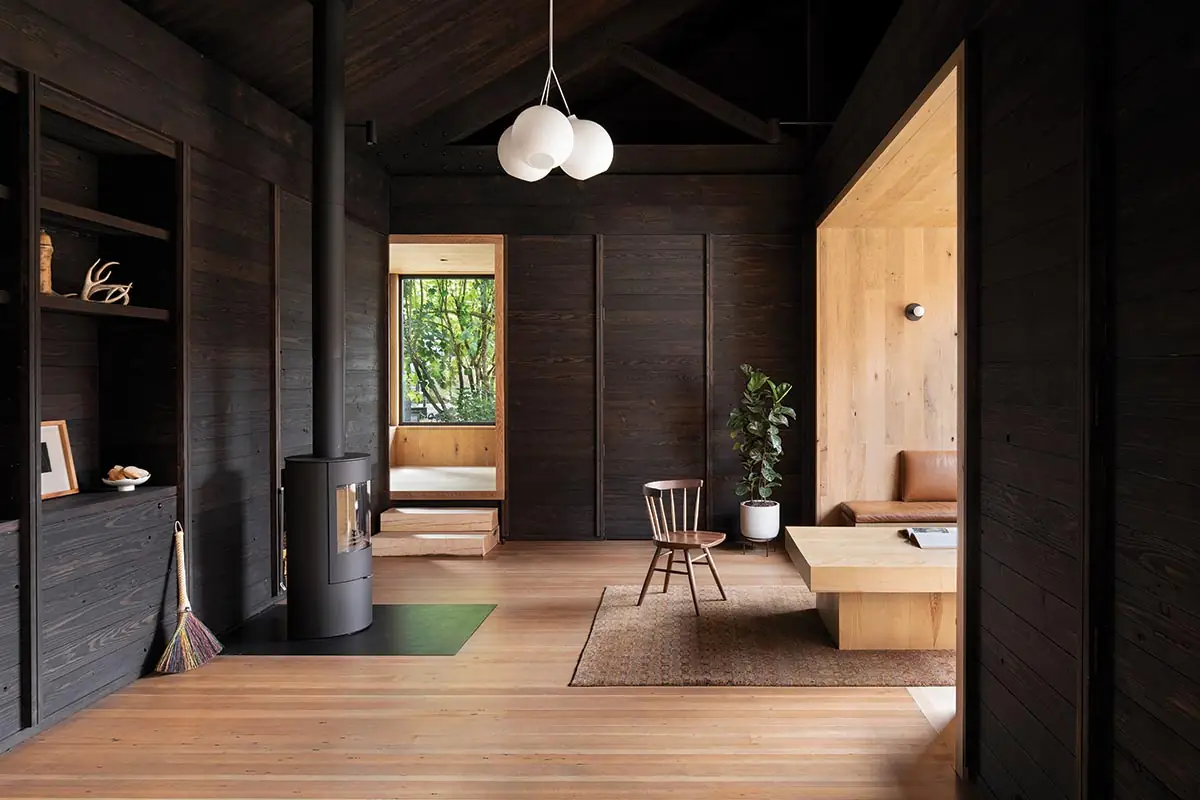 4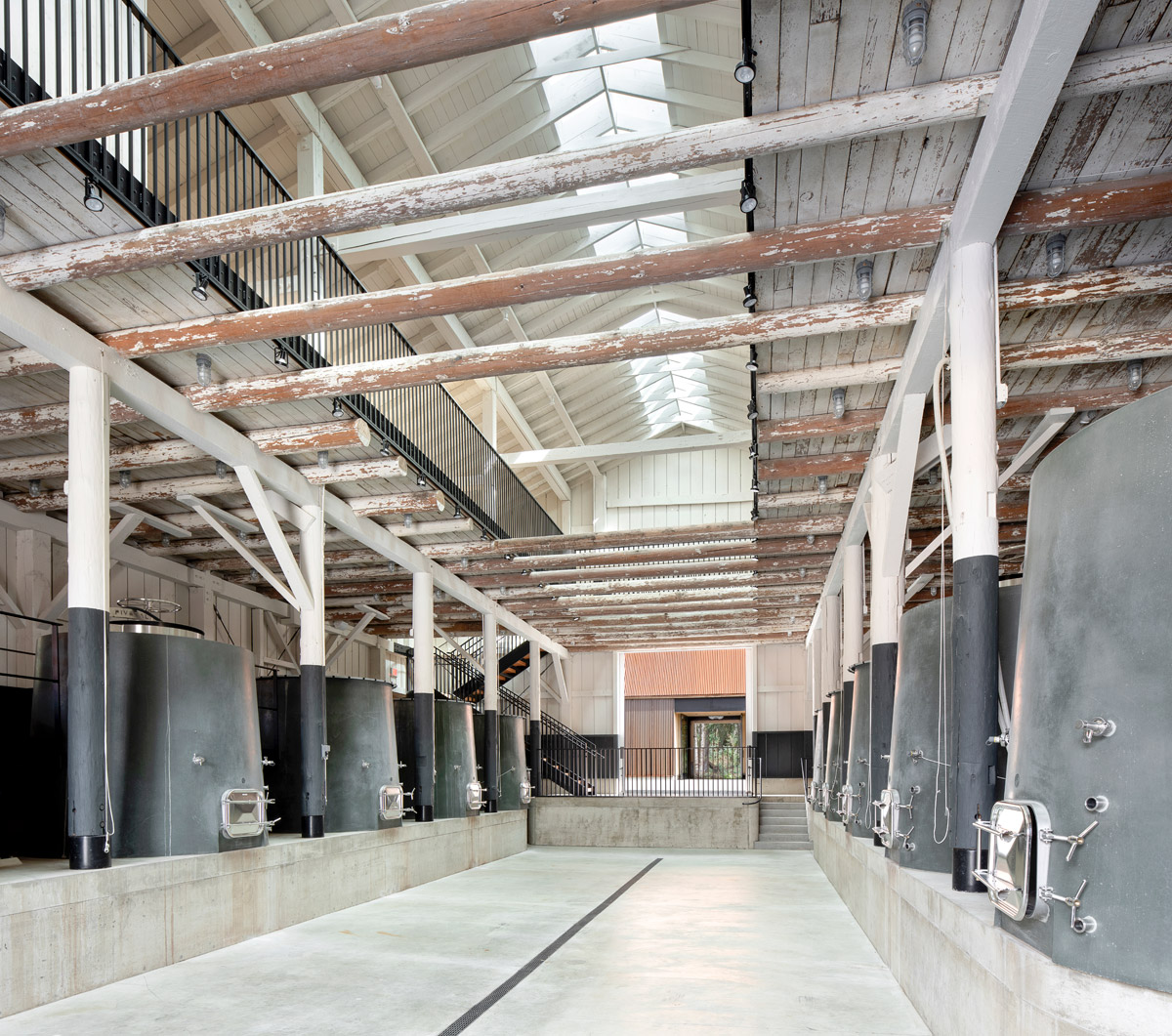 5
Brown, 43, and Linden, 48, met at the Portland and New York–based Allied Works, discovering a shared philosophy and complementary skills between them while they were developing competition entries for the Metropolitan Museum of Art and the Albright-Knox Museum. But after 15 years at the firm for Linden and five for Brown, they longed to develop a smaller, craft-based practice built on intimate partnerships—with each other, their clients and builders, and their projects' sites.
"Brent's focus as a designer is creating dynamic space and light," says Brown. "My tendencies are toward material detail and the way elements come together." Linden echoes the portrayal in how they start a design: "I prefer to jump into 3D modeling, while Chris gets his hands dirty with charcoal drawing." They closely collaborate through every phase of design and construction, with one or the other leading each project's management duties.
6
Gradient House and Studio (6 - 10 & top of page)
Linden, Brown transformed a postwar house into a new residence and home studio for a local design business. The L-shape of its plan frames a courtyard that has views of the St. Johns Bridge and the Willamette River. Photos © Jeremy Bittermann
7
8
9
10
As with Sequitur Wines, Linden, Brown's clients thus far have been highly talented creatives and entrepreneurs whose ideas the architects welcome. At Tonal House, a nearly finished hillside home in Portland, the architects started the design process with a request by their client, a Swedish-born psychologist-turned-fashion stylist, to use her preferred material: hand-troweled white plaster. Linden, Brown will apply it over an energy-efficient FastWall construction system. Large alternating light monitors bounce daylight over the subtly differing tones and textures of plaster and white oak floors and cabinetry. Generous windows frame the views of Mount St. Helens and the city's skyline.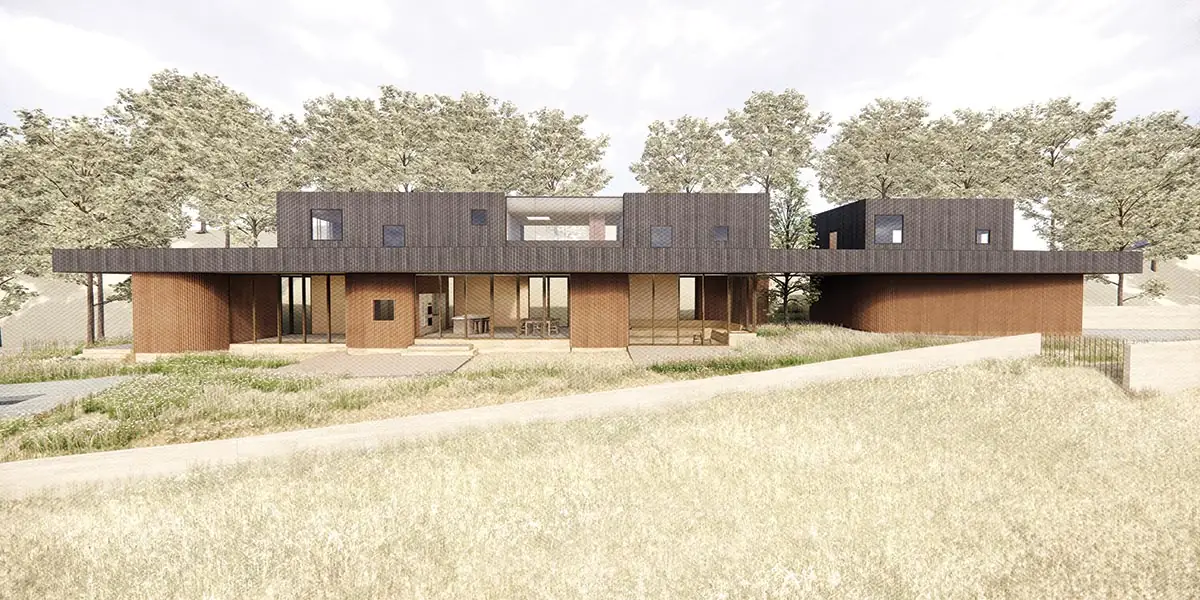 11
Figure House (11 & 12)
Taking cues from the logging history of the Pacific Northwest, rounded wood-clad volumes weave through this low-slung house (under construction) to delineate spaces. A second floor, expressed in a different material palette, caps the composition. Photos © Linden, Brown Architecture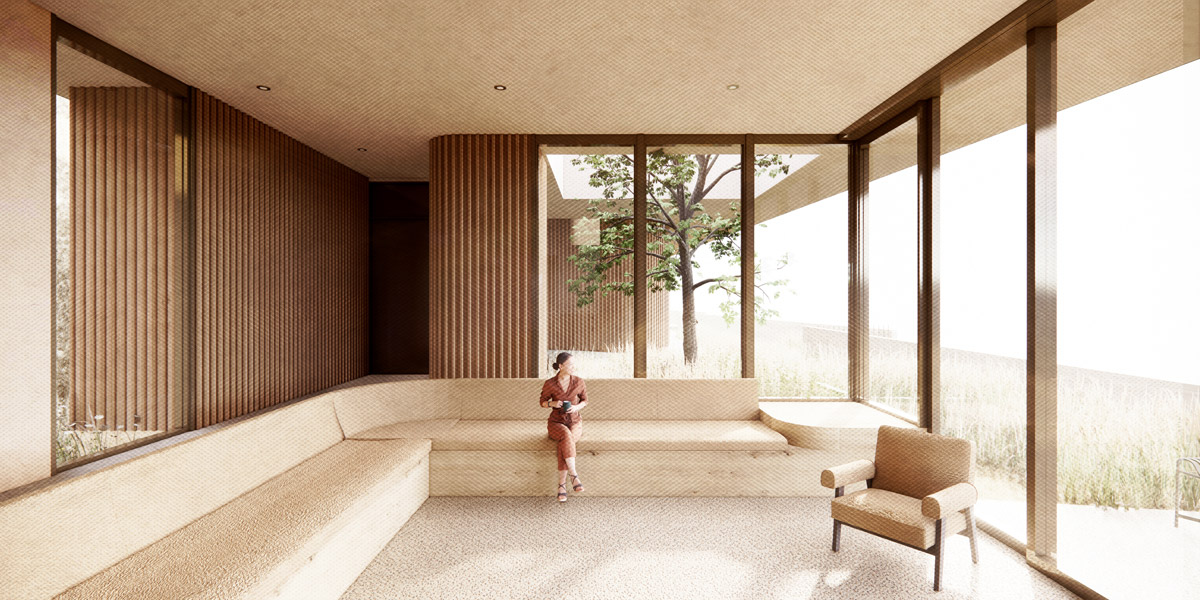 12
"Our role as visionaries is to create a passionate conversation that everybody—clients, contractor, and craftspeople—can feed off," Linden explains.
The duo is fostering a less expected collaboration in the tiny eastern Oregon town of Joseph: expanding a community center housed in a locally beloved, but very quirky, 1980s bank building. To the "log-clad" original, with its odd, origami-like roof, they'll add simpler, more abstract volumes. The commission's modest scale evinces Linden, Brown's passion for collaborating with the community's stew of farming families, 1970s-counterculture-era artists, the nearby Nez Perce Tribe, and even the town sawyer. "We think we can apply the same ethos at a public scale," Linden says, "using the community's hands in making it."
Christopher Brown and Brent Linden. Photo © Jeremy Bittermann
FOUNDED: 2019
DESIGN STAFF: 5
PRINCIPALS: Christopher Brown, Brent Linden
EDUCATION:
Brown: University of Arkansas Fay Jones School of Architecture, B.Arch., 2004
Linden: Rice University School of Architecture, M.Arch., 2003; University of Florida, B.Des., 1998
WORK HISTORY:
Brown: Allied Works, 2013–17; Skylab Architecture, 2007–12; Marlon Blackwell Architects, 2002–05
Linden: Allied Works, 2003–17; Skidmore Owings & Merrill, 1999–2001
KEY COMPLETED PROJECTS: 4015 House and Studio, 2023; Tonal House, 2023; Gradient House and Studio, 2021; Little Big House, 2019 (all in Portland, OR); Sequitur Winery, 2022, Newberg; Jennings Installation, 2019, Joseph (both in Oregon)
KEY CURRENT PROJECTS: Hill House, Portland; Joseph Center of Arts & Culture Expansion, Joseph; ProtoADU; Newberg Winery (all in Oregon); Figure House, Camas, WA