✕
For a young New York architecture and urban-design practice describing itself as founded "on the belief that the future provides us with opportunity to constantly improve on the past," Future Expansion couldn't have based its studio in a more apropos location. It abuts Brooklyn's Gowanus Canal, where a (rezoning-spurred) transformation is bringing housing, open green space, and amenities to the banks of one of the borough's most befouled—and beloved—industrial waterways. Just outside the studio's door, on the opposite bank of the canal, in the shadow of the Culver Viaduct, a six-story office and retail building fronted by a public esplanade is on the rise where a concrete factory once stood. Anchored in a neighborhood in flux, Future Expansion is in its element, in the thick of it all, as new development in the borough swells upward, outward, and into areas, like the banks of the Gowanus, previously untouched.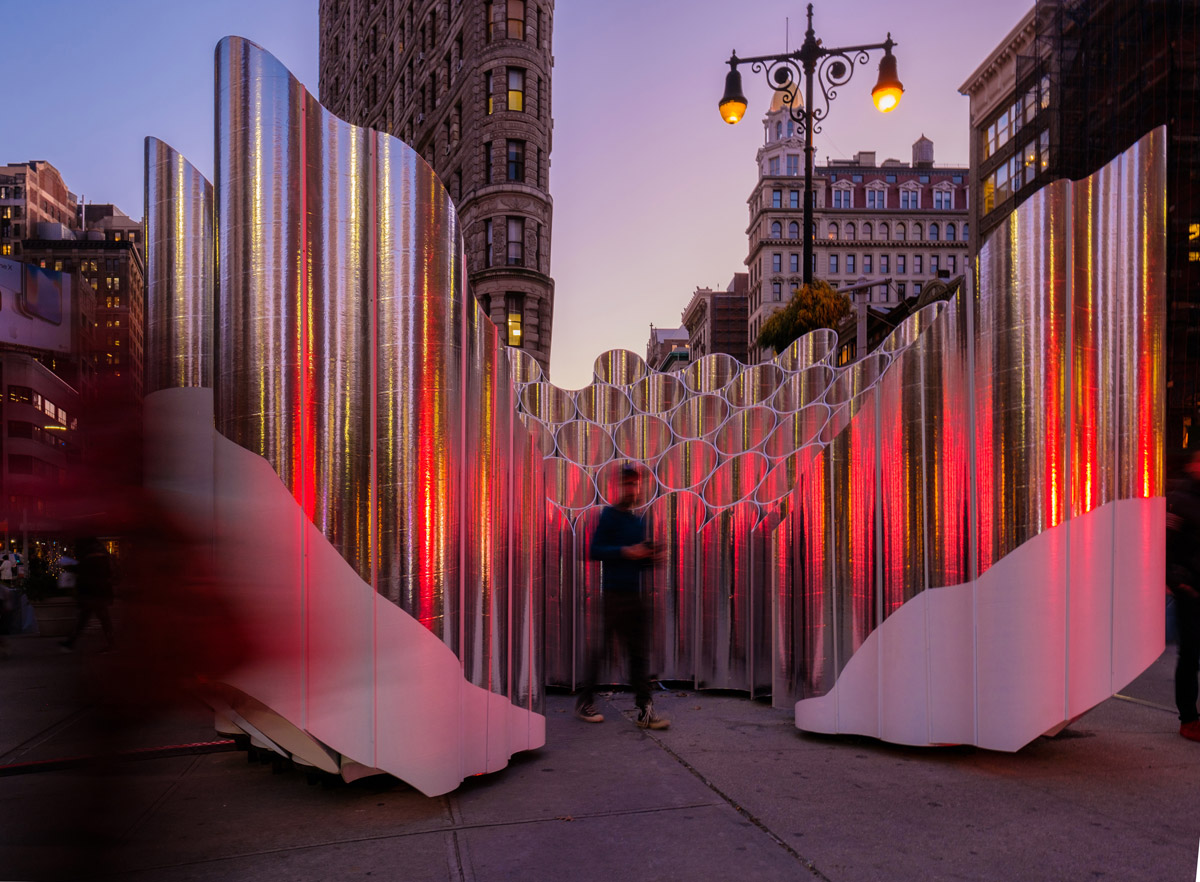 1
Flatiron Reflection (1 & top of page)
Part sculpture, part public stage set, and part material experiment, this temporary installation in Manhattan comprised bundled cardboard sonotubes weighted in place with sandbags. Reflective coatings echoed the tones of the sky and lights of passing cars. Photo © Jon Macapodi, click to enlarge.
Husband-wife partners Nicholas, 43, and Deirdre McDermott, 44, have been professionally in the thick of it all for some time prior to formally establishing Future Expansion in 2013, Deirdre as a designer at CCS and later director at MdeAS Architects, and Nicholas as a designer at Rog­ers Marvel Architects. Both also worked at the New York office of SOM, where they first met.
"What we realized working in these offices is that, because we were involved in real projects, it wasn't about an initial gesture—it was about doing something over time and building relationships, and that's the exciting part," says Nicholas, emphasizing the firm's focus on contextualism.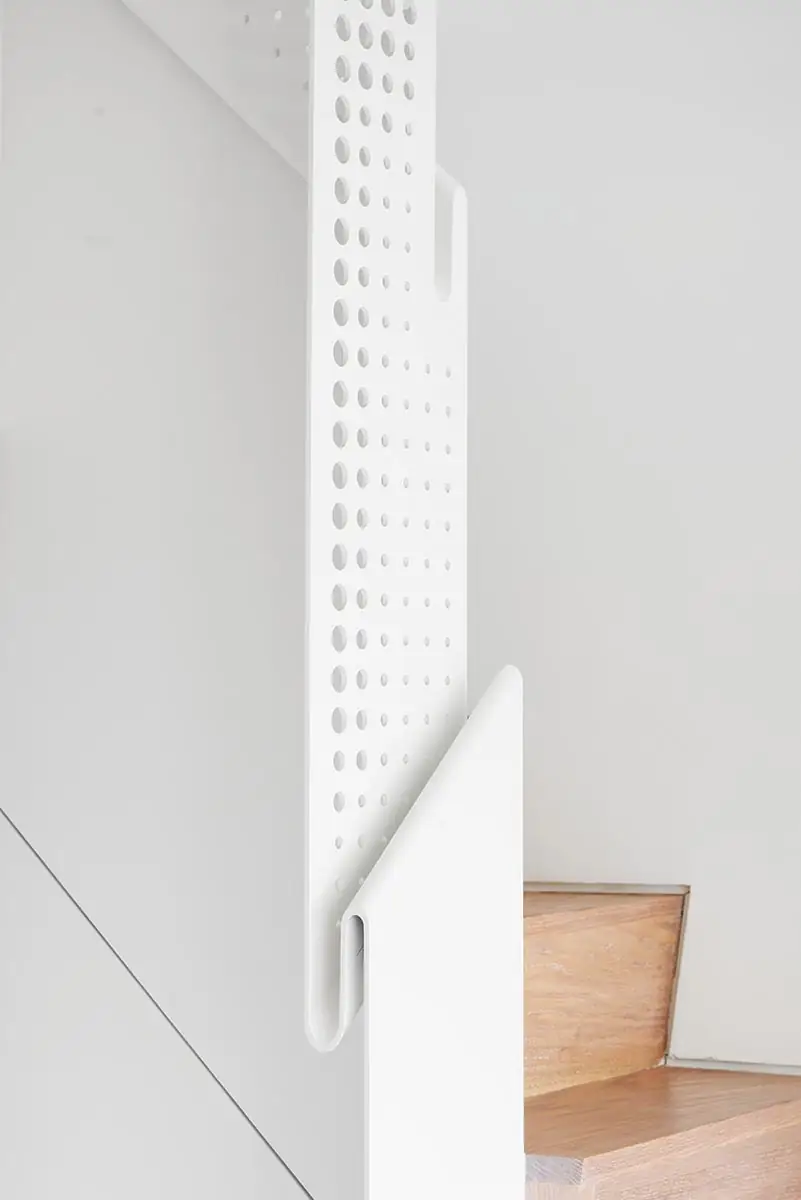 2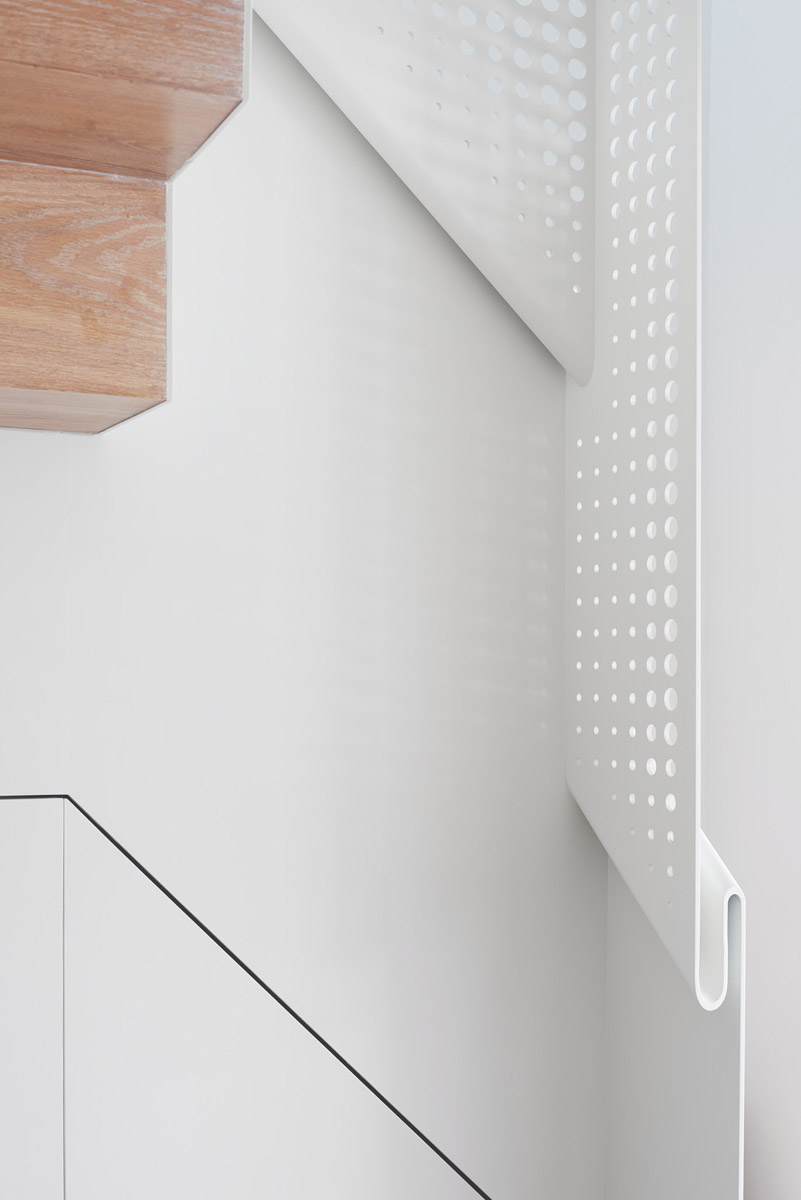 3
Drape Stair (2 & 3)
Commissioned by a pastry chef for a family home in Manhattan, this stair expresses the folding of dough in perforated steel—slumped, turned back on itself, and draped. Photos © Hanna Grankvist
"Context isn't the thing to restrain you—it's where you find opportunities, realize potentials, and connect the dots," he adds. "The future, no matter how scary it is at times, is all that we've got, and there's a kind of optimism in working this way—in recognizing that what exists is the context."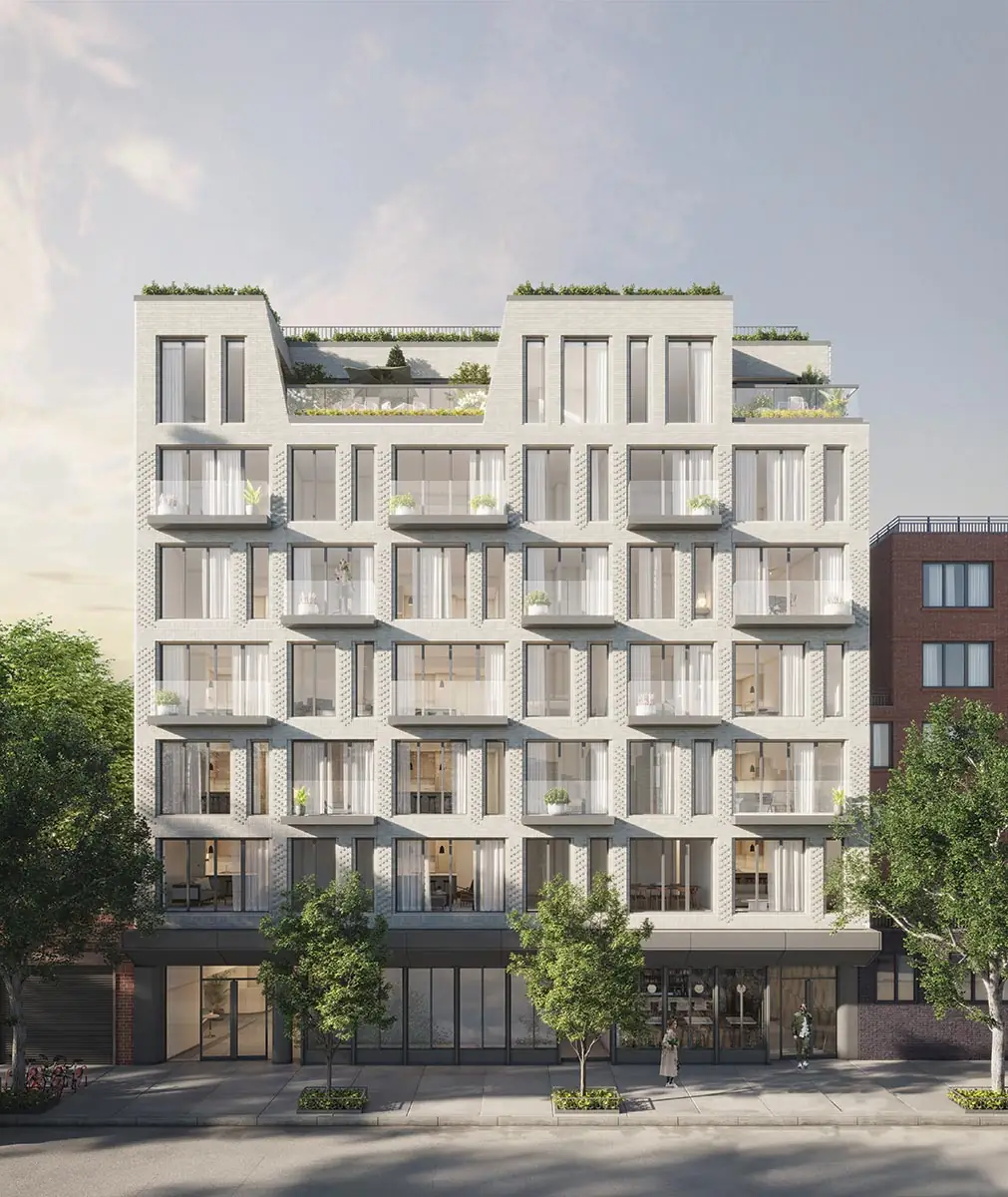 4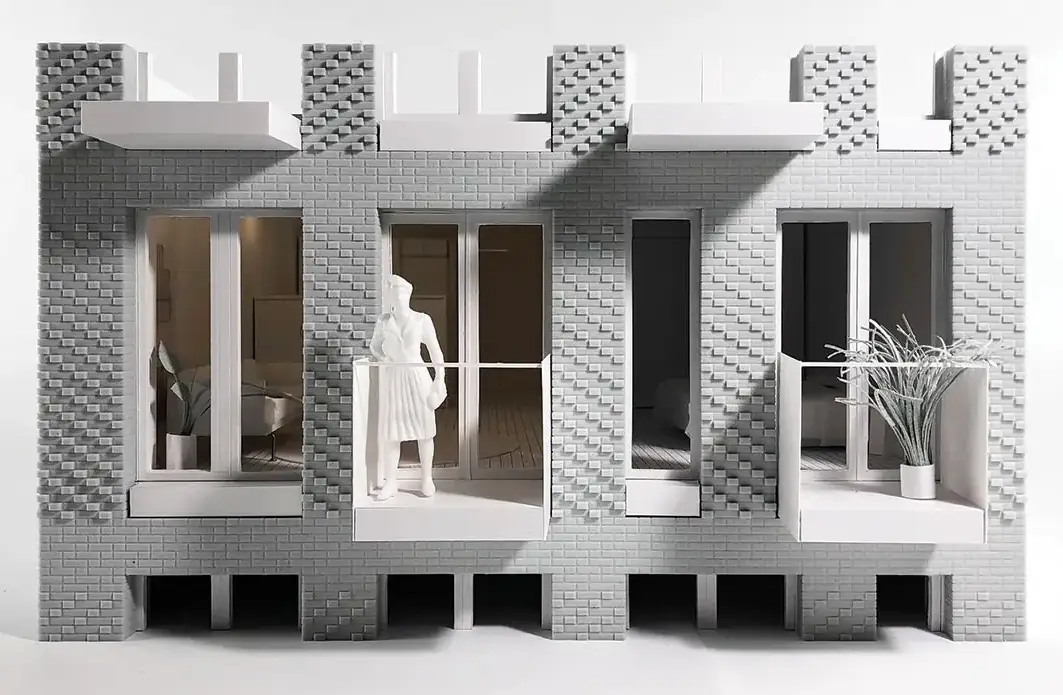 5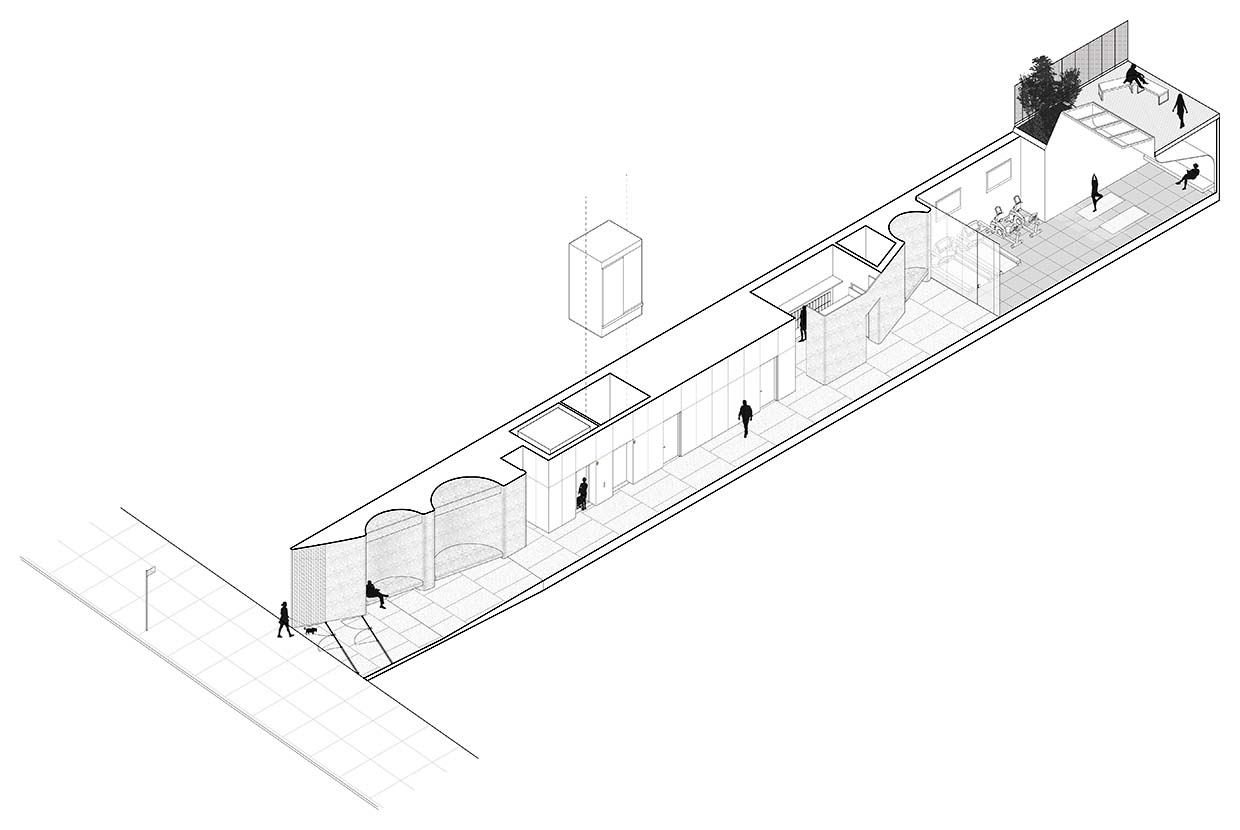 6
Vernon Housing (4 - 6)
Future Expansion's 67-unit apartment building in Queens, New York, is expected to open this summer. Between windows, diagonal rows of projecting bricks gradually recede into the building's facade, adding a layer of visual interest. Early planning meetings with community members and nonprofit organizations also led to the inclusion of three ground-level commercial spaces. Images © Future Expansion
Over the course of a decade, Future Expansion has designed projects within disparate contexts ranging from an abandoned lot in downtown Brooklyn to the wraparound setback of a 1920s-era Park Avenue office high-rise and a 380-acre agrarian tract in Sullivan County, New York (where the studio has renovated a modest farmhouse as the initial phase of a larger master plan for the property). Back in the city, recent projects have found Future Expansion working on the waterfront of Astoria, Queens, where construction is wrapping up on an apartment complex with street-level commercial space—the studio's first foray into multifamily housing—and in Brooklyn, where a modest yet transformative entryway addition to the Park Slope United Methodist Church was recognized earlier this year, winning a preservation award for its deeply considered community-driven design, which enhances accessibility and opens up the 1915 building to an adjacent garden.
7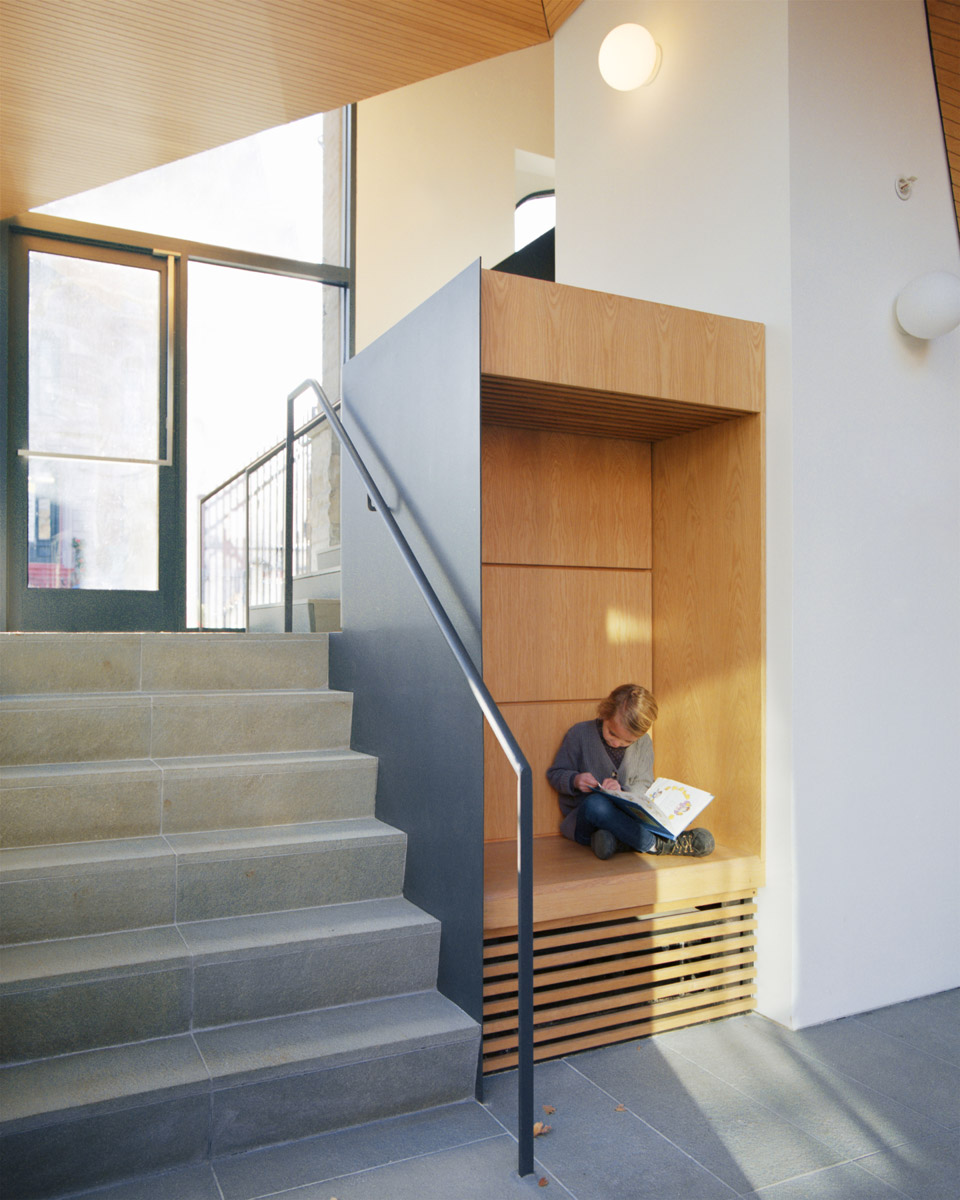 8
Open Church (7 & 8)
This addition to an existing church in Brooklyn, New York, incorporates wide stairs and an integrated wheelchair lift. Extensively glazed, the space looks out into an adjacent neighborhood garden that is accessible to the public. Per the studio, it aims "to suture the interior with the exterior and the future with the past." Photo © Hanna Grankvist (7), Mengzhu (8)
Stressing the church's once-cloistered presence in the neighborhood, Deirdre explains that the "ethos of the congregation itself is so much about being connected to the community, but the church building didn't reflect this. The project was an extension reaching out and connecting all these things that weren't connected to the neighborhood and to the street. It was something that didn't exist before."
Nicholas McDermott and Deirdre McDermott. Photo © Hanna Grankvist
FOUNDED: 2013
DESIGN STAFF: 6–8
PRINCIPALS: Deirdre McDermott, Nicholas McDermott
EDUCATION:
D. McDermott: Cornell University AAP, B.Arch., 2002
N. McDermott: Yale University School of Architecture, M.Arch., 2008; University of Pennsylvania, B.A., 2002
WORK HISTORY:
D. McDermott: MdeAS Architects, 2008–14; CCS Architecture, 2006–08; SOM, 2002–06
N. McDermott: Rogers Marvel Architects, 2009–12; SOM, 2003–05
KEY COMPLETED PROJECTS: Open Church, 2022; Drape Stair, 2021; Flatiron Reflection, 2018; Robert Rauschenberg Foundation Office Renovations, 2017; Vital Strategies HQ, 2017; The Loop, 2016 (all in New York)
KEY CURRENT PROJECTS: Vernon Housing, Queens,NY; FoG Farm Planning and Buildings, Sullivan County,NY; Grand Street Mixed Use, New York; House, Eastham, MA; Penthouse Renovation, Brooklyn, NY