✕
If, in 1978, a Corbusian villa had migrated to Norway, fully embraced Brutalism, and tried to fit in as an office building, it might have turned out something like Sverdrupsgate 27, the headquarters for the then newly established Norwegian Petroleum Directorate in Stavanger. Starting with a two-story horizontal concrete block, complete with ribbon windows, ground-floor cut-aways, and even a ship's-funnel-shaped stair tower, Sverdrupsgate 27 then took a note from its snow-savvy vernacular neighbors and adopted a pair of steeply pitched, height-doubling shed roofs. Volumetric, dynamically asymmetrical, and rational in plan, the building achieved a locally adapted, classically inspired iteration of late modernism that somehow managed to imply the not-yet-bitter promise of the petroleum age.
In time, however, Sverdrupsgate 27 lost its luster, the Petroleum Directorate moved on, and, by 2018, when the current owner, the development company Smedvig Eiendom, acquired the building, it had dwindled into an underperforming, energy-inefficient candidate for demolition—or complete overhaul. With Smedvig's decision to renovate, Sverdrupsgate 27, now known as Innoasis, has acquired new life as a 43,000-square-foot light-filled hub for smart-city-focused innovation.
"In Norway—and I think everywhere—we have a lot of these poor-performing 1970s office buildings," says Siv Helene Stangeland, founding partner at Stavanger-based Helen & Hard, architect for the renovation. "This project proves that you can reduce their climate footprints, create high-standard work environments, and provide them with a completely new identity that people really like." Central to the renovation's success is the integration of new timber elements that complement the original concrete structure while creating fresh, contemporary spaces.
The renovation inserted a prefabricated structure of peeled-log columns, glue-laminated-timber beams, wood joists, and slatted wood ceilings into an existing courtyard (formed by earlier additions to the building) to create a skylit atrium. Rounded wood galleries at each floor level overlook the new space, and the original concrete stair spirals up through it. Floored with wood and filled with plants, the atrium facilitates informal meetings that foster connections and collaborations among the building's start-ups. It is also open to the public via a ground-floor café.
1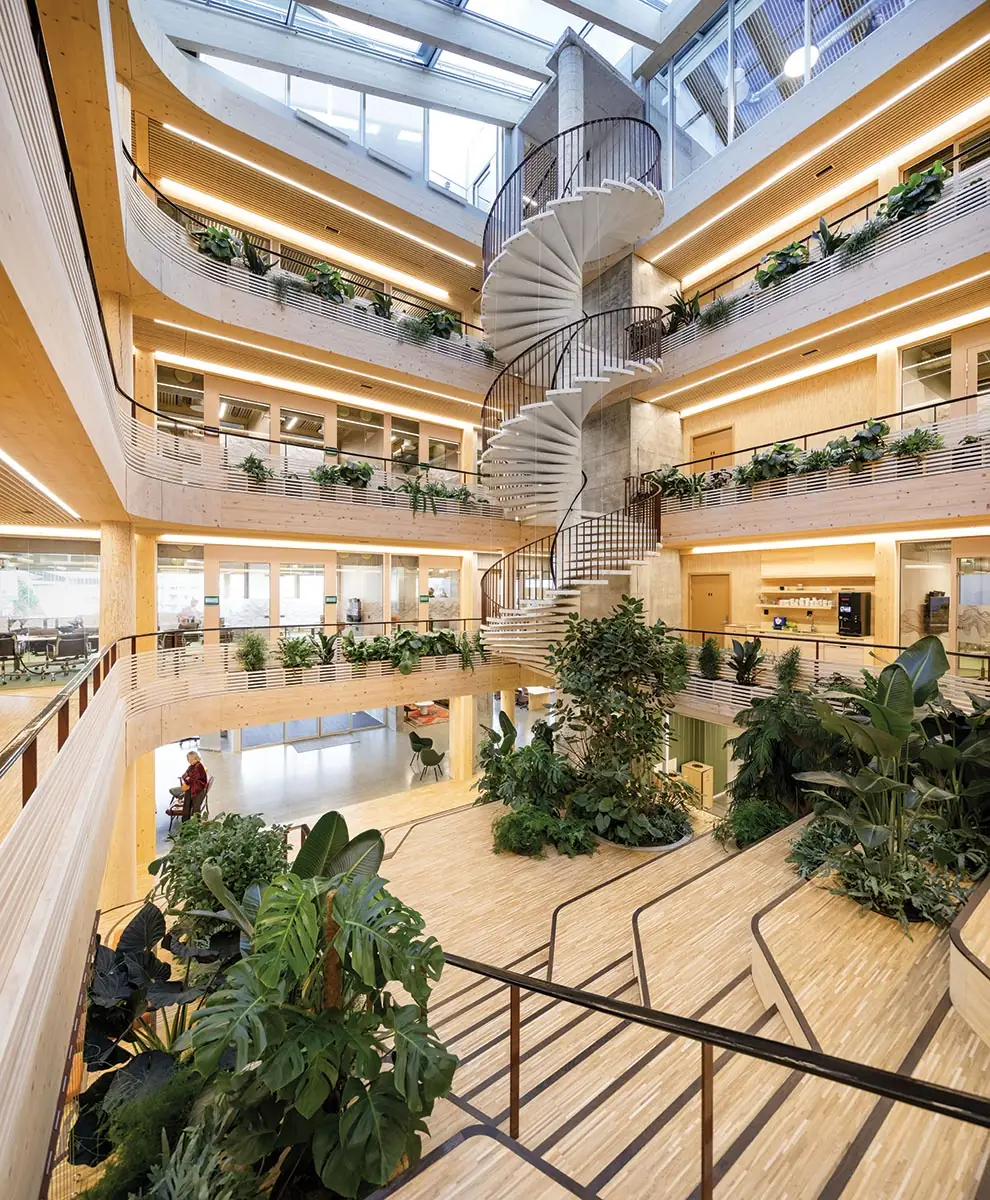 2
The atrium's lowest level is a social stair (1), while a spiral stair connects all five levels (2). Photos © Sindre Ellingsen, click to enlarge.
Compared to other forms of mass timber, the log columns, which come from sustainably managed Norwegian forests, required very little machining and no gluing. And, while initially the client took some convincing that the inevitable checks and fissures that unprocessed heavy timber develops as it dries need not be considered unsightly, "now everyone thinks they're beautiful," says Stangeland. "Seeing these trunks gives a much closer connection to natural materials and where they come from."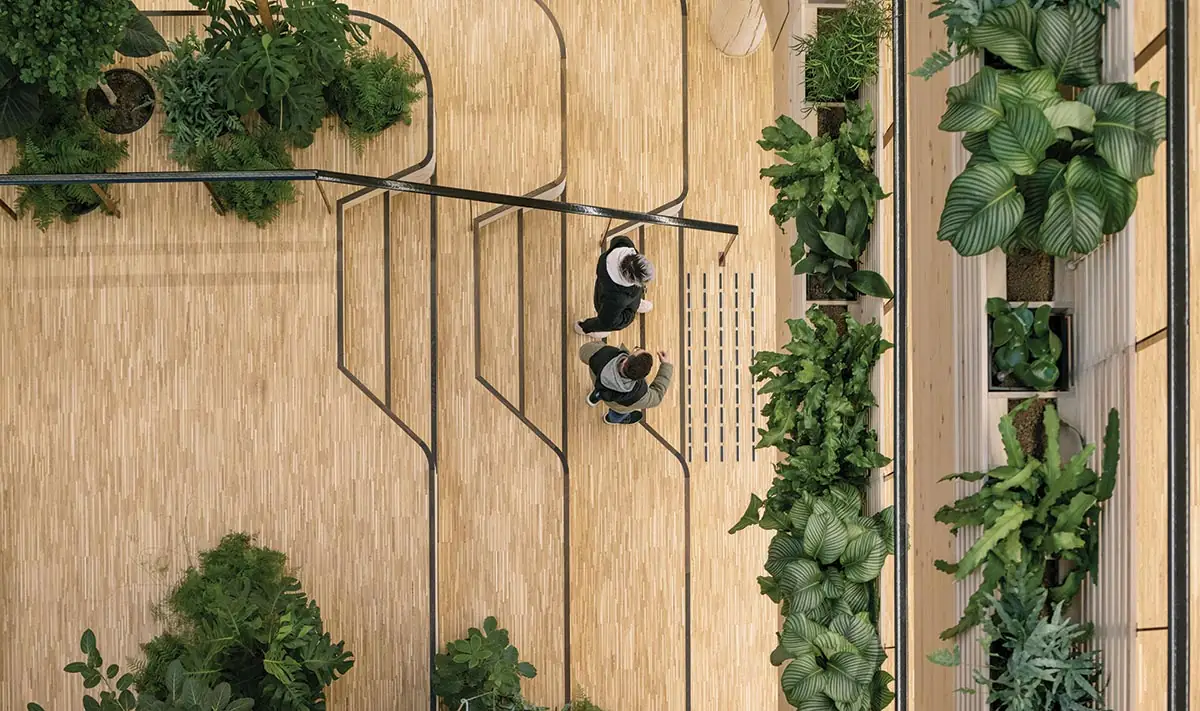 Greenery abounds in the atrium. Photo © Sindre Ellingsen
In addition to the aesthetics of the wood, enhanced by its contrast with the concrete structure through which the atrium is reached, the space derives much of its character from its acoustics. Ribbed and curved wood surfaces, supplemented with acoustic panels, hush the hall. "It's very calm," says Stangeland. "Although it's open to four floors, and people are talking and meeting and circulating, it has a very good atmosphere."
The slatted ceilings carry through as part of the acoustic strategy for the concrete structure as well, where they are fitted into the existing site-cast T-beams' irregular intervals. (This feat was made possible by the use of a digital twin, based on a LiDAR laser scan of the original structure, which generated the measurements for prefabricating elements to fit.) To provide flexibility for future changes, the ceiling also contains infrastructure to support cellular offices—should they be preferred—with built-in wall tops to which dividers can be affixed, and ventilation and lighting spaced at the intervals of office modules.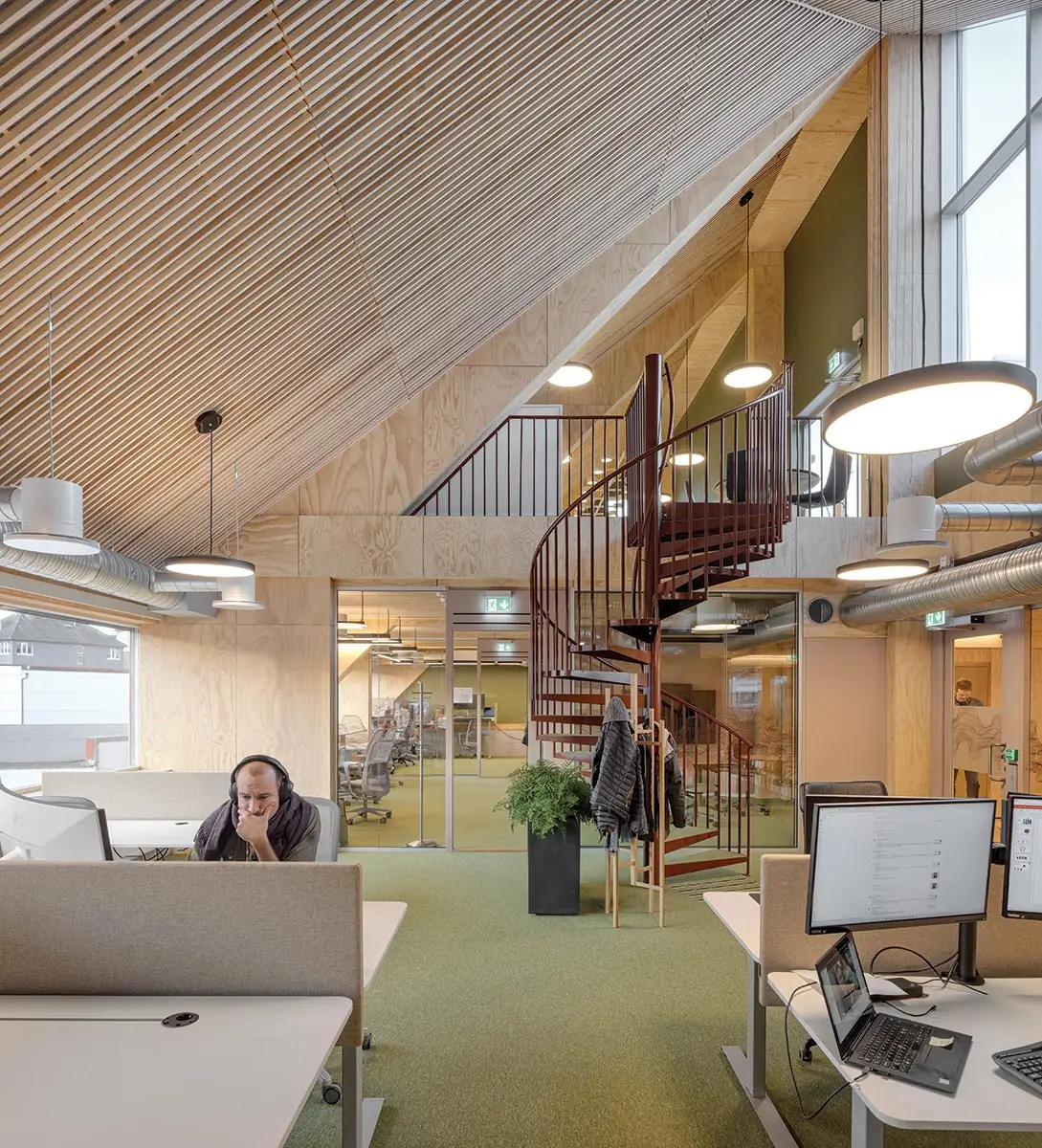 Sloped roofs allow daylight into the fourth-floor offices. Photo © Sindre Ellingsen
While the timber atrium is the signature element in the building's new identity, the project also entailed removing a hodgepodge of extensions between the original roofs, and building two new pitched roofs to complete a square around the atrium. As well as shedding snow, the roof forms allows light and air in fourth-floor offices, and generates sectional variety, including lofts and mezzanines, which make for a dynamic spatial experience.
The envelope was upgraded with new windows, insulation, and cladding—on some facades in wood—complemented by improved environmental controls and solar panels. Together, these enhancements, which the digital twin facilitated, achieved a 50 percent reduction in the building's carbon footprint, compared with a reference building.
"When you're working with an existing building, the question is always how you can create the possibility to adapt," says Stangeland. "Our attitude is that the aesthetic experience is much richer if you can retain more of the old and add new where you need to." Back when the original Sverdrupsgate 27 was new, the building—and the work it housed—played a significant role in ushering the region into the oil age. The hope now is that the rejuvenated building, with its expressive wood elements, will play an equally significant role in the quest to start up a more sustainably driven era.
Click drawings to enlarge.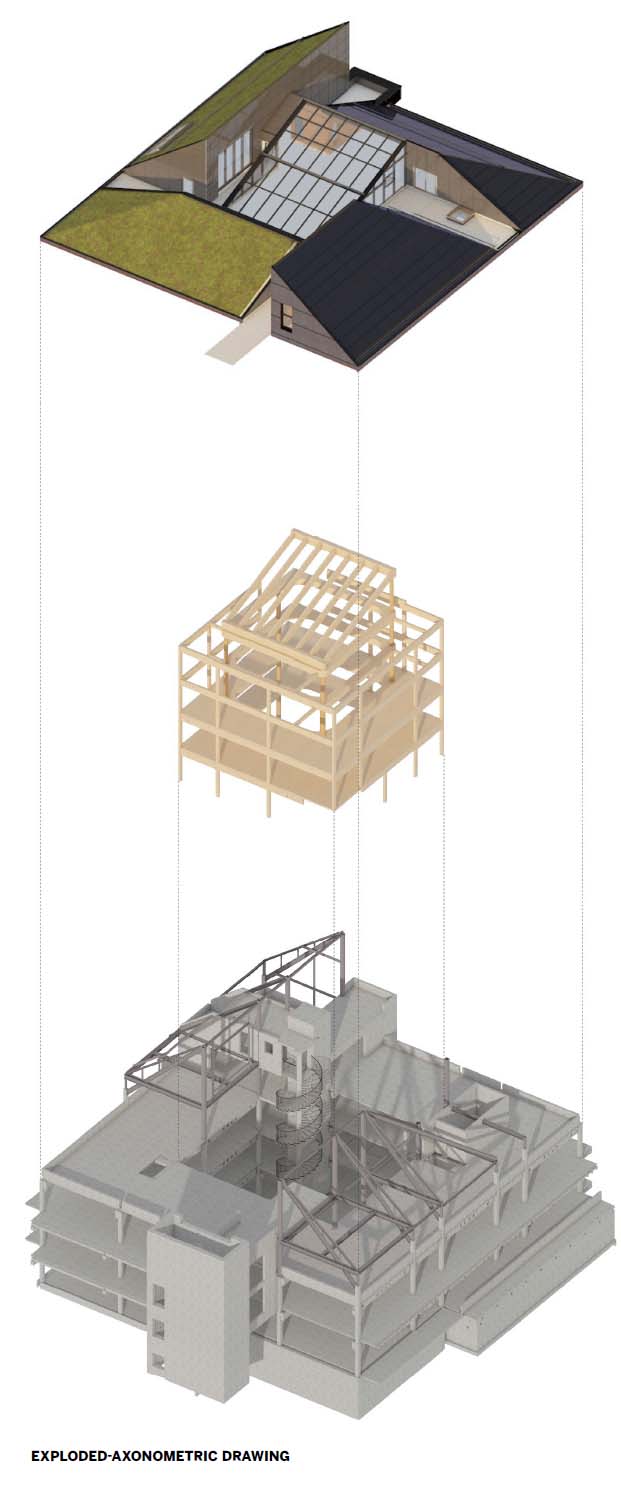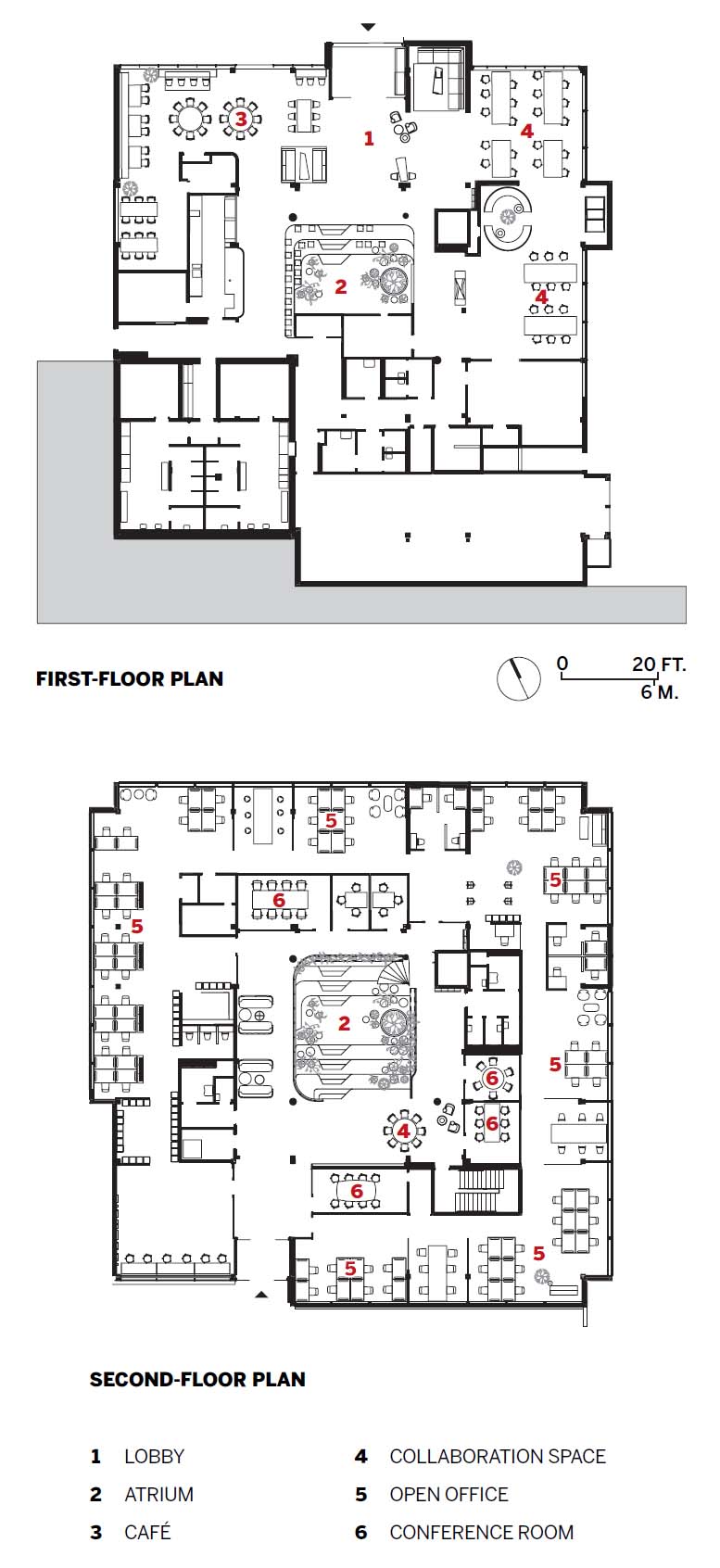 Credits
Architect:
Helen & Hard — Siv Helene Stangeland, Reinhard Kropf, creative directors; Håkon Solheim, project architect; Ingrid Sekse, architect
Consultants:
Norconsult (technical); Brekke & Strand Akustikk AS (acoustic); Konsepta (fire); Procon (structure); Veni (energy and VDC/BIM) 
General Contractor:
Faber
Client:
Smedvig Eiendom
Size:
43,000 square feet
Cost:
$18.7 million
Completion Date:
October 2022
Sources
Timber Construction:
Woodcon