✕
A native New Yorker, architect Claude Stoller witnessed Modern­ism's ascent in North America firsthand, interacting with the movement's leading players and later designing works that exemplified its principles. His architecture was imbued with a site sensitivity rooted in the universality of Modernist ideals. He died on May 16, 2023, at 101.
His formative years exposed him to pioneering pedagogy through summers spent at the Stelton Modern School in Piscataway Township, New Jersey. One of his first encounters with architectural modernity was as a 17-year-old assistant to his older brother, Ezra Stoller, renowned architectural photographer, for the shooting of Alvar Aalto's Finnish Pavil­­ion at the 1939 World's Fair. In that role, he would be present for the photographing of the Gamble House in Pasadena, California, by the Greene brothers, the Koch House in Cambridge, Massachusetts, by Carl Koch, and Taliesin West in 1945, among others. Of that last encounter, Stoller remembered the words Frank Lloyd Wright uttered when showing newly arrived slides of his Imperial Hotel in Tokyo to Ezra and him: "Where in all of Europe can you see such richness?"
Hecht House (1969), San Francisco, designed by Marquis and Stoller. Photo © Ezra Stoller/Esto
From 1939 to 1942, Claude attended Black Mountain College in North Carolina, an unaccredited interdisciplinary school. Central to this experience was legendary Bauhaus teacher and artist Josef Albers, his faculty advisor. From his mentor, the architect learned the critical function of seeing; that enduring lesson would remain a fixed principle throughout his life. There he also learned the importance of construction. In 1941, he as job captain built the Jalowetz House, with other students, according to A. Lawrence Kocher's design. Among his classmates in a physics course was Mark Schindler, son of Rudolph Schindler, and Japanese American artist Ruth Asawa. Stoller recalled with pride having shaken the hand of Albert Einstein, a guest lecturer at the college.
He served in World War II and entered Berlin with the U.S. Army in 1945. Upon his return to the U.S., he was admitted to the Harvard Graduate School of Design under Walter Gropius and earned his Master of Arch­itecture degree in 1949, having studied under Marcel Breuer, I.M. Pei, and Hugh Stubbins. He worked as a draftsman in Carl Koch's office in Cambridge and in the Arch­itects Collaborative on the Harvard Graduate Center. Following a two-year stint as a design professor at Washington University in St. Louis, Charles Eames's letter of recommendation to founding dean William Wurster granted him access to the faculty at the newly formed College of Environmental Design at the University of California Berke­ley in 1957, where he split his time between teaching and practice until his retirement in 1991.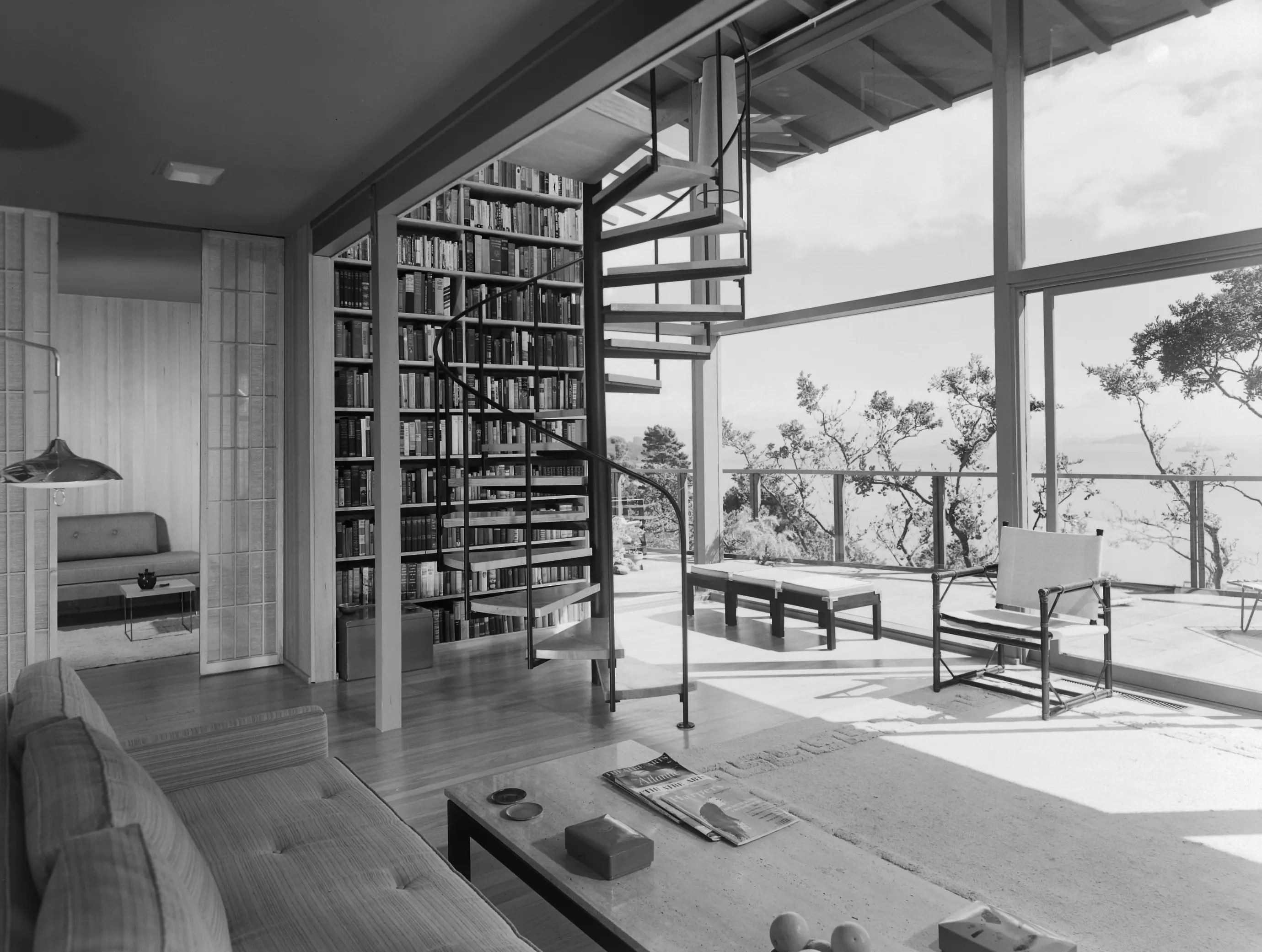 The Shrodes House (1959) in Sausalito, California, designed by Marquis and Stoller. Photo © Ezra Stoller/Esto
In San Francisco in 1952, he founded a partnership with Robert Marquis (whom he met in Florence) that extended to 1973. Residential, institutional, and commercial work earned the practice numerous design awards, leading to his 1968 election as an AIA Fellow. Among his design accomplishments are the Heath Ceramics factory (1960) in Sausalito and the inner-city St. Francis Square Community Apartments (1961) in San Francisco. With Buckminster Fuller, Marquis and Stoller designed a radical proposal featuring a giant globe, 250 feet in diameter. The geodesic framework would rest on a pedestal of buildings on Alcatraz Island as a symbolic monument tied to the United Nations. In 1972, Stoller went to Dacca, in what was then East Pakistan, to design the Consular Office Building for the U.S. State Department. On that occasion, he met Louis Kahn again, along with Balkrishna Doshi. 
Stoller was very fond of Italy and its language. In our meetings, he would greet me with Saluti and end e-mails with "Amichevol­mente, Claudio" and the like. He was one of the last surviving links to a heroic period in American architecture, and he exhibited the rare gift of delivering meaningful information to his students and clients with charm and an infectious smile.