✕
Founded in 1981 by conservation educator Clive Walker and philanthropist Dale Parker, the Lapalala Wilderness Reserve comprises roughly 185 square miles of land in the Limpopo province in northern South Africa. Pierced by the winding Palala River in Limpopo's Waterberg region, the mountainous grounds (which were designated as a UNESCO Biosphere Reserve in 2001) are home to black and white rhinoceros, elephant, buffalo, cheetah, and sable antelope among hundreds of other species. Just outside the reserve's southern border is the new Lapalala Wilderness School, which re-opened last November after a five-year build by Johannesburg-based Local Studio, a 2018 RECORD Design Vanguard winner.  
Since 1985, over 100,000 children between the ages of 10 and 18 have traveled from across the country to Lapalala for week-long educational programs focused on biodiversity and wildlife conservation. The original school was housed in a converted farmhouse that grew by accretion and slowly fell into disrepair. For the new campus, a long-overdue infrastructural update and the organization's decision to introduce predator species to the reserve necessitated a move to a neighboring property, which was previously used as farmland.
The central node of the campus, nestled into a riverbend at the end of a winding two-mile-long road, contains a cluster of administrative, dining, educational buildings, and dormitories for visiting students. These single-story buildings are marked by rammed earth walls, courtesy of the excavated site's red, iron-rich soil, and accented with white brick and hardwood. Locally sourced clay brick pavers link indoor and outdoor spaces.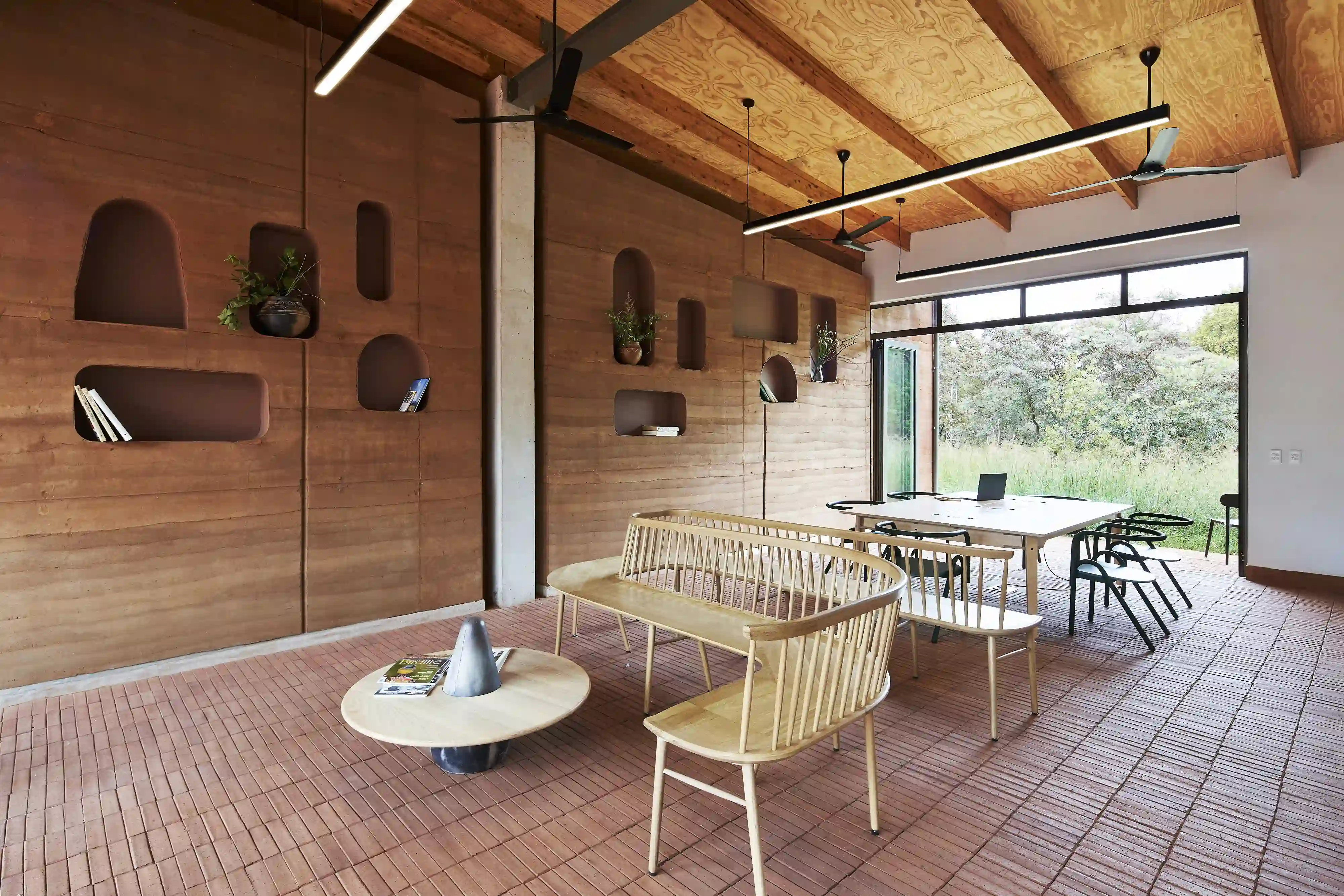 Local Studio also oversaw the school interiors, including custom furniture designed in collaboration with South African artists. Photo © Sean Gibson
"Even though this is called a school, there are no traditional classrooms," project architect Daniel Trollip told RECORD. "These are purely buildings that facilitate the introduction to what you learn outdoors."
As such, the primary teaching space at Lapalala is en plein air: an outdoor amphitheater facing the river serves as the primary classroom at the school. Just beyond that is the entrance to the Library and Interpretive Centre, a building which includes a sunken reading nook and an auditorium with large folding glass doors on its east and west facades where students can view instructional videos and presentations. To help regulate temperature in the tropical climate, timber shading structures canopy some of the outdoor areas, which are planted with a variety of indigenous trees and plants, covering the space between the office and kitchen entrances, and above the amphitheater.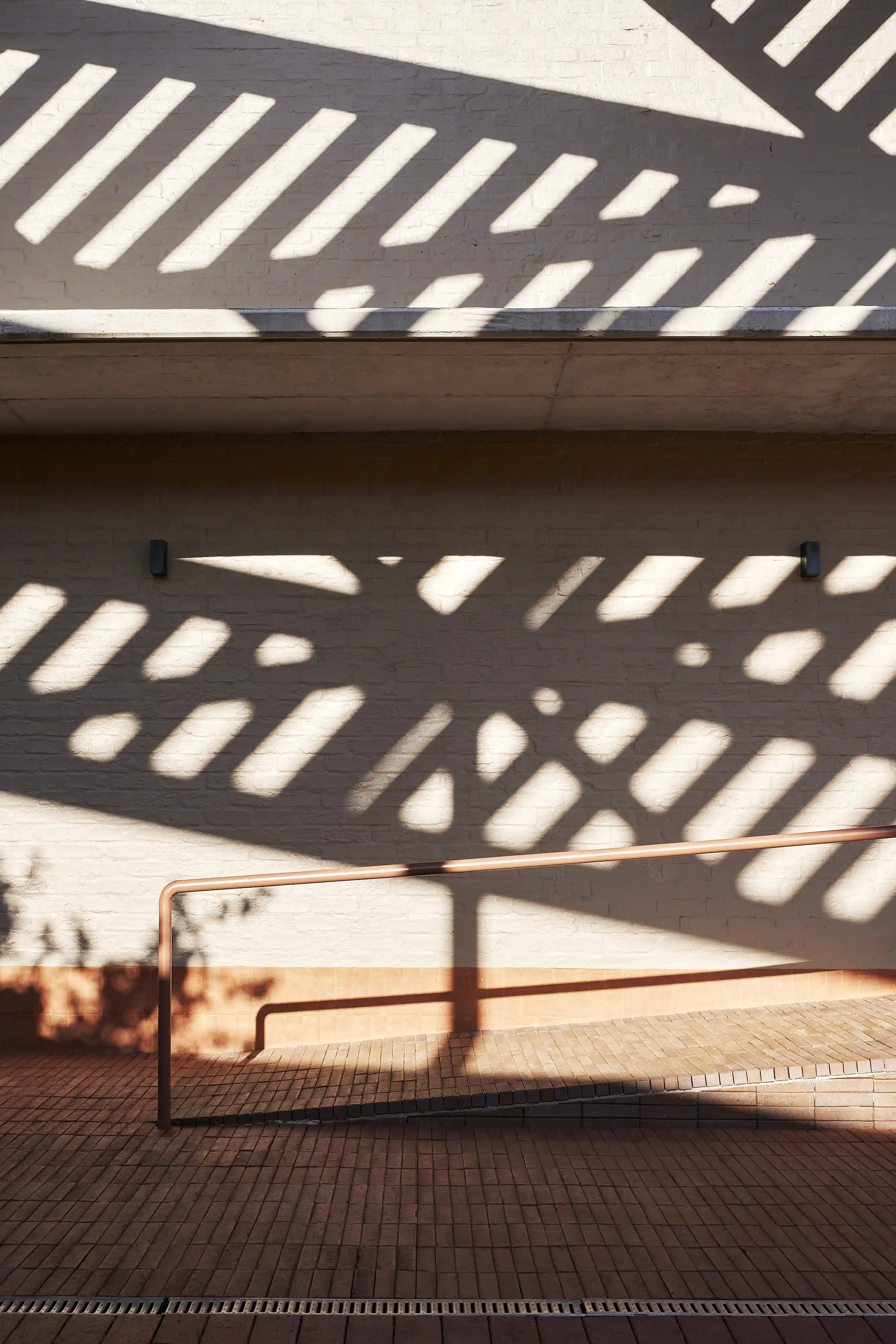 1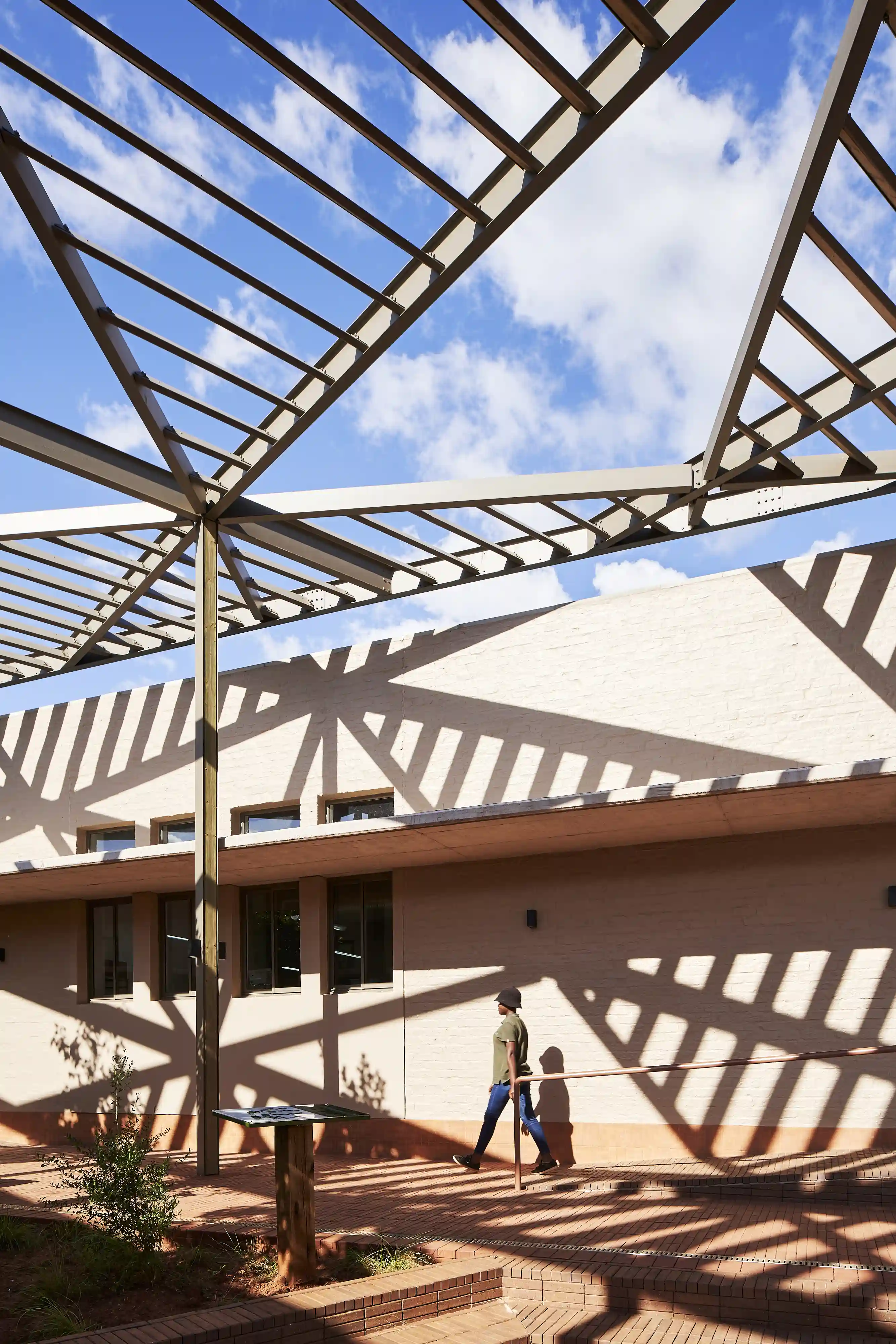 2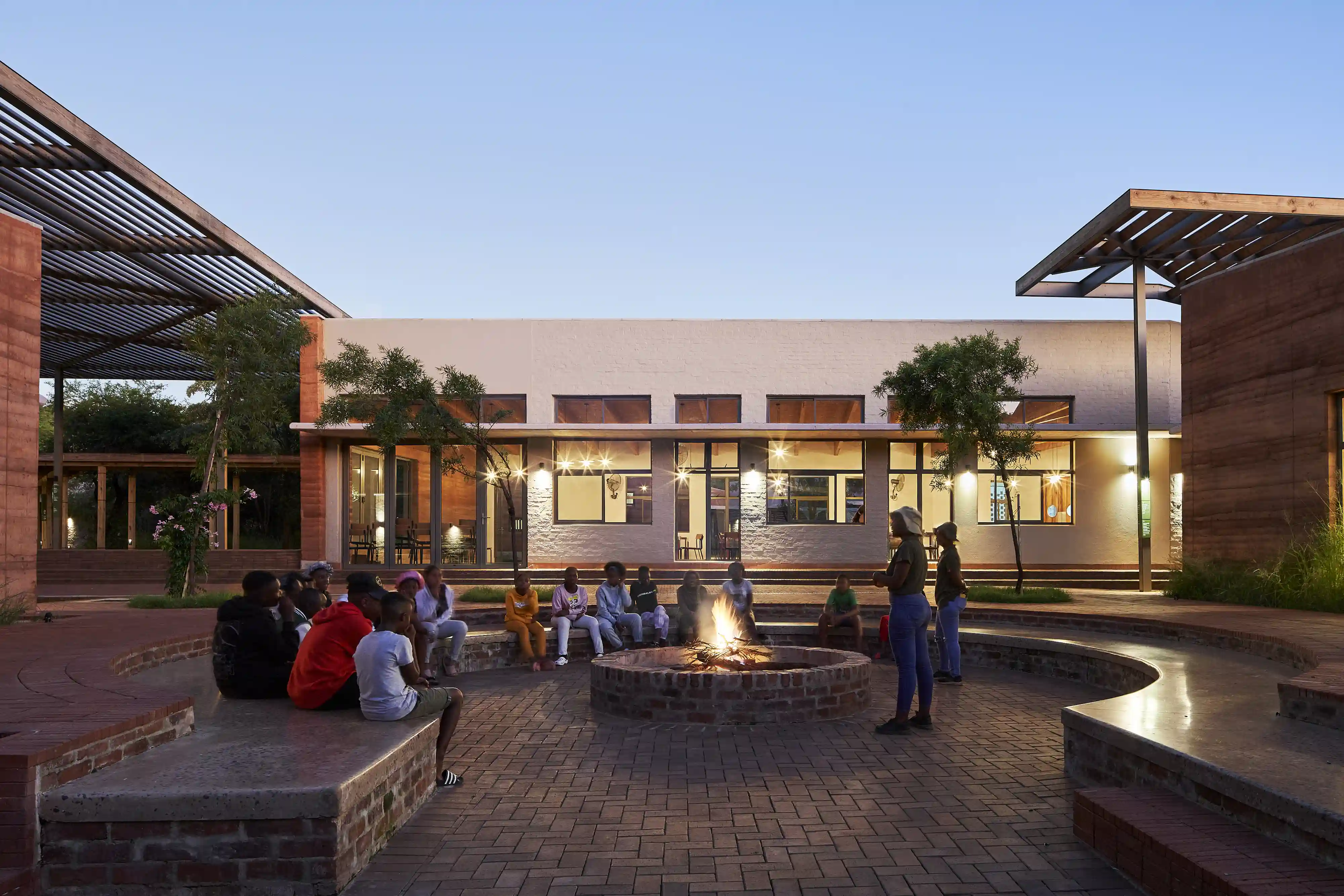 3
Timber canopies bring much-needed shade to the campus. Photo © Sean Gibson
"We wanted to create a bit of urban energy," says Local Studio founder Thomas Chapman of the campus's dynamic layout. Established in 2012, the firm began with a series of small-scale interventions in underserved areas of Johannesburg; now about half of the firm's portfolio consists of rural development projects. In 2021, the firm completed the Limpopo Youth Hostel, a pair of timber-clad dormitories on a campus for a socialist educational nonprofit. As a community-oriented endeavor in a rural setting, Chapman described this project as being foundational to the firm's approach to the Lapalala brief.
Lapalala's modest dormitories, which can house 128 students and educators, have laminated rafters, plywood ceilings, and furniture all made from South African pine. Other interior furnishings, notes Chapman, were designed in collaboration with a group of South African artists. The expanded capacity of the campus has allowed the school to offer a wider variety of educational programs, including practical training for college-level students who are studying conservation, and to establish research partnerships with university departments. Two housing clusters, for the school's roughly 25 permanent teaching staff, are located elsewhere on the site—one southward along the riverbank, and another tucked into the bush to the west. "We wanted to give the staff a little bit of privacy, but also offer beautiful views toward the river and the ridge," said Trollip.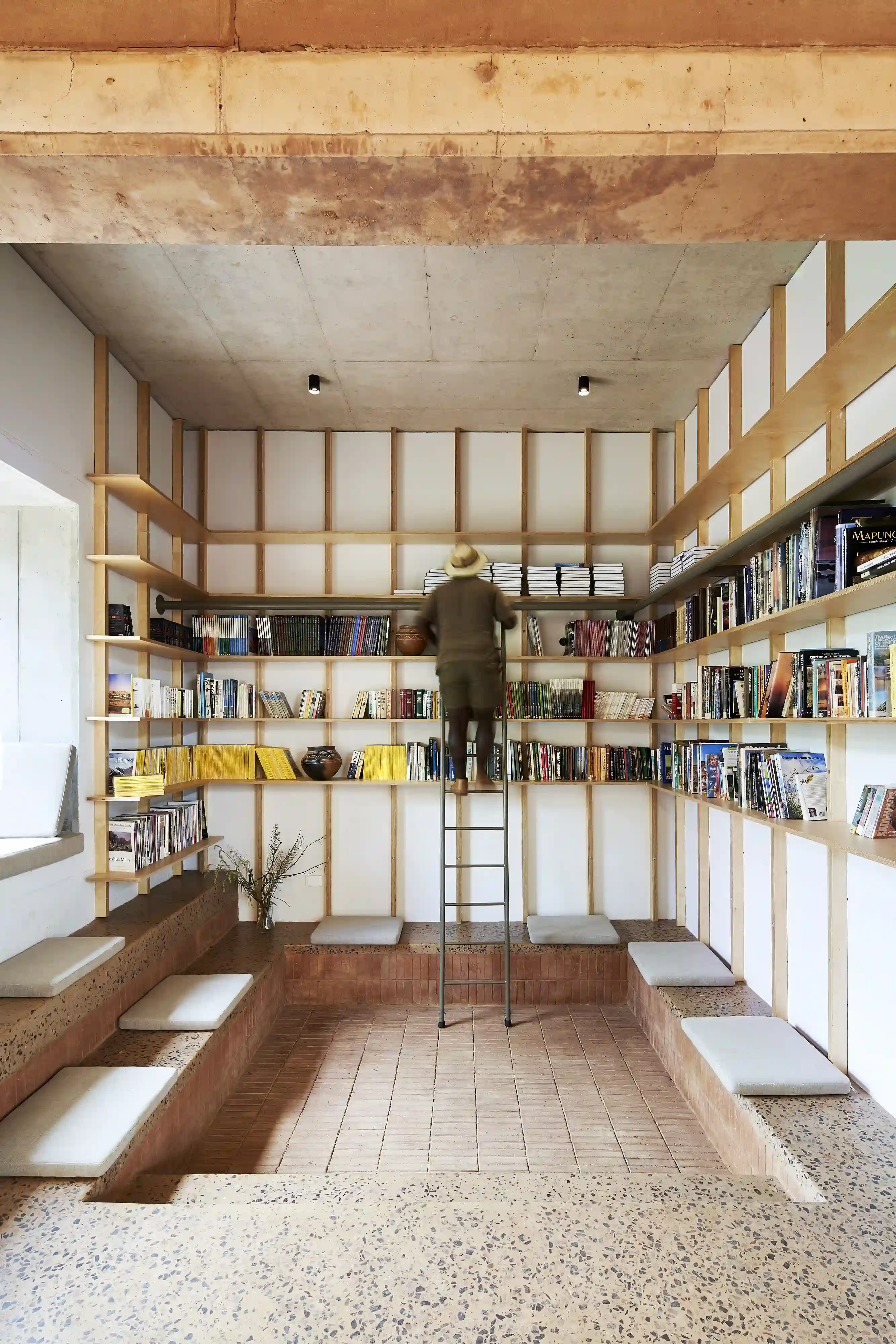 4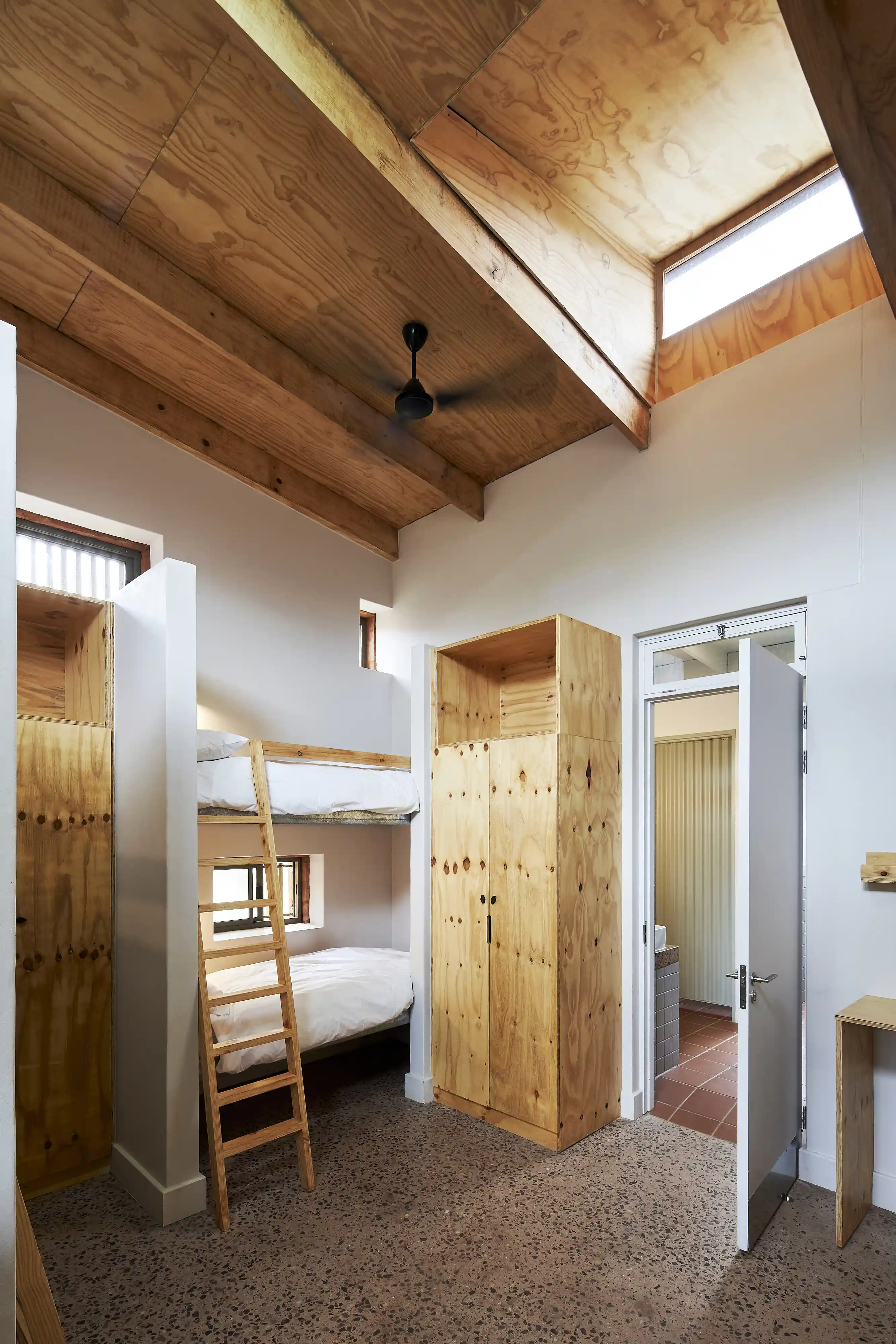 5
The library's reading room (4) features a sunken seating area, and the pine furniture in the dormitories (5) were designed to be easily repairable on-site. Photos © Sean Gibson
The net-zero-rated compound is entirely off grid; water is pumped from two boreholes drilled 80 feet into the ground, and electricity is generated by a nearby solar farm. "The site became part of the learning process," said Trollip. "All the kids that come through here are taught how their waste is treated, and where the water and power come from." 
As South Africa's beleaguered electric grid has been threatened with collapse since 2007, Chapman believes that self-sustainable, community-oriented rural projects such as Lapalala can provide a valuable blueprint for the country's future. "There's so little innovation in this arena—rural architecture and development need good prototypes," he said. "Our cities are in turmoil, and there's a sense that the future in rural areas is a little bit brighter. Substantial investment in these areas has bigger returns than it would in a city."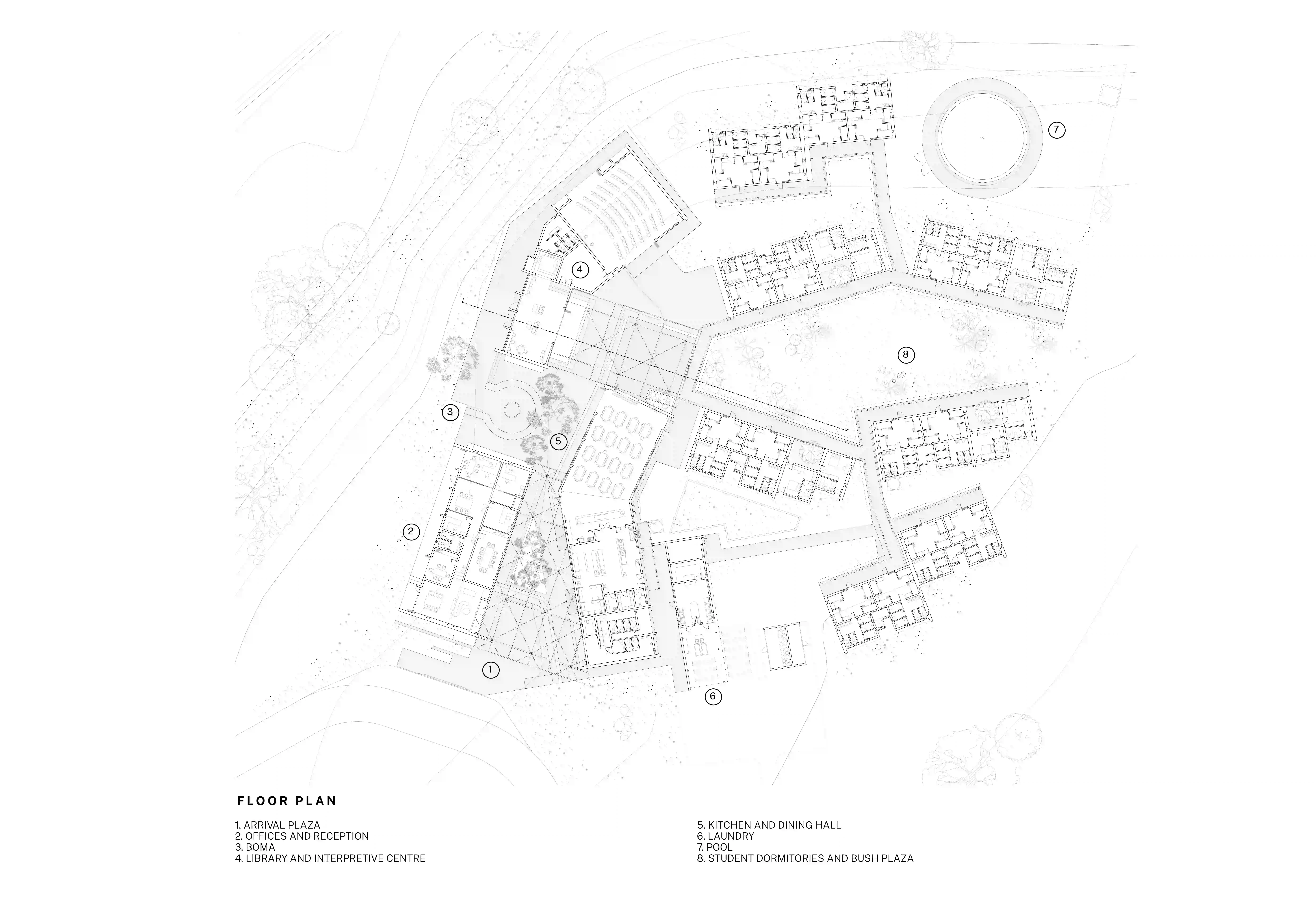 Images courtesy Local Studio
Lying just outside of South Africa's Lapalala Wilderness reserve, the new net-zero campus welcomes students to learn hands-on lessons about biodiversity and wildlife conservation. Video © Dirk Jacobs