✕
Clinton Hill is one in a constellation of neighborhoods that make up "Brownstone Brooklyn," where fin-de-siècle townhouses repeat one after the other, sometimes the length of entire city blocks. A wonderful idiosyncrasy arises from this rhythm of bays, stoops, and subtly varied details—one that is occasionally broken by a downtrodden fixer-upper. For a married couple living in a small apartment with their two children, purchasing and renovating one such property seemed the best way to give the family much-needed space and further anchor themselves to the borough. To realize their ambitious plan, they turned to artist-architect Shane Neufeld, principal of Brooklyn-based Light and Air (L/AND/A).
Leafing through a magazine, the couple happened upon Neufeld's airy renovation of his own historic townhouse in Brooklyn's nearby Bedford-Stuyvesant neighborhood. "It was unlike many other renovations we had seen, which stuck to the prototypical brownstone floor plan with a bunch of broken-up spaces," they explain. "And when we saw Shane's firm name—those were the two things we missed most during the pandemic."
Although light and air abound in the 3,800-square-foot Z House, categorizing the project as merely a gut renovation is an understatement. Not only were the interiors radically reworked, but an extensive exterior rehabilitation and two additions, one upward and another at the rear of the house, were also undertaken.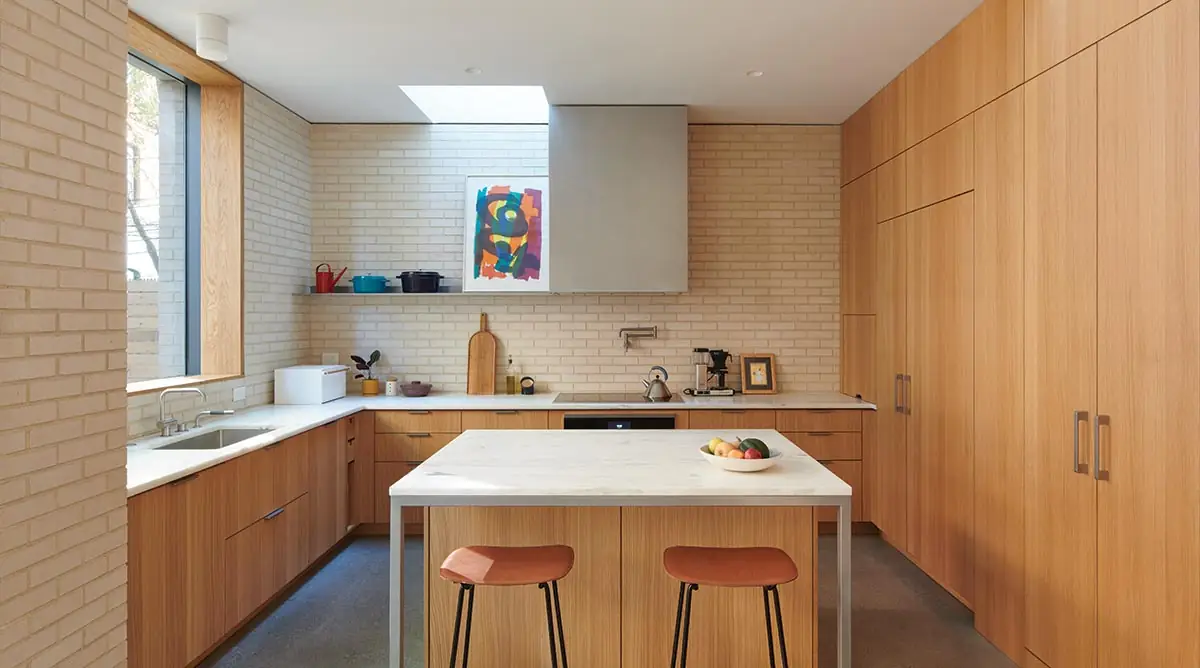 1
Open stair risers, interior windows, clerestories, and skylights flood the Z House with daylight (1 - 3). Photo © Kevin Kunstadt, click to enlarge.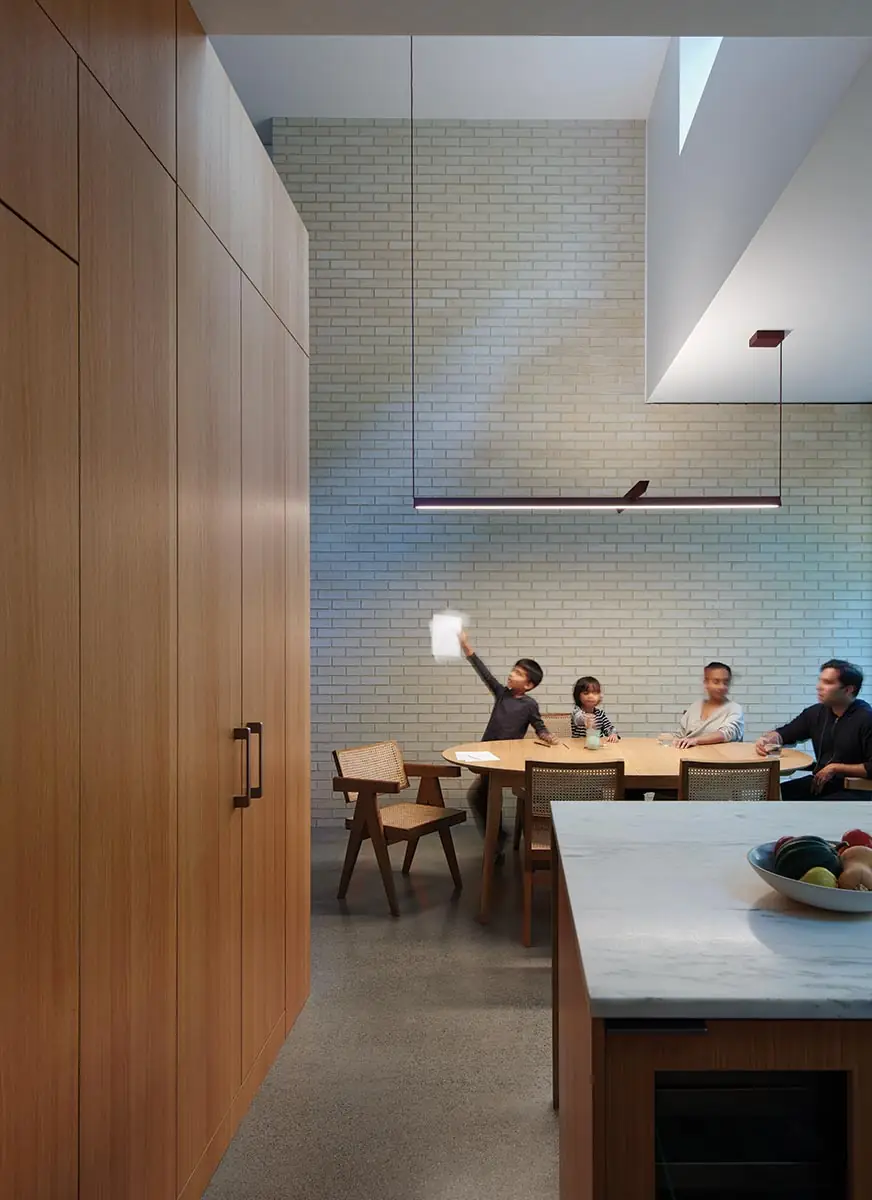 2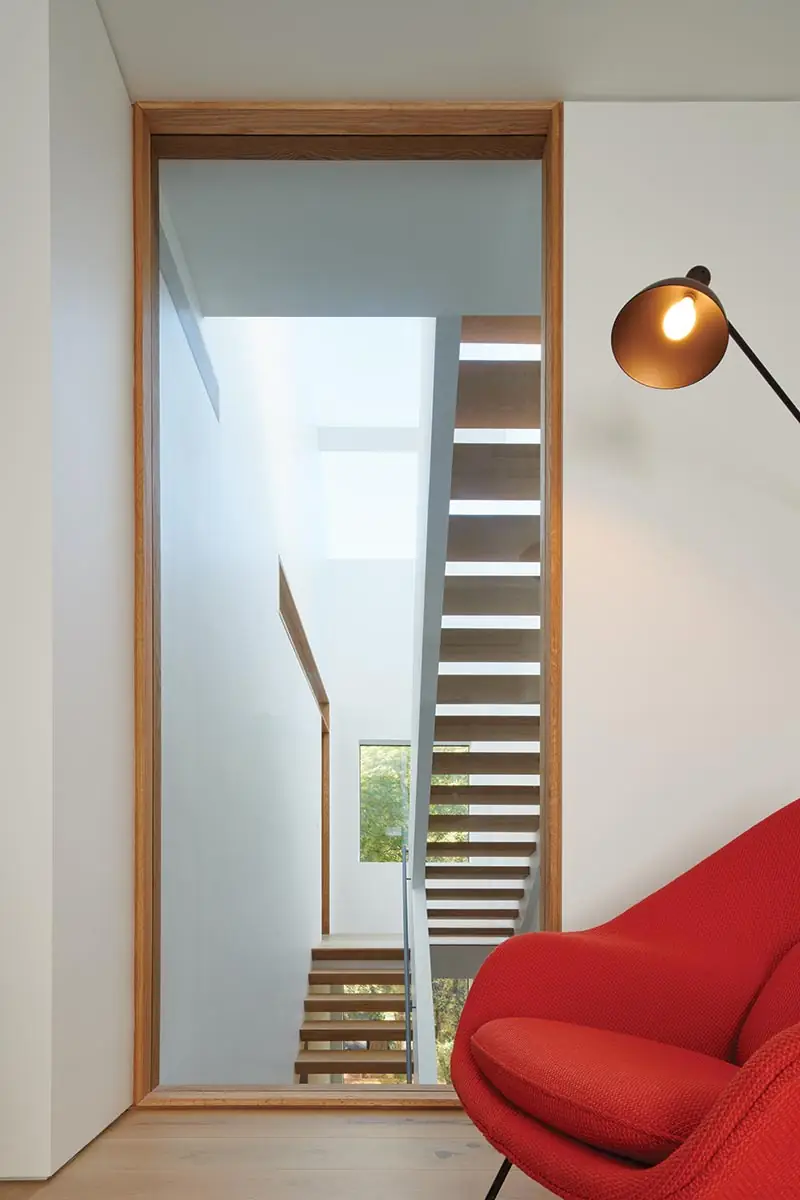 3
Sometime after the Second World War, the townhouse's street-facing facade was resurfaced with concrete, shaped unconvincingly to mimic rusticated stone. Today, per client request, it looks much more akin to the 1899 original, with a restored pedimented entry, arched lintels, and a cornice (after stripping the concrete, Neufeld examined the brick masonry walls and studied old photographs to redesign historic elements). Despite the house's being one-story taller than it was when first built, most passersby won't ever second-guess its authenticity. From the street, only the front door, with intricate mahogany latticework, suggests the transformation beyond.
Inside, what was once a crowded parlor floor with a dingy vestibule and stair hall is now an open, light-filled family room that overlooks a high-ceilinged kitchen and dining area a half-story below. There, in the rear addition, the townhouse's sectional qualities are revealed. Faced in beige brick, the elevation steps strategically backward and upward, creating surfaces that are punctured to introduce light into the kitchen and dining area from clerestories and skylights, and making space for a green roof just above the parlor floor as well as a terrace for the primary suite on the uppermost floor.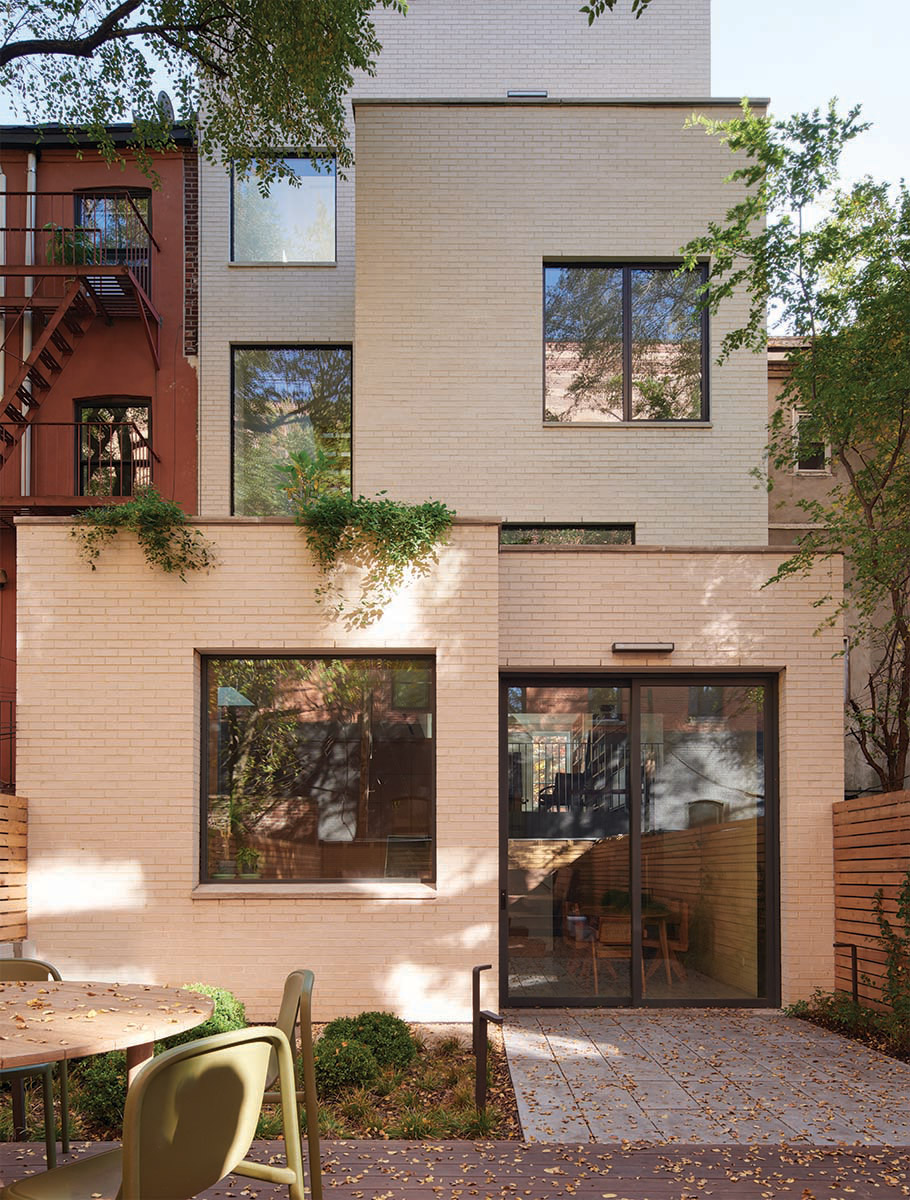 4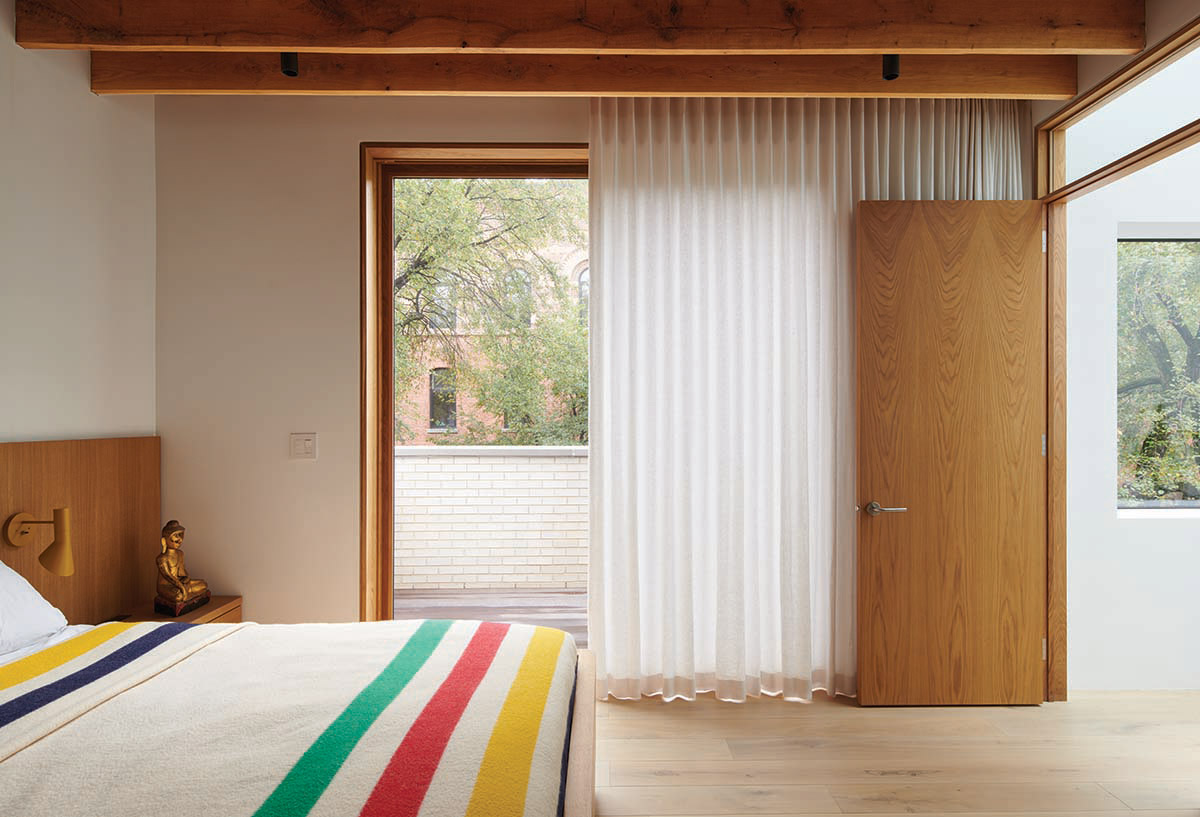 5
The rear addition (4) steps backward and upward, creating a green roof as well as a terrace for the primary suite (5). Photo © Kevin Kunstadt
The clients, both of South Asian heritage, requested meaningful nods to this aspect of their identity, but in a contemporary idiom. The front door recalls the delicate screens of Sri Lankan architect Geoffrey Bawa; a communal dining table paired with Chandi­garh chairs by Pierre Jeanneret accommodates large family gatherings. These references were sufficient. "My parents have a beautiful house, but it feels like a temple," the wife jests.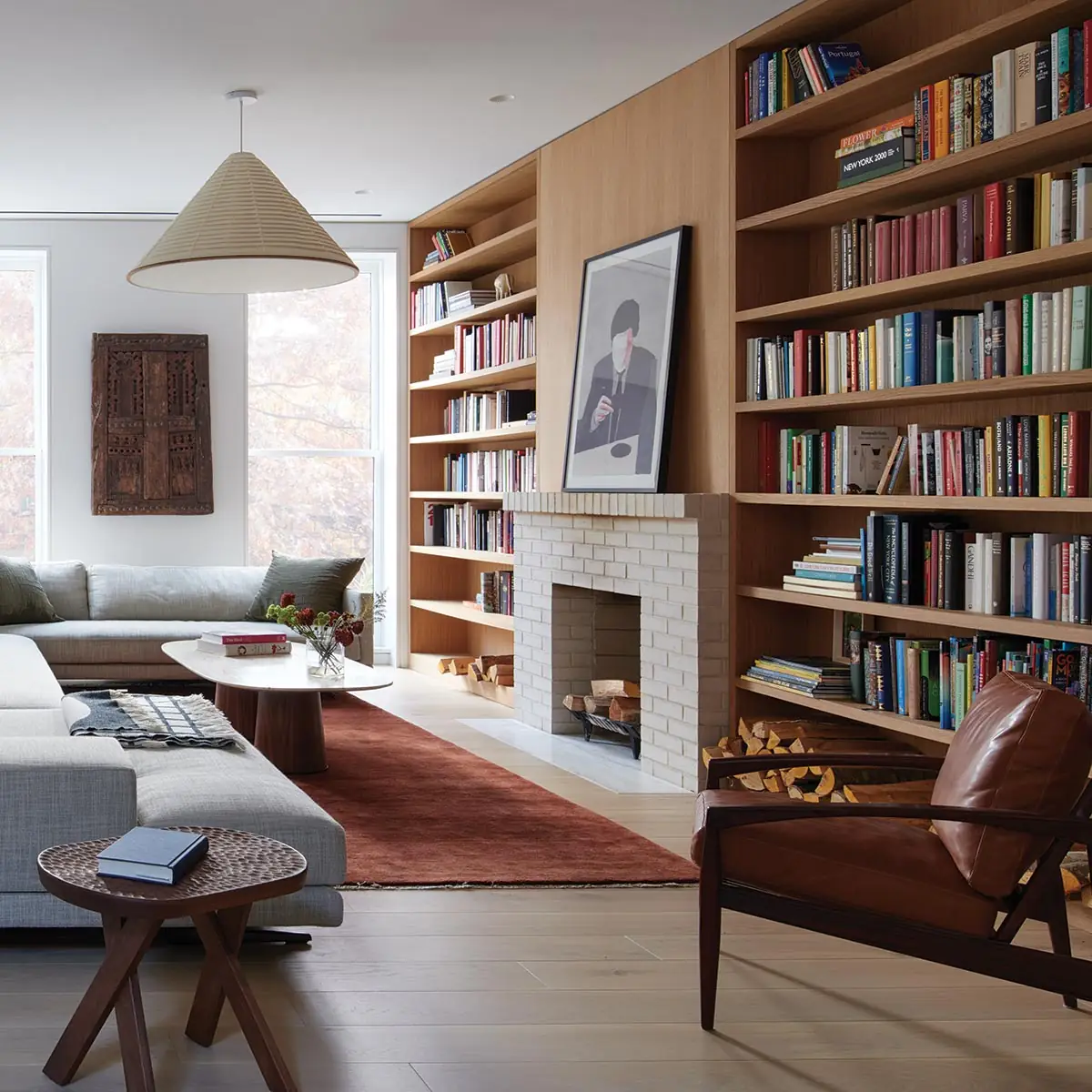 Oak, beige brick, and white walls warm and brighten the interior. Photo © Kevin Kunstadt
Throughout the house, details are tailored and elegant—shallow but noticeable ⅜-inch reveals separate white oak casework and baseboards from luminous white walls. The same brick used outside spills inward, creating a neutral backdrop for the dining area. Custom oak built-ins warm the already bright interiors. Transom windows—another subtle nod, in this case to the townhouse as a historic building type—continue the multi-directional deluge of daylight.
The most impressive aspect of the intervention, however, is the Z-shaped "switchback" stair that occupies a 40-foot-tall well, from which the house takes its name. Rather than landing at the main entry, as is so often the case, the stair has been rotated 180 degrees, allowing for a continuous circulation path from the kitchen to the children's bedrooms on one floor and to the primary suite on the next. The steps, trapezoidal in section and with open risers, maintain an airy atmosphere, while the inwardly mitered guardrail catches sunlight at acute angles.
Inside Z House, one discovers many unexpected details and moments. "A successful painting encourages the eye to wander continuously," says Neufeld, who initially trained as a painter. "I feel that this is true of my architecture as well—space should always inspire the eye to wander uninterrupted." Without sacrificing domestic comfort, this well-executed distillation of light, material, and space offers what many townhouse renovations do not: surprise and delight.
Click drawings to enlarge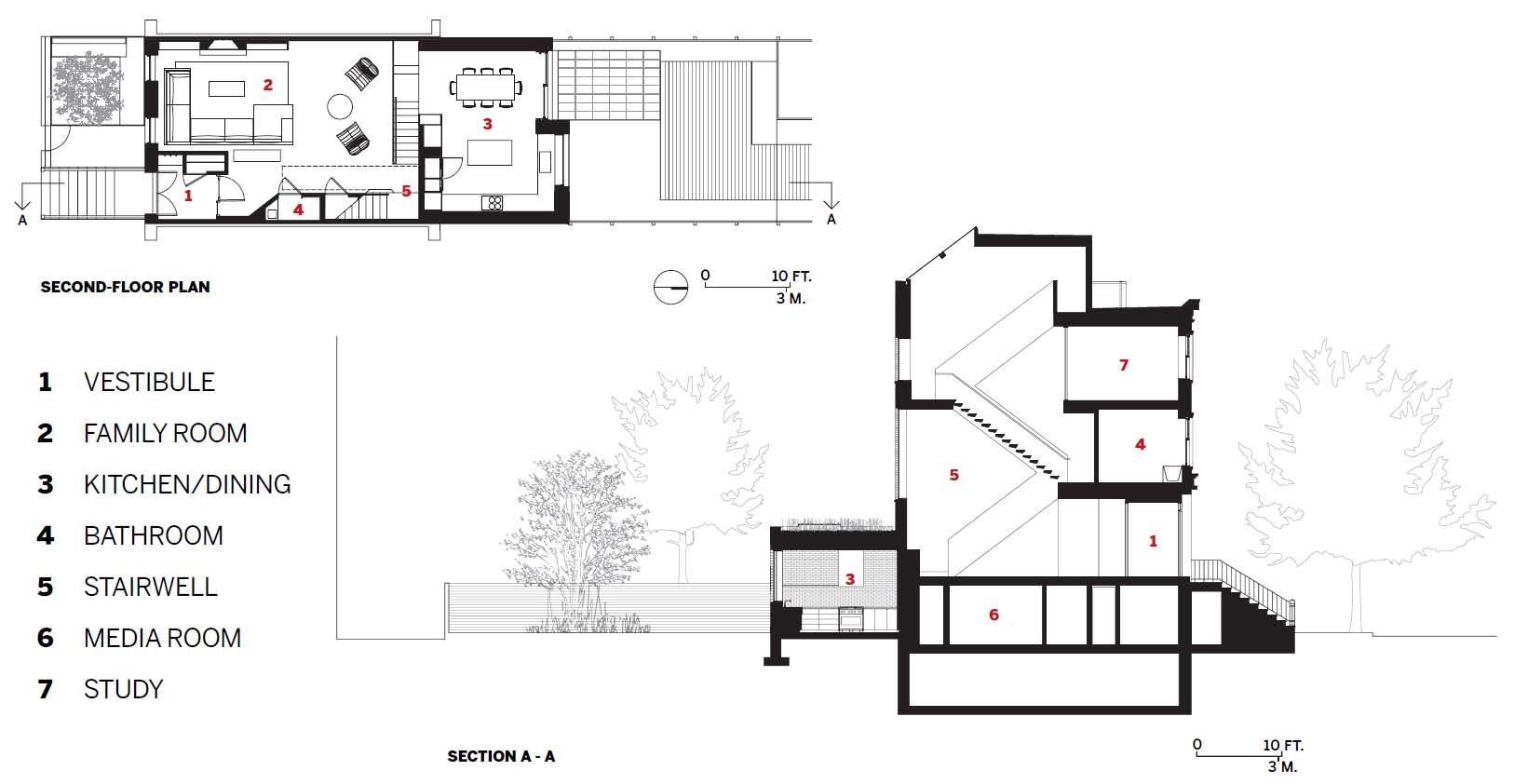 Credits
Architect:
Light and Air (L/AND/A) — Shane Neufeld, principal and project architect; Jacky Hoang, designer
Engineers:
Ivan Luk (structural); ANZ (m/e/p)
Consultant:
Elevations Landscape Design + Build (landscape)
General Contractor:
Black Square Builders
Size:
3,800 square feet
Cost:
$1.8 million
Completion Date:
July 2022
Sources
Masonry:
Glen-Gery
Windows:
Marvin, Foster
Skylights:
Velux
Doors:
Upstate Door (front door)
Hardware:
Omnia (locksets)
Interior Finishes:
Henrybuilt (kitchen); Propylaea Millwork; Madera Surfaces (wood floor); Heath, Nemo, Concrete Collaborative (floor/wall tile)
Lighting:
Lambert & Fils (pendant); Bega (exterior)