✕
A striking new public artwork is coming to Houston. Mayor Sylvester Turner announced on July 12 that artist-architect Riccardo Mariano's Arco del Tiempo ("Arch of Time"), which expands Houston's clean energy infrastructure, will be installed in 2024.
Sited in Guadalupe Park at the northwest corner of Houston's Second Ward, this monumental steel canopy—100 feet tall and 164 feet wide—will function as a gateway to the neighborhood and accommodate performances and cultural events. As its name implies, Arco del Tiempo also operates as a timepiece—inspired by, and inverting, the logic of the sundial. While in a traditional sundial, a vertical element casts a shadow relative to the sun, the geometry of Mariano's arch is defined by solar movements, with 11 glazed apertures positioned to allow sunlight to pass through each at a given time of day.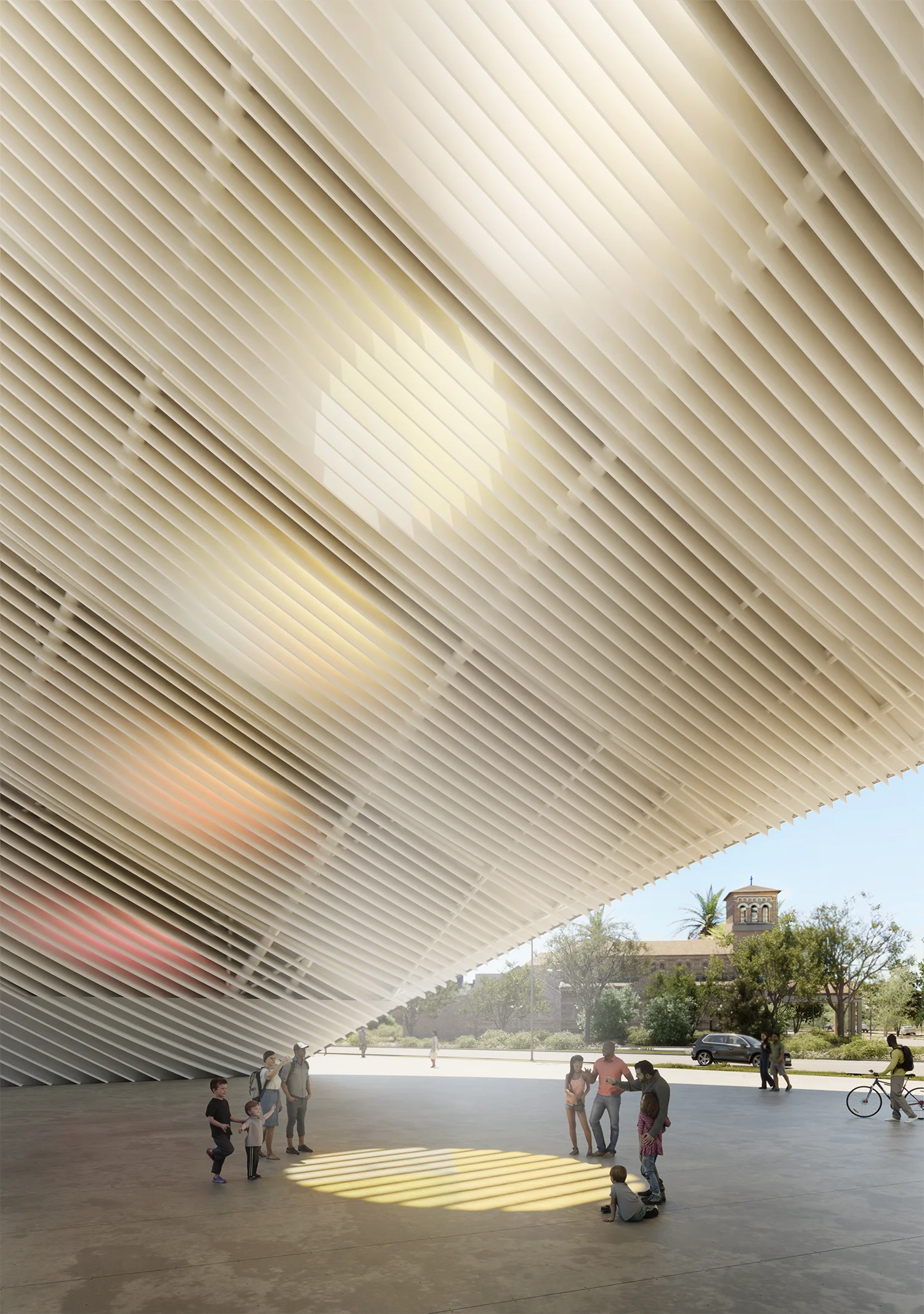 Differently positioned apertures in the steel canopy allow sunlight to pass through throughout the day. Image courtesy LAGI
The canopy's south-facing exposure features 21,500 square feet of photovoltaic modules that will generate approximately 400 megawatt-hours of clean electricity per year—the combined energy demand of 40 average American homes—offsetting the structure's embodied carbon footprint. This electricity will entirely power the Talento Bilingüe de Houston, a performing arts center that caters to the city's Latino communities and is housed in an adjacent city-owned building. According to the mayor's office, Arco del Tiempo will be the world's first energy net-positive public artwork.
Mariano's design was first conceived for the Land Art Generator Initiative's (LAGI) 2019 Dubai net-positive public art competition. This open call was one of many that LAGI—a nonprofit founded by renewable energy proponent Elizabeth Monoian and architect Robert Ferry to increase the world's renewable energy sources through art and design—has coordinated since 2008. Through these events, the organization amassed thousands of entries, and it has now partnered with the city of Houston to realize one of them.
"[A]ll the energy that went into [Arco del Tiempo's] making…will be offset through the energy it generates," said Monoian in a statement. "Beyond its break-even point, which we will track and celebrate with the community, the artwork will be a net-positive contributor to a healthy climate."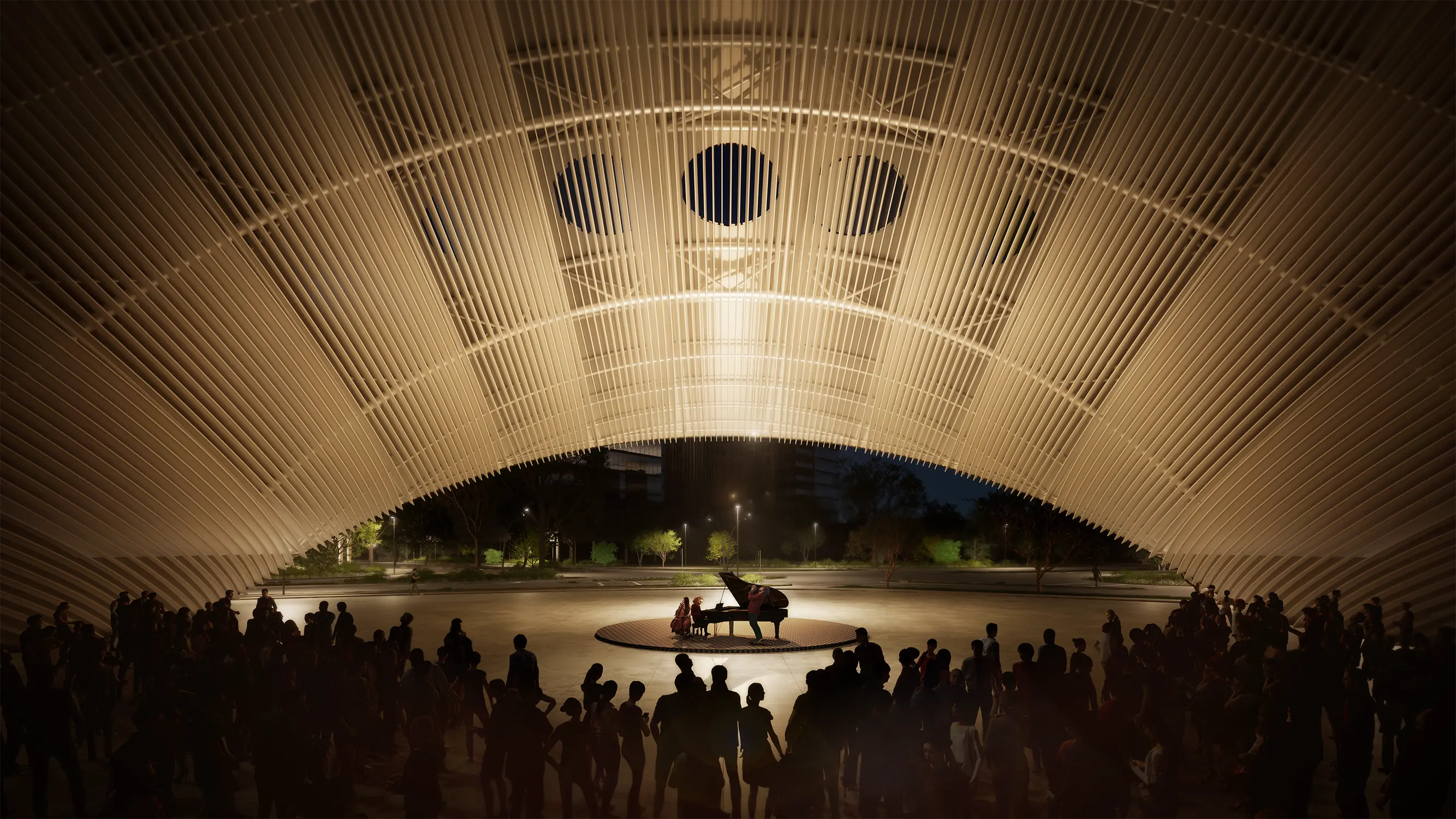 Archo del Tiempo will host performances and cultural events. Image courtesy LAGI
The Second Ward is one of ten communities that Turner's administration "identified as focus areas for work across private, public, and nonprofit sectors to overcome economic, environmental, and equity challenges," according to LAGI. Arco del Tiempo aims to support many of the goals outlined in the Second Ward Complete Communities Action Plan, such as erecting a "recognizable symbol" that connects the neighborhood to the nearby Buffalo Bayou Park, which stretches across the city and marks the Second Ward's northern boundary. The park was recently redeveloped as part of Houston's ongoing flood resiliency strategies following Hurricane Harvey, and the city anticipates that Mariano's intervention will spur future development along the bayou's edges.
Arco del Tiempo builds on public art and architecture projects that Berlin-based Mariano, who previously won the Bloomberg Philanthropies' Public Art Challenge, has pursued independently over the last decade. Mariano is also a member of Studio Olafur Eliasson, where he has worked on large-scale outdoor sculptures, including Atmospheric Wave Wall for Chicago's Willis Tower (2020), Overdeepening for Seoul's Amorepacific Museum of Art (2018), and Waterfall for the Gardens of Versailles (2016)—a waterfall that seemingly begins in midair, supported solely by a slender tower.