✕
"Sport is a theme that goes back a long way for us," says architect François Chas, one of four partners who head Paris-based NP2F. "In 2014, for example, we organized an exhibition on the relationship between sport and the city in Paris and its suburbs, an alternative prism through which to read the urban condition." Two years later, when the city of Bordeaux approached the firm to design a sports complex in its new Brazza district, the lessons learned researching the show proved invaluable. "We surveyed all 17,000 of the Paris region's sports facilities," continues Chas, "and it transpired that an awful lot of them are closed-off spaces that turn their back on the city and stink of stale sweat and musty socks." In Bordeaux, in contrast, light, air, and openness are pushed just about as far as they can go.
Located at the northeastern edge of Brazza on a former industrial site on the banks of the River Garonne, the 66-foot-high UPCA Sport Station piles up five levels of disparate activities ranging from aerobics, bodybuilding, and rock climbing, to squash, the racket sport padel, and a golf driving range—the latter installed on the roof, its chain-link netting signaling the building for miles around. Intended as a leisure destination where you might spend the day, the complex also includes a ground-level restaurant and a rooftop bar, while 13,500 square feet of retail space, programmed in the Brazza-district master plan, occupies one end of the first floor. Constructed entirely in concrete (the only technology that could supply the required strength and spans within budget), the building's skeleton takes the form of cast-in-place columns and beams carrying prefabricated floors—a sparing use of the material in keeping with NP2F's Lacaton & Vassal–inspired goal of doing more with less. In the same spirit, and given that most sports can be played outdoors, the Station's frame is left largely open to the air (just like the next-door parking garage), with only one third of the roughly 170,000-square-foot floor area being enclosed and fitted with HVAC. The benefits are immediately obvious: vastly reduced energy consumption, lower taxes for both developer and operator (the "outdoor" parts remain unlevied), and a direct (and rather spectacular) relationship with the cityscape for both users and passersby.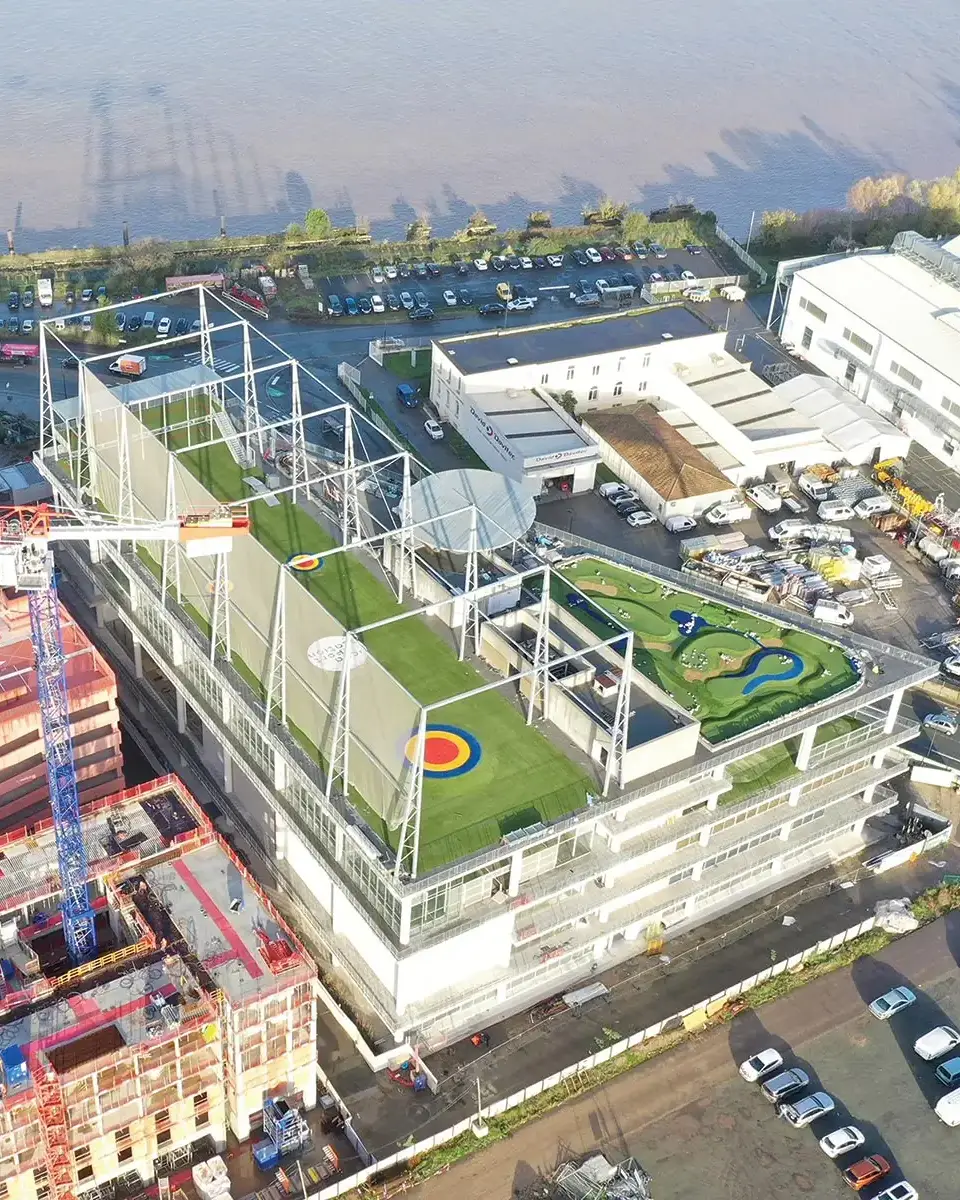 1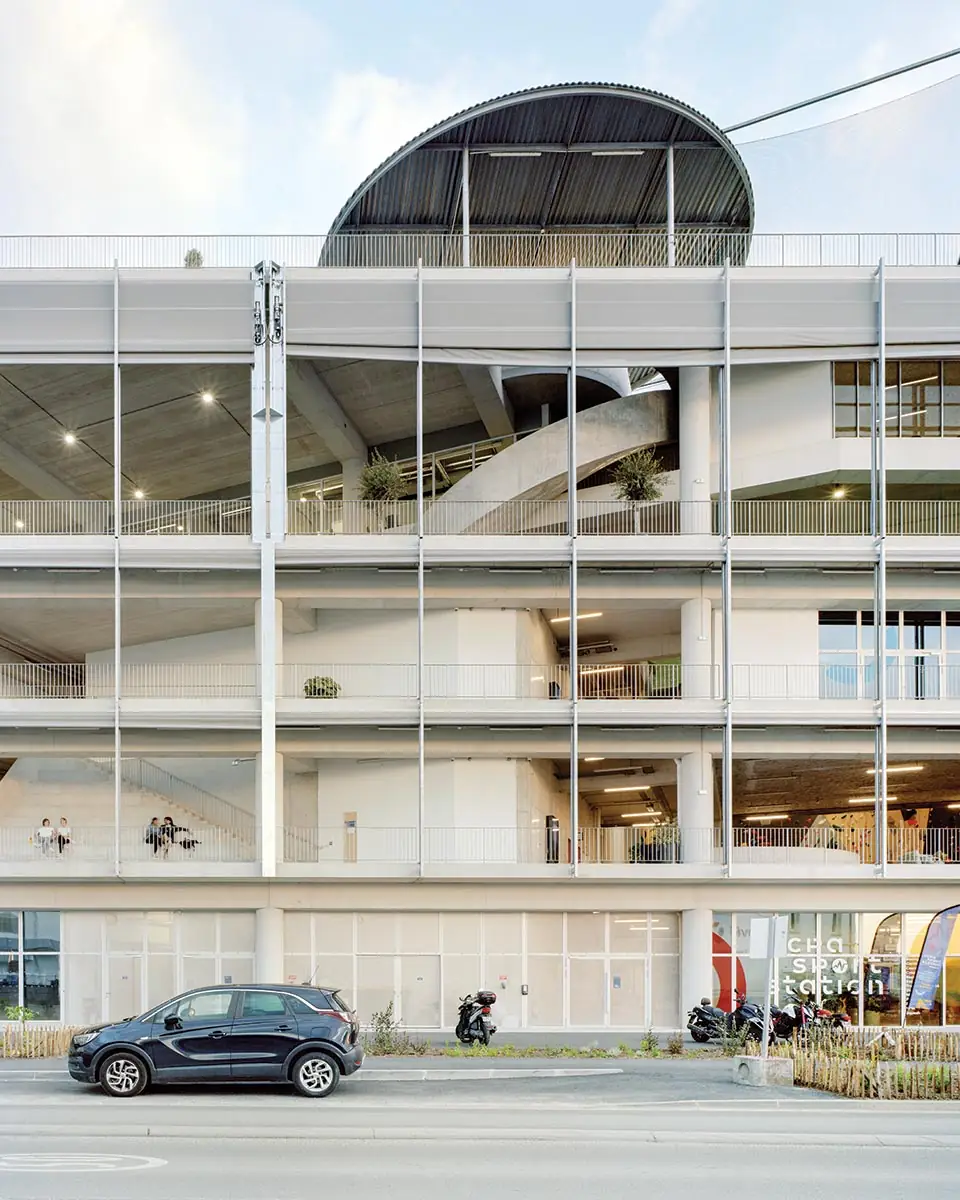 2
A net-enclosed driving range and wedgeshaped putting green top the complex (1); street view of the facility (2). Photos © Hadrien Picard-Corentin Linares / UCPA (1) Maxime Delvaux (2), click to enlarge.
As is nearly always the case, such apparent simplicity is highly deceptive. NP2F spent a whole year trying out different configurations with the operator, UCPA (the Union Nationale des Centres Sportifs de Plein Air, a nonprofit organization that runs affordable sports facilities across France), who tested them for financial feasibility. It soon became apparent that the rock-climbing facility had to be accessible from the ground floor, meaning that, since it rises through three stories, the only place to put the padel courts, which require significant space, was on the top floor (which is consequently taller). There was also the question of wind and rain, which can blow upriver from the Atlantic in powerful gusts. Turning to agricultural technology, NP2F adapted a system of motorized plastic-mesh blinds that significantly reduce air and moisture flow when lowered and are programmed to rise automatically in the event of fire. Though the building is planned on a regular grid, the site, whose perimeter it follows, is wedge-shaped, one of several factors that turn a simple frame structure into a far more interesting proposition. "What better way to show that this rather systematic piece of infrastructure is capable of containing everything than by giving some of the internal features their own distinct character?" asks Chas. Curvaceous concrete stairs, a set of concrete bleachers, and careful sculpting of the voids all contribute to the rich spatial experience.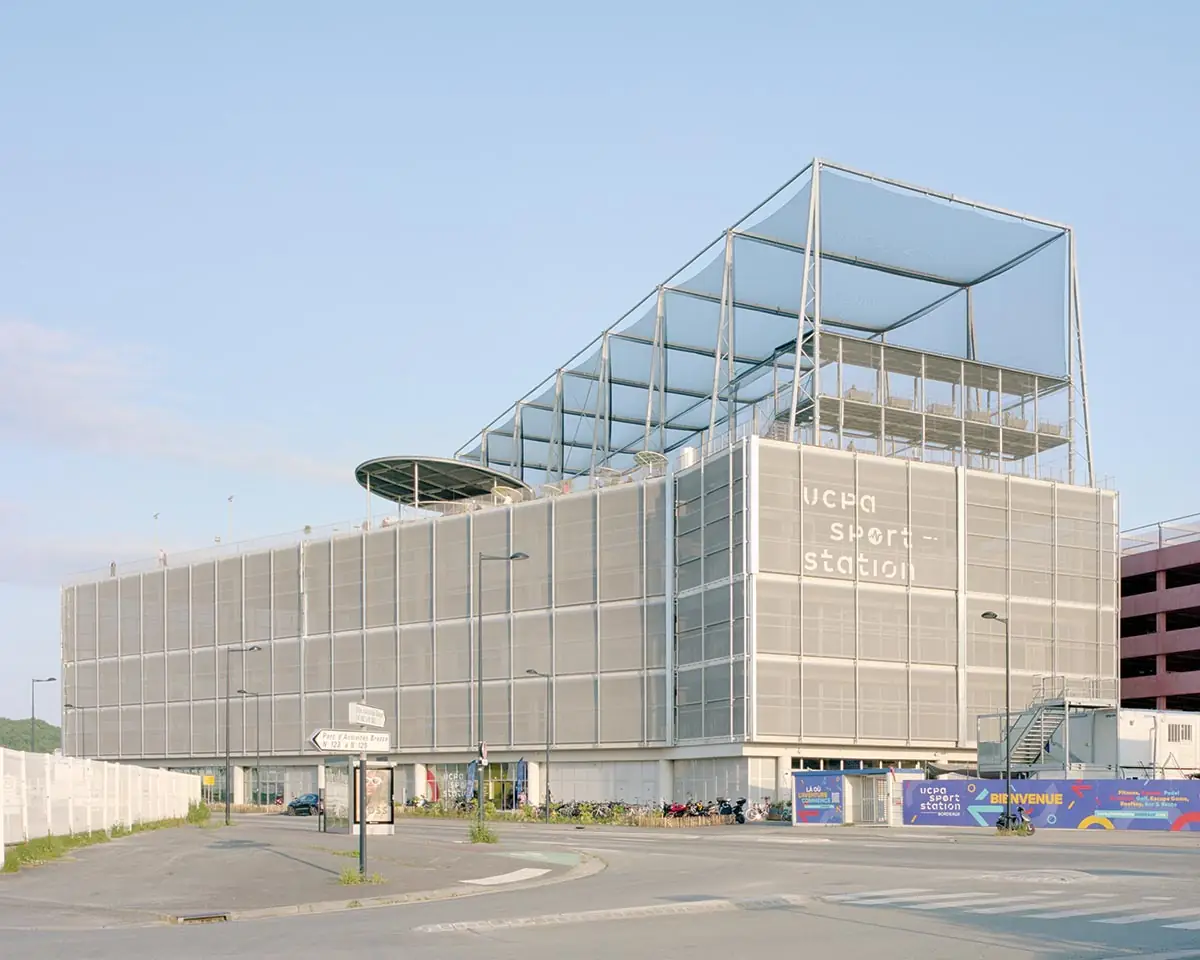 Motorized plastic-mesh blinds can be opened and closed based on weather conditions (above and top of page). Photo © Maxime Delvaux
The facility features 10 padel courts. Photo © Maxime Delvaux
Unlike fellow French firm Bruther (Design Vanguard, 2017), whose work this building may superficially resemble, NP2F are not maniacal minimalists going to extreme lengths to produce an illusion of pure structure. Instead they prefer a rather Ruskinian honesty: materials are all exposed for what they are, while HVAC and downspouts run free, even if they're carefully controlled by the architects to avoid the visual mess that can result from leaving contractors to their own devices. Indeed, if this decidedly experimental project was possible at all, it's because both contractor and operator were on board right from the start. The scheme was piloted by construction giant Vinci through its real-estate arm, ADIM, which works exclusively with Vinci subsidiary GTM Bâtiment, while NP2F brought in UCPA, with whom they had collaborated on the 2014 Paris exhibition. Only in this way could a building so soigné—the beautifully finished concrete, or details such as the one noncylindrical column that splits to allow access to the padel courts—be pulled off for just $21.3 million.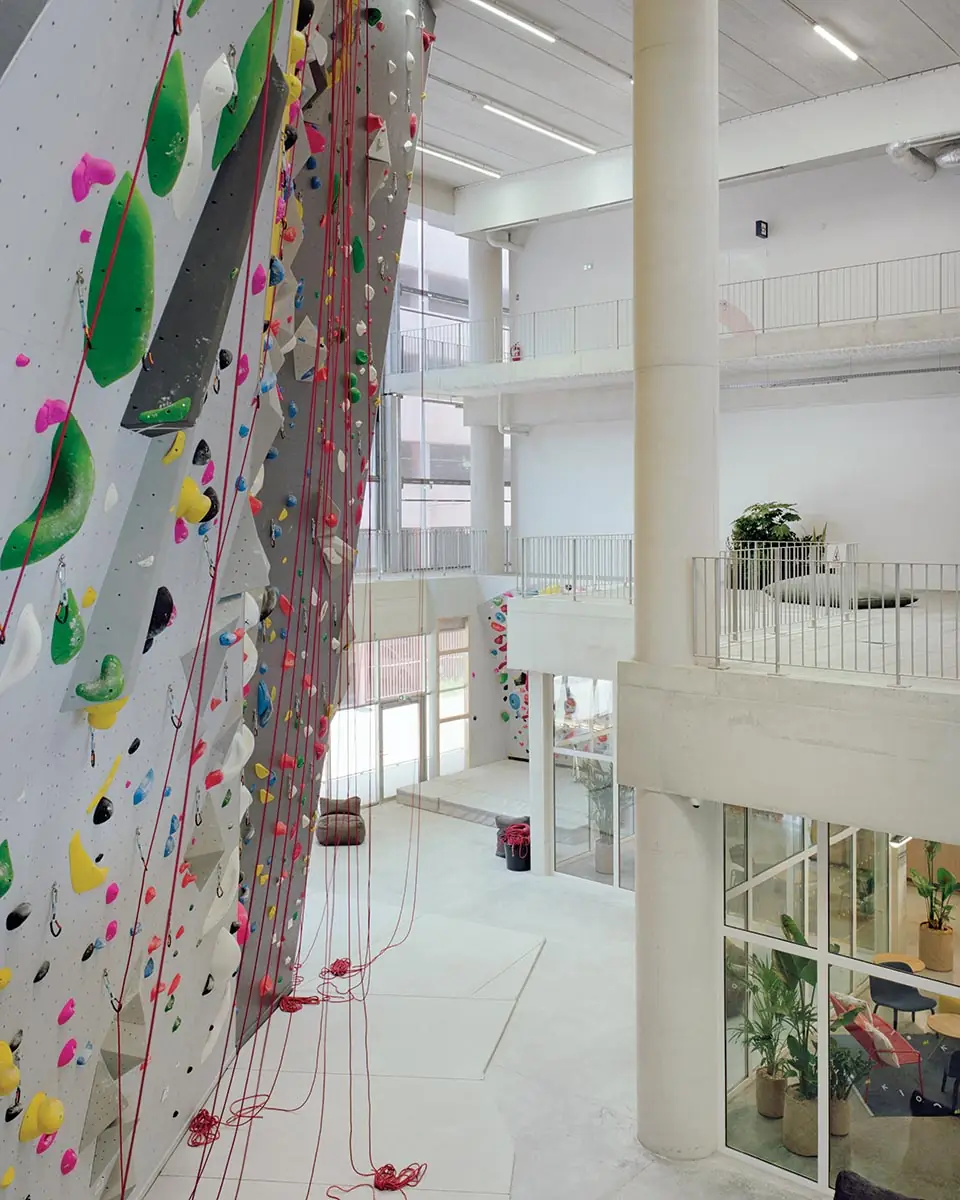 3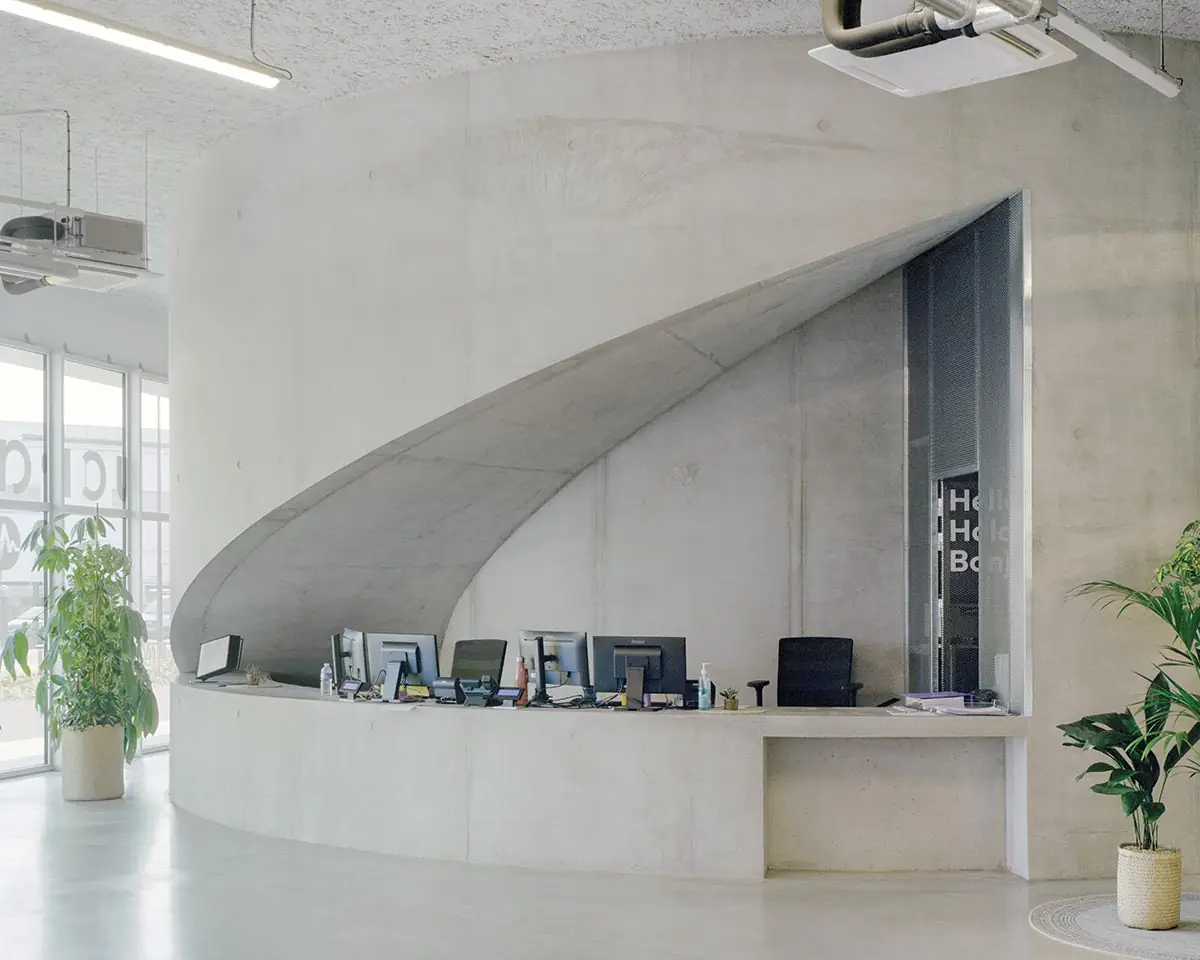 4
A climbing wall (3), reception desk (4), and main staircase (5) are located on the first level. Photo © Maxime Delvaux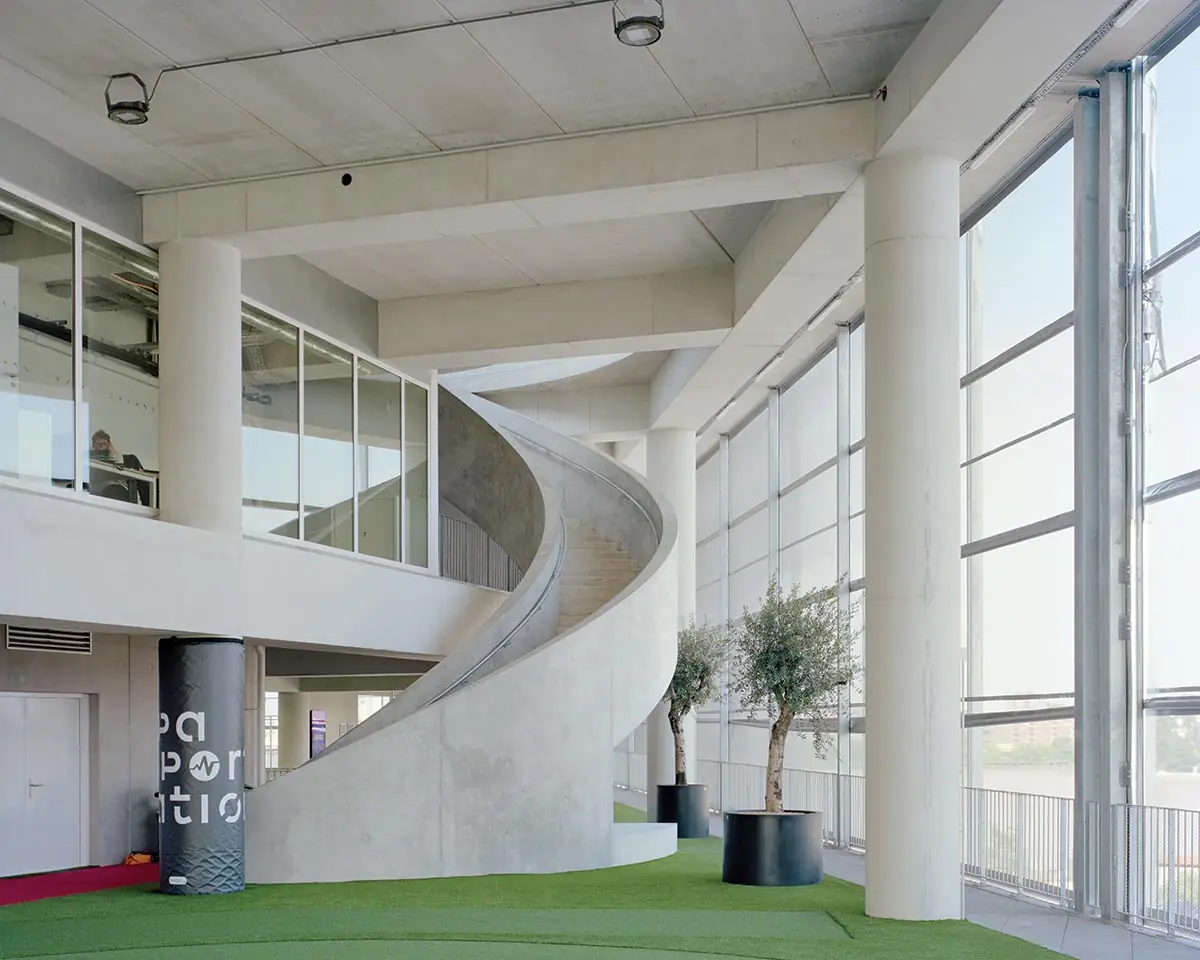 5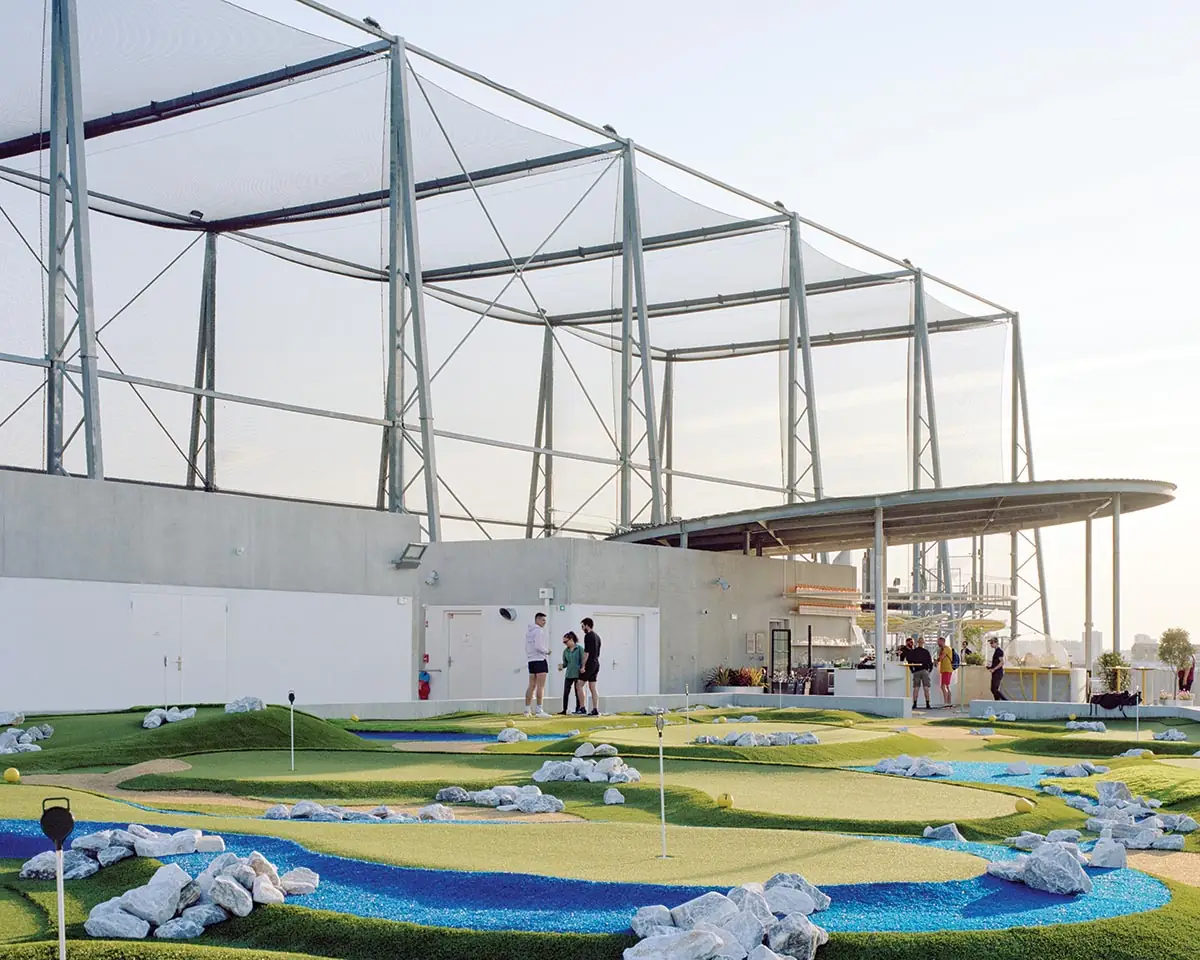 The nine-hole rooftop mini-golf course with an outdoor bar is a destination in itself. Photo © Maxime Delvaux
Some of the references here are obvious: Rem Koolhaas's chapter on the Downtown Athletic Club in Delirious New York and Herzog & de Meuron's 2010 parking garage at 1111 Lincoln Road in Miami. Others are perhaps less expected, such as Lina Bo Bardi's 1986 SESC Pompéia in São Paulo, or downright obscure, like Gian Carlo Gasperini and Salvador Candia's 1964 Galeria Metrópole, also in São Paulo. All have in common the idea of mixed programs deployed in spaces that are not overly defined—spaces that, like a public square, can host all sorts of activity. But the UCPA Sport Station also harks back to precepts of interwar hygienist thinking, as set out in Sigfried Giedion's celebrated 1929 book Befreites Wohnen. Licht, Luft, Öffnung (Liberated Living. Light, Air, Openness)—only here, glass, the miracle material of modernity, has been eschewed in the context of climate change. Looking to produce "open buildings that allow life to happen, rather than closed buildings that enforce their way of doing things," as Chas puts it, NP2F hope to push this approach much further in the future, rolling out ever more innovative and surprising programmatic combinations.
Click graphic to enlarge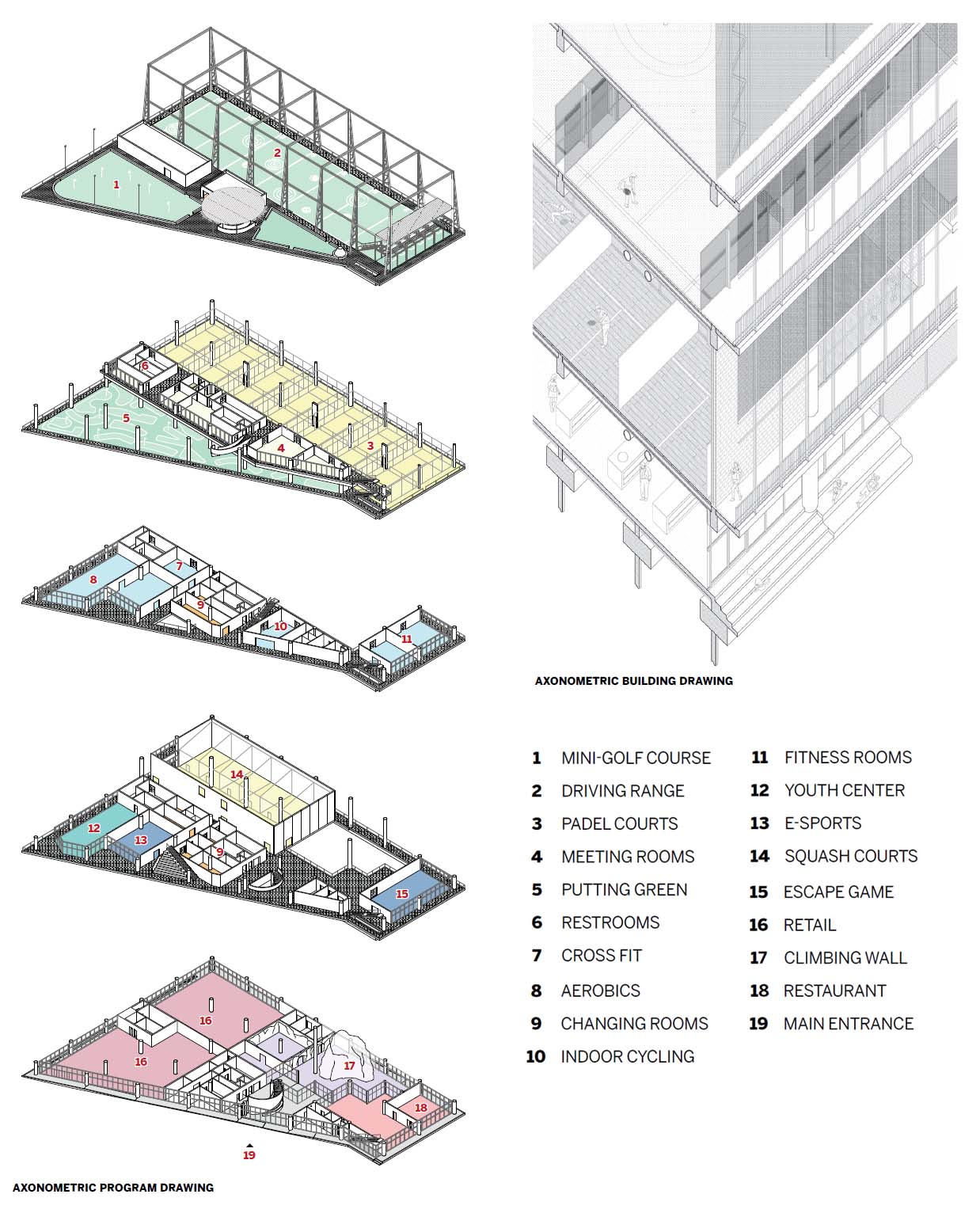 Credits
Architect:
NP2F architectes — Nicolas Guérin, Paul Maître-Devallon, Fabrice Long, François Chas, project leaders; Ana Miscu, Thomas Guilbaud, Marc-Aurèle Rondot, project team
Engineers:
Vivalto (structural); Bollinger+Grohmann (structural framework); Artelia (m/e); VPEAS (cost)
Interior Equipment:
UCPA and partners
General Contractor:
GTM
Client:
NFU, ADIM Nouvelle Aquitaine
Size:
169,400 square feet
Cost:
$21.3 million (construction)
Completion Date:
April 2023
Sources
Windows:
Wicona
Doors:
Tormax (automatic sliding); Malerba (metal)
Prefabricated Concrete:
Viguetas Navarras