✕
Thierry W. Despont, the French architect of eclectic classicism and bon vivante behind lavish houses, died unexpectedly in Southampton, New York, on Sunday, August 13. He was 75.
Born in Limoges, France, to an architect father, Despont studied at the École Nationale Supérieure des Beaux-Arts in Paris and graduated in 1972, after the late-1960s upheaval there. He went on to earn a Master of City Planning in Urban Design from Harvard University, and once out of school, Despont joined the New York office of British architects Lewellyn-Davies, where he worked on the redesign of Tehran's city center for the Shah of Iran.
In 1980, he established the Office of Thierry W. Despont in Manhattan, where the practice still operates. A few years later, his appointment as the associate architect of the centennial restoration of the Statue of Liberty (the plinth of which had been designed by American architect Richard Morris Hunt) proved pivotal, offering valuable experience working within the rigid constraints of landmarked buildings and historic structures. The commission was the first in a long list of similar projects, including the restoration of Clayton (the Frick family mansion) in Pittsburgh, sweeping renovations to the Ritz in Paris, and the adaptive reuse of Cass Gilbert's Woolworth Building in downtown Manhattan, where Despont transformed 30 office floors into high-end apartments.
Despont's fluency in a wide range of traditional architectural languages earned him a reputation as a go-to designer and tastemaker for an immensely wealthy clientele longing for private residences steeped in history. "My practice is devoted to the design of houses, not shelters or 'machines for living,'" he once wrote in a monograph. "I have come to understand that the purpose of residential architecture should be the evocation of memories, individual memories of the patrons for whom houses are built and collective memories of our cultural past." Over time, he assembled an impressive dossier of house clients, including Conrad Black, Annette and Oscar de la Renta, Millard "Mickey" Drexler, Bill and Melinda Gates, Calvin Klein, the Niarchos family, and Les Wexner.
Other of the firm's projects, such as Ralph Lauren's flagship boutique in London and the Cartier Mansion on Fifth Avenue, evoke the intimate character of his residential work. On the West Coast, he designed the interior galleries of the Getty Center, softening the hard-edged modernism of Richard Meier. And with Marvel, his practice breathed new life into the 1909 Battery Maritime Building for Casa Cipriani (RECORD, June 2021).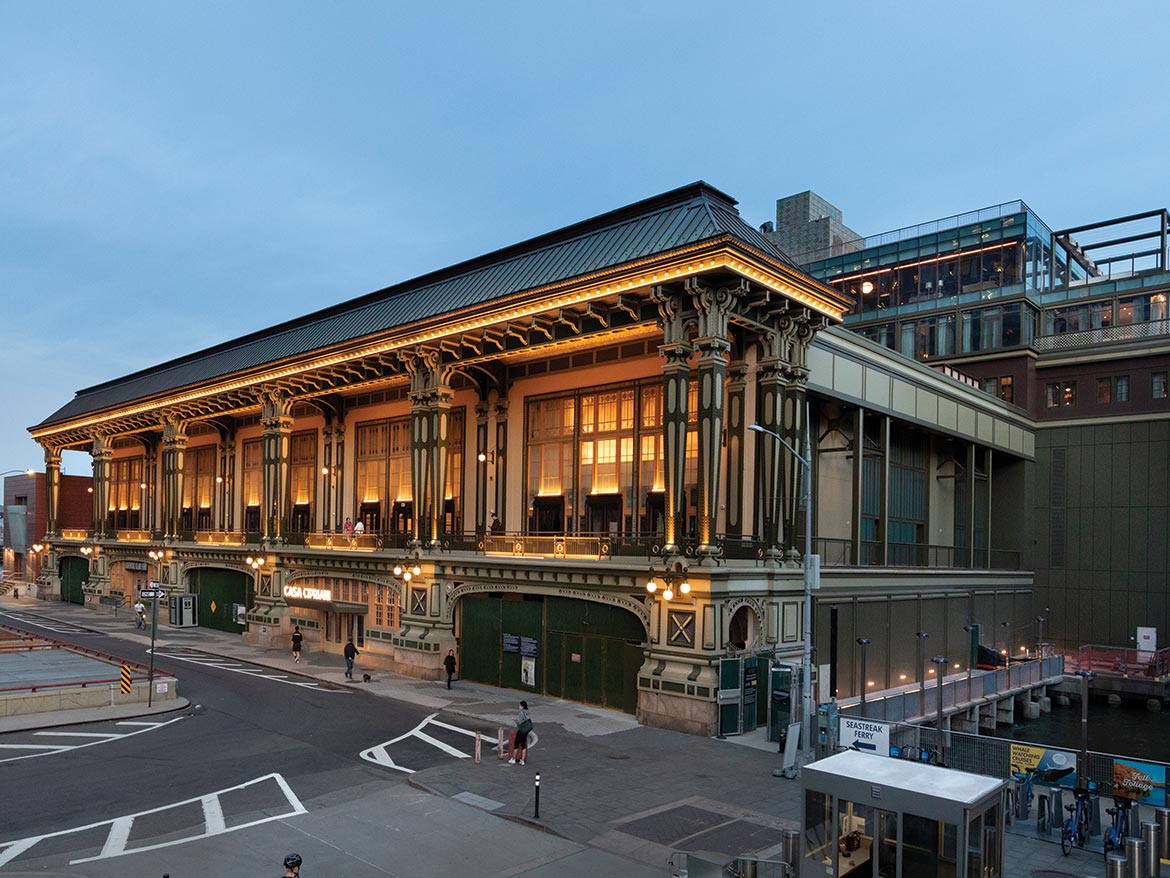 Exterior of Casa Cipriani at the historic Battery Maritime Building in Lower Manhattan. Photo © David Sundberg/Esto
The firm also waded into the waters of New York's high-end supertalls, undertaking the interiors of 53 West 53rd, designed by The Ateliers of Jean Nouvel, and 220 Central Park South, designed by Robert A.M. Stern Architects (RAMSA).
RAMSA partner Paul Whalen, in his capacity as chairman of the board of the Sir John Soane's Museum Foundation, honored Despont's achievements at that organization's 2019 Visionaries Gala. "The sophistication he brought to both architecture and interior design was rare in the profession. He thought of the two as deeply intertwined," Whalen told RECORD. "Memorably, he had an enormous desk in his office that was always covered in his sketches—in Beaux-Arts fashion, he was constantly drawing and refining."
In addition to leading his architecture practice, Despont was a Chevalier de la Légion d'Honneur, a charter member of the American Institute of Certified Planners, and an accomplished artist in his own right. He maintained a longstanding partnership with the Marlborough Gallery, where he displayed otherworldly pieces, from abstract astronomical paintings to sculptures of insects fashioned out of found objects. Despont also amassed a considerable real estate portfolio with multimillion-dollar properties.
In a statement, the firm announced that it would "continue under the guidance of his talented and passionate team, who, for the last three decades, have been an integral part of creating and bringing his visions to life. With unwavering commitment, they will ensure that his spirit will continue to be present in every concept, every architectural project, and every design endeavor embarked upon by the team."
He is survived by his wife Barbara von Bismarck, and children Catherine and Louise, and stepsons Konstantin and Alexander.