✕
For over three years, the restaurant Xokol in Guadalajara operated out of a no-frills 890-square-foot space in the working-class neighborhood of Santa Teresita, serving some of the most exciting, sophisticated, and deeply rooted cooking anywhere in Mexico. Chefs and owners Xrysw Ruelas and Oscar Segundo had a total of five staff members, 20 seats, and a loyal clientele that, over time, came to include neighbors and visitors; artists, architects, and designers; carpenters, ceramists and, of course, fellow cooks. Their food, from the surprising and elaborate to the deceptively simple—a sweet-and-sour apple mole, say, or a pale-yellow tortilla folded over a tangle of wild garden greens—spoke to the concentric circles of community that make projects like Xokol possible: farms and farmers (foremost among them Segundo's own family in Mexico State, 230 miles southeast of Guadalajara), city and neighborhood, clients and friends.
By 2019, though, Xokol had outgrown itself. "Projects like ours should always be evolving," Segundo says, and, so, when he and Ruelas, who grew up in Guadalajara, found a 2,280-square-foot space for rent less than a block from the restaurant, they drew on the communities that had made Xokol a success to bring the project to life. That process began with architects and longtime clients Alejandro López, principal at Guadalajara-based firm ODAmx, and Rubén Valdéz, originally from Guadalajara, who runs his eponymous practice out of Lausanne, Switzerland. "We'd always appreciated sitting at the bar, seeing the complex processes that went into the food," says López, "and that experience was the center of the project we ended up developing together."
1
2
An entry porch (1) and art-filled patio (2) round out the spaces. Photo © Rafael Palacios, click to enlarge.
Used previously as a tenement, a ceramics factory, and a modest neighborhood eatery, the space was awkwardly divided by columns, walls, and false ceilings, which Váldez and López stripped away while leaving the marks of beams and archways as testaments to the building's past lives. They coated the walls in hand-mixed black plaster and selected black concrete tiles from a small local workshop for the floors, turning the room into "a very discreet canvas" that would highlight the work of the kitchen, Valdéz says, "a catalyst for the collective ritual of eating." They aimed for equal discretion as part of the neighborhood by leaving every scratch and piece of graffiti on the aluminum storefront gate intact. By day, when Santa Tere is at its most active, Xokol, which opens only for dinner service, disappears into the urban landscape of textile shops and small factories.
3
4
A single long table dominates the main space (3), where diners watch the cooks at the comales (4). Photo © Rafael Palacios
Inside, the architects split the space down its central axis, dedicating one half to an illuminated open kitchen and service area and the other to a 50-foot communal table, handmade from oak and coated in black mineral oil by the Guadalajara-based carpentry studio Joselo Maderista. Lined with 42 seats, and illuminated from above by a narrow track of light sandwiched between slender steel plaques—the fixture, like almost everything else in the restaurant, was made to measure—the table is a sculptural statement and a humble nod to the banquet tables at village celebrations thrown together from planks of wood and sawhorses. The black steel partitions that separate the restaurant from the street are elegant and austere, but also a direct "quotation" of the plywood boards that shield patrons of old-school cantinas from prying eyes.
Dried ears of corn hang from the ceiling. Photo © Rafael Palacios
Against that austere backdrop, a handful of more "literal gestures," as Valdéz puts it, connects the space to the rural culinary landscapes that inspire Ruelas and Segundo's cooking. Dried ears of corn from Segundo's family's milpa (the ancient system of small fields that continues to shape Mexican food ways) hang from the ceiling on lengths of twine like an inverted Bertoia sound sculpture, and, on the back wall, a portrait of Segundo's grandmother painted by street artist Trepo Parker overlooks the table. Four functioning comales—clay cooking surfaces essential to Mesoamerican cuisine, in this case crafted by Oaxacan artisan Amado Ramires Leyva—greet guests upon entering. "In the old Xokol, we couldn't give the comales the space and dignity they deserve," Ruelas says.
For all its theatricality, Xokol's new home also maintains—even insists upon—the horizontality and transparency that have always defined Ruelas and Segundo's project. Strangers sit by strangers; lean away from your dining companion and you'll disappear into a deep penumbra. The chefs themselves spend much of their time at the communal table, serving and explaining dishes that leave the kitchen on sculptural stoneware and ceramics made by, among others, Makario Ceramica, a workshop in the nearby craft town of Tonalá, and by the Guadalajara studio operated by José Noe Suro, a central figure in the city's vibrant art scene. The gravel-paved patio out back, which will eventually serve as a mediator between the dining room and a rooftop bar, centers on a totem-like statue donated by prominent Guadalajara artist José Dávila. All clients and friends of the restaurant.
"For us, knowing who made the table or the comal is as important as knowing who harvested the corn," Segundo says. Craft, like community, takes many forms.
Click plan to enlarge
Click section to enlarge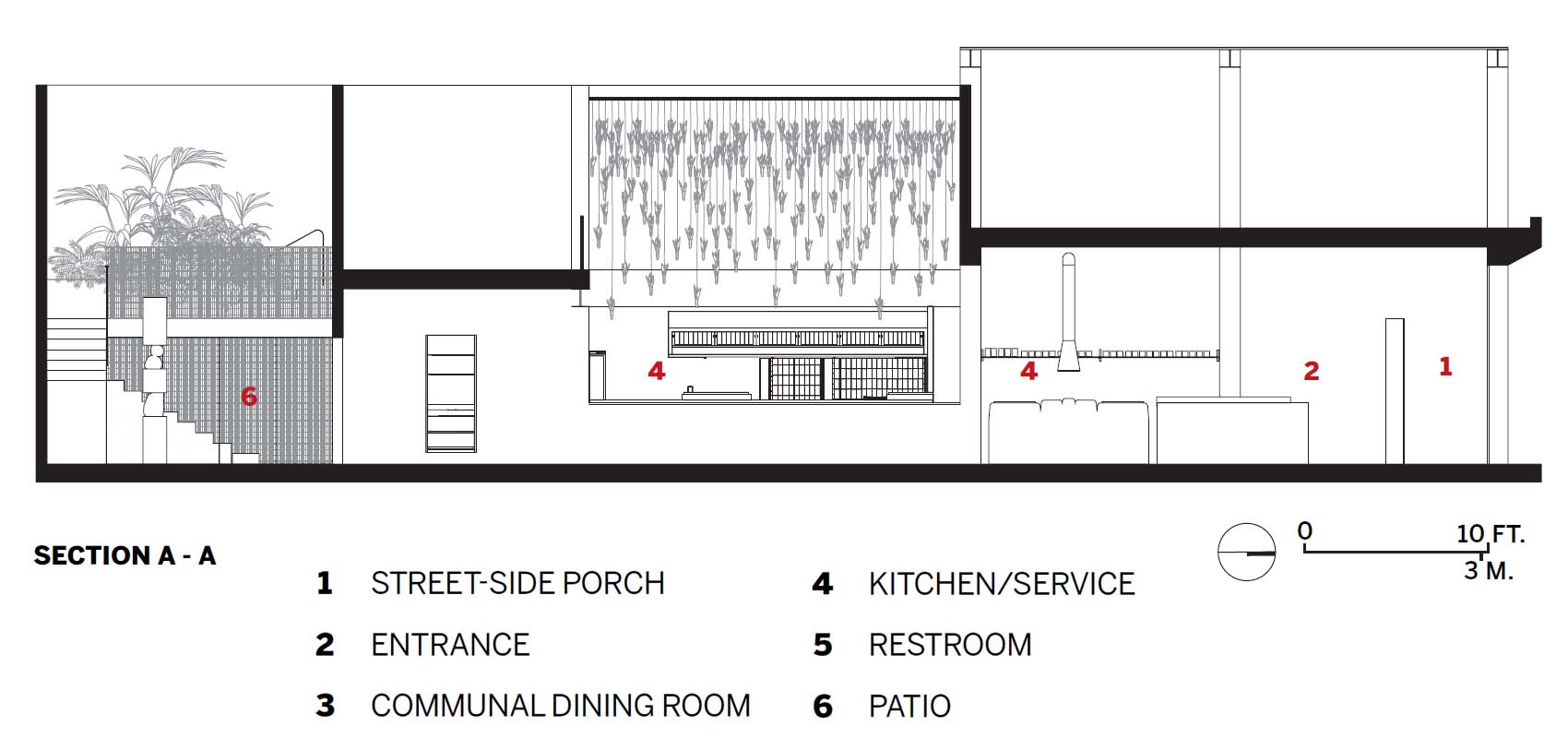 Credits
Architect:
ODAmx & Rubén Valdez Practice
Consultant:
Proinox (kitchen specialist)
General Contractor:
Arktifakt
Client:
José Oscar Casimiro Segundo, Cynthia Xrysw Ruelas Díaz
Size:
2,280 square feet
Cost:
$148,000
Completion Date:
March 2022
Sources
Tiles:
Mosaicos Mooma