✕
In contrast to the prevailing predilection in Manhattan for defining prestige and status through lobbies slathered in gleaming white marble, lit as intensely as an operating theater, the firm Architecture Plus Infor­mation (A+I) assembled a mainly subdued palette of wood, stone, and bronze at Penn 1, a 57-story tower designed by Kahn and Jacobs, adjacent to New York's main rail hub, Pennsylvania Station. Vornado, one of the city's largest commercial owner/manager/developer companies, engaged A+I to rejuvenate the characterless 1972 office tower that had steadily sunk in prestige over the decades.
Working with the architect MdeAS, the firm responsible for upgrading Penn 1's core, shell, and public spaces, A+I made the entry more generous and prominent by moving it a bay and a half into the surrounding public plaza. A small patch of indoor plantings (with targeted downlights) echoes a new plaza garden on the other side of the glass walls.
They reimagined the lobby as more than an entrance. "It has become a social hub," says A+I associate Dina Mahmoud, with workplace amenities added across three floors at 150,000 square feet. To distinguish the varied uses, consultant Lighting Workshop deployed differing light levels and fixtures to set moods for work less rigidly prescribed, more social, and more enmeshed with relaxation. The atmosphere is "warm and comfortable, like a hotel," explains Mahmoud.
1
Hidden lighting glows from fixtures built into shelves (2) and ceilings—bronze (1) and wood (below, 3 & 4). Photos © Magda Biernat, click to enlarge.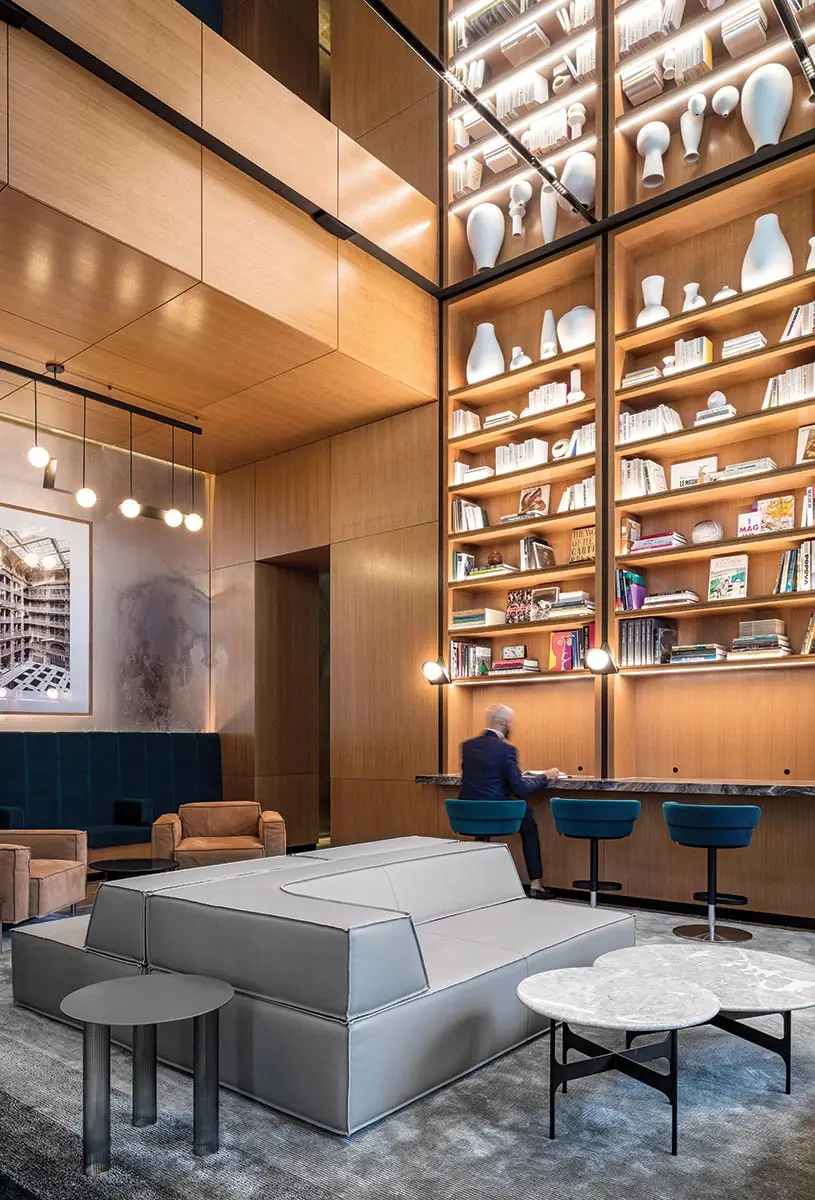 2
The predominant ceiling material is oak-veneered slats, with downlights tucked into the recesses; oil-rubbed bronze wraps columns and beams. By contrast, a cove-lit recessed ceiling acts as a luminous wayfinding strip that guides occupants along the lobby. Cove-mounted wall-grazing strips rake elevator banks faced with creamy, chiseled Spanish limestone. These punchier lighting elements guide visitors whose only goal is to reach their desired floors quickly. Security gates tucked into each elevator bank allow the remainder of the lobby to be treated as a public space.
A+I placed the security counter off to one side. Lit by a bronze-shaded task light, among several custom fixtures designed by Lambert & Fils, it feels like a hotel concierge desk. An inviting corner, wrapped by glossy embossed-bronze wall and ceiling panels, features soft lounge furniture. Uplights, mounted on adjacent glass mullions, highlight the metal pattern. These are augmented by tiny downlights set into the panel intersections overhead.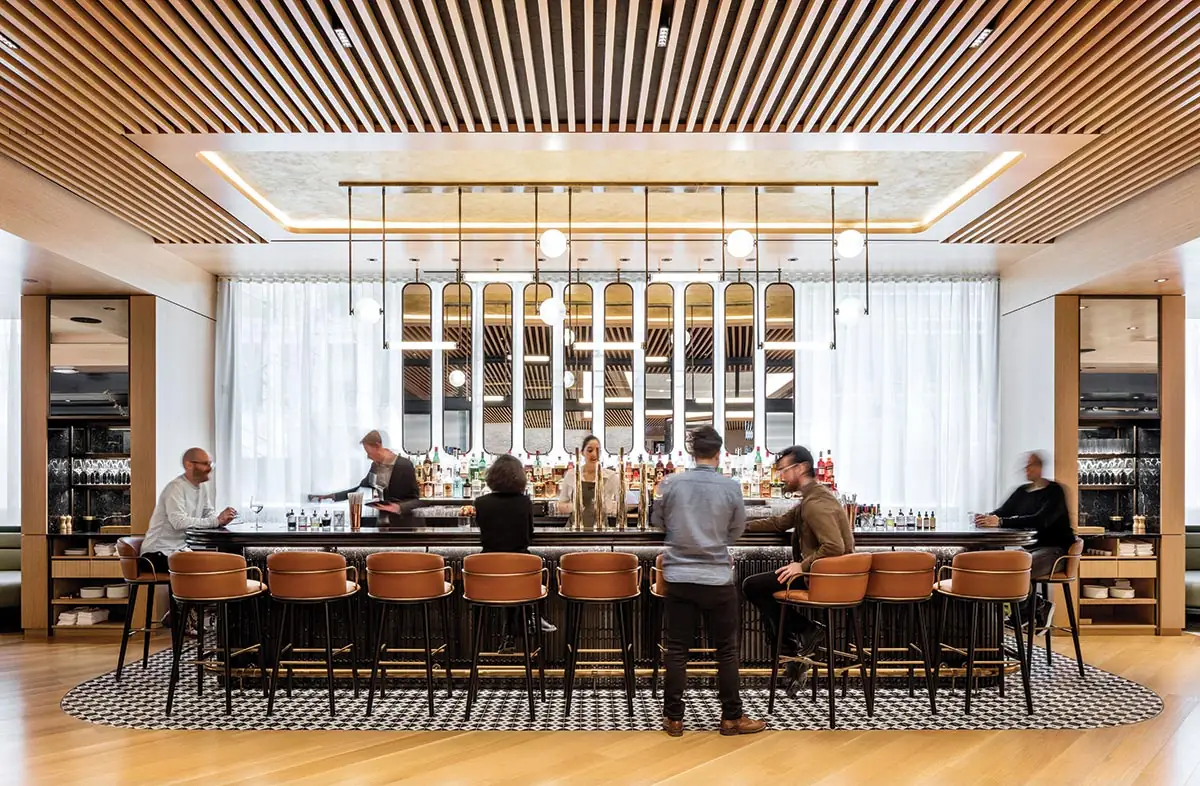 3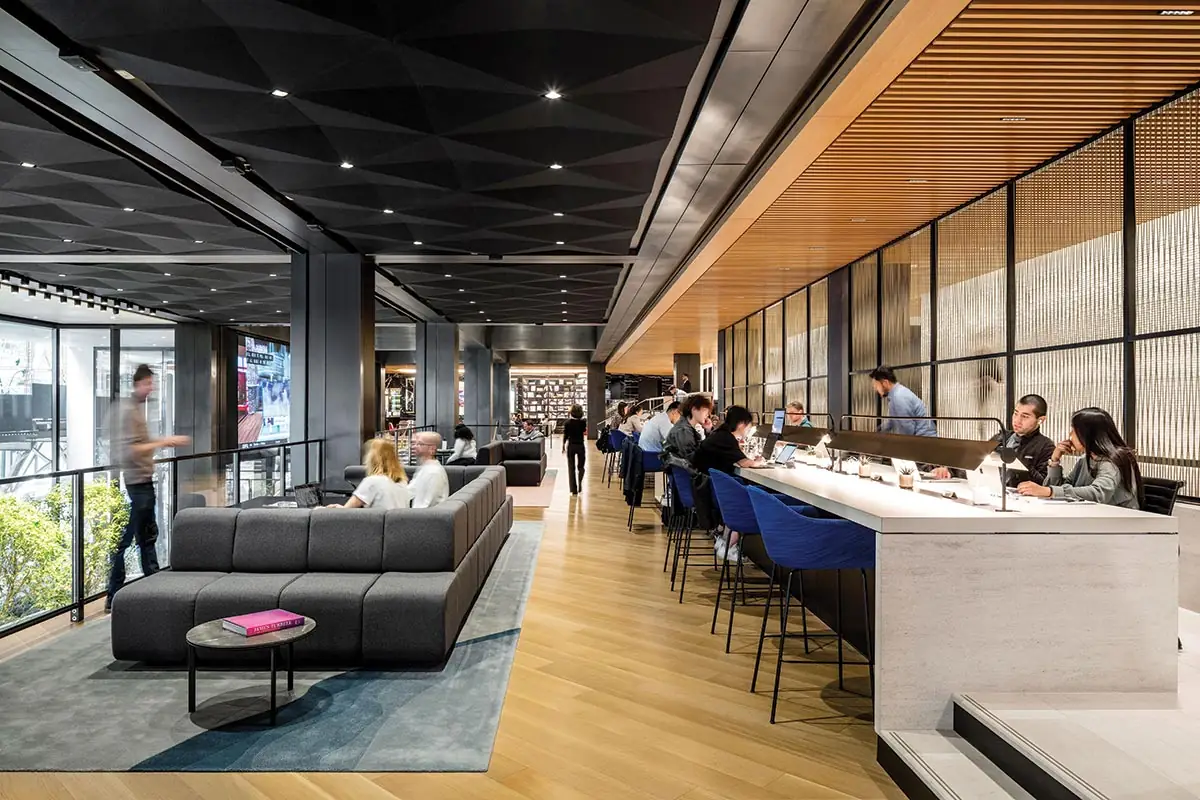 4
"There was always lots of retail at the ground floor, but it all faced the street," says Mahmoud. "Vornado wanted to cater to building users as well," she adds, which is why the glass walls of the Blue Bottle Coffee shop and a grab-and-go outlet called Office Hours open into the lobby as well as the street.
A+I also created a small secondary building entrance through a single passage between one of the elevator banks. Here the architects tucked an intimate semiprivate space called the Library. It is lined with arrays of shelves concealing built-in uplights that gently wash a mirrorlike ceiling to give the impression of a much taller room. The gaps between ceiling panels host recessed downlights. Globe fixtures, which appear throughout the project as accents, here augment task lighting over the desk and hang from a track.
Back in the main lobby, a wide "social stair" (with risers displaying digital art) leads up to a double-height mezzanine—space carved out by removing floor slabs—where bleacher-style seating faces jumbo video screens. Overhead, a tessellated ceiling punctuated by downlights provides ambient overhead lighting and dims to a gentle glow. The space defaults to an after-hours lounge, with a bar and restaurant called The Landing (busy on a recent end-of-workday visit). The terraced space can also be used for events and presentations. A long stone task-lit desk offers tenants an alternative workspace. The ceiling rises another floor, offering a peek into a fitness center and coworking space that are part of the social hub.
The Landing's bar is lively, combining backlit liquor shelves, narrow mirrors, a cove-lit ceiling, and an armature that suspends softly glowing tubes and globes, by Ladies and Gentlemen Studio.
This mix of amenities may be new to Midtown office buildings but is familiar to suburban campuses, where places to gather, work, dine, and blow off steam aim to keep staff in the building at lunch and ease the pain of long hours. At Penn 1, it legitimizes socialization (in hope of aiding idea-sharing).
Designed before the pandemic, Penn 1 may prove well attuned to today's challenged office market. Rethinking the lobby might be one key to luring remote workers back.
Read about other lighting projects and products from our September 2023 issue.
Credits
Architect:
Architecture Plus Information
Lighting Designer:
Lighting Workshop
Engineers:
Severud (structural); AMA (m/e/p); SMW (AV/IT/security)
Consultants:
Jenkins & Huntington (elevator); D3 (AV integrator); Future Green (landscape); Milrose (code)
General Contractor:
Turner Construction
Client:
Vornado Realty Trust
Size:
225,000 square feet
Cost:
Withheld
Completion Date:
September 2022
Sources
Lighting:
Ecosense, i2 Systems, Kelvix, ERCO, Apogee, Lucifer, Lumenwerx, USA Illumination, Viabizzuno, KKDC, B-K Lighting, Bega, Lambert et Fils, Ladies & Gentleman, Allied Maker, Vibia, Roll & Hill, Lutron (controls)
Acoustical Ceilings:
USG, POHL
Custom Woodwork:
PGS Millwork