✕
RECORD's monthly list of upcoming and ongoing exhibitions, events, and competitions. 
Upcoming Exhibitions
Ettore Sottsass 1947–1974
New York
October 26–December 16, 2023
The Friedman Benda gallery in Manhattan's Chelsea neighborhood presents the ninth part of an ongoing series of exhibitions exploring the expansive work of Italian architect and designer Ettore Sottsass (1917–2007). Described as "one of the most significant counterforces to Modernism in design history," Sottsass moved between the disciplines of industrial and furniture design, ceramics, painting, photography, and architecture over the course of his six-decade artistic career. This exhibition focuses on his longtime collaboration with Poltronova, a Florence–based furniture manufacturer, and includes the 7-foot-tall Due Menhir e Grande Fallo (1966), one of only four ceramic triptych columns ever created by the artist. See friedmanbenda.com.
1
2
 Two 1966 works by Sottsass: Due Menhir e Grande Fallo (1) and Mobile Barbarella (2). Photos courtesy Friedman Benda and Ettore Sottsass
Ongoing Exhibitions
Modeling Sound
Los Angeles
Through October 29, 2023
To commemorate Walt Disney Concert Hall's twentieth anniversary, The Getty Foundation, in collaboration with the LA Philharmonic Insight initiative and Frank Gehry, present an exhibition celebrating the realization of the Los Angeles landmark. The free exhibit, on view inside the concert hall itself, showcases six architectural models of the building at various stages of its design to highlight the critical role of modeling in Gehry's architectural practice. An accompanying digital exhibition, Sculpting Harmony, features more than 150 models, sketches, and archival photographs documenting the concert hall's development as well as new research, interviews, and innovative 3D media capture that reveal the multidisciplinary process behind the design. In conjunction with the exhibitions, the LA Phil will mark its 20th anniversary with a talk bringing together longtime collaborators and friends in Modeling Sound: An Evening of Music and Conversation with Frank Gehry and Esa-Pekka Salonen onstage at Walt Disney Concert Hall on October 24.  See laphil.com.
Make Do With Now: New Directions in Japanese Architecture
Copenhagen
Through November 20, 2023 
On view at Halmtorvet 27 as part of the Copenhagen Architecture Festival (CAFx), this exhibition introduces the thinking and projects of a new generation of architects and urban practitioners working in Japan today. Noting the distinct impact of the Great East Japan Earthquake and Fukushima nuclear disaster of 2011, the exhibit demonstrates these architects' range of critical, ecological, and social practices that utilize limited resources and found materials, and work with existing spaces. See cafx.dk.
Darkroom of Educational Modernism: On Form & Function
Berlin
Through January 20, 2024
Since the 1990s, Vancouver and Vienna–based artists Sabine Bitter and Helmut Weber have been visiting, researching, and photographing postwar Modernist educational buildings around the world, among them Mies van der Rohe's Illinois Institute of Technology campus in Chicago, Arthur Erickson's Simon Fraser University in Vancouver, B.C., and the Hermann Hensel-mann collective's Haus des Lehrers. The New Society for Visual Arts presents a selection of the duo's photographs from their long-term project, which critiques the legacy of Modernism by making colonialism, racism, and classism visible in its architectural and ideological products. See ngbk.de/en.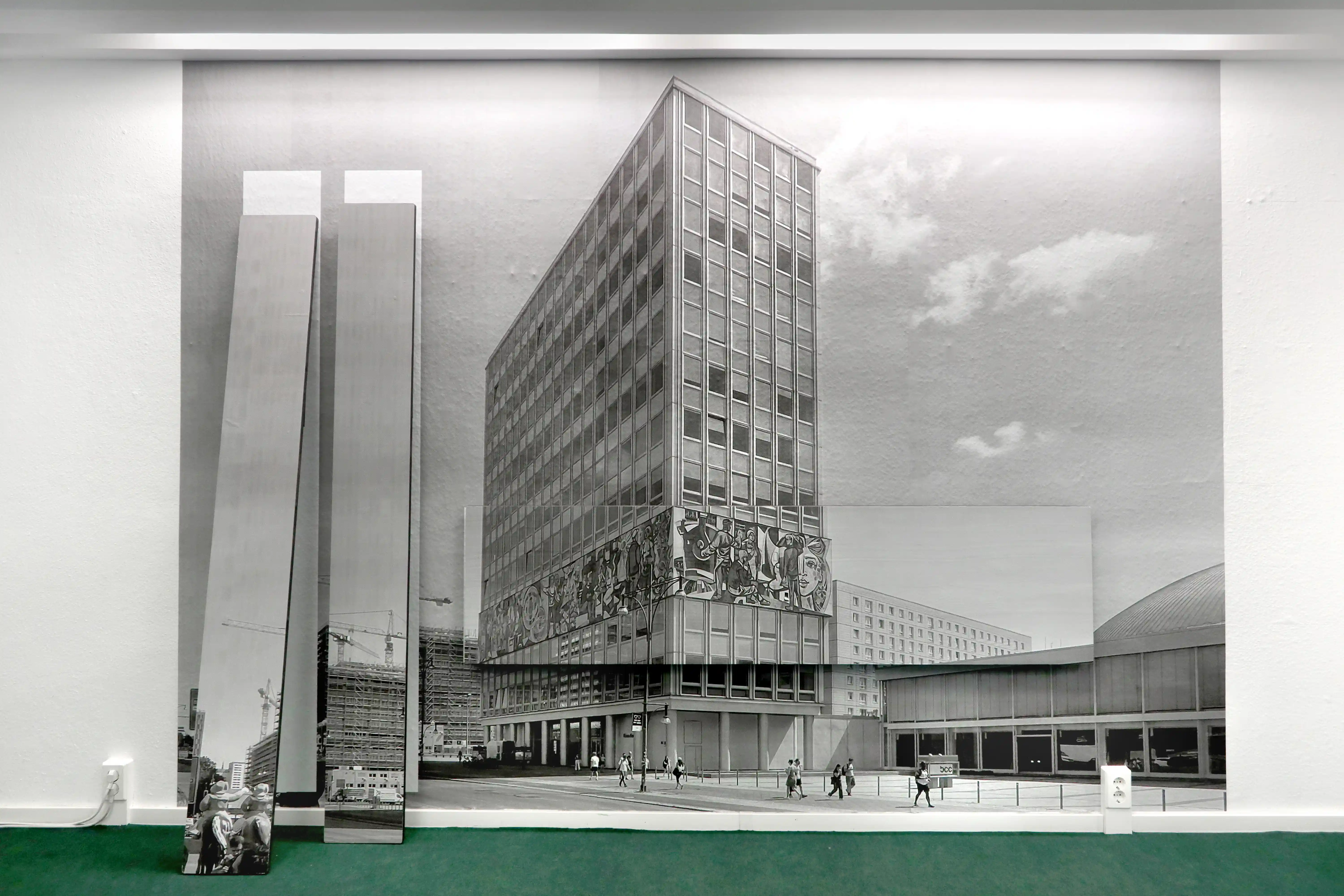 Darkroom of Educational Modernism, installation view. Photo by Nihad Nino Pušija, courtesy Station Urbaner Kulturen/nGbK Hellersdorf
A Permanent Nostalgia for Departure: Rehearsal on Legacy with Zaha Hadid
Cincinnati
Through January 28, 2024
An exhibition at the Contemporary Arts Center looks at the legacy of the late Zaha Hadid as a "point of departure full of possibilities and reflections" rather than presenting an overview. Alongside a selection of paintings and ephemera by the Iraqi-British architect is a host of newly commissioned works in a diverse set of media including sculpture, textiles, sound, and video, plus installations and performance. The exhibition uses Hadid's distinct mode of architectural thinking as a starting point that opens a range of evolving concepts, questions, and practice. Participating artists include musician Khyam Allami, sculptor Rand Abdul Jabbar, and architects Hamed Bukhamseen and Ali Ismail Karimi. See contemporaryartscenter.org.
Generation Proxima: Emerging Environmental Practices in Portuguese Architecture
New York
Through March 23, 2024
This exhibit at the Center for Architecture provides an overview of emerging architectural practices in Portugal through an environmental lens. Work by the seven highlighted firms—Artéria, Colectivo Warehouse, Gorvell, Nuno Pimenta, Oficina Pedrez, OODA, and Ponto Atelier—responds to environmental challenges by exploring new materials and construction methods, using fewer resources, and reintroducing nature as a guiding design principle. The exhibition builds on curator Pedro Gadanho's recently published book, Climax Change!, which discusses how the climate crisis will impact architectural practice. See centerforarchitecture.com.
How to Build a Low Carbon Home
London
Through March 31, 2024
The Design Museum presents an exhibition that showcases the ancient building materials of wood, stone, and straw as keys to a low-carbon future. Models, samples, tools, and photographs from contemporary architecture and engineering firms Material Cultures, Waugh Thistleton, Groupwork, and Webb Yates take the visitor through the journey of these materials, from fields, forests, and quarries to building sites, demonstrating how radically rethinking the fundamentals can be just as ecologically valuable as experimental new inventions. See designmuseum.org. 
Events 
Architecture & Design Film Festival: New York
New York
October 12–14, 2023 
The 15th season of the Architecture & Design Film Festival is making its national debut in New York City before embarking on a journey to other cities including Toronto, Vancouver, and Chicago. Among the many offerings this season is veins, a documentary that follows the poetic journey of 30,000 tons of marble from Portugal to the new Perelman Performing Arts Center. The October 12 premiere screening will be accompanied by a showing of Point of Origin, a film about the construction of a house on a steep Austrian mountain slope by visionary architect Rem Koolhaas. Following the show, RECORD's Josephine Minutillo will moderate a Q&A with veins director Laurian Ghinițoiu and REX founder Joshua Ramus, who designed the Perelman project. See adfilmfest.com.
Design Miami/Paris
Paris
October 18–22, 2023 
The arts fair Design Miami hosts its first event in the French capital, at L'hôtel de Maisons, a landmark 18th-century mansion. From 25 American and European galleries, will be design objects, furnishings, and jewelry in contemporary, midcentury, and Italian styles. See designmiami.com
Competitions
2023 James Harrison Steedman Fellowship in Architecture
Deadline: November 1, 2023
Established in 1926, this $75,000 award is granted biannually to an emerging architect to support six to 12 months of international travel for research purposes. The fellowship is jointly administered by the Sam Fox School of Design & Visual Arts at Washington University in St. Louis and AIA St. Louis and is open to any anyone who has earned an accredited degree in architecture in the past eight years. With Tatiana Bilbao overseeing this year's jury, the 2023 application is oriented around the theme "Care," asking for project-proposal submissions that consider the relationship between the act of building and the ecosystem. For more information, see steedmanfellowship.wustl.edu. 
E-mail information two months in advance to schulmanp@bnpmedia.com.