✕
RECORD's monthly list of upcoming and ongoing exhibitions, events, and competitions. 
Ongoing Exhibitions
Vanishing Points: Architectural Imagination in the Digital Universe
London
Through July 29, 2023
For this exhibit at the Roca London Gallery, architect Hamza Shaikh brings a wide range of architectural imaginings by his contemporaries into dialogue with historical precedents from the Drawing Matter archive. Drawings by Mies van der Rohe, John Hejduk, and Le Corbusier are displayed side by side with products of the latest virtual technologies, to show how digital architecture follows and expands upon the profession's drawing tradition. See rocalondongallery.com
Iwan Baan: Prague Diary
Prague
Through August 20, 2023
On view at the Center for Architecture and Metropolitan Planning is an exhibition showcasing the work of Dutch architectural photographer and record contributor Iwan Baan. Composed of images captured on a seven-day trek through Prague, the exhibit unfolds as Baan's lens mediates the experience of a new city through four geographical themes: first contact, the center, the peripherary, and natural scenery. See praha.camp/en.
Tham & Videgård—On: Architecture
Stockholm
Through August 27, 2023
Since Bolle Tham and Martin Videgård founded their Stockholm-based office in 1999, it has become one of the leading architecture firms in the country, shaping the image of Swedish architecture and winning numerous international awards. ArkDes, Sweden's national center for architecture and design, presents a retrospective of the firm's work and impact nationally and abroad, highlighting projects such as the Kalmar Konst-museum, the Treehotel in Harads, Sweden, and the KTH School of Architecture in Stockholm, as well as international designs such as the Denfert art center in Paris. For more, see arkdes.se.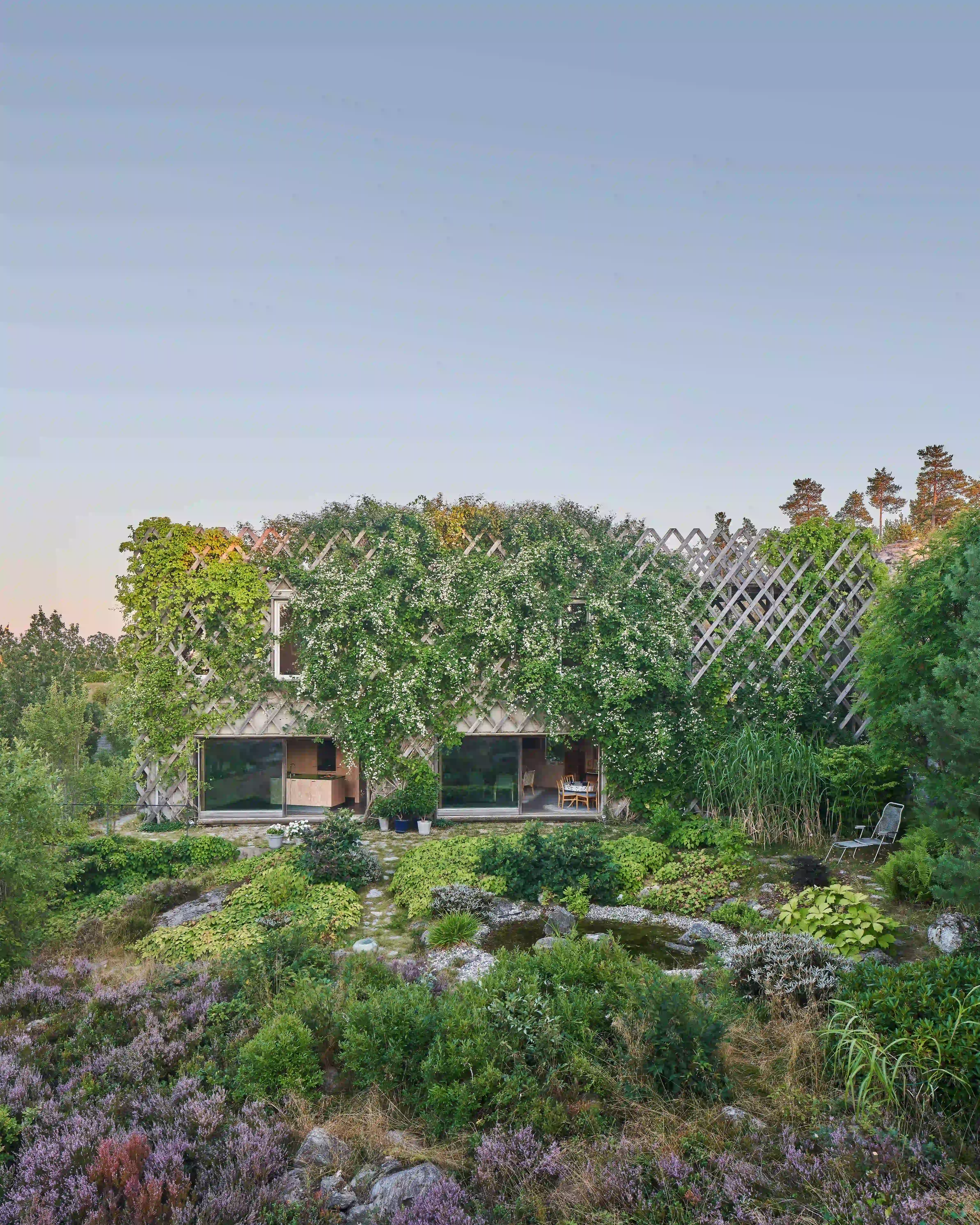 1 2
The Garden House, 2008, Sweden (1), and the KTH School of Architecture, 2015, Stockholm. Photos © Åke E:son Lindman
Architect's Houses
London 
Through September 3, 2023
An exhibition at Sir John Soane's Museum, the preserved home of the acclaimed 19th-century architect, celebrates five other London houses designed and inhabited by architects: William Morris's Red House, Ernö Goldfinger's 2 Willow Road, Charles Jencks's The Cosmic House, Patty and Michael Hop-kins's Hopkins House, and Sarah Wigglesworth's 9/10 Stock Orchard Street. Consisting of drawings, photographs, models, and artifacts, the exhibition explores a range of modern and contemporary architectural practice. See soane.org.
Look Here
Washington, D.C.
Through September 4, 2023
For the past six summers, the National Building Museum has transformed its great hall into a large-scale interactive installation celebrating architecture and design. This year's installation, titled Look Here, was designed by architect Suchi Reddy of Reddy-made Studio and features origami-like mirrored objects overhanging a series of ramps and seating areas. The museum will program free events and classes in the installation throughout the summer. See nbm.org.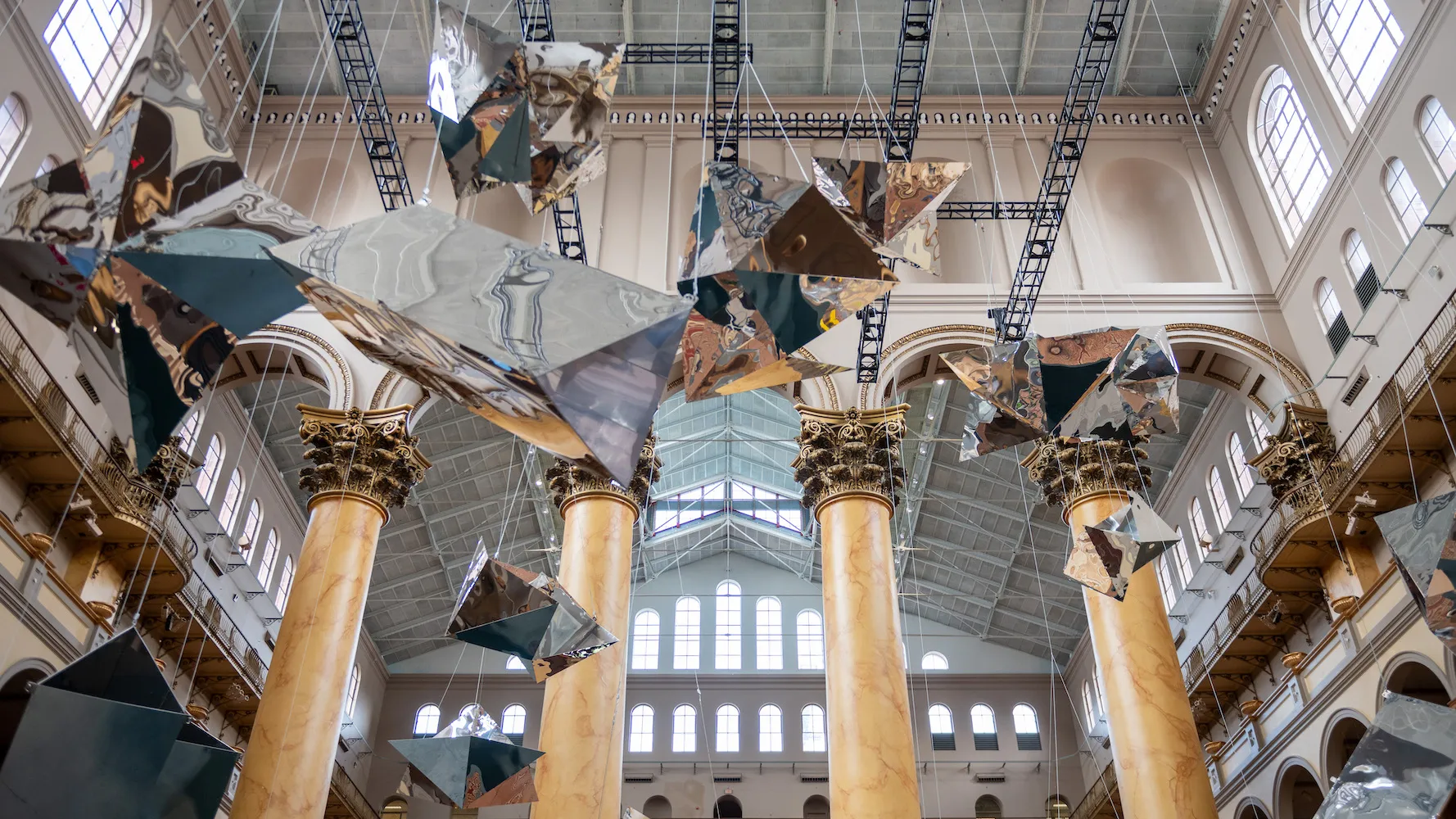 Look Here is on view in the National Building Museum's Great Hall. Photo by Timothy Schenck, courtesy Reddymade and NBM
Simone Leigh
Boston
Through September 4, 2023
The Institute of Contemporary Art/Boston presents the first comprehensive survey exhibition of Chicago-born artist and sculptor Simone Leigh. The exhibit will showcase work from two decades of production, including sculpture, ceramics, video, and installation, as well as works from Leigh's 2022 Venice Biennale presentation, to be shown for the first time in the United States. For more information, see icaboston.org.
Water Cities
Rotterdam
Through October 22, 2023
The Nieuwe Instituut presents for the first time in the Netherlands a floating pavilion designed by Nigerian-Dutch architect Kunlé Adeyemi. The circular building system, titled MFS IIR, is on view in the ponds on the museum grounds. Informed by Adeyemi's Amsterdam-based firm NLÉ's research into the relationship between water and cities amid rising sea levels and housing shortages in Africa, the installation was previously shown as a prototype in Lagos, Nigeria, and was awarded the Silver Lion award at the 2016 Venice Biennale. A parallel exhibition centers on historical and contemporary examples of possibilities for designing on and with water, and includes works by Studio Makkink & Bey and Shertise Solano. See nieuweinstituut.nl/en. 
REFRAMED: The Future of Cities in Wood
Chicago 
Through October 31, 2023
The Chicago Architecture Center, in collaboration with the Council of Tall Buildings and Urban Habitat, presents an exhibition that tells the story of building with mass timber, showcasing completed and progressing projects from around the world. Also on view is ReCovered, an immersive tree-canopy installation by Ross Barney Architects which highlights the role that trees play in the urban environment and teaches visitors about Chicago's native species and tree-planting initiatives. See architecture.org. 
Plant Fever
Dresden, Germany
Through October 31, 2023 
An exhibition by the Kunstgewerbemuseum hosted at Pillintz Palace, a restored Baroque manor on the bank of the River Elbe, explores the future of design from a "plant-centered" perspective. The culmination of a multiyear research project by the curatorial team Laura Drouets and Olivier Lacrout, the site-specific exhibition highlights almost 50 international projects from the realms of fashion, furniture, computer technology, and architecture that point to how design can reshape our relationship with the plant world. Visitors can also explore the horticultural tradition of the estate via its gardens and unique greenhouse. See kunstgewerbemuseum.skd.museum/en.
Events
Sharjah Architecture Triennial 
Sharjah, United Arab Emirates
November 11, 2023–March 10, 2024
Curated by the Nigerian architect Tosin Oshinowo, the second edition of the Triennial focuses on design solutions that arise from conditions of scarcity. Titled The Beauty of Impermanence: An Architecture of Adaptability, the four-month architecture event will bring together architects, designers, artists, planners, and researchers working in the Global South and its diasporas to illuminate a new path toward sustainability. For more, see sharjaharchitecture.org.
Competitions
Gottfried Böhm Scholarship
Deadline: August 31, 2023
Intended for postgraduate architects who are interested in the relationship between architecture and urban development, this one-year residency scholarship takes place in Cologne, Germany, under the patronage of the mayor's office. The recipient will receive accommodations and a monthly grant of €2,500 to work on architecture and development projects for the city. Applicants must have completed a master's degree in architecture and not previously received a postgraduate scholarship. See gb-stipendium.de.
E-mail information two months in advance to schulmanp@bnpmedia.com.