✕
A house with a gabled roof is the most elemental of architectural forms. But a newly remodeled residence in Toronto by Anya Moryoussef Architect puts a strange new face on this familiar shape: its front is an enigmatic composition of staggered windows in a field of white brick, capped with a dormer that presents a blank face to the street.
"It is familiar, yet also unfamiliar and a bit uncanny," Anya Moryoussef says of the project, which she's dubbed the Blind Dormer House. The 2,200-square-foot project is a "cultural probe," she says, into our ideas about home and their architectural expression.
Blind Dormer is a remodel of a two-story 1920s dwelling in a former streetcar suburb near downtown Toronto. It retains the original side walls and foundation, their masonry and concrete preserving the bulk of the old structure's embodied energy. Moryoussef, a Canadian who spent three years working with Sarah Wigglesworth in London, is committed to minimizing the waste and emissions generated by her projects; she also sees the house's existing elements as a spur to creativity. "Inevitably, there are disjunctions," she says, "between the exterior shell and what's going on inside."
1
2
Inside, muted tones (1) are contrasted by bold figured marble (2). Photos © doublespace photography, click to enlarge.
The client for the remodel is in the process of starting a family, and wanted the residence to accommodate a variety of family configurations. Accordingly, Moryoussef designed a house that splits the difference between individual rooms and an open plan. It also shares kinship with Adolf Loos's Villa Müller: in both, an inscrutable exterior wraps a house rich with color, texture, and three-dimensional complexity.
From the front door, a half-flight of stairs leads up to a piano nobile with a kitchen that is separated from a dining area and living room by freestanding cabinets. In the kitchen, figured calacatta viola marble slabs form the counters and backsplash—the red and purple veining boldly jumps out in the white interior.
Nearby, an open stair connects to the second floor and the basement. This circulation route puts guests in conversation with the site's main feature—a towering oak in the front yard, whose trunk is visible through a two-story slot window. White oak carries into the house with millwork veneers and wide-plank flooring.
3
4
Asymmetrically placed windows (3) offer glimpses of a towering oak (4). Photos © doublespace photography
The second floor consists of two rooms linked by a bathroom: one looks over the dining area below; the other is currently used as the primary bedroom. But, in the future, this pair of spaces could also serve as a child's bedroom and sitting room—or many other arrangements. The top-floor attic, currently used as a home office, enjoys an en suite powder room tucked into the titular blind dormer (although it presents a blank face to the street, an aperture above brings in ample daylight).
For the architect, the design transforms a conventional house into something inherently more flexible, preempting the spatial changes that inevitably come with the cycle of aging and generational change. And, if passersby can't quite understand its logic from the street, the white facade provides a backdrop for a lush garden (by Designland) and that oak, against which the changing of the seasons play out. "The house is a blank canvas for this tree and the shadows it casts," Moryoussef says. "I consider the light and shadow part of the architecture."
Click drawing to enlarge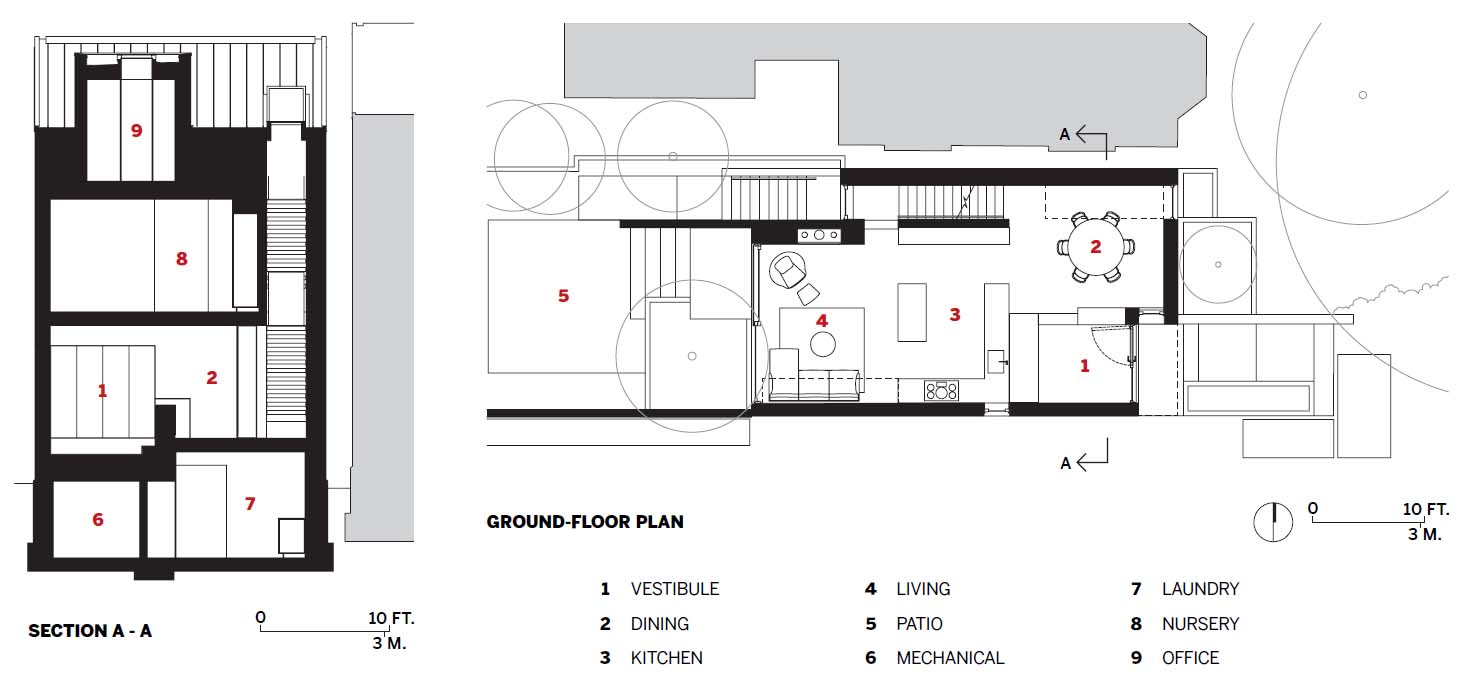 Credits
Architect:
Anya Moryoussef Architect — Anya Moryoussef, principal; James Swain, Artur Kobylanski, design team
Engineers:
Kieffer Engineering (structural)
McCallum HVAC Design (m/e/p)
Consultants:
DesignLAND (landscape)
General Contractor:
Desar Construction Studio
Size:
2,200 square feet
Cost:
Withheld
Completion Date:
August 2022
Specifications
Exterior Cladding:
Masonry: The Belden Brick Company
Metal panels: Custom by Reale Born
Moisture barrier: Henry Blueskin
Roofing:
Built-up roofing: Soprema
Metal: Custom Standing Seam, Cascadia Metals
Windows:
Metal frame: Alumilex
Glazing:
Glass: Agnora
Skylights: Velux
Doors:
Entrances: Alumilex
Wood doors: Brenlo
Sliding doors: Brenlo
Special doors: Aluminum Lift'n'Slide Doors: Alumilex
Hardware:
Locksets: FSB North America
Interior Finishes:
Cabinetwork and custom woodwork: Renca + Heilimo
Paints and stains: Sherwin Williams
Plastic laminate: Fenix NTM
Solid surfacing: Fenix NTM
Special surfacing: Fenix NTM
Floor and wall tile: Mutina Ceramics
Special interior finishes unique to this project: Engineered wood flooring: Moncer 
Furnishings:
Chairs: Fritz Hansen
Sofa: COR
Lighting:
Interior ambient lighting: Liteline, Delta
Downlights: Liteline, Delta
Tasklighting: Liteline
Exterior: Liteline
Dimming system or other lighting controls: Lutron
Plumbing:
Kitchen Sink: Franke
Kitchen Faucet: Franke
Bathroom Fixtures: Cabano, Alape, BainUltra, Toto