✕
The latest residential revamp project by Abruzzo Bodziak Architects (ABA), "Stick House, Brick Garden," sits amid a pleasing architectural jumble in Green­point, a Brooklyn neighborhood developed in the late 19th century that initially attracted workers and their families, with its once-plentiful jobs on nearby docks, in shipbuilding, or in factories. The house's tree-lined street, a few blocks from the East River, includes humble two-story wood-framed rowhouses, three- and four-story brick tenement buildings, and shiny new condos. The variety, says Emily Abruzzo, ABA cofounder, with Gerald Bodziak, "made it hard for us to know what to relate to," referring to the design approach for the renovation and expansion. The firm, a 2016 Design Vanguard, which does a mix of civic and residential work, exhibitions, and research, prefers to riff on what already exists, explains Abruzzo, rather than invent forms entirely from scratch. "That has never been interesting to us," she says.
ABA's clients are Bettina and Fergus McCall, a British couple who both work in the TV and film industry (he in visual post-production and she in digital archiving and editing). They had bought their unassuming three-bedroom, 3½-bath, circa-1890 rowhouse in 2010, undertaking a few modest renovations and repairs before moving in, including updating an upstairs bathroom. But soon they began to consider a more comprehensive overhaul. The property, which like many others nearby consisted of two wood-framed floors over a masonry lower level, possessed notable assets, in particular an ample front yard and a capacious rear garden. But it also had serious deficiencies—it was dark, had little insulation behind its vinyl-siding-clad facades, and its front bedrooms, one each for their two then-teenage children, were cramped, with one much smaller than the other.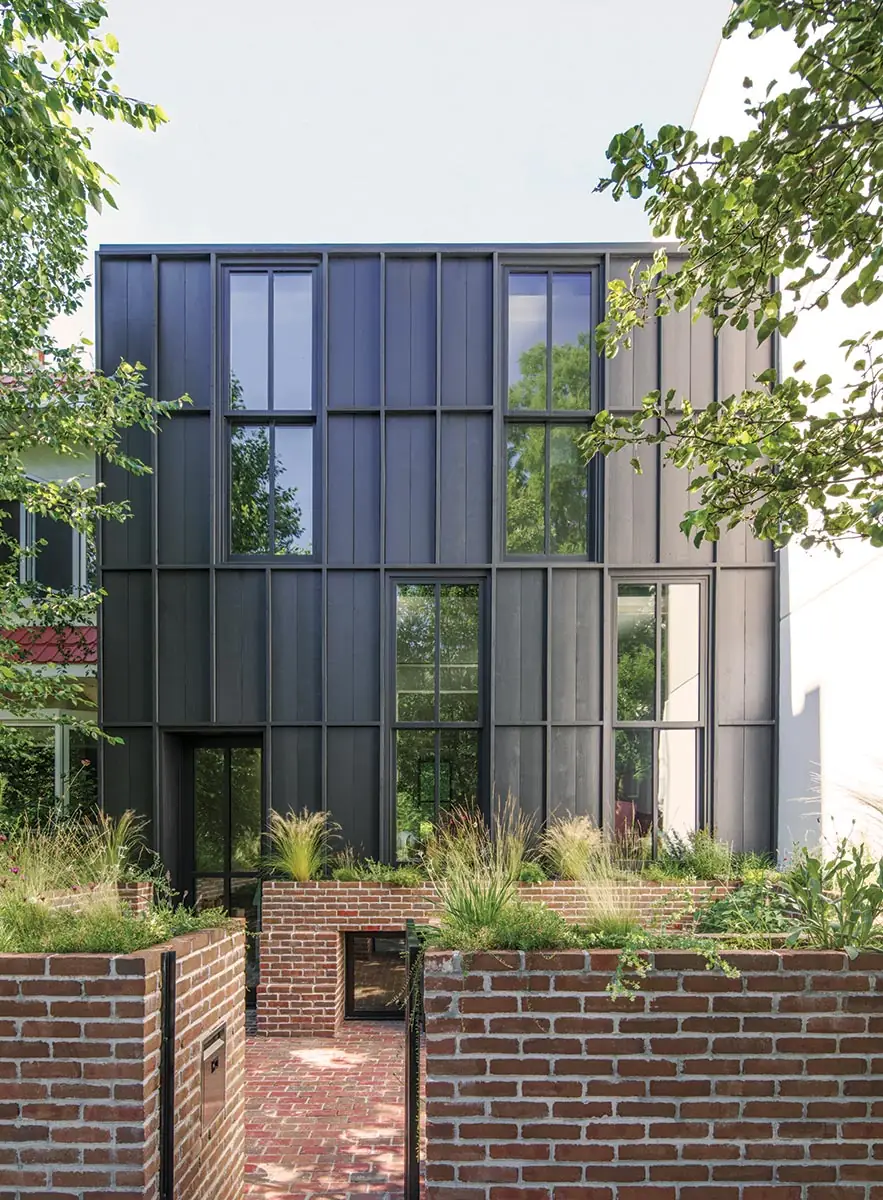 1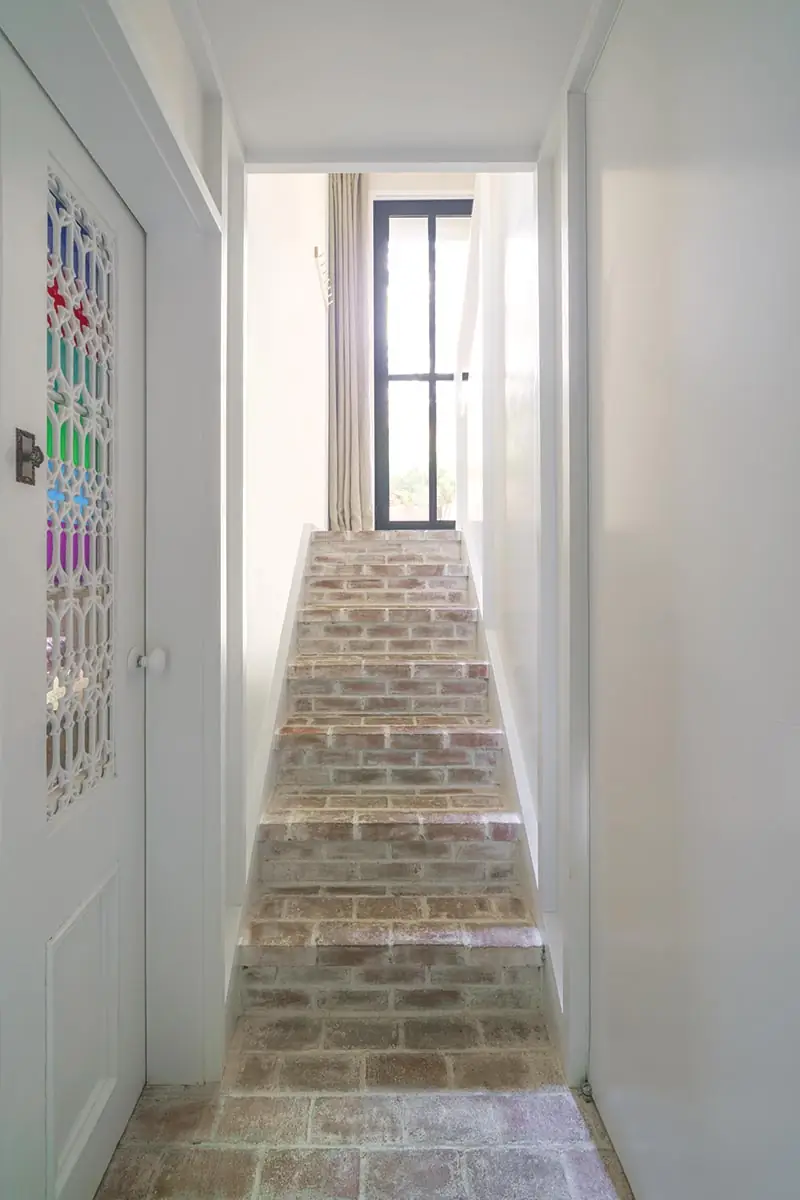 2
The entry court's brick pavers (1) continue into the lower level (2). Photos © Michael Vahrenwald / ESTO, click to enlarge.
Although zoning regulations would have permitted the architects to greatly enlarge the house by going upward, the McCalls did not want that much added space. So, instead, ABA proposed moving the front facade forward by about 8 feet and extending the floor plates. The solution preserved the rear garden and still allowed for a gracious entry court, while expanding the living area by about 20 percent, to nearly 2,700 square feet. The strategy made some rearrangement of the interior possible, with a combined kitchen, dining area, and living room extending from front to back on the first floor, a more equitable bedroom configuration above, and renovation of those bathrooms the McCalls had not previously updated. It also permitted insertion of floor-to-ceiling double-hung, divided-lite windows—a client stipulation. "Bettina said to us, 'It is not a home if it doesn't have lites,'" relates Abruzzo.
3
Floor-to-ceiling windows (3) and an enlarged skylight over the main stair incorporating LEDs (4) brighten the interior. Photos © Michael Vahrenwald / ESTO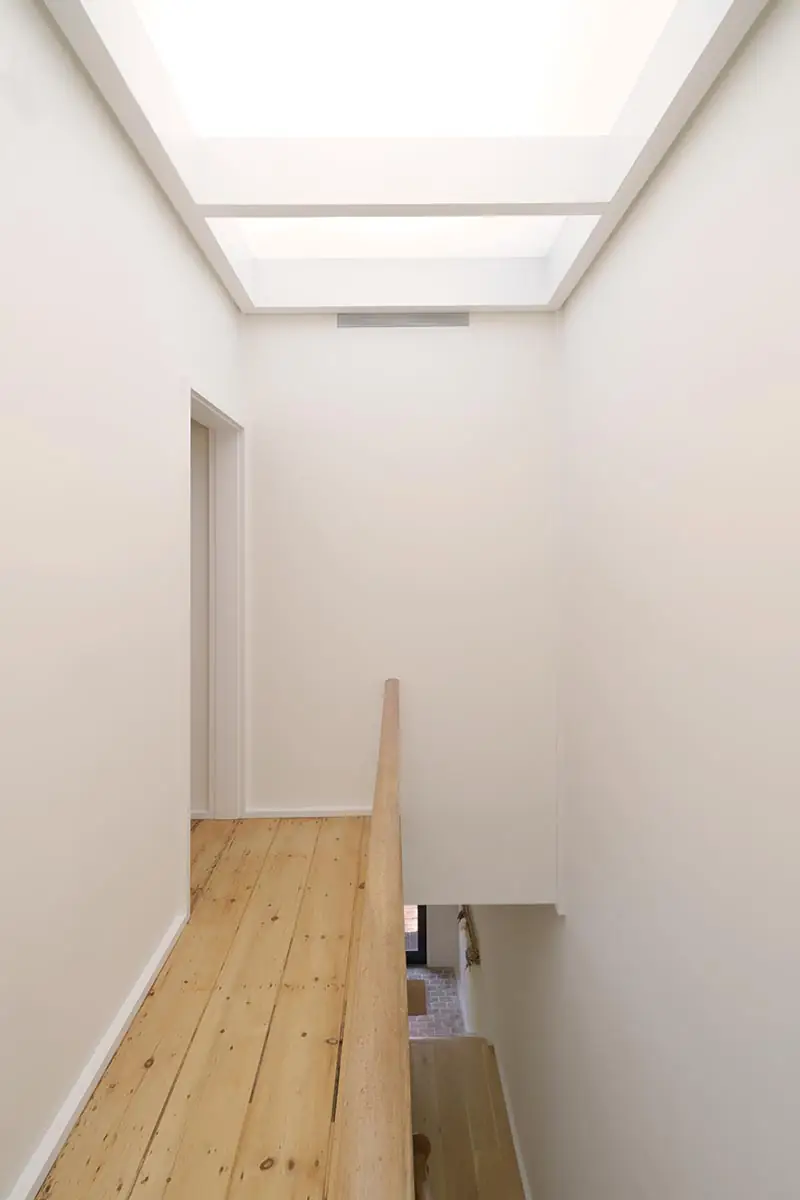 4
The windows, then, along with the house's existing structure, became the jumping-off point for the design of the new front elevation. "Thinking of the project as a wood house, since it was historically of wood, informed all of the decisions," says Abruzzo, explaining that the windows helped establish the gridlike organization of the stained cedar panels and battens, which sit above a new brick base. Brick is also used for a low wall at the sidewalk's edge, which incorporates planters and seating, and for the entry court's pavers. The material extends inside, down a short flight of steps, and into the lower level (which houses an office space and a study) and out to the backyard, where a terraced outdoor "room" steps up to the lush garden. The masonry, explains Abruzzo, made sense, not only for its contextual qualities but, in addition, for its ability—with the help of redundant drainage—to withstand intense rainfall or tidal flooding. (Though not technically in a high-risk zone, the house's proximity to the river concerned the clients.)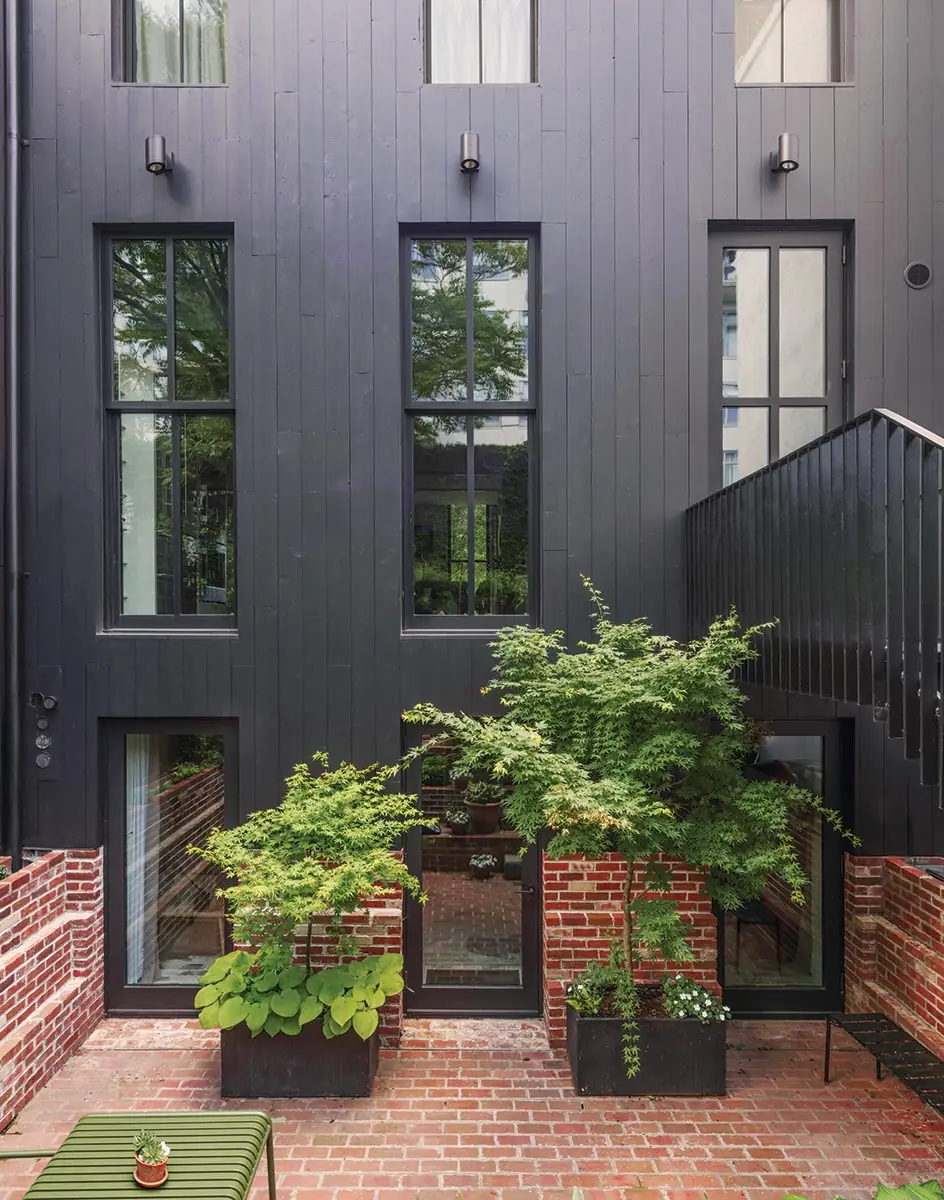 5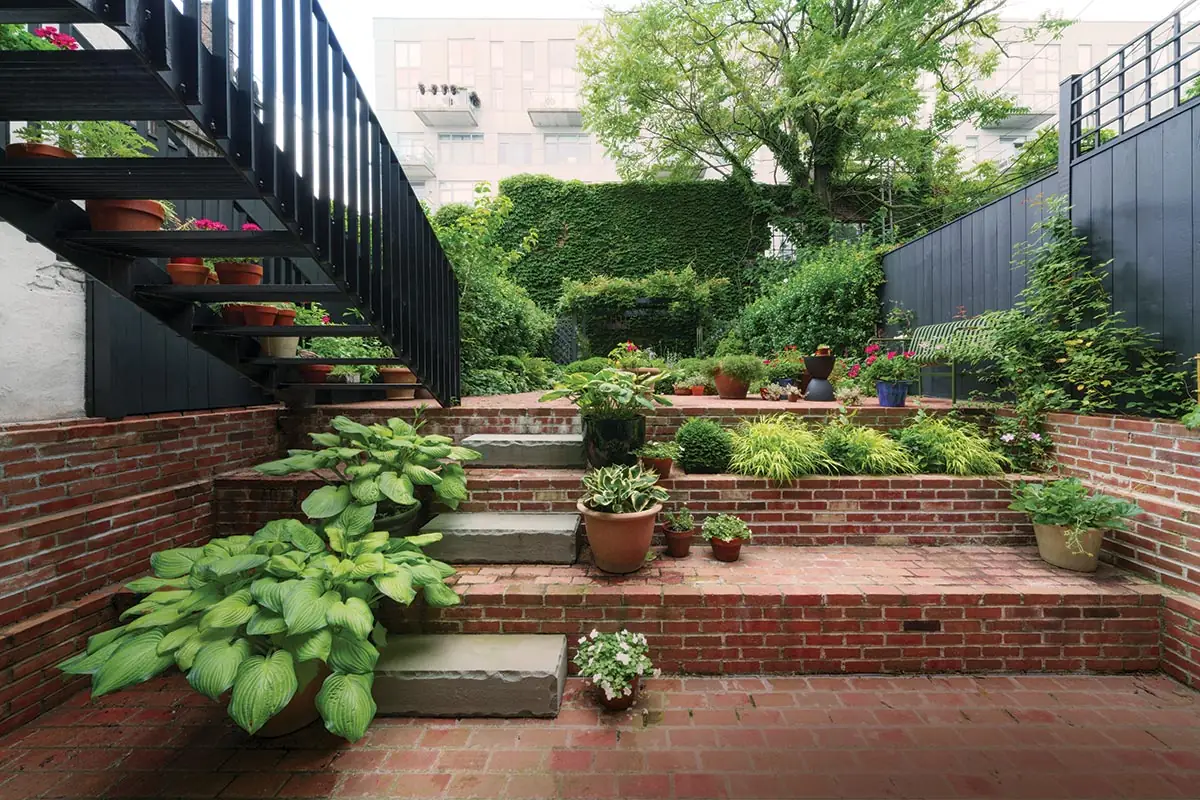 6
A brick outdoor "room" at the rear (5) steps up to a lush garden (6). Photos © Michael Vahrenwald / ESTO
The architects also carried the new front facade's logic to the inside walls to create grids with the baseboards, trim, and moldings—all from standard lumber—and provide a framework for hanging art. All-white walls and kitchen millwork, along with white oak floors (in many areas original), complement the light that streams in from the new, tall windows, and from an enlarged skylight over the existing stair to the second level.
ABA's moves, from expanding the house just a few feet forward, to combining typical materials in unexpected ways, have produced a project that is at once surprising and familiar. Stick House, Brick Garden is sympathetic to its neighborhood's roots, yet is light-filled, comfortable, and contemporary.
Click plan to enlarge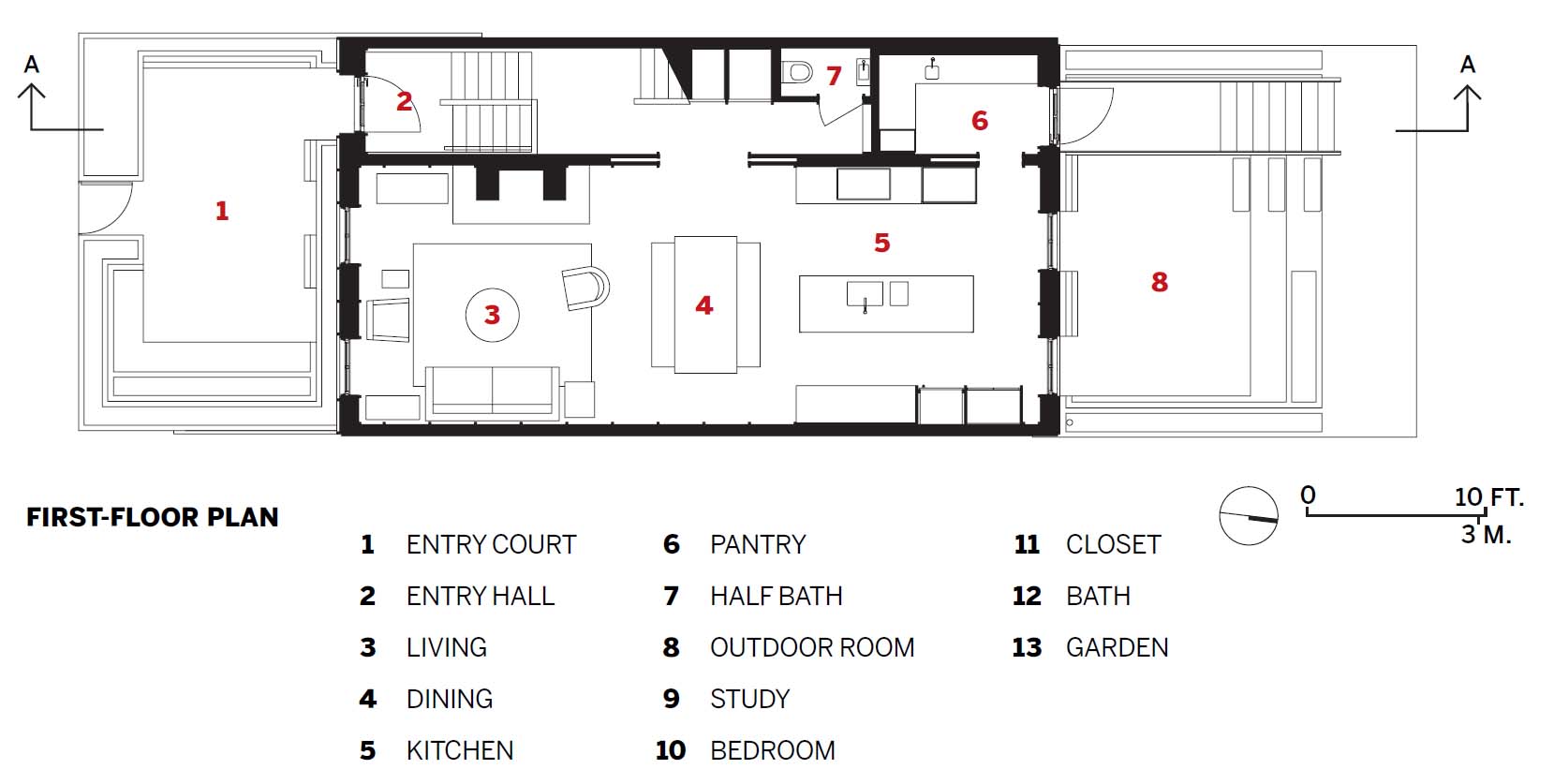 Click section to enlarge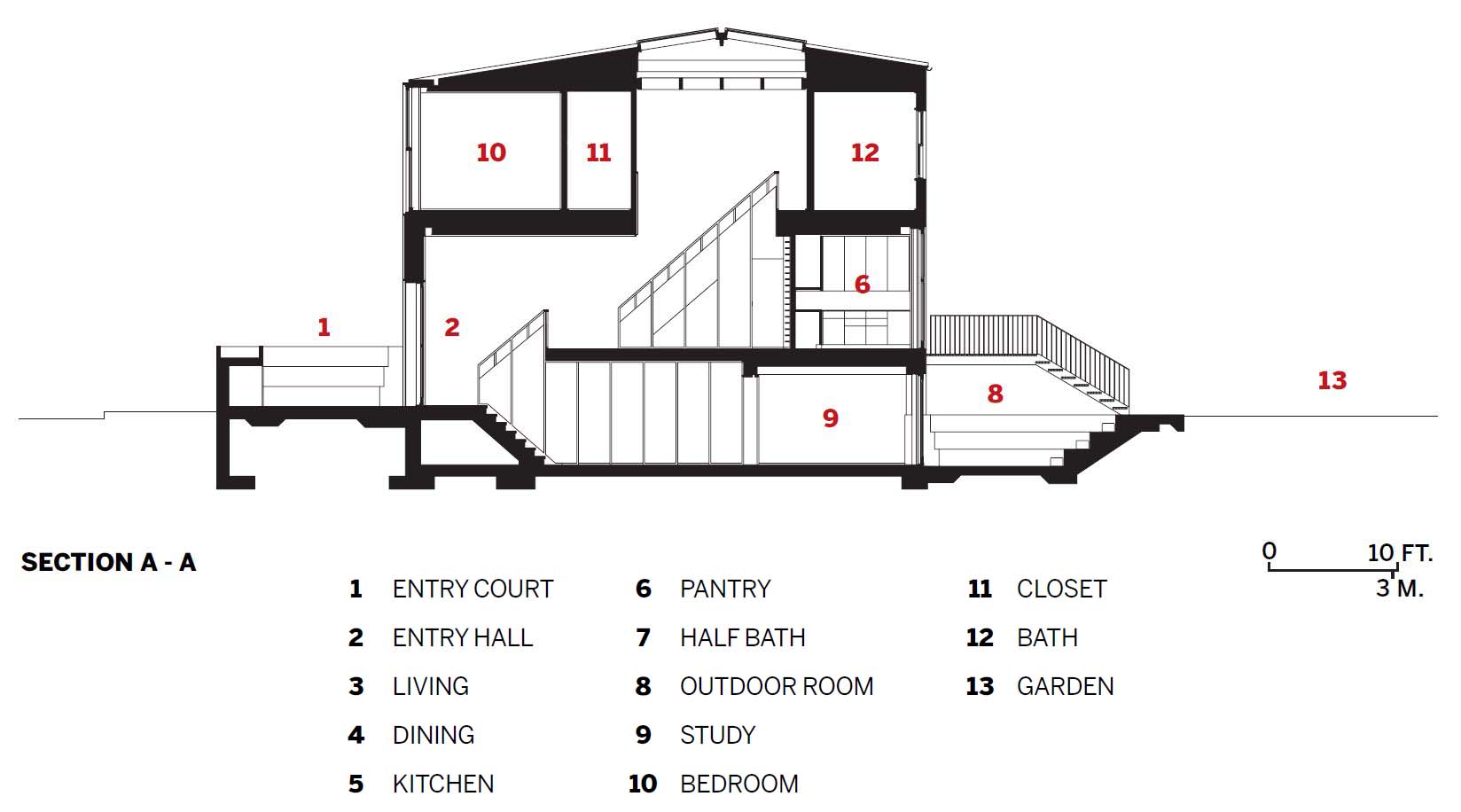 Credits
Architect:
Abruzzo Bodziak Architects — Emily Abruzzo, Gerald Bodziak, principals; Michael Cohen, Page Comeaux, Christian Golden, Daniel Maslan, Yasemin Parlar, design team
Engineers:
Robert Silman Associates Structural Engineers (Structural Engineer)
General Contractor:
Empire Restoration
Size:
2,685 square feet
Cost:
Withheld
Completion Date:
January 2023
Specifications
Exterior Cladding:
Masonry: The Belden Brick Company
Wood: Cedar, Riverhead Building Supply
Wood Stain: Minwax
Moisture barrier: Blueskin
Windows:
Wood frame: Duratherm, with Sirca 9400 stain
Glazing:
Glass: Depp Glass (stair hall)
Skylights: Skyco, Kingspan
Doors:
Entrances: Duratherm (wood, all exterior doors)
Hardware:
Pulls: Emtek (Ice White Door Knob, Mockett Tab Drawer Pull)
Interior Finishes:
Cabinetwork and custom woodwork: Level Craft (millwork); Duet Fine Wood Work (millwork, kitchen island)
Paints and stains: Benjamin Moore
Solid surfacing: PolarStone Basix Gallery White
Special surfacing: Soapstone, Granite both from PMI International Stone Importers
Lighting:
Interior ambient lighting: Philips Color Kinetics (above Stair Hall glass)
Downlights: WAC
Sconces: Rich Brilliant Willing (RBW)
Plumbing:
Bathrooms Waterworks Flyte
Toilets, tub, sinks Duratherm
Kitchen faucet, Scullery water dispenser Dornbracht Tara Ultra
Energy:
HVAC: Mitsubishi Heat Pump Split System
Drainage:
ACO Brickslot