✕
On September 19, a diverse array of governmental and nonprofit leaders along with activists, scholars, real estate developers, and design professionals convened in the Great Hall of the National Building Museum in Washington, D.C, for the Future Cities: Affordable Housing Summit. A nationwide dearth of attainable housing has only heightened since the onset of the Covid-19 pandemic, with median national rents for one- and two-bedroom units increasing by 24 percent from 2021 to 2022 alone. According to the latest State of the Nation's Housing report released by Harvard University's Joint Center for Housing Studies (JCHS), the number of rent-burdened households—those whose monthly expenditure on housing exceeds 30 percent of their income—has reached an astonishing 21.6 million—49 percent of all U.S. households. Of this total, more than 11 million households spent more than 50 percent of their income on housing, with the highest rates of cost burdens most common for households of color.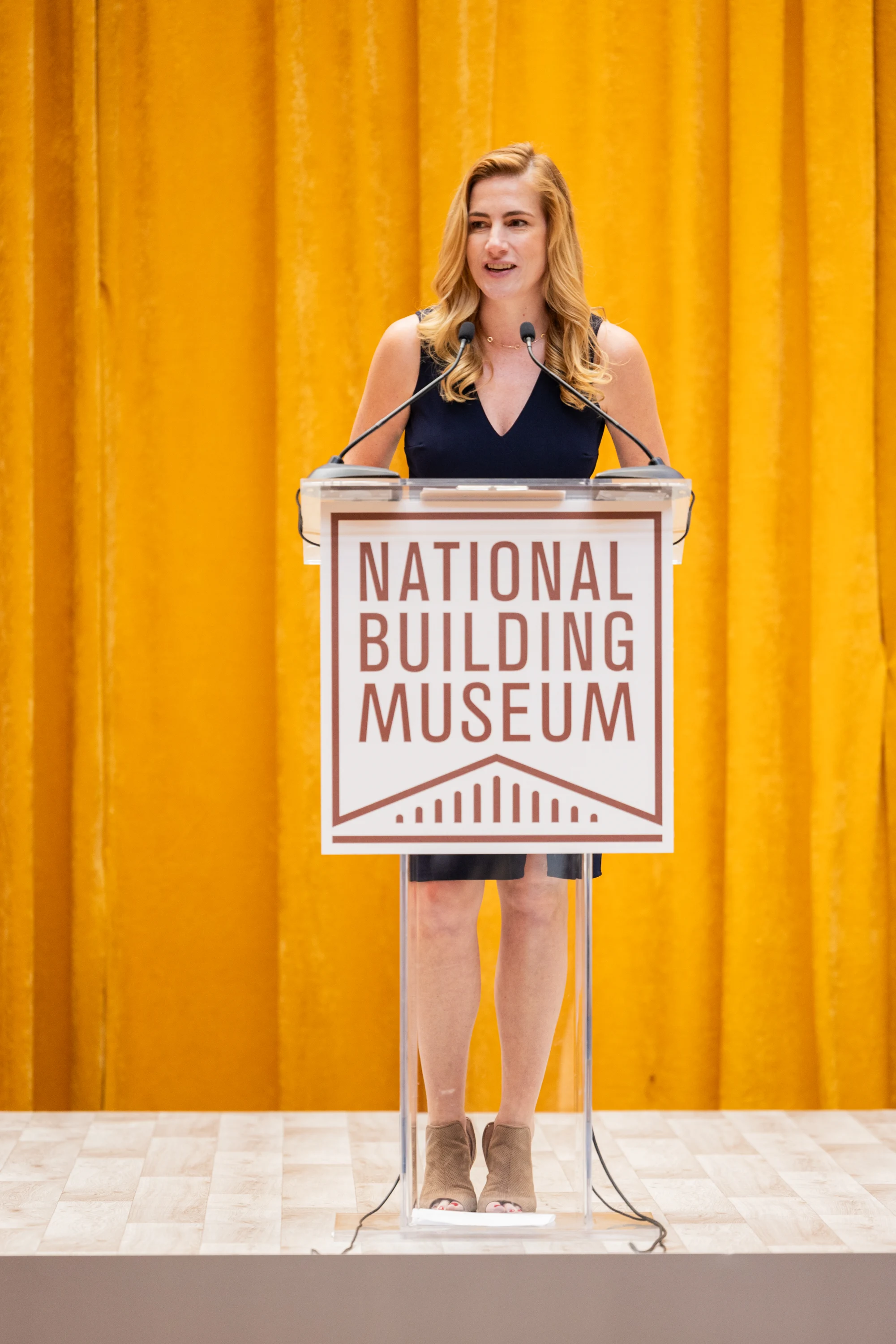 Aileen Fuchs, president and executive director of the National Building Museum. Photo © Elman Studio
April De Simone, architect and founder of non-profit design collective The Practice of Democracy, launched the one-day summit with a keynote that traced the impact of housing inequality in her personal history—from her mother's immigration from Puerto Rico to Harlem in the 1940s, to her own turbulent childhood in 1980s New York, to a recent experience encountering the lasting impacts of redlining while trying to buy a house in Trenton, New Jersey. Following the keynote, De Simone was joined for a broad-ranging discussion by Catherine Gall, executive director of Chaire ETI, an urban think tank at the Sorbonne Business School in Paris; Andre Brumfield, Global Cities & Urban Design Leader at Gensler; and Los Angeles–based housing policy researcher and The Affordable City author Shane Phillips. The roundtable touched on policy needs in addition to and outside of housing construction to achieve affordability goals, among them race-conscious reparations, coupling employment opportunities with affordable housing, and moving beyond developer tax credits to encourage construction of affordable units.  
"We've done it before," noted De Simone, referring to the sweeping New Deal policies that resulted in a glut of middle-class housing construction in the 1940s and '50s. 
The rest of the day was structured into three sessions: "Affordable Housing and the Equitable Energy Transition," "Displacement, Wealth Disparities, & Equitable Development," and "Intergenerational Communities & Alternative Housing." While the panels covered a wide range of topics, the urgent refrain of zoning reform ran through each.
The first panel, made up of Calvin Gladney, president and CEO of Smart Growth America, Pallavi Mantha and Linda Toth of Arup's climate and sustainability team, and Marion McFadden of the U.S. Department of Housing and Urban Development (HUD), addressed how sustainability goals can be tied to the needs of those living in affordable housing developments, today and in the future. Using New York City's impending gas stove ban in new construction as an example, panelists discussed how communities can benefit from lowered energy costs, healthier environments, and the job creation and economic growth that accompanies sustainable construction. With 1.5 to 3 million units of affordable housing needed in the U.S., a major issue on both sustainability and affordability fronts is how to achieve this without encouraging sprawl—the obvious answer, said Gladney, is radically rethinking the "byzantine" set of rules that make up zoning codes: "If you care about climate change, you need to learn about zoning," he said. "It's the invisible infrastructure that determines what we can and can't do." Zoning directly impacts decarbonization efforts, he noted, using height limitations on mass-timber construction as an example.
The second panel delved into how affordable housing initiatives can guard against gentrification and displacement. Panelist Senthil Sankaran, a self-described "former developer" who now acts as interim director of the Amazon Housing Equity Fund, pointed to Minneapolis as a recent affordable housing success story. By eliminating single-family zoning and investing $320 million since 2018 in rental assistance and subsidies, the Twin Cities became the first major metropolitan area to see inflation fall below the Federal Reserve's target of 2 percent. Since 2017, rent growth in Minneapolis has not increased beyond 1 percent, as compared with the U.S. average of 31 percent. Sankaran emphasized that, despite the urgency at hand, city governments and developers need to be thoughtful about what kind of housing is built where on a region-by-region basis.
On the third panel, which concerned the needs of the country's growing elderly population, architect Daniel G. Parolek advocated for the advancement of "missing middle" housing. The term, coined by Parolek in his 2020 book, refers to a range of clustered multi-unit housing types in walkable neighborhoods that are in scale with single-family homes. The typology often gets ignored, he argued, in the "barbell" of affordable housing, which favors single-family units on one end and high-rises on the other. In addition to being easier to build and more accessible to public transit networks and other local amenities than high-rises, missing middle building types can also accommodate intergenerational housing needs.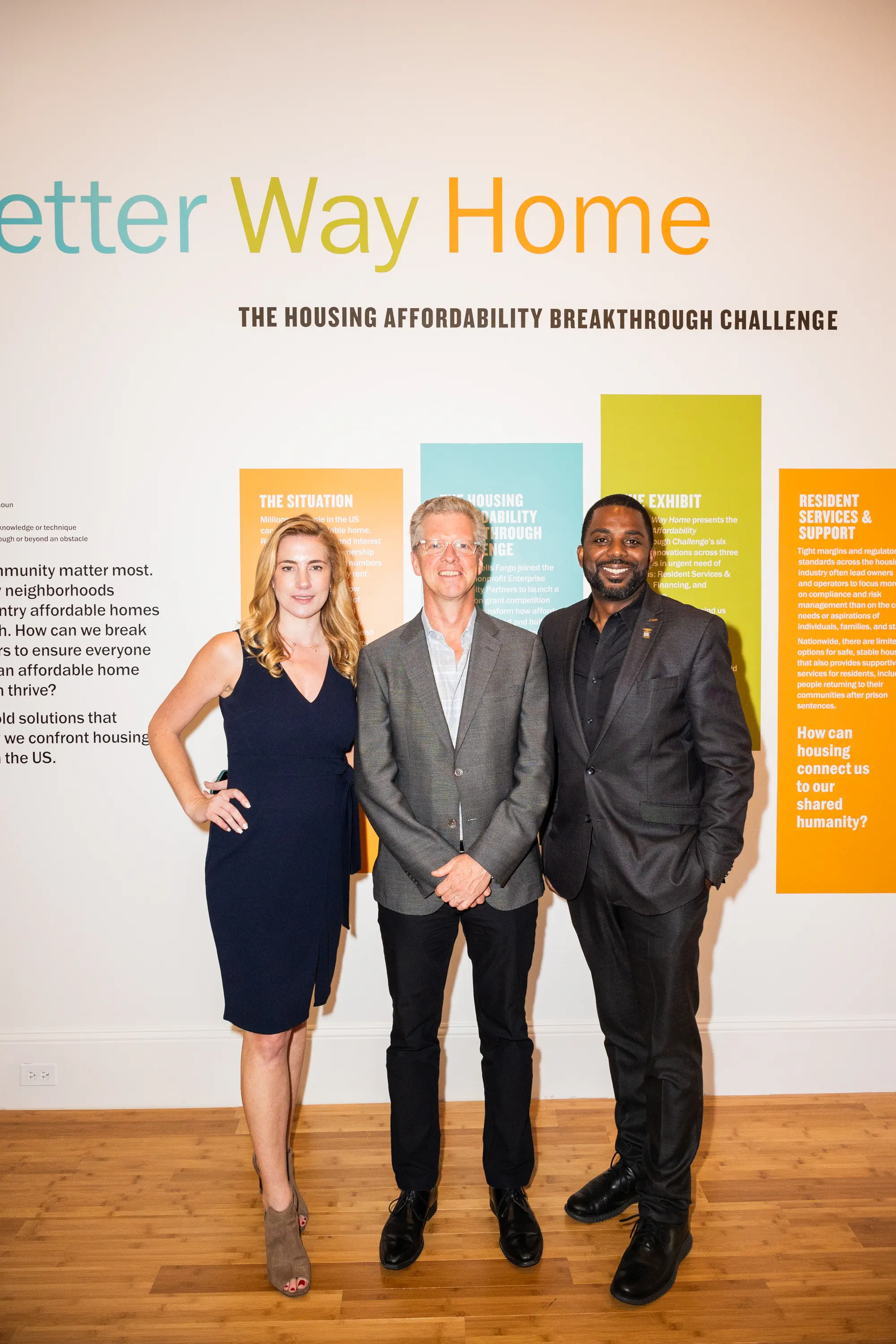 Aileen Fuchs, Shaun Donovan, and Rodney Harrell. Photo © Elman Studio
The closing address was delivered by Shaun Donovan, former HUD under President Barack Obama, who was recently selected as president and CEO of Enterprise Community Partners, one of the country's largest affordable housing and community development organizations. "A continual call to crisis can lead to fatigue," he told the crowd, pointing to the rising visibility of the homelessness in major American cities as bolstering a kind of "public despair—a lack of faith that we can actually solve these problems." However, he went on to cite the $4 trillion of federal funding made available by the passing of federal bills including the Green New Deal, the American Rescue Plan, the Inflation Reduction Act, the CHIPS and Science Act, and the Infrastructure Investment and Jobs Act. "If harnessed," said Donovan, "[That money] could be directed into greener, more affordable, more resilient homes and communities nationwide."
 The day's discussions implied that change is possible, through concerted regional policy reform and thoughtful development. The Future Cities: Affordable Housing Summit was accompanied by the exhibition A Better Way Home, which highlights the six winning proposals in Enterprise's $20 million grant competition (made possible with the Wells Fargo Foundation's support) to transform how affordable housing is built, financed, and serves long-term community needs. It is on view at the National Building Museum through October 16.