✕
In the early 1980s, searching for out-of-print books to resurrect, publisher John Steel walked into the library of the Royal Institute of British Architects in London and asked, "What is the most requested rare book from your collection?" The librarian quickly shot back, "The Architecture of Sir Edwin Lutyens."
Today, first-edition copies of this three-volume memorial monograph from 1950 can fetch well over a thousand dollars, and the 1984 and '89 reprints from Steel's publishing house, ACC Art Books, have also become increasingly difficult to obtain. The Institute of Classical Architecture & Art (ICAA) recently teamed up with ACC to reissue the series once again, making newly accessible the work of the accomplished British architect and 1925 AIA Gold Medal winner.
Lutyens did not live long enough to see the original books finished—the idea to catalogue his work emerged late in his life, in the 1940s, as he fell ill and the blitz of the Second World War threatened his buildings in London. But the volumes, initially printed by Country Life, were a feat of architectural publishing. To this day, alongside such works as Le Corbusier's eight-volume Œuvre complète, they are among the most thorough contemporaneous records of any modern architect.
Each volume opens with elucidating essays by architect A.S.G. Butler, written with the editorial assistance of Lutyens biographer Christopher Hussey, followed by photographs and plates, which often comprise multiple drawings. Importantly, the large trim size (12" by 16") allowed readers—students and practitioners alike—to carefully examine Lutyens's approach to composition and the strict geometries undergirding his architecture, just as he had studied the works of Christopher Wren. The first volume in the series focused on his idyllic country houses across the United Kingdom and Ireland, while the second concentrated on town plans and civic works, including war memorials, the British embassy in Washington, D.C., and the Viceroy's House in Imperial New Delhi. The last delved into public buildings as well as his proposal for the Liverpool Cathedral, which would have eclipsed St. Peter's Basilica in scale had it been built.
Despite their rigor and educational impetus, the monographs appeared at a time when the profession had largely soured on the Neoclassical and vernacular forms that defined Lutyens's career. With architects in thrall to the International Style, his work was widely disregarded, until the pendulum of architectural style began to sway in the other direction and he was rediscovered. Robert Venturi's manifesto Complexity and Contradiction in Architecture highlighted several Lutyens buildings, and Postmodernists including Robert A.M. Stern and Allan Greenberg later quoted him in their own built output. New York's Museum of Modern Art even went so far as to assemble an exhibition of Lutyens's work in 1978, and London's Hayward Gallery followed suit three years later. ACC's first reprint of the series proved timely.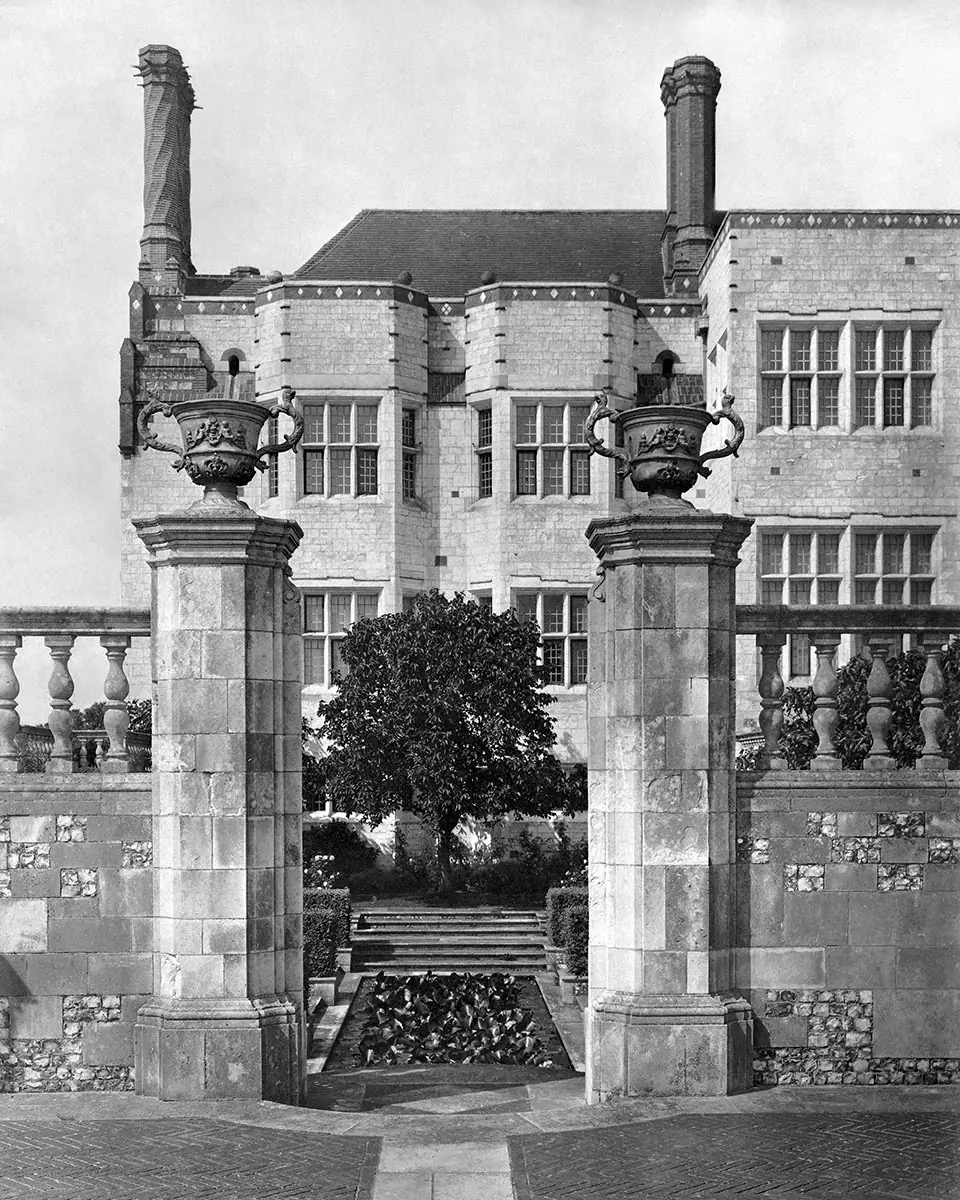 The entrance to the pool garden at Marshcourt (1901), in Stockbridge, England. Photo © Country Life / Future Publishing Limited, click to enlarge.
In an effort to remain faithful to the originals, the newest reissues do not include added texts or scholarship. However, they are far from straightforward facsimiles—years of meticulous research and legwork went into their making. Butler's essays were typeset from scratch, maximizing legibility. Rather than rescanning photographs from printed editions, which would have resulted in a loss of image fidelity, the ICAA tracked down glass-plate negatives from the archives of Country Life. As a result, the chalky facade and twisted chimneys of Lutyens's Marshcourt, and the corbeled brick arches of his Deanery Garden jump off coated matte paper as never before, with astonishing clarity. Amazingly, in the seven intervening decades since initial publication, only a handful of negatives had been lost or damaged.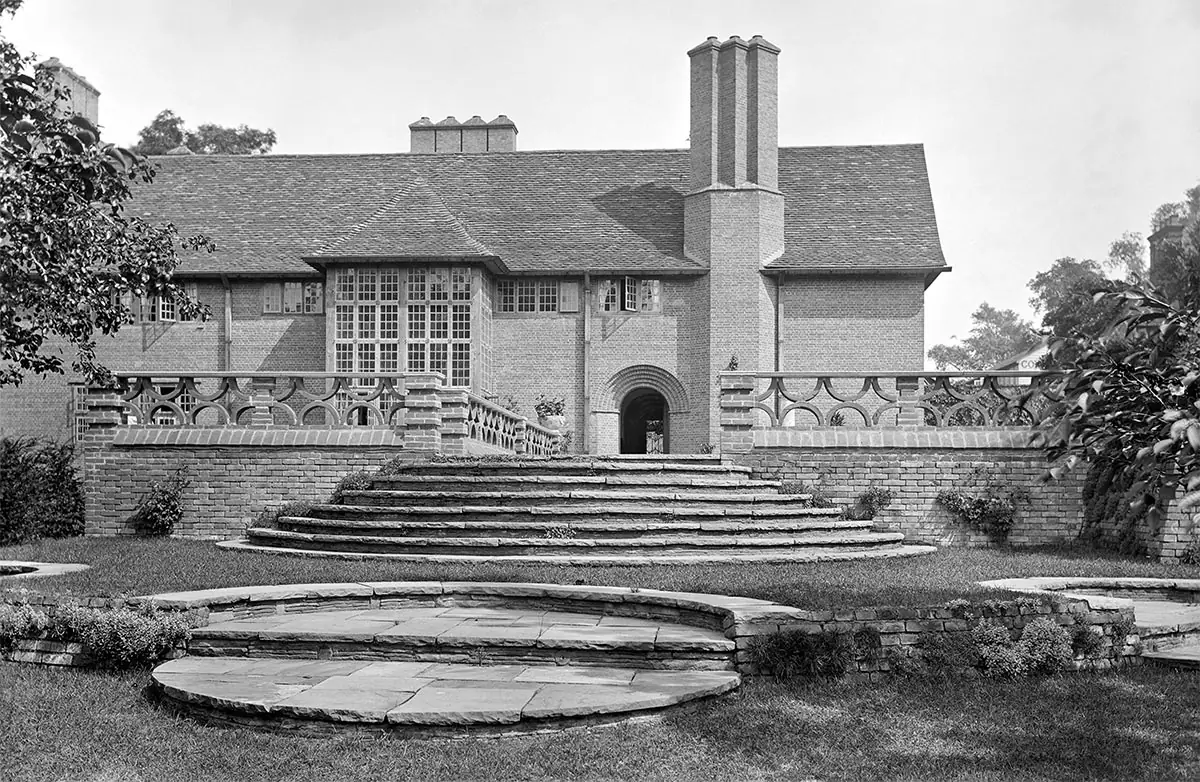 Deanery Garden in Sonning, England, was designed for Edward Hudson, founder of Country Life and longtime advocate of Lutyens's architecture. Photo © Country Life / Future Publishing Limited
The books' detailed plates, originally delineated by Lutyens associate George Stewart, were scanned from a first-edition set. To ensure that distinct lettering, dimensions, and hatching were not too faint or lost altogether, proofs were carefully studied. "We compared the original monographs with our digital reproductions using a magnifying glass, to spot any identifiable differences," says Matthew Enquist, chair of the Books Committee at the ICAA. "It took us a few tries to get it right."
By sacrificing margins, detailed plates were reproduced at approximately the same size. Image © Country Life / Future Publishing Limited
One obvious difference between the first edition and the recently reissued versions is the smaller trim size (11¾" by 14⅛"). "Printing is all about economies of scale," James Smith, current publisher of ACC Art Books, told RECORD. "We aim to have as little wasted paper as possible, and printing at the size of the original Lutyens books today is challenging—not only from a cost perspective, but also because modern machines have difficulty binding books that big." But generous margins in the 1950 version allowed ACC to largely maintain the scale of drawings and photographs—in general, they are only 1 or 2 percent smaller than their original counterparts.
"There's a strong appreciation for classical architecture in the United States. That amazes me as a British person—I'm not sure it's quite the same at home," says Smith. So strong is that appreciation that several individuals and architecture firms donated funds to make the reprint, the largest book-reproduction effort the ICAA has undertaken, a reality. "There is an educational mission behind all our books," adds Enquist—who has now set his sights on republishing John Russell Pope's monograph about his work (which includes the National Gallery in Washington, D.C.)—"to promote ongoing scholarship of classical architecture today."
The first two volumes of The Architecture of Sir Edwin Lutyens are now available, but readers eager to complete their collection will need to wait until next spring for the final installment.