At 11:14 a.m. yesterday, Princeton University President Chris Eisgruber wrote to its School of Architecture students to tell them that its dean, Alejandro Zaera-Polo, was resigning, effective immediately. The abrupt announcement comes a little more than two years since Zaera-Polo's deanship began, on July 1, 2012.
Zaera-Polo, a theorist and practitioner, replaced Stan Allen, a Brooklyn-based architect who had held the position since 2002 and who remains a professor at Princeton. Allen will now become acting dean, according a press release from Princeton, until a permanent successor is appointed. Allen will chair the search for the new dean.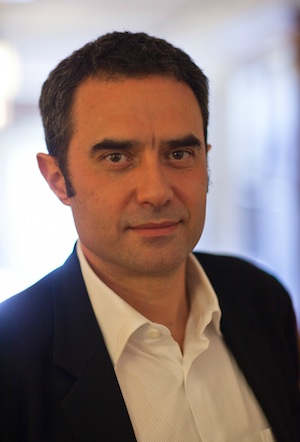 Zaera-Polo remains a professor in the School of Architecture, according to the Princeton release. In a March 27, 2012 article in this magazine, Allen praised Zaera-Polo as "somebody who worked at a very high level as a designer-practitioner, but also approached architecture as an intellectual activity. There aren't a lot of people like that out there."
In that story, writer Fred A. Bernstein described Zaera-Polo's professional arc: "Zaera-Polo first became known in the 1980s, writing for publications like El Croquis, and has taught seemingly everywhere. His practice, Alejandro Zaera-Polo Architecture, has offices in London and Barcelona. Established in 2011, the firm was formed—in the language of its own website—by the "demerger" of Foreign Office Architects, which Zaera-Polo ran with Farshid Moussavi for nearly 20 years. Its most acclaimed project was Japan's Yokohama International Cruise Terminal, completed in 2002. The portfolio of Zaera-Polo's new firm includes a hospital in Lleida, Spain; a ferry terminal in Santander, Spain; and residential and commercial projects in Korea and the United Kingdom."
Below is the full Princeton announcement about Zaera-Polo's resignation:
Alejandro Zaera-Polo has stepped down from the deanship of Princeton University's School of Architecture to devote greater attention to his research and other professional activities. 
President Christopher L. Eisgruber reported the dean's resignation to faculty in the School of Architecture on Oct. 1. He announced that the school's former dean, Professor Stanley T. Allen, will serve as acting dean until a permanent successor is appointed and that Professor Allen will chair the search for the new dean.
Joining Professor Allen on the search committee will be architecture professors Christine Boyer, Paul Lewis and Guy Nordenson. Two graduate students will be selected as non-voting members of the committee.
In his announcement, Eisgruber expressed his gratitude to Professor Zaera-Polo for his service as dean and to Professor Allen for serving as acting dean. "I hope that all members of the school community will assist us in making this transition to new leadership as smooth as possible," he wrote
Zaera-Polo remains a professor in the School of Architecture. He was appointed as dean in 2012 after having been a visiting lecturer in architecture at Princeton since 2008. An internationally renowned architect and scholar, Zaera-Polo was the founder and principal of Alejandro Zaera-Polo Architecture, an international practice based in London and Barcelona, and a founding partner of London-based Foreign Office Architects. He previously served as dean of the Berlage Institute in Rotterdam.
Allen, the George Dutton '27 Professor of Architecture and director of the Center for Architecture, Urbanism and Infrastructure, served as dean of the School of Architecture from 2002 to 2012. He is a practicing architect and principal of SAA/Stan Allen Architect and a member of both the College of Fellows of the American Institute of Architects and the National Academy of Design.