It's surreal that, in central Los Angeles, natural asphalt pits have been oozing and bubbling since the Ice Age—and fossils of mammoths, sabretooth cats, and extinct plants and insects from the past 50,000 years are still being found, trapped, in these sticky ponds. An extraordinary phenomenon, the La Brea Tar Pits lie in a public park, with a paleontological museum dedicated to this active excavation site—yet you could pass it all without even noticing (except for the whiff of petroleum and a few fiberglass mammoths in the shadowy depths). But that may change. As the neighborhood evolves—with Los Angeles County Museum of Art, next door, poised to build its new, Peter Zumthor-designed home, and the Academy Museum of Motion Pictures preparing to open nearby in a Renzo Piano–adapted Art Deco relic—a major initiative is underway to realize the Tar Pits' potential for visitor and community engagement. On August 26, the Natural History Museums of Los Angeles County (NHM), which oversees the site, hosted a public event, unveiling three conceptual master plans that would transform the Tar Pits' existing George C. Page Museum and 12 acres of the surrounding Hancock Park.
The contending firms—Diller Scofidio + Renfro, Weiss/Manfredi, and Dorte Mandrup—were chosen from a list of 85, then whittled down to 13 that later responded to an RFI. In June, the competition hosted an 'ideas incubator," a gathering of some 70 experts—ranging from paleobotanists to exhibition specialists—with the three finalist teams.
Partially as a result, certain threads and themes now emerge across the three master plans. They all engage questions of how to improve on-site wayfinding (now vague and confusing); how to greet the street (currently with fences and inadequate park entrances); how to eliminate surface parking; and how to weave together the disjointed landscape, museum, excavations, and surrounding neighborhoods. Another priority is to make the entire campus sustainable—and introduce a narrative journey, connecting site elements, while also suggesting a continuum of geological time and climate change. Part of that story would be the Tar Pits' history, from a petroleum-compound mine into greener eras.
"Since the Page was completed, in 1977, a lot has happened," says NHM director Lori Bettison-Vargas. "For one thing, museum learning and exhibition approaches have become more interactive and immersive." In that spirit, all the proposals expand views into the pits, labs, and vast archive, with its 3 million-plus specimens—a logical progression for an institution that helped pioneer the now-widespread movement to offer behind-the-scenes glimpses. Each scheme also envisions a museum far more open, airy, and daylit than the existing Page—an introverted, 57,000-square-foot structure by Frank Thornton and Willis Fagan that's partially submerged in the terrain. The project brief called for adding 33,000 square feet and keeping the building's crowning, fiberglass frieze by Manuel Paz, depicting Ice Age scenes. But, beyond such concerns and requirements, the three schemes take distinct approaches to both landscape and building.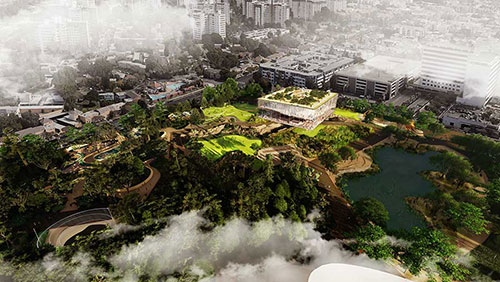 Dorte Mandrup's Concept
Dorte Mandrup (DM) proposes a museum on the Page footprint, but with the entry level disinterred from the berm. Non-ticketed visitors—and meandering park boardwalks—can flow through or converge in a lobby seemingly unencumbered by exterior walls. Here, slender columns support an undulant ceiling, the underside of the topographic floor plate above. A translucent collections-and-research tower rises through the building, revealing myriad shelved specimens. On the newly added top floor, a cocktail "Tar Bar" (a concept that emerged in the ideas incubator) ramps up to a Pleistocene-landscaped roof deck. In place of the original frieze, the uppermost story is wrapped in a reinterpretation of it—possibly a print of it on glass, with the imagery outlined in embedded photovoltaics—producing an energy-generating screen that outwardly expresses its sustainability.  Outside, the boardwalks barely touch the ground, and sculptural, chain-link silos over tar pits permit close viewing, while providing wayfinding landmarks. With "hammock groves" and other places to relax, "this would be a living room in the park," says Mandrup, "a hub for learning and leisure."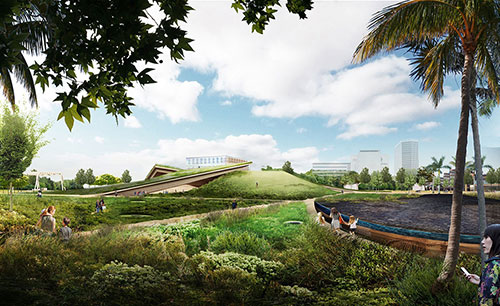 Diller Scofidio + Renfro's Concept
Diller Scofidio + Renfro (DS+R)'s scheme also retains the Page footprint for a new building: here, a transparent cube within a larger rectangular volume, surrounded by a pinwheel of four grass-covered concrete "petals." Up-tilted like thrusting tectonic plates, they admit light and views, while serving as pedestrian ramps from the top-floor Tar Bar down to the park, merging museum and landscape. Inside the lobby, the great cube—a glass-encased, multi-story archive-and-lab block—hovers overhead, surrounded on the upper floors by galleries. Circulation spiraling around this core encourages peering in. Turned "outside-in," the roofline frieze is indoors, lining the building envelope where visitors can walk up to it. A grid, borrowed from the orthogonal Page, extends across the site: a network of paths that deform into curves. The grid also alludes to an archeological index, or map overlay, for documenting specimen-discovery locations. A series of zones (or "ecotones") restores or evokes native and ancient landscapes, fading into one another where arid stretches give way to increasingly dense, moist, Pleistocene ones. "The ground is the protagonist, revealing its rich history underfoot," says DS+R principal Elizabeth Diller. An "asphalt plaza" at one corner of the park becomes the new "front door" to the Tar (really, asphalt) Pit experience. A rolling, shaded gantry, with visitor viewing perches, can be positioned over excavations and seeps "wherever they happen," says Diller. Glass guardrails along Tar Pit Lake invite viewers to its edges, and an opening in the park's Wilshire Boulevard side reveals the lake along this urban corridor.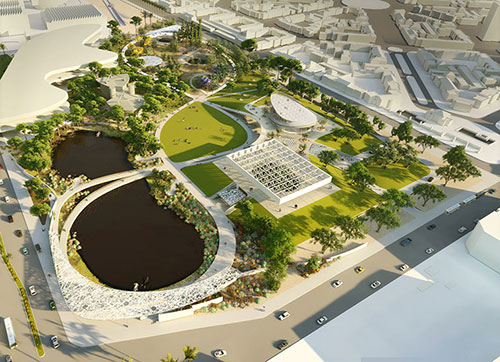 Weiss/Manfredi's Concept
Weiss/Manfredi (W/M), unlike the others, proposes keeping the existing Page building, but as an event/gathering space with a separate new elliptical structure to house and display the collections. A glass-faced entrance pavilion, inserted within a sliced-open berm, connects the two museum structures. Inside the elliptical one, spiraling ramps offer panoramic views into labs and fossil storage. W/M's main strategic move replaces the park's aimless paths with a unifying, triple-loop, walkway that, at just over half a mile long defines and links three legible zones: a research-oriented area with excavation pits; a central green, fronting the museum buildings; and Tar Pit Lake. The path bridges over this big pond, capturing views down to the asphalt—and fiberglass mammoths, beloved figures from the realm of Los Angeles kitsch. (Controversially, DS+R would relocate them to an indoor gallery featuring the Tar Pits in pop culture.) With 400 new trees and a large, park-entry canopy, the plan provides much-needed shade.
The final selection is expected by year's end, taking into consideration internal NHM votes, design-jury recommendations, and community feedback. The models, renderings, and drawings are on view at the Page through September 15, 2019 and online. The public is encouraged to weigh in.
Despite the presentations' seeming complexity and finesse, this is still the conceptual phase. A final version could look radically different. Budget has not yet been discussed publicly, and construction is unlikely to begin for, at least, a few years. As Bettison-Vargas remarked at the inaugural viewing, "In five years or so, I hope I can finally meet you all at the Tar Bar for a Tartini!"