✕
Vermont is synonymous with self-reliance and innovation, says Middlebury-based architect John McLeod, from its founding as an independent republic whose constitution forbade slavery to the nonconformists it proudly claims as its own—Robert Frost, snowboarding pioneer Jake Burton, and ice-cream makers Ben and Jerry among them.
The architecture of the place followed suit, adapting to natural phenomena like the Green Mountains and Champlain Valley, with their dairy farms and logging camps. Given the opportunity to design a house in Stowe (also the birthplace of Alpine skiing) for a New York–based lawyer with a passion for the arts and outdoors, McLeod, with consulting partner Stephen Kredell, decided to do the same. (McLeod Kredell Architects was a 2020 RECORD Design Vanguard.) It was not a departure from the firm's work—houses, retail establishments, and school buildings that celebrate simple purist forms. But it was an opportunity to quietly protest the growing spate of out-of-context luxury lodges and commercial projects that have burgeoned in Vermont's mountain towns.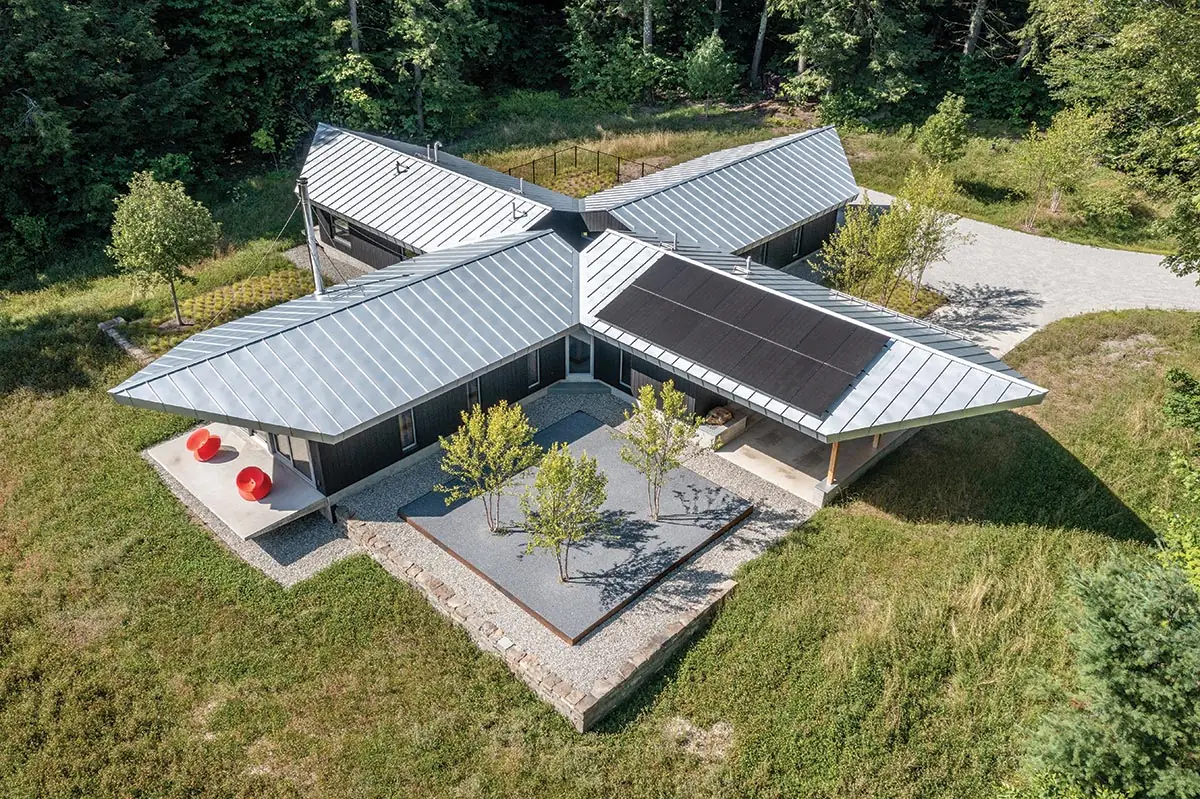 The house comprises four distinct wings. Photo © Kate Carter, click to enlarge.
Composed of four wings that stretch out in the cardinal directions and meet at a central open-air courtyard, the glue-laminated timber house on concrete slab is organized on an 8-foot grid to optimize the layout and minimize waste. When the client engaged Mc­Leod, he handed the architect a programmatic diagram—a square divided into four. While neither expected the final residence would be a box, the sketch was "beautiful in its simplicity and clarity," says McLeod. Inspired by the initial site visit, McLeod began drawing, ultimately flipping the box inside out. "What broke it open was realizing that, by creating these four rectangular boxes, you had three sides to each box with views and light."
Sitting gently on the site and eschewing the excesses of resort culture, the house perches on a moderately sloped clearing surrounded by a blanket of hardwoods and spruce trees ribboned with trails.
Each clear-span wing is uniquely positioned and programmed to take advantage of the land around it and provide an intimate experience. The bedroom on the west is closest to the woods and opposite the existing gravel driveway that leads to a carport and entrance on the east; it opens to a cantilevered deck with an outdoor shower. The southern wing contains the kitchen/dining/living area, with views that tumble down the valley. On the north, a workshop for the client, an avid potter, benefits from diffuse daylight.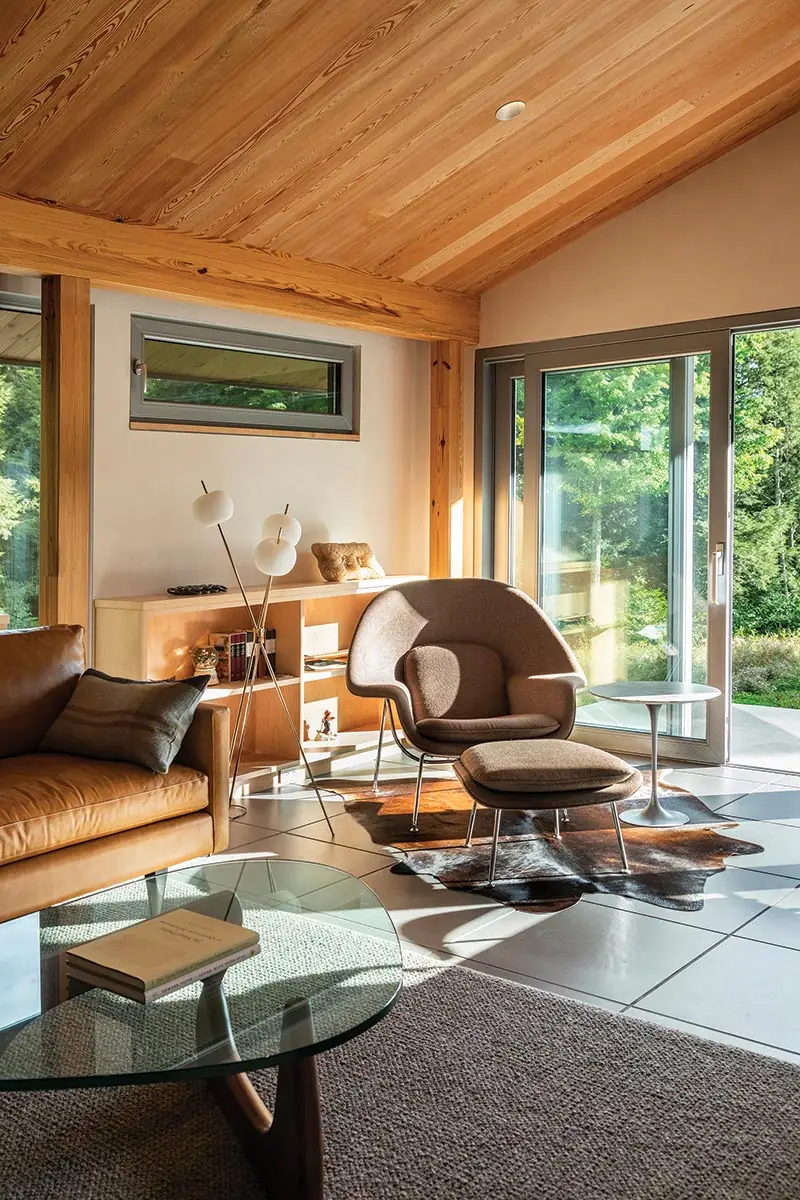 1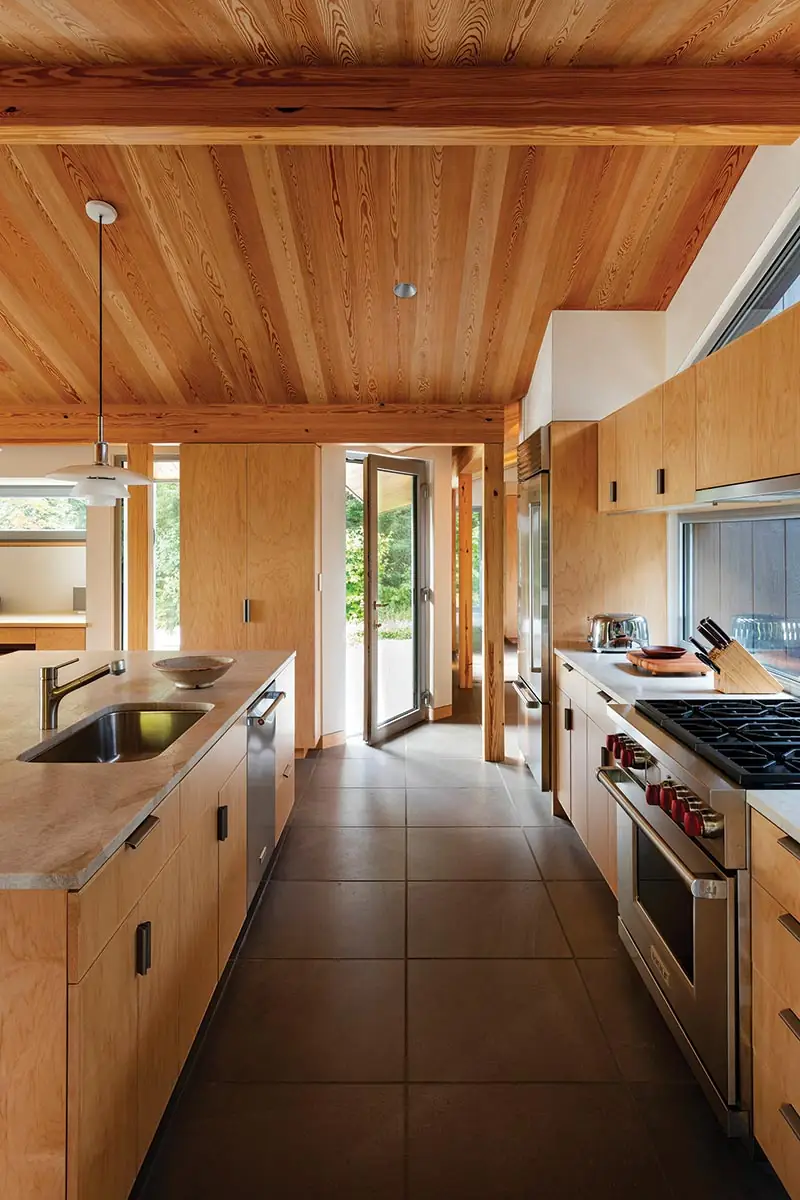 2
The kitchen/dining/living area occupies the southern wing, its ceiling lined in larch wood (1 & 2); Photos © David Sundberg/Esto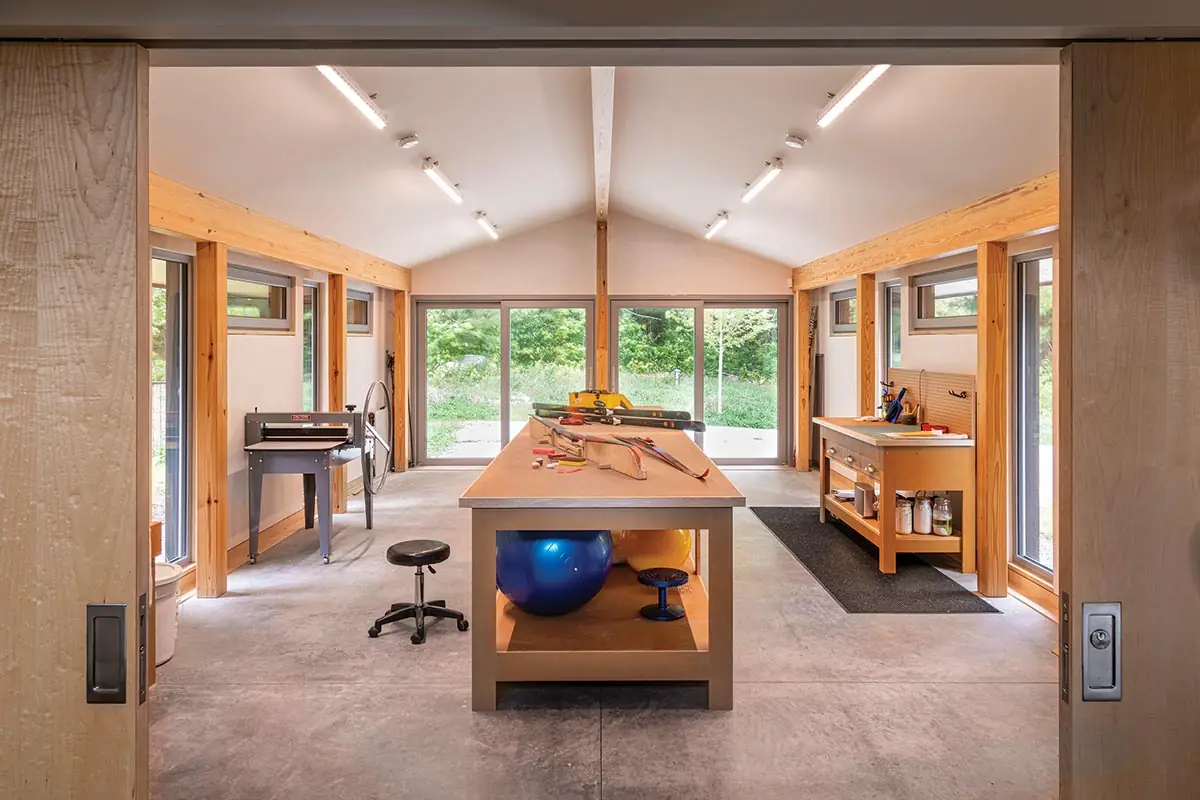 On the north, a potters workshop receives diffuse light. Photo © David Sundberg/Esto
Inspired by Stowe's early ski-lodge language, McLeod and his team clad the house (dubbed Pavilion Plus) in local eastern white cedar, stained black. A standing-seam peaked roof with deep overhangs and pronounced prows helps shade and cool the house in the summer and direct stormwater to plantings and stone beds in the four "outdoor rooms" created by the wings. Inside, an eastern larch-wood ceiling follows the form of the sculptural roof. Custom millwork and cabinetry are complemented by such details as plaster walls with a textural wax finish; a bright red front door adds warmth and a touch of contextual charm.
"We were really trying to do something modest and respectful of the place and create an opportunity for the client to be in relationship with the surrounding land and the seasons," says McLeod. "It's really important in architecture, and it seems true to Vermont."
Click plan to enlarge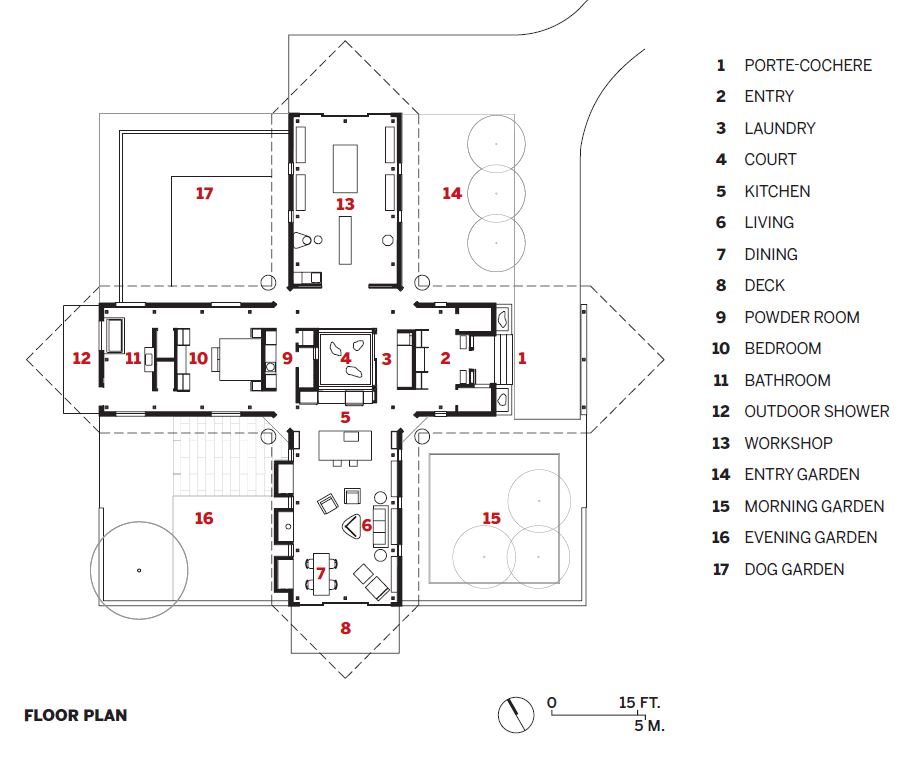 Credits
Architect
McLeod Kredell Architects
3 Frog Hollow Alley
Middlebury, VT 05753
802-989-7242
www.mcleodkredell.com
Personnel in architect's firm who should receive special credit:
John McLeod, AIA, lead partner, Stephen Kredell, AIA, consulting partner, Shari Vaccarella, design team
Interior designer:
McLeod Kredell Architects
Engineers:
Structural:Sellers Treybal Structural Engineers PC
Consultants:
Landscape:Wagner Hodgson Landscape Architecture
General contractor:
Sisler Builders Inc.
Photographer:
David Sundberg/Esto, Kate Carter, Tomislav Marincic
Specifications
Structural System:
Boise Cascade Glulam
Exterior Cladding:
Wood:Eastern White Cedar siding, Eastern Larch soffits
Roofing:
Metal:Englert
Windows:
uPVC frame:Logic Windows & Doors
Glazing:
Glass:Triple-glazed
Doors:
Entrances:Logic Windows & Doors
Wood doors: Kamco; Studco Building Systems frameless steel door jambs
Sliding doors: Logic Windows & Doors
Hardware:
Locksets:Logic Windows and Doors (exterior); Emtek (interior)
Pulls: Tom Kundig Collection
Interior Finishes:
Cabinetwork and custom woodwork:Sisler Builders Inc.
Paints and stains: Farrow & Ball
Solid surfacing: Burlington Marble & Granite
Special surfacing: Eastern Larch ceilings
Floor and wall tile: Anne Sacks floor tile; Heath Ceramics wall tile
Furnishings:
Chairs:CH88p designed by Hans Wegner/produced by Carl Hansen & Son; Womb Chair with Ottoman by Knoll; Florence Knoll Relaxed Lounge Chairs by Knoll; Spun Chair designed by Heatherwick Studio for Magis, available through Herman Miller (outdoor); Alivares Aluminum Chairs by Knoll (outdoor)
Tables: Noguchi Table by Herman Miller; Saarinen Side Tables by Knoll; Doubleframe Table by Michael Anastassiades for Herman Miller
Other furniture: Entry vintage pine stools designed by Charlotte Perriand for Les Arcs ski resort
Lighting:
Interior ambient lighting:Louis Poulsen, Sonneman
Downlights: USAI
Exterior: WAC
Dimming system or other lighting controls: Lutron
Plumbing:
Plumbing: Duravit; Kohler; Hansgrohe
Energy:
Photovoltaic system: DC Energy Innovations
Fireplace: by Bodart & Gonay