✕
In-process, completed, and on-the-boards projects featuring wood, include housing, office towers, museums, and academic buildings from Europe and North America.
Esbjerg Maritime Center
This drumlike Maritime Center (top of page), designed by Snøhetta and WERK Arkitekter, in the Danish seaport town of Esbjerg, revolves around the notion of community. Forging a connection between Denmark's west coast and the North Sea, the 40,900-square-foot laminated-pine structure sits on a waterfront site along boat slips, and hosts training and educational workshops as well as water sports. Powered by rooftop solar panels, the new facility, with its ring-shaped double courtyard, forms an amphitheater partly open to the elements, and accessible by land or sea—via boat launch, dock bridge, and footpaths. The building is clad and roofed in thermally modified pine from northern Denmark, echoing the craft of Nordic wood boat-making. Its elliptical plan encircles a raised terrace punctured by two oblong apertures that filter light into lower-level boat storage. Constructed to withstand extreme climatic events, the poured-in-place concrete first floor can accommodate high water. The vertical fins between the staggered windows evoke the rhythm of waves. With rectangular openings of varying sizes and proportions, the building glows like a lantern by night. Ilana Herzig
Flora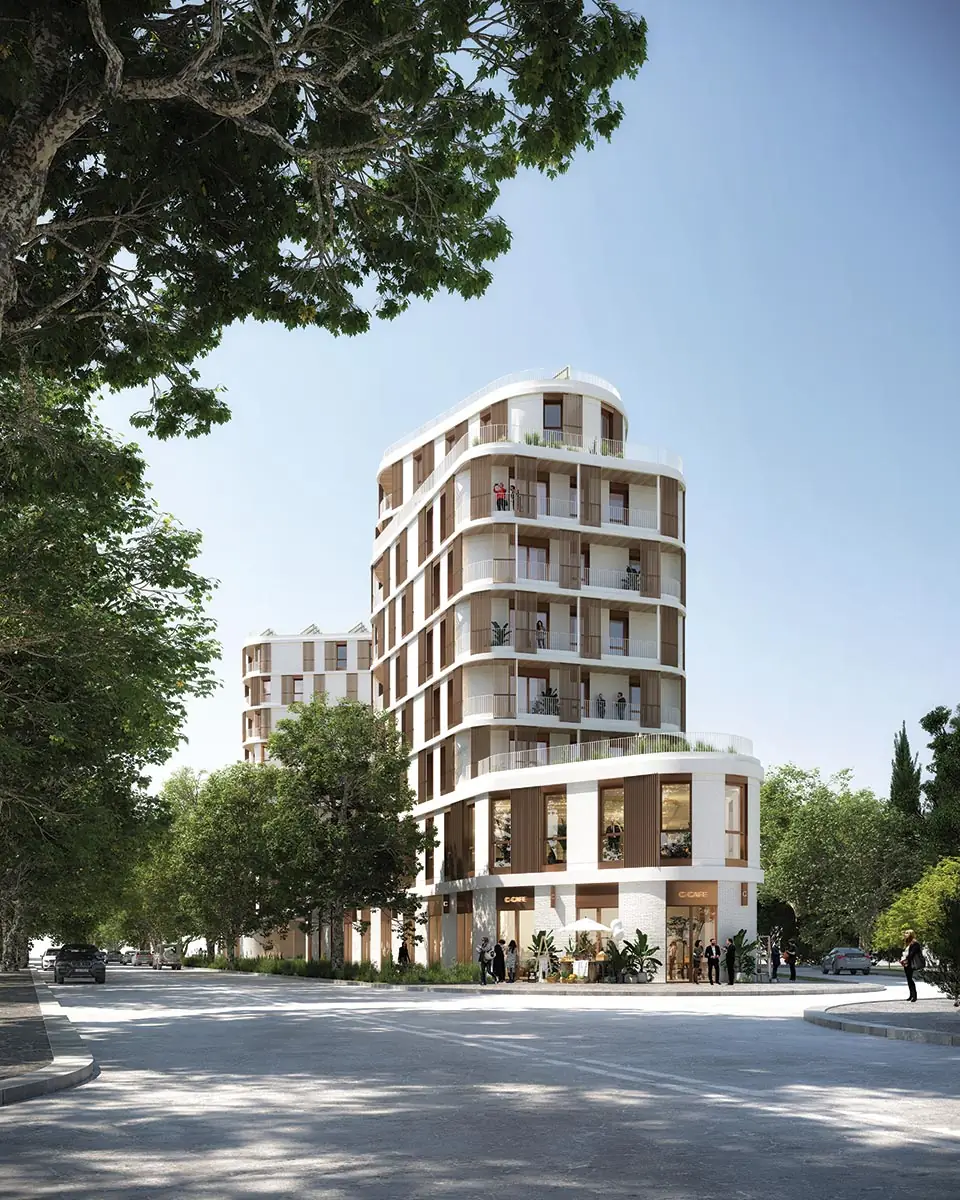 Image courtesy Michael Green Architecture, click to enlarge.
Gently curving elevations, punctuated by full-height windows and slatted-wood screens, will wrap Flora, a sculptural building in the Paris suburb of Nanterre. Designed by Vancouver-based mass-timber specialist Michael Green Architecture (MGA), with the French firm CALQ Agence d'Architecture as the architect of record, this nine-story, 90,000-square-foot residential-and-commercial project is slated for completion in 2024, as part of a broader plan to develop the emerging Les Groues district, not far from the business center La Défense. Triangular in plan, with a central courtyard, the massing consists of a two-story podium with two interconnected towers above it. The top seven floors will be residential, with a mix of market-rate and social-housing units, while the lower two stories will be a mix of retail, office, and coworking spaces. The round-cornered facades, dotted with balconies, will meet the street in a modern twist on the classic 19th-century facades of Paris, a city whose urban plan creates many triangular sites. With a primary structure of CLT and glulam above level three, "it's really a showcase of what's possible in wood," says MGA founder Michael Green. Commissioned by developer Woodeum, Flora has already won the 2022 Bâtiment Bas Carbone Award for implementation of low-carbon practices. IH
Jardín Anatole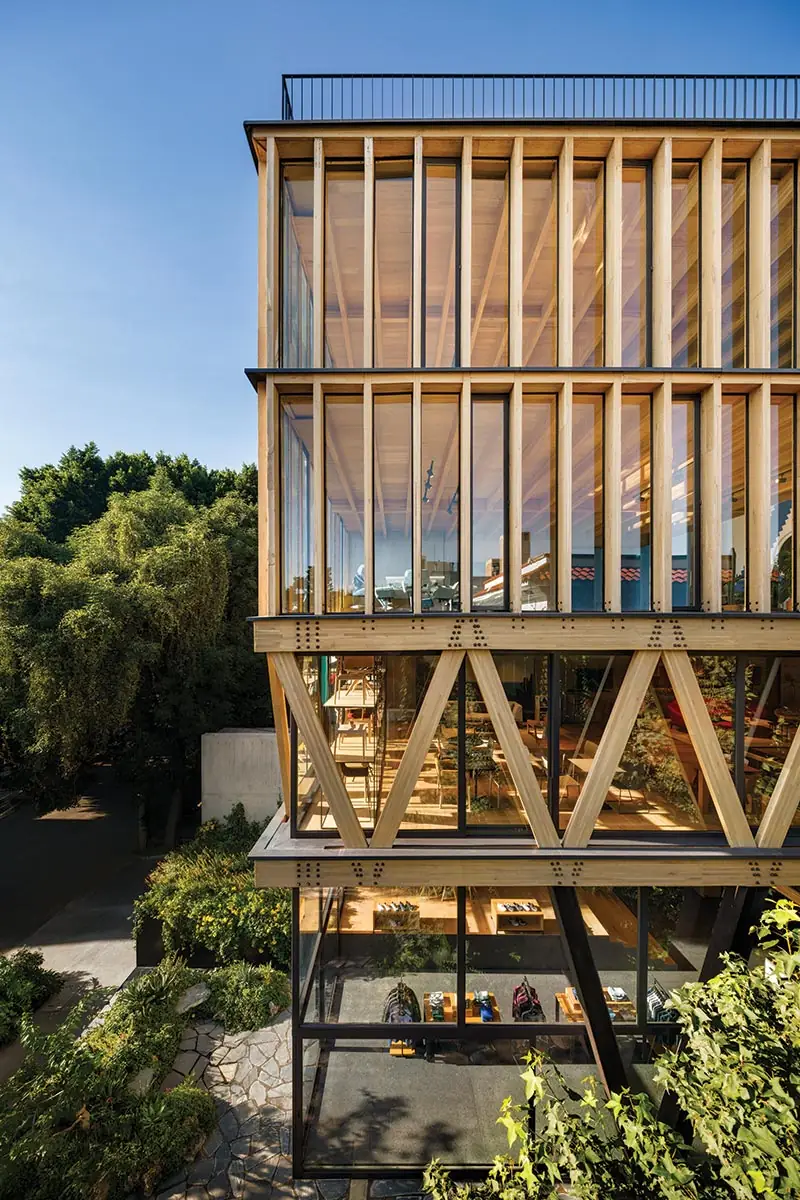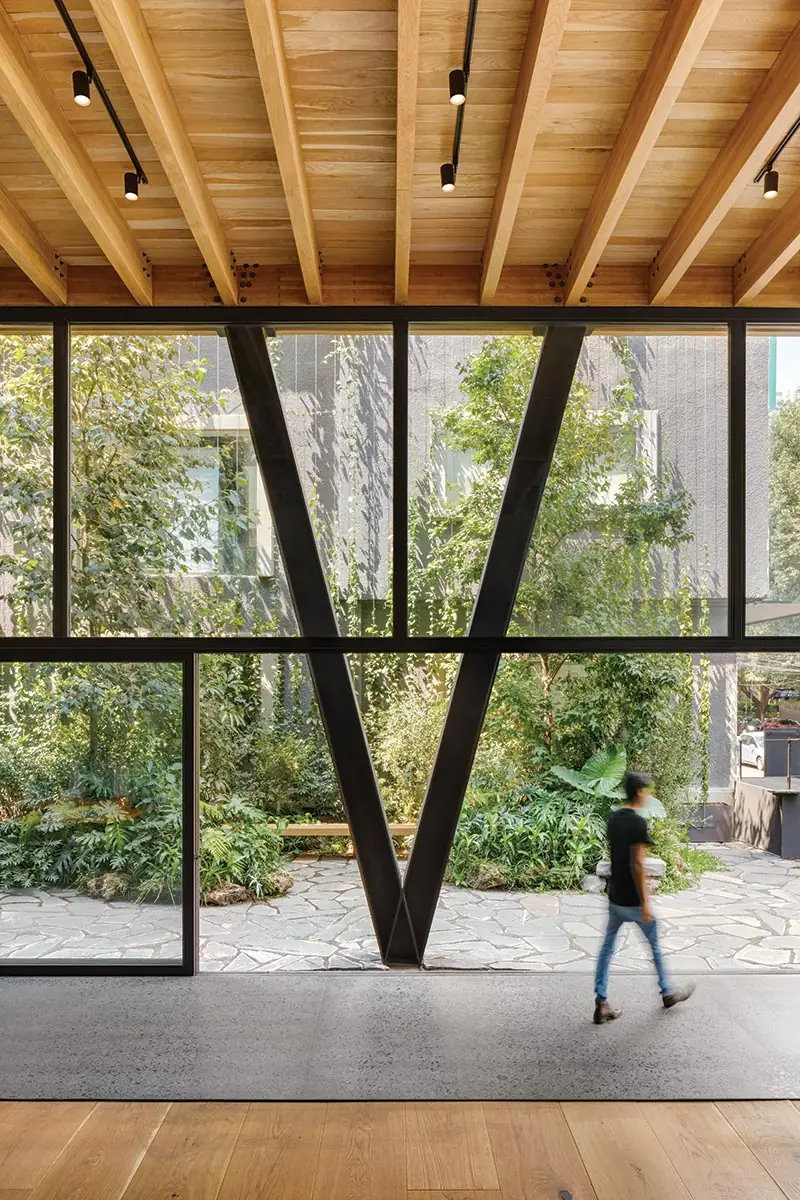 Photos © Rafael Gamo
In Mexico City's Colonia Polanco neighborhood, Dellekamp Arquitectos recently completed Jardín Anatole, a four-story timber structure on a lot that had previously been the garden of a historic residential building next door. The new 10,000-square-foot structure, which houses a clothing store, a furniture showroom, and office space, is built almost entirely of oak from northern Mexico. Jardín Anatole is the country's largest and tallest glulam building, according to the architects. Though primarily made of wood, it incorporates some concrete elements, as in its circulation core and an existing party wall provided by the neighboring building. The interiors are column-free, due to a perimeter structure that includes a second-story glulam truss and, on the levels above, closely spaced finlike elements, also of glulam. At the base, V-shaped steel perimeter columns allow the glass-enclosed "wood box" to float visually above the surrounding terraced outdoor space. Joann Gonchar, FAIA
School and Housing
Photos © Sergio Grazia
At Issy-les-Moulineaux, just outside Paris, the anticipation of Metro Line 15 (due to open late 2025) has prompted redevelop­ment of the surrounding neighborhood. Among the new buildings is a 2021 mixed-use complex by architects Brenac & Gon­zalez, comprising a school and 104 social-sector apartments. Commissioned in 2017 by housing company Seine Ouest Habitat et Patrimoine (SOHP), the project features two distinct parts—a four-story concrete base containing two underground parking levels and two above-grade school floors and, rising from this podium, two eight-story residential blocks, offering a range of typologies from studios to four-­bedroom apartments. Around concrete stair-and-elevator cores that ensure wind bracing, timber specialist Mathis built the dwellings from prefabricated CLT panels held together with metal connectors. Clad in a mix of pre-grayed larch and stainless steel, the apartments all feature balconies, realized as hybrid steel-wood structures bolted onto the facades. Timber offered advan­­tages to both client and architect: for SOHP, it helped meet environmental targets; for Brenac & Gon­­zalez, wood's relative lightness allowed construction of the housing on a different structural grid from the school, while the swift assembly of factory-fabricated components ensured they met the strict completion deadline. Andrew Ayers
Kloboucká Lesní HQ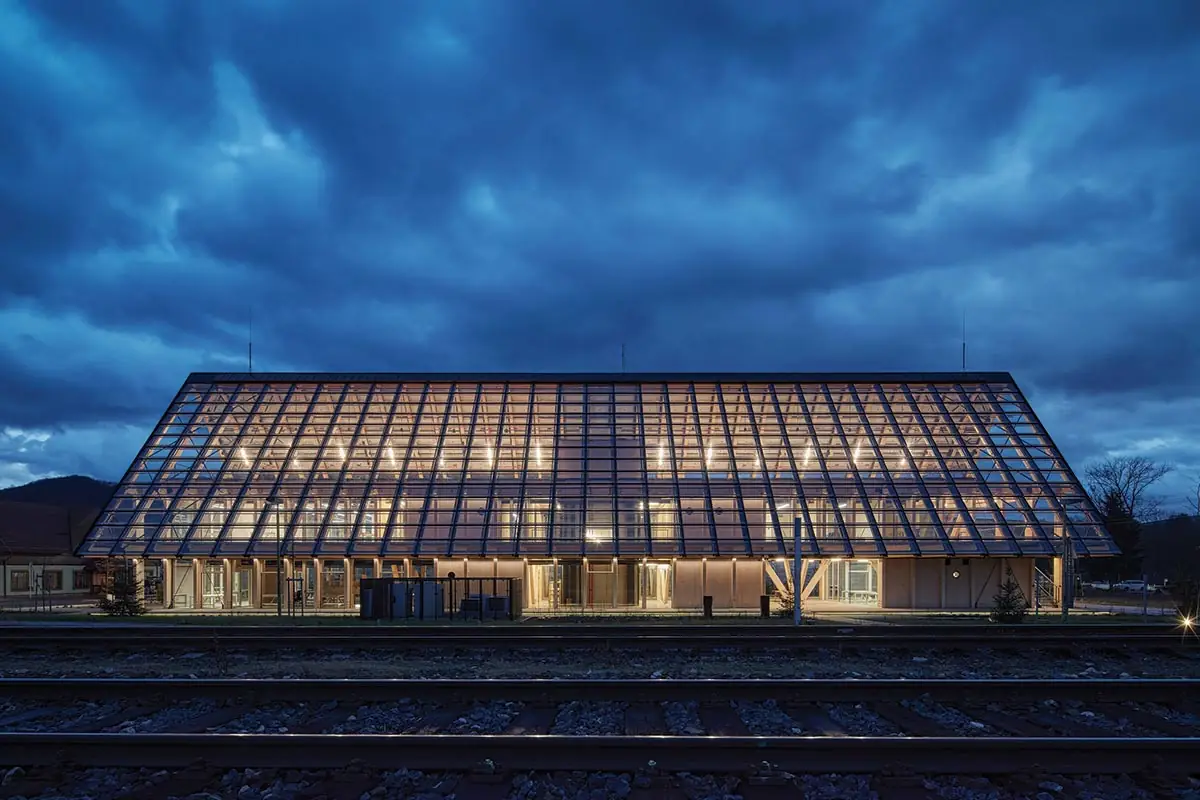 Photo © Boysplaynice
Nestled in the Czech town of Brumov-Bylnice, the headquarters for wood-products manufac­turer Kloboucká Lesní is an elongated structure with a steeply pitched roof and gabled ends, each shaped like an upward-pointing arrow. Mjölk Architekti, based in the Czech city of Liberec, designed it with a modular timber shell constructed from laminated-spruce "bioboards." The company, which aims to advance sustainable forestry through "ancestral knowledge and techno­logical inquiry," settled into the 10,800-square-foot building in 2022. Set against a moun­tainous backdrop, this multifunctional space—a stone's throw from their manufac­turing center—includes areas for events and relaxation. Sourced predominantly from local timber grown in the surrounding forests and engineered on-site, the structure has a load-bearing glulam skeleton braced by steel, and a concrete core. With much of the roof covered by photovoltaic panels and a central boiler fueled by wood chips produced at the compound, the building generates enough energy to meet its own requirements. IH
Globeville Library and Apartments
Images © John Ronan Architects
Of Denver's 78 neighborhoods, the name Globeville is among the most fitting. A multicultural, working-class enclave in the city's northern reaches, it has been home to generations of immigrants—first from Central and Eastern Europe and later Latin America—who found employ in the neighborhood's namesake smelter. Globeville is also known for its disconnections. Bounded on the east and south by the South Platte River and cleaved by railway lines, the former company town found itself fractured and even more isolated following the mid-20th-century construction of two major interstates that bisect its heart, displacing communities and leaving the cloistered and polluted neighborhood beset with neglect.
Efforts now under way to mend and revitalize Globeville include new affordable housing and overdue community resources. Combining both is a forthcoming project by Chicago-based John Ronan Architects (JRA) for the Globeville Development Partners, which will create a new branch of the Denver Public Library, topped by 173 units of family-oriented mixed-income housing, in response to encroaching gentrification. The design intentionally reflects the neighborhood's gritty character through its cladding of two U-shaped hybrid mass-timber volumes, one in galvanized steel and the other in corrugated weathering steel, encircling a landscaped courtyard for residents and, in areas, library patrons.
Originally envisioned as a "stack of wood blocks," the building has a poured-in-place concrete podium beneath five residential floors constructed with cross-laminated timber. Engineered wood also extends to nonstructural elements, including plywood in the library interior—shelving and ceiling and wall cladding—in another nod to Globeville's blue-collar roots.
"There's a theme of dirty/clean in the project, with Globeville being home to these historically dirty industries that need to be cleaned up," says Ronan, "so CLT was fed into that narrative, in that it's a very clean, sustainable technology—a new direction for Globeville." Matt Hickman
UNL College of Architecture
Images courtesy HDR + Nadaaa
Omaha-based HDR has garnered attention for its typology-spanning mass-timber projects, yet all these buildings, completed and in progress, are located outside the Cornhusker State (with most coming from the firm's busy British Columbia offices). HDR is now, however, using engineered wood in its own backyard for a major addition at the University of Nebraska-Lincoln's College of Architecture (plus one other mass-timber project elsewhere in the state). They're joined by Boston-based NADAAA, which has won praise for its timber-and-steel-framed North Hall at the Rhode Island School of Design—"not extensive experience, but substantial enough that it was something that we could bring to the table," says NADAAA founder Nader Tehrani. Now under construction as the second phase of a larger overhaul of the College of Architecture, HDR and NADAAA's four-story linear expansion built from glulam and CLT replaces the 1950s-era "stacks" addition at Architecture Hall West, yielding 14 new studios, a student lounge, and more. "It's an interesting time line of buildings," says HDR design director Tom Tren­olone, of the college's eclectic assemblage of structures—which includes two main halls, completed in 1892 and 1912, a connective atrium known as the Link that debuted in 1987, and soon this mass-timber addition. "It's very appropriate for a college of architecture." MH
Timberlands Center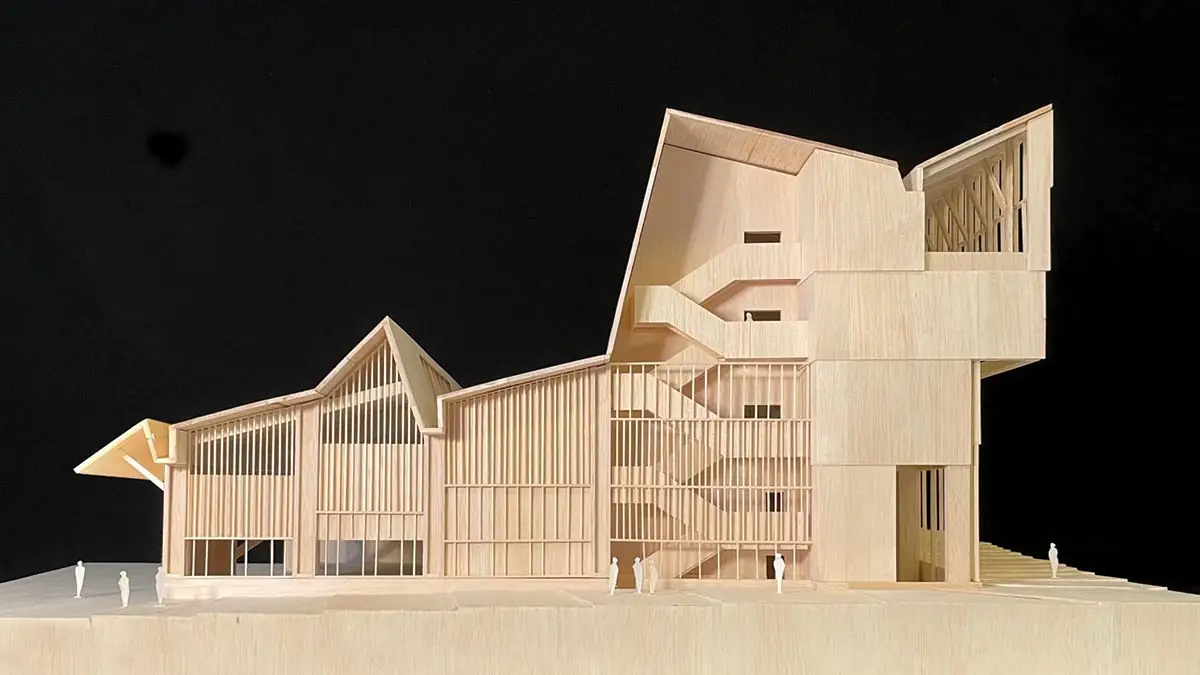 Photo courtesy Grafton Architects and Modus Studio
Site work has commenced on the Anthony Timberlands Center for Design and Materials Innovation at the University of Arkansas. This is the first project in the U.S., and the first built with timber, for Pritzker Prize–winning firm Grafton Architects, which is working with local firm modus studio. As part of the Fay Jones School of Architecture and Design, it will be a space for fabrication, research, and development, constructed significantly of timber and wood sourced in Arkansas, the eighth-largest timber producer in the U.S. It will be home to the school's ongoing design-build and graduate programs and collaborative efforts with partners in the state's forest industries. It is expected to complete at the end of 2024. Josephine Minutillo
Office Building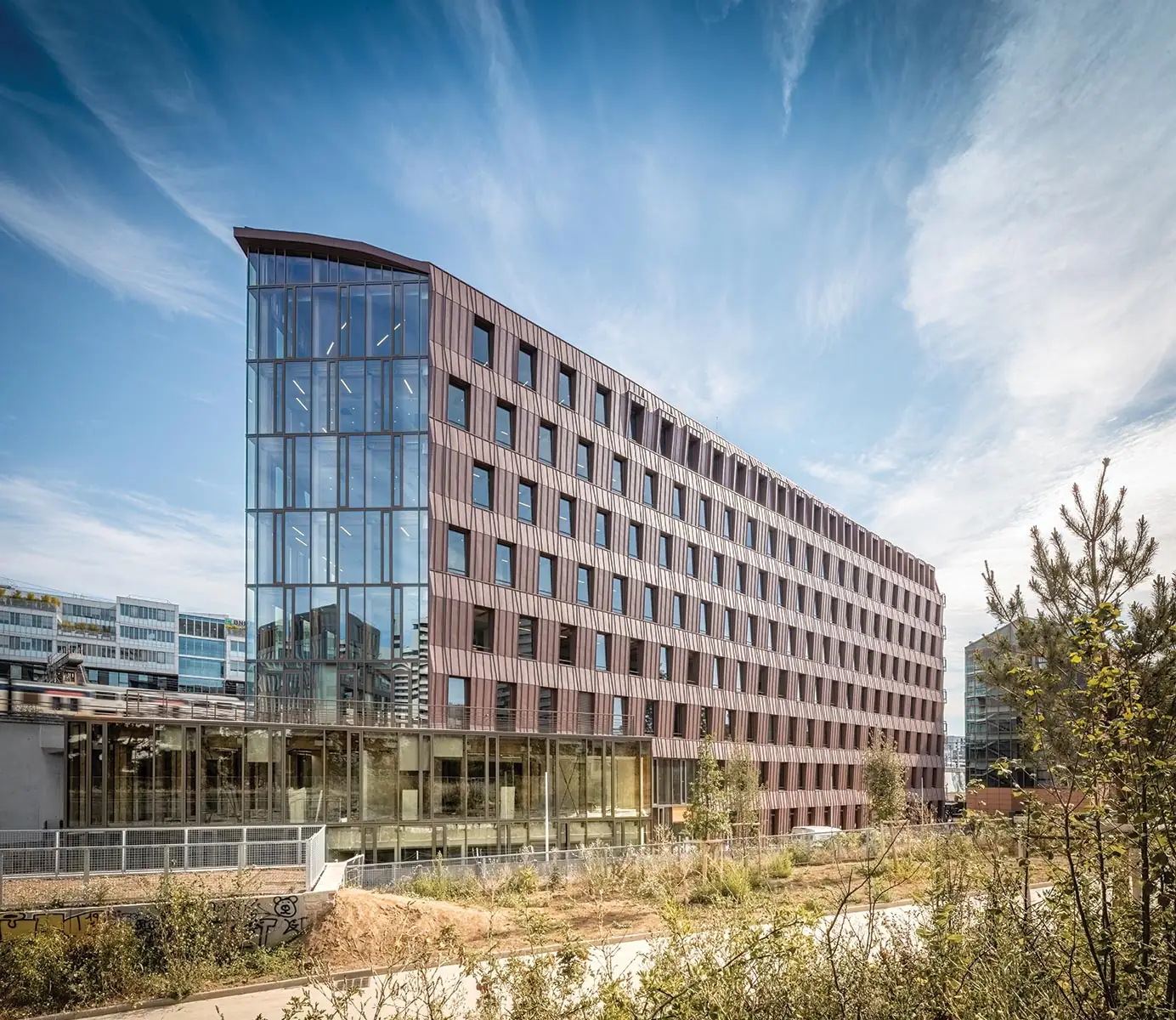 Photo © Nicolas Grosmond
"The right material in the right place," says architect Anne Carcelen of this eight-story office building in Paris's 19th arrondissement. One element in the redevelopment of a former industrial area, and completed in 2021, the project is located on an awkward wedge-shaped site next to railroad tracks. The partly state-owned developer, Icade, wanted to set an example by building in mass timber, and commissioned Carcelen for her experience with the technique, which includes the 2014 Lycée Nelson Mandela in Nantes, designed when she was a partner at Leclercq Associés. With a concrete elevator core and concrete base, the cross-laminated-spruce frame, which is left largely exposed inside, carries prefabricated concrete-slab floors, chosen for their acoustic properties and speed of assembly.
A similar pragmatism prevails in the treatment of the timber-framed facades, using folded red-brown zinc cladding on the two longest eleva­tions—both diffusing train noise and evoking the site's industrial past—and, at either end, glass curtain walls. BIM, employed for design, construc­tion, and maintenance, was essential in realizing the many one-off pieces required for the building's irregular shape. A proponent of environmentally respon­sible construction, Carcelen is now bringing her expertise to the U.S. as a partner in the New York firm OulipO. AA
Portland Museum of Art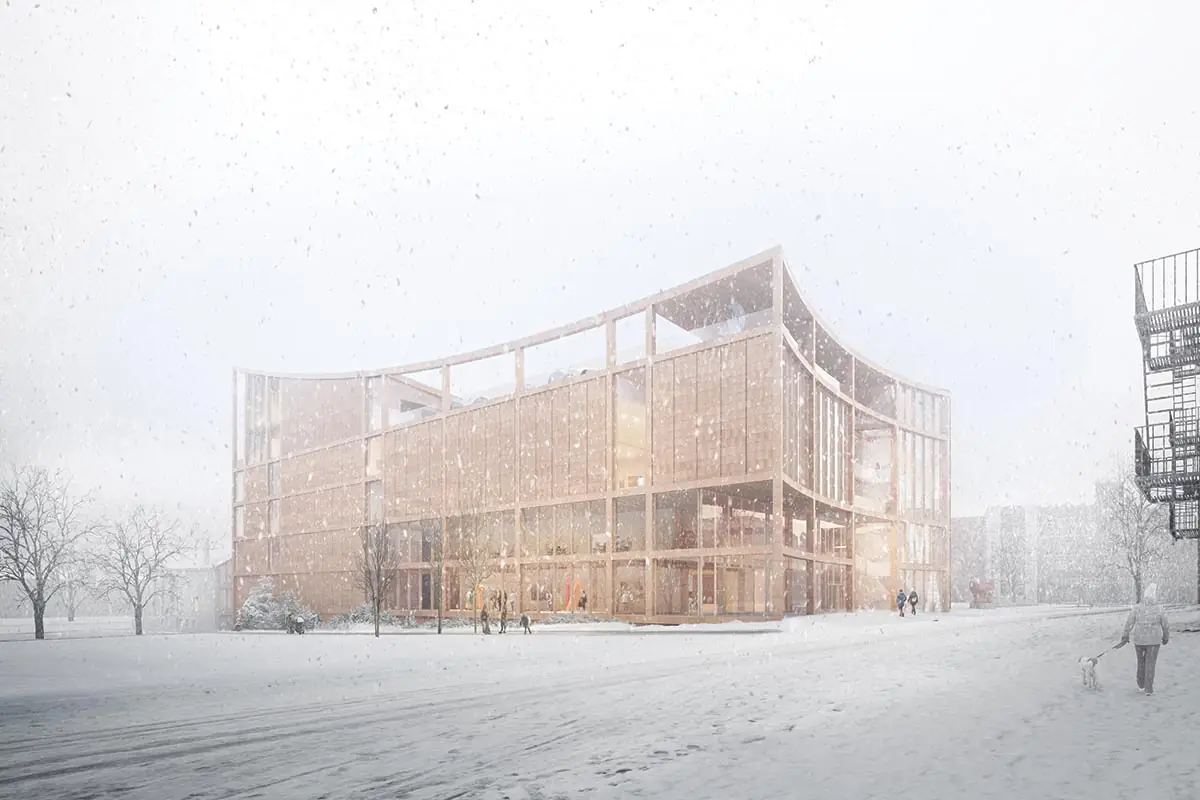 Image courtesy Darc Studio, courtesy PMA, Lever Architecture, Dovetail Design Strategies
LEVER Architecture, a firm based in Portland, Oregon, noted for its pioneering embrace of mass-timber construction, is making its mark on the other Portland—the similarly forest-flanked one in Maine—with a $100 million revamp of that city's most venerable public art institution. The first expansion of the Portland Museum of Art (PMA) in four decades, it includes a new 60,000-square-foot wing that knits together PMA's quartet of disparate but architec­turally significant buildings at Congress Square. Adjacent to the museum's Payson Building (1983), the six-story addition will include gallery space and community gathering areas, with a design incor­porating mass timber, terra-cotta, and glass. "The possibility of using Maine lumber is really exciting," says LEVER principal Chandra Robinson, noting that sourcing local timber is "something we do in our projects, because we feel it helps balance the rural and urban equity, so we're pushing more jobs and manufacturing back into rural areas." MH
Summit Building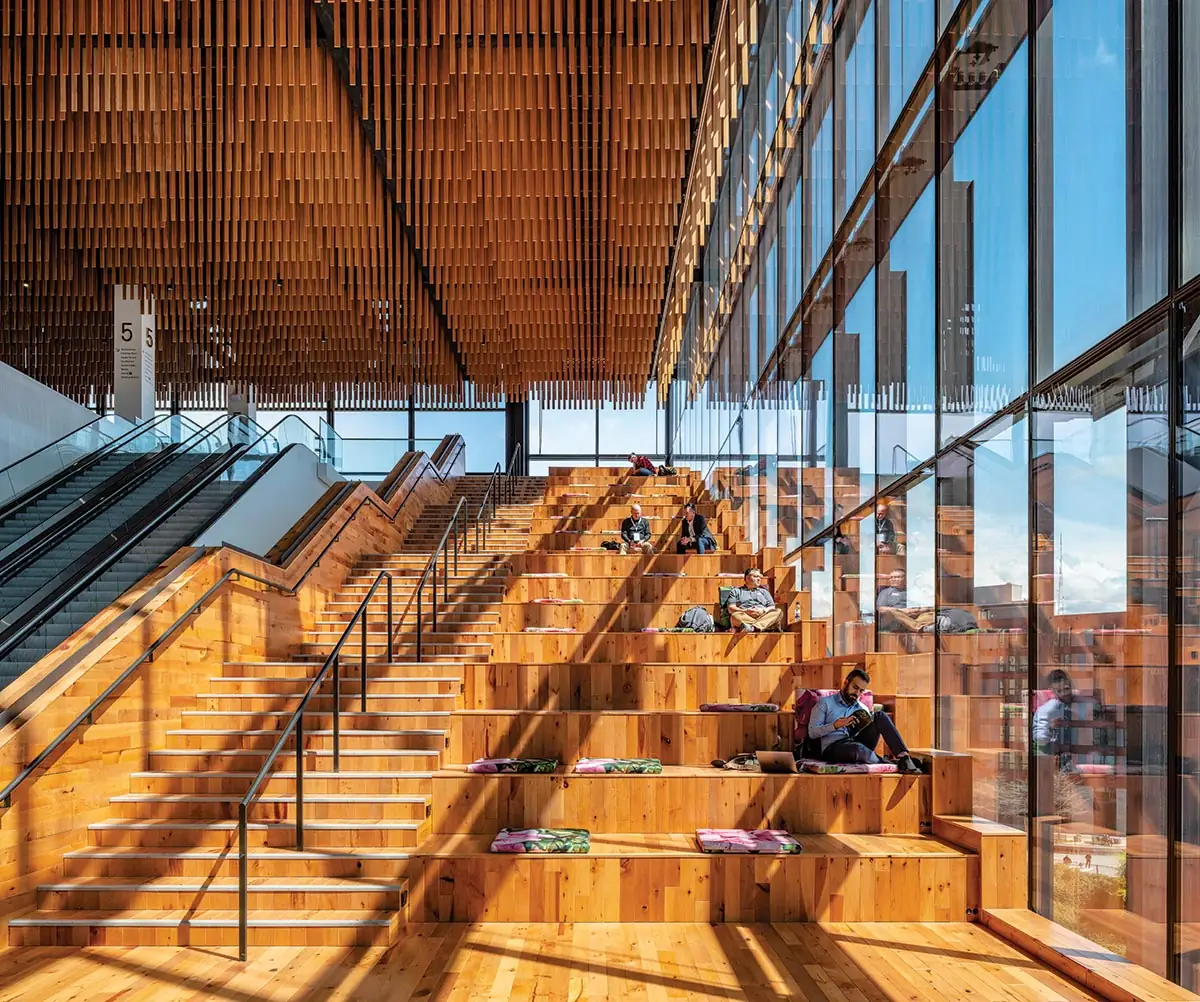 Photo © Tim Griffith
A 1.5 million-square-foot extension of the Seattle Convention Center, the Summit building was completed in January. Designed by local firm LMN Architects, the centrally located urban project has six levels of event spaces, which include an 58,000-square-foot ballroom on the top level. The steel-framed building is visually open to the street via extensive glazing on the exterior, and LMN incorporated warm timber accents throughout the interior as a nod to the regional heritage of the lumber industry. The amphitheater-like social stairs, made from madrone hardwood native to the Pacific coast, cascade within the west-facing glass curtain wall from the fifth floor to the ground level. Above them hangs a canopy of dangling Douglas fir "combs." This effect is repeated on the ceiling of the ballroom, where the combs are made up of wormwood—wood salvaged from log booms off the Washington coast in the Salish Sea, which is uniquely textured from the tunneling habits of Teredo clams. Pansy Schulman
New York Climate Exchange
Image © SOM, Brick Visual
The transformation of Governors Island continues with the April announcement that Stony Brook University will serve as anchor institution for a $700 million climate-solutions hub, planned for the 172-acre former military outpost in the heart of New York Harbor. Dubbed the New York Climate Exchange, the campus will be developed over two phases, with Skidmore, Ownings & Merrill (SOM) leading a team with three other firms. The design, as the firm's own description puts it, intends to "weave new architecture into the island's beloved park to create a living laboratory for research, education, and public enjoyment." The first phase of the 400,000-square-foot facility will encompass a pair of sinuous mass-timber buildings by SOM. Centered around several acres of newly created public green space near the island's eastern shoreline, these multistory pavilions will host spaces dedicated to education and research, and incorporate myriad sustainability strategies to help satisfy the holistic—and ultra-stringent—performance metrics of the Living Building Challenge. MH
H1 Apartment Building
Images © Studio Blomen
At the Zwhatt development in Regensdorf, north of Zürich, Boltshauser Architekten is building a 24-story mass-timber apartment block due for completion in 2024. One of two residential towers programmed in Peter Märkli's master plan, H1, as it is known, will contain 150 units ranging from studios to family duplexes, as well as a café and a coworking space in its lower levels. Winners of a 2019 design competition, Boltshauser proposed timber both for its low-carbon credentials and its speed of construction—approximately six months faster than an all-concrete tower, the architect estimates. Structurally hybrid, H1's first five levels (including two basement floors) are poured-in-place concrete, as is the central elevator tower; around this core rises a timber/concrete structure comprising columns, beams, and facades in Swiss beech, with prefabricated concrete floors. Wind loads are transferred via the floors to the core and down to the podium, a solution that also fulfills seismic requirements. Outside, the red-metal-clad elevations feature brise-soleils carrying photovoltaic cells, while, inside, the timber/concrete structure is fully expressed. Residents will enjoy living rooms with loggias as well as highly flexible layouts. AA
Atlassian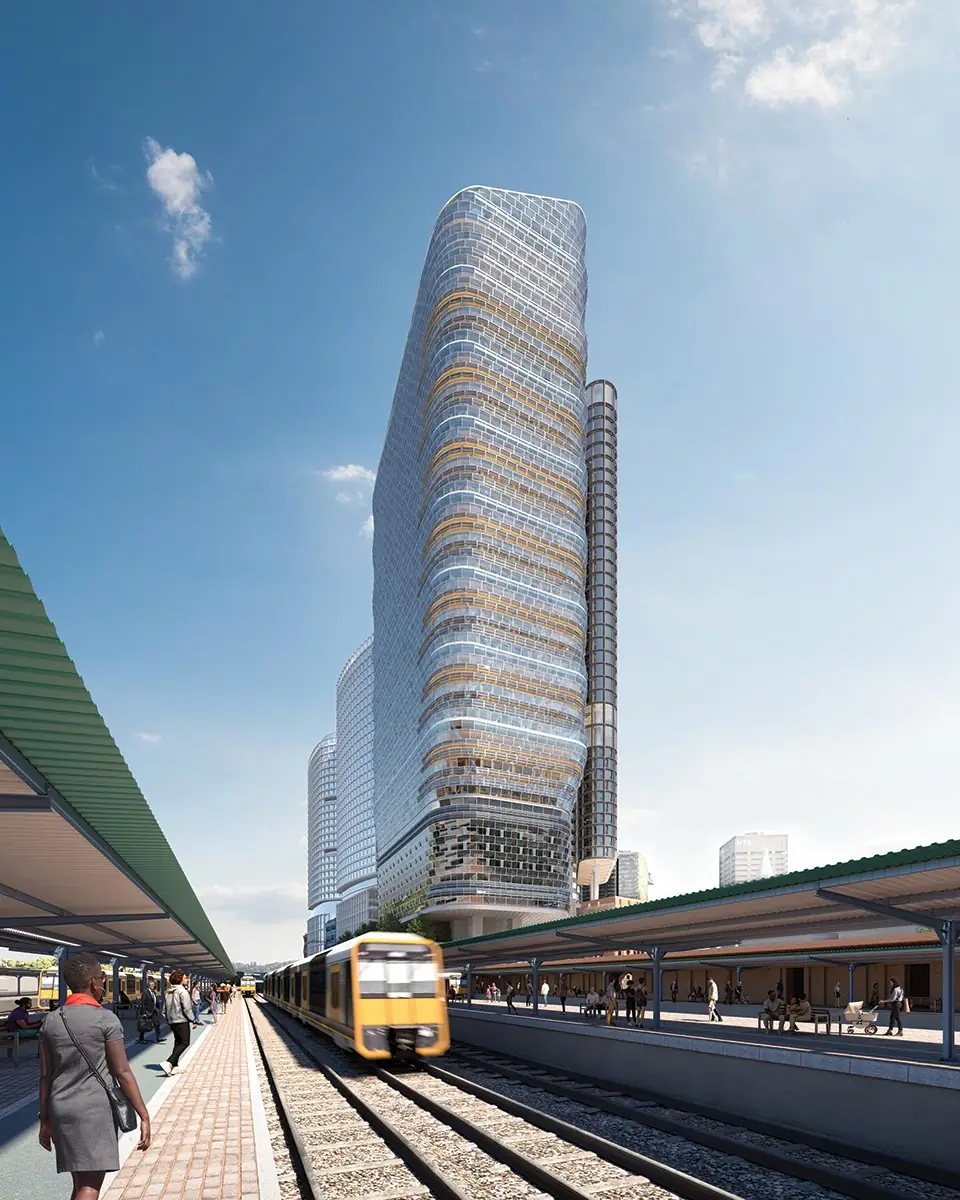 Photo © SHoP Architects
Australian software company Atlassian is building a new headquarters near Sydney's Central Train Station. Designed by SHoP, with BVN as executive architect, the nearly 600-foot-tall structure is one of several projects vying to become the world's tallest hybrid timber skyscraper. Atlassian Central Tower will include a 39-story shaft rising from a podium, a concrete core, and a steel exoskeleton. Within that framework, floors will be organized as four-story "habitats," each a freestanding assemblage of glulam columns and beams and CLT floor slabs. Due to structural requirements and the need for large production volumes, these mass-timber components will be sourced from Europe, according to the architects. The hybrid approach is expected to produce a building with half the embodied carbon of a conventional skyscraper. It will be powered 100 per­cent by renewable energy, including electricity generated by facade-integrated photovoltaic panels. The project is targeting 5.5 out of six possible stars from the National Australian Built Environment Rating System (NABERS). Excavation began earlier this year, and steel erection for level 1 is slated to start in 2024. JG
Zurich Airport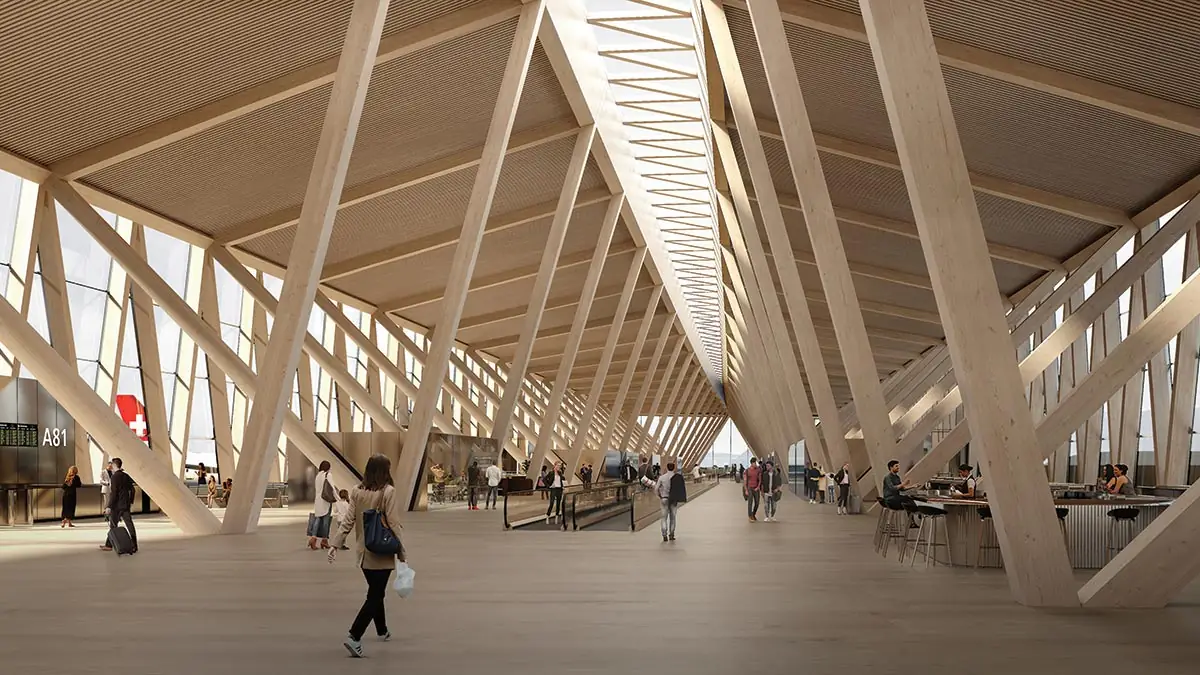 Image courtesy BIG
After a two-stage international design competition to overhaul Zurich Airport's main terminal, Bjarke Ingels Group (BIG) and HOK were awarded the project in June of 2022. With an expected completion date of 2032, the winning redesign of the aging structure, originally built in the 1950s, is titled Raumfachwerk (or "space frame") and will be constructed primarily with locally sourced timber. The ground-up renovation will consist of a seven-story central hub—with a new air-traffic-control tower, retail, and airport services for passengers—connecting to a narrow pier with a bevy of new gates and waiting areas. According to BIG principal Bjarke Ingels, the project is both "rooted in tradition and committed to innovation." Its timber framing is an homage to Swiss architectural tradition, while its roof, which extends from the central hub through the length of the pier, will be entirely clad in solar shingles. PS