✕
Rising 50 stories above New York's Fifth Avenue, opposite the Plaza Hotel and Central Park, the 1968 General Motors Building, designed by Edward Durell Stone, was notably controversial when it was built, causing the demolition of McKim, Mead & White's Savoy-Plaza Hotel (1927) and interrupting a graceful cluster of early 20th-century chateau-style structures with a modern steel-and-glass skyscraper (one that would house an automobile showroom) clad in faceted white stone. Its prime location has always been a magnet for aspiring businesses, however. Some 55 years later, the GM Building's tall hexagonal piers and pristine lobby still attract high-profile retailers like Apple, Balenciaga, and Dior to open shops within its base and numerous blue-chip companies—Estée Lauder and wealth-management firms among them—to locate their offices on its upper floors.
In 2019, wanting to maintain the building's appeal to its well-heeled clientele in a competitive real-estate market—and to help them maintain their employees—current building owner BXP surveyed key occupants to learn what services the tower lacked. According to Hilary Spann, the developer's New York–region executive vice president, the BXP team then ranked the respondents' priorities and called on New York–based Fogarty Finger to devise a scheme for an amenity suite that would accommodate them.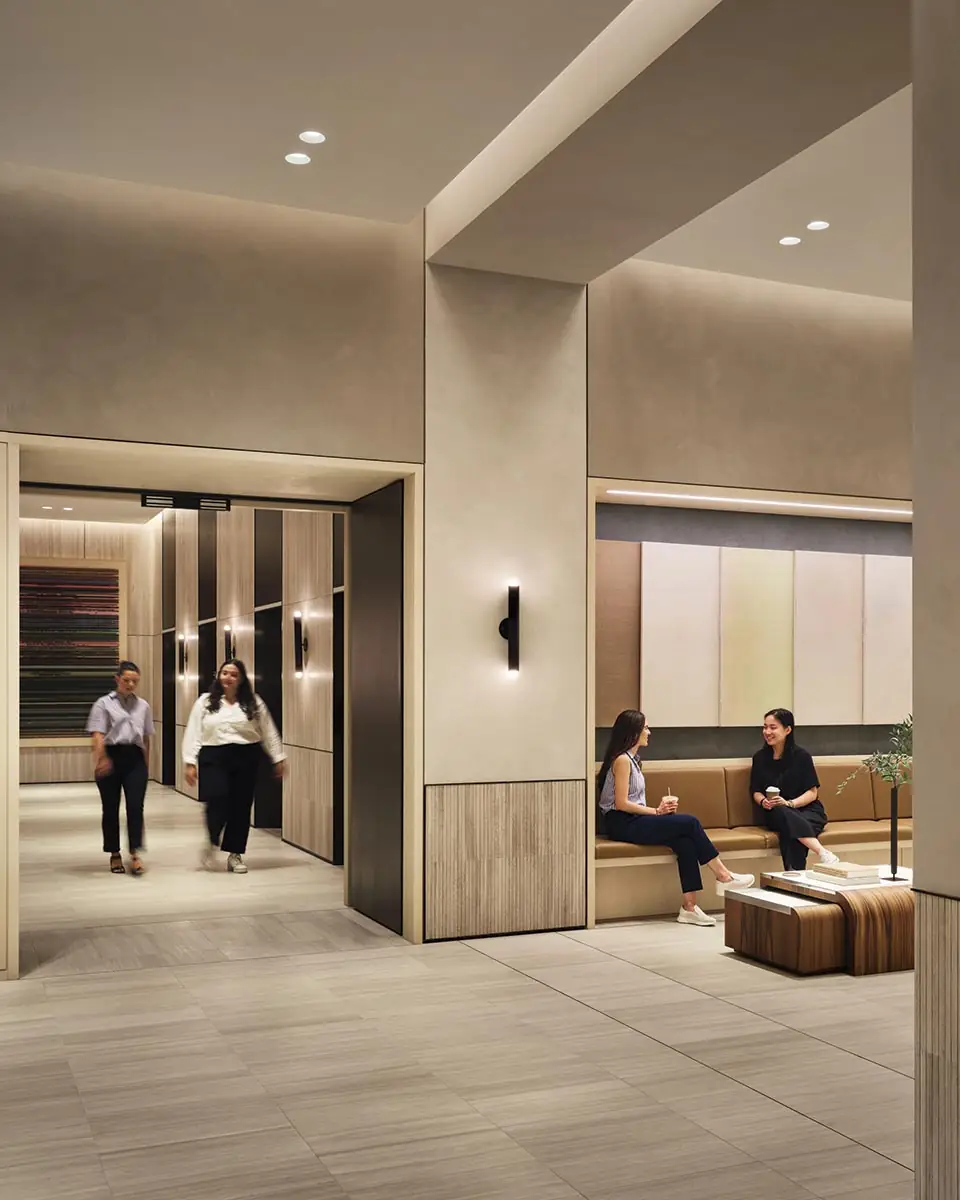 A travertine-clad elevator lobby leads to the café (top of page) and lounge (above) through a deep white-oak portal with flush bronzed doors. Photo © David Mitchell, click to enlarge.
A wellness-related venue was No. 1 on their list, says Spann, followed by an affordable food option, a rare find in the city's tony Plaza District. They also asked for a place to hold large meetings, she adds, noting, "It doesn't make sense to rent enough space to host 250 people and use it once or twice a year."
Located on the second floor, the new Savoy Club—a nod to the site's past—opened early this year. The place was humming with activity during a recent midday visit, populated by workers running in for a quick bite, or coffee from its well-stocked café, or perched with laptops on comfortable furnishings.
L-shaped in plan, the 26,000-square-foot space—last occupied by the FAO Schwartz toy store and originally by the GM showroom—was delivered raw, with a 19-foot slab-to-slab height and existing freight elevator, one that formerly hauled cars up for display. Working with BXP senior development project manager Federica Burelli, the architects mapped out three programmatic zones: a central food and beverage hub, complete with state-of-the-art prep kitchen for daily service and events; a versatile conference center with a lounge, wine bar, and three seminar rooms that open to one large space as needed; and a well-equipped fitness facility that spans the building's east side, with luxurious locker rooms, showers, and a series of studios for working out, group classes, stretching, cycling, and physical therapy.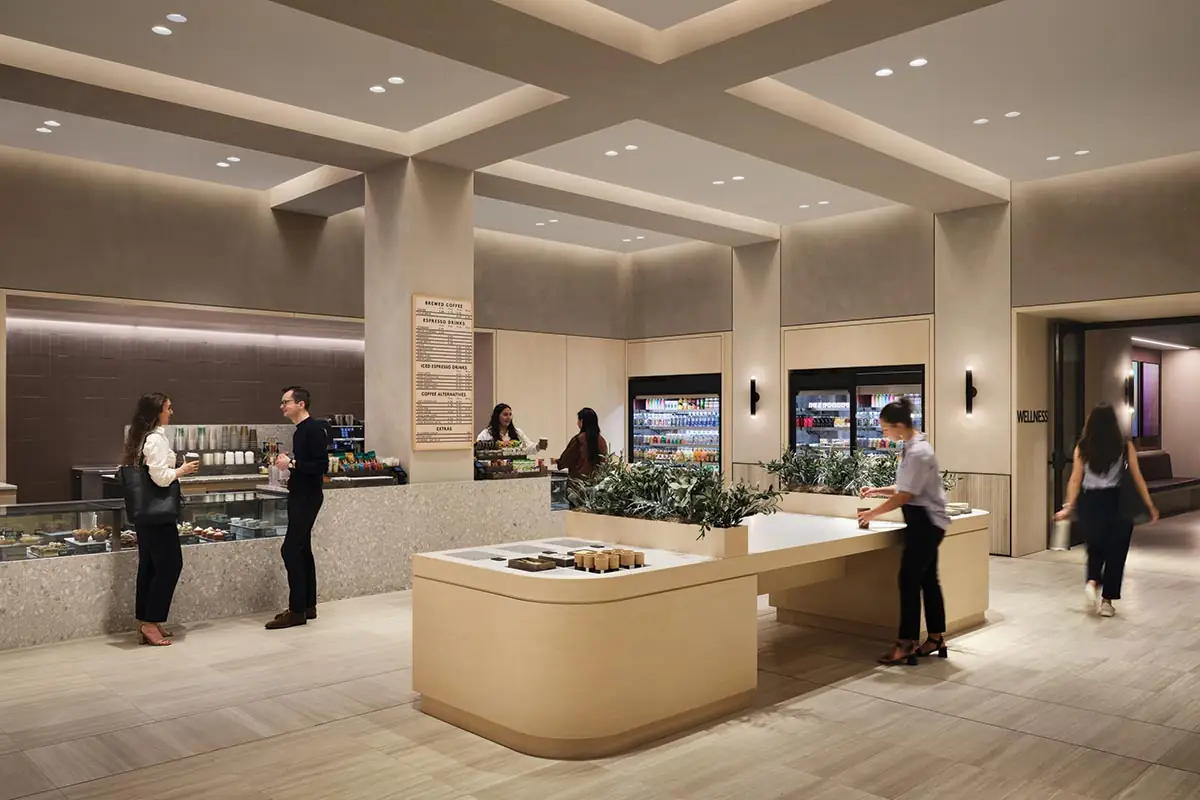 1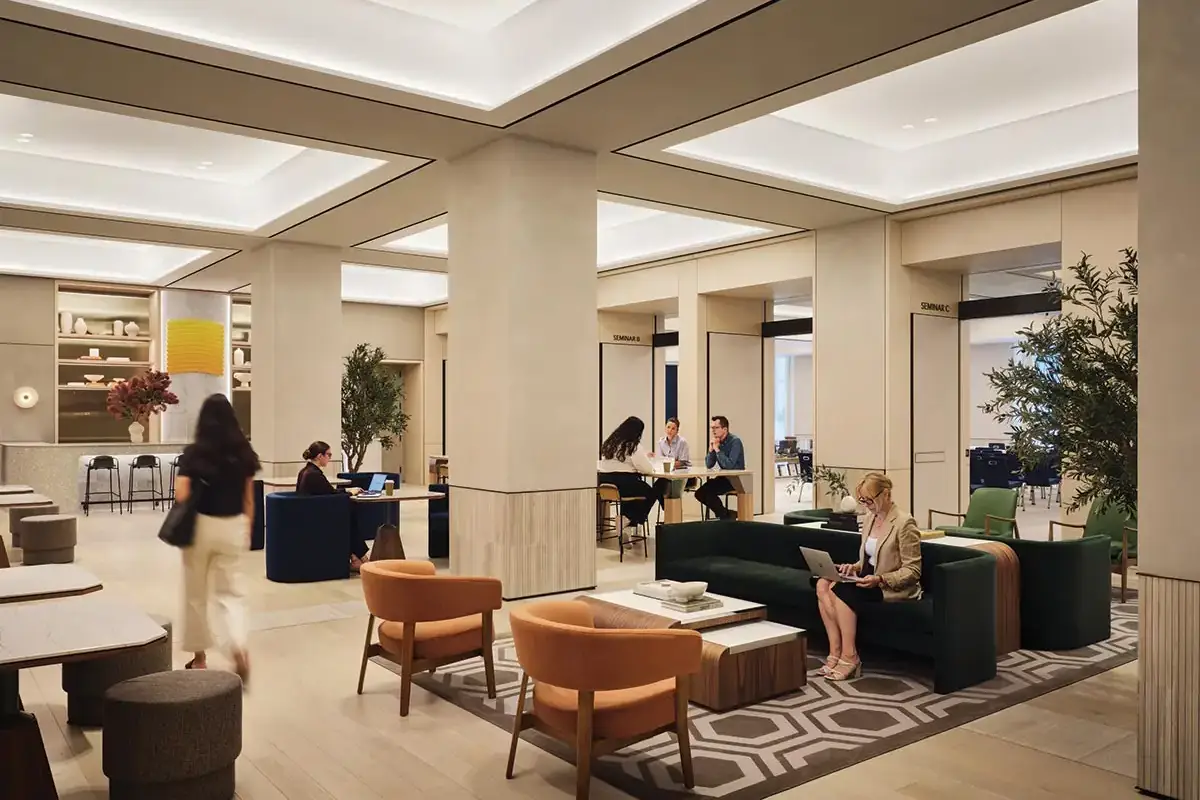 2
The café links to the fitness area (1), while the lounge (2) opens to three expandable seminar rooms, one of which doubles as a library when not in use (3). Photos © David Mitchell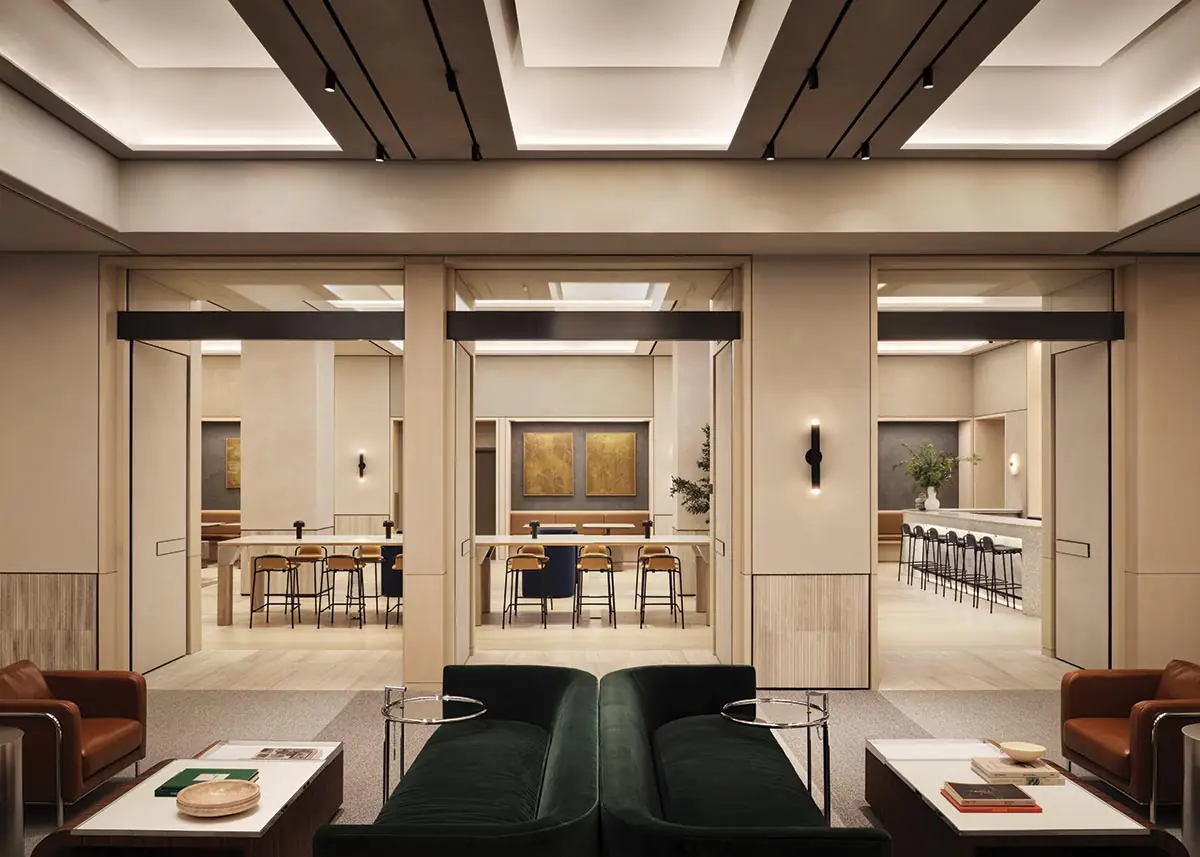 3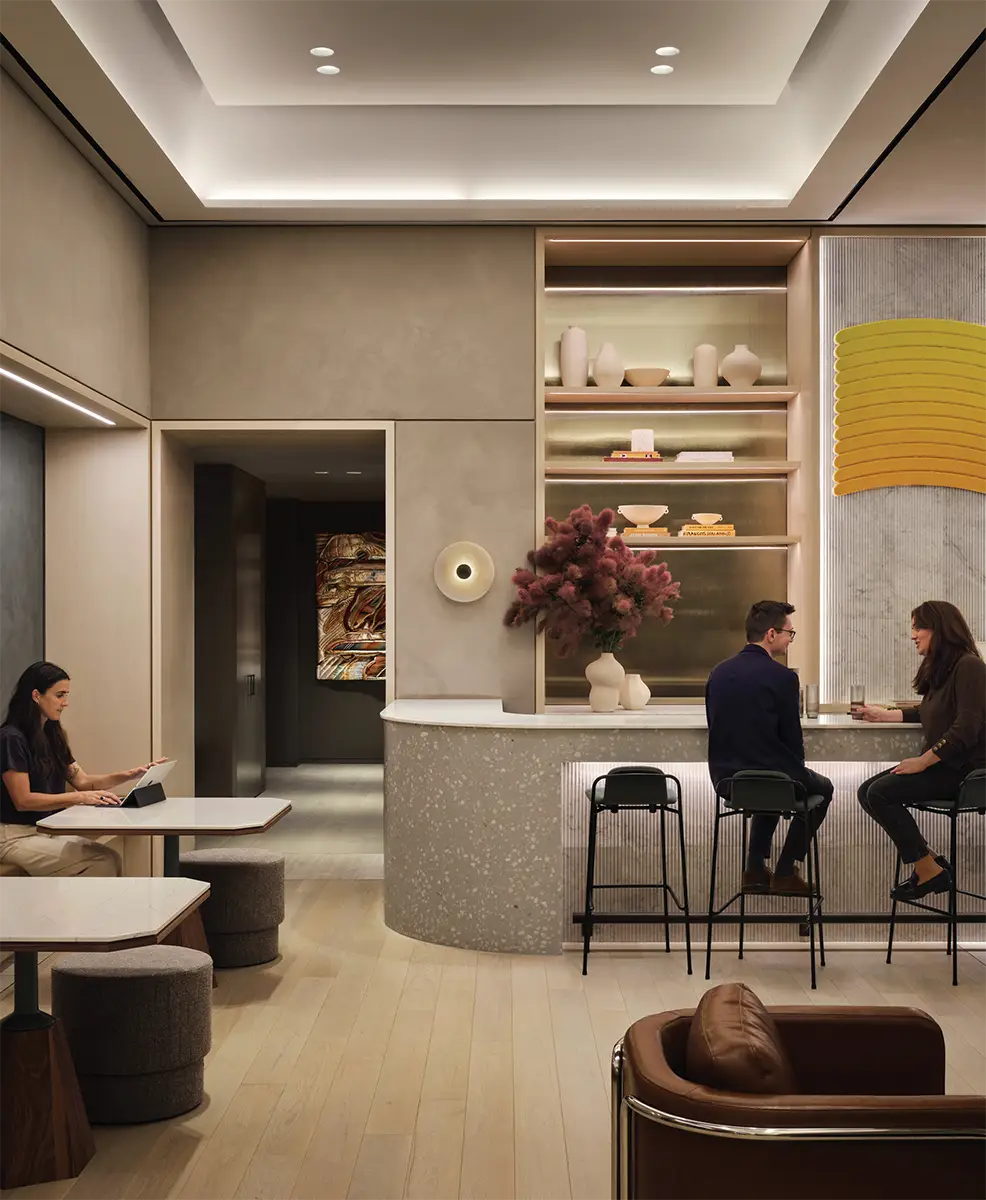 Terrazzo and travertine enrich the bar in the lounge. Photo © David Mitchell
Fogarty Finger's material toolbox references Stone's architecture and the midcentury design ethos of his building's namesake tenant. "We really wanted to bring the monumental tone-on-tone materiality of his lobby up to the second floor, but with a warmer, more enveloping color palette amenable to a hospitality setting," says Garrett Rock, lead designer. Natural stone figures prominently, but instead of the stark white marble on the exterior and in the main lobby, Rock and his team chose a rich vein-cut travertine, applying it to floors, walls, and vanities. They also drew from the lobby's verticality and patterns, fluting the travertine for wainscoting that mimics its marble grills and borrowing the polygonal forms on its ceiling and floors to shape custom tables and rugs. These neutrals are complemented by similarly hued white oak in the lounge, striped carpet in meeting rooms, and terrazzo (actual and a slip-resistant faux of porcelain) in the functional café, bar, and locker rooms. Impact- and sound-absorbing rubber and convincing wood-look vinyl and plastic laminate provide practical fitness surfaces. The one pop of color: book-matched Calacatta Viola marble accent walls in the showers, which elevate a typically routine experience to that of a spa.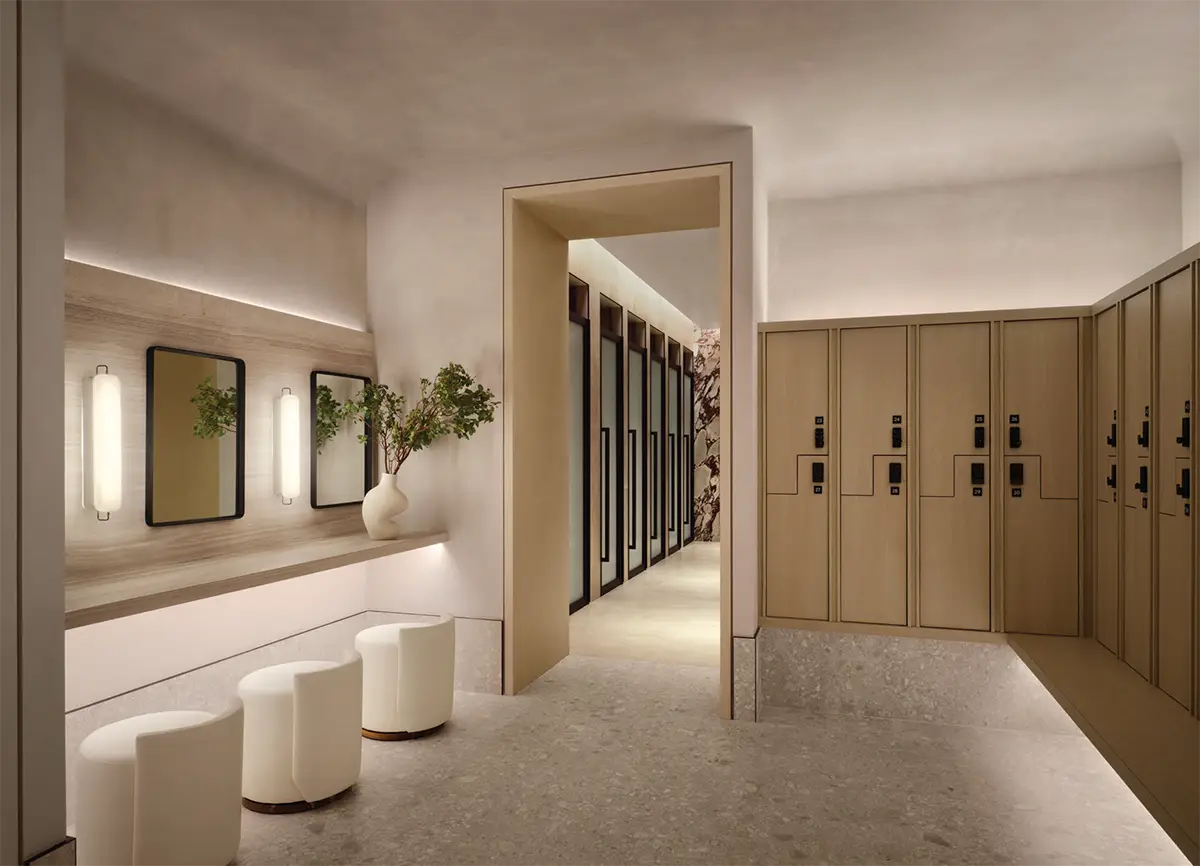 Ceiling curves and marble enhance locker rooms. Photo © David Mitchell
Much of the inspiration for the muted surface treatments came from GM itself, and a short-lived group of 10 women designers the company hired in the 1950s to style car interiors that would appeal to a growing community of female drivers and decision-makers. Dubbed "Damsels of Design" (an unfortunate name), they introduced craftsmanship, two-tone interiors, and such materials as microsuede into the newest models. Here, their influence is most evident in the tactile limewash and clay paints on the walls, curvy solid-surface-topped walnut tables edged in chrome, softly rounded locker-room ceilings, and plush upholstered banquettes, sofas, and seating.
The generous volume allowed the architects to build out columns, beams, and ceiling planes to effectively conceal HVAC and lighting. Rock notes that the greatest challenge was daylight. Though the space is surrounded by windows, an easement for retail signage leaves only two primary sections unblocked—one along the seminar rooms, the other spanning the group fitness studio. While these spaces are often open, the architects utilized fully or partially glazed doorways to filter daylight into the adjacent areas when closed off for activities. Mirrors and programmable variable-white lighting, too, enhance the perception of natural light throughout.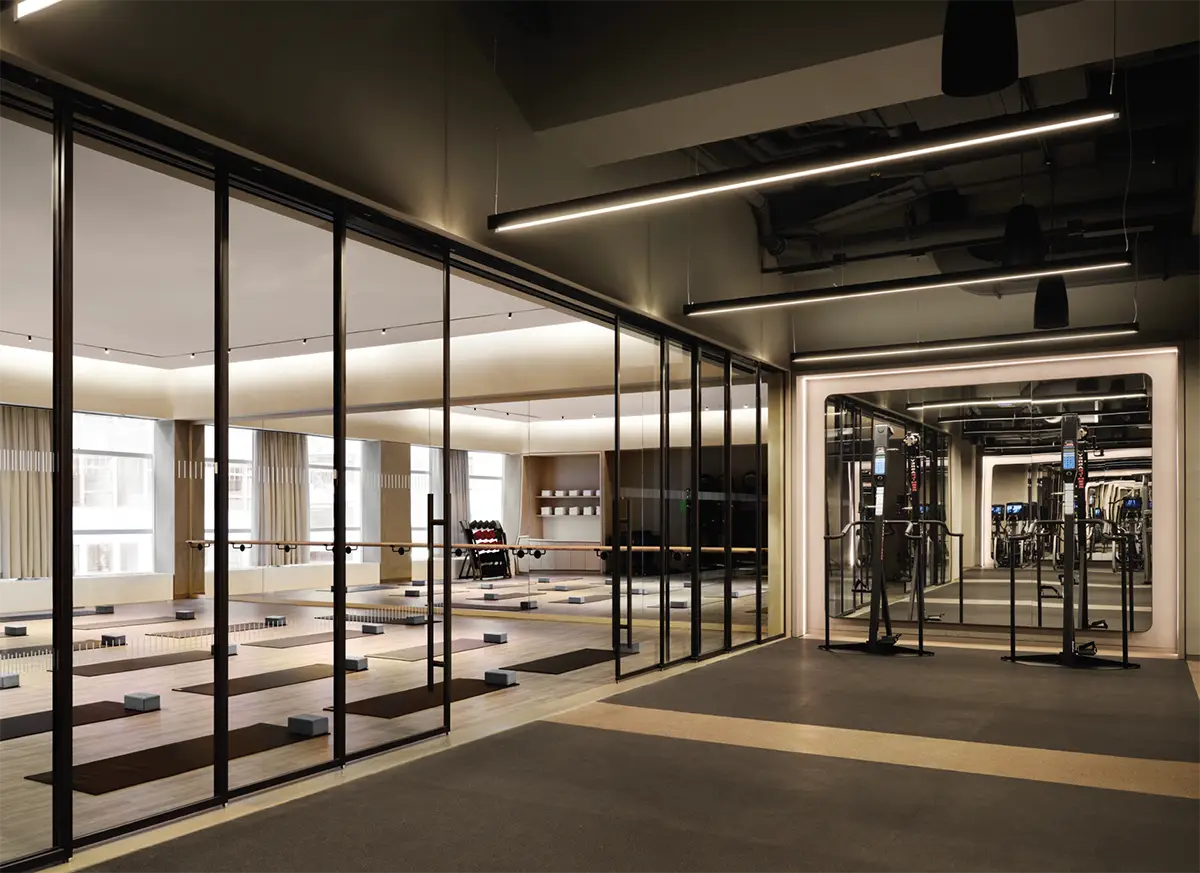 Telescoping glass and mirrored walls filter daylight into fitness areas. Photo © David Mitchell
"Properties like this want to distinguish themselves," says architect Robert Finger, director in charge. "Over time, we've learned that just checking the box with an amenity isn't enough." The design and realization of the Savoy Club seems to have gotten a boost from BXP's commitment to the project and the symbiotic relationship between architect and client. At one point in our visit, both Spann and Burelli proudly noted the discovery of existing brass doors at the passenger elevators during demolition. Refinished to their original luster and set into bronze jambs with back-painted-glass transoms, these portals represent the building's past and open up to its future.
Click plan to enlarge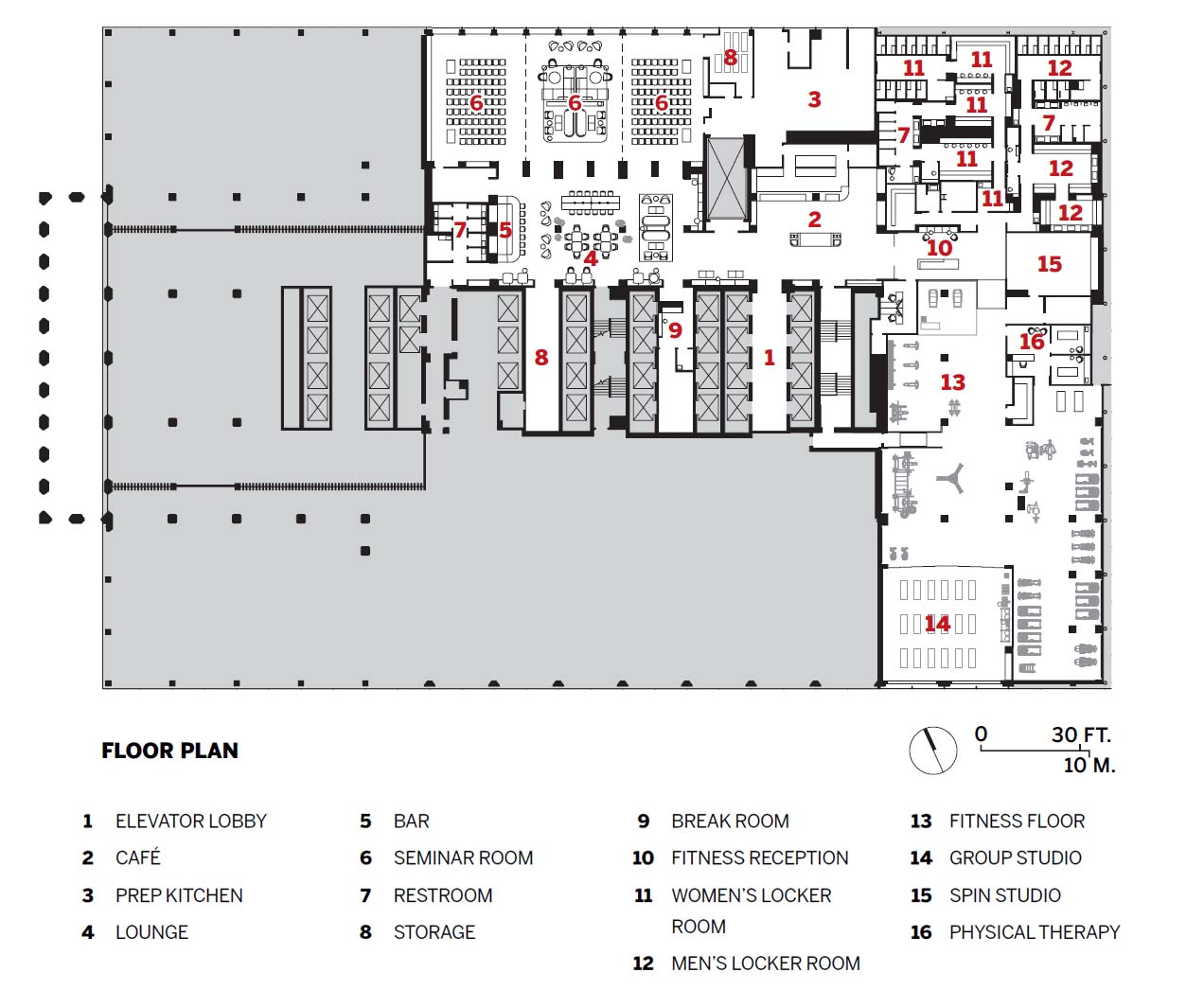 Credits
Architect:
Fogarty Finger — Robert Finger, director in charge; Garrett Rock, lead designer/project manager; Candace Rimes, director; Taylor Fleming, furniture lead; Nevra Kumova, Patrick Ceguera, Eva Cunninghame, designers
Architect of Record:
TPG Architecture
Engineers:
Gilsanz Murray Steficek (structural); JB&B (m/e/p)
Consultants:
Cerami (acoustic); Gillman Consulting (code); Exos (fitness); ETC Venues (food/beverage); Chessa Ferro (art); Island Woodwork (casework)
General Contractor:
Structure Tone
Client:
BXP
Size:
26,000 square feet
Cost:
Withheld
Completion Date:
February 2023
Sources
Tile & Stone:
New York Stone, Naturali Stone, Salvatori, Living Ceramics, Ceramica Vogue, Nemo Tile
Glass:
Galaxy Glass, Modernus
Surfaces:
JH Wall Paints, Portola Paints, Benjamin Moore, Corian, Formica, Fenix NTM, Abet Laminati, Lab Design Laminates
Metal-Screen Wall:
B+N Industries
Doors:
Total Doors, TGP
Acoustical Ceilings:
Armstrong
Lighting:
Workstead, Apparatus, iGuzzini, USAI; FLOS, Axis, Targetti, Fluxwerx, Mercury/Cosine, Apparatus
Flooring:
The Hudson Company, Kahrs, Bentley Mills, PLAE
Plumbing:
Kohler, The Splash Lab
Furniture:
Blu Dot, Burgess, Crate & Barrel, Eastvold, Normann Copenhagen, Room & Board, Steller Works, TRNK, West Elm
Wall Coverings & Upholstery:
Kvadrat, Maharam