✕
The Mandarin phrase yí jiàn rú gù came to mind when fashion designer Min Liu described her first encounter with architects Lyndon Neri and Rossana Hu. The idiom evokes the immediate sense of old friendship that manifests when like-minded people meet. But their rapport stems from more than similar design sensibilities, or even a shared home city (in this case, Shanghai). As with the husband-and-wife team behind Neri&Hu Design and Research Office, Min runs a creative enterprise with her life and business partner, Ian Hylton. Together, they lead high-end Chinese fashion label Ms MIN, established in 2010, which quickly earned a reputation for its emphasis on fabric selection and "intelligent fit."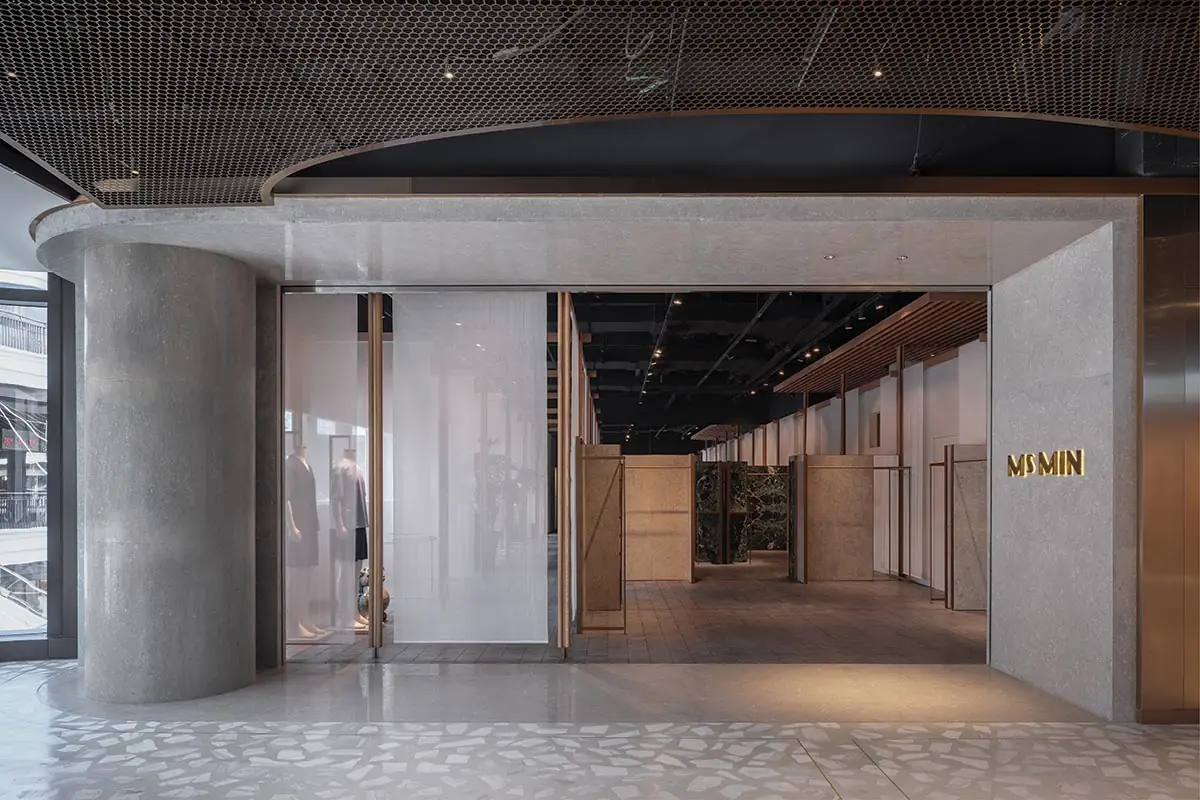 Custom mannequins, designed to let fabrics elegantly hang (top of page), echo the earthy material palette of the boutique (above). Photo © Zhu Runzi, click to enlarge.
With so much common ground, it only seemed a matter of time before the two couples would find a way to collaborate. That opportunity came three years ago, when Neri&Hu and Ms MIN assembled HéYī, an exhibition at Design Republic Commune, the Concession-era police station adapted by the architects as a center for high-end design. As the show's name—roughly translating to "integration" or "unity"—suggested, it put on full display the harmony integral to the work of, and at work in, both partnerships. HéYī was also precursory, sowing ideas that would grow and evolve in a future more significant commission: the design of Ms MIN's second shop.
The 2,100-square-foot space is situated in Shanghai's Taikoo Li, a new retail development in the city's rapidly expanding Qiantan International Business Zone, which is already home to a number of luxury brands, from Balenciaga and Louis Vuitton to Hermès and Bulgari. For Neri&Hu, whose hallmark has become the imaginative reuse of the disused, working within a freshly minted raw interior presented far fewer surprises than usual. But this isn't to say that transforming the concrete "canvas" wasn't without challenges.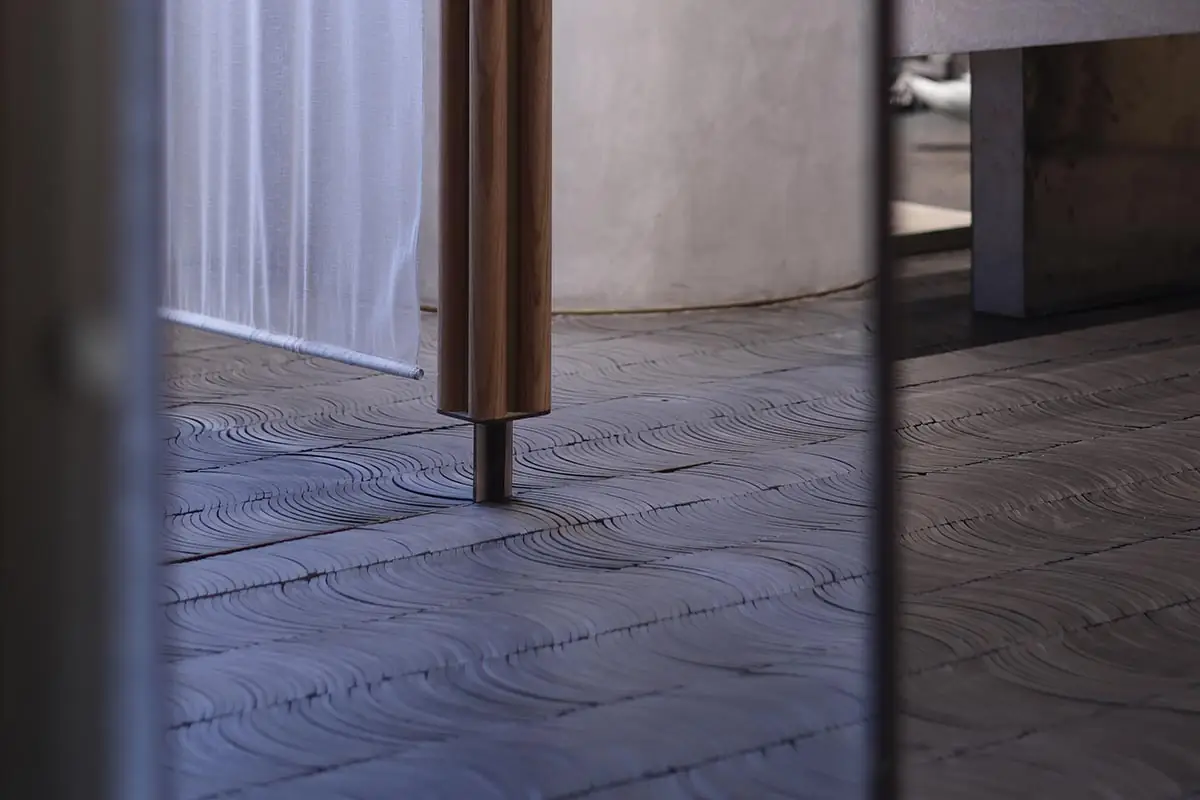 Wood posts float above the clay-tile floor. Photo © Sanif Xu
In recent years, online shopping has dramatically upended the consumer landscape, putting pressure on brick-and-mortar businesses to up the ante—especially in China, the world's largest e-commerce market. To enhance the in-person experience, Neri&Hu looked to the language of textile ateliers—to the process of carding, spinning, and weaving fabric by hand, to develop a tectonic expression that is tailor-made for the clothing brand. As Neri points out, fashion, like architecture, "deals with structure, with materiality, with layering, with experience."
Inside, balanced light establishes a calm atmosphere. To achieve this, a too-tall, 75-foot-long preexisting ribbon window along the store's southern wall first needed to be attenuated. In front of the glass, Neri&Hu mounted a surface with a narrow slit to modulate brightness and, in so doing, amplified the window's horizontality. By painting the exposed concrete slabs, mechanical equipment, and fire-safety systems the same shade of charcoal gray, they made ceiling clutter recede from view without sacrificing height. And, underfoot, salvaged wă piàn or clay roof tiles, sliced into C-shaped strips, have been laid in rows of alternating curvature, giving the floor a texture that appears woven.
The Ms MIN shop has been organized into three zones—each snugly fitting into the store's irregular footprint like a Tetris block. A delicate wood frame—akin to the pole structures used in rural villages outside Shanghai for the dying and drying of fabric—partitions the space along the ribbon window into a kind of architectural look-book. Suspended from the frame's beams overhead, scrims of sheer linen define a promenade of intimate galleries, where mannequins showcase the label's current collection. Quadripartite posts, each comprising four cylindrical colonettes arranged in a square, hold the scaffold in place, while beams pass through them. The posts never touch the floor—they rest on brass plates, in what Neri describes as a contemporary reinterpretation of a detail found in some traditional Chinese houses, intended to prevent wood rot.
In the store's central area, which the architects liken to a courtyard, customers peruse garments. "But it was important that it didn't feel like racks and racks of clothing," he adds. Instead, clothes are hung from freestanding panels of alternating figured green marble and beige limestone, with hand-patinated brass edge-banding, arranged in an enfilade of loosely defined rooms. In a more traditional setting, these "screens" might have been adorned with painted landscapes or elaborate brocade, but here they serve as neutral backdrops. Because the panels are not fixed to the floor, they can be moved to keep pace with seasonal collections, which might warrant different display configurations, or removed entirely, freeing up space to accommodate up to 80 seated guests for fashion shows.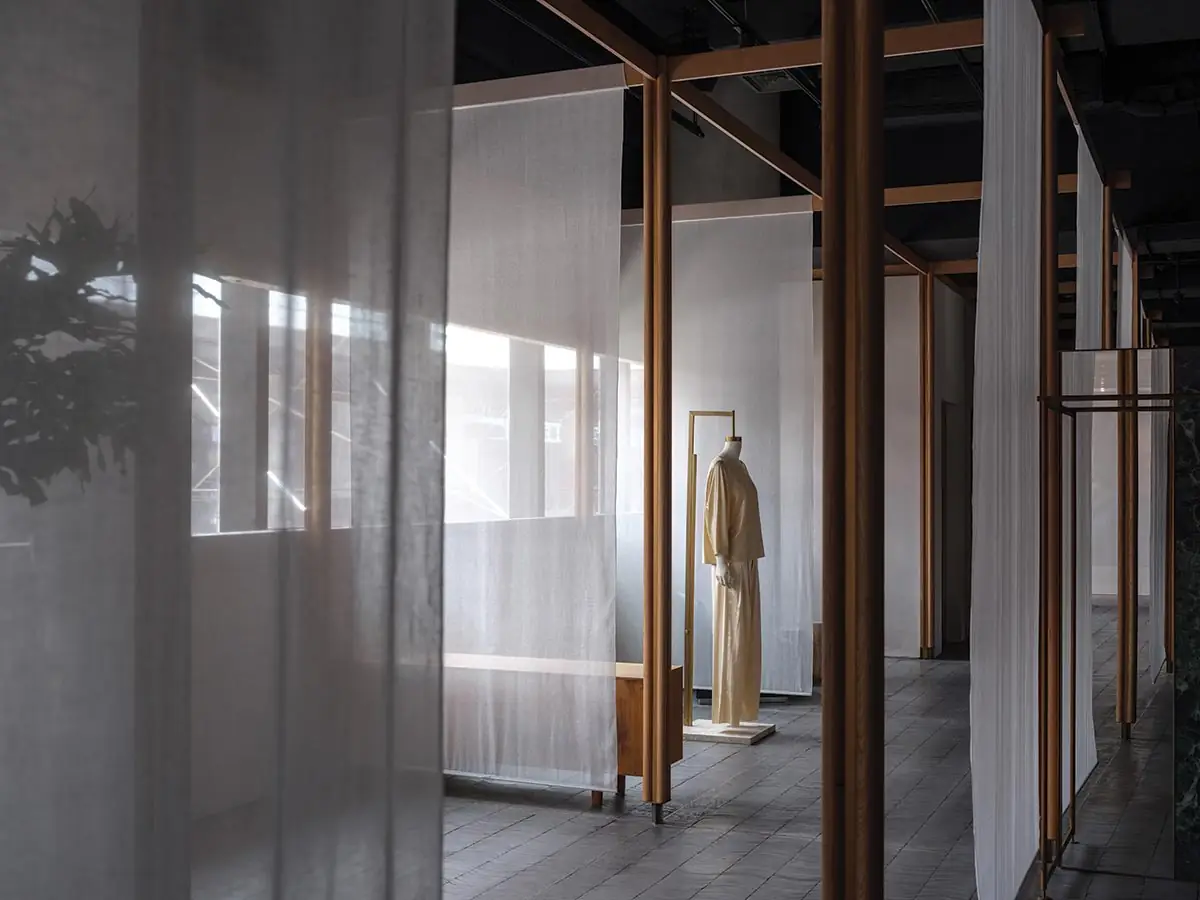 1
A wood frame with sheer linen scrims (1) and freestanding panels (2) curate space without sacrificing daylight. Photos © Zhu Runzi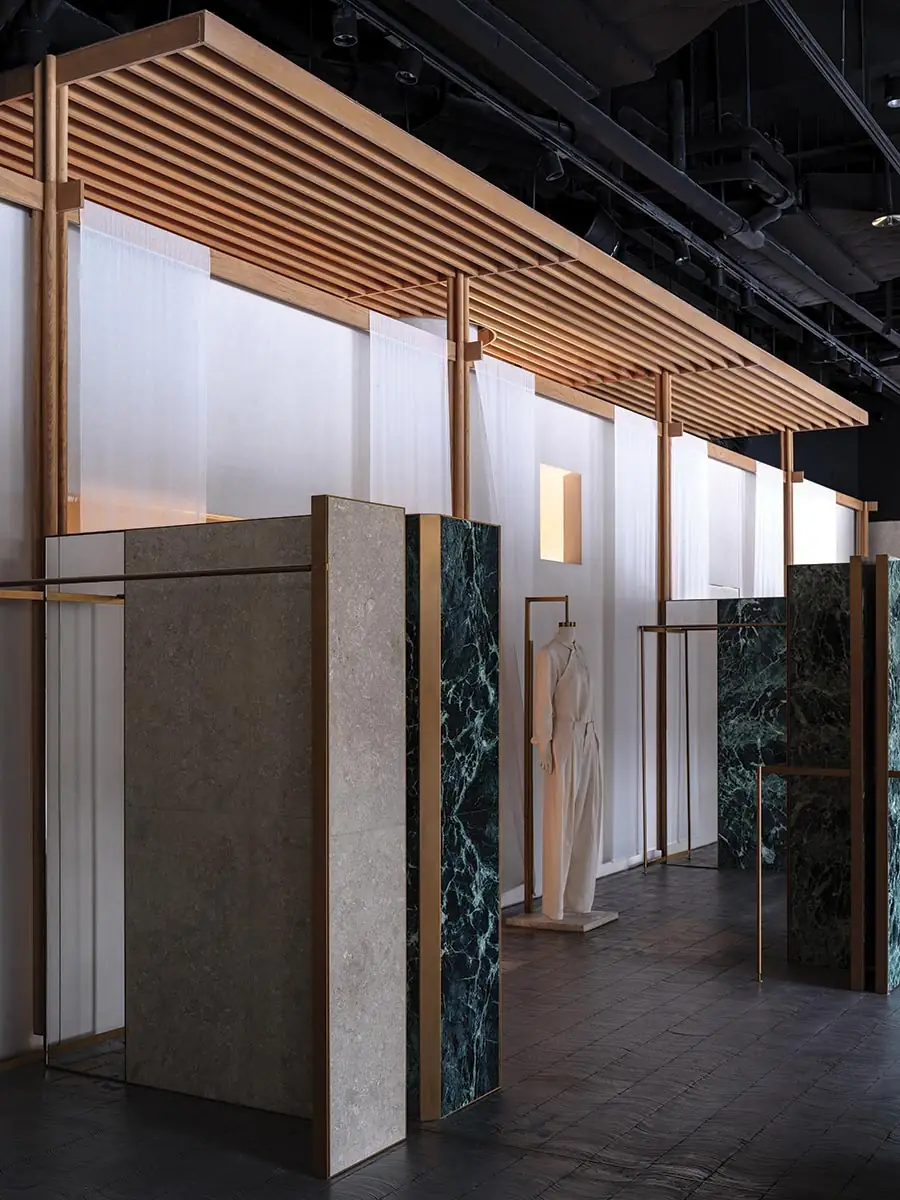 2
Neri describes the third—and most private—zone as a house. With a slatted "eave," this space accommodates a lounge for consultations and fittings by appointment. Flanking it on either side are discreet back-of-house storage closets, which make clever use of an odd triangular corner in the store's perimeter.
Neri&Hu's boutique for Ms MIN is quiet yet manages to speak volumes. The same could be said of the fashion label's current collection, which cuts elegant figures, with reverence for materiality and neat construction. While e-commerce is steadily consuming the retail realm, there is no substitute for the tactile experience and happenstance discovery offered by in-person shopping; this is especially true when the objects on display and the architecture displaying them so clearly echo the same values. At Taikoo Li, it seems Neri&Hu fits Ms MIN like a glove.
Click plan to enlarge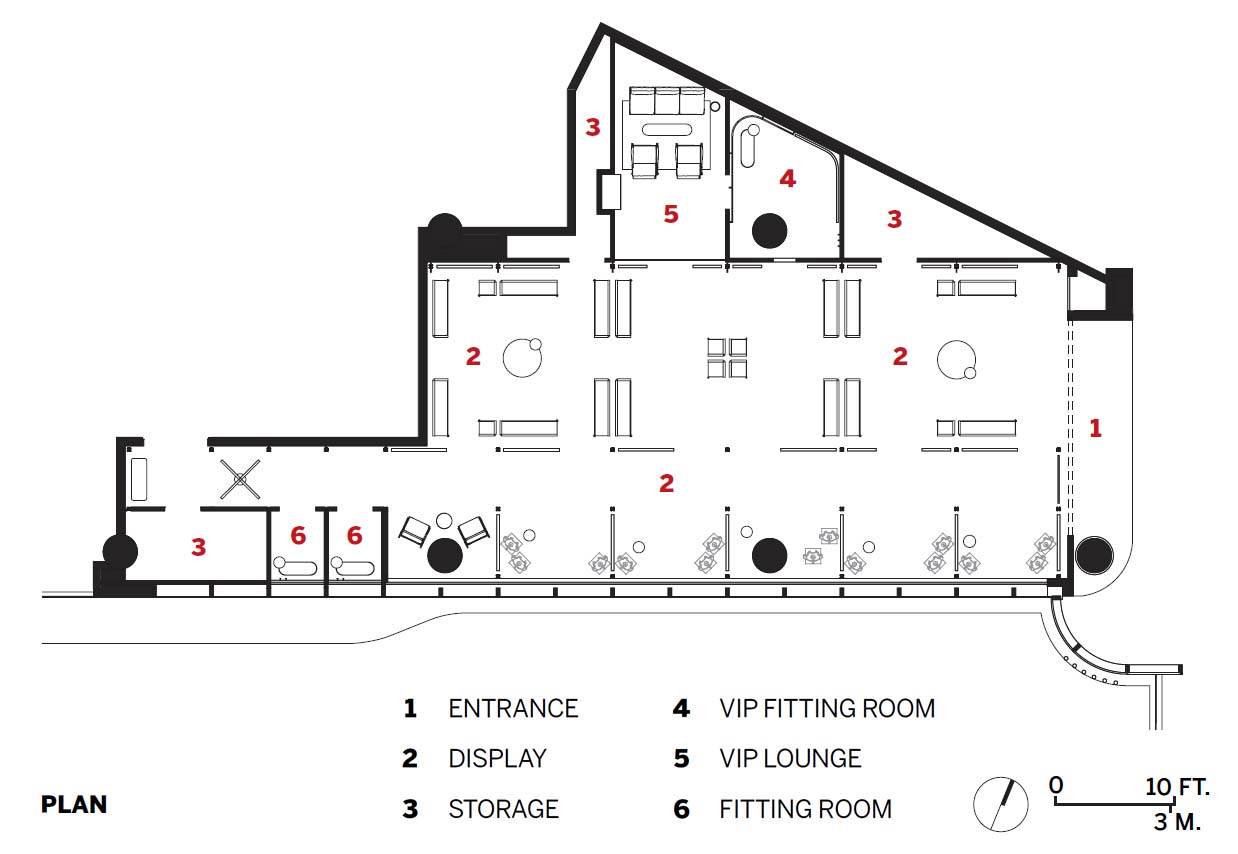 Credits
Architect:
Neri&Hu Design and Research Office — Lyndon Neri, Rossana Hu, principals; Sanif Xu, design lead; Muyang Tang, Zhikang Wang, Amber Shi, Yoki Yu, Nicolas Fardet, design team
Consultants:
Viabizzuno (lighting)
General Contractor:
Shanghai Yali Design Decoration Co.
Client:
Ms MIN
Size:
2,100 square feet
Cost:
Withheld
Completion Date:
May 2022
Sources
Hardware:
Häfele
Lighting:
Viabizzuno
Interior Finishes:
Cement Design