✕
"How do you feel about all that yellow?" is often the first question asked of residents living in ParkLife, a new apartment building in the colorful Melbourne suburb of Brunswick, known as much for its blend of historic multiculturalism as it is for the young creatives who flock there. Designed by local firm Austin Maynard Architects, the building—along with five simultaneously constructed adjacent complexes—comprises the Village, one of the most sustainable residential precincts in Australia. Here a novel housing model, aiming to address affordability and provide environmentally conscious housing, puts architects in the shoes of developers.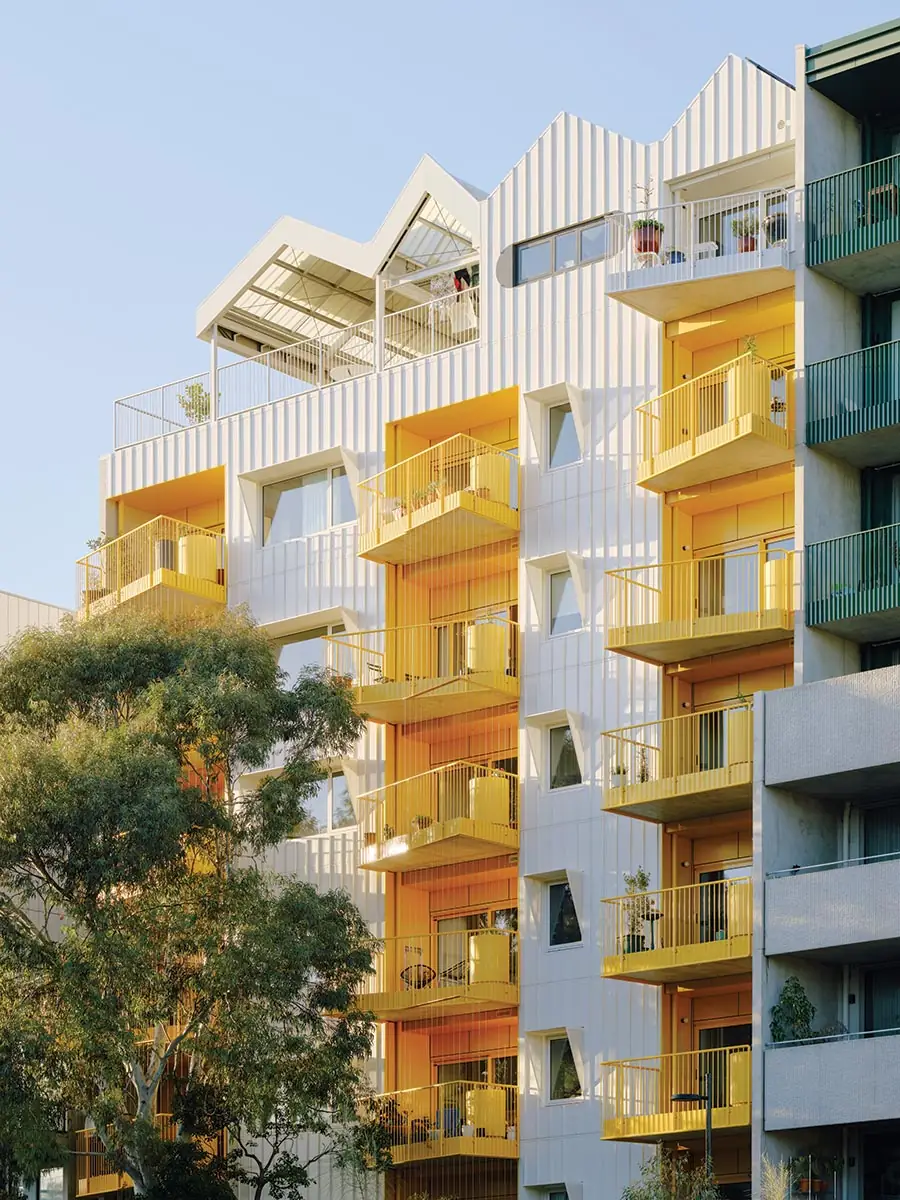 Pops of yellow dot ParkLife's shared spaces (top of page) and balconies (above). Photo © Tom Ross, click to enlarge.
Over the last decade, housing provider Nightingale has been pioneering a new approach to the housing crisis in Melbourne, which, by some estimates, will require the construction of 1.6 million new homes in the next 35 years to keep up with demand. With an eye for design-forward solutions, the not-for-profit organization partners with architects who are willing to bear some financial risk and, in a sense, operate as their own client. Nightingale, on the other hand, manages site acquisition, construction delivery, community engagement, and even the handing over of keys to tenants. The model has allowed units to sell for anywhere between 5 and 20 percent less than market value.
ParkLife is the second housing project that Austin Maynard Architects has undertaken in this role of architect-developer, its first being Terrace House, also in Brunswick. "This time around, we were better prepared to make early decisions, to evaluate cost savings during the design process, and to know which areas of sustainability to focus on," says director Mark Austin. The designers refined facade elements, such as thermal bridges, coming up with a simple skin of vertically ribbed high-performance insulated steel panels in bright white—a color chosen for its high reflectance to reduce heat gain in summer. Most Australian residences have mechanical heating and cooling, but here the firm opted for an Energy Recovery Ventilation system that continuously provides fresh air using heat exchangers, ensuring comfortable living conditions and reducing long-term environmental impacts.
The eight-story building is divided into 37 units, primarily one- and two-bedroom, with occasional three-bedrooms and studios. Five of those units have been allocated to subsidized housing, making it the first residential precinct in Australia to do this without a government partnership. There is a strong focus on sustainable outcomes, as well—the Village as a whole claims to be carbon-neutral in operation, and ParkLife uses no gas, features a 28.8kW photovoltaic array on its roof, and collects graywater.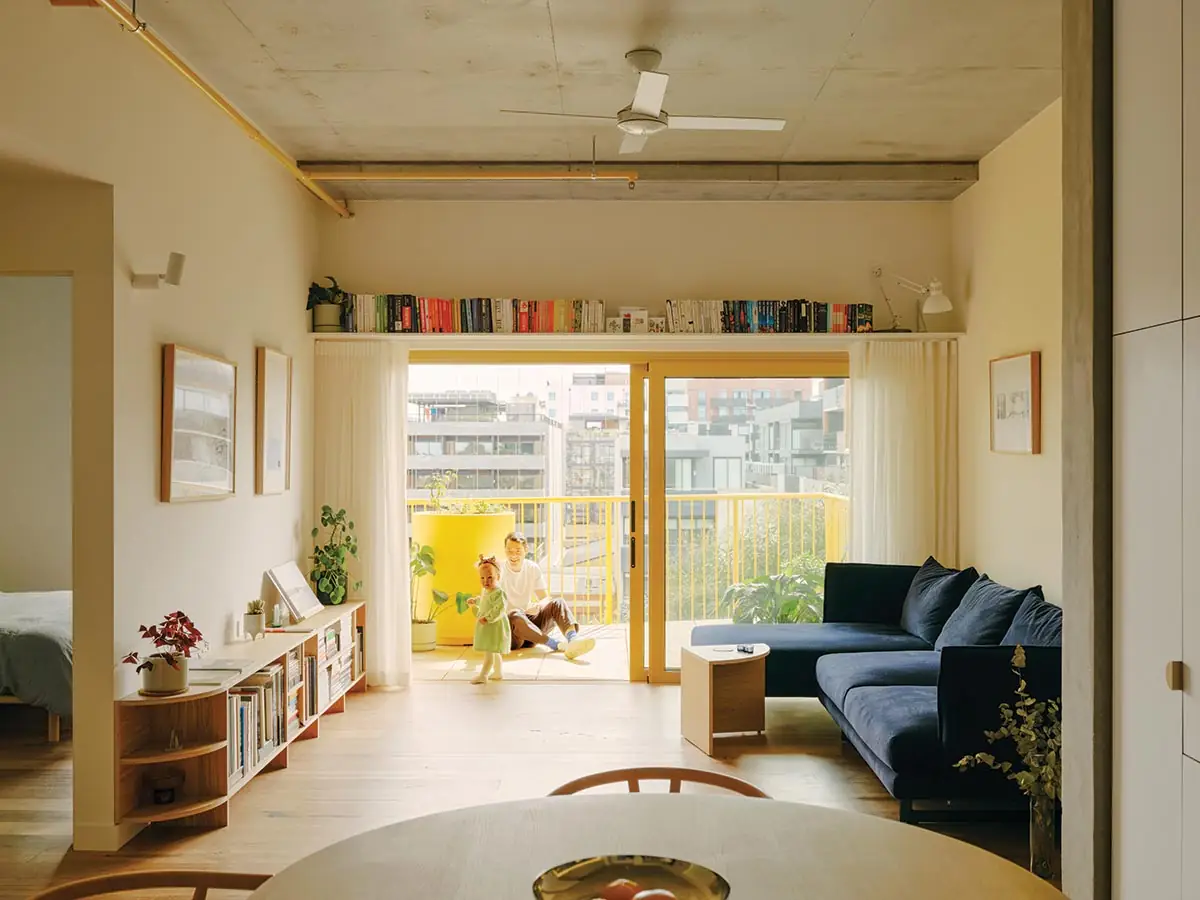 1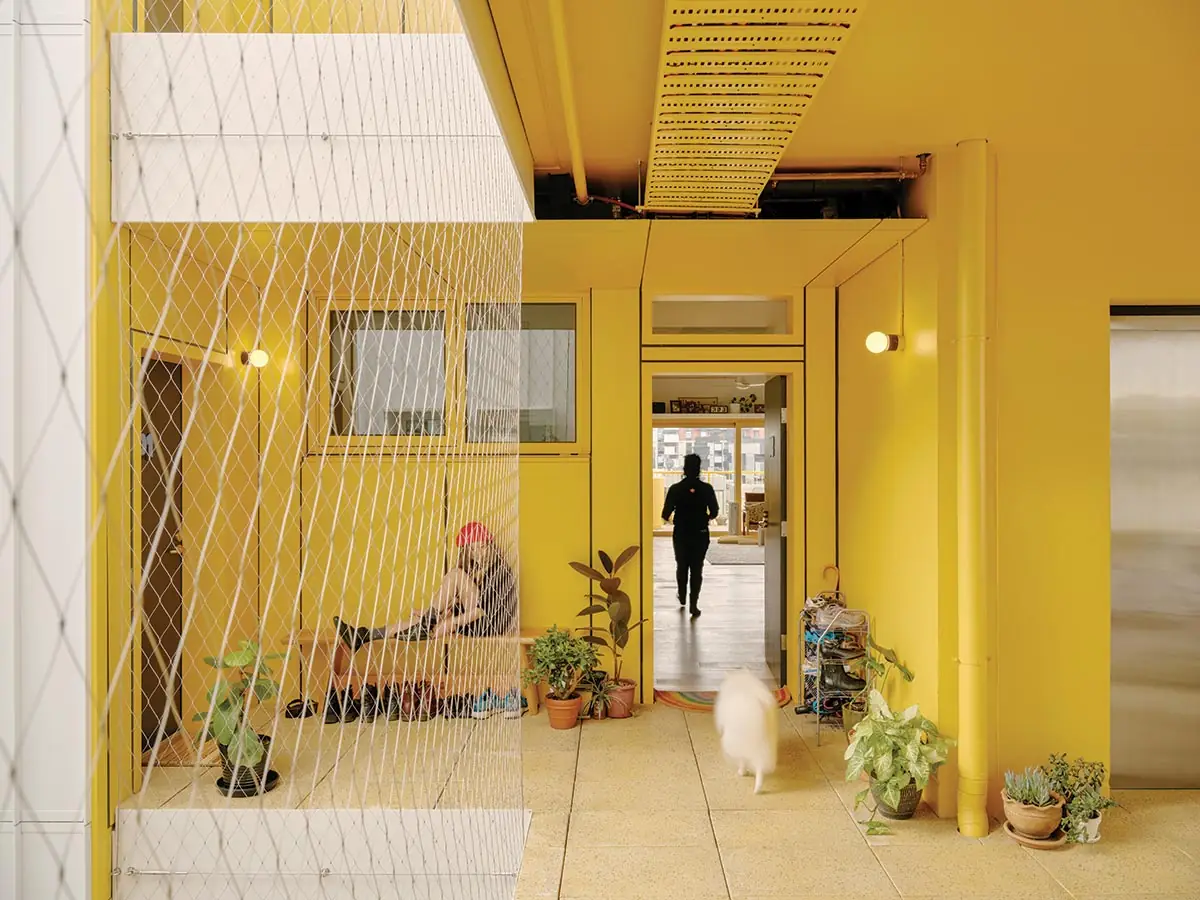 2
Apartment interiors feature yellow accents (1), but are more muted than shared spaces (2). Photos © Tom Ross
Although planning provisions would normally require an apartment building the size of ParkLife to provide over 40 parking spaces, this requirement was waived with support from the local council, given its proximity to public transportation—a busy train line and cycling path act as conduits to downtown Melbourne. "When we first moved in, we owned a car and rented a parking space nearby. But we realized that we slowly stopped using the car," says Claire Ward, an architect at Austin Maynard who decided to buy an apartment in the building. "We got rid of the car and invested in four bikes to get around." By eliminating parking, and thus the need to excavate and build a below-grade garage, significant savings were passed on to the firm. And, with less traffic, the street became a pedestrianized extension of the apartments.
In fact, just beyond the main entry, residents have access to storage for 95 bikes. It's a location that isn't tucked into a hard-to-reach niche—rather, it is "easy, convenient, and therefore used," as frankly put by Ray Dinh, another architect at Austin Maynard who has taken up residence at ParkLife. The rooftop has a communal garden, shared laundry, an outdoor dining space, and—in response to a sight line height restriction—a sloped southern portion forms a functional amphitheater. While the design of social spaces is often idealistic in execution, Dinh comments that these actually work. Those living in ParkLife have a dedicated Slack channel, which they use to organize and maintain the shared areas of the building.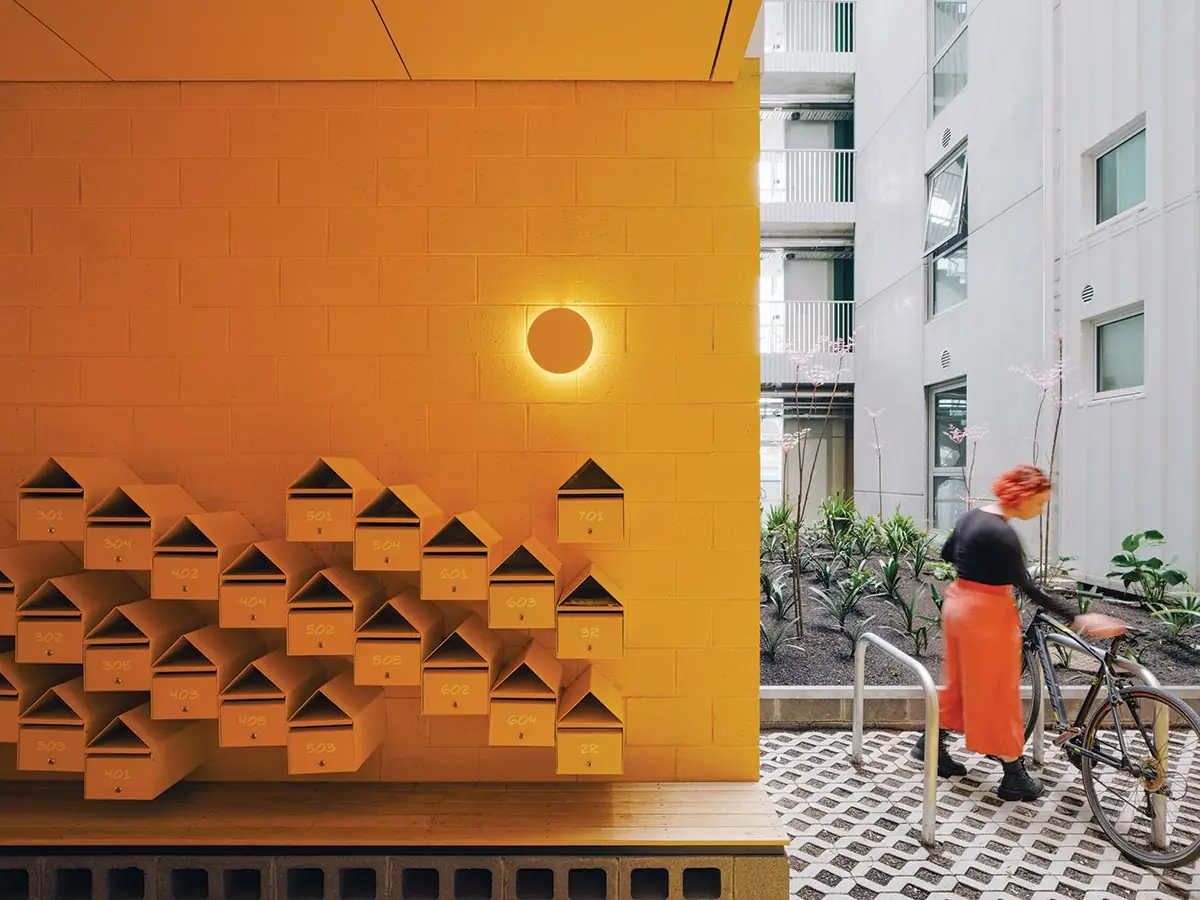 3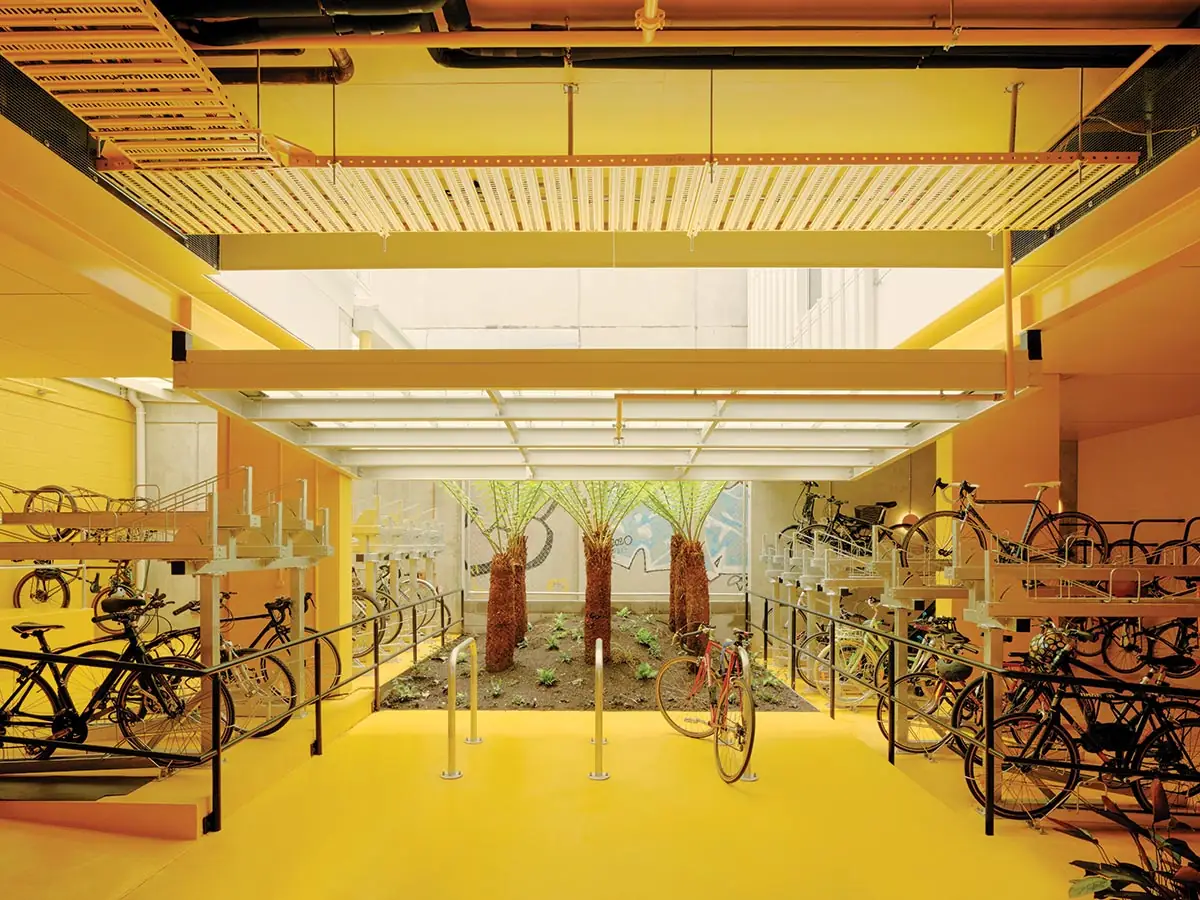 4
Bike storage on the ground floor is easy to access (3 & 4). Photos © Tom Ross
The simultaneous construction of the Village's buildings allowed the six architecture teams to design in tandem and mutually benefit from each other. For example, ParkLife shares a lightwell and courtyard with the adjacent structure, Ever­green (by Clare Cousins Architects), and then mirrors this lightwell on the other side to create the H shape of its plan. This configuration allows for completely external circulation enclosed with a simple wire netting. Many residents have spilled out into these communal areas, with open doors signaling to neighbors that they're welcome—fulfilling a core design intent that these spaces act as an extension of their living rooms.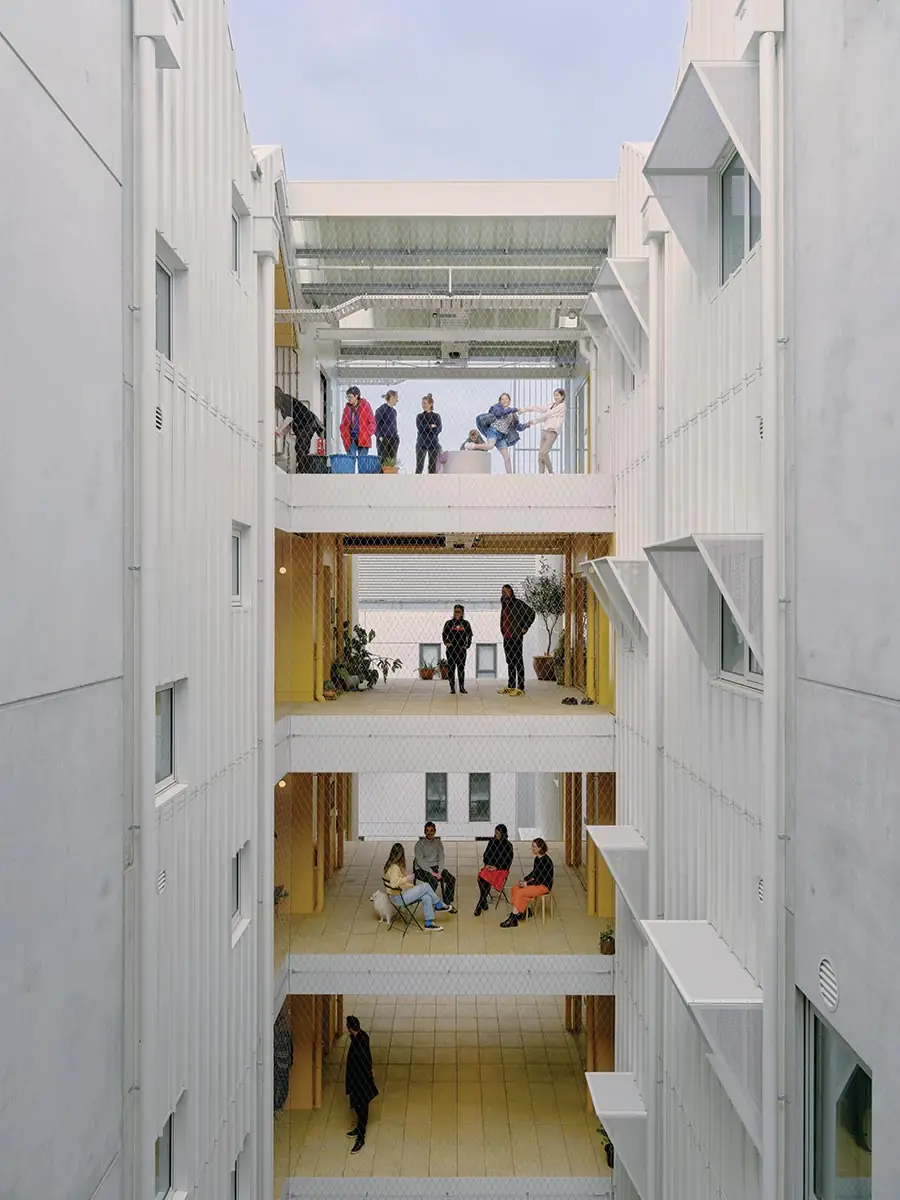 5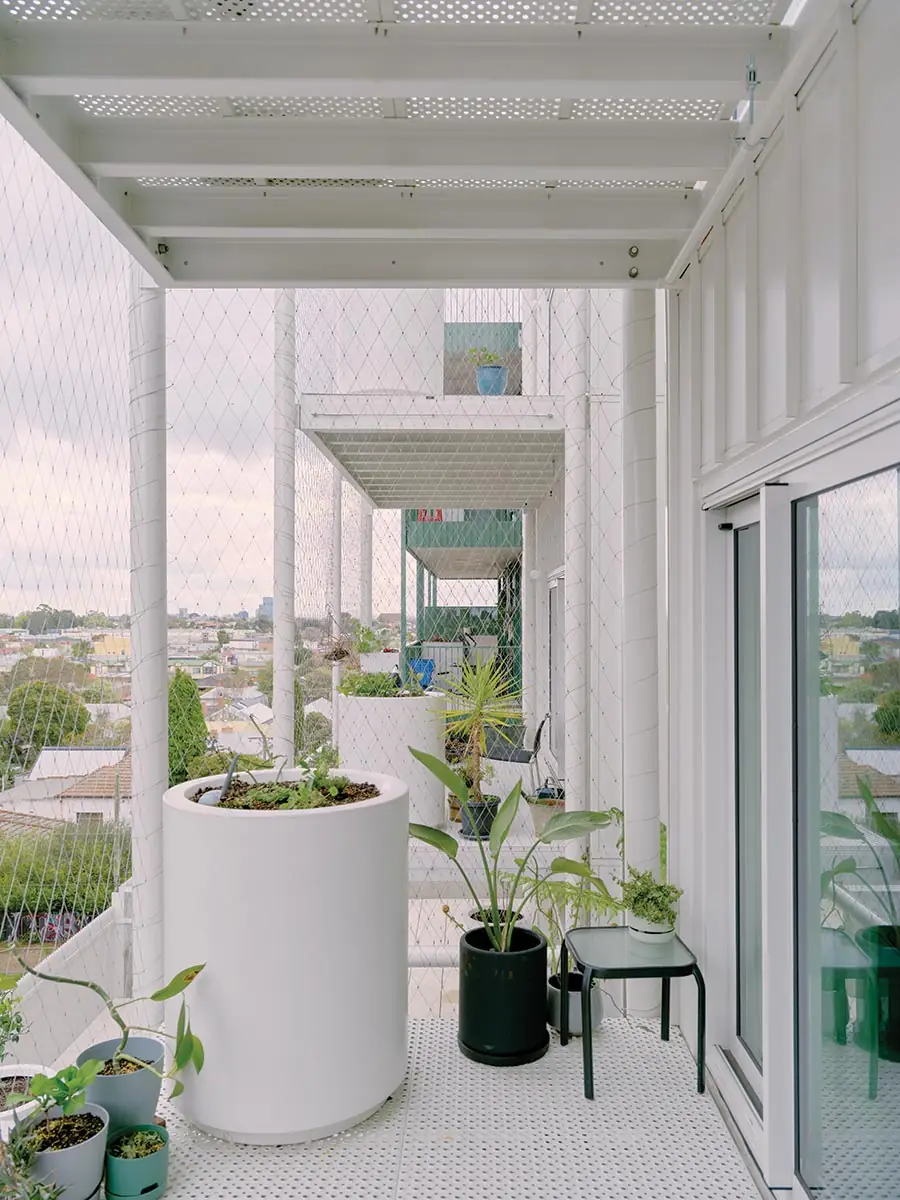 6
Netting encloses circulation (5) and balconies (6). Photos © Tom Ross
It's clear that the residents of ParkLife are committed to, and remain engaged by, the economic, environmental, and social sustainability principles behind the Village. Most units were procured through a balloting system before permits were granted; apartment owners then joined community meetings that helped refine the final design. To navigate budget constraints, a base level of finishes was applied to all units, with optional upgrades made available in the early stages of the construction process. Small but potent touches from Austin Maynard's single-family residential work are incorporated, making the apartments feel custom, such as slightly shorter door openings, which seem to heighten internal spaces, and recycled timber flooring.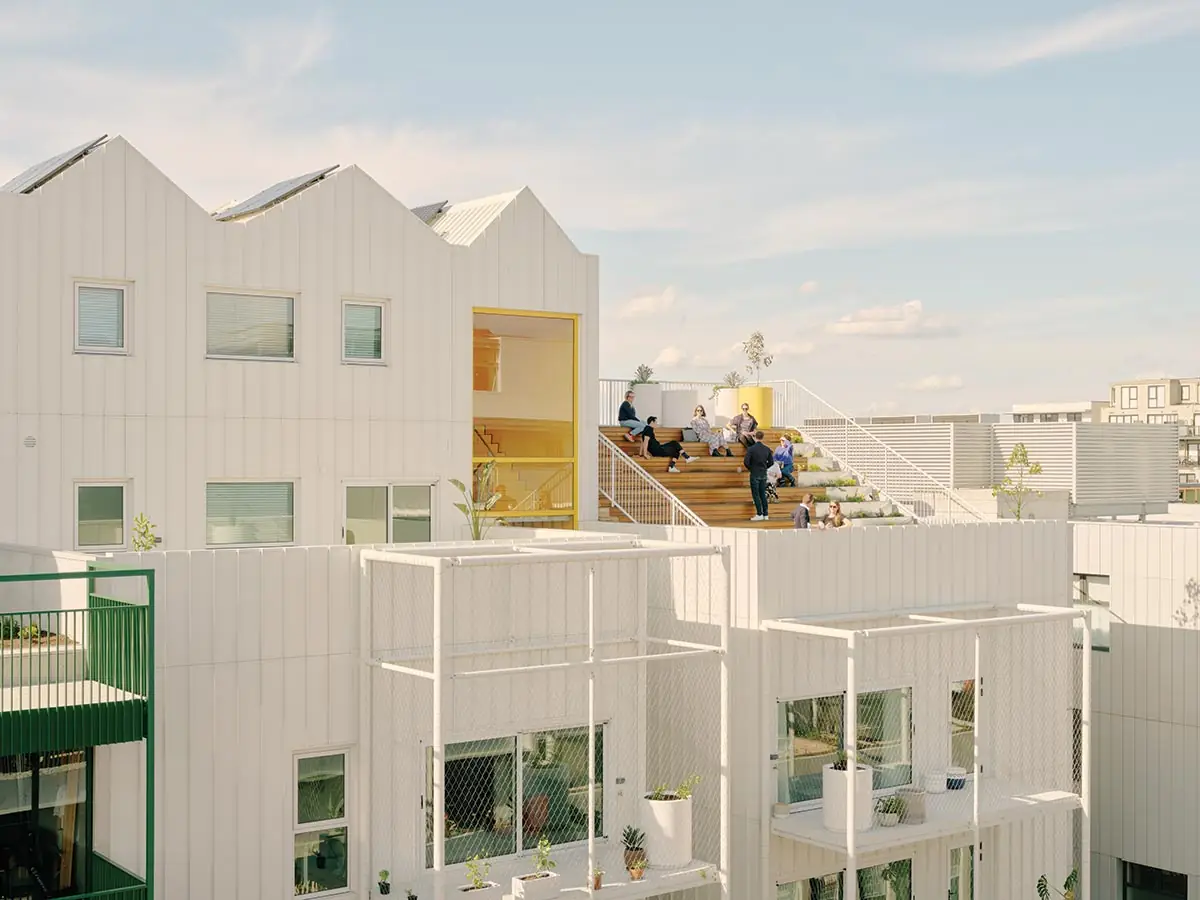 Communal areas on the roof include an amphitheater. Photo © Tom Ross
So, what do they think of all that sunny yellow? Those vibrant bursts have become a collective point of pride for Claire, Ray, and the rest of the residents of ParkLife, which has earned a reputation for being the party building of The Village. In Australia, there is a cultural aversion to multifamily high-rise living—the sustainability-minded and social-centric tactics, like shared laundry facilities or ditching a long-held car, fall outside the established comfort zone. The success of any deliberately built community-oriented apartment building relies on residents to be all-in—to become just as invested in it as the designers. At ParkLife, where those two groups overlap, Austin Maynard Architects' financial risk, as well as its cultural one, seems to have paid off.
Click plans to enlarge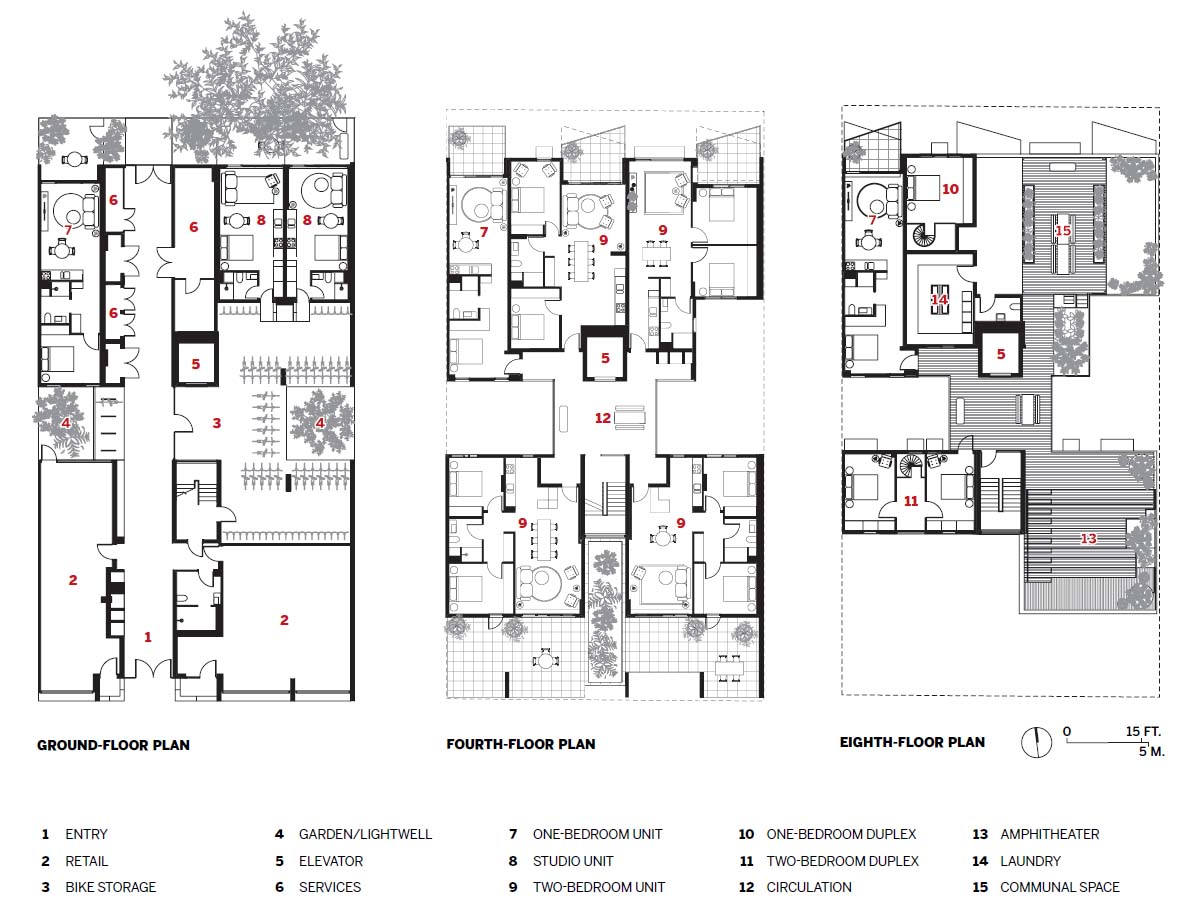 Credits
Architect:
Austin Maynard Architects — Andrew Maynard, Mark Austin, principals; Mark Stranan, associate
Engineers:
WSP (structural, civil, m/e/p); Arup (acoustical)
Consultants:
Access Studio (access); Openwork (landscape); Leigh Design (waste); Steve Watson & Partners (survey); WT (cost consultant)
General Contractor:
Hacer Group
Client:
Austin Maynard Nightingale Development
Size:
45,300 square feet
Cost:
Withheld
Completion Date:
May 2022
Sources
Facade:
Askin Volcore, Jakob Webnet (netting), National Masonry
Roofing:
Lysaght, Klip-lok
Windows:
Bucalu
Lighting:
Ambience Lighting
Bike Storage:
Erain (stacker); Cora (rails)
Interior Finishes:
Recycled Timber Innovations, Terrazzo Australian Marble (floors); Classic Ceramics (tiles); Dulux (paint); United Products (basins); Sussex (faucets); Caroma (toilets); Britex (tubs)