✕
Geode ADU, designed by San Francisco–based IwamotoScott Architecture, offers a quiet complement to a Midcentury Modern Californian dwelling. Many ADUs (accessory dwelling units) are designed to be backyard homes for relatives or renters. Although this one has everything necessary to serve as a residence, it was primarily designed as a work studio for the homeowner. "That's my home, and it's very lived in," he says of his 1964 Eichler house, designed by architect A. Quincy Jones, "but I need an organized space to work. I walk through the door and feel relaxed—it's pleasing."
The main house on the property luxuriantly spreads around a central atrium, a common feature of houses built by the developer Joseph Eichler. The 640-square-foot Geode ADU (the maximum size allowed in the city of Burlingame, south of San Francisco) is, by contrast, necessarily compact, carved into a hill and fitted with built-in cabinets that Craig Scott, principal of IwamotoScott, compares to those on a boat. The overall effect is indeed calm.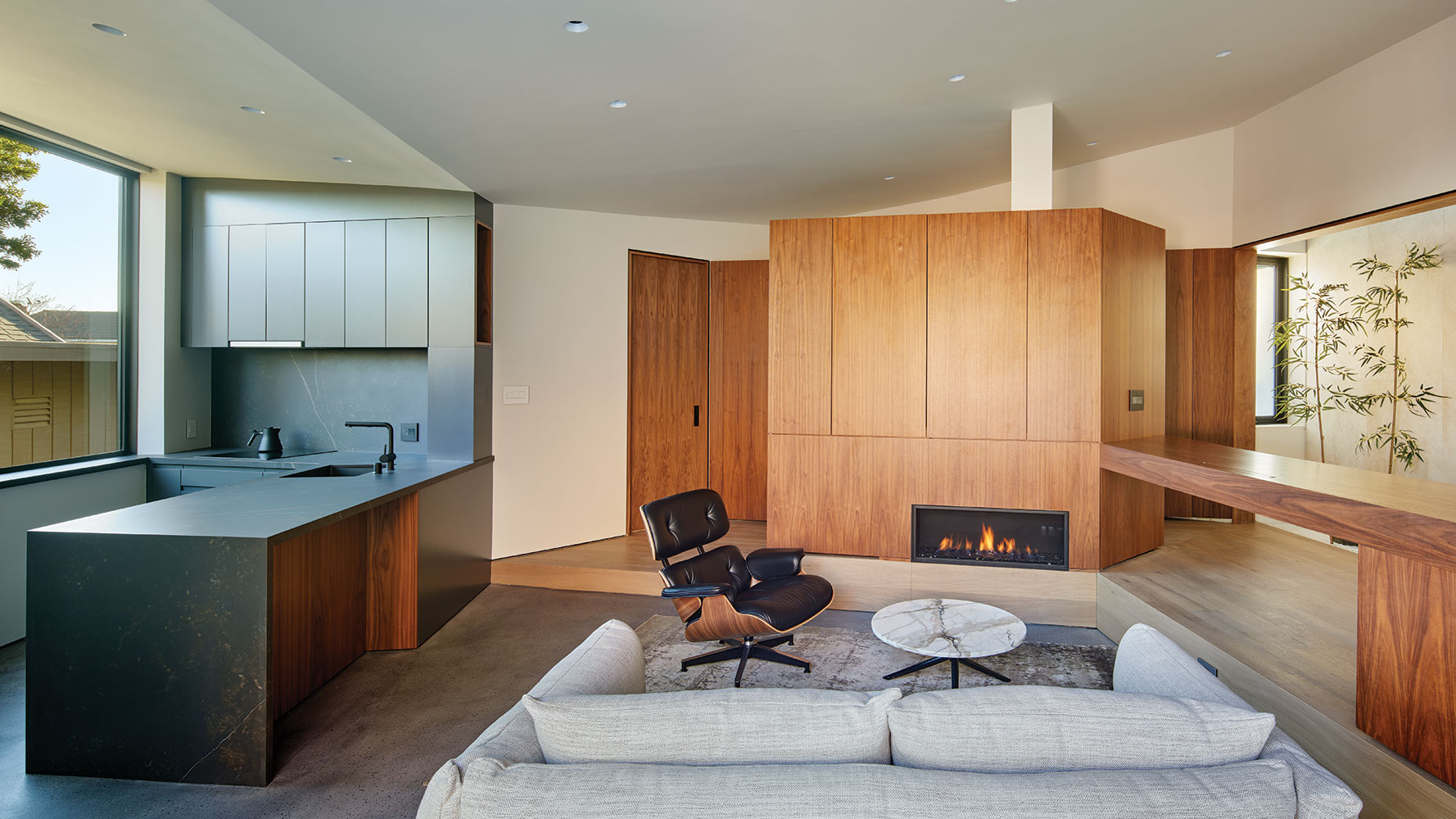 1
The interior is fitted with custom cabinets, and well-placed glazing provides ample daylight (1 & 2). Photos © Bruce Damonte, click to enlarge.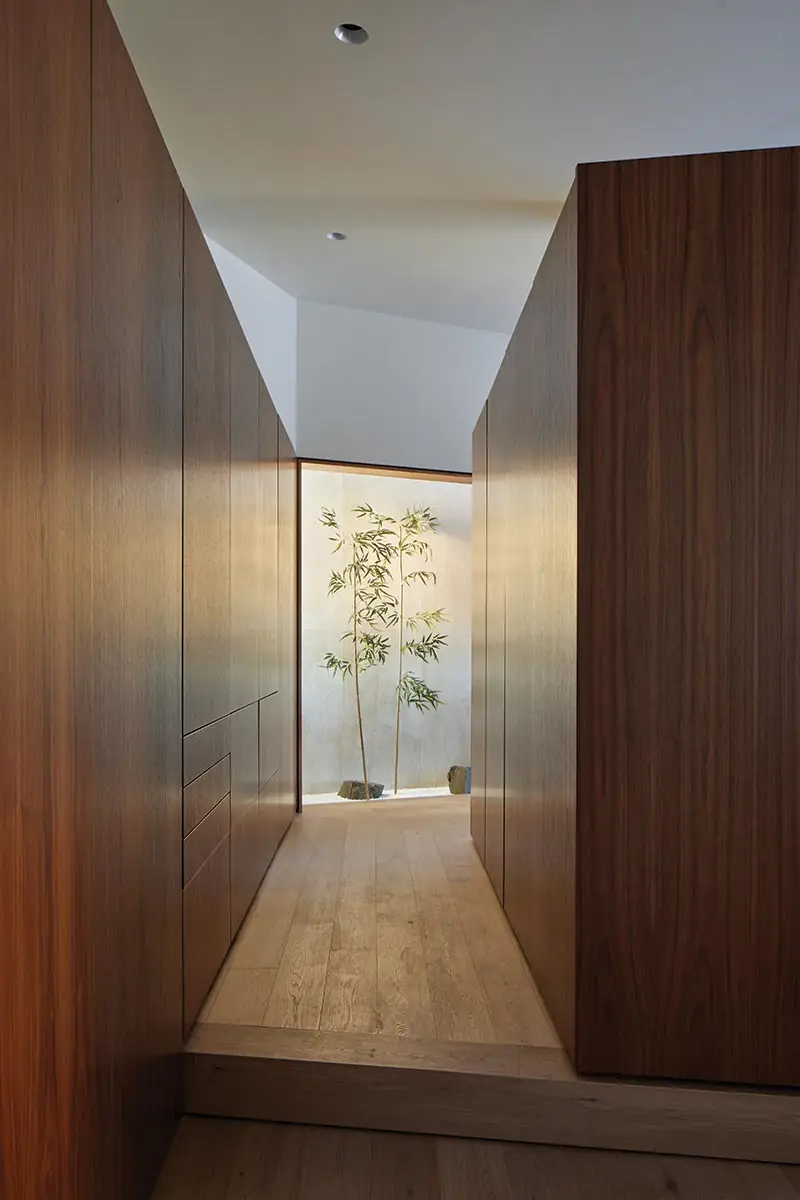 2
Much of that effect derives from the natural and neutral material palette. Clean lines and exceptional craft reinforce the feeling. But calmness here does not mean it's simple. "We started with a more orthogonal, rational approach," says Scott, "but the site's odd shape made that hard to justify." Geode has an eight-sided plan, to take best advantage of the site. The plan centers on a living area, with a bathroom, kitchenette, office, garden, and storage springing off tangentially. And the small space has sectional complexity, with what the designers call a "reinterpretation of the butterfly roof," as well as steps leading up to a desk area. The owner, a creative director, enjoys circumambulating the stepped path to process ideas as he works.
Geode ADU shares few characteristics, other than vertical siding and radiant floor heating, with the main residence; more significant is the spatial interplay between the two. IwamotoScott directed Geode's large northeast window toward a break in the A-framed roof of the Eichler house. From the elevated office, the owner can see through this gap all the way across San Francisco Bay to Mount Diablo. With an even larger northwest window-wall, opening onto a patio, the quaint quarters feel spacious. A clerestory-lit interior garden behind the office desk brings additional light into the ADU and, intentionally or not, serves as a stunning background for virtual meetings.
For Geode ADU to live up to its crystalline moniker, its details need to be pristine. An exposed ridgeline brings dimensionality to the bathroom; trapezoidal shelves fit into a sharp, angled nook; seamless (and handle-less) doors hide messiness. Scott points out two particularly tricky details—a flue to a gas fireplace running through a TV cabinet, and the long-span desk with hidden drawers and power cables. The precision was difficult to achieve but essential to the homeowner's quest for serenity. "I'm in different world here," he says, "and that's really a beautiful thing—that architecture can have such an effect on people."
Click plan to enlarge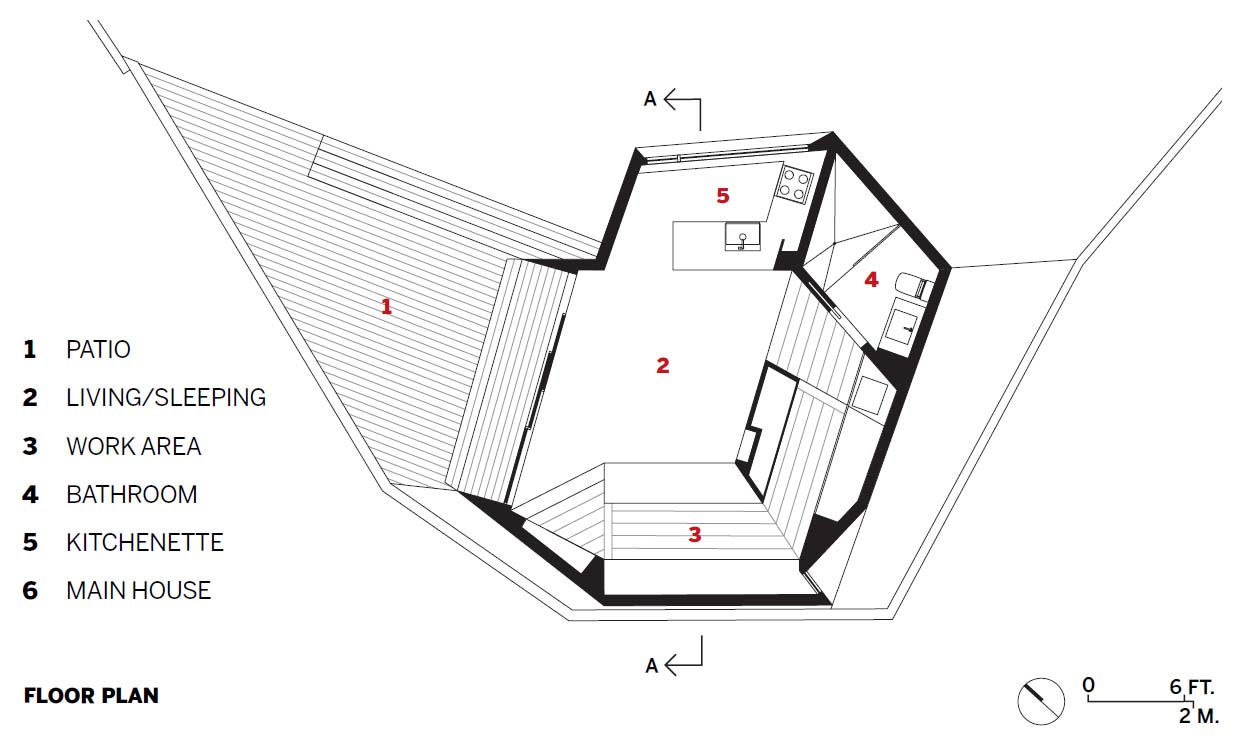 Click section to enlarge

Credits
Architect:
IwamotoScott Architecture — Lisa Iwamoto, Craig Scott, principals in charge; Mia Zinni, project architect; Liam Cook, project designer; Mark Kurzawinski, project team
Engineers:
Structural: TSA Engineers, Tony Samra
Consultants:
Surfacedesign (landscape)
General Contractor:
Finbarr Collins Construction, Inc., Finbarr Collins / Pat Collins
Size:
640 square feet
Cost:
Withheld
Completion Date:
January 2023
Specifications
Exterior Cladding:
Wood: Delta Millworks (Accoya, Shou-Sougi-Ban, Delta Black)
Windows:
Metal frame: Western Window Systems
Doors:
Sliding doors: Western Window Systems
Interior Finishes:
Cabinetwork and custom woodwork: Korts &. Knight Custom Cabinetry
Paneling: Korts &. Knight Custom Cabinetry
Plastic laminate: Fenix
Solid surfacing: Caesarstone
Floor and wall tile: Fiandre, Marmi Maximum, Bright Onyx (bathroom)
Fireplace: Blaze Fireplaces: Lyric 90 by Ortal
Furnishings:
Chairs: Herman Miller, Eames Aluminum Group
Lighting:
Downlights: CSL Lighting (ECO Recessed Downlights); AION LED linear (8924-WR / 4924-LE)
Exterior: WAC Lighting (4011 Rectangular Step Lights, 5111 Mini Accent)
Energy:
Fantech: SH Series Heat Recovery Ventilator (full building fan unit)