✕
For most of his career, Tommy Schwarzkopf was content working as his own boss and his own client. Born, raised, and trained in his native Ecuador, the architect and developer struck out on his own in 1973; over the ensuing decades, he and a rotating team of collaborators completed dozens of projects—mostly high-rise housing—in and around their home base in the Ecuadorian capital of Quito. Designed almost entirely in-house, the buildings helped usher the historic city into the 21st century while turning his company, Uribe Schwarzkopf, into one of South America's largest development firms. "I'm still involved on the architectural side,"  Schwarzkopf told RECORD. "I always give my point of view."
Shortly after 2016, however, something changed. With Ecuador adopting the U.S. dollar in 2000, and with Quito undergoing a period of sustained growth, the seasoned builders—joined now by the founder's son, Joseph—decided it was time to think bigger. As the younger Schwarzkopf put it: "We wanted to bring in talent from outside the country, to turn Quito into an architectural hub." Beginning in 2017 with a pair of residences created by international design stars Marcel Wanders and Philippe Starck (both in collaboration with Miami-based Arquitectonica), Uribe Schwarzkopf set out on an ambitious new course, recruiting globally recognized architects from abroad to create signature multi-family housing in Quito. With a spate of projects opening recently, and others on the way, the results of that drive are currently coming into focus.
Among the crop of new towers from the company, the first is the 92-unit Qorner, located on the eastern perimeter of scenic La Carolina Park in the heart of Quito. Debuting in December 2022, the 24-story building is a looming pile of jagged pseudo-modules, suggesting a kind of verticalized take on the celebrated Habitat 67 housing project in Montreal. The resemblance hardly seems like a coincidence: Qorner, like Habitat 67, was created by the office of Moshe Safdie. Representing only his third project to date in South America (his first, a hospital in Brazil, opened only months prior), the tower's white concrete frame and numerous terraces translate 83-year-old Safdie's familiar design language into a suitably tropical idiom. In the process, the building shows something of the intent behind Uribe Schwarzkopf's international design program, taking a global architecture phenomenon and recasting it for Ecuador.
1
2
Facade detail of the BIG-designed Iqon (1); Safdie Architects' Qorner as seen from the street (2). Photo by Pablo Casals Aquirre (1), courtesy Uribe Schwarzkopf (2)
The pattern holds with the Iqon, another tower completed almost simultaneously with Qorner only a few blocks away. The designers,
BIG
, have made something of a specialty of high-end residential work in urban environments, and their Quito outing shows some of the hallmarks of their approach: on a quarter-round footprint, firm principal Bjarke Ingels and his team stack 32 floors of concrete extrusions in a series of serried rows, positioning each of the 220 units at a slight angle to the one beneath it, making for a twisting effect in the facade. Characteristic of BIG's high-rises, the design also places a special emphasis on urban connectivity, with a ground-floor walkway passing directly underneath the tower to link the sprawling Parque La Carolina to the street beyond it.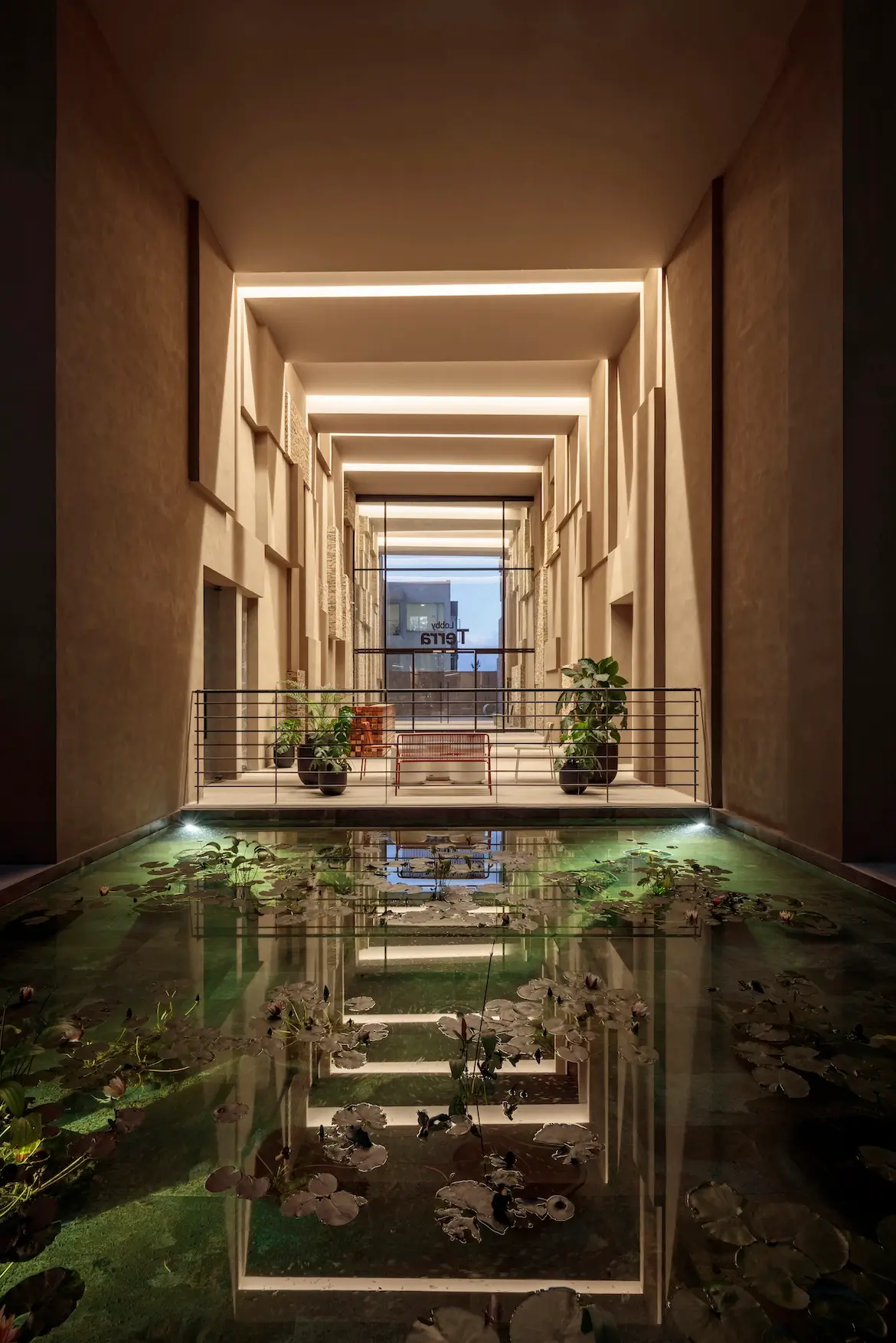 1
2
View of interior courtyard at Aquarela, designed by Ateliers Jean Nouvel (1); Street view of Iqon (2). Photos courtesy Uribe Schwarzkopf (1), Pablo Casals Aguirre (2)
Apparently impressed with the Ingels scheme, the developers invited him back for a second project on the southern end of the park—slated for completion later this year. The 24-story story Epiq is shorter than its counterpart, but far larger across the front, its considerable mass broken up into two interlocking volumes with a triad of outdoor terraces between them.
Perhaps the most daring project (and certainly the largest) in Uribe Schwarzkopf's newly expanded portfolio, Aquarela is an agglomeration of nine individual tower blocks, varying in height from seven to ten stories, organized in two parallel slabs separated by a vast canyon-like courtyard. The site, in suburban Cumbayá, runs part way down a steep slope, with the rugged locale forming the obvious inspiration for the decidedly mountainous-looking, 570-residence scheme from Ateliers Jean Nouvel. Clad in roughly hewn masonry and decked throughout with planters and hanging foliage, the building recently reached the halfway point in its projected four-stage construction process, and already feels like a part of the terrain.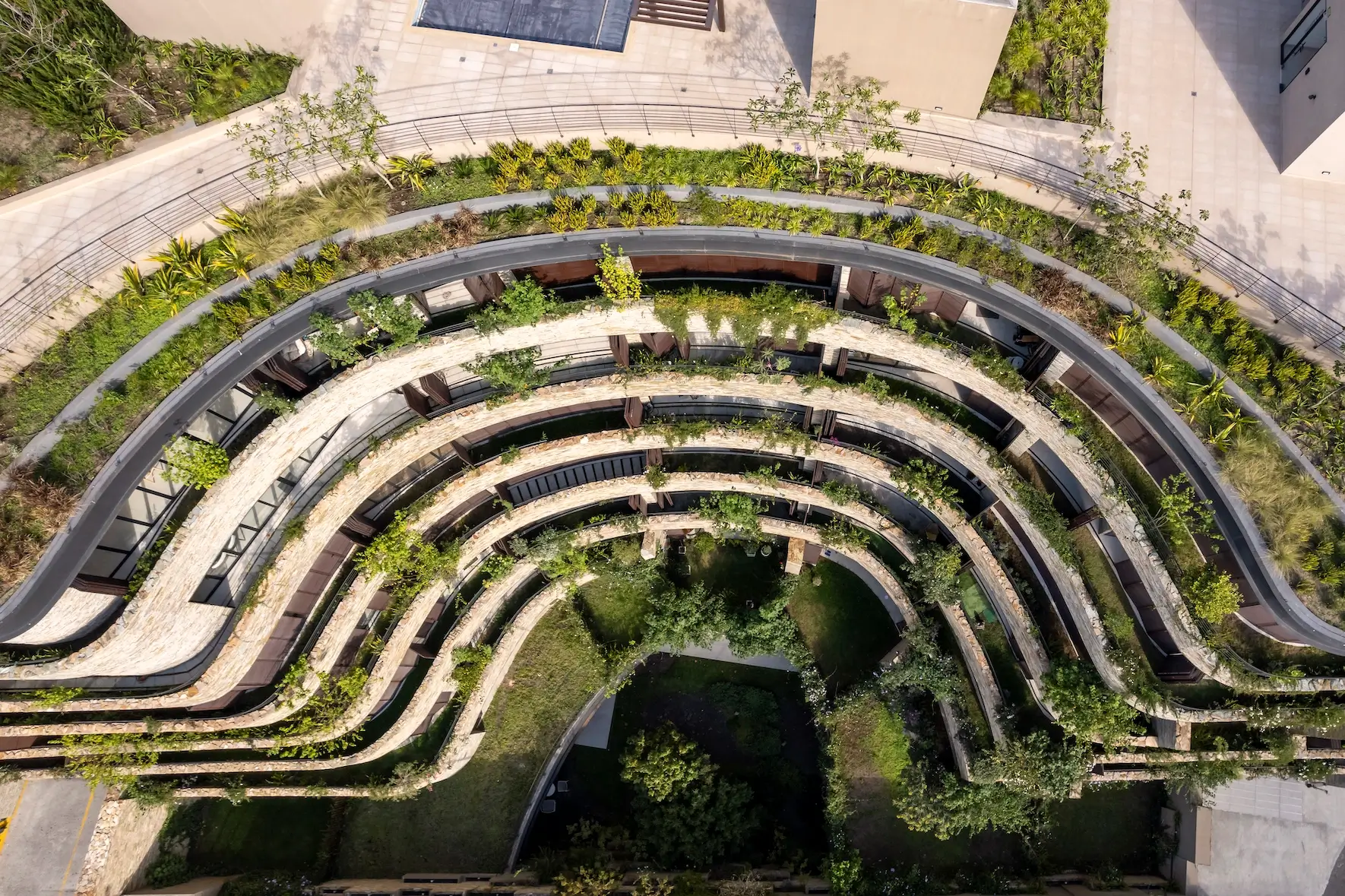 Overhead view of Aquarela, a sprawling housing complex in suburban Cumbayá designed by Ateliers Jean Nouvel. Photo courtesy Uribe Schwarzkopf
For a market that's shown as much resiliency as Quito's, the scale and scope of Uribe Schwarzkopf's ongoing building spree seems somewhat oversized. Very often, construction capacity in developing economies struggles to match the imaginations of formally inclined architects living an ocean away; as seen on the ground, the new Quito buildings do succeed (mostly) in meeting expectations, yet they remain a remarkably risky proposition. On one hand, there's the declining vogue in other markets for designer-name residences; on the other, there's the possibility of serious economic or political changes in Ecuador, which faces an important presidential election in 2025.
The Schwarzkopfs, however, remain buoyant. Sales, they say, have been brisk, and with other nations in the region undergoing serious inflation, the Ecuadorian capital still looks to them like the best place to be, and the best place to build.
"We've seen that having these spectacular designs by international architects, it attracts attention," says Joseph Schwarzkopf. "It's a good investment."