✕
Influential architectural solutions sometimes emerge from specific zoning or code constraints. In New York, the 1916 setback requirements bred an entire language of massing (think of Hugh Ferriss's evocative drawings and the Manhattan skyline that followed); in 19th-century Paris, building regulations gave rise to the city's ubiquitous multistory mansard roofs with dormers. In like spirit, Inaba Williams Architecture recently completed a pair of single-family houses in Santa Monica, California, embracing the belief that restrictions can inspire invention.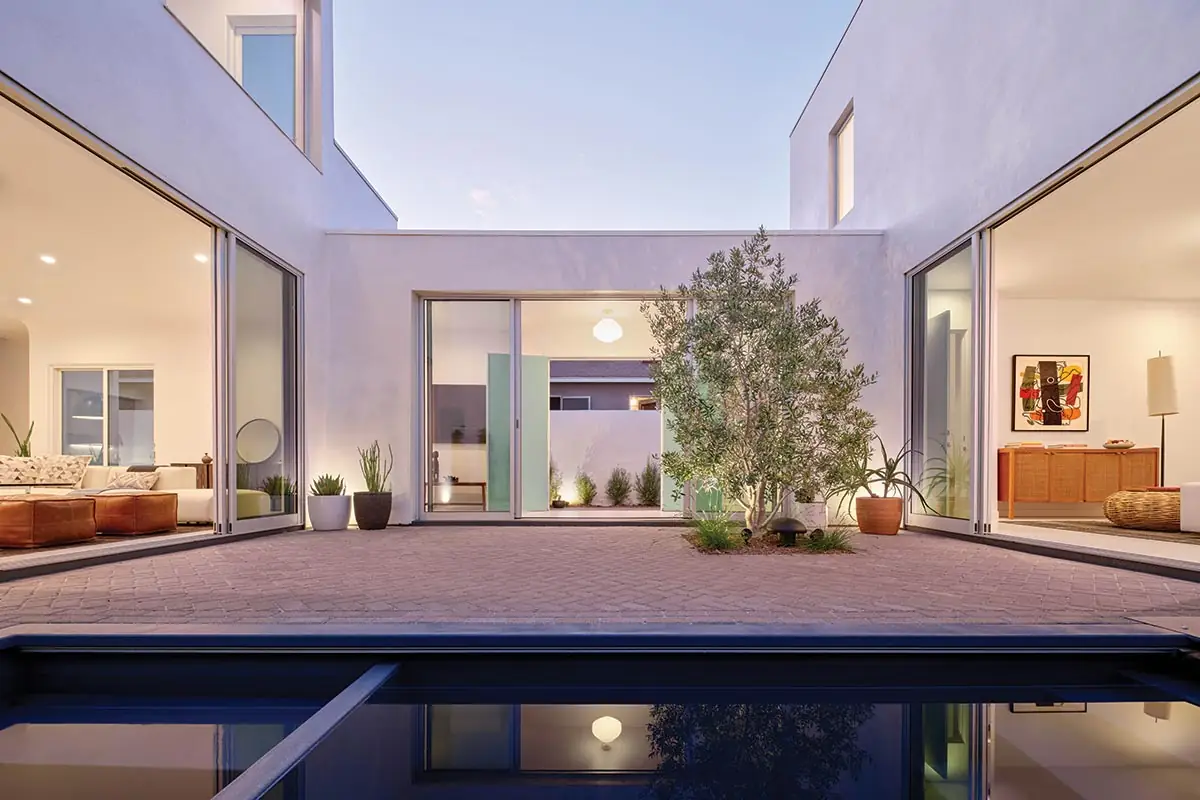 1
Each of the two mirrored houses (top of page) features interior spaces that spill out into a central courtyard (1), side patios, and a yard (2). Photos © Brandon Shigeta, click to enlarge.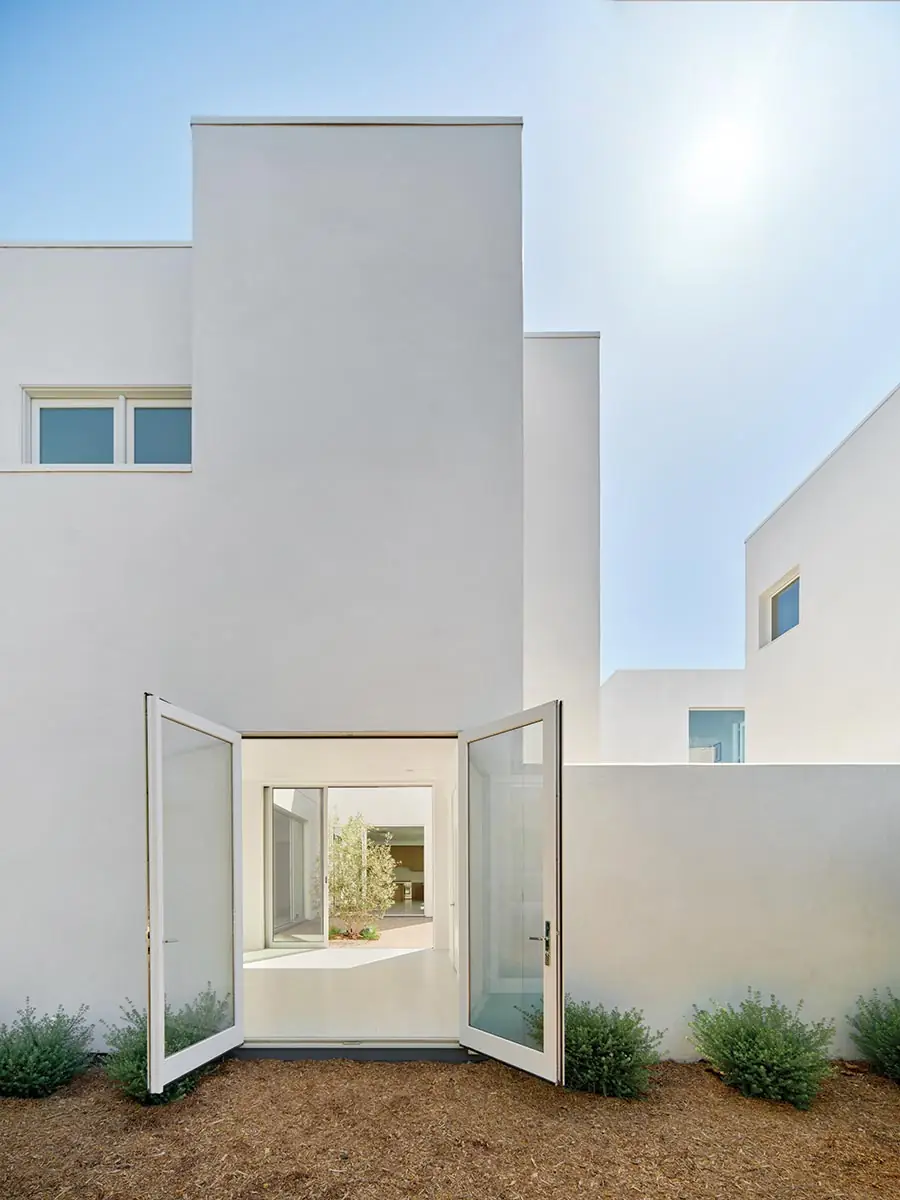 2
There, key challenges came from Title 24, Part 6—California's Building Energy Effic­iency Standards, which began developing in the 1970s and, more recently, has been modified or updated every three years to make new construction and renovations increasingly sustainable. It addresses such aspects as fenestration, HVAC, insulation, lighting, and electrical systems. To reduce wasteful operational-energy consumption, "Title 24 favors small windows in solid walls," explains principal Jeffrey Inaba. "Here [in single-family houses and low-rise housing], glass can cover only 20 percent of the building envelope. While it's still possible to create Case Study House–inspired walls of floor-to-ceiling glass, that has become impractical and very expensive." Put another way, designs that don't follow the prescribed guidelines, including the glazing maximum, must undergo rigorous performance reviews and adopt counterbalancing efficiency measures that often increase construction costs significantly. "So, what becomes of the classic Southern California ideal of indoor-outdoor living," asks Inaba, "the birthright of Angelenos and source of year-round joy?"
His firm's Courtyard Houses—mirror images on two adjacent lots—tackle that question. The design, says Inaba, "also proposes a prototype that could be modified for middle-income homes on tight sites" (although these two examples are higher-end, due to their finishes and fixtures, as well as local land values). The strategy focuses not on the quantity of daylight, but on its nuanced qualities—its poetics, expressive range, and potential to animate and punctuate space. In tandem with that approach, the architects resisted the commonplace pressure to max out the allowable building envelope for each house, choosing instead to integrate multiple open spaces—modest side patios and a central courtyard—and cut back the massing to optimize sunlight into those outdoor "rooms."
With simple, crisp forms, clad in luminously white stucco, the exterior compositions recall the work of such early Modernists as Le Corbusier or, specific to Southern California, Irving Gill (though, Inaba maintains, no homage to the past was intended). Within that vocabulary, each house—at 3,900 square feet on a relatively narrow 5,500-square-foot parcel—deftly alternates open and enclosed space, solid and void. The sequence begins with a private front garden (which will eventually be hedged in), followed by a 690-square-foot street-facing volume like an accessory dwelling unit (ADU) that connects with the rest of the house via a glassy breezeway along the courtyard. Water features—a fountain in the entry forecourt and a spa/pool in the central yard—weave together the spaces, helping cool them while also reflecting rays. Judiciously placed thresholds and moments of transparency invite indoor-out flow, letting, for example, the kitchen area spill into open-air dining and making the courtyard central to the experience of both interior and exterior realms.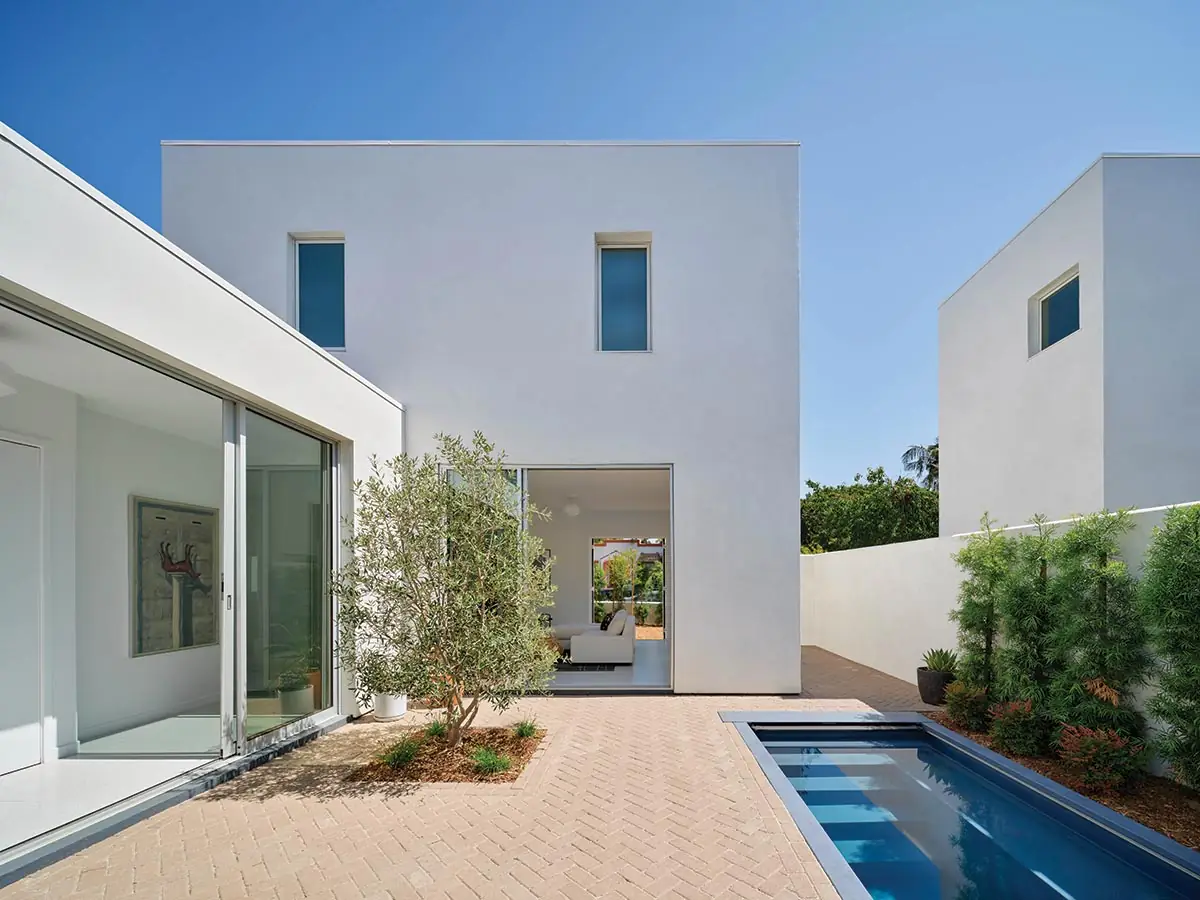 A glassy breezeway runs along the courtyard. Photo © Brandon Shigeta
Inside, clean-edged, pared-down surfaces capture and modulate daylight in varied ways: windows and glass doors tend to be clustered at corners to concentrate intensity and illuminate multiple interior surfaces; similarly, the pairing of skylights and windows with light scoops heightens the diffuse glow. With fluid detailing—not unlike Los Angeles' early-to-mid 20th-century Spanish-style houses—high ceilings meet walls with coves, or curves, and doors and windows have bullnose surrounds (some of them boosted in scale). Set at grade, the open-plan living/dining/kitchen area has white terrazzo flooring, as if extending all-weather paving inside, whereas the stairway to upstairs bedrooms and that entire level have pale oak underfoot. Nearly every bedroom (four in the house's main section and one in the front volume) opens onto its own small balcony or other outdoor space.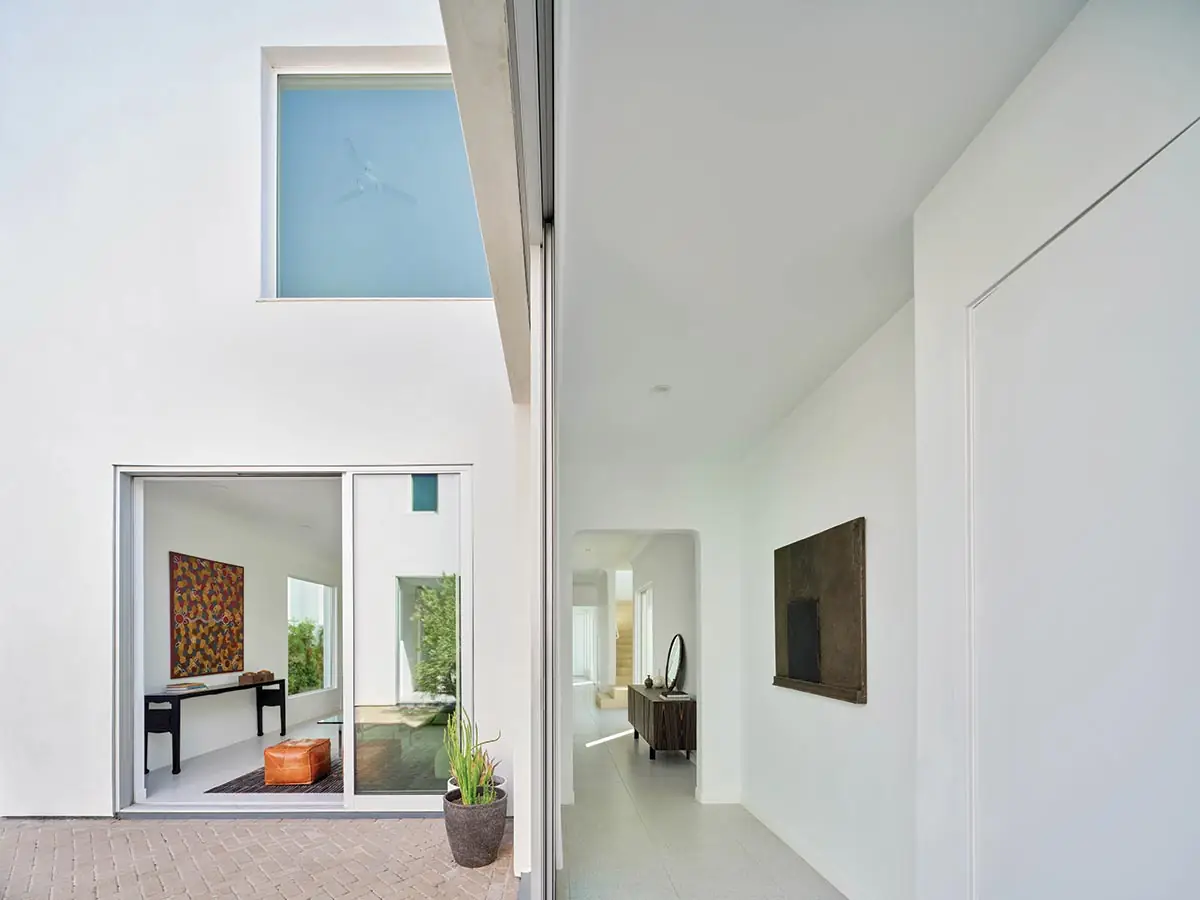 3
Interior spaces are illuminated by skylights, sliding doors, and precisely placed windows (3 - 5). Photo © Brandon Shigeta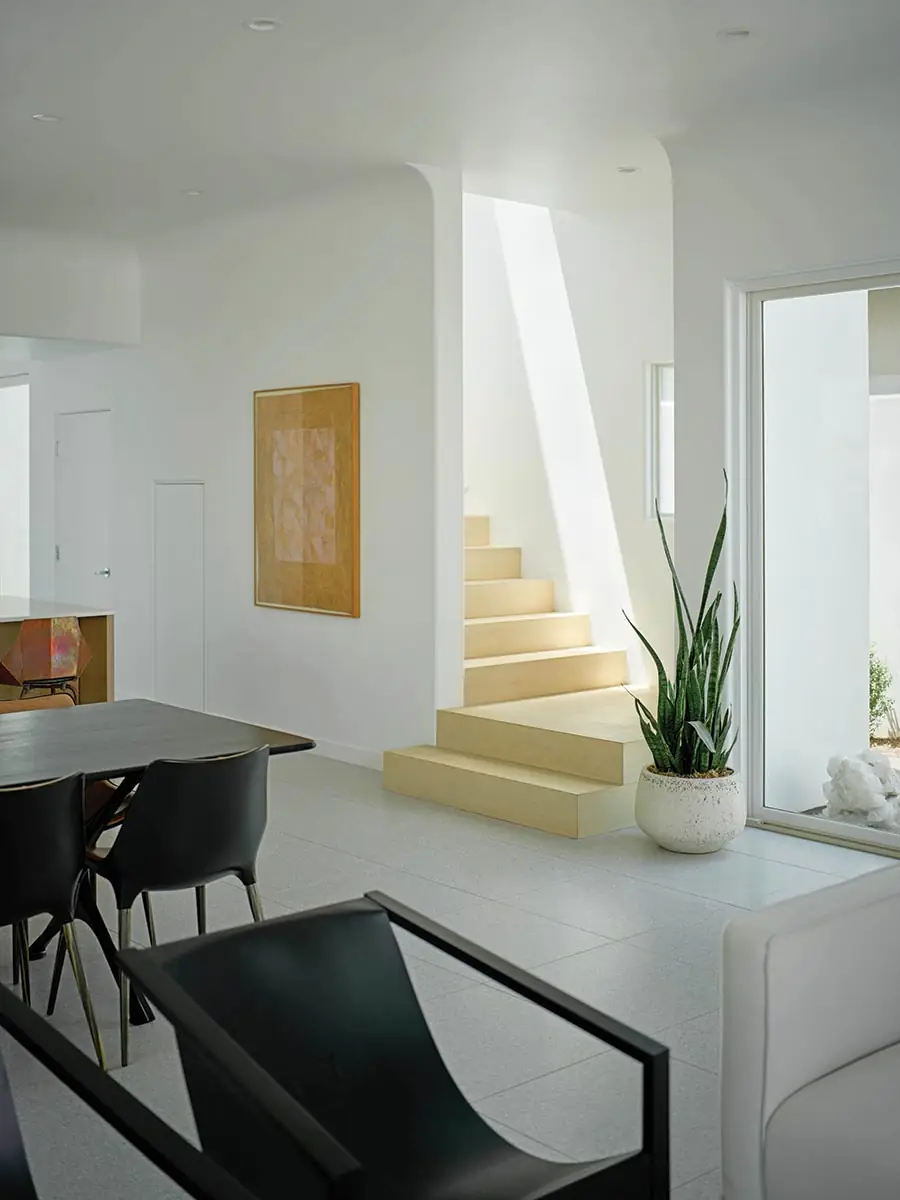 4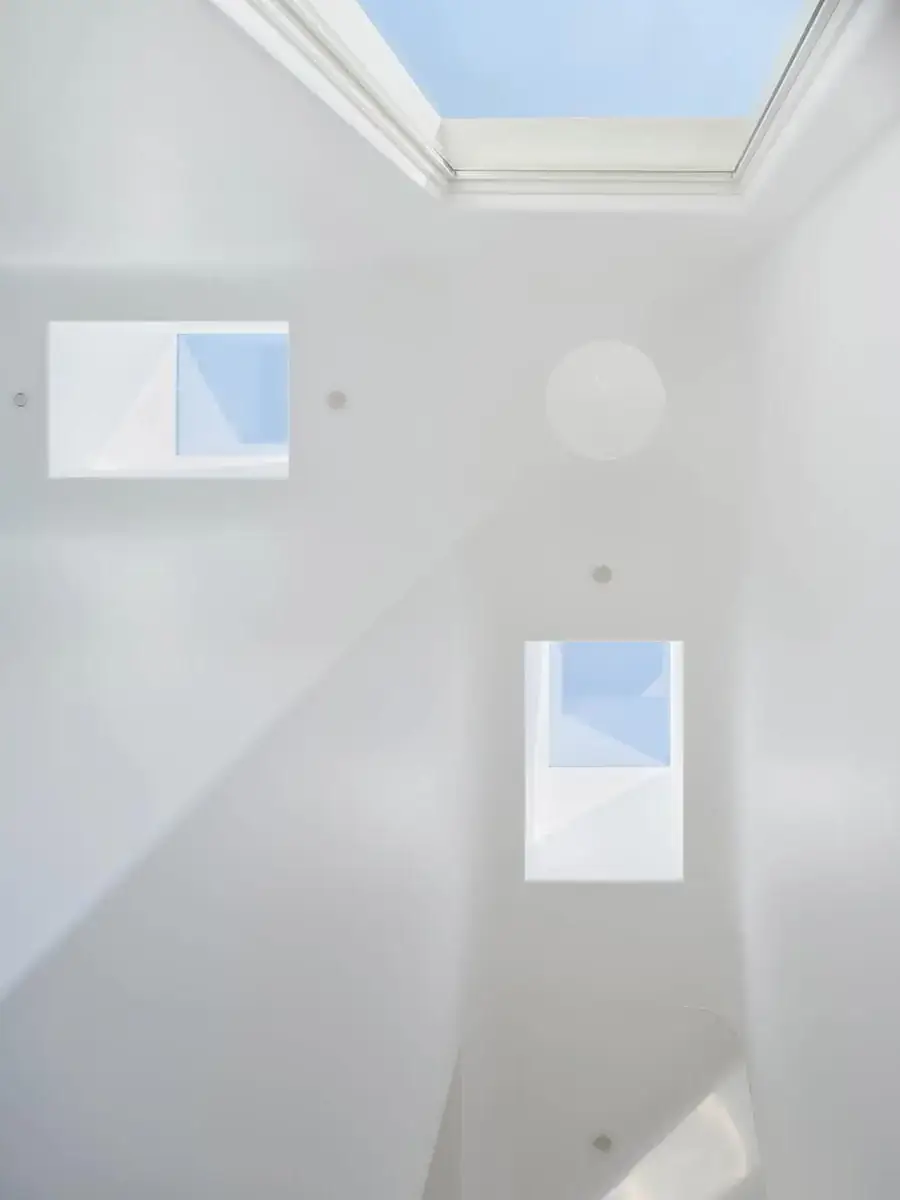 5
Both houses, built on spec and completed in 2022, have been sold—one to an artist-and-curator couple with a collection of their own. Colorful, contemporary, mostly 2D works now play against their pure-white walls, picking up the architectural rhythms of light and form. Inaba Williams Architecture intentionally designed the front volume (though not officially an ADU) with the flexibility to serve as a granny flat, a unit for grown children, an art studio, or a home office—and these owners rent it out to a close relative with a solo legal practice.
While the architects set out to explore and illustrate the potential for luminous indoor-outdoor living, well within code standards, says Inaba, "we were also looking to show how bigger, pushed to the limits, really isn't better."
Click drawings to enlarge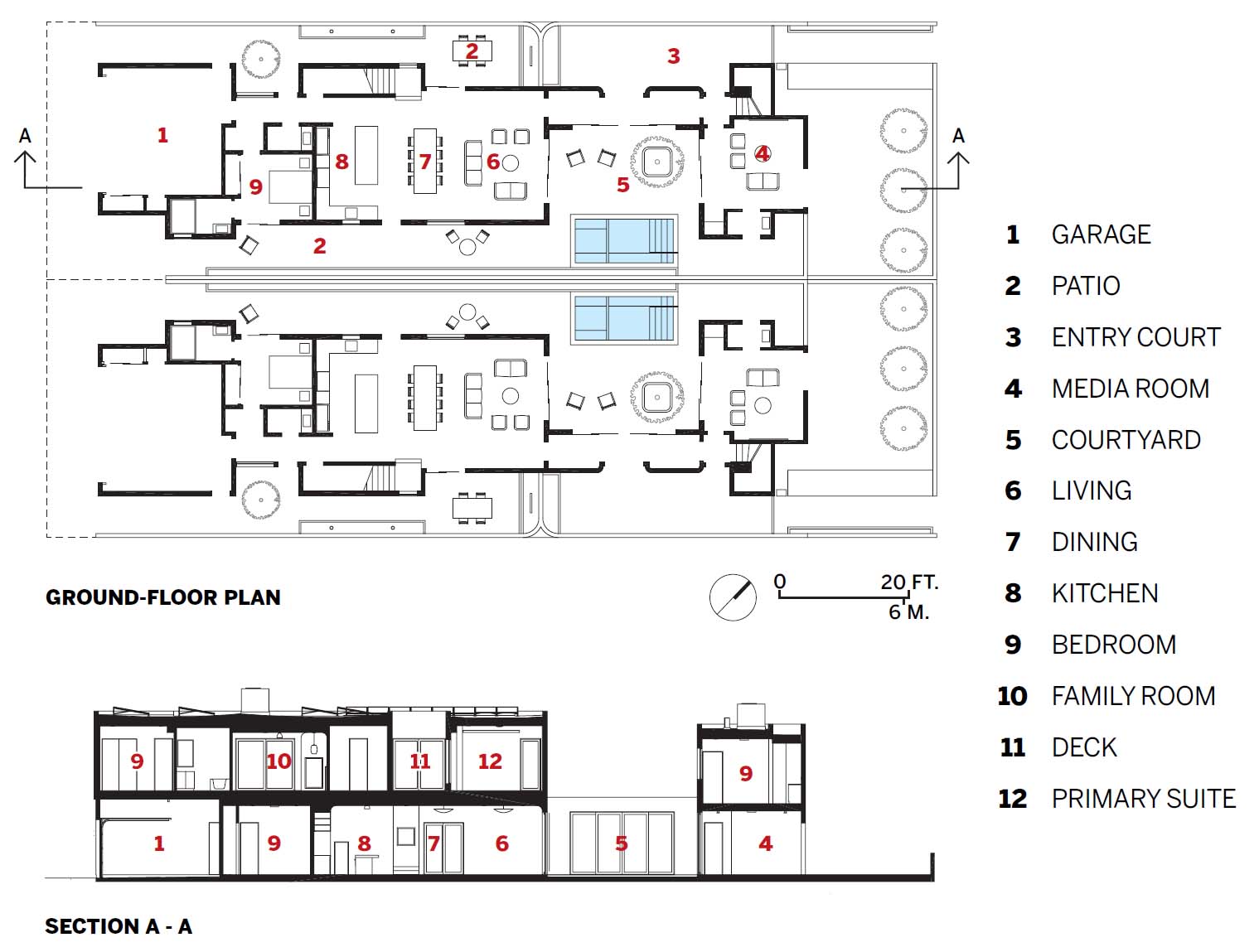 Credits
Architect:
Inaba Williams Architects — Jeffrey Inaba, Darien Williams, principals; Sharon Leung, project designer; Nabila Morales Perez, Yasamin Mayyas, James Brillon, Andrea Macias-Yanez, project team
Architect of Record:
Modative
Engineers:
Gouvis Engineering (structural); Gaspar Obando (civil)
Consultants:
Title 24 Guys (code); Studio H20 (landscape architect)
General Contractor:
Modative Build
Client:
Machine for Living
Size:
4,080 square feet
Cost:
Withheld
Completion Date:
May 2022
Sources
Doors:
Fleetwood, Milgard
Windows:
Milgard, Velux
Locksets:
Baldwin